Update: The user has deleted the tweet. The story has been updated with a screenshot of the original tweet.
Update 2: The story of the OnePlus Nord 2 exploding has been investigated and found to be false. OnePlus has officially responded claiming they spoke to the user and found the case was false and didn't involve a OnePlus product. Here's the company's statement reproduced in full:
"Earlier today, we were notified on Twitter about an alleged blast case for the OnePlus Nord 2. We always take such claims very seriously and immediately look into each one to first verify the legitimacy of the claim. During our conversation with this individual, we were able to confirm that this alleged case was false and in no way involved any OnePlus product.
All OnePlus products undergo thorough quality and safety tests to ensure that they are up to leading industry standards and are safe to use. We also follow strict internal processes to ensure the health and safety of our users, while also protecting the reputation of our brand. We urge the public to exercise restraint in judging unverified allegations such as this."
As the tweet was first spotted by us, the onus also falls upon us to correct the narrative and apologise to the brand and the readers, for carrying a story that was put up without doing our due diligence. This one's on us folks, sorry about that.
Original story follows…
OnePlus Nord 2 went on sale late last month in India. The company launched its new sub-Rs 30,000 smartphone in India with a MediaTek Dimensity 1200 SoC and a 4,500 mAh battery. The device also comes with 65W fast charging support. OnePlus' new Nord phone has been in the news since its launch. One such incident was the device exploding within the first week of its purchase. OnePlus investigated the matter and found that the device blasted due to "external factors and not due to any manufacturing or product issue." Now, another user has claimed that their Nord 2 has exploded.
Twitter user Shubham Srivastava said that the Nord 2 that he got for this father has exploded. The user has not uploaded any photos of the alleged exploded device. He, however, states that his father, who is a government officer, is safe and unharmed. That being said, Srivastava states that his father is in trauma following the device's explosion. OnePlus is yet to comment on the matter. MySmartPrice has reached out to the company for an official statement. We will update this article if and when we receive an official word from OnePlus.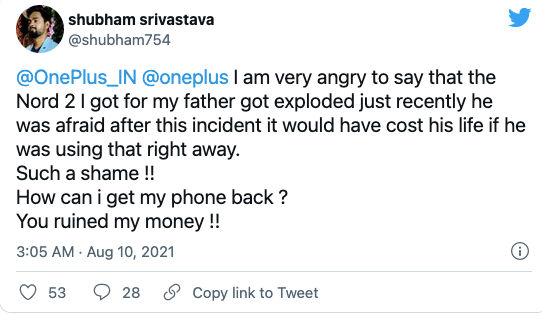 This is the second such incident wherein a user has reported about the Nord 2 exploding. Previously, a Twitter user said that his wife's OnePlus Nord 2, which is just five days old, blasted inside her sling bag while she was cycling. The victim is said to have met with an accident and is in trauma following the incident. Images shared by the user revealed that the device's rear panel and display were burned. One of the images shared by the user also shows that Lithium-Ion protective bag that seems to have exploded from the inside.
OnePlus shared its statement with MySmartPrice and said that the damage was caused due to external factors and not due to any manufacturing or product issue. "Our top priority is the health and safety of our customers. We reached out to the concerned user immediately after hearing about this incident and initiated a thorough internal investigation. The results indicate that the damage to this device was caused by an isolated incident involving external factors and not due to any manufacturing or product issue. However, we remain in close touch with this user and have offered our support to address their concerns and ensure their wellbeing. We would like to assure our customers that our products undergo thorough quality and safety tests, including various levels of pressure and impact tests, to ensure they are up to industry-leading standards and remain safe to use," OnePlus had said.
Thanks for reading till the end of this article. For more such informative and exclusive tech content, like our Facebook page