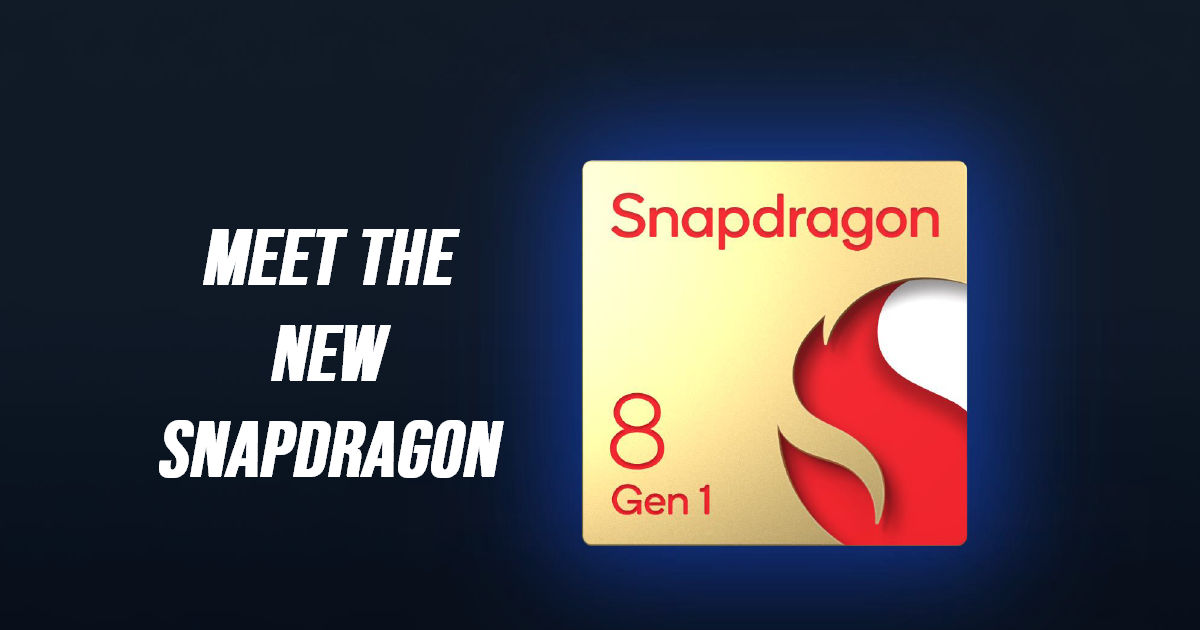 2021 is about to draw to an end, and like every other December in recent years, it is time for Qualcomm to dazzle us with their next-gen flagship mobile chipset. But instead of a Snapdragon 898 or 900 as most of us expected, we were greeted by the 'Snapdragon 8 Series Gen 1', which marks the beginning of a brand-new naming convention for the Snapdragon chipsets. Let's take a look at this brand new chip and everything else Qualcomm announced on Day 1 of their Snapdragon Tech Summit 2021.
Snapdragon Tech Summit 2021: Brand-new naming scheme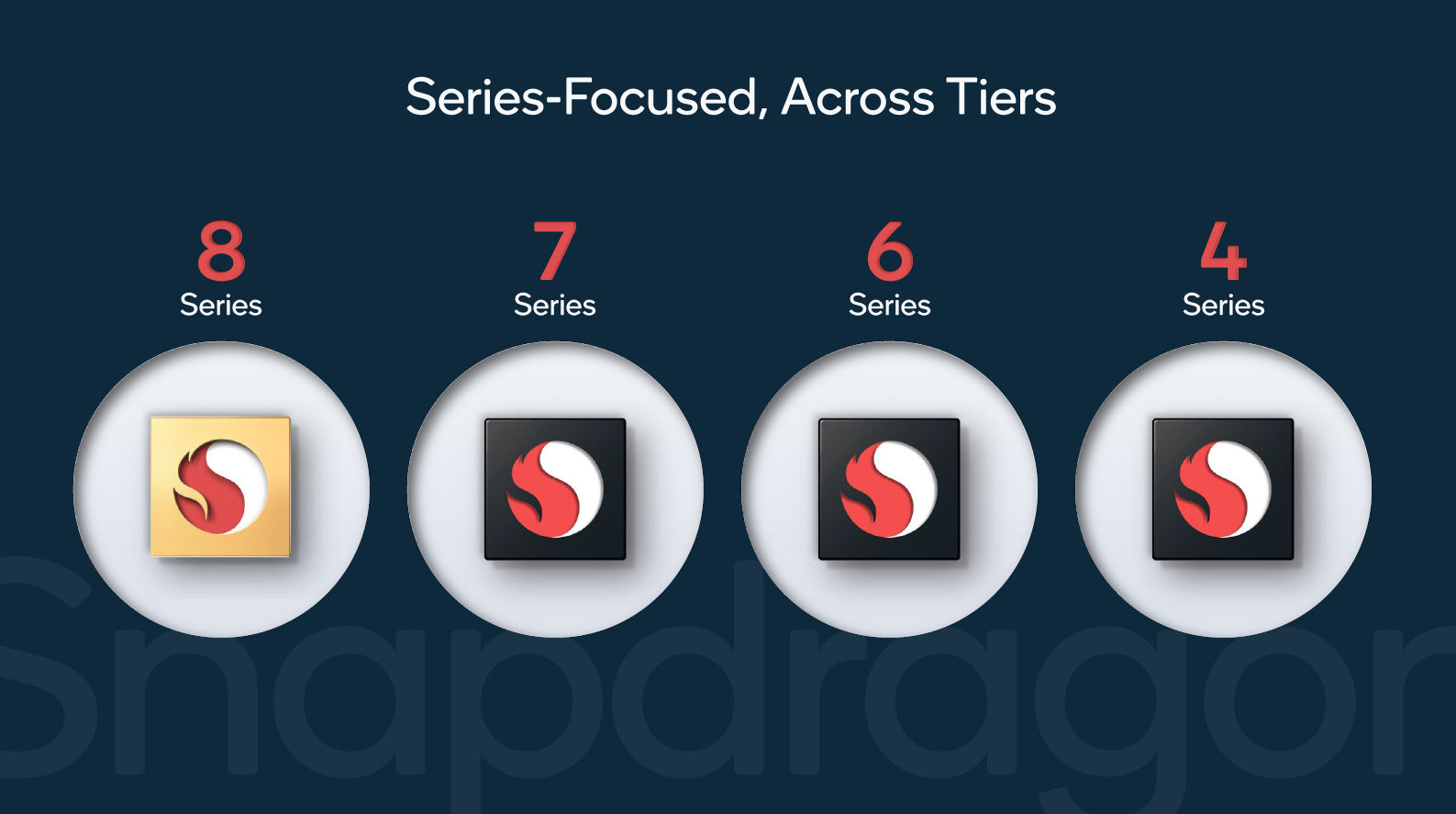 Snapdragon's mobile chipsets are spread across different series based on the smartphone price segments they cater to. We have the flagship chipsets like the Snapdragon 888, 865, 855 etc.. Then there are 3 more series namely the 7-series, 6-series and 4-series ranging from upper mid-range all the way to budget range smartphones. Interestingly, that's exactly what the new nomenclature is. But instead of assigning seemingly random numbers to these chipsets (what else explains this chart below?), these chipsets will now just be called Snapdragon X-series, gen 1, gen 2, gen 3. At least that's what it looks like for now.

To be honest, I'm not really sure how this naming scheme will account for multiple "current-gen" chipsets under the same series, e.g. Snapdragon 778 and 780 are both 2021 chipsets from the 7-series, just like SD750G and SD765G were last year. We'll have to wait and watch though, for this new naming scheme might also be an indication of Qualcomm streamlining their chipset offerings as well.
Snapdragon Tech Summit 2021: Snapdragon 8-Series Gen1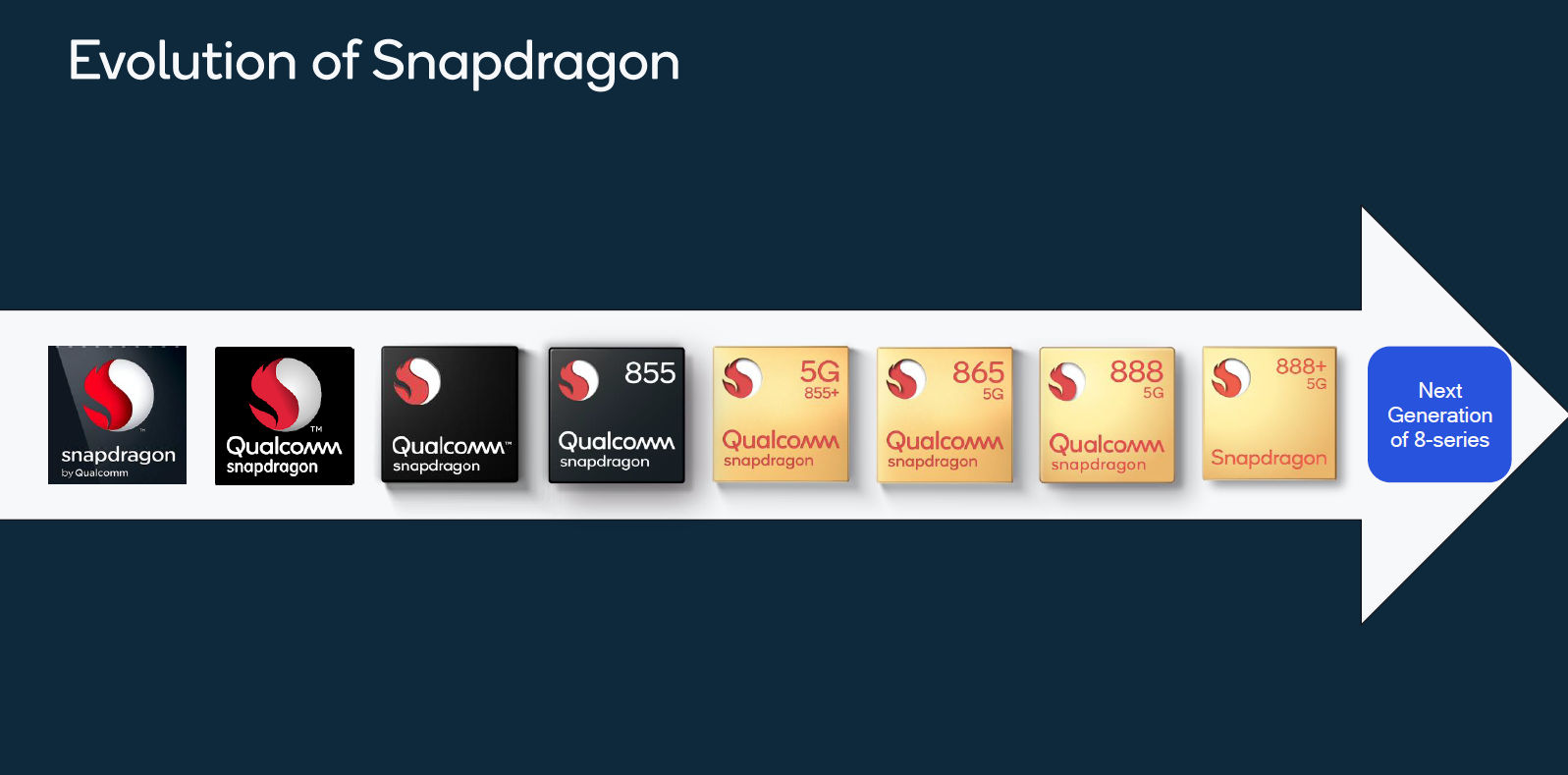 So then, let's get to the star of today's show. The flagship mobile chipset for 2022 from Snapdragon. It's going to be called the Snapdragon 8-series Gen 1. For brevity (and my sanity), I'm going to refer to it as Gen1 from here on. It's the successor to Snapdragon 888, a chipset that honestly didn't really meet the high expectations it set (Watch Snpadragon 888 Battery/Thermal Test). The Gen1 takes a huge leap forward becoming the first Snapdragon chipset to be based on a 4nm fabrication process. Mediatek's Dimensity 9000 is the only other mobile chipset to have been announced featuring TSMC's N4 fabrication, which is theoretically both more powerful and efficient than the 5nm process that last year's flagships chips were based on.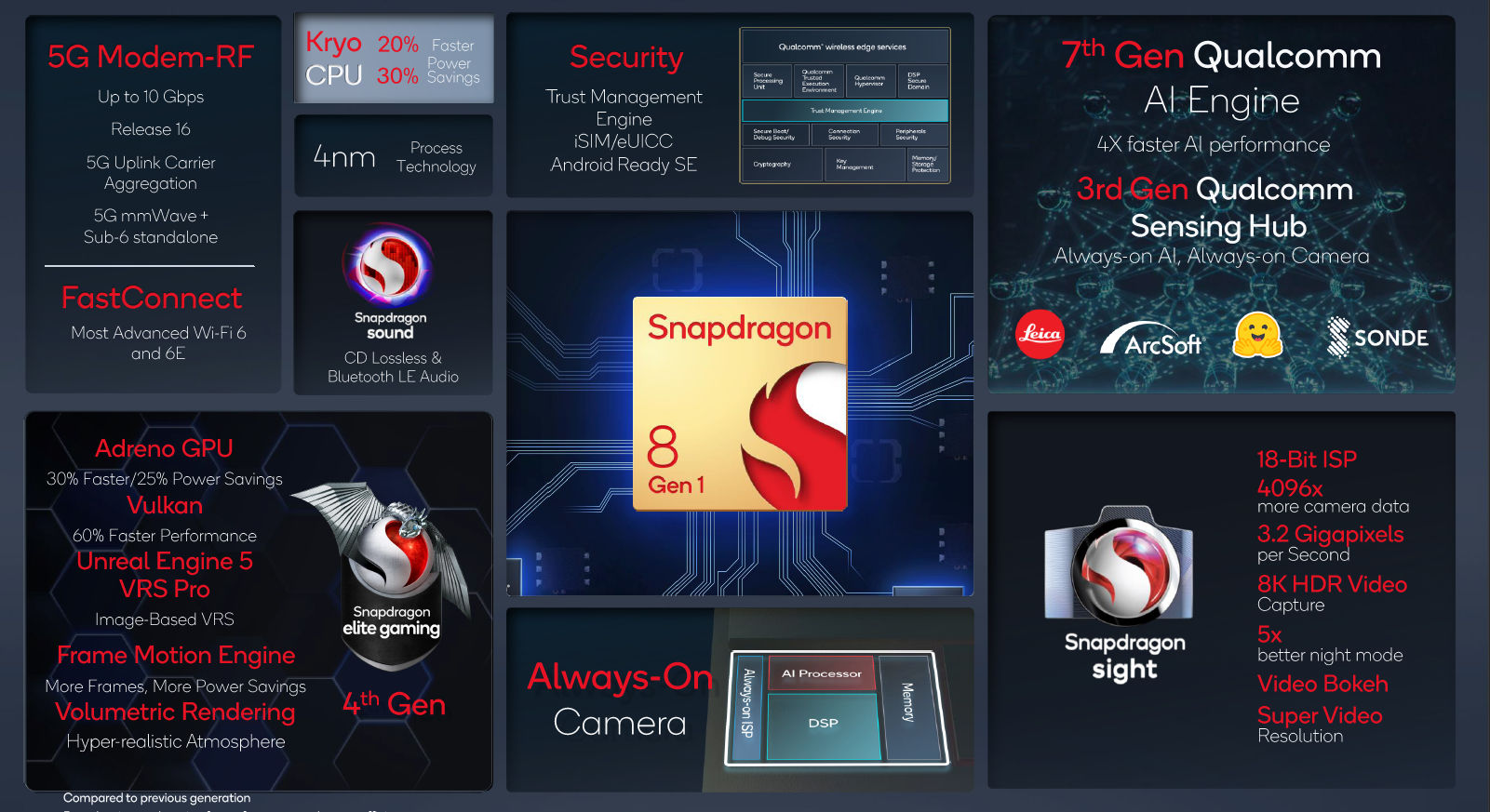 We are yet to get detailed information about the exact cores and configuration being used in the Gen 1, but what we do know for now is that the Kryo CPU cores being used here are upto 20% faster and 30% more power-efficient than the last gen SD888 chip. Power was never a problem for the 888 though, and it'll be interesting to see if the Gen1 can improve on the thermal and battery drain issues that plagued a lot of SD888 powered devices in 2021.
Coming to the gaming aspects of this new chip, we get a 4th gen Adreno GPU which is slated to be 30% faster and 25% more efficient than the Adreno 660 which we got on the SD888. In addition, Qualcomm also talked about this new gen chip getting about 50 new features for Snapdragon Elite Gaming, including Desktop-level graphics rendering, True 10-bit HDR and better, smoother high refresh rate gaming upto 144Hz. All impressive stuff, as long as the new chip doesn't buckle under pressure like the 888 used to do.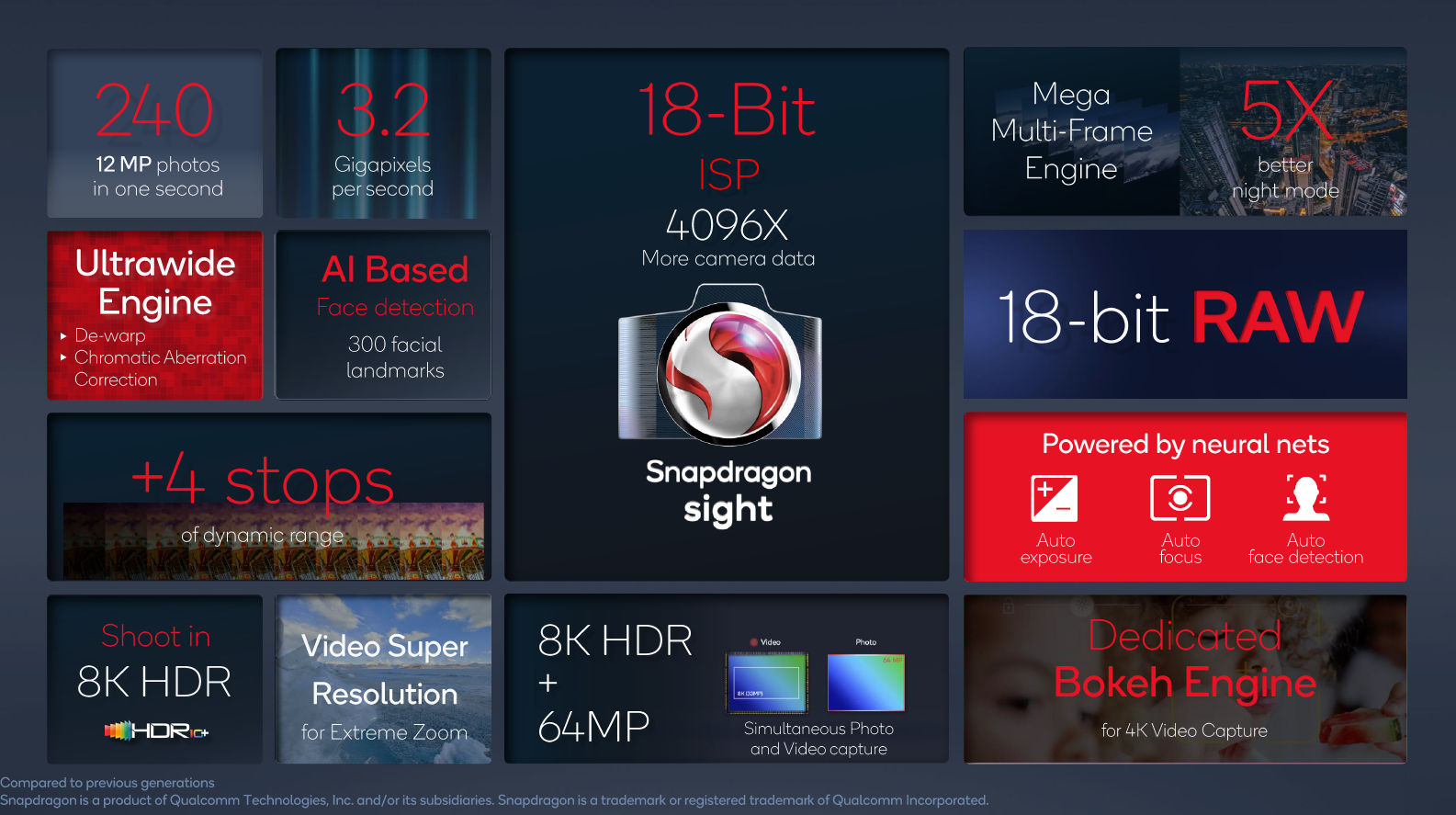 The improvements don't end here though. From gaming we go on to cameras, which is arguably the most important aspect of modern-day smartphones. The Gen1 now features an 18-bit ISP up from the 14-bit one on the SD888. This means that it can process imaging data at speeds of upto 3.2 Gigapixels per second, up by about 18% from the 2.7 Gigapixels per second that the SD888 could process. This means that the Gen1 will be the first Snapdragon processor to enable 8K HDR video recording on smartphones. Other camera improvements unlocked by the Gen1 chipset include much better multi-frame processing for up to 5x better Night mode performance, dedicated Bokeh engine for 4K videos, and improvements to face detection, Auto-exposure and video zooming capabilities.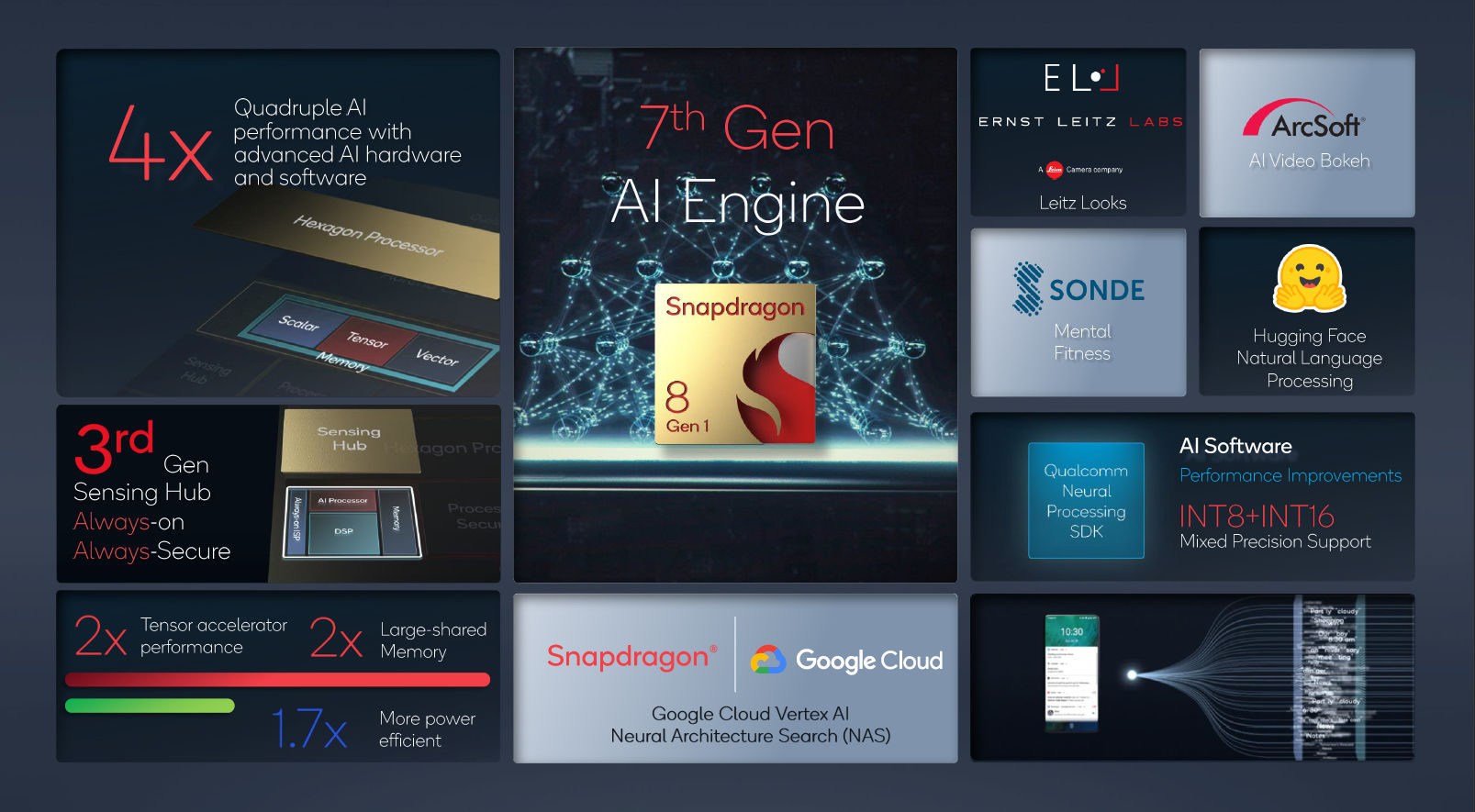 Last but not the least, this new chipset also comes with a 7th gen AI engine, promising upto 4x better AI performance than the last generation. This should bring all-round improvements to natural language processing and on-device AI processing, thanks in part to the 3rd gen Qualcomm sensing hub.
Finally, on the connectivity front, the 8 series Gen1 chip comes with 4th gen Snapdragon X65 5G Modem-RF system, promising improved 5G performance with speeds of upto 10Gbps (world's first) and support for both mmWave and Sub-6 networks. Qualcomm also claims this chip will feature the most advanced WIFi 6 and WiFi 6E support. Stay tuned for our in-depth coverage of all the new features and improvements these updates will bring to smartphones in 2022.
Snapdragon Tech Summit 2021: What to Expect From Flagships in 2022
So that was a quick look at the Snapdragon 8-series Gen 1 chipset for flagship smartphones in 2022. The on-paper specs look promising as always, but it'll be crucial for this chipset to deliver in real life as well. As expected we already have a lot of smartphone companies chiming in, trying to be the first one to launch a flagship with this new chip. As of now, we already have news of Motorola prepping their next flagship phone with this Gen1 chip. Then there's also the Mi 12 and Oneplus 10 series, both of which should see the light of the day in the next couple of months or so.
An important development this year is Mediatek announcing an all-out flagship chipset in the Dimensity 9000. It'll be interesting to see if some of these traditional Snapdragon powered flagship phones will jump ship or maybe we just get to see a new crop of flagships featuring Mediatek's best. Do you think Mediatek could replicate its mid-range success in flagships as well? Let us know in the comments below. Keep an eye out for more in-depth coverage from the Snapdragon Summit 2021.