Highlights
Sunder Pichai wishes Happy Diwali and shares the 5 most searched terms about Diwali on the popular search engine.
Pichai received Diwali greetings on X. One user wished, "Joyful Diwali!" Another asked, "No Google Doodle for Diwali?"
The most searched terms about Diwali include questions like "Why do Indians celebrate Diwali?" and "Why do we do rangoli on Diwali?"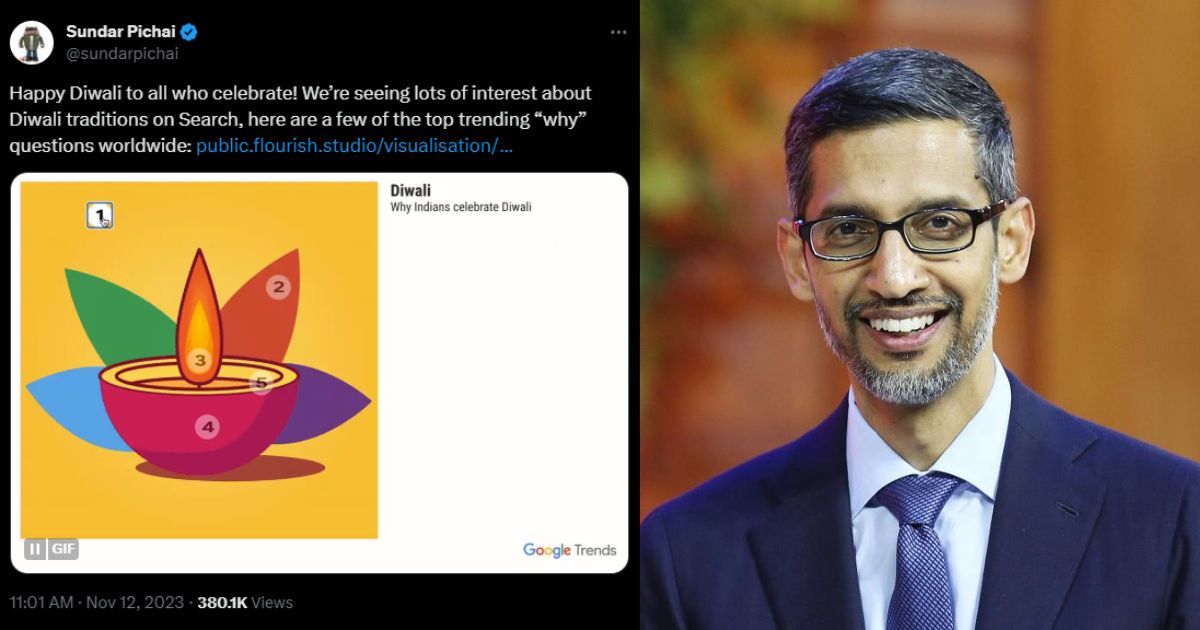 Sundar Pichai, the CEO of Google's parent company, Alphabet, recently divulged the five most-searched questions about Diwali on the renowned search engine. Pichai's disclosure sheds light on the curiosity and interests surrounding the Festival of Lights, providing a fascinating glimpse into the inquiries that capture the attention of individuals seeking information about this culturally significant celebration.
"Wishing a Happy Diwali to all celebrants! We're observing significant interest in Diwali traditions on Search. Here are some of the top trending 'why' questions worldwide," shared Pichai on X, formerly known as Twitter.
5 Most Googled Diwali Questions
Happy Diwali to all who celebrate! We're seeing lots of interest about Diwali traditions on Search, here are a few of the top trending "why" questions worldwide: https://t.co/6ALN4CvVwb pic.twitter.com/54VNnF8GqO

— Sundar Pichai (@sundarpichai) November 12, 2023
The GIF in Pichai's X post depicts a lamp surrounded by five numbers, symbolising the top five questions people searched worldwide on Diwali. Clicking on these numbers reveals the specific questions that individuals across the globe searched for on Google regarding Diwali. Here are all the questions:
1. Why Indians celebrate Diwali
2. Why do we do rangoli on Diwali
3. Why do we light lamps on Diwali
4. Why is Lakshmi puja done on Diwali and
5. Why oil bath on Diwali.
In response to the post, several people greeted Pichai on X. A user wrote, "Wishing you a joyous Diwali filled with love and light!" while another commented, "Happy Diwali…No Google Doodle?"
Apple CEO Tim Cook also took to X to wish Indians during Diwali. "Happy Diwali," Tim Cook wrote on X while sharing a picture clicked by AFP photojournalist Chandan Khanna.
In October, Tim Cook emphasised the increasing significance of India for Apple's growth. Besides, today is the last day of Apple's Special Diwali offer, where the company is offering a 50% discount on the AirPods on purchases of iPhone 14 and iPhone 14 Plus. The offer is available both online at Apple's website and Apple's outlets in BKC (Mumbai) and Saket (Delhi).
The iPhone 14 starts at Rs 69,900, and the iPhone 14 Plus is Rs 79,900. Customers can add AirPods (3rd gen) for Rs 9,950 or MagSafe for Rs 10,950. Moreover, get AirPods Pro (2nd gen) with MagSafe for Rs 14,950 with the iPhone 14 or 14 Plus.