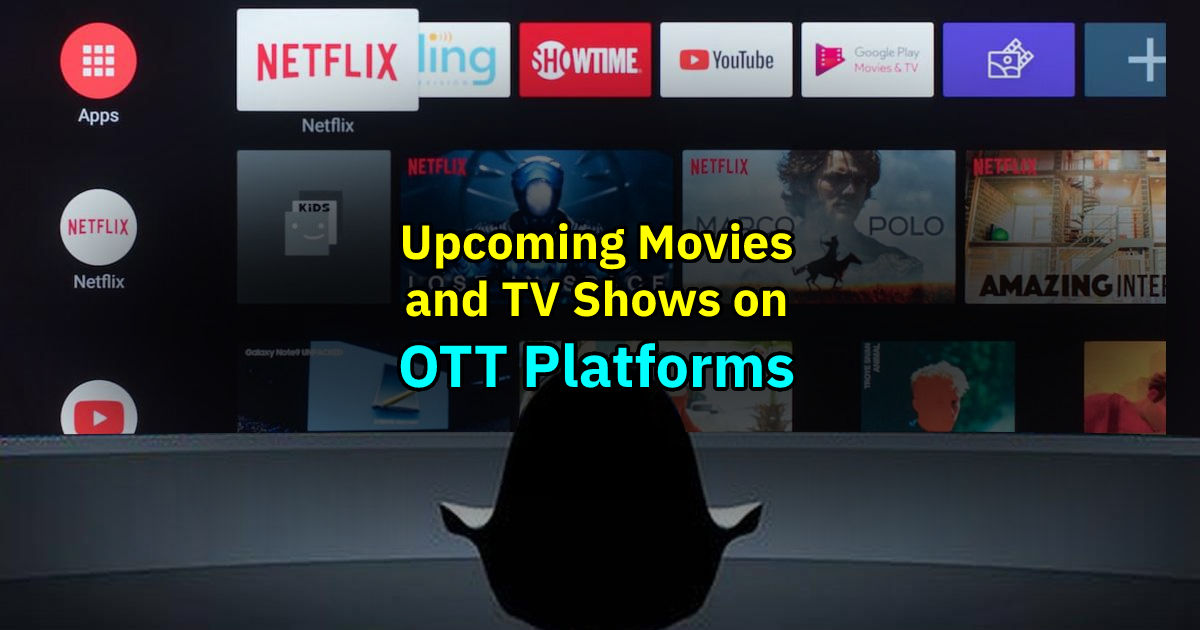 We have a sleigh-full of entertainment for you this holiday season, including thrilling dramas, endearing comedies, thought-provoking thrillers, and much more. Our December selections include something for everyone, whether you're in the mood for a thrilling adventure that will have you on the edge of your seat or a cosy night in with a Christmas classic. We're stepping it up as the year draws to a close with tales that will enthral, amuse, and leave you excitedly wondering what's coming up next. With their all-star casts and innovative storylines, this month's releases are sure to take your streaming experience to new heights.
Also Read: Upcoming OTT Releases on JioCinema
Upcoming OTT Releases: December 7–December 15
| | | | |
| --- | --- | --- | --- |
| Name | OTT Release Date | OTT Platform | Language |
| Chamak | December 7, 2023 | Sony LIV | Hindi |
| The Archies | December 7, 2023 | Netflix | Hindi |
| My Life with the Walter Boys | December 7, 2023 | Netflix | English |
| Leave The World Behind | December 8, 2023 | Netflix | English |
| Kadak Singh | December 8, 2023 | Zee 5 | Hindi |
| The Crown Season 6 Part 2 | December 14, 2023 | Netflix | English |
Chamak
The series will explore the dynamic realm of Punjab's music industry, with a particular emphasis on the journey of an artist and their complex connection with fame. One of the highest-grossing music sectors worldwide is the Punjabi music industry. Punjabi music frequently sets the mood for the entire celebration, and no Indian wedding would be complete without one. The show will reveal the reality that lies underneath the shine. It will be intriguing to see what this program has to offer because the premise of the series is something new. Considering the information at hand, it will also be fascinating and enlightening to learn what transpires against the backdrop of such a well-known sector.
Cast: Siddharth Shaw, Mukesh Chhabra, Gippy Grewal, Akasa Singh and Isha Talwar
Where to watch: SonyLIV
OTT Release Date: December 7, 2023
Director: Rohit Jugraj
Producer: RG Rudram Productions
The Archies
Archie, Betty, Veronica, Jughead, Reggie, Ethel, and Dilton are the town's favourite group of teens, and the story of their coming-of-age musical, The Archies, is set in a fictional town named Riverdale in 1960s India. The Archies is a film that examines friendship, independence, love, heartbreak, and rebellion as seen through the unique perspective of the Anglo-Indian community. The Archies has a lot of music, and a lot of the film's song and dance sequences have been highlighted in the promotions so far. With a lot of fresh faces and exciting debuts, this film is highly anticipated and has created a major buzz among the viewers. It will be streaming soon on the famous OTT platform Netflix.
Cast: Agastya Nanda, Mihir Ahuja, Vedang Raina, Khushi Kapoor, Suhana Khan, Aditi Saigal, Yuvraj Menda, Koel Purie, Tara Sharma, Vinay Pathak, Luke Kenny, Alyy Khan
Where to watch: Netflix
OTT Release Date: December 7, 2023
Director: Zoya Akhtar
Producer: Tiger Baby Productions
My Life with the Walter Boys
My Life with The Walter Boys is a television series that will premiere on the well-known OTT platform Netflix in December. Based on sources, the series has a lot to offer. The show centers on a teenage New Yorker named Jackie Howard. Following a family tragedy, she moves to a rural area in Colorado. Katherine, the best friend of her mother, takes her in and is already parenting ten kids. Jackie is caught between the different personalities of the two Walter brothers, Alex and Cole, as she gets used to her new existence. Melanie Halsall is the show's creator and producer. There are ten episodes in all. The viewers can expect to have a heartwarming experience with this show. The cast is talented and has given a wonderful performance.
Cast: Nikki Rodriguez, Ashby Gentry, Noah LaLonde, Sarah Rafferty, Marc Blucas, Corey Fogelmanis, Jaylan Evans, Connor Stanhope, Zoë Soul, Johnny Link
Where to watch: Netflix
OTT Release Date: December 7, 2023
Director: Melanie Halsall
Producer: Melanie Halsall
Leave The World Behind
A large crack in their bedroom wall, a 13-year-old daughter, and a 16-year-old son are the only possessions of middle-class Brooklyn residents Amanda and Clay Sandford. Amanda reveals in Roberts's sardonic delivery that she has booked an opulent home encircled by forests on Long Island for a weekend getaway with her family and that she despises people in general. A foreboding knock on the door occurs deep during their first night together. A weird sequence of events occur as things get worse.
Cast: Julia Roberts, Mahershala Ali, Ethan Hawke, Myha'la, Farrah Mackenzie, Charlie Evans, Kevin Bacon
Where to watch: Netflix
OTT Release Date: December 8, 2023
Director: Sam Esmail
Producer: Sam Esmail
Kadak Singh
IFFI 2023 saw the world debut of Pankaj Tripathi's suspense thriller titled "Kadak Singh." AK Shrivastav faces retrograde amnesia and discovers contradictory accounts from his past in this film, which is directed by Aniruddha Roy Chowdhury. According to the movie's producer, Viraf Sarkari, the concept for the movie originated with him twelve years prior and has undergone changes since then. The movie has a lovely plot with lots of levels and turns, and he commended Tripathi's ability as an actor. We can expect the viewers to stay on edge with the compelling plot of the film. With brilliant actors, viewers will definitely enjoy this thriller.
Cast: Pankaj Tripathi, Parvathy Thiruvothu, Sanjana Sanghi, Jaya Ahsan, Paresh Pahuja, Varun Buddhadev, Dilip Shankar, Jogi Mallang
Where to watch: ZEE5
OTT Release Date: December 8, 2023
Director: Aniruddha Roy Chowdhury
Producer: Mahesh Ramanathan
The Crown Season 6 Part 2
It's now time to bid adieu to the made-up royals from the wildly popular Netflix series The Crown. As Queen Elizabeth 11, Imelda Staunton will bring the Emmy-winning drama series to an end. As the show moves to the next generation, the last episodes will also center on the college romance between Prince William played by Ed McVey and Kate Middleton, who is played by Meg Bellamy. The Crown Season 6 also stars Lesley Manville, Jonathan Pryce, and Dominic West. On December 14, Part 2 will come to an end on Netflix. The audience may anticipate a great deal of drama and fascinating glimpses inside the royal family, just as in previous seasons.
Cast: Elizabeth Debicki, Dominic West, Imelda Staunton, Khalid Abdalla, Salim Daw, Rufus Kampa, Fflyn Edwards, Ed McVey, Meg Bellamy
Where to watch: Netflix
OTT Release Date: December 14, 2023
Director: Peter Morgan
Producer: Andy Stebbing
Upcoming OTT Releases: December 16–December 23
| | | | |
| --- | --- | --- | --- |
| Name | OTT Release Date | OTT Platform | Language |
| Reacher Season 2 | December 16, 2023 | Amazon Prime Video | English |
| Maestro | December 20, 2023 | Netflix | English |
| Percy Jackson and the Olympians | December 20, 2023 | Disney Plus Hotstar | English |
Reacher Season 2
Book One of Lee Child's Jack Reacher series, Killing Floor, was included in Reacher Season 1. In Bad Luck and Trouble, the eleventh book in the series, where Reacher looks into the killings of his former military police team, there are rumours that the upcoming season may be based on that novel. Reacher will not follow the books chronologically, according to series creator Nick Santora so that future seasons may jump around once more. Our first good look at Season 2 is provided by the new trailer. It feels like it's taking the Reacher universe to new heights while maintaining the familiarity of Reacher's heavy hands and sardonic humour from Season 1. All in all, it should be an exciting new season and the audience will soon get to watch it.
Cast: Alan Ritchson, Malcolm Goodwin, Willa Fitzgerald, Chris Webster, Bruce McGill, Maria Sten, Willie C. Carpenter, Harvey Guillén, Maxwell Jenkins, Gavin White, Leslie Fray, Matthew Marsden, Hugh Thompson, Jonathan Koensgen, AJ Simmons, Marc Bendavid, Patrick Garrow, Kristin Kreuk, Currie Graham, Martin Roach
Where to watch: Amazon Prime Video
OTT Release Date: December 16, 2023
Director: Nick Santora
Producer: Lee Child
Maestro
The main emphasis of Maestro is Bernstein's long-lasting friendship with Felicia Montealegre Cohn Bernstein, an actress played by Carey Mulligan. The long-lasting romance between Leonard Bernstein and Felicia Montealegre Cohn Bernstein is chronicled in the magnificent and brave novel Maestro. At its core, Maestro is an emotionally charged epic depiction of family and love—a love letter to life and art. Celebrated conductor and composer Leonard Bernstein is played by Cooper, who also co-wrote, produced, and directed Maestro. The movie chronicles Bernstein's life from his unannounced Carnegie Hall debut until his later years in the fall. The film has a stunning cast. All the actors have given fantastic performances, doing justice to their respective characters which only adds to the charm of the film.
Cast: Carey Mulligan, Bradley Cooper, Matt Bomer, Maya Hawke, Sarah Silverman, Michael Urie, Brian Klugman, Gideon Glick, Sam Nivola, Miriam Shor, Alexa Swinton, Josh Hamilton, June Gable
Where to watch: Netflix
OTT Release Date: December 20, 2023
Director: Bradley Cooper
Producer: Fred Berner
Percy Jackson and the Olympians
The Percy Jackson book series has earned a lot of fame and after a few movies, there is finally a show on the way inspired by the books. Young stars Walker Scobell, Leah Sava Jeffries, and Aryan Simhadri step up as the adventurous trio of Percy Jackson, Annabeth Chase, and Grover Underwood respectively in the new Disney+ Hotstar series. Adapted from the best-selling fantasy novels by Rick Riordan, the show will find the demigod Percy Jackson embarking upon a quest to stop the Olympian gods from warring amongst themselves.
Cast: Walker Scobell, Virginia Kull, Glynn Turman, Jason Mantzoukas, Megan Mullally, Timm Sharp, Dior Goodjohn, Charlie Bushnell, Adam Copeland
Where to watch: Disney+Hotstar
OTT Release Date: December 20, 2023
Director: Jonathan E. Steinberg
Producer: Jonathan E. Steinberg
Upcoming OTT Releases: December 16–December 23
| | | | |
| --- | --- | --- | --- |
| Name | OTT Release Date | OTT Platform | Language |
| Ricky Gervais: Armageddon | December 25, 2023 | Netflix | English |
Ricky Gervais Armageddon
On Christmas Day itself, Ricky Gervais' new stand-up special will be released globally on the platform, making it an extremely special gift for all of us. For the past year, Gervais has been travelling the world with Armageddon, and early this spring, the British comic made history by being the first stand-up comedian to ever have their gross from a single show enter the Guinness Book of Records. He has performed in numerous other noteworthy capacities and is well-liked by the crowd. He is renowned for his intriguing wit and ruthless honesty.
Cast: Ricky Gervais
Where to watch: Netflix
OTT Release Date: December 25, 2023
Director: John. L Spencer
Producer: John. L Spencer