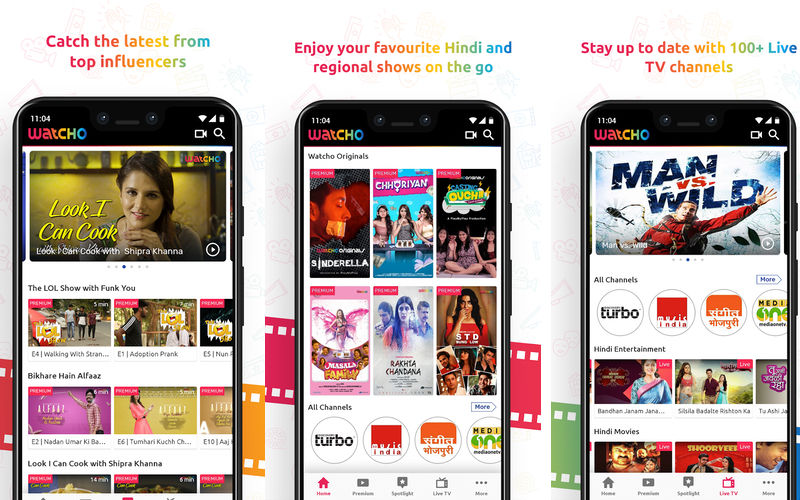 Coming onboard with mobile content streaming like other DTH providers including Airtel and Tata Sky, DishTV has launched a standalone app named 'Watcho'. Available for both DishTV and D2h users all across India, the Watcho app is a mobile app developed solely by DishTV to enable live content streaming on mobiles for its subscribers. It is also available for non-Dish TV and D2h subscribers, but they will have to subscribe by paying some amount.
Dish TV Watcho App Geared With Original Content
To recall, Dish TV revealed in November 2018 that it is planning to launch a mobile app geared with Live TV service. And now, standing true to its plans, Dish TV has finally launched Watcho. As cool as it is for Dish TV to step up its game, the provider is quite late to the game as its counterparts like Tata Sky and Airtel Digital TV had been in the arena before. Their apps are already available on both iOS and Android platforms. Besides, Watcho app is different from Airtel TV app, wherein the latter has content from other OTT service providers. Watcho app, on the contrary, aims at offering original content clubbed with Live TV services.
Watcho app offers over 100 Live TV channels spread across a slew of languages. Dish TV has geared it with original content including originals and short films. Some of the features include On-Demand Live and Catch TV. It also allows users to upload their own videos and win rewards.
Although the app is yet to catch up with the respective apps from Tata Sky and Airtel Digital, it still counts as a much-needed effort from Dish TV.
Watcho App Availability, Pricing, Packs
Dish TV's OTT Watcho app is available on both Android and iOS platforms. After installation, the app asks users to login via Dish TV or D2h credentials such as Registered Mobile Number (RMN). For the Dish TV/D2h subscribers, the app will show content without any charge for up to six months. After the introductory period of six months, the subscribers will have to shell out a specific amount to gain access to premium content.
As for the non-Dish TV/D2h subscribers, the access to premium content will be given on a complimentary basis as a part of a pre-activated package. The Promo-Pack will cost INR 180, subscribers will get a discount of 20 percent as a part of the introductory offer, bringing down the Promo-Pack pricing to INR 150. This offer will run for a limited period.
Until now, the Watcho app was available in the beta state for Android users. The app has now entered the stable version and is out of both Android and iOS users. However, the app seems to be plagued with some issues at the moment that should be resolved over time with incremental updates.