Highlights
Channels will revolutionize the way we send and receive news updates on WhatsApp.

You can create your own channels on WhatsApp.

There are private and public channels on WhatsApp.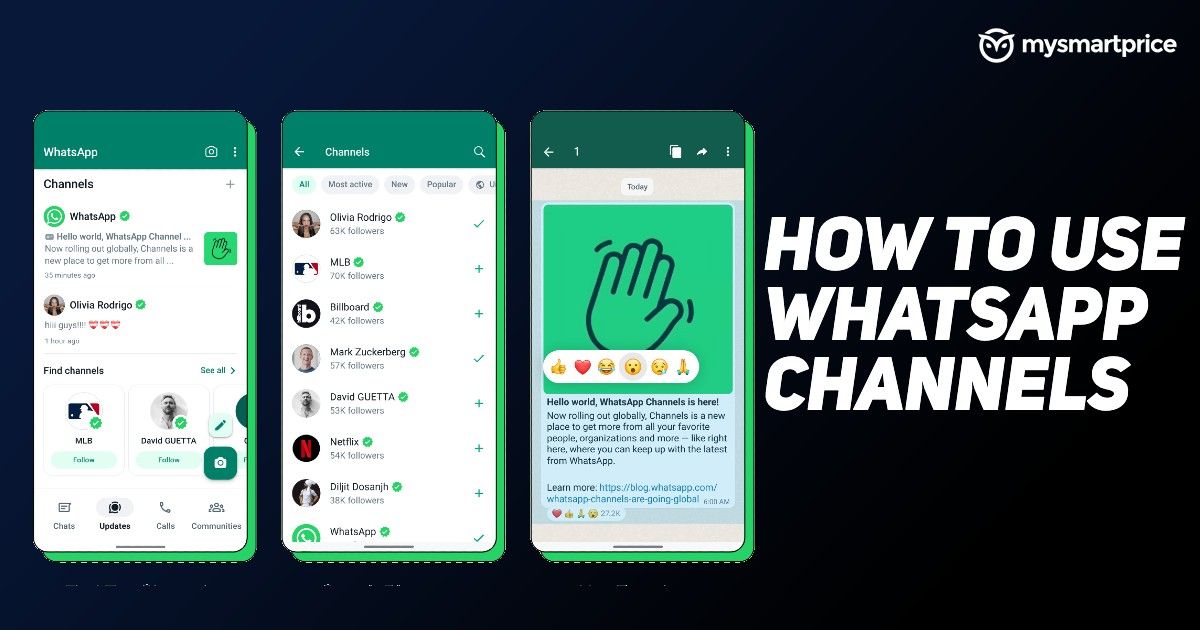 WhatsApp has finally introduced its new Channels feature in India. Channels act as a medium where the channel admin can send an update, news, or information whiteout, cluttering chats and allowing users to stay up-to-date. The channel feature is all set for the rollout stage-wise. Here's everything you need to know about channels and how to use them.
What are WhatsApp Channels?
WhatsApp channels are a new way to convey omnidirectional messages and stay up to date. The channels allow organizations, Non-profits, and communities to have one-way broadcasts where the channel admin can share texts, audio, video, images, and poles with the joined participants.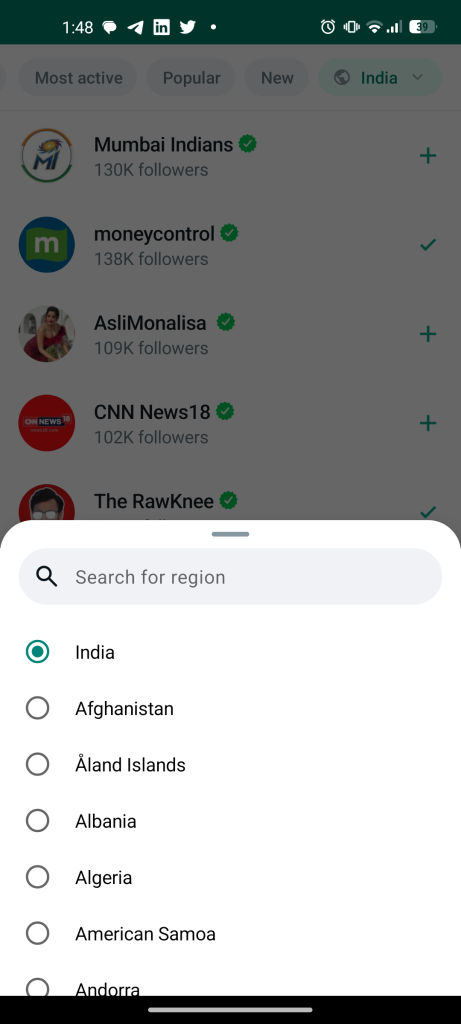 The joined participant's information, like number or username, will not be shared with the group admin or organization. Likewise, no participants can see the admin's phone number or details. Joining a channel stays private, and no other contact or participant can see the media you have entered.
The channels are not end-to-end encrypted, as the goal of media is to build a community and reach a wider audience. But, Messages received on the tracks will disappear from chat history and WhatsApp server in 30 days. Still, the group participants can choose to auto-clear history from their device in their desired period, like 15 days, seven days, etc.
How to Access WhatsApp Channel on Android and iOS?
To access the WhatsApp channels simply tap on Updates Tab on your WhatsApp Home Screen and swipe to the bottom.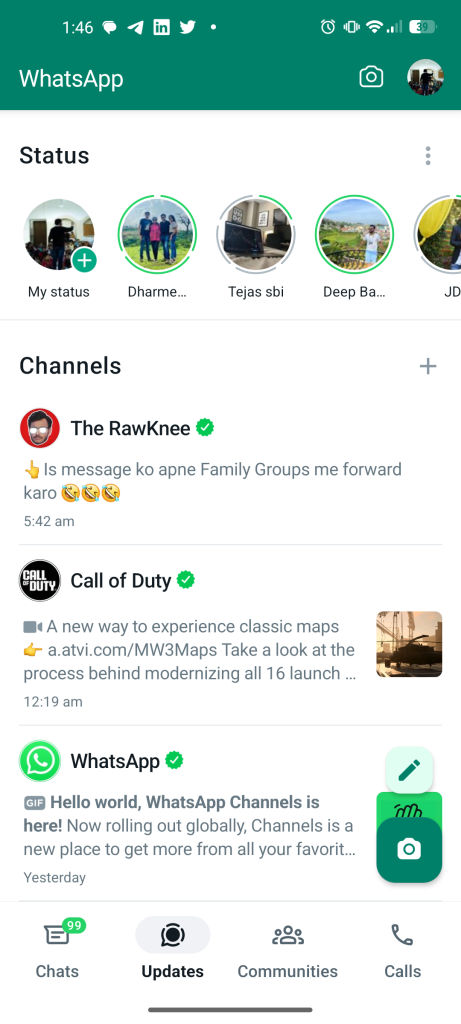 How to Create a WhatsApp Channel?
Creating WhatsApp channels is just as easy as creating WhatsApp groups. If you received the update introducing the WhatsApp channel and you want to make one on your own, follow these steps to develop WhatsApp channels.
Note: Some individuals are not able to create channels just yet. Keep an eye on this space for future updates, but if you have got the option to create channels here's how you do it.
Go to the Updates tab

In the updates tab select the plus icon (+), select the new channel option



Tap get started and set up the channel's profile picture and description of the channel. You can also add a profile picture.

Once done, select Create channel and your WhatsApp channel will be created.



Share the invite link via messages, email, or the web to let people join the channel.
How to Make Channels Private or Public
While creating channels, you can choose if you want your track to be private or public, but if you mistakenly select an undesired option while making channels, here's how you can change it.
Tap on your channel's name or profile picture at the top

Scroll down to channel settings

Select privacy settings

Set privacy from private to public or vice-versa
How to Join a WhatsApp Channel
There are several ways you can join the WhatsApp channels. If the channel is private, you will need to be invited by admission or have access to the invite link. Then only you can join the private WhatsApp channels. But, if you want to join the open-indexed WhatsApp channel, you can search the track within the web or WhatsApp and tap join to join the channel.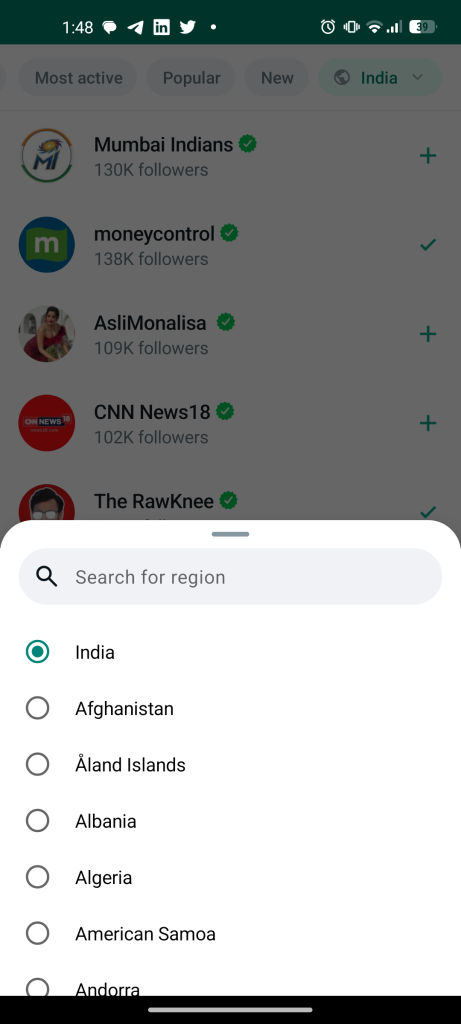 You have the option to join your regional or global open-indexed WhatsApp channel from the Channel Explore page. You can change region by tapping on the region menu in the rightmost corner or region tab.
Open the Updates Tab

Search or select a channel on the Find Channel page

Tap on the plus icon (+) or follow on the right side of the channel from explore page or search tab

Top WhatsApp Channels to Follow
FAQs
Can someone find me on the WhatsApp channel?
No, you can not be found on WhatsApp channels, as neither admin nor participants can see your contact details or personal information.
Can WhatsApp Channel Admin see my account?
Yes, the Channel admin can see that your account has joined their WhatsApp channel but can not access your contact or personal information.
Am I eligible to create a WhatsApp Channel?
Anyone who is using WhatsApp can create their own WhatsApp channel.
How many people can join my WhatsApp Channel?
We are not aware of how many people can join the channel, but as channels exist to reach a wider audience, the number of participants is higher.
What's the period of auto history clear?
By default, the history of the WhatsApp channel will get cleared after 30 days since the message was sent from participants and the WhatsApp server.
Can I block someone from taking a screenshot on my channel?
Yes, the channel admin can set the privacy settings where participants can not take screenshots of channel content.
When will I get access to WhatsApp Channel features?
The WhatsApp channels feature is being tested and will be rolled out worldwide once the testing phase ends. Currently, users from Columbia and Singapore can access WhatsApp channels.