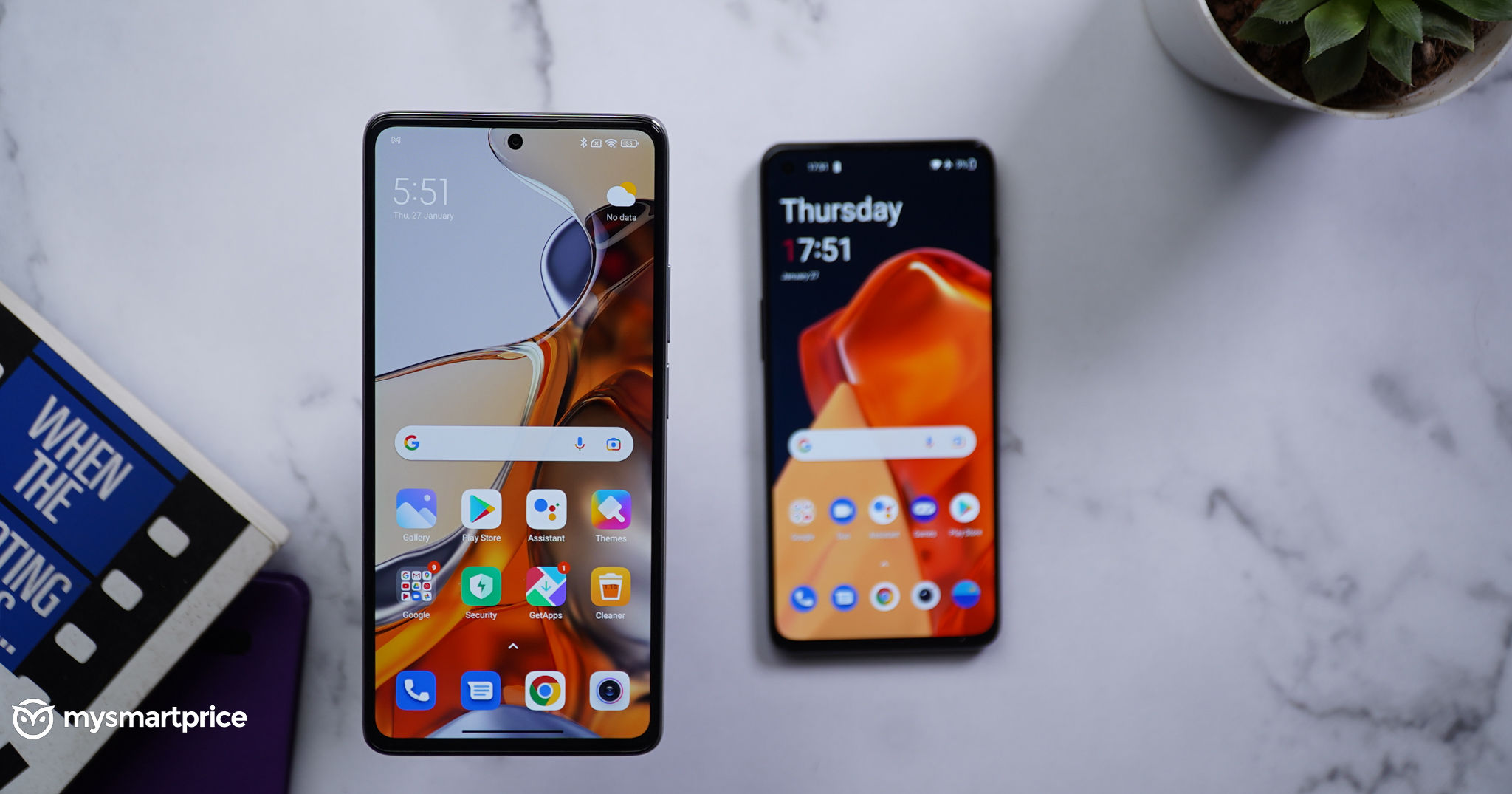 Traditionally the most intense smartphone battles were thought to be fought between the ultra pro flagships of the world. But in India this year, a new segment is redefining smartphone battles. After being a mostly Oneplus dominated space for the longest time, the 35-45K segment has sprung to life in the last couple of years thanks to a barrage of budget flagship options. Xiaomi has long established itself as a dominant force in the sub-25K market, but since 2020 we've seen an increased focus by them on the premium segment as well. It started with them launching the Mi 10, but the real game-changers were the Xiaomi Mi 10T and 10T pro that brought absolute top-end performance down to eye-watering prices. On the back of a successful 2021 with the Mi 11x series that set new benchmarks for the 30-40K segment of phones, Xiaomi is now back with what it's calling the 'Hyperphone'. The Xiaomi 11T Pro is here and it's here for a very clear purpose: to take on the Oneplus 9RT and to claim once and for all the title of the best VFM Flagship you can buy. While we are working on our in-depth video review, here's what you need to know if you are confused between these two phones.
Fast Charging isn't 'Fast' enough anymore
Expecting your flagship phone to come with some sort of superfast charging is a default expectation in 2022. The Oneplus 9RT comes with Oneplus' 65W superfast charging support which can juice up its 4500mAh battery from 0 to 100% in around 30 minutes. Impressive, isn't it? Well, not anymore. Because the Xiaomi 11T Pro comes with Xiaomi's brand-new Hypercharge technology with support for a whopping 120W of charging speeds! This means the 11T Pro can fully top-up its 5000mAh battery in an unbelievable 17 minutes as claimed by Xiaomi, under ideal conditions!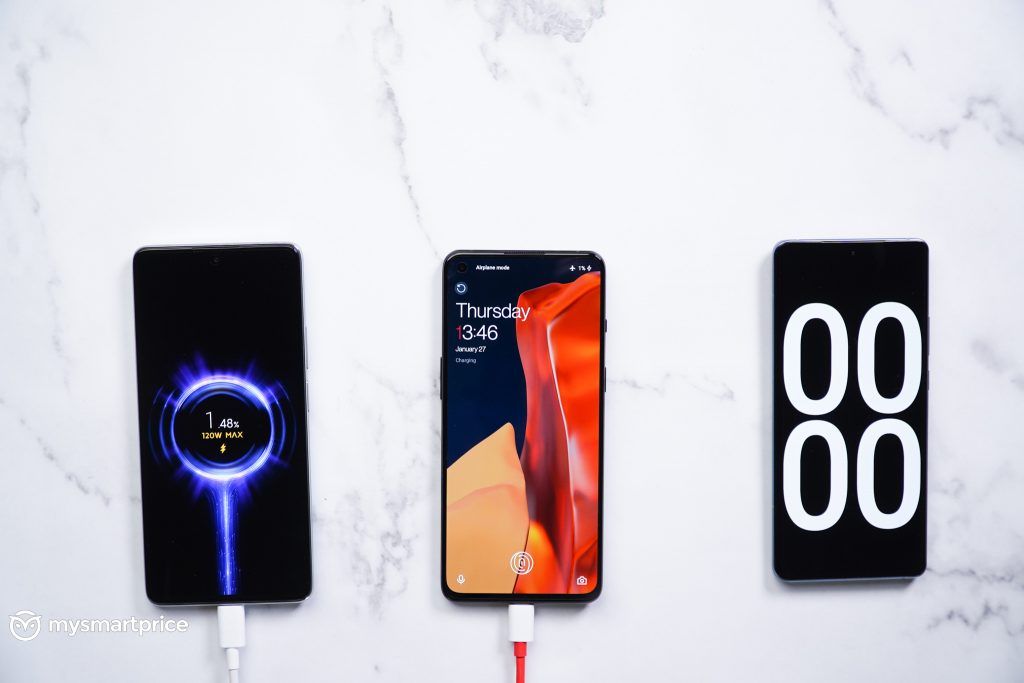 What this technology means is that you never really have to suffer from battery anxiety anymore. Because even a quick 5–10-minute charge will be enough to juice up the 11T Pro's battery enough for hours of usage. It's remarkable that despite supporting such an insane fast charging standard, Xiaomi has still managed to fit in a bigger 5000mAh battery in the 11T Pro, meaning it just doesn't charge faster, but will also be able to last longer between them.
Now Xiaomi has achieved these charging speeds with the combination of a lot of new tech which will need an entire video to explain but for simplicity, it's basically a combination of using Dual-Cell batteries, Dual Charge pump, MTW Technology and Mi-FC technology that considerably reduces trickle charging times. This also meant they needed to really double down on the security measures too including 34 protection features and 9 real-time thermal monitoring sensors to ensure safe charging. That's the reason why this phone has received TÜV Rheinland Safe Fast-Charge System Certification. Another concern about such high charging speeds is how it'll affect the battery health in the long term. Well, Xiaomi has tested this phone to retain up to 80% battery capacity even after 800 charge-discharge cycles, as compared to 60% battery capacity retention after 500 charge-discharge cycles, typically seen on other smartphones.
Edge-to-Edge Excellence
Another thing that has become commonplace in VFM flagships is packing in high refresh rate AMOLEDs and both of these phones have that too. But Xiaomi has again gone that extra mile to steer itself clear of the competition in this regard as well. The 6.5-inch 120Hz AMOLED screen on the Oneplus 9RT is good, but it gets trumped by Xiaomi 11T Pro's 6.67-inch 120Hz AMOLED with True 10-bit colors and support for not just (yeah, 'just') HDR10+ but Dolby Vision as well! Now what that means in simple terms is that the Xiaomi 11T Pro has not just 'one of the best' but undoubtedly THE best display on any phone in this segment. True 10-bit color means it can display up to 1 billion different colors, and support for both Dolby Vision and HDR10+ means you will get the absolute best multimedia playback experience on apps like Netflix, Prime Video and more.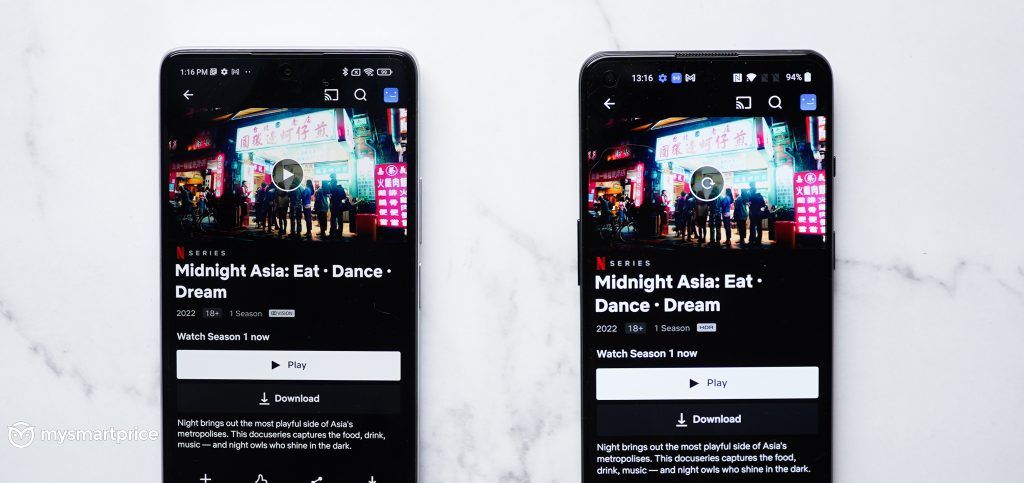 Even the glass protection used on the Xiaomi 11T Pro is the superior Corning Gorilla Glass Victus as compared to Gorilla Glass 5 on the Oneplus. You will begin to notice the theme here. Xiaomi 11T Pro does what every phone in the segment tries to do but takes it a couple of notches further. Take the speaker setup here for example. Both these phones feature a stereo speaker system, but the 11T Pro dials up the heat with a dual symmetrical stereo speaker system tuned by Harman Kardon! And if that wasn't impressive enough, it comes with support for Dolby Atmos audio and Hi-res audio playback. Couple this with a display that has won 14 DisplayMate A+ awards, and we've got ourselves a truly 'hyper' multimedia beast.
More Cameras for the Money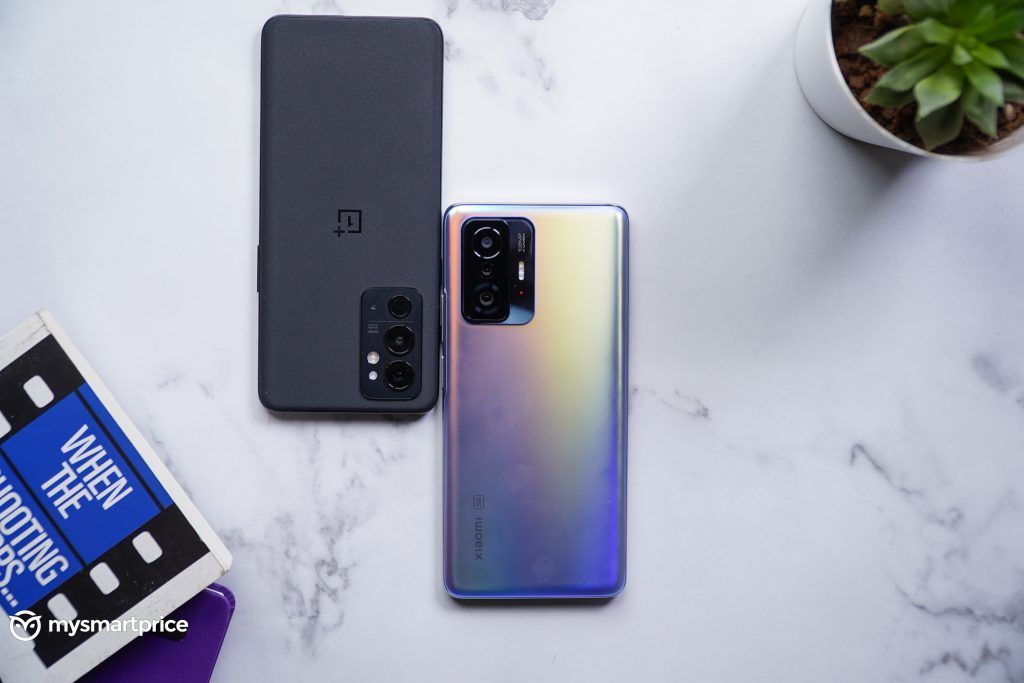 Cameras have traditionally been the Achilles' heel for many VFM flagships of our time. Both these phones try to beat that trend in their own way. While the Oneplus 9RT relies on a 50MP IMX766 sensor with support for OIS as its main camera, the Xiaomi 11T Pro packs in the mighty 108MP HM2 sensor for its primary shooter. Oneplus 9RT takes a slight win in the ultrawide department with a higher resolution 16MP camera as compared to 8MP ultrawide on the 11T Pro. But the 11T pro hits right back with Xiaomi's 5MP Telemacro camera that we've all come to love by now. It can even do FHD Video recording now. In comparison, Oneplus' 2MP fixed focus macro camera just doesn't stand a chance. We'll be doing an in-depth camera comparison for a more detailed analysis of their performance, but for now Xiaomi 11T Pro does have a slight edge on paper with support for 8K video recording and end to end HDR10+ capabilities. What this means is you can not only capture HDR10+ video straight from the 11T Pro's cameras but you can also view it in HDR10+ on the same device. This actually is the only device in this segment to have this kind of prowess.
All-round Hypersmooth
Apart from these major differentiators, both phones also share some similarities in terms of their internals. Both these phones come with Snapdragon 888 chipsets, so performance is not going to be a problem for either of these phones. One difference however is that while Oneplus has limited the Oneplus 9RT to just 8 5G bands, Xiaomi 11T Pro supports 13 5G bands, thus making it a better option for truly global 5G usage. The rest of the feature set on these phones includes 128GB of UFS 3.1 storage as base, LPDDR5 RAM (with Xiaomi also giving the option of upto 3GB additional Virtual RAM) and the latest versions of their respective Android skins. MIUI 12.5 is already one of the most refined and smooth MIUI experiences of recent times and Xiaomi has promised 3 years of software upgrades and 4 years of security updates for the 11T Pro.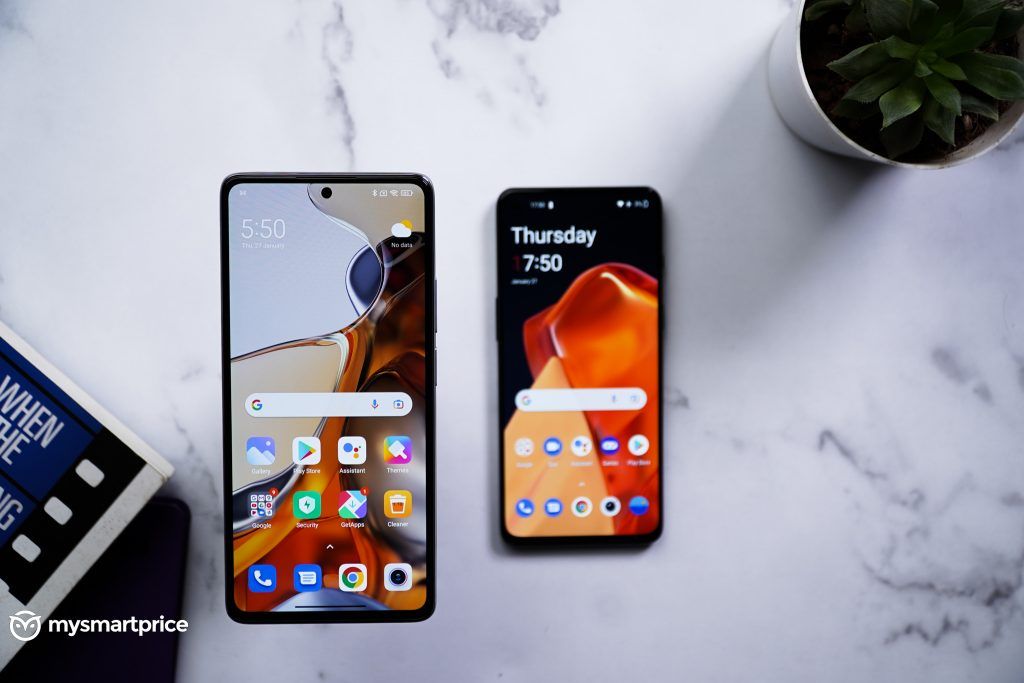 The final point of contention between these phones is the price. Oneplus has priced the 9RT at a competitive INR 42,999 for the base model. But remember how I said there's a common theme here? Well Xiaomi 11T Pro outdoes the competition with its price as well, starting at just Rs 39,999 for its base model (8/128GB), with an additional INR1500 discount on prepaid orders on mi.com and.an additional INR3500 discount if you decide to exchange an old phone. You can also check out the details about buying options and discounts here. At an effective price of Rs 34,999, the only thing more 'hyper' than this phone is the fact that a company is actually being able to sell a phone with soooo much crammed into it at such a price. So which phone should you be choosing between these two? Let us know in the comments.