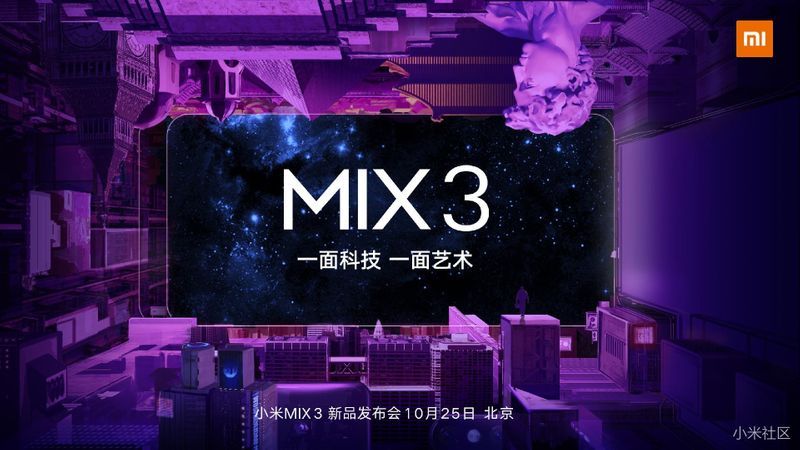 Camera performance in mobile phones is a big deal these days and most manufacturers who want to perfect their camera game inevitably have to deal with performance in scenarios where there is little to no light. The upcoming Xiaomi Mi Mix 3 is now officially confirmed to feature a Super Night scene mode, especially for night shots. The company confirmed the feature today and demonstrated the impressive quality of the Super Night Scene mode with a snap of the Belgium National Stadium famously known as the 'Bird's nest'. The Mi Mix 3 launches tomorrow in the Forbidden City of China and will probably be the most expensive Mix series device ever made.
Super Night Scene Mode
Elaborating on the Super Night Scene mode on the Mi Mix 3, this isn't a completely new feature altogether. It's been used earlier by OEMs like Huawei on the P20 Pro and OPPO's R17 Pro. The Super Night Scene mode works capturing multiple images and then combining them to weave a more crisp and detailed image. So, when the mode is used, it kicks in when users press the shutter button at which time many shots are captured and processed to create a final image with lower noise and better exposure. Obviously, this is software-based optimization but it evidently worked very well on the P20 Pro. The Mi Mix 3's night mode performance will obviously depend on how well Xiaomi's algorithm works on the handset. The Mi Mix 3 is also confirmed to boast 960fps slow-mo video recording but it is bound to be of lower quality than the one on the Galaxy Note 9 due to frame interpolation. Below is the image posted with the new mode.
Xiaomi Mi Mix 3 Features
Among other related news, the Mi Mix 3 has just been teased in a video commercial in Chinese revealing that the handset will feature an on-screen fingerprint sensor. An earlier leak allegedly showed a Mi Mix 3 rear with a fingerprint reader and that casted doubts about the in-screen reader. The Mi Mix 3 will be Xiaomi's most cutting-edge device yet with features filled to the brim. The handset will boast 10GB of RAM, which is an industry first, 5G connectivity (in one variant), a manual slider camera system somewhat different from the OPPO Find X, and Android Pie. Most recently, rumours have sprung up that the handset could rock a yet unannounced Snapdragon 855 SoC which seems quite unlikely, in my honest opinion. The handset will also boast wireless charging and a dedicated AI button for the first time on a Mix series.
In terms of specs, the Mi Mix 3 will be equipped with a 6.4-inch AMOLED display bearing 1080x2340p resolution. As far as the rear camera is concerned, there is conflicting info. One report suggests a 16-megapixel + 13-megapixel setup while another one suggests a 20MP + 16MP combo. However, we do know that the primary lens won't be the same as the Mi Mix 2s since the 960fps slow-mo will require a compatible shooter. The front is already confirmed to receive a 24MP sensor. The battery is rumoured to be 3850mAh in capacity.
As for variants, the Mi Mix 3 will start with a 6GB + 128GB version and talk around Chinese water coolers is that it could be priced 3,699 Yuan. There are two other variants as well that we reported exclusively – 8GB + 128GB and 8GB + 256GB. Another piece of important info for our global readers is that the handset will be launched globally too. XDA Developer findings from MIUI's camera app code belonging to a mystery device called 'perseus' hinted that there is a global variant of the device. So, let's be optimistic that this smartphone launches in India.