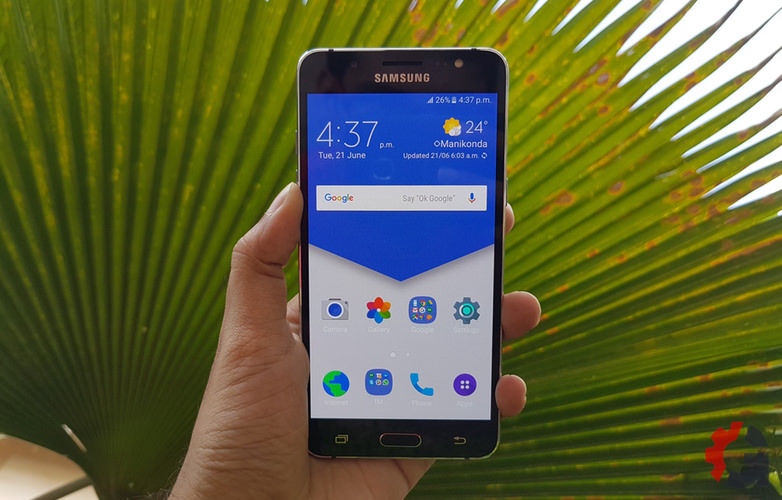 Having faced cut-throat competition from Chinese and Indian smartphone makers in the mid-range segment, Samsung came up with the new Galaxy J series of smartphones last year. Needless to say, the Galaxy J series went on to become a massive hit. Now, Samsung has released successors to the Galaxy J5 and the Galaxy J7. These devices come with metal frames, better front-facing cameras, newer software, increased storage and RAM, and larger batteries.
A quick look at the specifications sheet of the Galaxy J5 (2016) tells us that Samsung isn't too keen on changing things that aren't broken. Also, metal frames that were once available only in its high-end smartphones are now being offered on Samsung's mid-range smartphones starting with the Galaxy J5 (2016). But is that enough when competitors are offering faster chipsets and fingerprint sensors at the same price? Let's find out how the Galaxy J5 (2016) performs in this review.
Design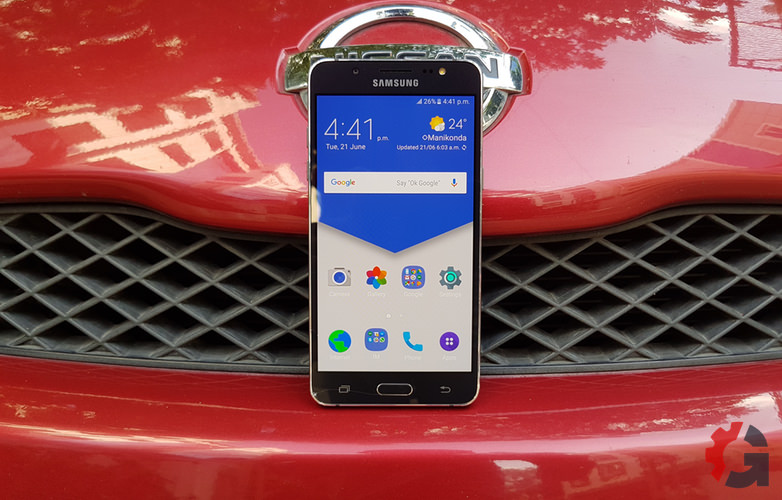 The Galaxy J5 (2016) doesn't look very different from its predecessor, but take a closer look, and you'll find that the frame of the device is now made of metal as opposed to last year's plastic one. Moreover, even the plastic bits feel more premium this time around. The plastic bits have brushed metal finish and the metal frame is chamfered. But, when competitors like Xiaomi and LeEco are offering smartphones with complete metal construction at the same price, that's just not enough.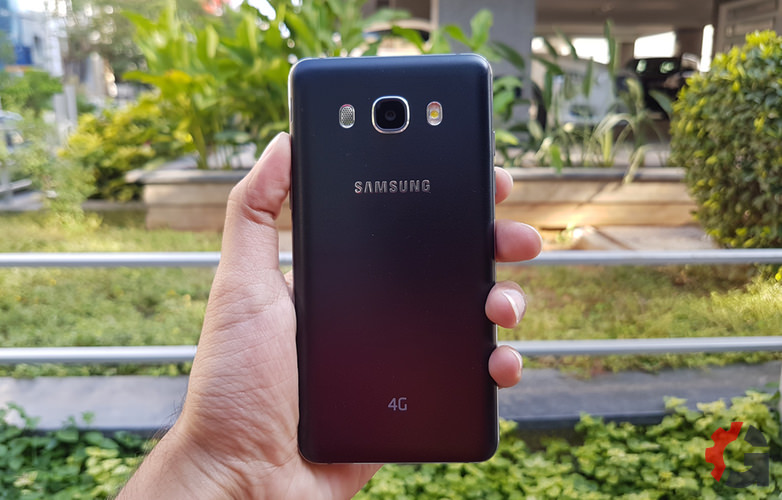 The volume and power buttons, though slim, have good tactile feedback. The microUSB port and the headphone jack are placed just right. The loudspeaker is placed next to the camera. Thankfully, the sound does not get muffled because the camera bump keeps the loudspeaker slightly raised from the surface. Since the back panel is made of plastic, there is no need for weird antennae lines on its back.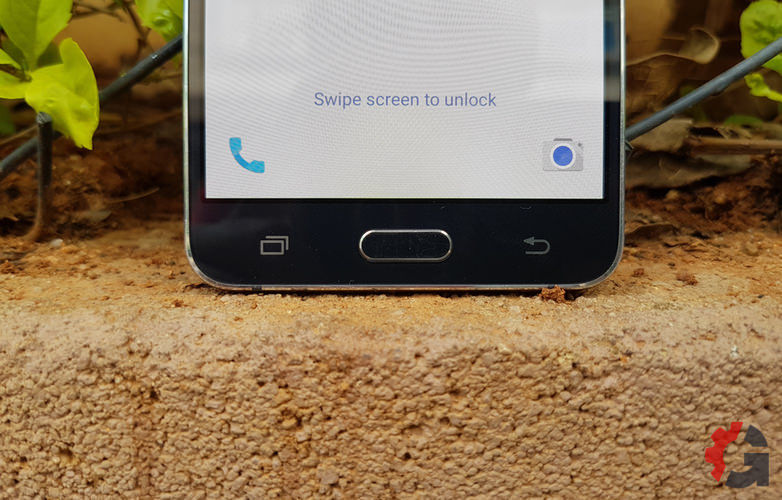 In terms of ergonomics, the device feels good to hold thanks to its curved corners and back, as well as its even weight distribution. The Galaxy J5 (2016) also slides easily into one's jean's pockets. The back can be easily removed to swap SIM cards and microSD card. Also, since the camera sensor isn't placed at the corner, you don't need to worry about accidentally spotting your own finger tips in images captured using the camera.
Display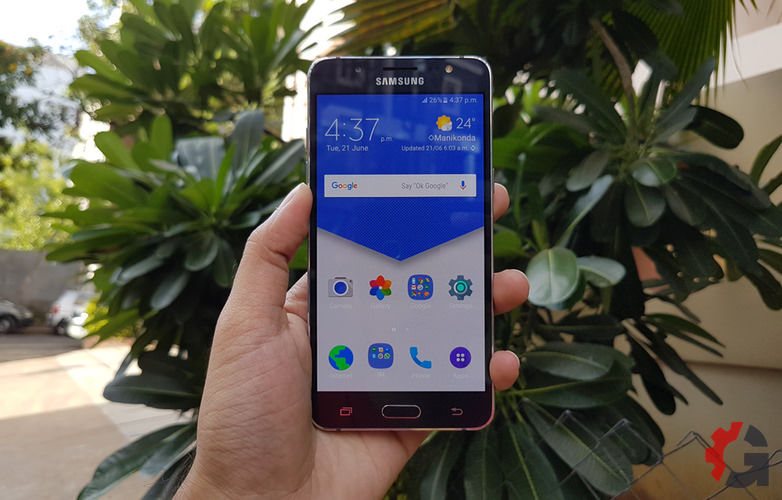 The 5.2-inch Super AMOLED display is neither too small nor too big, and I got used to the size pretty fast. However, at 1280x720p, it isn't as sharp as some of its rivals, and you can notice that while browsing the web. In my opinion, Samsung should just ditch 720p displays and opt for 1080p display panels in all its smartphones, instead.
The screen offers punchy colours, great contrast, and accurate touch recognition. It's plenty bright, even in direct sunlight, thanks to its Outdoor Mode. It's a shame though that Samsung missed out on an ambient light sensor in the Galaxy J5 (2016), so now you'll have to adjust brightness manually several times a day (and night). Samsung, really? It's 2016 for God's sake!
Camera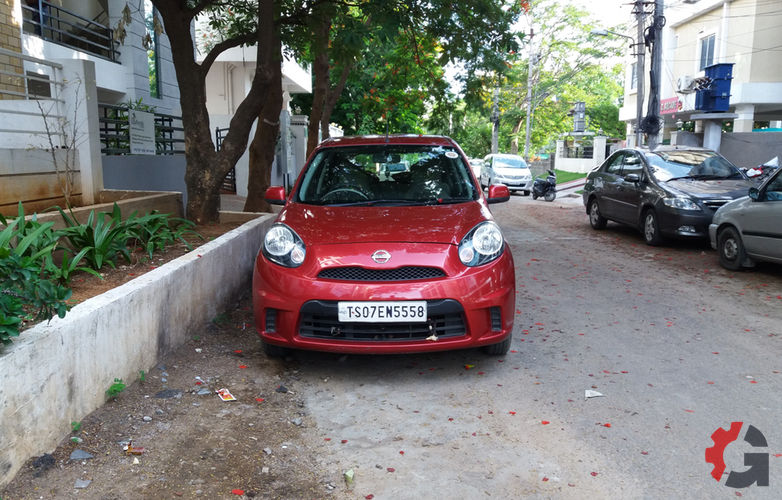 There's virtually no difference between the camera specs of the Galaxy J5 (2016) and its predecessor. It comes with the same 13-megapixel primary camera with autofocus, 28mm wide-angle lens, F1.9 aperture, LED flash, and 1080p video recording. Moreover, it also supports Samsung's utilitarian double press the home button to open the camera shortcut. But, what's sorely missing here is the HDR mode, (let alone Auto HDR), that's present on Samsung's high-end smartphones. Yes, you can't even enable it manually.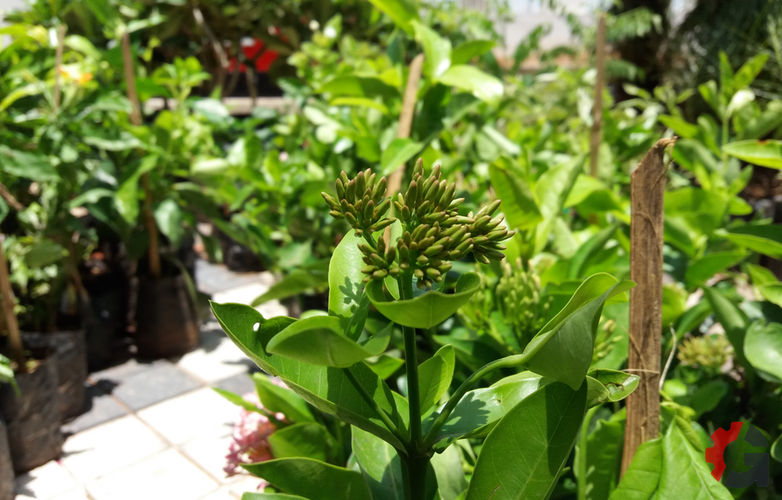 The camera takes decent pictures. Colours look lively and contrast is good too, but the level of detail in the images captured using the Galaxy J5 (2016) is not up to satisfactory levels, and I say this after having gotten used to Moto G4 Plus's excellent camera. There's a bit of noise in images, but it isn't anything that that gets out of hand. White balance is spot on and dynamic range is decent too. The Pro mode lets you adjust exposure, ISO, metering, and white balance. The camera UI is fast and simple. As the ambient light decreases, you can notice the device struggling to focus and capture detail.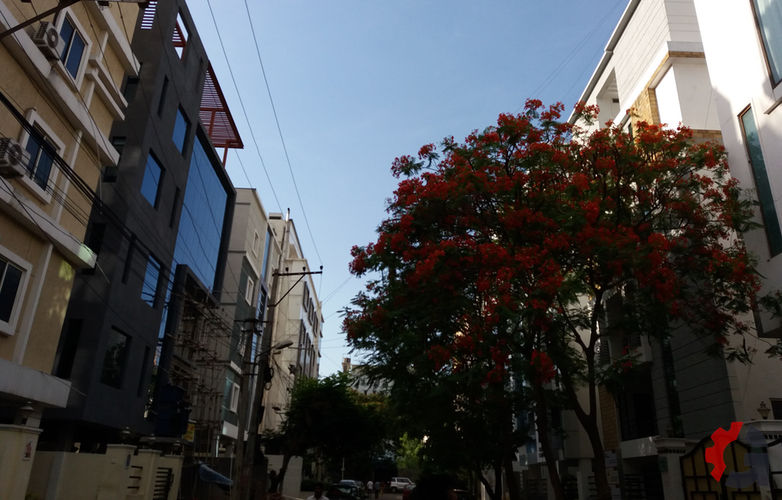 The Galaxy J5 (2016) can record videos at a maximum resolution of 1,920×1,080p, but these videos have the same problem we noticed in images: lack of detail. However, the camera consistently hits the 30fps mark and audio quality is impressive. The front-facing 5-megapixel camera with a fixed-focus lens is assisted by a single LED flash, and takes some impressive selfies. Take note, selfie lovers, the Galaxy J5 (2016) can be a decent companion, especially in low-light places like restaurants.
Software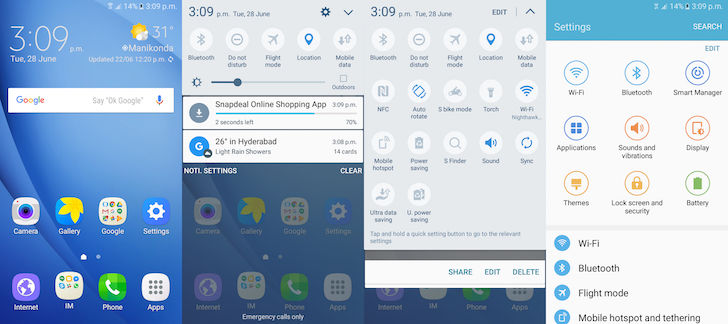 The Galaxy J5 (2016) comes with Android 6.0.1 (Marshmallow)-based TouchWiz UX. It brings native support for app permissions management, Doze mode, and Google Now on Tap as well as Samsung's proprietary features like App power saving, one-handed operation, Smart Alert, Smart Manager, Themes, and Ultra power saving mode. Samsung's keyboard performed well, so I didn't feel the need to install a third-party keyboard.
The latest version of TouchWiz is quite light on resources compared to its previous versions. Out of the 2GB of RAM, only 65-70% of volatile memory was being used most of the times. Smart Manager is now a part of Settings menu, and it consists of widgets that show battery level, storage consumed, RAM usage, device security, and Ultra data saving mode. It also comes with some bloatware in the form of pre-installed Microsoft apps including Word, PowerPoint, Excel, Skype, OneDrive, and OneNote.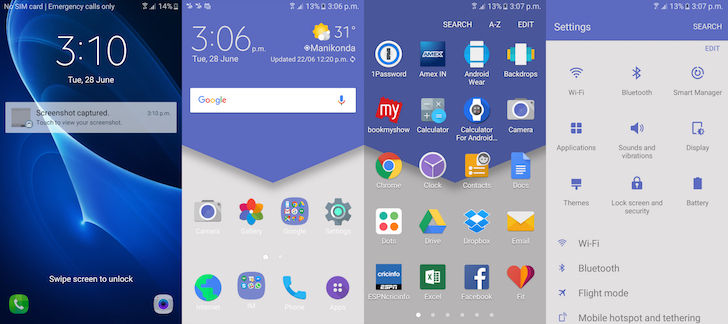 Support for third-party themes is quite interesting. If you don't like how TouchWiz looks, you can grab one of the many material design themes from the Theme Store and make your Galaxy J5 (2016)'s UI look like that of stock Android. Surprisingly, the company hasn't bundled its proprietary video player, which is known for its ability to play almost every video format under the sun. The software ran without any stutters for the most part. It's an impressive improvement from Samsung on the software side of things.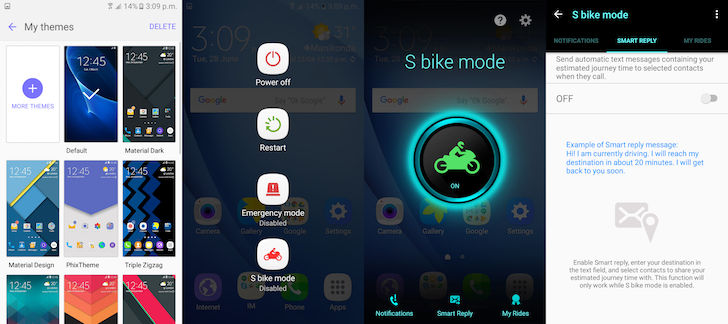 The device also comes with an S Bike mode in India. This specialized mode lets users ride distraction-free by limiting notifications and a built-in answering machine. The S Bike mode can be activated using an NFC sticker or by using a quick setting toggle or a shortcut from the power menu. The inbuilt answering machine lets callers know that the owner of the device is currently driving. Callers can choose to call later or press 1 to reach the rider in case of an emergency.
Performance
Samsung hasn't changed the processor on the Galaxy J5 (2016) as it comes with the Snapdragon 410 SoC with a quad-core Cortex-A53 CPU, that is similar to the Galaxy J5. However, there's a slight bump in the RAM capacity, and the storage capacity has been doubled. The Adreno 306 GPU is powerful enough to drive a 720p display.
The device's performance was good most of the time, but I did notice some frame drops and stutters when apps were being installed in the background. The same thing also happened when I started using the device after it was in sleep mode for a long time. It looks like the device takes a few seconds to kick in all the cores from sleep state.
Call quality was excellent throughout the review period, but the loudspeaker on the back of the device leaves much to be desired. Music quality through headphones was very good and the audio output was loud too. Signal reception was pretty good, and I didn't face any problem even in areas such as parking lots, closed staircases and elevators.
Battery Life
As opposed to the 2,600mAh battery that came with the Galaxy J5, the Galaxy J5 (2016) comes with a larger 3,100mAh battery. The removable battery can be charged using the microUSB v2.0 port, and the device comes with a 10W charger that charges the battery from nil to full in 2.5 hours.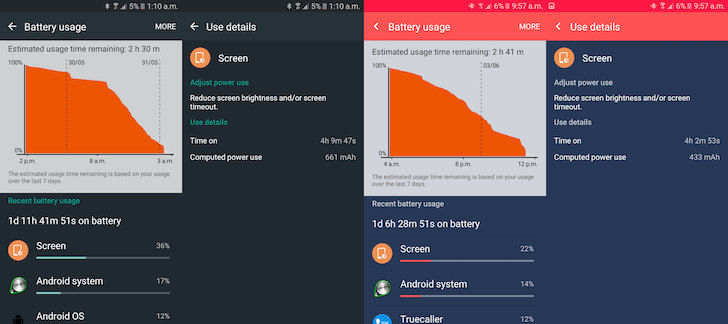 The device was loaded with three email accounts in sync, a bunch of IM and social networking apps, automatic cloud backup for images and videos, Google Now, and it was also connected to a smartwatch using Bluetooth. The Galaxy J5 (2016) lasted well over a day in a mixed usage pattern. I was consistently able to achieve over four hours of screen-on time with a standby of over 30 hours.
Conclusion
The Galaxy J5 (2016) improves upon shortcomings of its predecessor in a number of ways: battery life, build quality, and software performance. Also, it is the cheapest smartphone from Samsung to feature a metal frame. It is easy to handle, thanks to its good build quality and ergonomics. Its display is not as sharp as some of its rivals', but it still manages to do well in varied lighting conditions. Both cameras can snap some decent pictures, but they aren't as good as the Moto G4 Plus'.
The Galaxy J5 (2016)'s software is where most of the improvement is evident and it shows that Samsung has worked a lot to improve the user experience. The 3,100mAh battery is nothing close to the Redmi Note 3's 4,100mAh battery, but it still lasts well over a day even with heavy usage. It comes with a removable battery, so you can swap an empty one with a fully charged one in a matter of seconds.
Nevertheless, this device still doesn't compete with other value-for-money devices like the LeEco Le 1S, Meizu m3 note, Moto G4 Plus, and the Xiaomi Redmi Note 3 due to a boring design, lack of a fingerprint scanner, and a chipset that's much slower than those used in its competitors. Moreover, Samsung made a silly mistake of not putting in an ambient light sensor. If you're looking for better performance, there are better smartphones out there, but if software stability and reliance is your primary need, the Galaxy J5 (2016) is a good choice in this price range.
Samsung Galaxy J5 (2016)
₹13,990
What Is Good?
Good build quality and ergonomics
Bright, colourful display
Decent image quality from the rear-facing camera
Good quality front-facing camera with front-facing LED flash
Pared down TouchWiz UX runs smooth
Removable battery
Very good battery life
What Is Bad?
Boring design
Incompetent processing chipset
No ambient light sensor
No fingerprint sensor
Performance could be a problem one year down the line
Priced higher for the features it offers