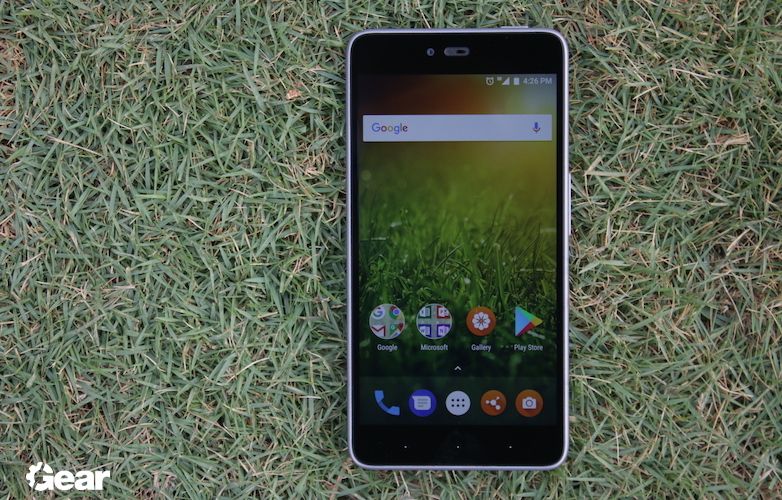 Sachin Tendulkar-backed technology company, Smartron, is a relatively new entrant in the smartphone market. It's also one of the few Indian companies putting an effort towards research and development, along with designing and engineering their own products, unlike the rest of the field, who sell re-branded Chinese handsets. Having launched their Smartron t.phone for ₹25,000 last year, the company has turned its attention to the budget segment this year, with the new srt.phone, launched last month.
The t.phone, which we reviewed sometime last year, failed to impress, particularly because of its pricing, which was at par with much better-specced phones like the Xiaomi Mi 5, LeEco Le Max 2. At the outset, both the higher-end 64GB variant (our review unit), priced at ₹13,999, as well as the 32GB variant of the srt.phone, which costs ₹1000 less, seem like more reasonably priced phones in comparison. I used the srt.phone as my primary device for a little over two weeks. Let's take a look at the phone's specifications in some detail so you get an idea of how the phone compares with other devices like the Moto G5 or the Xiaomi Redmi Note 4 in this price range.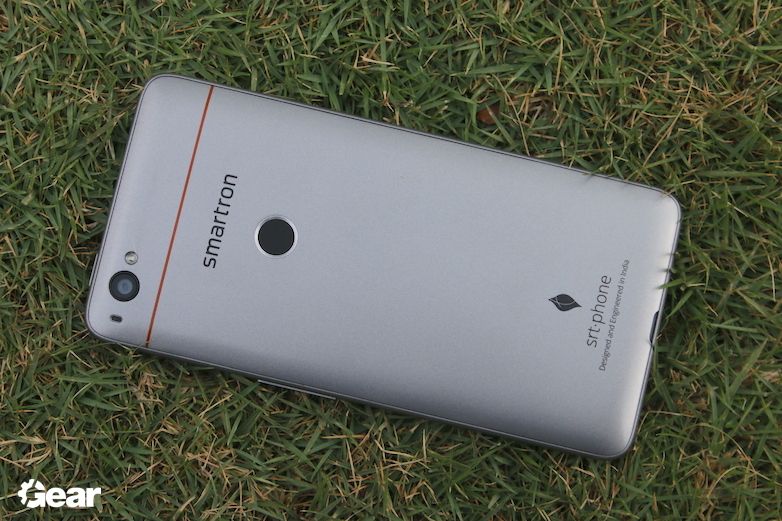 Smartron srt.phone specifications
Display: 5.5-inch IPS display with Full HD resolution and Corning Gorilla Glass 3 protection

Chipset: Octa-core 1.8GHz Qualcomm Snapdragon 652 MSM8976 chipset with Adreno 510 GPU

Software: Android 7.1.1 Nougat

Memory: 4GB of RAM

Storage: eMMC 5.1 based 32GB or 64GB

Rear Camera: 13-megapixel camera with PDAF, f/2.0 aperture and LED Flash

Front Camera: 5-megapixel camera

Network: 4G VoLTE, Dual SIM (Micro+Micro)

Connectivity: Dual-band Wi-Fi (802.11 a/b/g/n/ac), Bluetooth 4.1, GPS

Battery: 3000mAh with Quick Charge 2.0

Dimensions: 153x77x8.9mm

Weight: 155g
The srt.phone seems quite comparable to the likes of the Honor 6X, the Redmi Note 4, and the Motorola Moto G5, on paper. In fact, the smartron srt.phone looks better than the Redmi Note 4 and the Honor 6X if you take into account the fact that it comes with Android 7.1.1 Nougat out of the box. Smartron is also promising an upgrade to Android O as soon as it becomes available. The lack of expandable storage may bother some of you, but 64GB is ample storage for most consumers. 
Smartron srt.phone review: 

Design and build-quality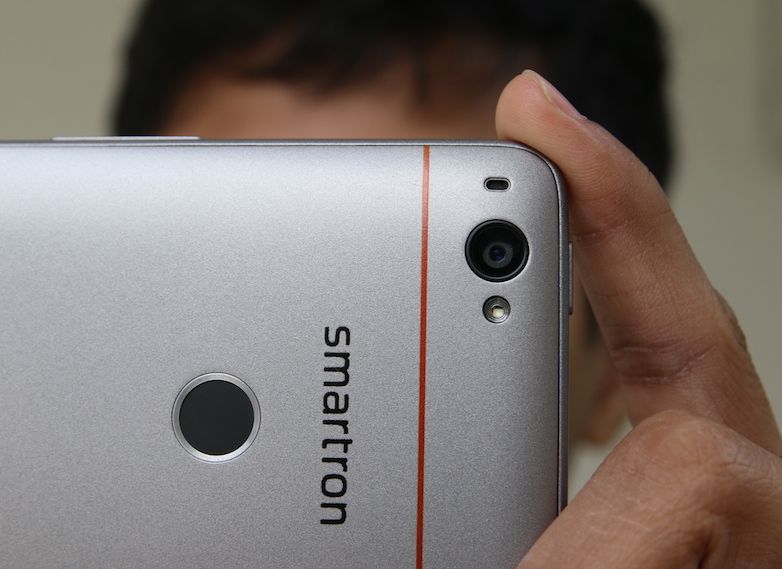 There's something about the phone's finish that gives out a non-premium vibe. I can't seem to put my finger on any one thing, but maybe it has to do with the materials used, the way the panels fit against each other, the 2mm bezels on either side of the display, or the paint job. Aside from the aesthetics, which I think are unremarkable and a little dated (can't imagine the Sachin Tendulkar signature back covers actually improving matters), I think the phone feels sturdy and rugged enough to withstand the odd fall.
The srt.phone is available in titanium grey colour, along with optional Sachin Tendulkar Signature back covers for serious fans. When seen against Smartron's first phone, the srt.phone feels like a much better device. The 5.5-inch Full HD panel contributes in good measure to the phone's bulkiness. The mildly-curved back lends this somewhat bulky phone adequate grip.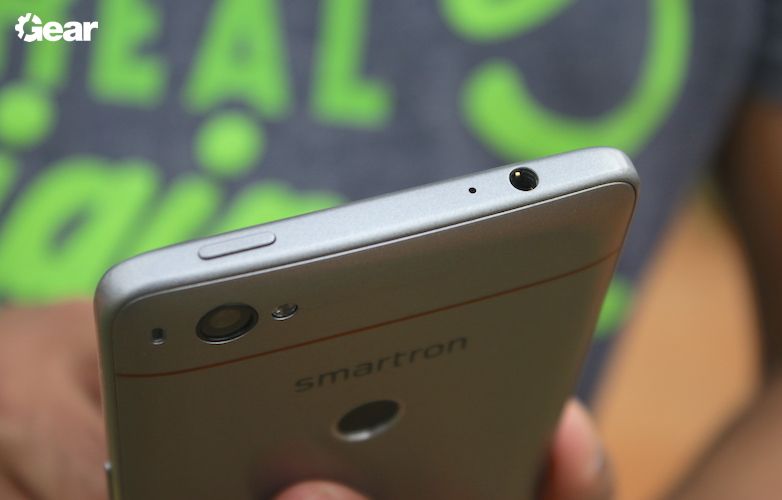 The grey back reduces visibility of fingerprint smudges, but I find the power button's positioning at the top very odd. While the fingerprint sensor does come in handy to unlock the phone, the power button is a fairly frequently used button, whether it is to lock your phone or to take a screenshot, and isn't the most conveniently positioned. If you're someone that uses either of the volume buttons to take photos frequently, you'll find their positioning odd (closer to the centre of the phone's frame as opposed to the edge) as well.
The two nano SIM slots sit behind the phone's back cover, and accessing them requires that you take the cover off first. I'm not sure if this can be called a design quirk, since you don't need to use a sim-ejector tool with the phone, but it certainly is odd considering the phone's battery isn't removable.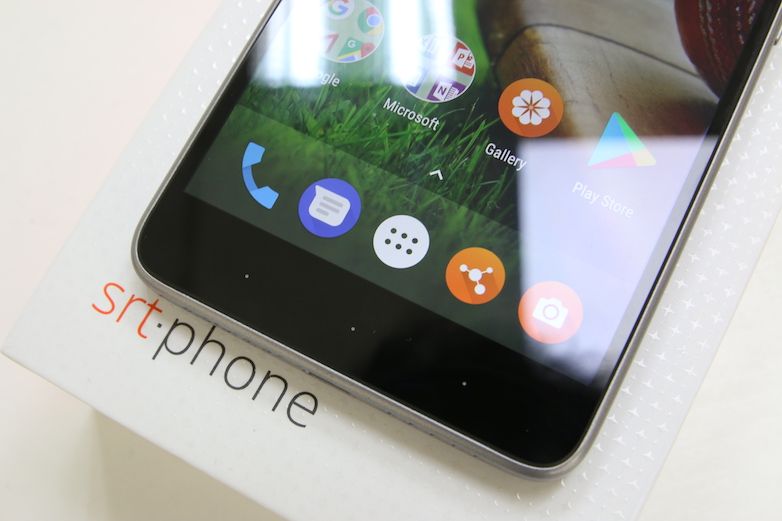 The phone's 5.5-inch Full HD display is protected by Corning Gorilla Glass 3. Three backlit dots below the display serve as the Home, Back, and Recent Apps buttons. I've just moved to the srt.phone after almost two weeks of using the HTC U Ultra, and have been struggling quite a bit with the Back and Recent Apps buttons as the order has been reversed, with Recent apps to the left, and Back to the right of the Home button. The USB Type-C slot sits between the phone's speaker grills at the bottom of the phone's frame.
Smartron srt.phone review: 

Performance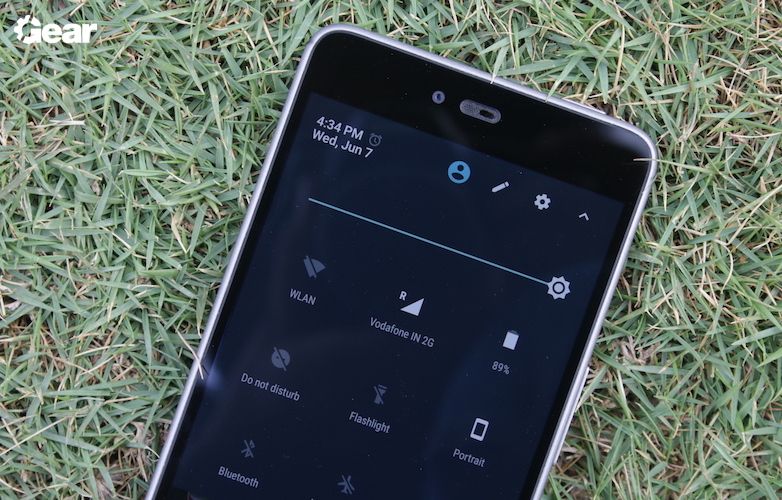 One area where I think it is unacceptable for phones today to falter is call quality. With the srt.phone, I've had issues with call quality, and was told on more than one occasion by persons on the other end of the line that they had difficulty hearing me clearly. This is something I find hard to ignore. It is also difficult to blame the service provider for the same, especially because I made calls from the same location using multiple phones just to cross-check. Latching onto a network, however, was fairly fast. A system update from Smartron (T5524INDUQE-172), which promised further improvements in network registration as well as camera tweaks failed to work in spite of repeated attempts at installation.
Smartron srt.phone review: 

Hardware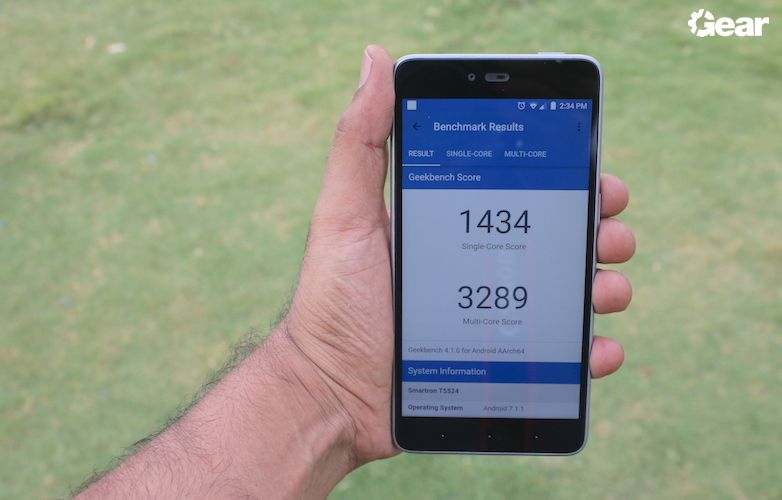 As mentioned earlier, my Smartron srt.phone review unit packs 4GB of RAM and 64GB of storage space, and is powered by an octa-core Qualcomm Snapdragon 652 SoC.  The phone performed above average at benchmark tests, returning a score of 70491 on AnTuTu. On Geekbench, the srt.phone returned a single-core score of 1434 and a multi-core score of 3289. While the scores may not sound particularly impressive, I couldn't find any major negatives in the phone's performance at some of the more commonly-used tasks. Scrolling through large pages was seamless and smooth, as were graphics and transitions. 
Gaming was a pleasant experience as well. I played fairly resource intensive games like Need For Speed No Limits, Asphalt, and also Modern Combat briefly. Except for somewhat longer loading times on occasion, I had a mostly lag-free experience during gameplay with all three games.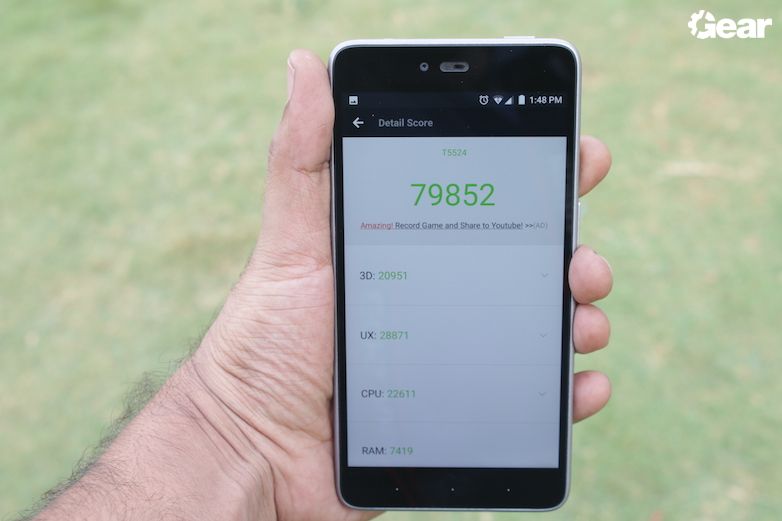 The fingerprint sensor located at the back of the phone is quick at authentication, and didn't fail me even once in my use of the phone. I used the phone's NFC feature to connect with wireless speakers, and it worked without any hiccups. Bluetooth pairing with the speakers worked smoothly as well.
Smartron srt.phone review: 

Display

The phone's 5.5-inch Full HD display with a pixel density of 401 PPI is one of the strong points of the phone, and is bright with decent legibility outdoors in bright sunlight, with decent viewing angles as well. I couldn't find anything to complain about with regards to colour reproduction either. It may not be among the best 5.5-inch displays I've come across, but it certainly didn't disappoint.
Smartron srt.phone review: 
Audio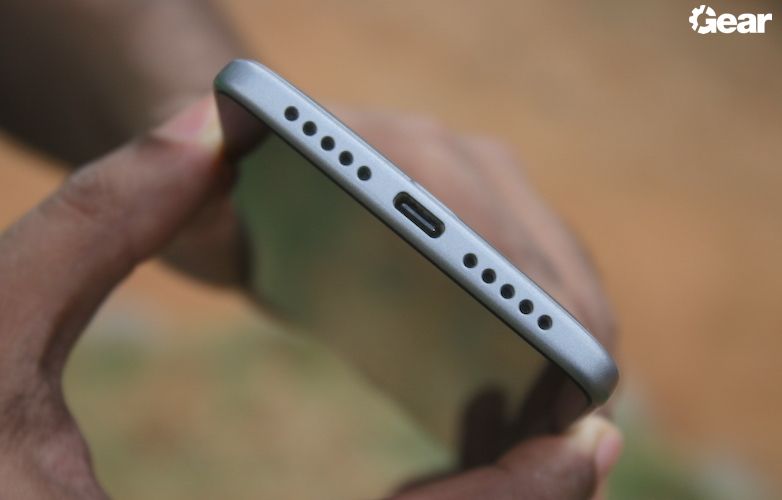 To be honest, I am a little disappointed with the phone's built-in single speaker at the bottom of the frame, which isn't loud enough. It is easily drowned out by ambient sounds, and is barely audible even at full-volume if the ambient sounds get any louder. It wasn't any match for my ceiling fan, and I had to switch the fan off on more than one occasion to make any sense of the audio playing out of the speaker.
Smartron srt.phone review: 
Camera and image quality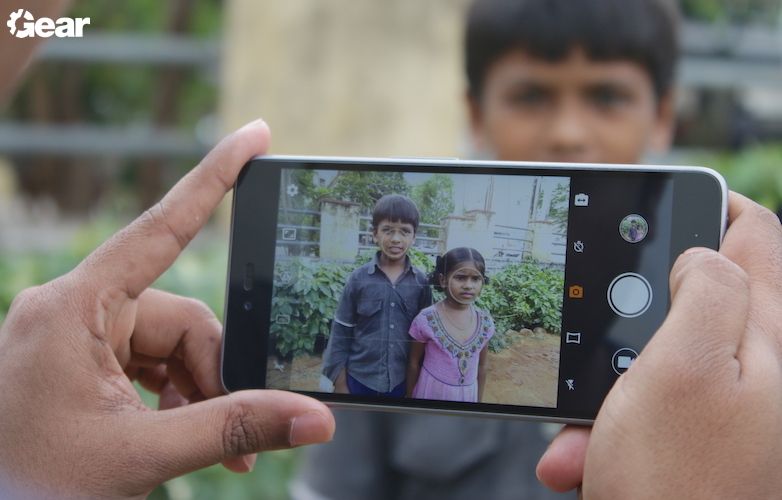 In bright light, image quality from the 13-megapixel F2.0 primary camera is just about average, and doesn't really compare with what flagship phones or even what some mid-range phones are capable of today. In low-light, the camera struggles with achieving focus, and the phone invariably chooses slow-shutter speeds making it quite difficult to get a steady shot. . Image quality, once again, is average at best. When shooting in the Auto mode, motion blur affects even the photos taken in decent lighting conditions.
The camera app has some quirks of its own. Manual mode won't allow for shutter speeds slower than 1/100th of a second, which is kind of like what the average point and shoot camera was capable of, back in the day. At that shutter speed, you're unlikely to get an even acceptably bright image in poor lighting. While this may have been done to ensure image sharpness, and to avoid motion blur from ruining your shots, noise still crops up in low-light, even when you shoot at low ISOs.That apart, though, the camera app is well-designed with easy access to the most commonly used features. Auto-HDR doesn't always yield very noticeable differences from when switched off, but HDR On works fine.
The front-facing camera 5-megapixel camera yields poor quality, with some heavy-handed sharpening and noise reduction. Your WhatsApp video chats are likely to leave the people you're chatting with disappointed.
I have a few small issues with the camera's video mode. Switching to slow-motion or time-lapse modes changes the video quality to 720p. The app doesn't switch back to a higher video recording quality and stays at 720p, even when you get out of the slow-motion or time-lapse mode. At 4K resolution, the srt.phone will let you record video for a maximum time of 10 minutes. Video quality is quite good, especially at that resolution.
I was hoping to see how the system update would improve the camera (given that the update specifically mentions camera improvements), but since it failed, I'm afraid I'm going to have to go ahead and rate the camera based on its performance without the update.
Smartron srt.phone review: Battery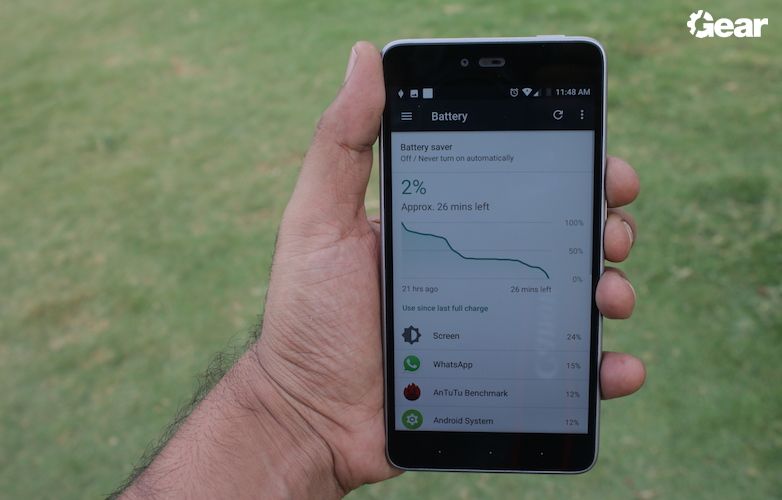 Quick Charge 2.0 makes for fast charging of the phone. At 3000mAh, I actually thought the battery would only barely manage to last me an entire day's use, but it completely superseded my expectations. In my use, I managed to clock 6+ hours of screen-on time on at least one occasion. 
Smartron srt.phone review: Software
The srt.phone runs Android Nougat 7.1.1 out of the box, which is close to a stock build. Swiping right gets you the Google Now screen, letting you search on Google with ease. A long press of the phone's home button calls up the Google Assistant. In my use, I found both these tools, available with a simple long-press or a swipe, to be extremely handy. Split-screen is available by long-pressing the Recent Apps button for supported apps. The app drawer makes a search bar available, so you don't have to go through the trouble of scrolling endlessly.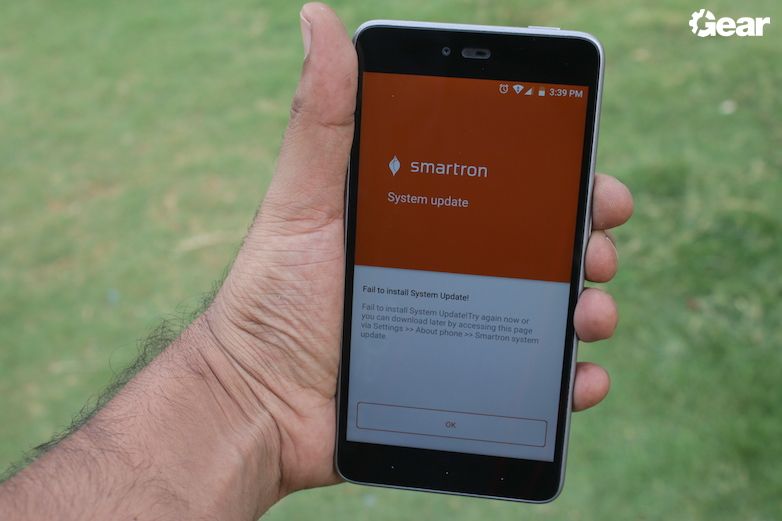 Apart from a small suite of fairly useful Microsoft applications like Excel, PowerPoint, Word, OneNote, and Skype, there is little bloatware on the srt.phone. The tronx app, with sections for purchasing Smartron products and accessories (tstore), cloud storage (tcloud), and after sales service (tcare), is unobtrusive, and stays hidden in the app drawer, unless you decide to use it. In addition to letting you make purchases of Smartron products and accessories, the app lets you use SmartIcon's own cloud storage service and offers unlimited backup space for your contacts, messages, photos and videos.
The srt.phone will also get the Android O update once it becomes available.
Verdict
One of the main reasons behind my reluctance to readily recommend this phone is poor call-quality, which to me is unpardonable. I'm willing to give the srt.phone the benefit of the doubt because I'm not entirely sure if my problems with call-quality are specific to my review unit alone. For a price of ₹13,999, it is difficult to find a much better-specced phone on paper, although there are several alternatives available for a similar price. 
If you're willing to compromise on the sub-par camera, you're unlikely to have any very major complaints with the phone. The 64GB variant, which only costs an additional ₹1000, definitely makes more sense given that the phone doesn't have expandable storage.
Thanks for reading till the end of this article. For more such informative and exclusive tech content, like our Facebook page