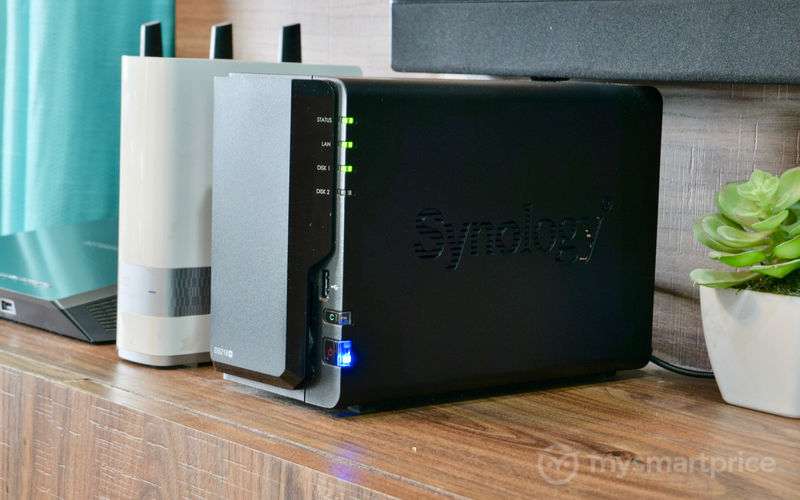 My first experience with a centralised data backup and media streaming solution started with the Western Digital MyCloud 3TB. My colleague had gifted it to me on my birthday (yes, we're complete geeks that way) and I enjoyed using my first, internet connected storage solution. However, I started feel the pinch two years later when I ran out of storage space and since it's doesn't feature expandable storage, I had to stop using the MyCloud. Moreover, Western Digital wasn't quick enough to update its desktop and smartphone apps with newer design or features. I later switched to Google Photos for backup up my images and videos as it had way more features, including facial recognition for automatic sorting and better sharing options. However, I still needed one more copy of my data on a local device.
A natural upgrade from the MyCloud would be a network attached storage (NAS) with upgradeable storage using hot-swappable hard disk drive bays, and a more intelligent software. Netgear, QNAP, Seagate, Synology, and Western Digital are some of the popular brands that sell NAS solutions. Synology was kind enough to send us a DiskStation DS218+ 2-bay NAS with internal 4K video transcoding. I used the DS218+ for more than a month to test its data backup as well as media streaming features. It costs $249 in the US but it's priced in India at Rs. 28,500. It can be purchased through Synology's official distributors in India: EBM, RIEPL, and Supertron Electronics. Apparently, Synology is trying to enhance its collaboration with Amazon.in to reduce prices even further.
Let's check out how good the Synology DS218+ turned out to be at what it does.
Synology DiskStation DS218+ NAS Review: Features, Specifications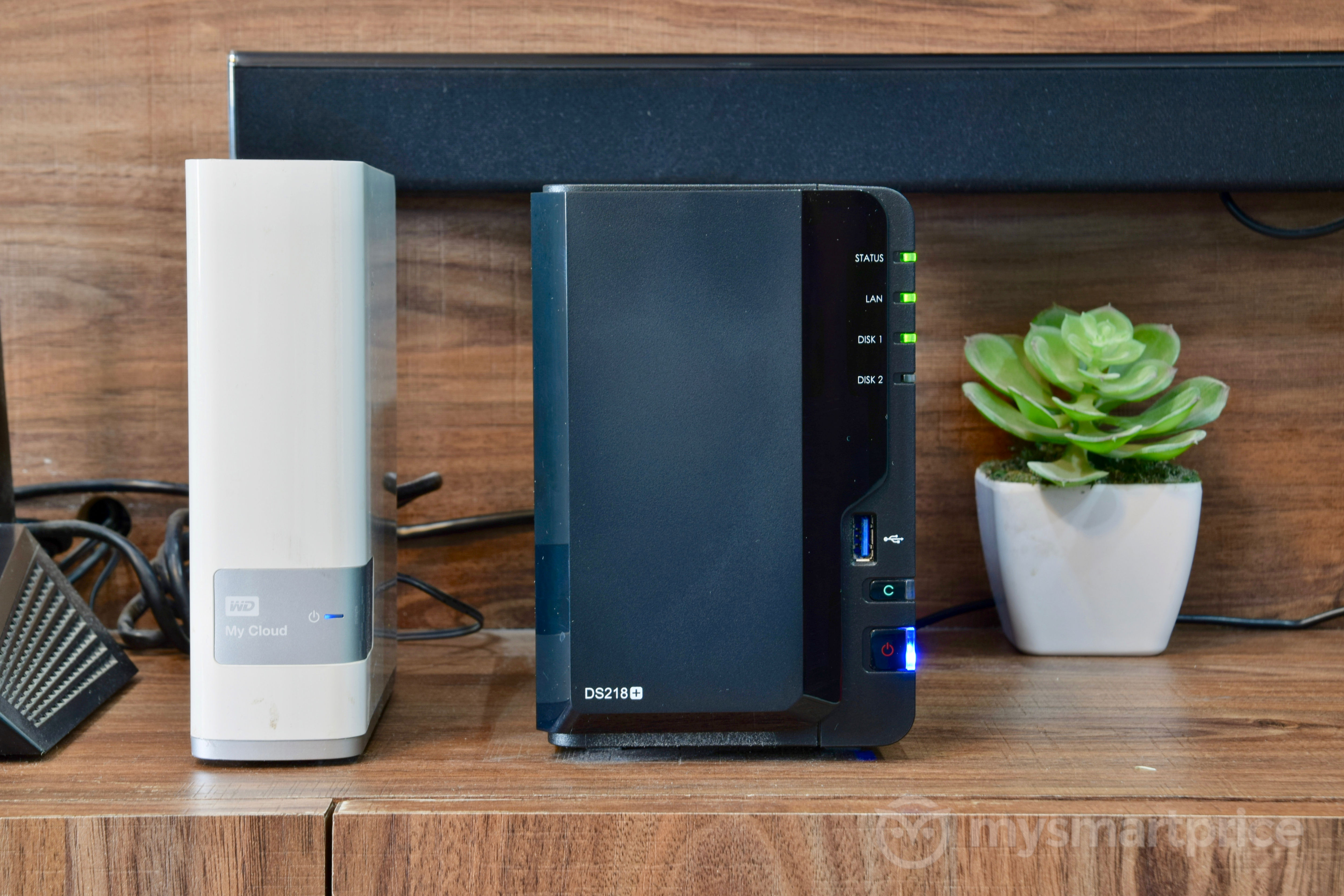 The Synology DS218+ is a 2-bay NAS with an Intel Celeron J3355 (2.0GHz or 2.5GHz in burst mode) dual-core CPU with AES-NI hardware encryption engine, 2GB DDR3L RAM pre-installed, and 4K H.264/H.265 video transcoding at 30fps. It has two drive bays (compatible with 3.5-inch and 2.5-inch HDDs as well as 2.5-inch SSDs) 2 RAM slots and one comes populated with 2GB RAM stick, so you can add a 4GB RAM stick in the other slot to make it a maximum of 6GB RAM.
It even supports BTRFS for better data protection and scaling. It has one USB 3.0 port at the front, two USB 3.0 ports at the rear, an eSATA port, and a gigabit LAN port. The company claims encrypted reading speeds of up to 113 MB/s and encrypted writing speeds of up to 112 MB/s. It even supports some Bluetooth and Wi-Fi adapters, so you can make it a wireless system.
The DS218+ is the most affordable NAS in the company's Plus lineup, and it supports secure data backup, file sharing, data access over the internet, cloud synchronisation, and multimedia streaming to other devices in the network. The Synology DS218+ is a "high-performance, always accessible NAS server" that works with most platforms that matter: Android, iOS, Linux, Mac, Windows and Windows Phone. It has media streaming apps for Android, Android TV, Apple TV, iOS, and a few smart TVs. It runs DiskStation Manager (DSM) operating system which can be used through a web browser. Just like most Synology NAS drives, the DS218+ comes with a standard 2-year warranty.
Synology DiskStation DS218+ NAS Review: Design
Synology DiskStation DS218+ NAS - Design
The DS218+ is fairly compact, and has a simple design. Its body is made up of high-quality plastic. At the front, there is a removable plastic cover which is attached to the body of the NAS using four rubber pins. The front cover hides two hot-swappable, tool-less drive bays which are compatible with 3.5-inch and 2.5-inch storage drives. The bays contain plastic trays which are used to secure the drives. At the front, you can also find four LED lights to indicate the status of the NAS, LAN, Disk 1, and Disk 2. There's a power button and a copy button.
For storage expansion, there's a USB 3.0 port at the front and two USB 3.0 ports at the rear. You can install two 12TB drives, making it a total of 24TB. However, if you wish to expand the storage even further, you can do that by buying the Synology DX517 expansion bay, which has five drive bays, allowing up to five 12TB drives (60TB), making it a total of 84TB. That's a hell lot of storage. The expansion bay can be connected to the DS218+ using the eSATA port. There's a big fan at the rear which keeps the NAS cool while processing and transferring your data. There's a reset button and a Kensington lock port at the rear. A 60W power adapter is bundled with the NAS along with an ethernet cable.
Synology DiskStation DS218+ NAS Review: Installation & Setup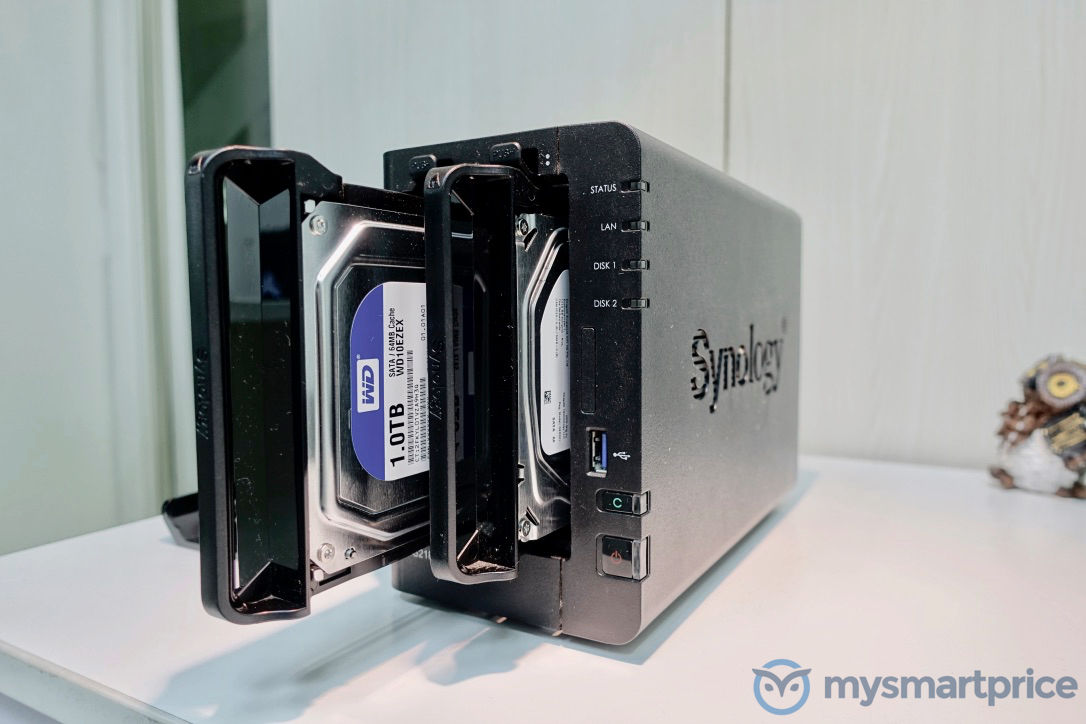 The drive trays can be ejected by pressing the button at the top of them. Once you eject the trays, you can fit the drives in, secure the trays using strips at the top and the bottom, and pop them back in. It's pretty easy. Even if you get confused, there's a setup manual which pictorially shows you how to do it.
Once the drives are set up in the bays, close the front cover, connect the bundled 60W power adapter, connect the NAS to your router using the bundled ethernet cable. Once you start the NAS for the first time, you will be taken through the setup process where you register yourself, format the hard disk drive, configure the username and password, update the firmware (in case it's available), and create a QuickConnect ID.
The DS218+ was running DSM 6.2-23739 operating system during the review, which is a custom flavour of Linux. There was a newer DSM version release by the time I started writing the review, and you can view the complete changelog on the company's website here. You can access it using the web browser on your computer. The operating system is installed on the first drive that you install on the Synology NAS. If you remove the drive and install it in another NAS from the company, you'll be able to preserve all the data and pick up where you left off.
Synology DiskStation DS218+ NAS Review: Software & Apps
Synology DS218+ NAS DiskStation Manager UI
The DiskStation Manager is one of the best NAS softwares out there. It is what makes Synology NAS offerings one of the best in the market. It has hundreds of features and dozens of apps. Apart from Synology's own apps and services, there are plenty of third-party software that can be installed using the Package Centre. There are four main parts of the UI: desktop, notifications, main menu, and widgets.
The desktop can be populated with your favourite or most used apps. There are eight widgets to choose from: Backup, File Changelog, Connected Users, Recent Logs, Resource Monitor, Scheduled Tasks, Storage, and System Health. You can choose to show all or only the ones you want. Widgets are shown on the bottom right corner of the desktop, and you can pin it on top of other app windows as well.
Notifications can be sorted by time or manually as you like it. You can choose which apps to receive notifications from and hide notifications from other apps and services. The taskbar shows open apps and the main menu. When you hover over the app icons on the task bar, it shows a live preview of the window. There are search and options menu on the right side of the task bar. Just like the universal search feature on macOS and Windows, DiskStation Manager offers a search menu which can find files for you. For some reason, it crashed a few times during the review. The main menu shows all the installed apps and you can drag and drop to arrange their order.
The Control Panel can be used to adjust various settings related to the NAS. You can add shared folders and adjust permissions. You can enable or disable file services over SMB/AFB/NFS protocols or use FTP, TFTP, rsync or others. You can add, delete or modify users and adjust their file and service permissions. You can create user groups as well. You can change the theme (bright or dark) and background as well as login screen wallpapers.
If you want to access the NAS over the internet, you can either use QuickConnect or set up External Access. The former is an easier way where you register for a Synology QuickConnect ID and use it to access the NAS. You won't be able to copy files and folders from the File Station on your PC using this method, though. I had to change the DNS server addresses to Google's DNS servers (8.8.8.8 and 8.8.4.4) and set the time to my time zone to get it working for the first time. The External Access feature is a bit advanced and requires you to configure your router. It supports just a few routers and my Netgear R7000 wasn't in the compatible routers list. You can even configure the server name, default gateway, DNS, proxy, DSM ports, and control the traffic. You can add a network printer and even setup Google Cloud Print with it.
In the Security menu in the Control Panel, you can configure Firewall and activate protection against DoS attacks. The Info Centre menu shows all the information about the NAS such as model number, processor, RAM, DSM version, uptime, thermal status, and time along with attached USB devices. It also shows network information, storage space and temperature, active services, and an option to manage your Synology account. There's an option to schedule tasks, push error and status change notifications via email or SMS, schedule NAS startup and shutdown, hibernate drives after a particular time of inactivity.
Some of the important Synology apps include Audio Station, Download Station, Drive, File Station, iTunes Server, Media Server, Moments, Note Station, Resource Monitor, Storage Manager, USB Copy and Video Station. The Audio Station and Video Station apps are like Spotify and Netflix. They scan for audio and video files on the NAS and you can access them through apps on PCs, smartphones, and TVs. For movies and TV shows, the Video Station app fetches relevant info such as cast, genre, and poster from the internet. It even keeps track of videos you haven't watched and the watch progress for videos that you've started watching. You can even set up Plex server on the DS218+.
The Cloud Station Drive app is like Dropbox and you can set up a folder on your computer that you wish to sync with the NAS and vice versa. You can't select various sub-folders from a parent folder. You can either select the parent folder or just one sub-folder. You can set up a workaround by creating multiple tasks with one sub-folder in each of them.
The Download Station app allows you to download files. You can queue up downloads either adding download or torrent links from your PC or from your DS Get mobile app. It's a great way to queue downloads on your Synology NAS from anywhere and by the time you reach home, your downloads will be ready for you.
Synology DiskStation DS218+ NAS Review: Performance
I had setup the NAS with two 1TB WD Blue drives for the review and found that the Synology DS218+ is decently fast NAS, thanks to the 2.0GHz dual-core Intel Celeron J3355 processor. If you've set up too many apps and sync tasks, you many need to upgrade the RAM. However, I think that 2GB RAM will be enough for most users who use it to manage and backup files in their homes.
While downloading a 15.46GB 4K movie file from the NAS to my Windows PC using a gigabit ethernet cable, the transfer speeds hit close to the numbers claimed by Synology: 112MB/s. When downloading the same file to my MacBook Pro over Wi-Fi ac, the numbers were much slower at 4MB/s. When uploading the same file to the NAS using the wired PC, the speed hit 108MB/s. I also uploaded and downloaded a 713.2MB folder with 180 images, each with an individual file size of anywhere between 3MB to 5MB. The transfer speed was 62MB/s and 60MB/s, respectively. When uploading and downloading 200MB folder with random files with file sizes in KBs, the speed dropped to less than half at 28MB/s for read and 25MB/s for write. These are some really good transfer speeds.
I was also able to stream two 1080p video steams at the same time, and the CPU utilisation reached 82% and then it dropped down to 43%. The RAM utilisation was below 40% the entire time. However, streaming 4K videos with AC3 audio tracks was a problem for the NAS; the video would play but not the audio track. Streaming music tracks stored on the NAS to three devices at the same time wasn't a problem at all. I tested it by playing the same audio file on my Windows 10 PC, Honor 20 Pro, and the iPhone. Needless to say, the DS218+ is a performance champ and since the RAM and storage can be extended, it can be a great NAS solution for long-term use. It never got too hot but did suck in a lot of dust, and I could find dust
Synology DiskStation DS218+ NAS Review: Who Is It For?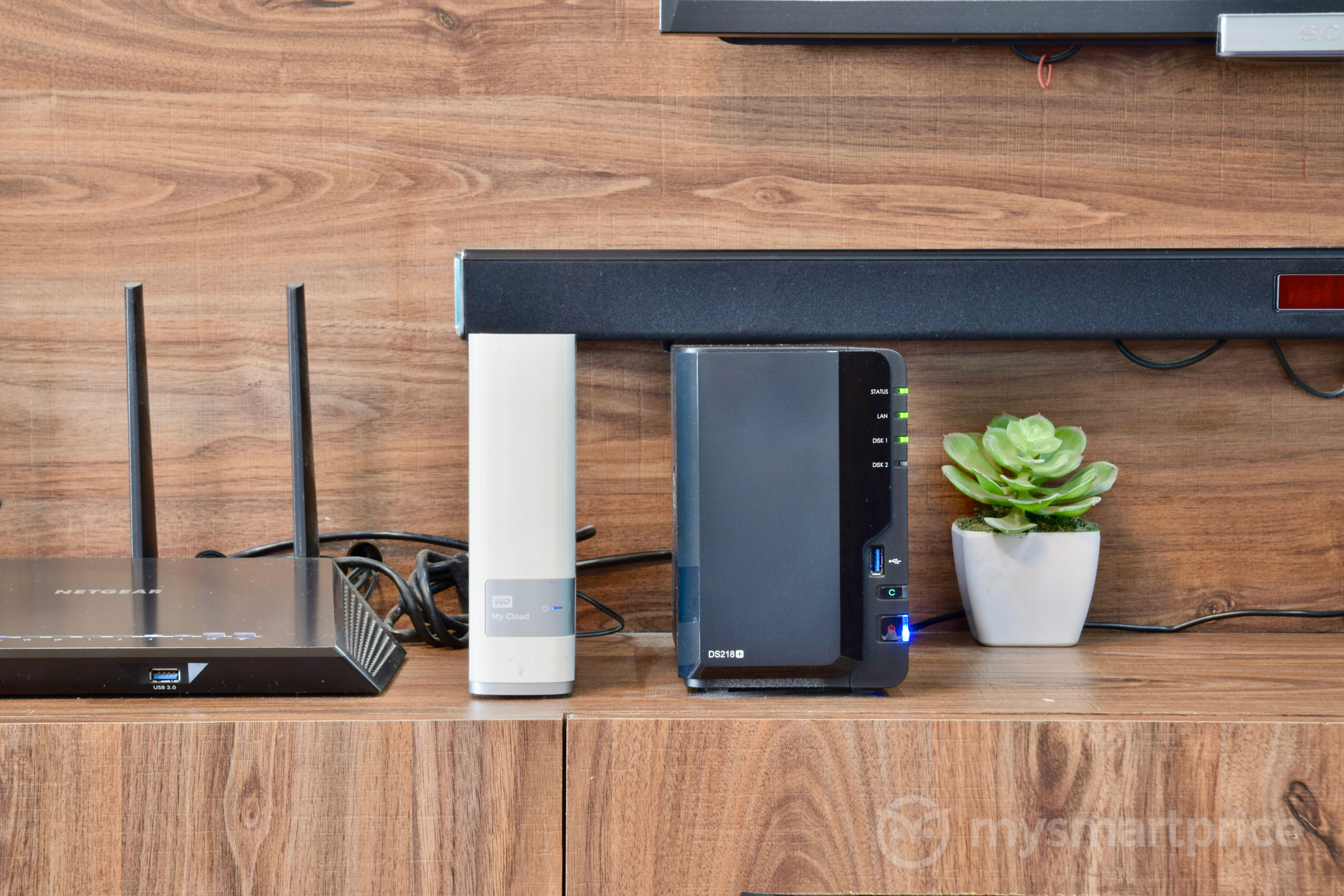 The Synology DiskStation DS218+ is a great NAS for those who want to not only set up a central data back up system but also want it to double up as a media server that can stream 10-bit 4K H.265 video content. It's a great upgrade from cheap network connected storage devices that don't offer storage expansion. The companion mobile and smart TV apps are great as well. You can use smartphone or tablet apps to control media playback and cast content to Apple AirPlay and Google Cast compatible devices.
While it gets slightly noisy in quiet environments and there's only one ethernet port, the DiskStation Manager software more than makes up for it. The amount of software features can be confusing for beginners, but it gets easier once they get the hang of it. Overall, if you want a 2-bay NAS with 4K video streaming capabilities, you can't go wrong with the Synology DS218+.
If you spend a little extra, you can get the QNAP TS-251 for $299. It has two ethernet ports and an HDMI port, so you connect it to screen, keyboard and mouse, and start using it as a computer and stream media directly without the need for an app. However, its software is based on Android, and I much prefer DSM on the Synology DS218+. Moreover, the QNAP NAS can't transcode 4K videos on its own, which is a real let down. The My Cloud Pro Series PR2100 is priced at $359 in the US but is closer to the DS218+'s price in India. The My Cloud Pro Series PR2100 is a good alternative with dual LAN ports and 4K video transcoding, but it doesn't offer as many features as the DS218+.
Synology DiskStation DS218+ NAS
₹35,190
Design & Build Quality
9.0/10
Features, Software, UI, Apps
9.5/10
What Is Good?
Compact design, easily accessible hard disk bays
DiskStation Manager is an excellent software suite
Supports 4K video transcoding
Upgradeable RAM and expandable storage bays
Gigabit LAN port
Three USB 3.0 ports for expansion
What Is Bad?
Only one LAN port
Slightly noisy, accumulates dust easily
Can't transcode videos with AC3 audio
Barrage of software features and options can be confusing for beginners
Costlier in India