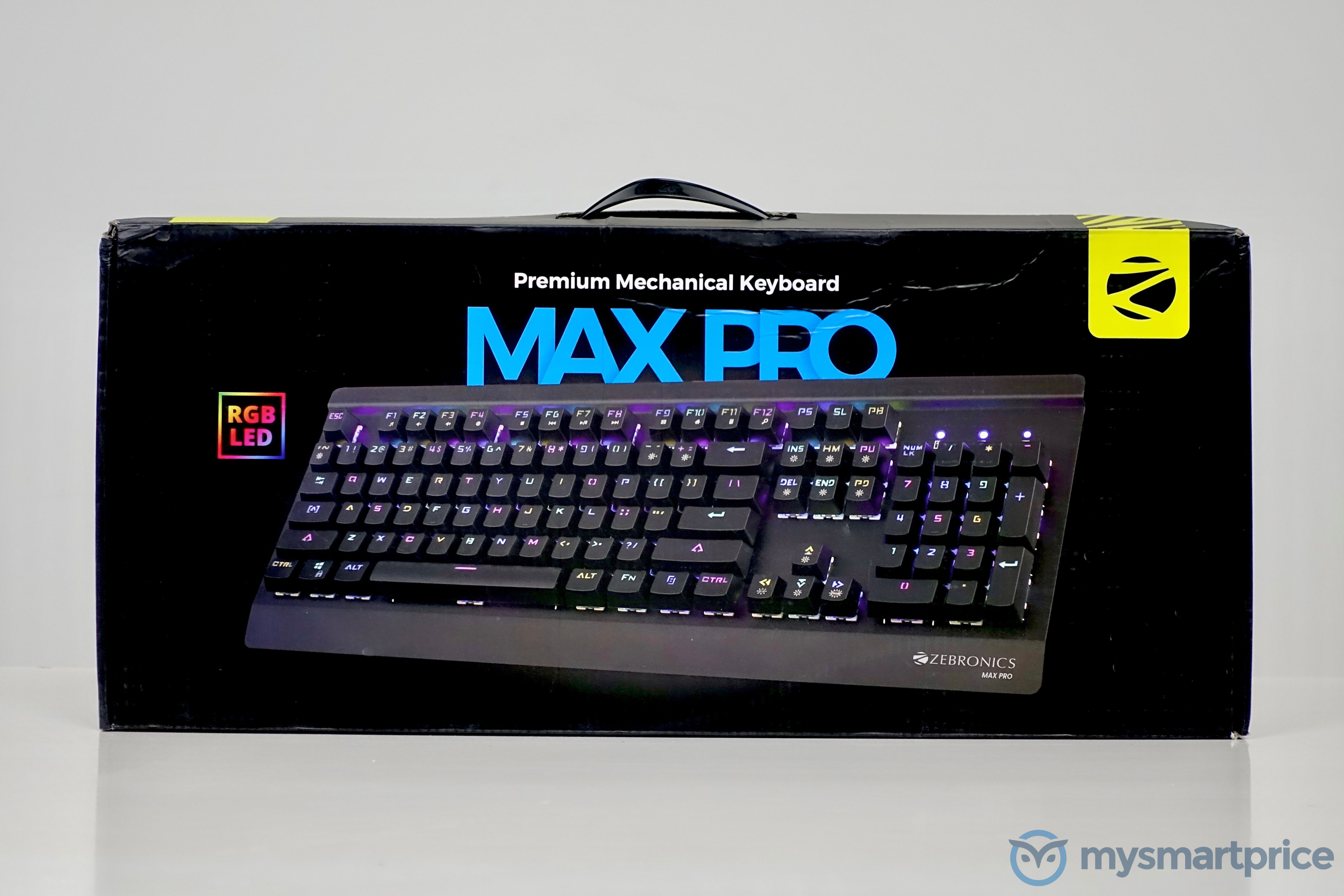 There's a rising demand for mechanical keyboards and many brands offer various keyboards with unique feature sets at various price points. While bigger brands like CoolerMaster, Corsair, G.Skill, HyperX, Logitech, and Razer launch mechanical keyboards in the premium segment, brands like Cougar, Gamdias, Redragon and Zebronics focus on making affordable mechanical keyboards in the sub-Rs. 5,000 price segment.
Mostly, the difference between premium and affordable mechanical keyboards is the latter's lack of accompanied desktop software and macro keys. They also have lesser control over the backlighting and they use mechanical switches from lesser known brands rather than switches from Cherry. We had a chance to test one such mechanical gaming keyboard form Zebronics. The Zebronics Max Pro mechanical keyboard, priced at Rs. 3,999, falls under the company's Gamer's Delight series of accessories. It is the company's most premium keyboard and it competes with the Redragon Visu, which carries the same price tag as that of the Max Pro.
Zebronics Max Pro Mechanical Keyboard Review: Features
The Zebronics Max Pro is a full-sized mechanical keyboard with 104 keys and Outemu Dustproof Blue switches (from Goate). It has a numpad along with arrow keys, a row of function keys, RGB backlighting, polling rate of 1000Hz, a braided USB cable (1.8m), and a heavy-duty metal plate on top of a strong, plastic base.
It has 12 integrated multimedia keys, which you can access by pressing in combination with the function key. The USB cable isn't removable, though, but removable cables are mostly used only in premium keyboards. You can choose from 18 RGB lighting modes, 6 LED brightness levels, and 5 LED speed modes. The keyboard weighs 1.3kg and is compatible with Linux, Mac and Windows PCs.
Zebronics Max Pro Mechanical Keyboard Review: Build Quality, Design
Zebronics Max Pro RGB Mechanical Gaming Keyboard
Unlike most affordable mechanical keyboards targeted towards gamers, the Zebronics Max Pro has a much simpler design. No awkward angles, metallic paint job, and brushed aluminium finish here. The typeface on the keycaps is slightly aggressive, but it's nothing of the sort that will make it harder for you to recognise what the keys stand for. The keycaps have a double-injected build, so key engraving won't fade away, even after years of usage. There are three status LEDs for Numlock, Caps Lock, and Scroll Lock.
The heavy metal base feels really sturdy and there's no way you can flex it using your hands. It has a gentle slope facing the user and the end of which there's Zebronics' branding. There's no palm rest, but it's almost criminal to expect one at this price point. The Outemu Dustproof Blue switches have RGB LEDs at the top part, and the suspended key cap labels match their position for maximum backlighting. There are two plastic feet at the bottom along with two rubber feet, like most keyboards out there, to raise the height of the keyboard.
Thanks to suspended keycaps and metal base plate, the RGB lighting looks bright enough to be clearly visible even during the day. It's easy to clean, too. Overall, I quite like the design of the Zebronics Max Pro. It's simple and easy to use. The design doesn't feel like it's trying too hard to be a gaming accessory.
Zebronics Max Pro Mechanical Keyboard Review: Typing Experience
The Zebronics keyboard is a plug-and-play device, and there's no accompanied software. The Outemu Dustproof Blue switches used in this keyboard are Cherry MX Blue knockoffs. However, they feel even better, thanks to an additional outer box in the switch design, which leads to higher stability. The life of these switches is rated at 50 million keystrokes. The pressure required to press these keys is 55g and the key travel is 4mm. The result is a clicky sound and tactile feel, just like Cherry MX Blue switches. I love clicky mechanical keys, and I was very surprised to see such high-quality switches and keycaps from Zebronics, and at such an affordable price.
You can cycle between RGB lighting modes by pressing the FN key and one of these six keys: INS, HM, PU, DEL, END, and PD. Each key can be used to cycle between three modes. For example, press FN+INS once to activate the first lighting mode, press the same combination once again for the second lighting mode and then press it the third time to activate the third lighting mode. You can do the same with the remaining five keys. Pressing FN+UP ARROW increases the LED brightness while pressing FN+DOWN ARROW decreases the LED brightness level. While you're in any LED lighting mode, you can press FN+RIGHT ARROW to change colours. You can chose backlight for the keys of your choice by pressing FN+' and then pressing the keys of your choice. However, you can change the backlight colour of those keys. Read more about other key backlighting configurations here.
You won't be disappointed with the Zebronics Max Pro, even when you downgrade from higher priced mechanical keyboards from big-name brands like CoolerMaster and Corsair. I've used plenty of mechanical keyboards in the past, including some custom-made keyboards from my colleague Nachiket (he's a keyboard junkie and has a separate keyboard for every scenario). Granted that there's no option to configure individual keys due to the lack of a desktop software to accompany the Zebronics Max Pro, most other keyboards in this price segment lack the feature.
Zebronics Max Pro Mechanical Keyboard Review: Final Thoughts
The Zebronics Max Pro is an excellent keyboard, even when you don't consider its affordable price tag. It costs less than half of what such well-build mechanical keyboards from big-name brands cost. It has high-quality, stable Outemu Dustproof Blue keys that offer clicky sound and noticeable tactile feeling. There are plenty of RGB backlighting modes and the backlighting is bright. The keyboard has a simple yet attractive design, and is compatible with Linux, macOS, and Windows.
The only feature that I missed a lot is dedicated keys for multimedia playback control. A removable cable would've been nice, but I am really nitpicking here. I don't think there's a better keyboard than the Zebronics Max Pro in the sub-Rs. 5,000 price segment. You can get it for as low as Rs. 3,599 from Amazon.in and other offline stores. However, for those who would like to use linear or tactile switches, Zebronics doesn't offer a version with such switches. I really think Zebronics should release versions of the Max Pro with linear and tactile switches, and a tenkeyless version of the keyboard.
Zebronics Max Pro RGB Mechanical Keyboard
₹3,999
What Is Good?
Sturdy build and simpler design
Double injection keycaps
Outemu Dustproof Blue switches for slickly and tactile feeling
Bright RGB backlighting, 18 RGB effects
Driver-less operation
Dedicated numpad
What Is Bad?
Non-removable USB cable
No dedicated multimedia control keys
No choice of tactile or linear switch options