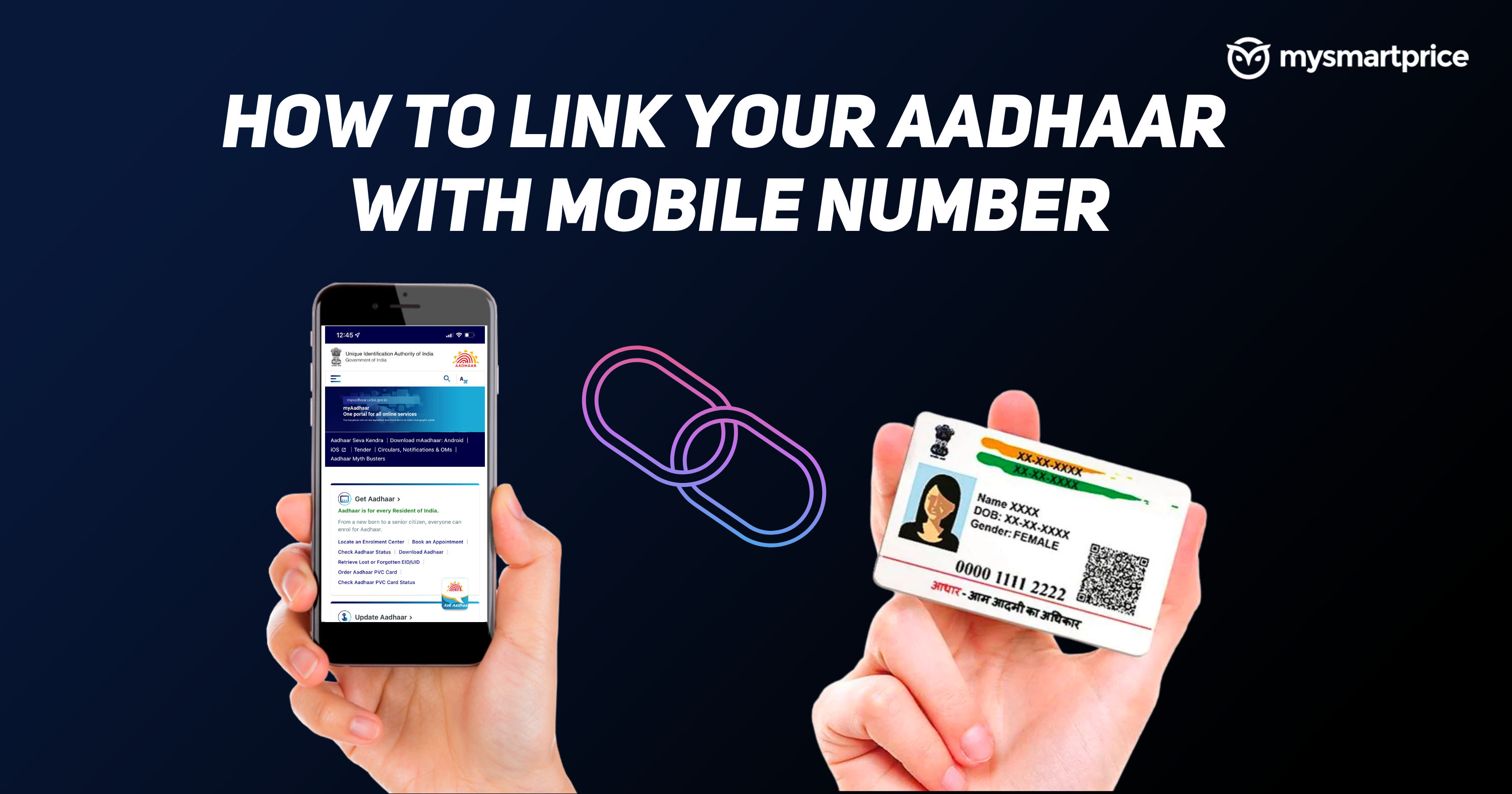 Most Indians are using a smartphone or at least a phone to communicate via call, chat, media sharing, and more, etc. Also, it has become common nature for a person to have two SIM cards 一 one for work and one for personal use. However, having a phone number linked to the Aadhaar card is also very crucial. One of the primary reasons to link your Aadhaar with your mobile number is to secure all your online authentication that is done on OTP based verification. So, it is important to have both these entities linked. 
There are a few methods to link your Aadhaar Card with your mobile number. In this guide, we will take a look at a few of them, which include both online and offline methods. While the mobile operators won't charge anything to link the Aadhaar card with the phone number, if you do it through the Aadhaar centres, you will be charged a very nominal fee.
Also Read: How to Check the List of Mobile Numbers (SIM Cards) Registered with Your Aadhaar ID on DoT's TAFCOP Website
How to Link Aadhaar Card with SIM for New Users
If you are a new SIM user or heading to the store to get a new SIM, the following steps will help you link your Aadhaar card with your mobile number. 
Visit the nearest network provider store (Vi, Airtel, Jio, etc)

Request for a new SIM

Provide a copy of Aadhar as ID proof and address proof

Use the biometric scanner to scan and verify your Aadhaar identity

Once the verification is done, you will get a new SIM
After the process is successfully completed, your new SIM will be activated in a couple of hours. 
Also Read: Aadhaar: How to Download e-Aadhaar Card Online, What is the PDF File Password
How to Link Aadhaar Card with Mobile Number Online
Visit the telecom operator's website (Vi, Airtel, Jio, etc)

Enter the mobile number to be linked, verified or re-verified with Aadhaar

OTP will be sent to the registered mobile number

Enter OTP and click on "Submit" to proceed further

A consent message would then be displayed on the screen. 

Enter the 12-digit Aadhaar number to be linked

A message would then be sent by the telecom operator for OTP generation

A consent message about the e-KYC details will be sent to you

The user will have to accept all the terms and conditions and enter the OTP

Once this is successful, a confirmation message about the Aadhaar and phone number re-verification will be sent
Also Read: Aadhaar Update: How to Update your Aadhaar Card Online, Documents Required, and More
How to Link Aadhaar Card with Mobile Number Using SMS Verification 
Visit the nearest network provider store (Vi, Airtel, Jio, etc)

Provide a self-attested copy of your Aadhar card 

Submit the mobile number and Aadhaar card details to the store executive

Use the re-verification application to link  Aadhaar Card with SIM

A 4-digit OTP will be sent  to your mobile number

Submit the OTP to the store executive and provide biometrics

After 24 hours, you would receive a confirmation SMS. 

Reply "Y" to complete the e-KYC process
Also Read: New Aadhaar Card Registration: How to Apply for Aadhaar Card Online, List of Documents Required, More
How to Add your Mobile Number to your Aadhaar Card By Visiting Aadhaar Kendra
The last method is to head to the offline Aadhaar Seva Kendra and link the mobile number. This service will require you to spend a small amount as well. 
Locate your nearest Aadhaar Seva Kendra from

this website

Visit the nearest Aadhaar Seva Kendra

Carry your Aadhaar Card with you 

Request for the application form to update the mobile number. 

You will be charged Rs 50 to change or add a mobile number

Fill in the given application and submit it

You will get a Unique Request Number (URN) once your request has been processed

You can

check the status

of the request by using the URN.