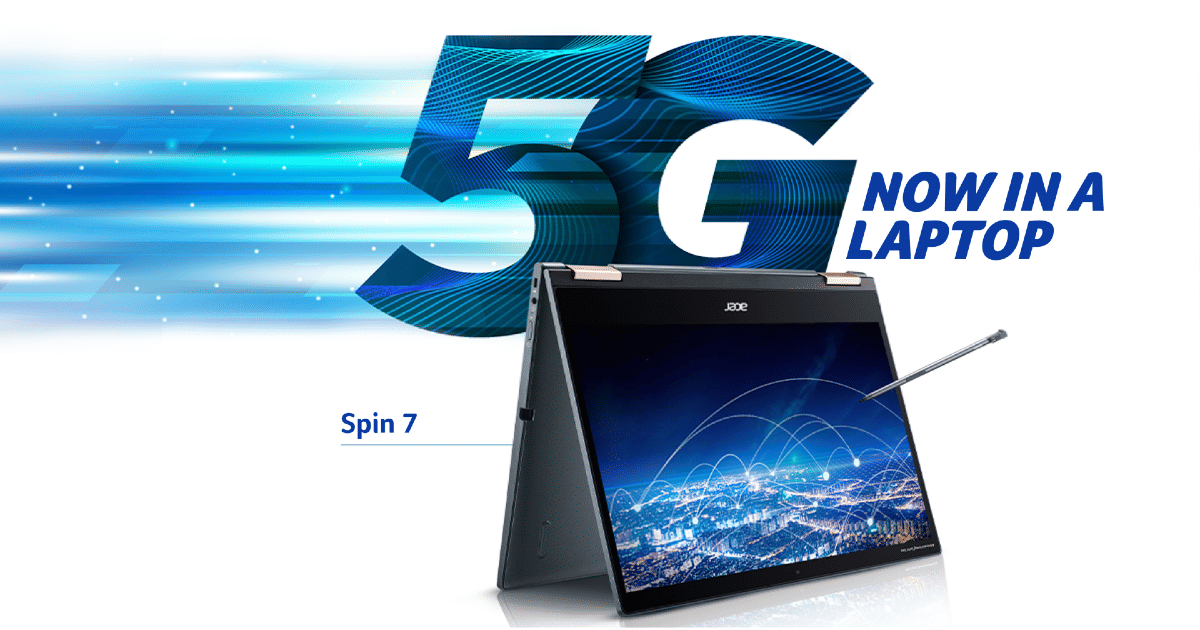 After 5G smartphones, 5G laptops are starting to launch in India now. Taiwanese laptop maker Acer announced the Acer Spin 7 laptop in India today, making it the first 5G laptop to be launched in the country. First announced at IFA 2020 last year, the Acer Spin 7 also happens to be the first laptop sporting the second generation version of Qualcomm's Snapdragon 8cx chip. The chip was first seen on Microsoft's Surface devices, and is expected to be the American chip maker's answer to Apple's ARM-based M1 chip. It brings about the mobile revolution to laptops.
Acer Spin 7 specs and features
As mentioned above, the Acer Spin 7 runs on the Snapdragon 8cx chipset and supports 5G connectivity, including both sub-6GHz and mmWave 5G frequencies. The Snapdragon 8cx uses Qualcomm's Kryo 495 octa-core CPU inside, with a max clock speed of 3GHz. Of course, 5G is backward compatible with 4G networks, meaning you will be able to slot a SIM inside this laptop and use regular LTE mobile data in India as well, till Airtel, Jio etc. start delivering 5G networks in the country.
Further, the Acer Spin 7 is a convertible laptop and weighs only 1.4Kg, putting it in the thin and light segment. It's 15.9mm thin and has a magnesium-aluminium alloy body. The company also promises "multi-day battery life" on the Acer Spin 7. It will come bundled with the Wacom AES 1.0 pen, which supports 4096 levels of pressure sensitivity, making it similar to the Surface Pen from Microsoft, or the Apple Pencil.
Being a mobile-first chipset, the Snapdragon 8cx doesn't need cooling. This is why the Acer Spin 7 is also a fanless laptop. However, that makes you wonder how long the chip inside can perform at its higher clock speed. Processors usually throttle when they heat up, meaning high power workloads may be more difficult to sustain on this laptop.
What you do get, on the other hand, is a 14-inch 1080p touchscreen, which will be well suited for regular work scenarios. However, that and the slower processor inside probably means creators and power users will stay away from the Acer Spin 7. The laptop will be sold in India at a starting price of Rs. 1,34,999, through Acer's own stores, its online store and partnering retail outlets.