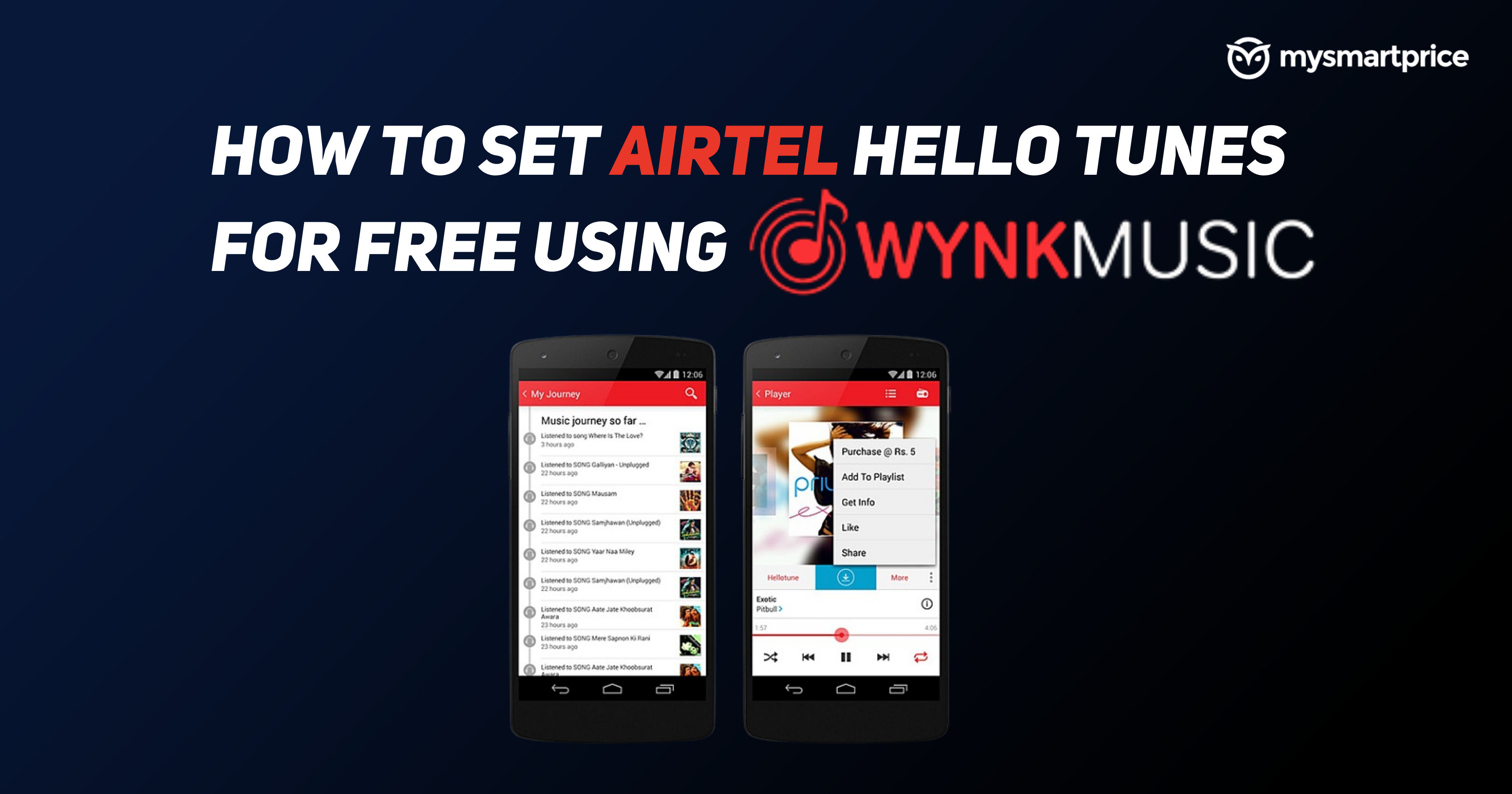 Airtel is one of the largest telecom operators in India and has a base of over a million subscribers. The operator holds the second largest market share when it comes to subscribers. The company is also one of the few that offers a plethora of services for its prepaid and postpaid subscribers including free data benefits, voice calls, OTT subscriptions, and more. However, one of the most loved services has to be the Hello Tunes.
The company gives you an option to select your favourite caller tune from its long list of songs and more. For those who are not aware, a caller tune is basically a tune or a song that a caller hears when he or she calls you in place of a simple ringtone. Airtel allows users to set Hello Tunes using its popular music streaming application known as Wynk Music. In this article, we have put together a step-by-step guide on how you can easily set Hello Tunes for your Airtel number. So let's begin.
Also Read: Airtel Recharge Plans: Airtel Best Recharge Plan and Offers List with Validity, Data, Unlimited Calling
Step-by-step Process to Set Hello Tunes on Airtel Mobile Number Using the Wynk Music App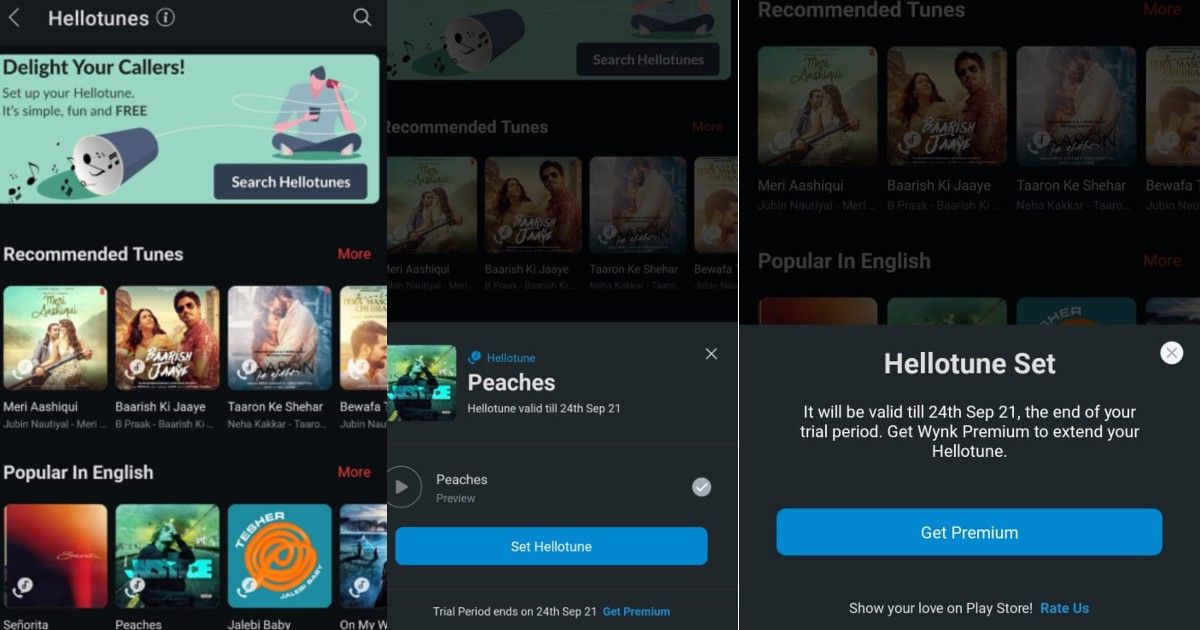 If you are an Airtel customer, then you can easily set up Hello Tunes using the Wynk Music application. The feature is available for both prepaid and postpaid customers and the best part about it is that you don't have to pay for setting up the caller tunes on your Airtel number. That being said, here's how you can set up a caller tune on your Airtel number using the Wynk Music application:
Open Google Play Store or Apple App Store and search for the Wynk Music application.
Download and Install the app on your Android or iPhone device.
Register with your Airtel mobile number and enter the OTP sent to your registered number.
Once you are logged in, you can go to Airtel Hello Tunes options on the home screen.
Here, you can search for your favourite song that you want to set as a caller tune.
Once done, tap on the song and select Activate for free.
With this, your Airtel Hello Tunes will be activated.
Also Read: Airtel Balance Check: How to Check Airtel Balance Via My Airtel App and USSD Code?
Are There Any Charges to Set a Caller Tune on Airtel?
Hello Tunes on Wynk music application is absolutely free. Furthermore, there is no limit to changing the caller tunes using the application. This means you can change the changes as many times as you want absolutely free of charge. However, it is important to note that the selected song will be only valid for 30 days from the date of activation. You have to change or update the current hello tune when the 30 days validity period expires.
Also Read: IMEI Number Check: How to Find IMEI Number of Android and Apple iPhone?
How to Check the Status of Hello Tunes?
You can also check the status of your Hello Tunes on your Wynk Music application. All you need to do is follow these steps:
Open the Wynk Music application on your Android or iOS device.
On the homepage, go to the Hello Tune button.
You will see the status of your Hello Tune along with the validity.
Also Read: Airtel SIM Activation: How to Activate New Airtel 4G SIM and eSIM
How to Deactivate Airtel Hello Tunes?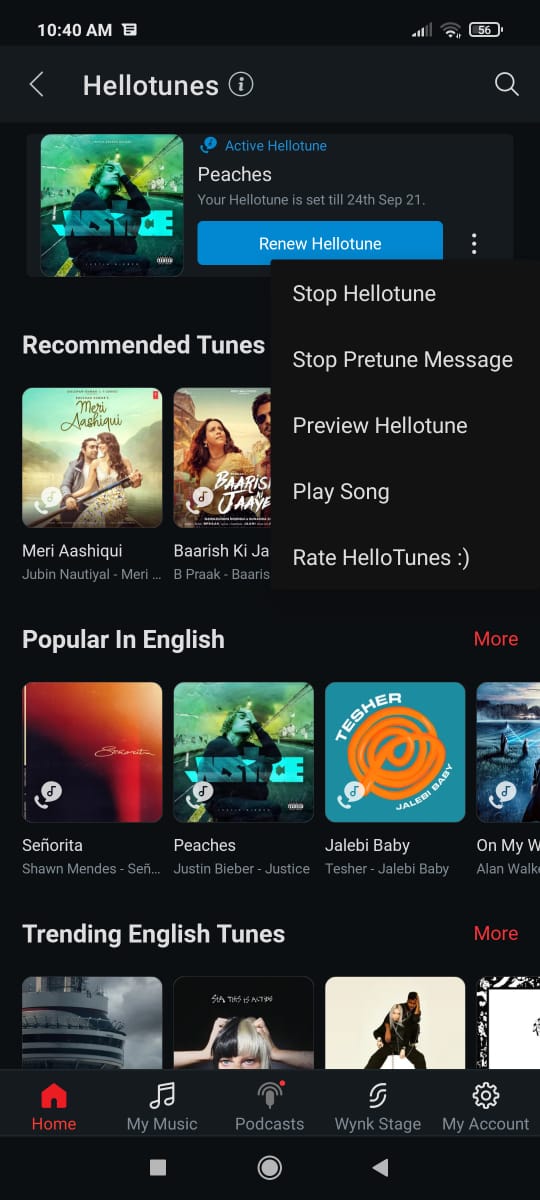 If you are done with the Hello Tunes, you can always deactivate or remove it. The company gives you an option to remove the caller tune from the Wynk music application. Here's how you can do it:
Open the Wynk Music application and click on the Hello Tune icon on the search bar.
From there, go to the Hello Management Screen Screen and click on the three dots in the top card.
You will see an option of 'Stop Hello Tune'. Click on it to stop the Hello Tune service on your Airtel mobile number.