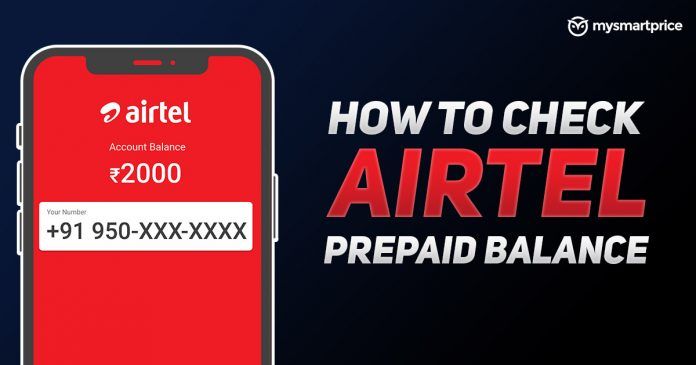 With Vodafone Idea's troubles increasing, Airtel and Reliance Jio are pretty much the only two telcos remaining in India. So, if you are one of the 400 plus million users in India who own a smartphone, chances are you have an Airtel connection. And industry data also tells us that most Indian users choose prepaid connections over postpaid, which means you need to keep a close watch on your prepaid call and data balance. So it's likely that you need to know all the ways an Airtel balance check can be done, and the company does offer quite a few. You can also read our article on Reliance Jio data balance checks here.
Also Read: Jio Balance Check: How to Check Jio Data, Talktime Balance, Validity Online and Using USSD Number Codes
How to check Airtel data balance through USSD codes
USSD codes are actually used for many things, but data balance checks are perhaps the most common usage for the same. Here's how to use USSD codes for Airtel data balance checks. You open the dialer on your phone, type up the following codes and press the call button. It's also a handy way for people with feature phones to check data balance for their Airtel phone numbers.
*123# – This is the code you use to check the validity of your Airtel mobile number. It tells you when your next recharge is due.

*121# – This code allows Airtel 3G and Airtel 4G customers to use to check how much data balance is available on their phone.
These are the two main USSD codes you'll find at most places, but there are other ways to check your Airtel balance as well. You can get more information on where your Airtel number's balance, data balance and other things stand by using codes like *121*1#, *121*9# and *121*10#, *123*#, *123*11#, *121*8# and *123*197#.
Also Read: Airtel WiFi Plans 2021: 5 Best Data Recharge Packs for Your Airtel 4G Data Card and Dongle
How to check Airtel data balance using the Airtel Thanks app
The MyAirtel app is meant for people who have smartphones, either based on Android or iOS. You can download the MyAirtel app, which is now called Airtel Thanks, from the Google Play Store or Apple's App Store. You have to login to the app using your phone number. If you have multiple numbers, you can track them all from this one place.
The Airtel Thanks app displays the main Airtel balance, the Airtel data balance, and gives you quick access to the company's customer care bots and help sections. The Airtel Thanks app is actually the easiest way to keep a track of your Airtel data balance if you are using a Airtel prepaid connection on a smartphone.
It also happens to be the easier way to recharge your Airtel data balance on the go. You can buy new data packs, add top ups and more from the app.
Also Read: Airtel Recharge Plans 2021: List of All New Recharge Plans and Offers with Validity, Data, Calling Benefits
How to use Airtel self care services to check Airtel data balance
Unlike Jio and Vodafone, Airtel also offers something called "self care services", which though similar to the Airtel Thanks app, is a web-based system. You can use this to check your Airtel data balance too.
You just login to your account on Airtel's website. If you can't find the self care website, just Google "Airtel self care" and it comes up as the top search.

The website asks for your mobile number and needs an OTP to login, so keep your phone handy when you do this.

The self care dashboard is right in front of you once you login, and you can make use of that to check the data balance.
How to check Airtel 4G dongle balance?
Users can easily check the Airtel 4G dongle balance by following these simple steps:
Switch on your Airtel dongle and connect it to your laptop.
Open the browser and type 192.168.0.1. This is the IP address of the Wi-Fi dongle.
Press Enter and you will enter the login screen. The default password is 'admin'. Enter and click on login.
You will now see the UI of the Airtel 4G dongle. Go to the Information section and click on data usage. Here you will see your remaining balance, validity and pack name.
How do I check Airtel 4G data speed?
You can easily check the internet speed of your Airtel number by downloading the internet speed test app on your smartphone. One can use different apps like Ookla Speedtest, and more to test the download and upload speed of the Airtel network.