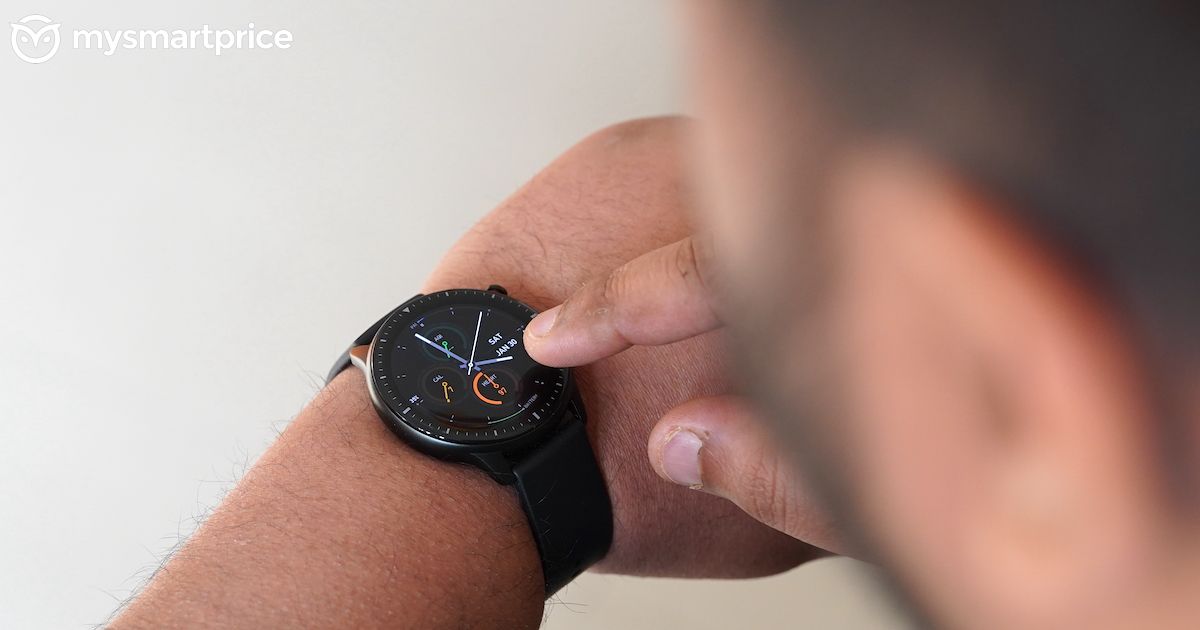 That Amazfit makes great affordable smartwatches is a universal truth by now. And, the GTR 2 not only lives up to that statement but also takes it up a couple of notches. There's a new, more modern design, upgraded feature-set, and much more that makes the GTR 2 pretty desirable especially for its low asking price.
I've been using it for almost 2 months and here's why I think it is actually the best smartwatch that you can buy under Rs 15,000. 
Design and Comfort Factor
The GTR 2 moves away from the bezeled look of the original GTR. You now get a 3D Curved Glass that blends into the aluminium alloy frame in the Sport variant and stainless steel frame in the Classic frame. I find the new design of the Sport variant absolutely flauntworthy. Every time I published a video on YouTube, people asked – what's the watch I'm wearing? Moreover, I really prefer round dials over square ones. So, this is really my jam.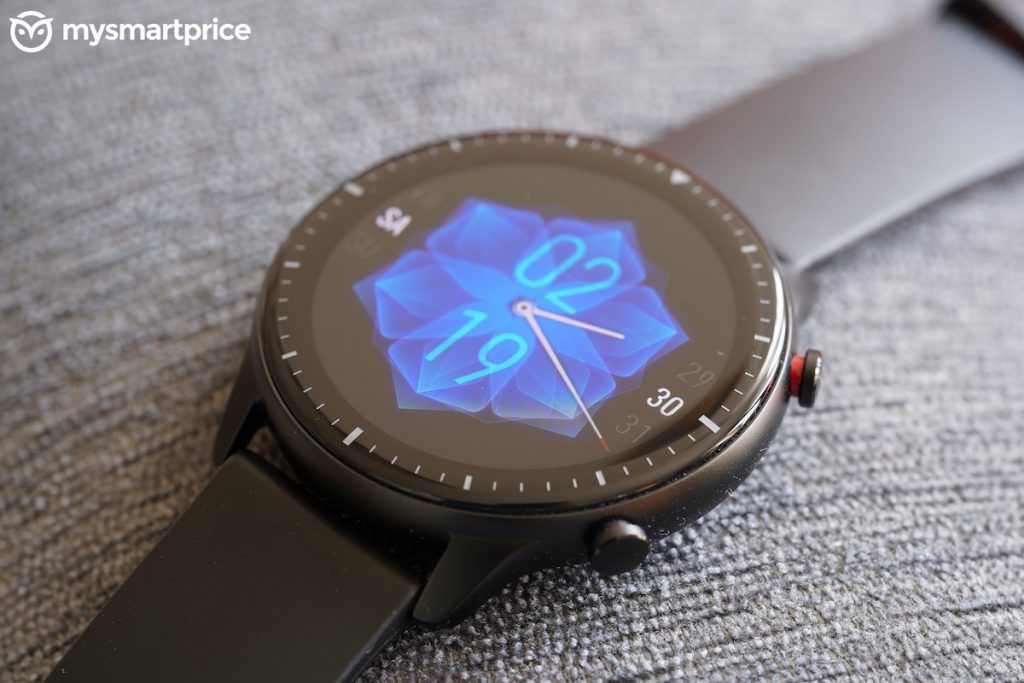 Also, the Sport variant weighs only 31g without the strap. Coupled with the soft silicon strap, it is super comfortable to wear all day long and even when you are sleeping so you can track it using the GTR 2. A lot of the comfort factor can also be attributed to the soft plastic underside. You will notice a couple of speaker grilles as well, which is new. Huami's homegrown BioTracker ™ 2 PPG module can also be found integrated into the plastic shell. It includes the Heart Rate Tracker and the Blood Oxygen Monitor. 
There are two buttons on the right. The top button brings you back to the watch face from any screen, and if you press it when you are on the watch face then it opens up the app carousel. The bottom one can be customised to open up any app/feature available on the watch. I have programmed it to open up all the Workout options. I wish Amazfit had replaced one of these buttons with a digital crown instead.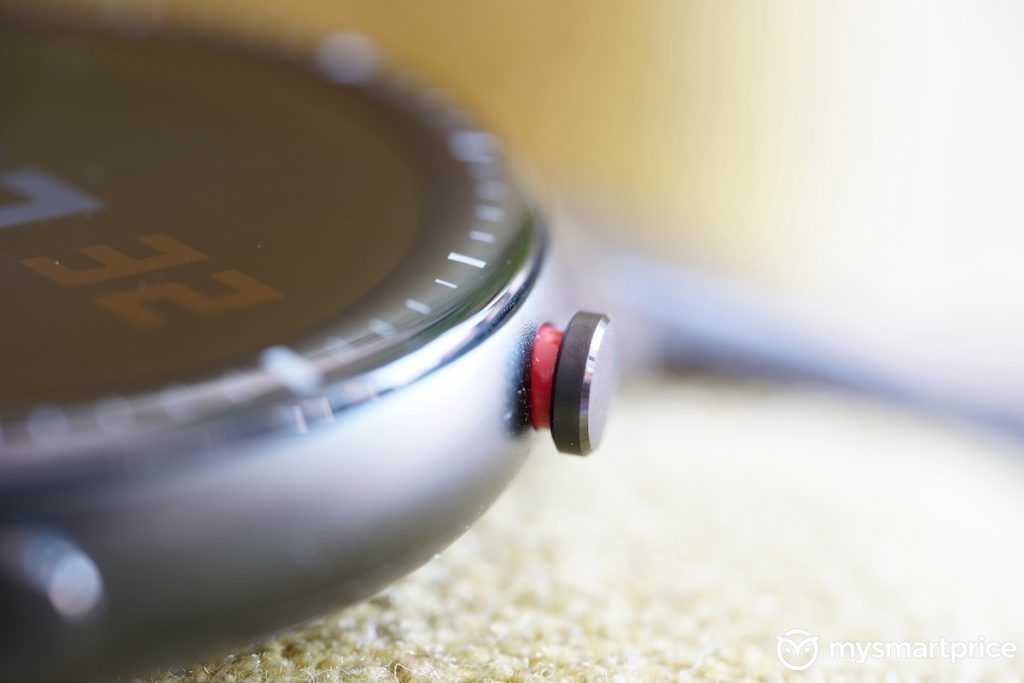 By the way, coming back to the silicon strap and the regular buckle, the quality isn't the best. But, since the GTR 2 has the standard 22mm strap pin, you can easily replace it with a strap of your choice from your local watch store. 
Display and Watch Faces
You get the GTR 2 in a single 46mm size that has the 1.39-inch AMOLED display. It is a gorgeous looking panel with deep Blacks and punchy colours. The Blacks blend into the bezel. My only gripe with the bezel is the dial that is painted on it. I'd have preferred a blank bezel instead. Similar to the Samsung Watch Active 2. Anyway, this display gets extremely bright outdoors and the auto brightness works well. Plus, you can also adjust the brightness as per your convenience.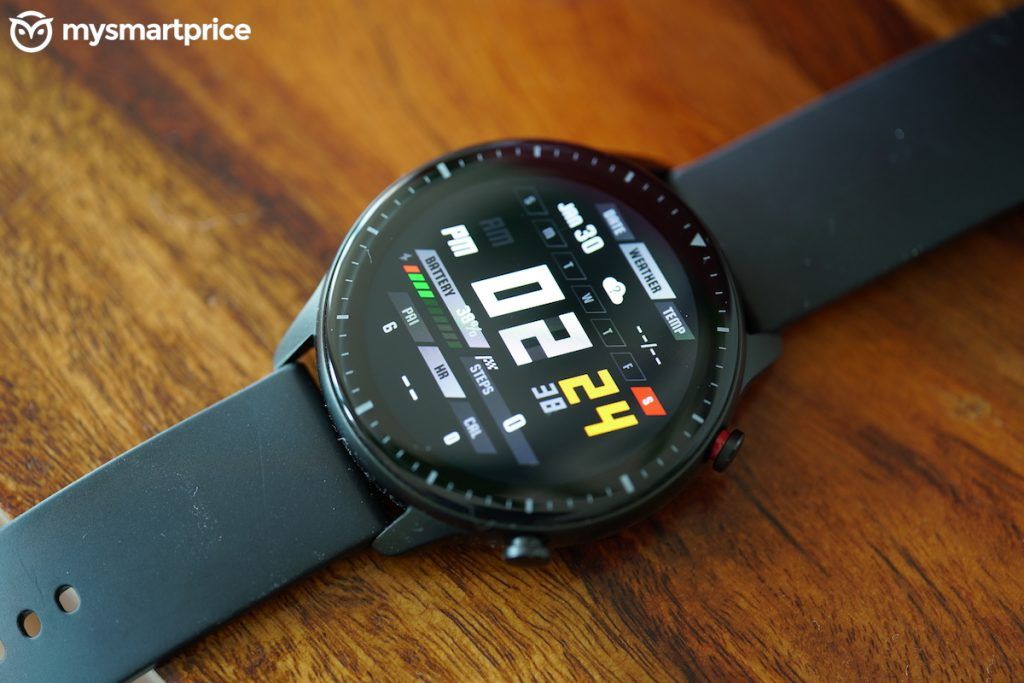 I really like the Watch Faces on offer. The default ones and the ones included in the app for free download a lot of variety for most users. Also, all of these watch faces have an always on mode, which is mostly a greyed-out outline of the watch face design. It looks pretty good. Plus, a few have customisable widgets. It is very limited but the fact that you get it in an affordable smartwatch is definitely an advantage. 
Also read: OnePlus Band Review: Jumping on the 'Fitness Band'-wagon
Moving on, the GTR 2's display has an anti-fingerprint coating and a proper tough glass solution for protecting against scratches and drops. Two months into my usage, the watch has actually held up well. No scratches and it's also held up well against a couple of drops.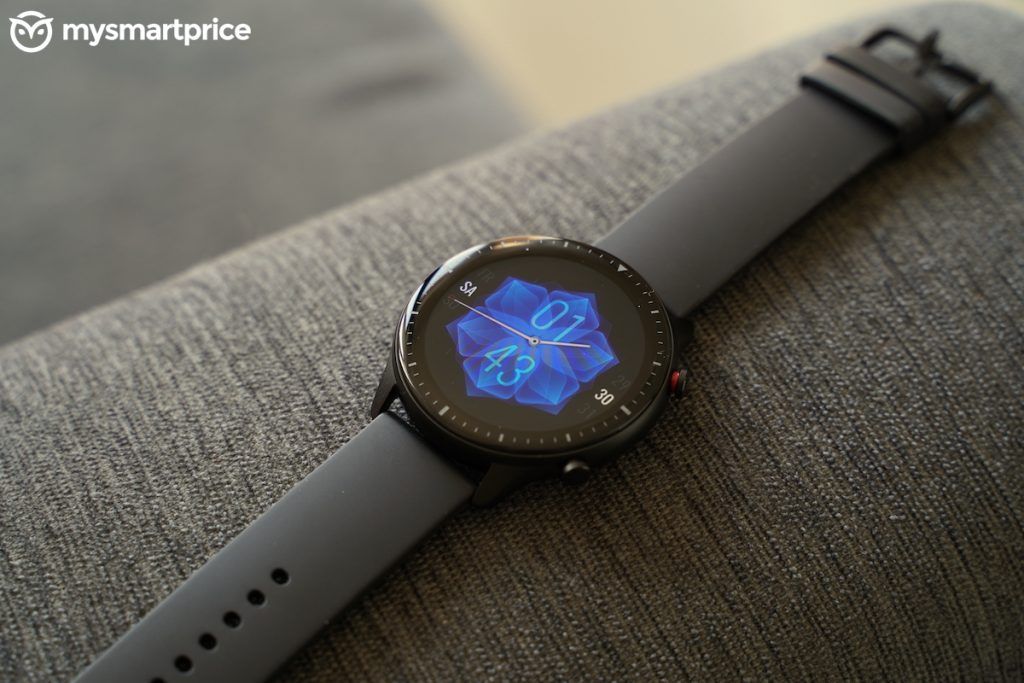 Software and Performance
The previous Amazfit watch that I'd reviewed was the GTS. I remember it for being slower than the GTR 2. Looks like Amazfit has upgraded the chip inside the watch because the animations actually feel more fluid and responsive now. No, it's not as fast as a Samsung Galaxy Watch 3 or an Apple Watch, for its price it does its job. The touch response is pretty good too. 
The Amazfit UI used on the GTR 2 is actually pretty intuitive. Swiping down from the top brings up the Quick Settings and swiping up from the bottom shows all the notifications. Let it be known that you cannot respond to these notifications. Also, not all of the apps have icons. Essentially, this is the bare minimum 'notifications' experience you can expect. If you want to do more with the incoming notifications, you'll have to skip Amazfit watches.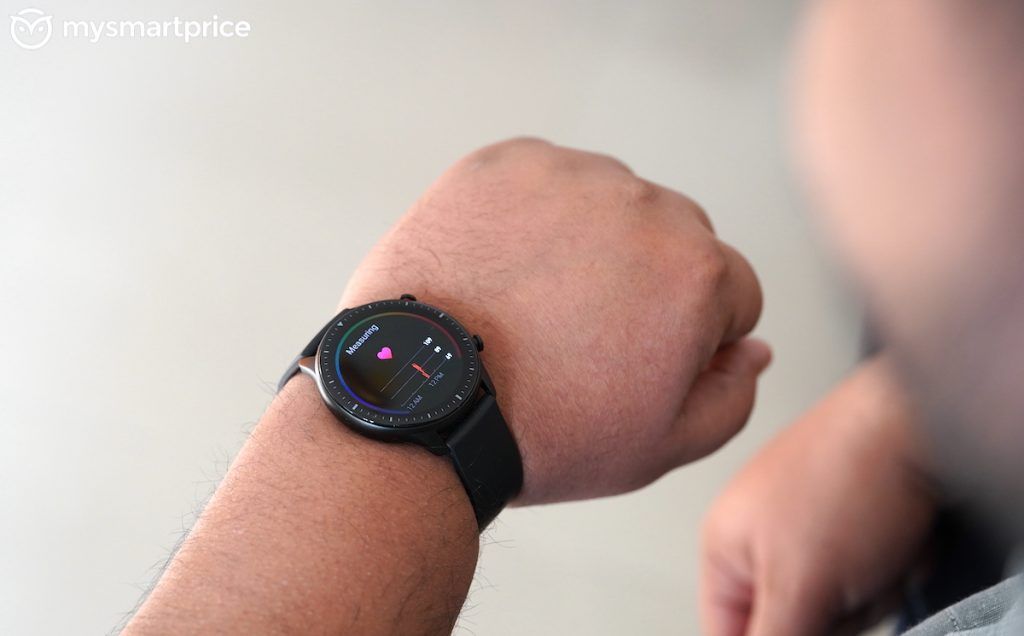 Swiping left from the watch face brings up the widgets and swiping right throws up the app pages. It is all pretty intuitive. But, what's really cool are the new extras on offer:
The GTR 2 comes with a speaker and in-built storage for music playback. This means, you can load music to the watch and listen to music, while you are out for a run. You can listen to the music using a pair of bluetooth earphones/headphones. I don't know how many folks actually have offline songs because I don't. But, even if you are listening to your favourite streaming service, you can use the watch as a remote control. 

The speaker can also be used for incoming calls. It gets the job done but don't expect it to sound great or anything. Yes, it is an inelegant solution but it works. 

You also get offline voice control for a specific set of commands to open apps or start a workout. It works when you raise your wrist and responds to my fairly neutral English accent very well. So, that's not going to be a problem for most folks.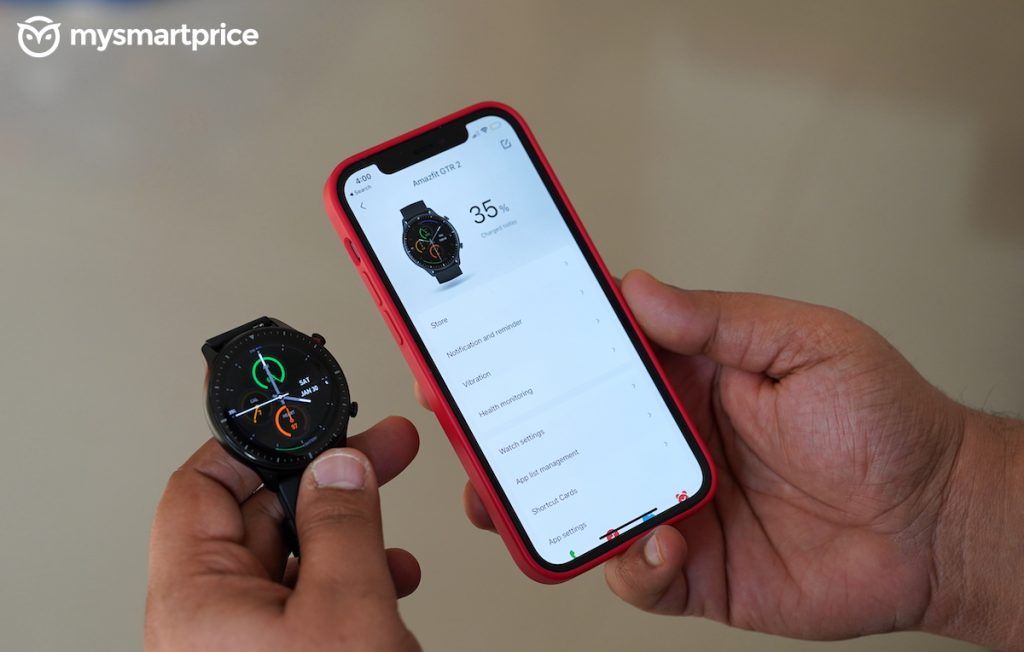 Now, for the App experience, Amazfit has moved to a new app called Zepp. It is fine as far as data logging is concerned. But, the UI is cumbersome and overwhelming. For context, I prefer Fitbit and Google Fit's simplistic UI. Anyway, you can do a lot of things using the app. From changing your watch faces to adding music to checking your workout data, everything is possible using the app. 
Fitness Tracking Features
If you've seen me, you'd know that I am not one for workouts. But, whenever a smartwatch comes in for review, I use it to test my walks. The step count meter is fairly accurate and I found the GTR 2's GPS was pretty accurate in charting my path as well. You get a wide variety of exercise tracking options. You can track anything from HIIT routines to mountain climbing and more. So, the watch has you covered in that regard. There's also an altimeter for step tracking and can be used with the Barometric Altimeter widget, which gives you the altitude information along with the air pressure.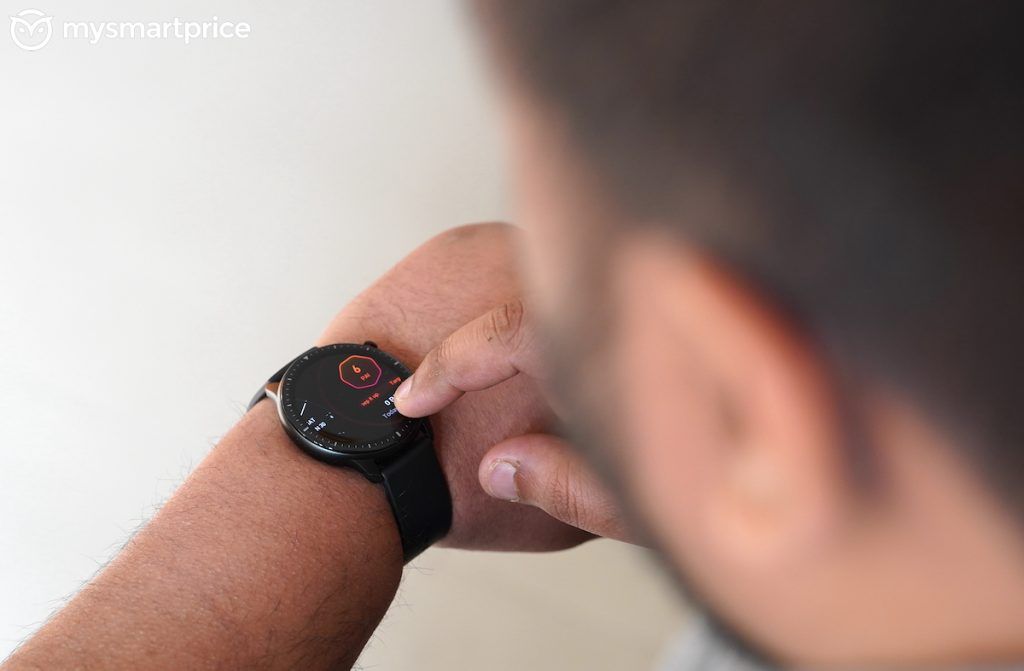 Apart from this, there is a heart rate sensor, which feels fairly accurate but it is not the best. And, there's also the new SpO2 measurement option. I tested it against a proper medical-grade SpO2 monitor and the results were very close with a plus/minus variation of 1 point. However, you have to place it exactly right to get the right result. Also, it is slower than professional equipment but I am glad that it works to begin with. 
Battery Life
Amazfit claims that the GTR 2 offers 14 days of battery life. That's obviously the ideal number based on limited usage. In my time, I cranked up the brightness to the maximum, used the Always On display, pulled up close to 200-300 notifications daily, tracked my heart-rate every minute, tracked SpO2 levels every other day, used voice recognition, tracked my sleep and more. Essentially, I was doing everything I could to bring the watch to its knees. And, it lasted me seven days on a single charge.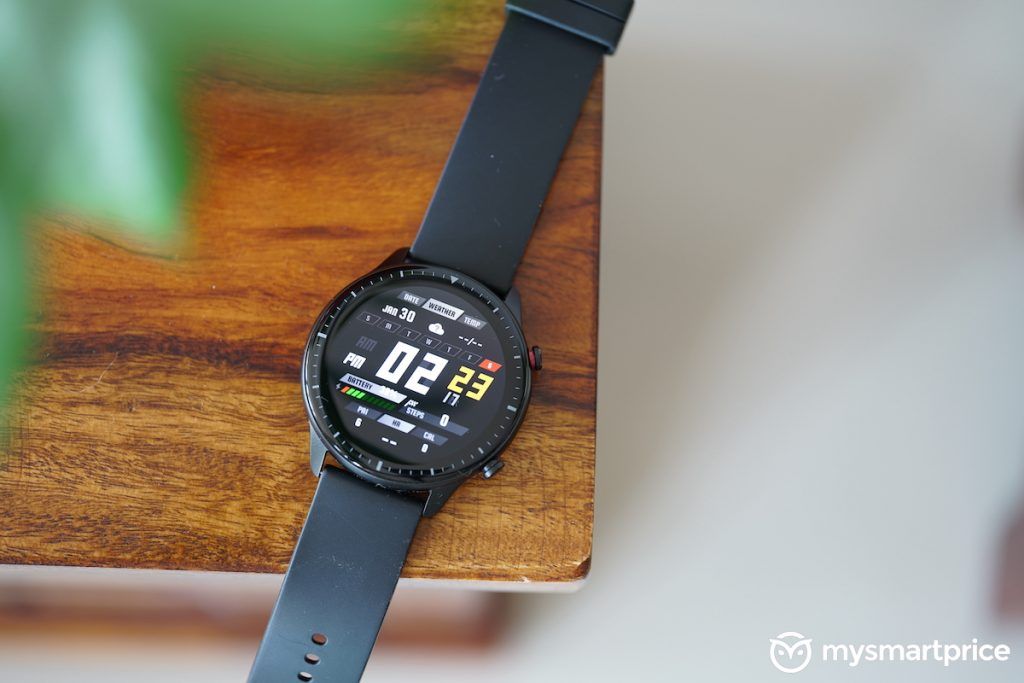 That's actually great but a few other Amazfit watches can do better. I'll still take this over the paltry two days that you can get with the full-fledged watches. Charging the 460mAh battery from zero to 100 takes about two hours and 30 minutes, which is alright because after that you can use it for 10 days with measured usage. 
Should You Buy the GTR 2?
For its asking price of Rs 12,999, the Amazfit GTR 2 is going to be my top recommendation for a smartwatch under Rs 15,000. Yes, it is better than the Honor Watch GT 2e, the Mi Watch Revolve. Realme Watch S Pro, or anything else in this price range. Why? It looks good, it's got a smattering of cool features, the battery life is great, and – most importantly – doesn't cost an arm and leg. But yes, don't expect it to have an app store or deep calling features. For that, you will have to spend more. 
What do you think of the Amazfit GTR 2? Do let me know in the comments below. 
Battery Performance
8.2/10
What Is Good?
Gorgeous display
Good looking watch faces
SpO2 monitoring
Choc-a-block with features
Great battery life
What Is Bad?
Strap is of average quality
No App Store