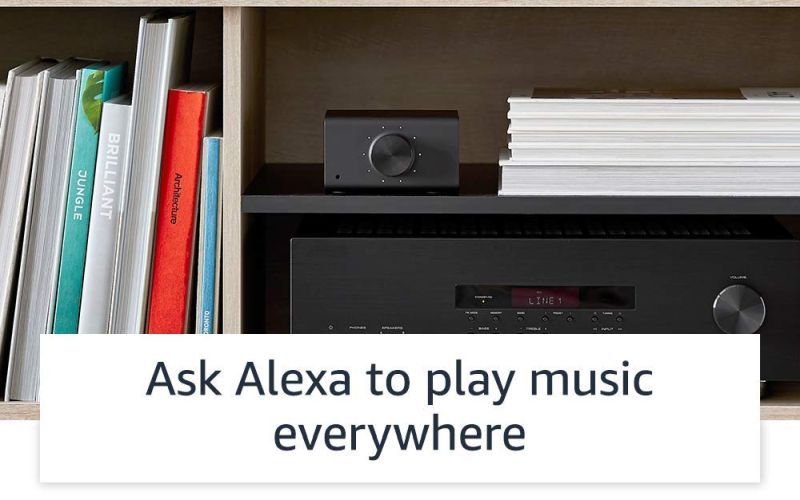 Amazon unveiled its Echo Link and Echo Link Amp late last year. Their release was limited to the US back then, with no real word as to when and if the company planned to sell these devices internationally. Well, a source close to the matter has confirmed that Amazon is bringing the two devices to the Indian market as early as next week. Furthermore, we have confirmation that the Echo Link's price will be set around INR 15,000.
The Amazon Echo Link is meant to be a companion to a standard Echo device and can be used to make your existing stereo system smarter. Multiple digital/analog inputs and outputs are provided to bring high-fidelity music streaming and Alexa capabilities to your home music system. These I/O ports include coaxial, optical, RCA, headphone, subwoofer out, and Ethernet. A large knob is provided at the front for volume control. Since there no microphones on the Echo link, it will merely function as a node between an Alexa device and a home speaker. The Amazon Echo Link Amp, on the other hand, takes things a step further by providing a built-in 60W x 2-channel amplifier. This allows you to directly connect an Echo device to a high-end stereo system.
We are not too sure regarding the availability of the Echo Link Amp in India as it is not even available for purchase in the US right now. If it does arrive, based on its US pricing, the unit could cost upwards of INR 20,000. These are steep prices especially considering how niche the audiophile space is in India, let alone one that wants to add Alexa functionality to high-end audio systems. There is also the added cost of having to purchase an Echo Dot in order to make use of the Echo Link and Echo Link Amp.
What are you're opinions on the Echo Link and Echo Link Amp and their arrival in the Indian market? Are you one who would be interested in getting one for yourself? Let us know in the comments below.