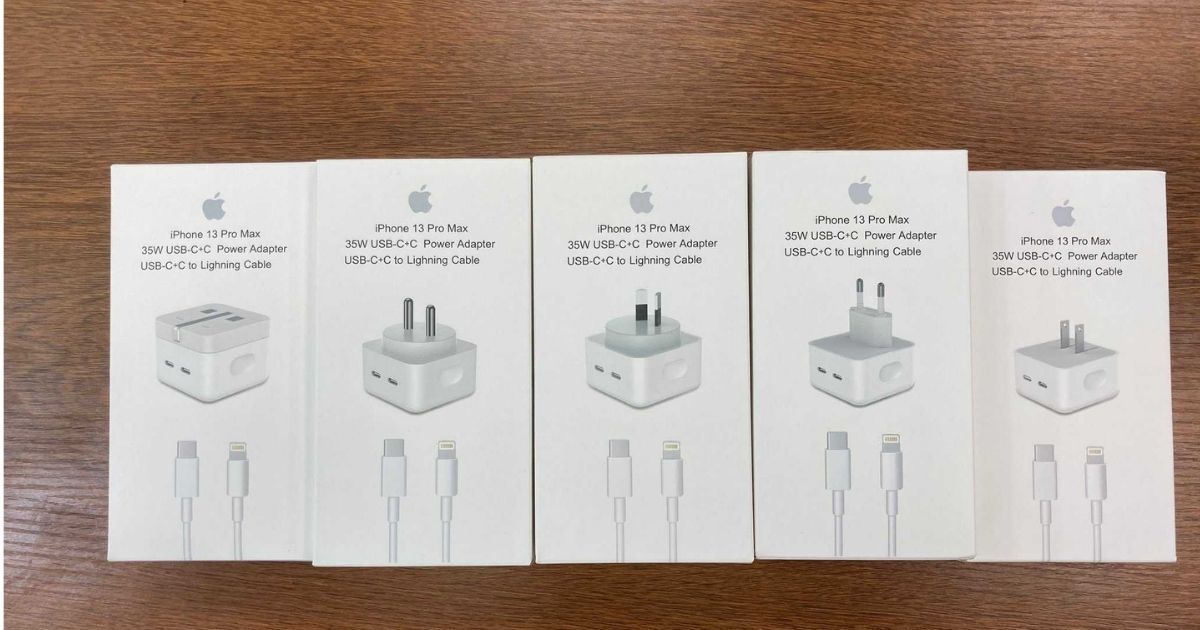 Update: These images were posted by Majin Bu on Twitter and according to him, these might be fake as the box comes with a typo and even the account from which these were posted thinks this might be 99% fake.
The original story follows…
Apple is gearing to launch a new charging accessory something later this year. The tech giant is preparing to launch the 35W Dual USB-C Adapter in the coming months. The adapter reportedly entered the mass production phase a couple of weeks back and soon after that, the Adapter's image was leaked online. And, now for the first time, the upcoming accessory's first live images have surfaced on the web, giving us a closer look at the upcoming tech from the company.
The image comes from a popular tipster account on Weibo, WhyLab. Let us take a look at the first set of live images of the Apple 35W Dual USB-C Port Power Adapter.
Apple 35W Dual USB-C Port Power Adapter Live Images
In the image, as we can see the retail box comes with an "iPhone 13 Pro Max 35W USB-C+C Power Adapter USB-C+C to Lighning Cable" (notice the typo on the box). And, the images show off the design of the adapter as well as the cable. From the images, it looks like the Apple 35W Dual USB-C Port Power Adapter will be available in five types of connectors to meet all the global standards (India, EU, US, and more). Among the five, two adapters will come with a foldable connector design and these are flat pins.
Further, we can also see from the images that Apple will also see adapters only, which means the box will come with only an adapter and not any connecting cable. The adapter will come with two USB Type-C ports on the bottom, which is where you will be able to plug and charge your devices. The adapter also comes with a grove adapter, which will help in offering a better grip, be it while plugging in or taking off. The tipster also reveals that these are Gallium Nitride charges (GaN), which means these are physically smaller in size and also they're more efficient at passing energy to devices.