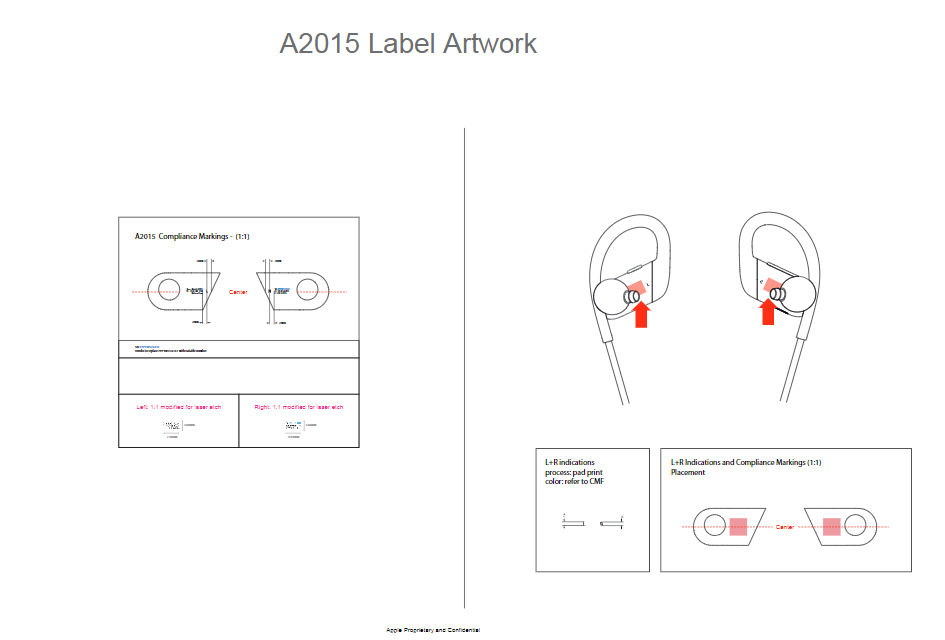 The iOS 13.3.1 operating system that Apple had released last month had artwork of an unannounced Beats earphones, which were speculated to be the Powerbeats 4, a successor to the Powerbeats 3 that is already on sale. Since then there have been no leaks of the Powerbeats 4. Well, that changes today as we bring you some new information regarding the upcoming earphones from Apple.
Apple Powerbeats 4 Spotted On FCC
Today, we have spotted an unannounced pair of earphones from Apple, bearing the model number A2015, on FCC. And the drawings of these earphones in the FCC documents have the exact same design as the artwork of the Powerbeats 4 that was leaked earlier. This suggests that the Apple A2015 earphones showcased in the FCC documents are most likely the upcoming Powerbeats 4.
As you can see in these images, the Powerbeats 4 aren't completely wireless. Instead, these earphones have a wire connecting both the buds. The artwork of the Powerbeats 4 which was leaked earlier suggested the same thing, that it has a wire connecting both the earbuds. Moreover, the FCC listing reveals that the A2015 have Bluetooth LE.
Unfortunately, those are the only pieces of information that the FCC listing of the A2015 (PowerBeats 4) reveals. Since the Powerbeats 4 have been certified through FCC, its launch seems to be imminent. Expect them to launch alongside the iPhone 9/iPhone SE 2.