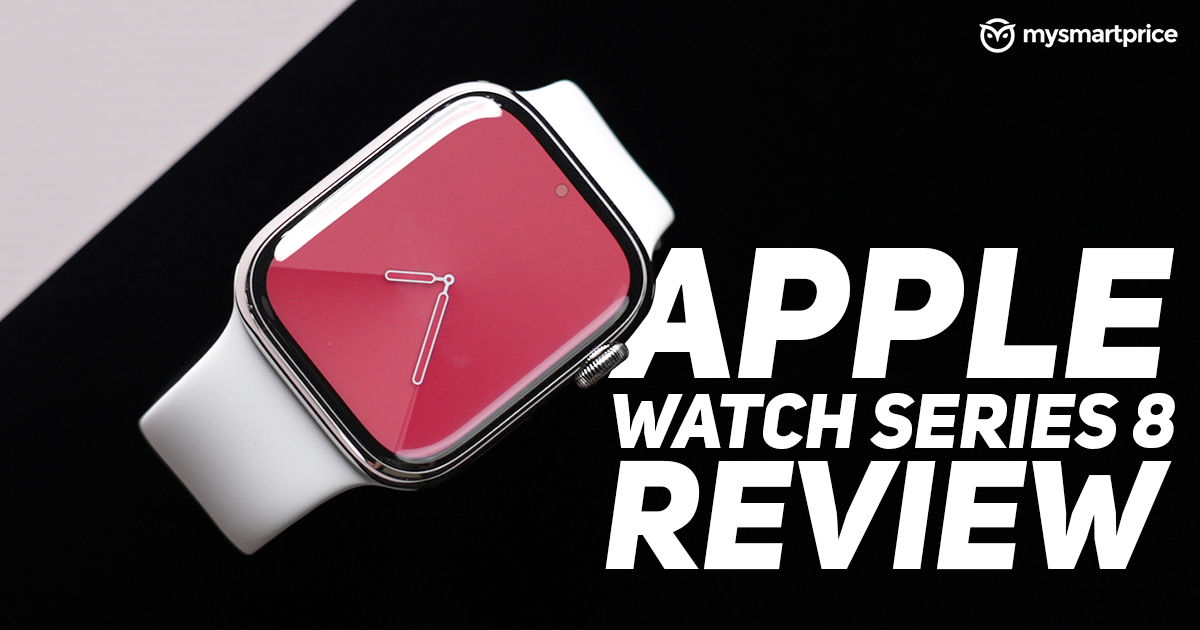 With Apple setting a new standard each year for what a smartwatch should be, 2022 seemed like a year it might be tough to offer something more. Especially considering Apple Watch Series 7 seemed like an excellent smartwatch. 
But, the company pulled a surprise by launching the Apple Watch Ultra, which took a lot of attention at this year's annual keynote. But, Ultra is not targeted at regular users and is focused on more adventure-loving users. So, we got the Apple Watch Series 8, which packs all of the bells and whistles from Series 7 that we loved about the Apple Watch plus even more.
In the last few weeks of using the Apple Watch Series 8, it looks to improve upon most of the things we saw on the Series 7. The gains are noticeable and make it worth the upgrade or purchase for smartwatch lovers. The Apple Watch Series 8 is spectacular everyday smartwatch money can buy, but not everything is an upgrade here. Let's dive deep.
Apple Watch Series 8 Review: Familiar looks but the same old robustness
Apple Watch Series 8 is beautifully designed and feels solidly built. Yes, it looks identical to the Series 7, which might be slightly disappointing for some. But, it features the brilliant Always-On display with narrow borders, which users will have to look carefully to notice. In addition, the screen on the Series 8 is pushed right to the edge, which offers more screen space than the Series 7.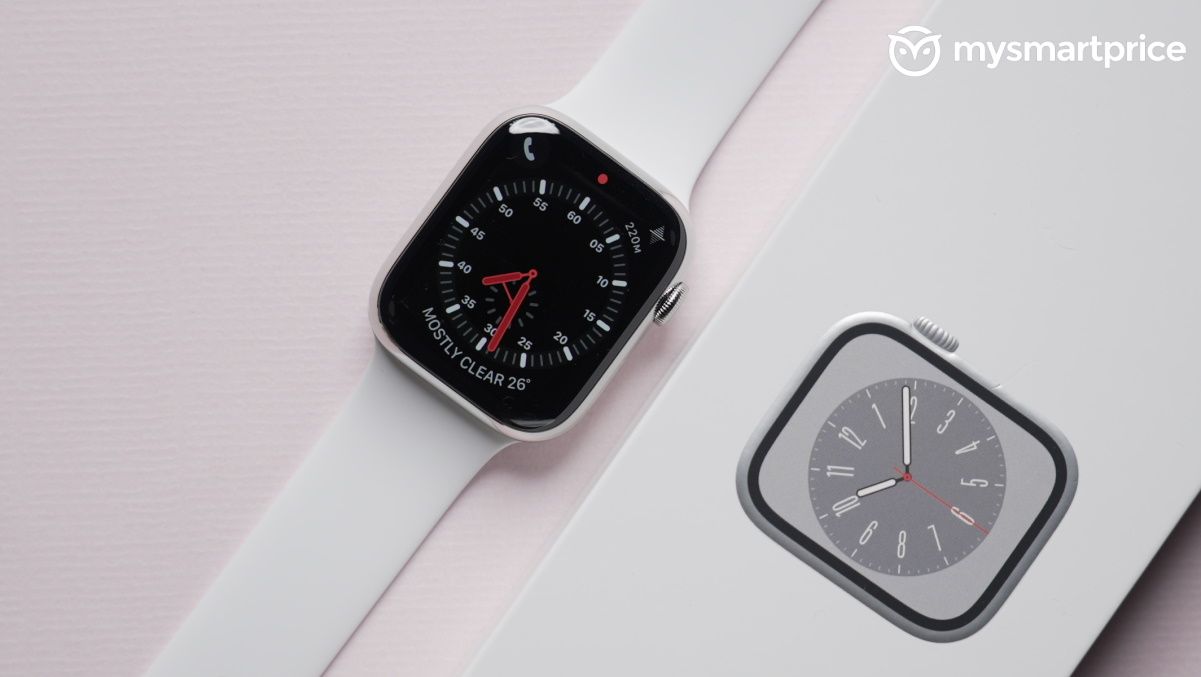 The watch faces like the new Lunar, Astronomy, Metropolitan and Modular look stunning on the new Series 8. These watch faces offer bright text, and complications are easy to read. 
Apple Watch Series 8 is beautifully designed and feels solidly built.
The complications are easy to read even when the wrist is down and with the Always-On display turned on. For us, the Modular has been our favourite watch face for almost three years. Much like the Series 7, the Series 8 is also durable and comes with IP6X dust-resistant rating. It is also water resistant with a WR50 rating and packs a solid display which Apple claims is "crack resistant".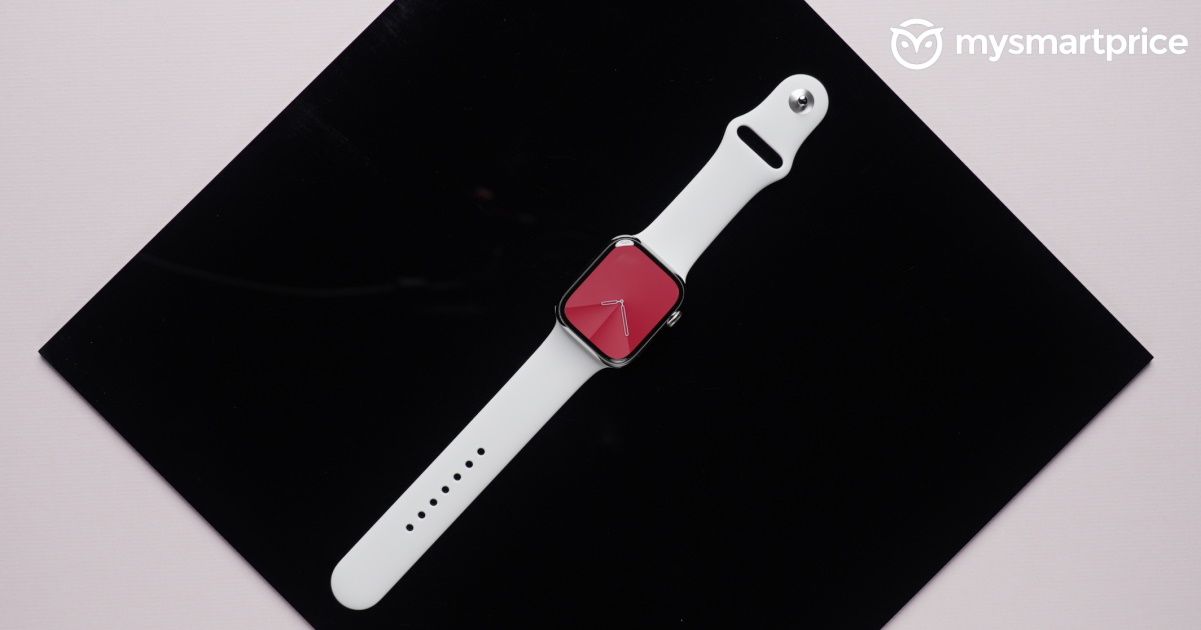 The screen is large enough to accommodate most of the complications thanks to edge-to-edge design. Apart from the screen with narrow bezels, the Series 8 doesn't offer any major design changes. Talking about the display, the Always-On Retina display is one of the best you will find on any smartwatch, and it offers up to 1000 nits brightness. Moreover, it is bright and offers excellent sunlight legibility. 
It comes in Aluminium and Stainless Steel makes, while Titanium is now exclusive for the Ultra model. The Aluminium case comes in Midnight, Starlight, Silver, and PRODUCT(RED), while the Stainless Steel comes in Graphite, Silver, and Gold options. We got the Aluminium case with the Starlight colour option, which looks stunning. This year, Apple has also updated Apple Watch Nike Bands, introducing fresh colours for the Nike Sport Band and a new Nike Sport Loop, "Just Do it", woven right into the textile.
Overall, the design isn't a massive leap this year on the Series 8 compared to its predecessor, but we get the same old solid smartwatch design in terms of durability.
Apple Watch Series 8 Review: What's new and interesting
Many upgrades this year on the Apple Watch Series 8 are internal, like the all-new temperature sensor that tracks the body temperature when the wearer is sleeping. Unlike many smartwatches available in the market, Apple has made the Apple Watch the ultimate wearable for women to track important vitals. Like, temperature sensor data is utilised for cycle tracking, which can be an excellent metric for assisting people who are family planning. In addition, the menstrual cycle updates on the Series 8 are more in-depth thanks to the new temperature sensor combined with heart rate and logged cycle data.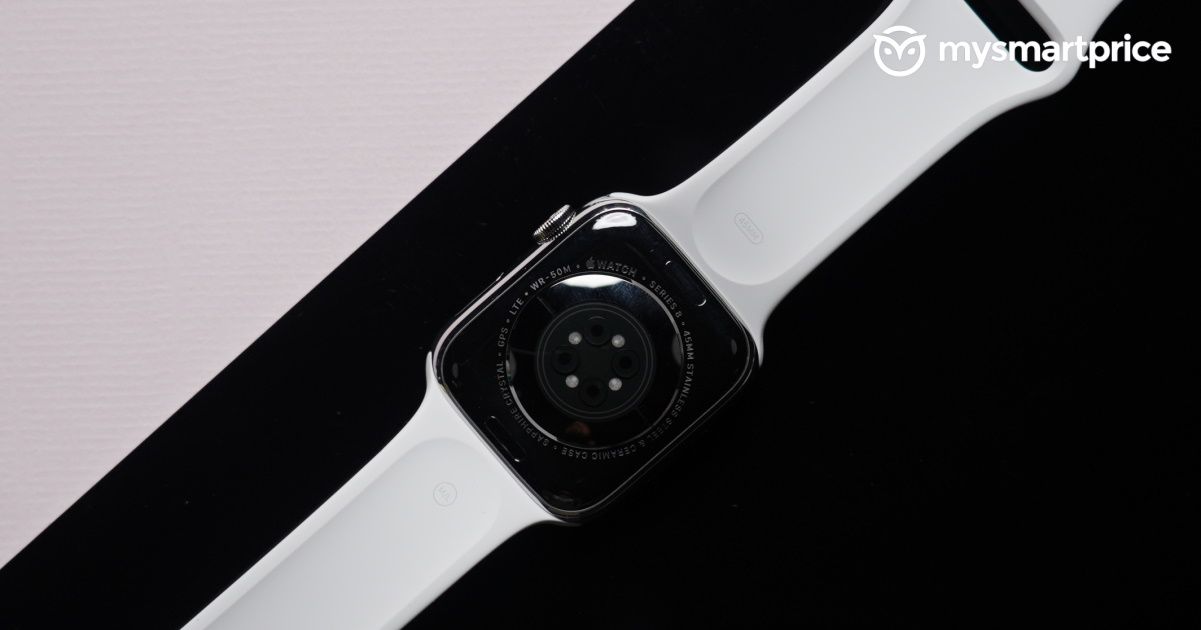 The good thing is that, much like other sensitive data on the Apple Watch, the cycle tracking data stays on the device and is encrypted. Apple added cycle tracking to Apple Watch three years back, and this year it is introducing the biggest upgrade to enhance the feature.
Many upgrades this year on the Apple Watch Series 8 are internal
Sleep tracking is the next prominent feature that's not exactly new but improved. The feature finally gets the much-needed improvement that makes it easier to understand sleeping patterns. It is a far more deep dive when compared to previous iterations. You can now view the time and percentage you spent awake or in core sleep. But, of course, you will have to sleep wearing the Series 8 and then only can use the feature.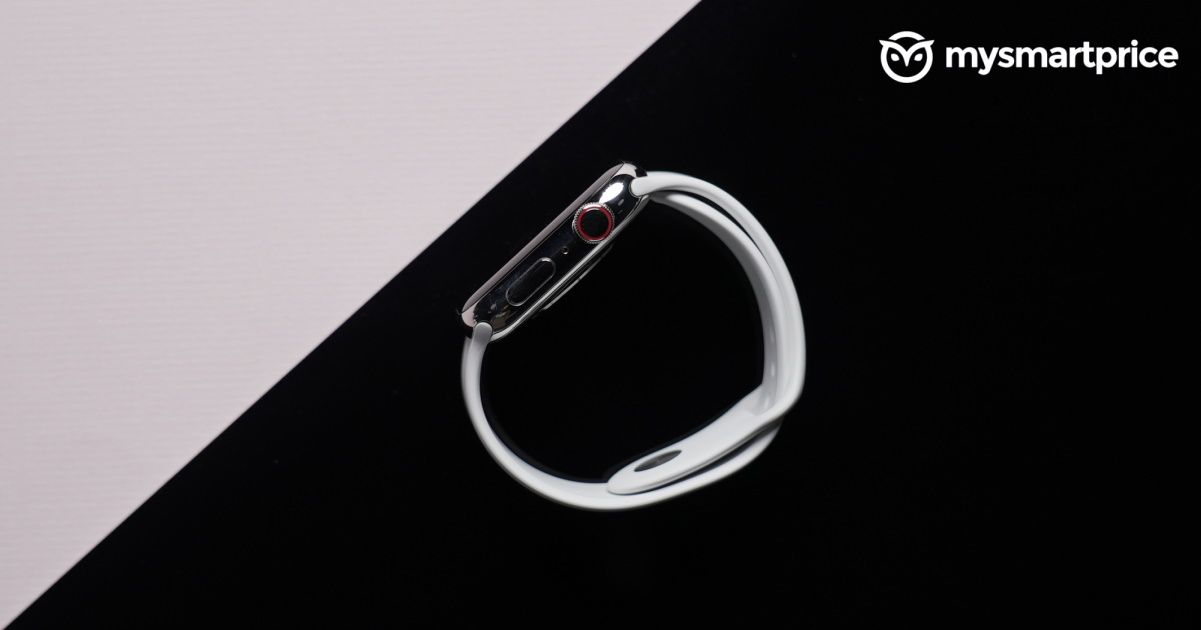 Compared to previous generations, the Series 8 sleep data for us was more accurate and helped us understand sleep patterns over a period of time. You can also view your heart and respiratory rates in relation to your time spent asleep.
The next big addition is Crash detection which we wish you never get to use, but just in case, then Series 8 should come to the rescue. Apple has confirmed that the crash detection feature works in India. We have already talked in detail about how to crash detection works. Again, we wish all other OEMs copy this safety feature from Apple. This year, Apple has also redesigned the Compass app with waypoints and backtracks, which can be more beneficial for trekkers.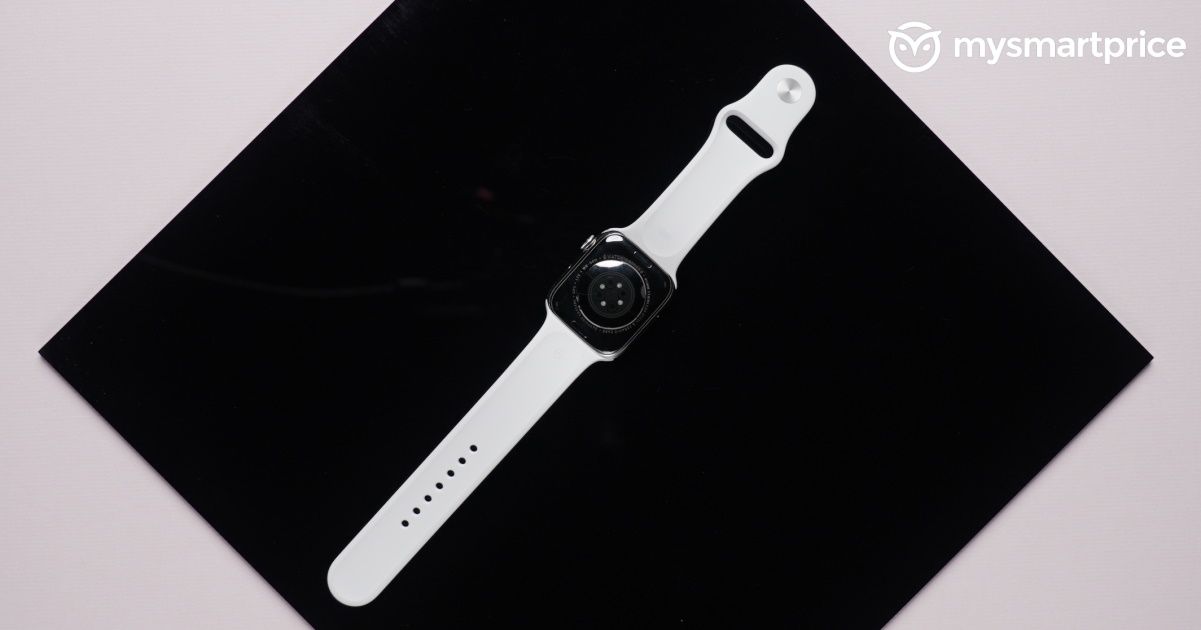 Then, other features like ECG and blood oxygen are incredibly important and work as marketed. Regarding fitness tracking, Apple Watch Series 8 is an incredible tool for all-around work; you can't go wrong with this one. With Workouts and Fitness+, there are so many ways to exercise using Apple Watch. 
The all-new Series 8 also helps keep you safe with fall detection, emergency SOS and Medical ID. In addition, the Mindfulness app is one of our favourite apps on the Apple Watch and helps keep us focused with timely breathing exercises. The smartwatch can also alert users about irregular rhythm notifications making it the ultimate device for health tracking.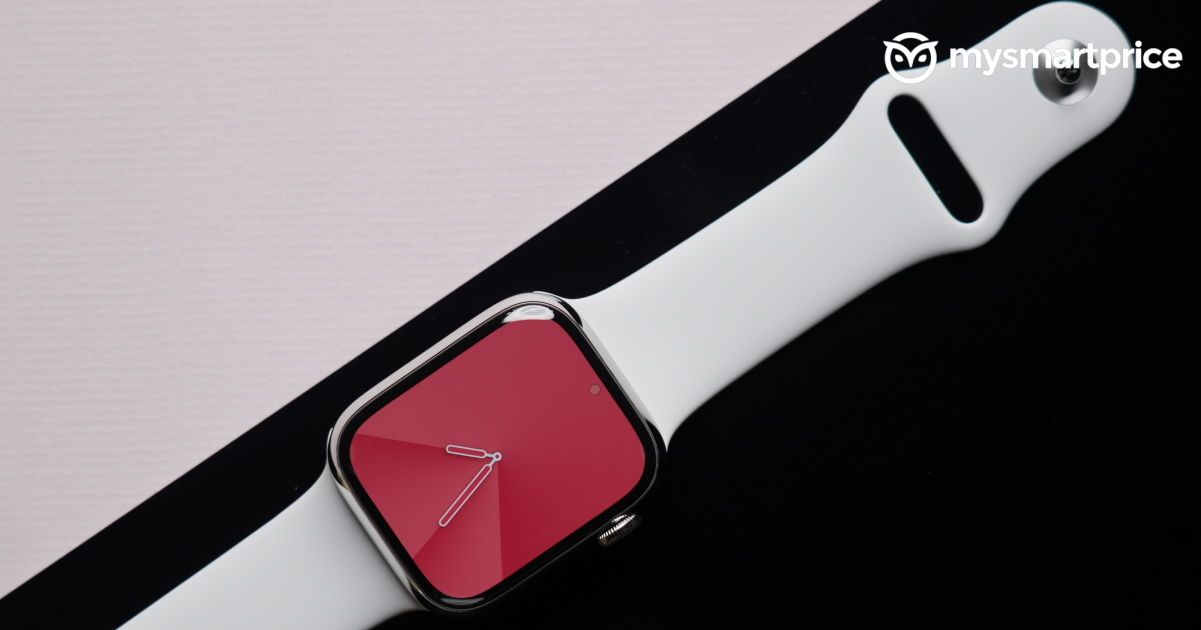 Apple Watch Series 8 Review: Battery is a big improvement over the Series 7
If there's one department where the Apple Watch Series 8 can blow your mind, it must be the battery. The Apple Watch Series 7 delivers up to a day with regular use, while the Series 8 lasts longer. While Apple hasn't given any fast charging figures, we noticed that the Series 8 could fully charge in less than 60 minutes, and short bursts of charging of about 20 minutes can help the Series 8 track your sleep and other activities by up to 8-10 hours.
Apple claims an all-day "18-hour battery life" on the Series 8, and during our review, we got close to 15 hours of regular use, including sleep tracking, which is not bad. Apple also introduced the all-new Low Power Mode to help preserve the battery when you don't have a charger. The company claims an incredible 36 hours of battery life on a full charge when the Low Power Model is enabled. The good thing about Low Power Mode is that it maintains many core Apple Watch features like activity tracking and fall detection while disabling other features (Always-on display and auto workout detection). Apple has rolled out Low Power Mode for Series 4 and later with watchOS 9 update.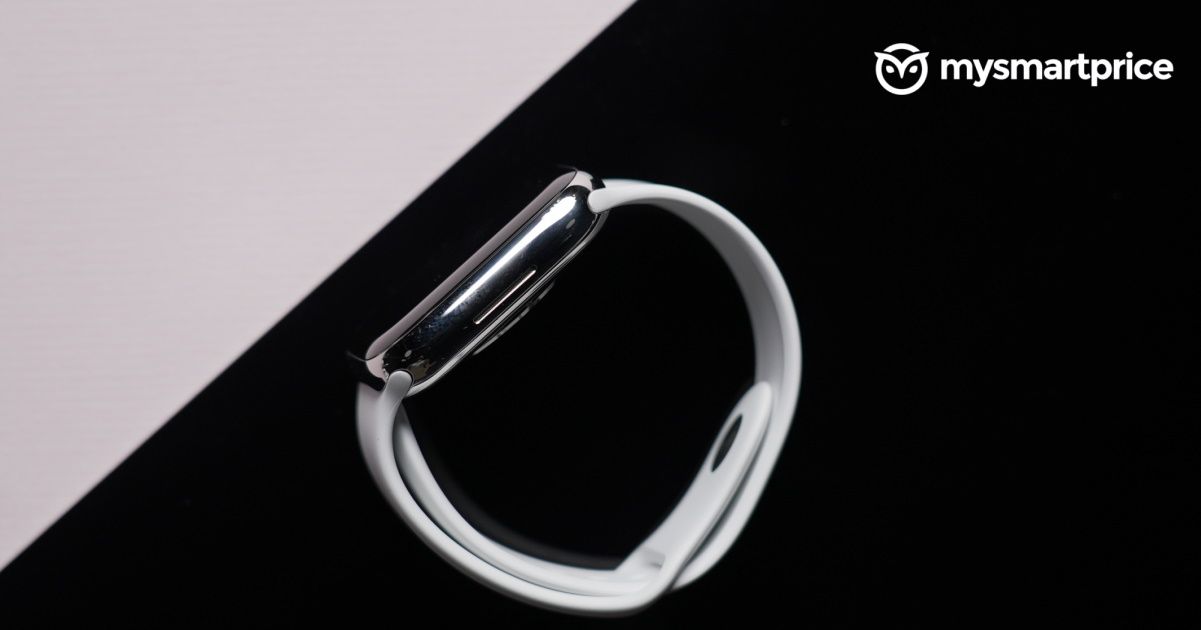 Apple Watch Series 8 Review: Verdict
Apple Watch Series 8 is an excellent everyday smartwatch in many ways. New features like temperature sensing, retrospective ovulation estimates for women, and Crash detection are some of the biggest feature additions to the Series 8. Then, there's a suite of best-in-class health features like blood oxygen, ECG, and sleep tracking to ensure you're on a healthy track. In addition, we loved the all-new edge-to-edge display on the new model, and fast charging support makes everyday use more convenient. However, long thing short, the Series 8, compared to its predecessor, doesn't seem a major upgrade, so who should buy it?
Apple Watch Series 8 is an excellent everyday smartwatch in many ways. New features like temperature sensing, retrospective ovulation estimates for women, and Crash detection are some of the biggest feature additions to the Series 8.
If you're an Apple Watch Series 7 user, you can skip Series 8 and wait for the next iteration. However, for other Apple Watch users on Series 6 and older, the Series 8 is a decent upgrade that ticks almost all boxes. Finally, for iPhone users who haven't used an Apple Watch, the Series 8 seems like the perfect start. It is slightly more expensive than the Series 7 (at launch), but there are plenty of reasons, including chip shortage and more.
The Series 8 starts in India at Rs 45,900 for the GPS variant and goes up to Rs 55,900 for GPS + Cellular variant, which we got for this review.
Why not Ultra? This year, Apple Watch Ultra surely looks more cutting-edge and advanced, but the point is it is not for everyone. So instead, the Series 8 offers the perfect balance between everything you need to be on top of on your wrist and price.
Apple Watch Series 8
55,900
What Is Good?
Robust Design
Stunning Display
Battery is a major improvement
Crash Detection
Improved sleep tracking
What Is Bad?
Slightly expensive
Design looks similar to Series 7