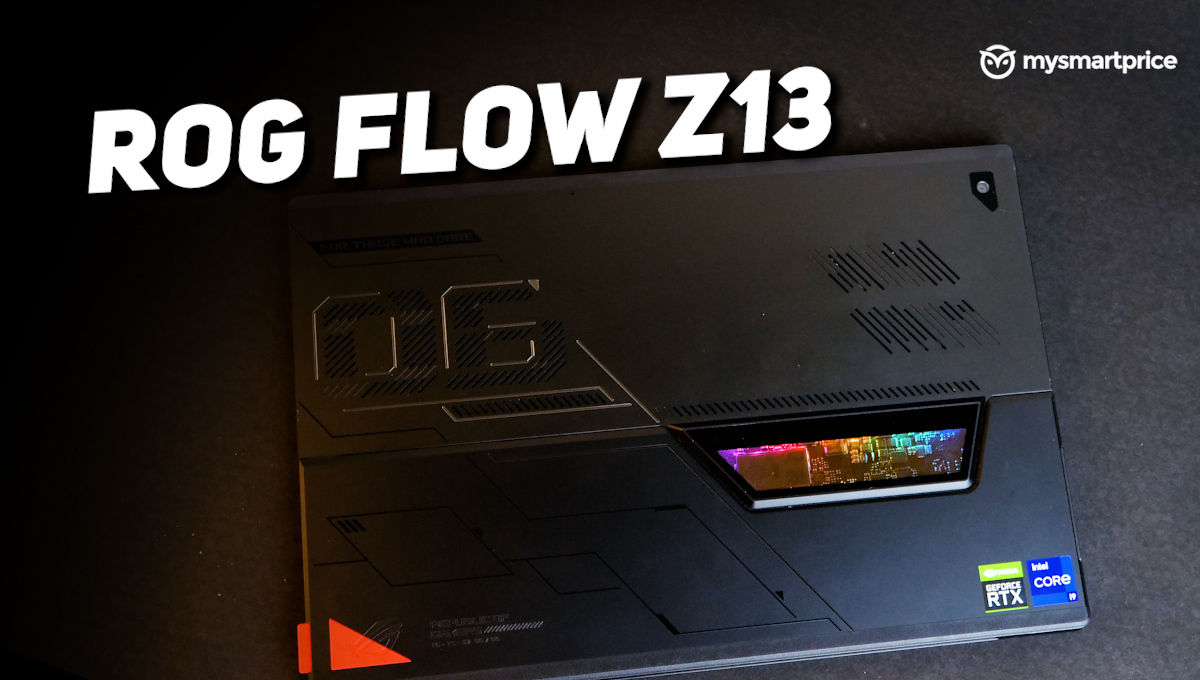 Years ago, you'd think we were crazy if we said there would come a time when the world would be introduced to a beast of a gaming laptop which can be used as a tablet too. But this doesn't seem like fantasy anymore, with Asus trying different things with their Flow series of devices. Last year, they launched the ROG Flow X13, which came in a typical clamshell design — and building on that foundation — this year, they introduced the ROG Flow Z13.
After Asus teased us with the ROG Mothership concept a couple of years ago, we felt it was a crazy concept that excited us. So it's interesting to see how the company has executed it while maintaining a somewhat slim form factor. While the ROG Flow Z13 takes design cues from Microsoft Surface Pro's detachable, it adds some zing of its own, and I'm sure you know what they are.
A fancy yet useful kickstand, a see-through RGB illuminated window that reveals a part of the motherboard (something we are sure Nothing would be proud of) and a detachable keyboard – all this sounds fun, but it's not all roses with the ROG Flow Z13. The device is available in multiple variants and comes with a starting price of Rs 1,28,700. For this review, we have the variant with Intel Core i9-12900H and Nvidia RTX 3050Ti Mobile GPU, which is priced at Rs 1,81,990. Here's our full review.
Asus ROG Flow Z13 Review: A sleek tablet-cum-laptop form factor
The ROG Flow Z13 is unlike any laptop or tablet you've ever seen. With this approach, the Flow Z13 is clearly looking to target gamers and young audiences. As you might have already guessed from the intro, the device goes for a Surface Pro-like approach but with all kinds of design beauties and the more than obvious gaming vibe that Asus is famously known for. For starters, it's quite sleek — which is unique, considering the components it holds inside.
The Flow Z13 is 12mm thick and weighs just 1.18kg for our variant. Our unit sports a 13.4-inch FHD panel with a 1920×1200 resolution. The display refreshes at 120Hz, so gamers — rejoice. When kept in laptop mode, the Flow Z13 can be seen housing a USB 2.0 Type-A port, volume rockers, and a power button which also doubles up as a fingerprint scanner on the right. The top portion consists of vents with "Republic of Gamers" written between them. The vents are designed with a gaming vibe — not surprising — and look quite cool. The left side sees a USB-Type C port with support for Thunderbolt 4, XG Mobile interface, and speakers on either side. The bottom side of the laptop sees the keyboard connector pins. There's also a microSD card slot neatly hidden below the kickstand.
As mentioned earlier, the Flow Z13 comes with gaming aesthetics, and most of it can be seen on the back panel itself. It features a robust metal finish with the top featuring air intakes, with one of them designed in the shape of the number '06'. The rear also hosts a very handy kickstand that you can use to keep the display at different angles. It also features a small transparent window at the back, which flaunts part of the motherboard in RGB-illuminated lights. This can be the perfect ice-breaker if you plan on taking the Flow Z13 to your nearest cafe.
The 2-in-1 factor is clearly the selling point of the Flow Z13, and it is able to pull it off in most cases. The device is accompanied by a folio keyboard that connects at the bottom of the laptop with the help of magnets. The click is quite satisfying for all the ASMR fans out there. The violent snap of unplugging and plugging the connector back and forth is so addictive that it nearly became a fidget for us.
While the double duty factor is excellent, using the Flow Z13 as a standalone tablet felt quite awkward and cumbersome. This was partly because of the 13-inch display and the weight. As a result, using it for longer hours became tough. Another issue we faced with the device in laptop mode was that we weren't able to use it on our lap. The kickstand is mostly built for desks, and keeping it on our lap while trying to type on the folio keyboard was uncomfortable as the laptop is top heavy and the keyboard cannot balance the weight.
The keyboard is pretty good, and we weren't expecting that given the chiclet keys. In fact, this entire review is being written on the Flow Z13, using the folio keyboard. The key travel is decent, and so is the spacing. While we are aware gamers are inclined towards a mechanical keyboard, this is not a bad alternative. Of course, you don't get the same key travel, but there have to be some compromises.
Unsurprisingly, it is RGB backlit with support for AuraSync, and you get three levels of brightness that can be adjusted by hitting the F11 key. The keyboard has an Alcantara-like finish for the palm rest, and the texture feels good against the skin. However, the underside of the folio case tends to collect all kinds of dust that your desk has to offer. The trackpad is comparatively small, but we got used to it after spending two weeks with it. It's responsive, and the click also feels satisfactory.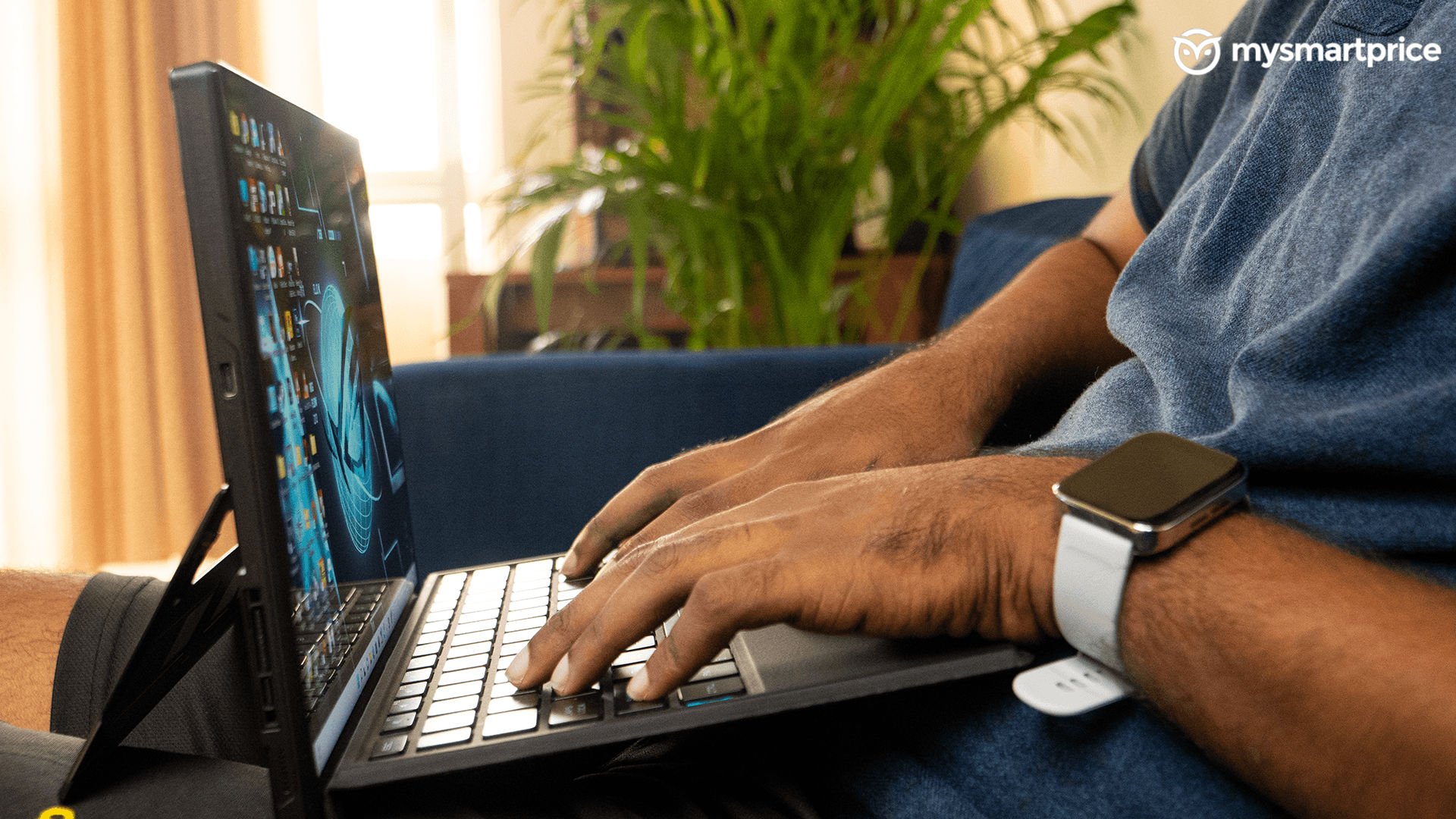 The folio keyboard can also be adjusted depending on your preference. For example, if you are comfortable with an incline, it can be magnetically attached, which is a very subtle adjustment that we appreciate.
Nevertheless, hardcore FPS gamers — we would suggest getting an external keyboard and mouse if you plan on rigorously playing games on it, as the keyboard has some flex to it. In addition, the keyboard can be folded into the screen, so if you plan to carry the laptop in your backpack, this can avoid scratches on the display.
As mentioned earlier, the power button also has a fingerprint sensor, and it works flawlessly, something you'd expect in this price segment. However, it misses out on an IR camera with Windows Hello compliance, which could've been a good inclusion.
Asus ROG Flow Z13 Review: Fast display and decent speakers
Asus has listed the Flow Z13 in two display choices: a Full HD variant and a 4K variant. The former has a slight advantage in terms of refresh rate as it comes with a 120Hz panel, while the latter is only available with a 60Hz panel. However, we would recommend the former simply because the trade-off makes more sense if you're a gamer. As the name suggests, the Flow Z13 sports a 13.4-inch display upfront with relatively thin bezels on either side except for the top and bottom ones. The top bezel holds a 720p HD camera for video calls, while the bottom bezel flaunts the ROG Flow logo. Asus has been launching a bunch of laptops with OLED displays, but the Flow Z13 comes with an IPS LCD panel, which is quite understandable from a financial point of view.
The display has decent viewing angles and vibrant colours throughout the panel. The display supports Dolby Vision, but somehow Netflix and Amazon Prime Video were not able to detect it, both on the browser and standalone app.
Oh, and yes, it is, of course, touchscreen. The touch response was excellent, and using the Flow Z13 in tablet mode was a good experience with the refresh rate set to 120Hz. Asus also includes a stylus pen, which has come in quite handy for us when adding a signature to a document. It can be useful if you like to illustrate, but we could only try it casually. The display can go up to 500 nits of peak brightness, so visibility outdoors is just average, nothing to write home about.
Our time with the display was usually spent playing games, but we did manage to carve out some time to watch our favourite TV shows and movies — our experience with this was good, although the display is quite reflective and catches fingerprints rather quickly., So, you may want to invest in a good microfibre cloth too. The display comes with a 16:10 aspect ratio, so games and movies will show black bars at the top and bottom as most of the content is shot for 16:9 displays.
As for the stereo speaker setup, we would have liked it if they were louder and had a bit more clarity. Dialogues in shows like Better Call Saul and House of Dragons did not land well. Strangely enough, the music sounded crisp on the speakers. We tried messing around with Dolby Atmos settings and still found the sound to be slightly the same. So, clearly, you're going to need a pair of headphones if you plan on buying the Flow Z13 for gaming.
Asus ROG Flow Z13 Review: Performance nerds, look here
Pretty sure most of you are here for the benchmarks and gaming tests, so let's dive straight into that. Our variant comes with an Intel Core i9-12900H, 16GB RAM, 1TB NVMe SSD, and an RTX 3050Ti GPU. It's still mind-boggling how Asus has managed to fit a CPU with 14 cores and 20 threads into such a sleek form factor. It is also, in a lot of ways, a sneak peek into what the future holds for us gamers.
If you are not content with the graphical prowess that the RTX 3050 Ti offers, Asus will happily sell you an XG Mobile GPU to add more oomph to your gameplays. We did not receive a unit of the XG docking station, so we cannot comment on the performance. The XG Mobile is available in three variants with RTX 3070, RTX 3080, and RX6850M XT, with prices that can go up to Rs 1,12,990. It's better to stick to the discrete GPU.
The Flow Z13 has a MUX (multiplexer) switch, which is essentially a setting that lets you manually enable or disable the integrated graphics. This can be tweaked with in the Armoury Crate, an inbuilt software Asus provides. We ran the Flow Z13 through some synthetic benchmarks and our usual gaming tests, and here's what we found out.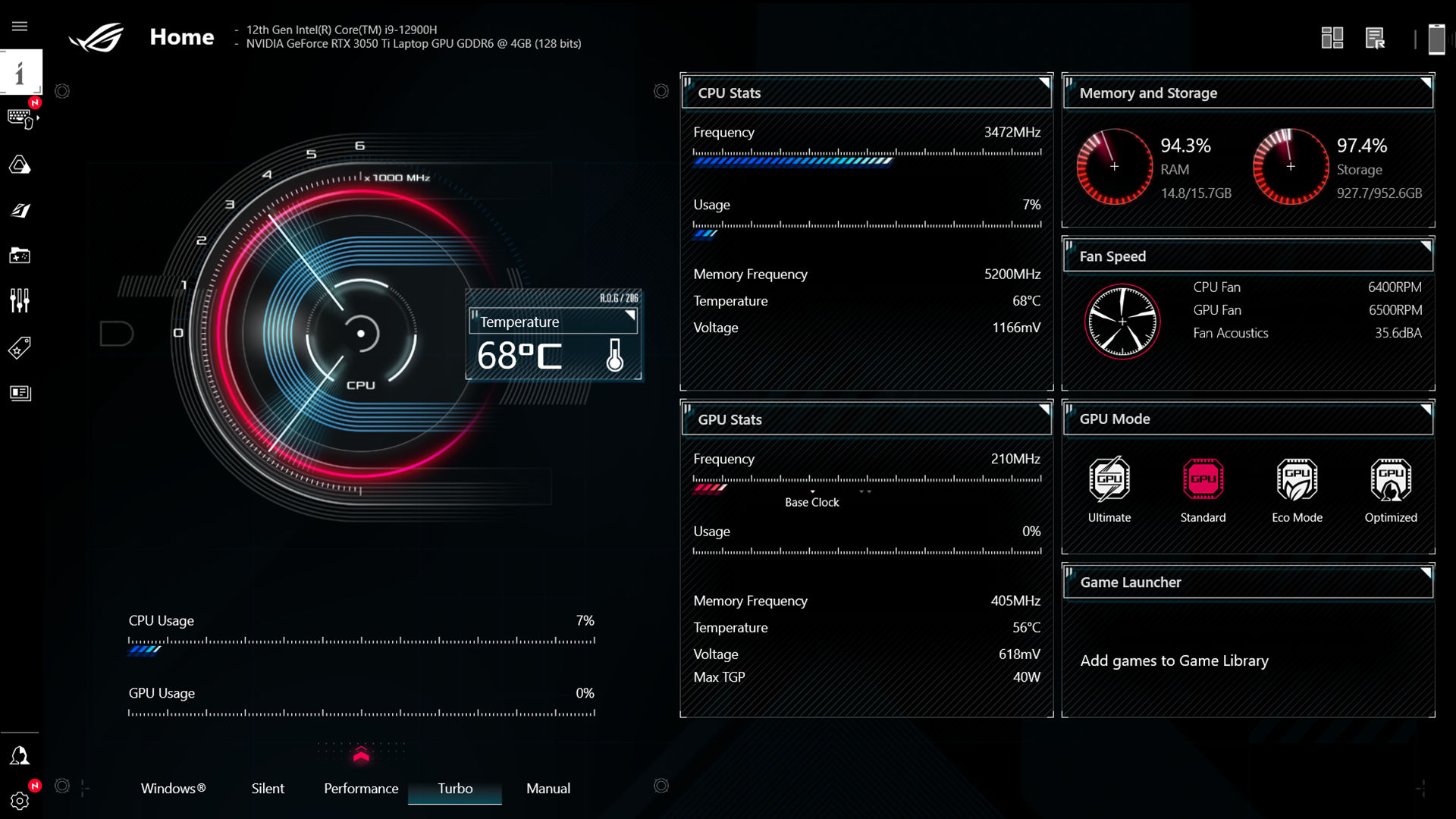 All the benchmarks were tested with the 'Turbo' profile inside Armoury Crate and dGPU set to MSHybrid mode. We started by testing the Intel i9-12900H by running it through the Cinebench R23 test, and the laptop-cum-tablet managed to register a score of 10179 points and 1825 points on multi-core and single-core scores, respectively. Geekbench 5 recorded a score of 6513 and 1682 in multi-core and single-core tests without the power connected. Connecting the power cable boosted the multi-core score but lowered the single-core score. Finally, PCMark 10 registered an overall score of 5619.
As for GPU benchmarks, Geekbench 5 returned a score of 59193 with the power cable connected. TimeSpy managed to get a result of 4698 points with the TimeSpy Extreme Stress Test pushing the GPU. The RTX 3050Ti passed the test with 99.4 per cent stability, which is good. CrystalDiskMark returned sequential read speeds of 3341 MB/s and 3217 sequential write speeds.
While benchmarks are an excellent way to understand how the device performs, we focused more on real-world testing. So, we played a mixture of games on the Flow Z13 to see how it held on. All the games were tested on the 'Turbo' profile with the power cable connected at all times.
Starting with Shadow of the Tomb Raider, which managed to get an average of 73fps on high graphics settings at 1920×1200 resolution using the in-built benchmark. Dying Light 2, another graphically intensive game, was able to garner around 28-30fps with RayTracing enabled and DLSS in quality mode. Dropping down the preset to Medium helped the device cope with around 45-50fps.
We also tested the newly launched Spider-Man Remastered on the Flow Z13. It was able to render frames at around 75-80fps with the 'Very Low' preset, and it dropped down to 54-62fps after taking the graphics quality up a notch to 'Medium' settings. Control is a demanding title that was only able to run at 23-25fps on 'High' quality presets with RayTracing enabled.
The Flow Z13 did not break a sweat while dealing with first-person shooter games such as Counter-Strike: Global Offensive. The game was able to run on high settings with consistent 200fps and above. We then switched to Valorant, which seems to be a growing eSports title. After tweaking the settings to 'High', we entered a round of deathmatch. The game was able to register around 170-180fps without any frame drops. Apex Legends with 'High' settings was able to churn out an average of 68fps. F1 2020 was also able to average 138fps on the Monza track.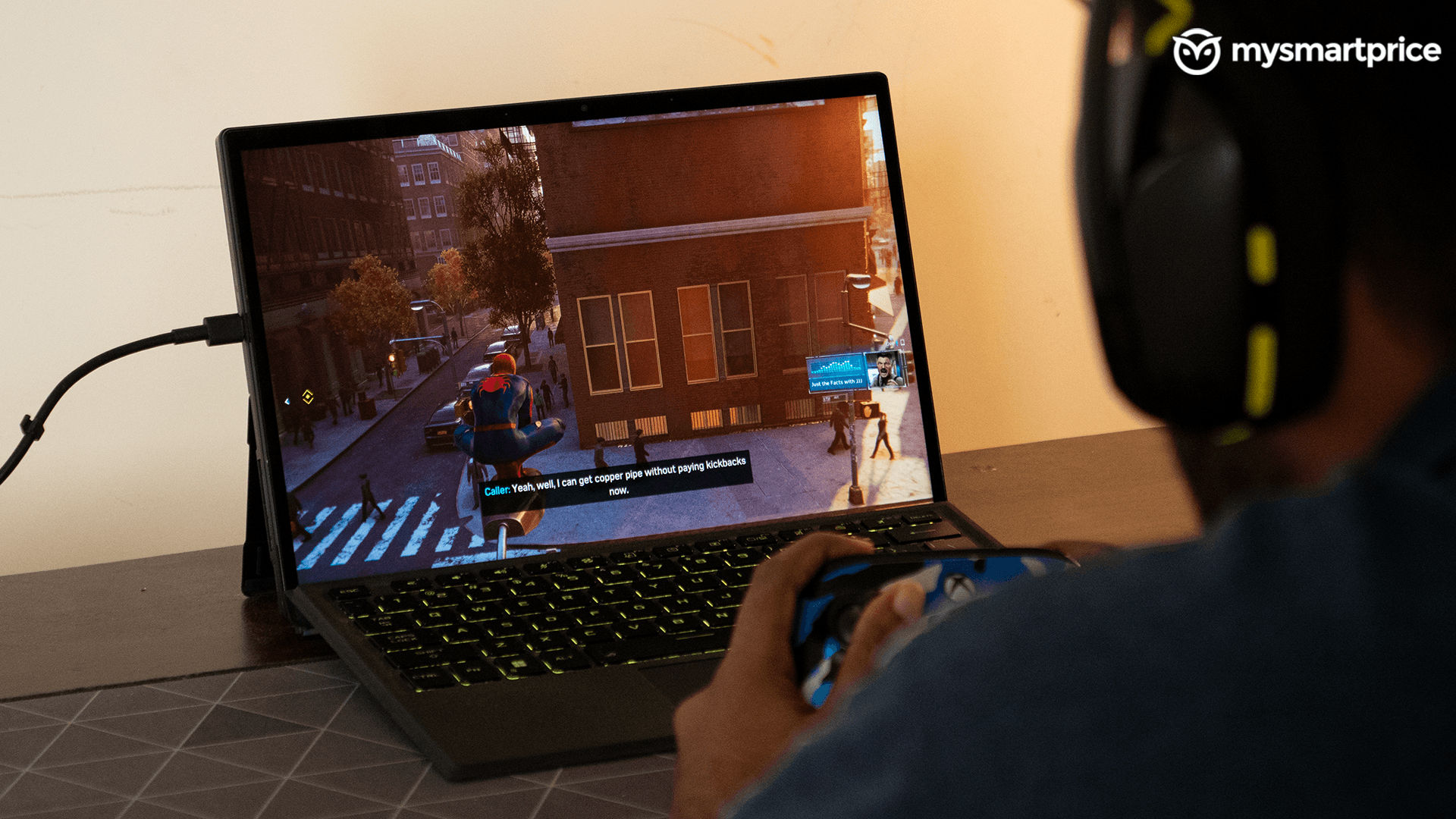 We also tested the render times in Adobe Premiere Pro on the Flow Z13. Rendering a 1080p reel of about a minute, which consisted of a couple of graphics templates, took the device around a minute and 10 seconds. Without the graphics template, the Flow Z13 was able to finish the render in under 45 seconds.
The back panel did start heating up vigorously, with fans running at full throttle. However, it wasn't quite audible. We noticed this behaviour even when browsing through Chrome. The Flow Z13 also has an 8-megapixel camera at the rear for photos. We took a bunch of pictures, and images looked like they would look on an 8-megapixel sensor.
Asus ROG Flow Z13 Review: Always carry a charger
With the components the Flow Z13 packs in, we weren't quite expecting the laptop to provide good battery life. Sadly, that was true. With 12 tabs open on Google Chrome with 'Performance Mode' enabled, the Flow Z13's 56WHr battery hardly lasted for an hour, which is poor. The i9-12900H paired with the RTX 3050Ti is a battery hogger, and it is advised not to use the laptop without the included 100W charger. If you are planning a game night or are simply thinking of going to your nearest cafe to get some work done, we suggest always carrying a charger. Luckily, it supports PD, so you can carry that if need be, but it won't be able to run the laptop in 'Turbo' or 'Performance' mode.
Should you buy the Asus ROG Flow Z13?
The idea of a 2-in-1 laptop is not something that is new. Microsoft has pulled this off in the past.
Inserting an Intel i9-12900H and RTX 3050Ti — with room for XG Mobile on a tablet form factor is stupendous. While the execution is not very practical owing to the cumbersome handling of the device in tablet mode and the poor battery life — this opens up an opportunity for the future.
Performance on the Asus ROG Flow Z13 is also decent. However, the back panel does get too hot to touch.
The Flow Z13 is by no means an alternative to your traditional clamshell laptop. For starters, it is impossible to use the device on your lap. But, carrying it to a friend's place — detaching the keyboard and laying it down while chilling on FIFA or F1 is something that Asus envisioned. While this could have been achievable with better battery life, as of now, it is non-viable.
Asus ROG Flow Z13
₹128,700