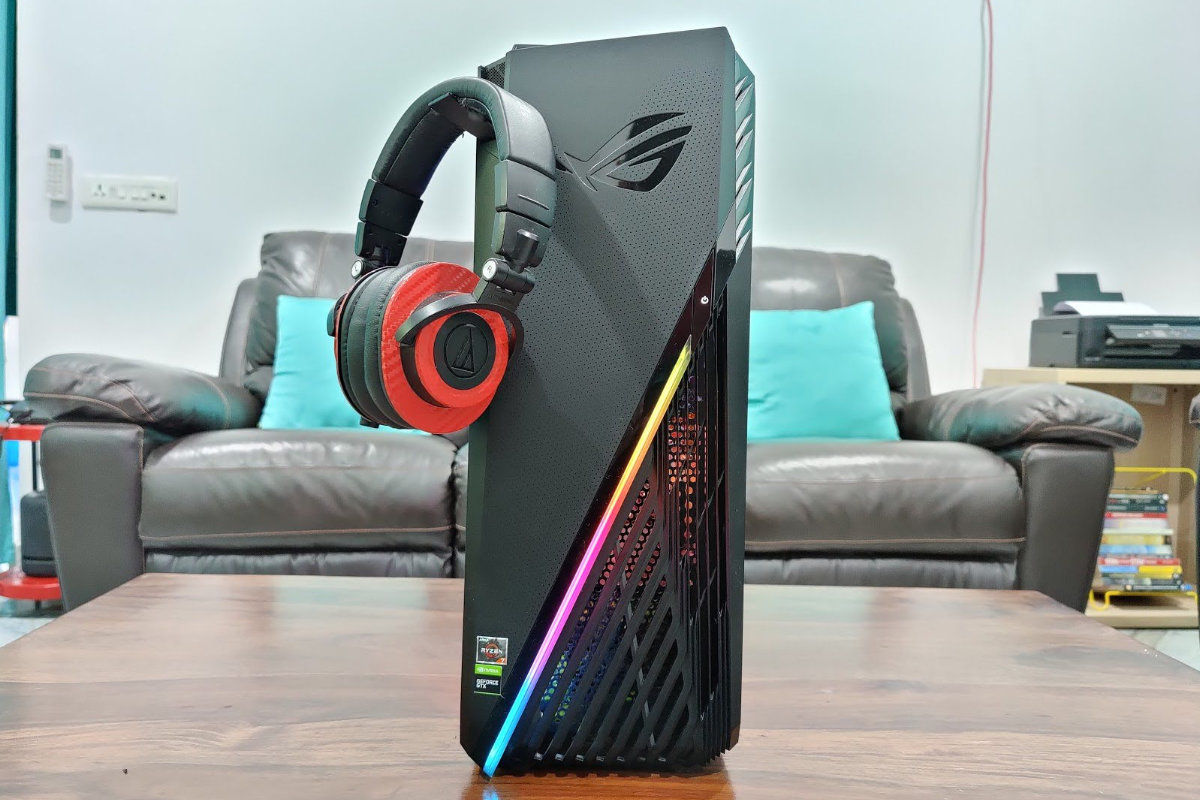 A couple of months after the COVID-19 pandemic-related lockdown began in India, ASUS launched new gaming PCs—ROG Strix GA15 and ROG Strix GA35—in India. Both PCs use AMD's Ryzen 3000 series CPUs, Nvidia GPUs, a transparent side panel, RGB lighting, and a handle at the top for moving the PC conveniently. ASUS is marketing them as compact gaming PCs for e-sports gamers.
The ROG Strix GA15 has a starting price of INR 65,990, while the ROG Strix GA35 comes with a starting price of INR 1,79,990. The ROG Strix GA15 (GD15DH) that we received is priced higher than its base variant as it comes with the AMD Ryzen 7 3700x CPU (instead of the AMD Ryzen 5 3600x) and the Nvidia GeForce GTX 1660 Ti (instead of NVIDIA GeForce GTX 1650). Although it comes with a printed MRP of INR 1,49,990, it can be purchased for INR 1,19,990.
We received the review unit from ASUS last month, and we had plenty of time to put the gaming PC through its paces.
ASUS ROG Strix GA15 Gaming PC Specs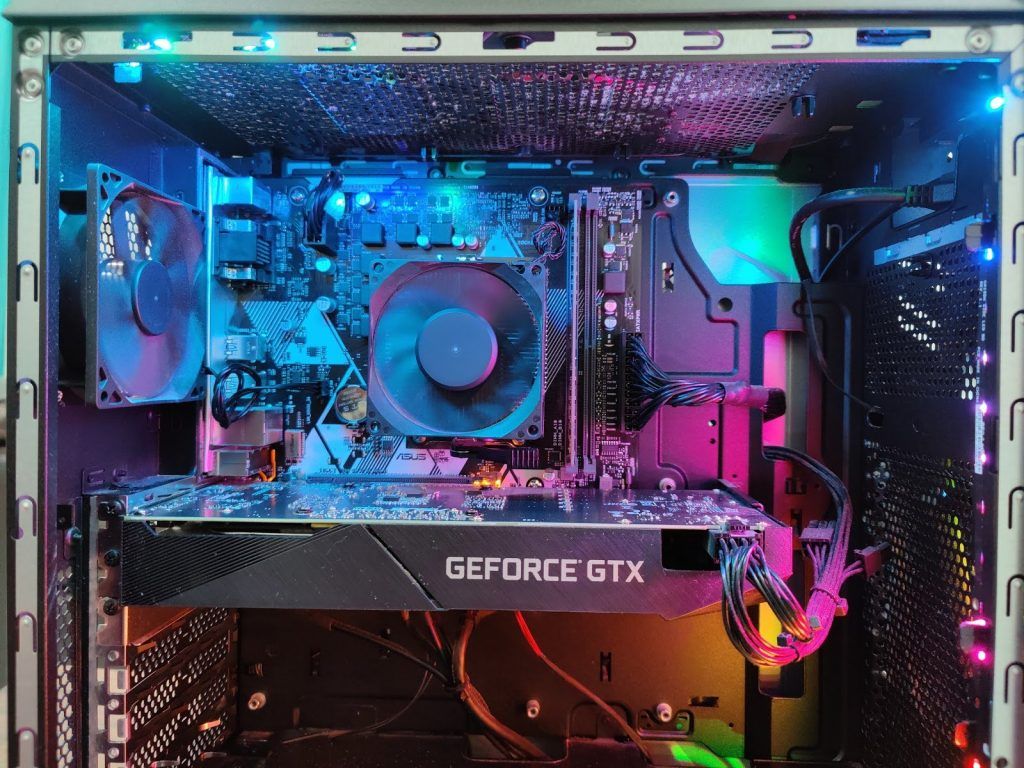 The ROG Strix GA15 that we received for review features the AMD Ryzen 3700x CPU with 8 cores, 16 threads, a base clock speed of 3.6GHz, and a max boost clock speed of 4.4GHz. The GPU is the Nvidia GeForce GTX 1660 Ti with 6GB GDDR6 VRAM, 2x HDMI 2.0 ports, 1x DP port, and 1x DVI port. It is also equipped with 16GB DDR4 RAM (3200MHz), 1TB PCIe NVMe SSD, an AMD B450 chipset-based motherboard, and a 500W 80+ power supply (from Acbel).
Wireless connectivity features of the gaming PC include Bluetooth 5.1 and dual-band Wi-Fi b/g/n/ac. At the top, there is one USB 3.2 Gen. 1 Type-A port, one USB 3.2 Gen. 1 Type-C port, one microphone in port, and one headphone out port. At the rear, the PC has two PS/2 ports, one DVI-D port, one D-Sub, one RJ45 Ethernet port, two USB 3.2 Gen. 2 Type-A ports, four USB 3.2 Gen 1 Type-A ports, and three audio jacks for 5.1-channel audio. It comes preloaded with Windows 10 Home 64-bit.
In terms of expandability, you can add three SATA drives for mass storage. There are two PCIe x1 slots that can be used for adding NVMe drives, Thunderbolt cards, or higher quality sound cards. Of course, you can swap out the GPU a few years down the line with a newer one. However, since there's only one PCIe x16 slot, dual-GPU configuration is out of the question.
ASUS ROG Strix GA15 Gaming PC Design
ASUS ROG Strix GA15 Gaming PC Design
The case measures 49.8cm in height, 42.1cm in depth, and 18.9cm in width. Although ASUS calls it a compact desktop, it's basically a mid-tower case, and it weighs 10kg. At the front, it has a diagonal RGB LED light, the power button with a white backlight, and the ROG logo. The plastic grill allows air intake. There's a retractable hook towards the top where you can hang headphones and ASUS says that it can handle up to 3kg of weight, but it feels rather flimsy.
The side panel on the left is fully transparent and you can see the RGB light strips inside. The power supply shroud runs along the whole depth of the tower. Although the Ryzen 7 3700x comes with a Wraith Prism cooler, the GA15 comes with a standard air cooler. The side panel on the right is made out of metal and hides all the cabling. At the top, there are USB Type-A, USB Type-C, headphone, and microphone ports. There is a grill as well, letting the airflow inside from the top. The whole tower is raised a bit from the front. At the rear, there are all the ports that I mentioned above along with a fan.
Overall, the PC looks quite good and it doesn't go overboard with the gamer-ish theme, but still offers some RGB goodness, a see-through panel, and keeps the standard tower design. The headphone hook also makes it more practical. However, I wish it had an RGB CPU cooler to complete the RGB goodness.
ASUS ROG Strix GA15 Gaming PC Performance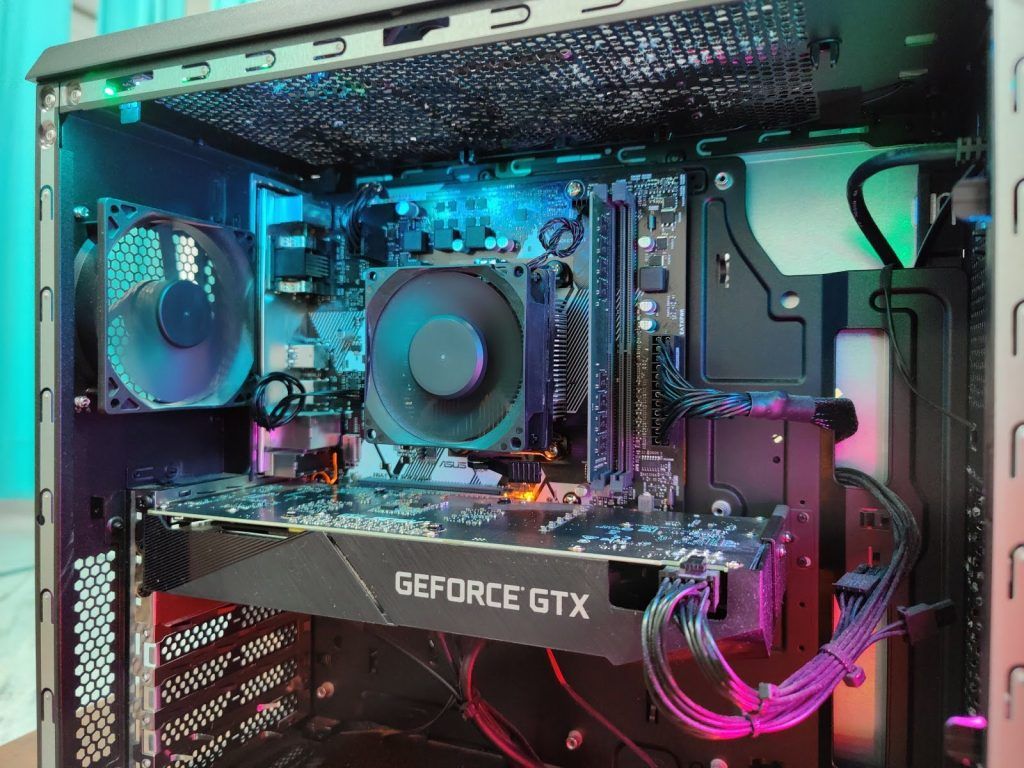 The ROG Strix has a pretty powerful CPU and a mid-range GPU, and its performance goes along the same way. You can do almost any productivity task with ease. In terms of gaming, you can rest assured that you can run most games at 60fps or above in Full HD resolution. If you're into esports, you can expect above 120fps in most games at 1080p resolution. The PC runs pretty cool and makes almost no noise even under heavy load.
The AMD 3700x crushes almost every consumer-grade Intel processor out there, both in productivity and gaming tasks. In Cinebench R20, the ROG Strix GA15 scored 4,387 points, and in Cinebench R15, the PC scored 1,896 points, coming in the top of the list. In PCMark 10, the machine scored 5,737 points. In 7 Zip benchmark utility, the ROG Strix GA15 scored a total combined score of 64,469 MIPS. The SSD used inside the PC is a mid-range one, and it can reach sequential read and write speeds of up to 1,629MB/s and 1,472MB/s, respectively. Random read and write speeds were around 669MB/s and 646MB/s, respectively.
ASUS ROG Strix GA15 Gaming PC Performance
In terms of GPU power, the GTX 1660 Ti inside the ROG Strix GA15 is as good as any other PC with the same GPU. In synthetic tests like 3DMark's Time Spy and Time Spy Extreme, it managed to score 6,336 points and 2,901 points, respectively. In real-world tests like Shadow Of The Tomb Raider, the GPU was able to maintain a frame rate of 91fps with TAA at 1080p, but the frame rate dropped to 60fps with SMAA 4x turned on. AAA titles SOTR can still be played at over 60fps at 1440p, but with anti-aliasing and other graphics settings set at lower levels. If you're into esports games like CS:GO and Overwatch, you can expect this PC to cross the 100-120fps frame rates, so you can pair it with high-refresh-rate monitors with 120Hz or 144Hz refresh rates for that ultra-smooth gaming experience and tear-free gaming. Even for heavier titles, you can easily reach 60fps with medium to heavy presets at 1080p resolution.
Then there's also the upgradability part of this PC which lets you swap out the current GPU with a newer and more powerful one in the future. However, it would've been better if the motherboard had an additional PCIe x16 slot for a dual-card setup. When it comes to heat management and noise, I was thoroughly impressed with the ROG Strix GA15. Never did I notice uncomfortable levels or noise. ASUS did a commendable job with the ROG Strix GA15's thermal design and airflow.
ASUS ROG Strix GA15 Gaming PC Software & Pre-Installed Tools
The ROG Strix GA15 doesn't come with a lot of bloatware. There's MyASUS software suite that offers information about the whole system and provides an easy way to download driver updates and manuals. It also lets you check for system errors, be it hardware or software. The GameFirst V utility is useful for gamers as lets owners of ASUS Wi-Fi routers better manage their ROG computers.
The Sonic Studio III is an audio utility where you can tune the audio output and input. It offers various equalizer presets, and you can set different equalizer settings for each audio output and even apps. It even offers improvements to voice recording using noise reduction, volume stabilizer, echo cancellation, and voice equalizer so that your voice sounds better in your gameplay videos and while multiplayer gaming.
The pre-installed Armoury Crate software can be used to quickly switch between various performance profiles, keep a tab on system resources usage, and set RGB lighting themes. You can even connect your ROG phone to the PC via Armoury Crate for controlling your ROG machine via your smartphone. All your profiles can be saved on ASUS cloud and all your ROG branded computers can have their settings synced.
Conclusion: Should You Buy ASUS ROG Strix GA15?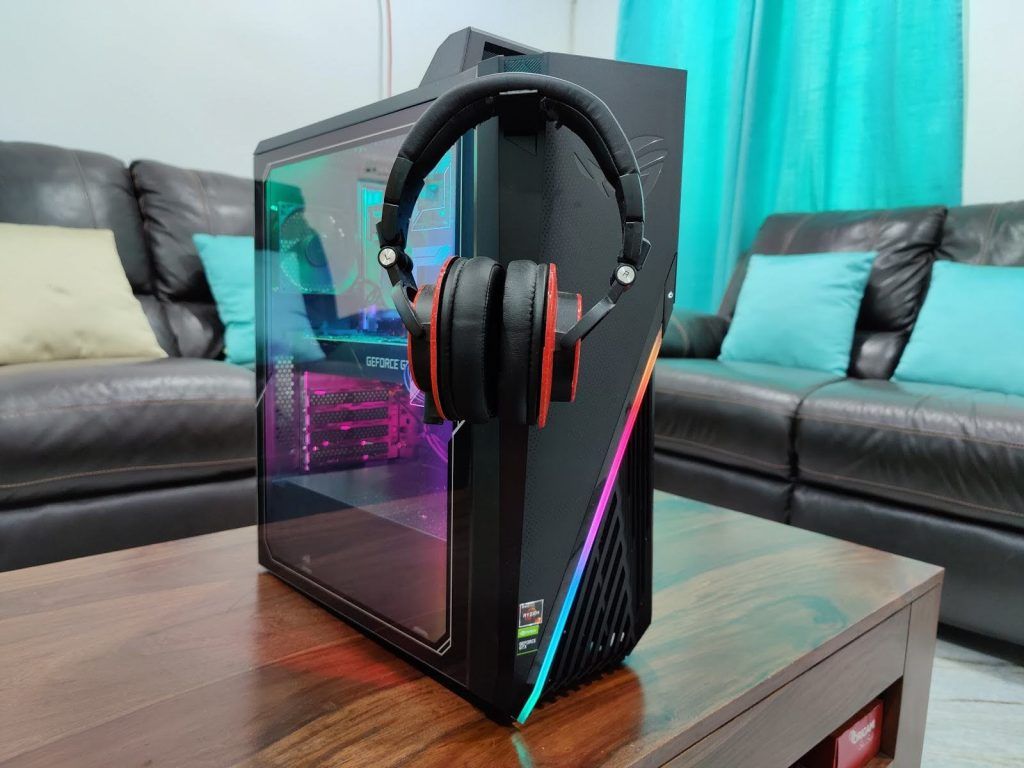 The ROG Strix GA15 is a great gaming machine, offering excellent all-round performance in productivity as well as gaming-related tasks. It runs cool and quiet, something that's hard to come by in gaming PCs. The PC looks good, too, with RGB lighting. It is not without its flaws, though. In terms of expansion and ports, ASUS could've done better by offering an additional PCIe x16 slot, a USB Type-C port at the rear, and an optical audio port.
The ASUS ROG Strix GA15 costs Rs 1,19,990, and if you assemble your own system with similar specs, you can get it done for around Rs 95,000 to Rs 1,00,000. However, it will be yet another hassle to go through, and in these times of COVID-19 pandemic, it is harder to get the necessary parts in one go. More importantly, you most probably won't be able to replicate the noise-free performance that the ROG Strix GA15 offers. This is something you need to decide for yourself.
ASUS ROG Strix GA15 (G15DH)
₹1,19,990
What Is Good?
Excellent performance
Attractive and practical case design with RGB lighting
Great cooling solution
Extremely low noise even under full load
What Is Bad?
Could've had more ports - Missing optical port, Type-C port on the rear
Only one PCIe x16 slot