Highlights
The ROG Zephyrus M16 starts at Rs 2,99,990.
The Intel i9-13900H and RTX 4090 duo power the laptop.
The laptop scored 7.7 out of 10 in our review.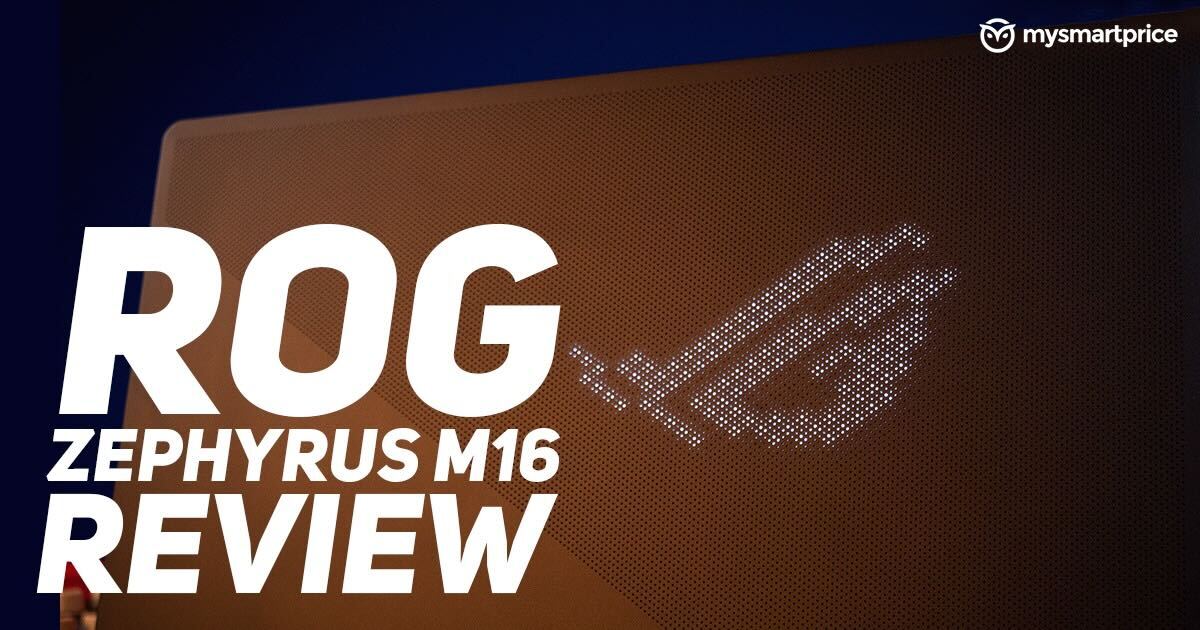 Asus' ROG line of laptops has always been one of the best choices for gamers worldwide. However, with every passing year, these beastly laptops somehow manage to get marginally better. Such is the case with the refreshed Zephyrus M16. While it looks the same from the outside, there have been big changes on the inside that make it all the more interesting.
The Zephyrus M16 now comes with an Intel i9-13900H and an RTX 4090, to begin with. If that wasn't enough, it also has an absolutely stunning display with Mini LEDs. While all this sounds sweet, it also commands a higher asking price of Rs 2,99,990 in India. We've been using the top variant of this laptop for the past week, and here's our full review of the same.
Asus ROG Zephyrus M16 (2023) Review: Design and display
The refreshed Zephyrus M16 does not go through any design overhaul but rather sticks to what has worked for them in the past. It's available in a single black paint that looks elegant and stealthy. While almost everything is the same, the M16 builds on its predecessor by including an AniMe Matrix LED setup on the lid, just like its younger sibling, the Zephyrus G14 (Review). We don't see any practical use for it, but it should help decorate your gaming den. The inclusion of this lighting setup has made the lid slightly thicker while adding 200 grams more to the weight.
The matte finish on the top is a hub for smudges, so tread lightly. We suggest keeping oily fingers away unless you prefer creating your art over the provided array of lights. While the entire body uses magnesium alloy, the lid is made out of aluminium, giving the laptop a premium touch and feel.
Despite the beefy internals, the laptop manages to look sleek while tipping the scales at 2.3 kg. Although, with our Zephyrus G14 (2022), we faced some issues with the hinge after using it rigorously for a week, this was not the case with the M16. The underside of the laptop has a slightly sharp rubber grip that helps with the placement when kept on a desk, but it digs into your lap when wearing shorts.
The area around the keyboard deck has a soft finish which is quite satisfying to play with, but it also collects a tonne of smudges. Speaking of which, the keyboard layout is the same, with spaced-out keys that provide good travel feedback.
It's of the chiclet type with responsive, snappy, and backlit keys, though it misses out on a dedicated numpad because of the speaker setup. However, it still includes four media keys that proved to be quite helpful. The touchpad is pretty big and quite responsive, with decently satisfying clicks.
The M16, like many of its other laptops, also comes with an ErgoLift hinge mechanism which doubles up as a great solution for airflow, while also elevating the keyboard deck to improve the whole typing experience.
Asus laptops have always provided a good array of I/O options, which is mostly true for the M16. The laptop's left side is home to a barrel-type power connector, a USB 3.2 Gen 2 Type-C with DisplayPort 1.4, an HDMI 2.1 port, a USB 3.2 Gen2 Type-A port, and a 3.5mm audio jack.
On the right, we have a Kensington lock, another USB 3.2 Gen2 Type-A port, a USB-Type C Thunderbolt 4 port that supports DP 1.4 and 100W PD charging, and finally, a microSD card slot.
Ideally, a full-size SD card slot would've been preferred since this laptop will also be considered by creators. Besides that, excluding an RJ45 ethernet jack is sad because it leaves gamers to rely on wireless connections, which are almost always finicky.
Another upgrade this year is a slightly bumped-up webcam which can now record in 1080p. The output is good for casual meetings over Zoom or Meet, provided there's enough light around.
It misses out on a physical fingerprint reader, but the webcam does a great job of unlocking the laptop with Windows Hello integration.
Asus ROG Zephyrus M16 (2023) Review: Display and audio
While the M16 gets a lot of upgrades across the board, especially in the components department — the display is what stole the show for us.
The front of the M16 is graced by a beautiful 16-inch QHD+ Mini-LED display that has 100 per cent coverage of the DCI-P3 colour gamut. It has a resolution of 2560×1600 pixels and refreshes at 240Hz. The IPS panel supports HDR with a rated peak brightness of 1100 nits and has 1,024 dimming zones, twice as many as the G14 (2022). It has a 3ms response rate, which reduces input lag and should aid gamers.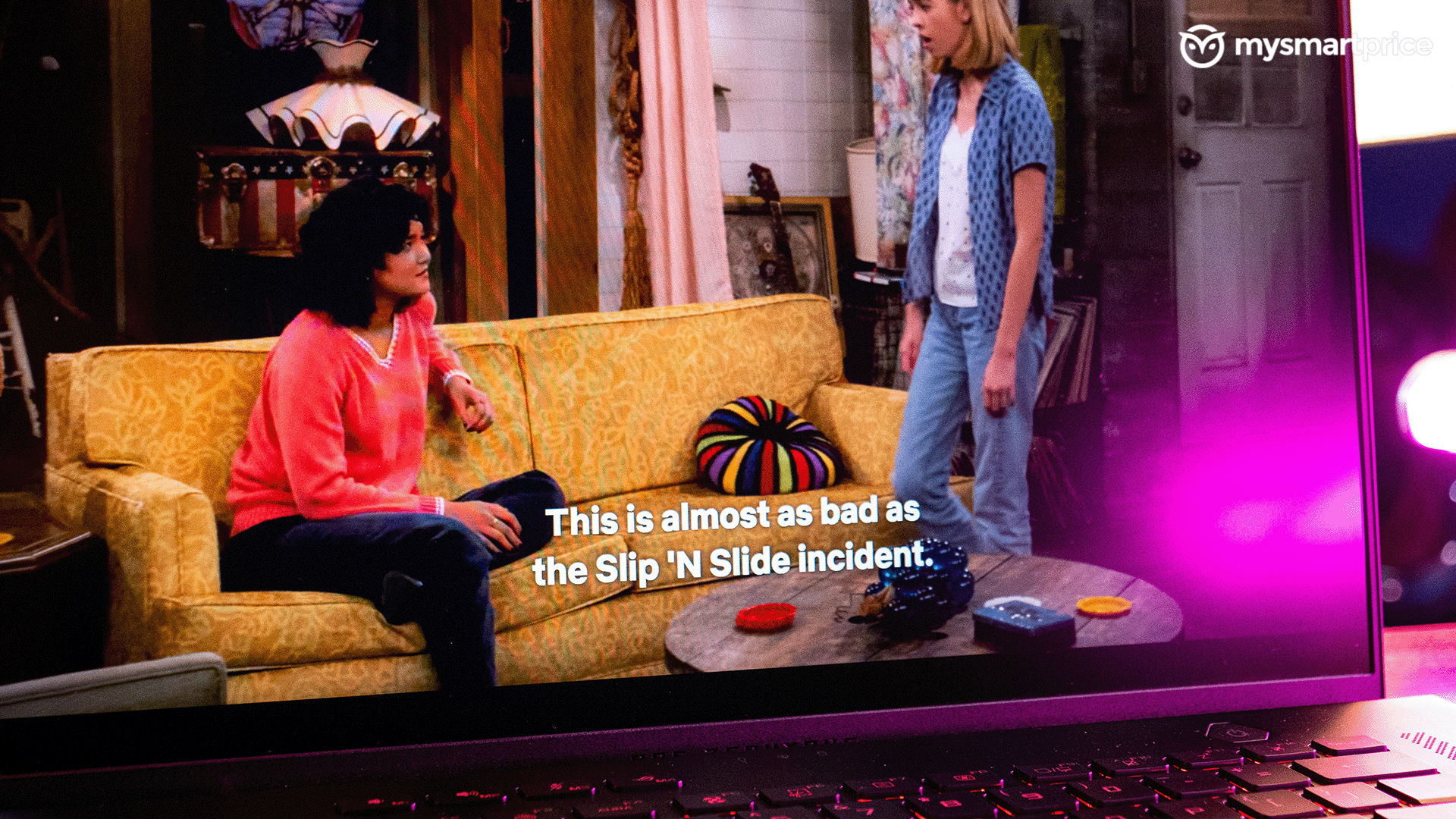 The display also supports Nvidia G-Sync, which helps eliminate tearing, smearing, and other visual artefacts by matching the refresh rate of the display to the frame rates that the GPU is pushing out.
That's a lot of technical jargon in a paragraph — in simple terms, the display is smooth without being irksome and is ideal for both content consumption and gaming.
Revisiting the Mini-LEDs, these are essentially a much smaller version of your typical LED, that can be controlled individually. The result is deeper blacks when watching content, as there is no unnecessary backlight.
It sports relatively thin bezels with a screen-to-body ratio of 92 per cent. The display has good viewing angles and produces rich, detailed and vibrant colours. The movie-watching experience on it was great and we spent most of our time on Netflix and YouTube. What's more impressive about the display is that the built-in Armoury Crate lets you switch between one-zone and multi-zone backlight.
In simple language, if you want to edit photos or videos — basically anything that needs you to have accurate colours, stick to a single zone. For everything else, multi-zone should do the deed.
We noticed a bit of blooming in certain scenarios, but it didn't cause much hindrance. Switching on HDR in this mode was a bit buggy as the screen flashed a couple of times before we had to restart the system.
Games like FIFA 23 and Counter-Strike: Global Offensive appear a bit strange in M16's 16:10 aspect ratio, and if you switch to 16:9, you'll be greeted with annoying black bars. It's not a dealbreaker because it helps with other use cases, such as content consumption and web surfing, but it's worth knowing before purchasing this.
The M16 features six speakers with a mixture of two 1-watt speakers and four 1-watt woofers. The speakers are loud with good clarity and bass, adding to the content-watching experience.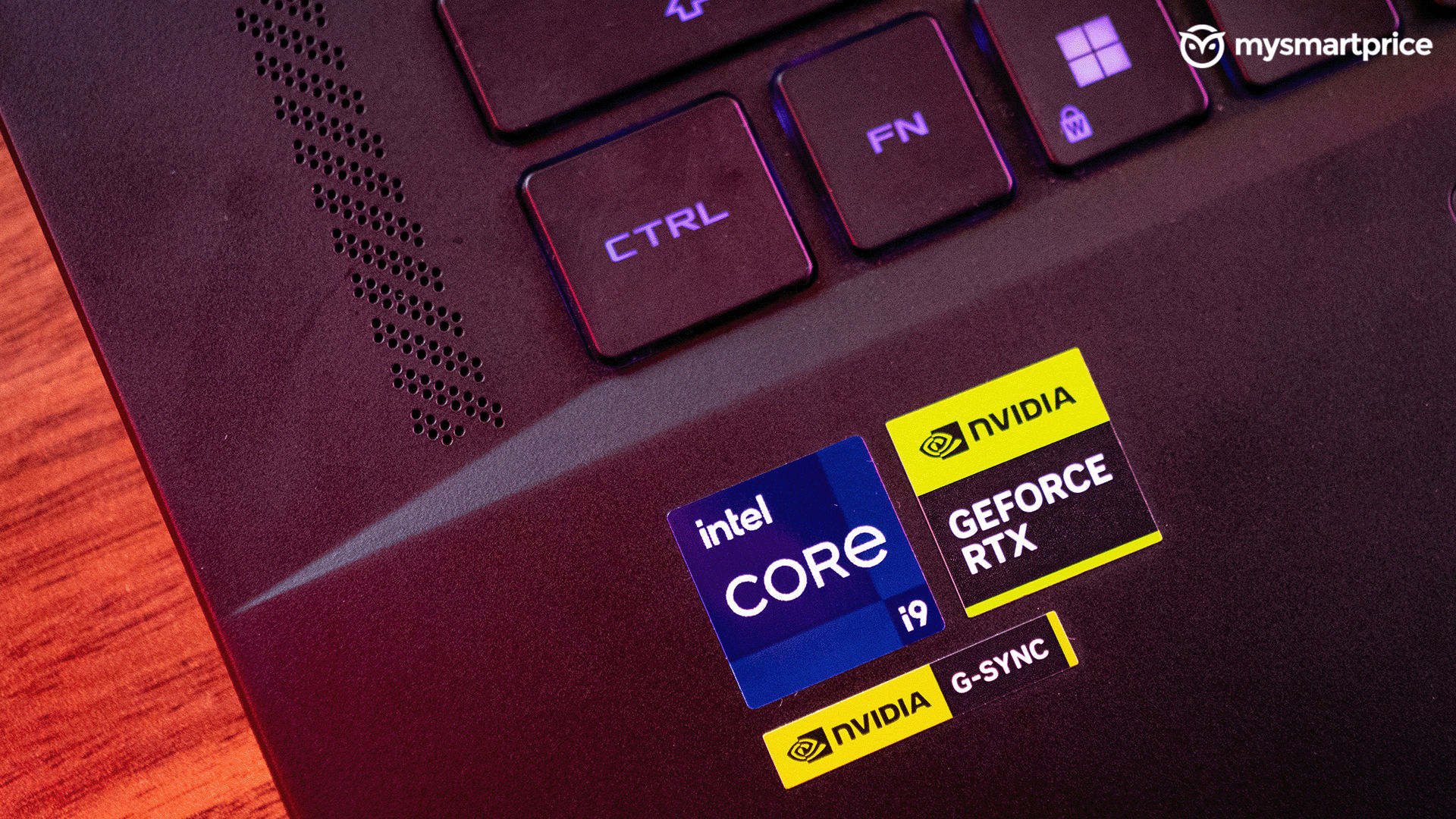 Asus ROG Zephyrus M16 (2023) Review: Gaming and general performance
The M16 ticks off almost everything an everyday gamer could ask for. It is packed to the brim with some of the latest offerings in the computing market. It aids both gamers and content creators. While the laptop has the best graphics card, it comes with the second-best CPU. It is powered by an Intel i9-13900H with 24 cores (8-P cores and 16-E cores) and a boost clock speed of 5.5GHz.
The cooling situation is handled by liquid metal, which is said to lower temperatures by 13 degrees compared to traditional thermal pastes. It also has a few other solutions, including a tri-fan system and a full-width heatsink that helps dissipate heat faster.
This is paired with an Nvidia RTX 4090 GPU with a maximum TGP of 145W with boost. Here's the thing, though – both, the PC and mobile GPUs, share the exact same name, with the former being way more powerful than the other. With these kinds of laptops being marketed as 'desktop replacements', Nvidia needs to rethink its naming solution for mobile GPUs — because it is getting confusing. Adding a single letter 'M', like what AMD does, would be a better way to deal with this.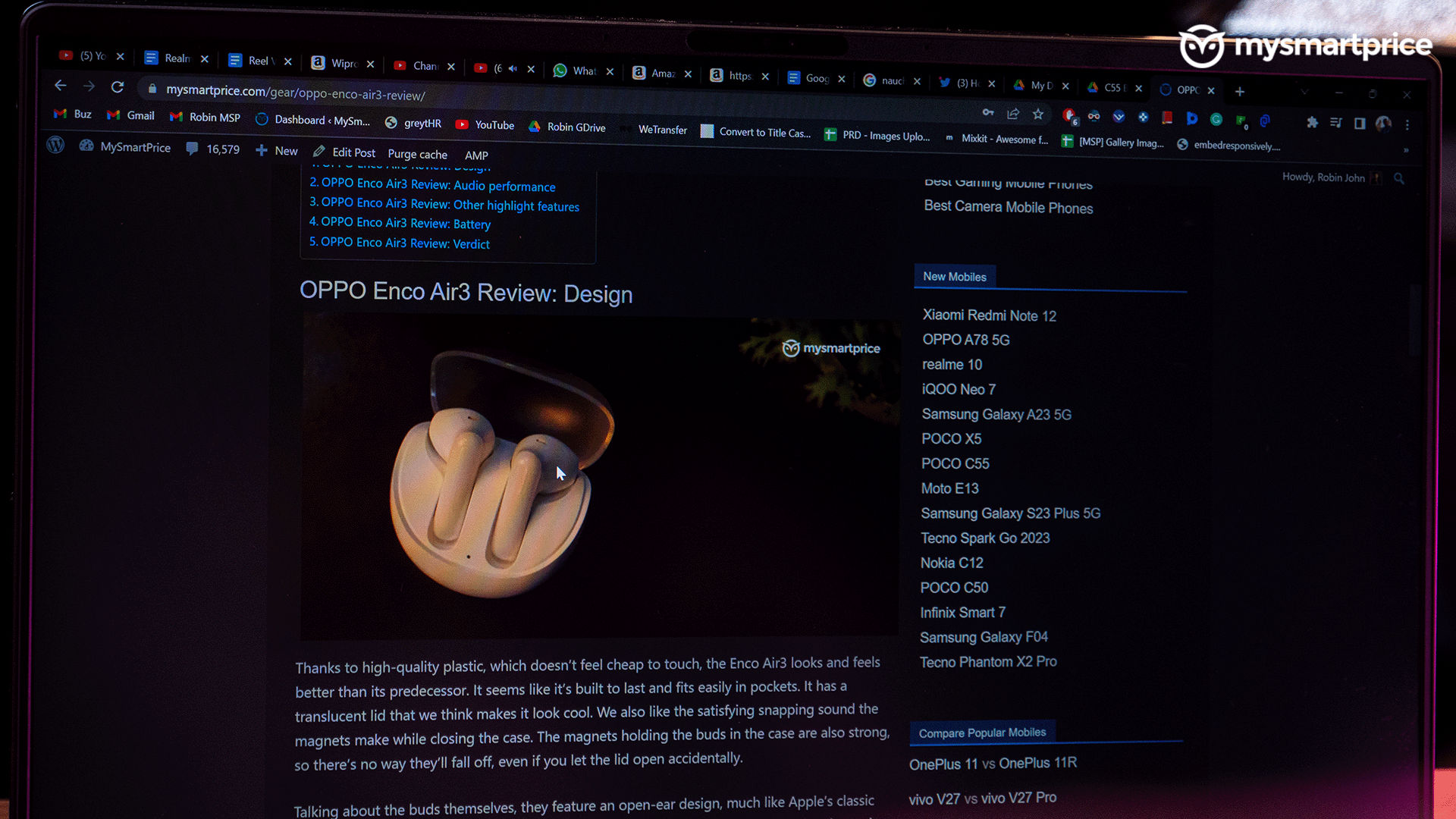 The laptop has 32GB of 4800MHz DDR5 RAM running in dual channels. You can also upgrade the RAM to 64GB if need be. Storage needs are fulfilled by a 2TB PCIe M.2 SSD. It has support for Bluetooth 5.2 and WiFi 6E — the latter did not cause us any troubles like the G14 from last year, which had a faulty modem.
The M16 flies through everyday tasks with ease, and that's not even surprising at this point. Be it multitasking with folders or Chrome tabs, or just creative work — the laptop was easily able to cope with everything thrown at it. Gaming, without a doubt, is its passion — and ours too. So, we did that.
While the M16 is capable of running most games at native resolution, we tested almost all of them at 1080p. All games and benchmarks have been tested under 'Performance' mode.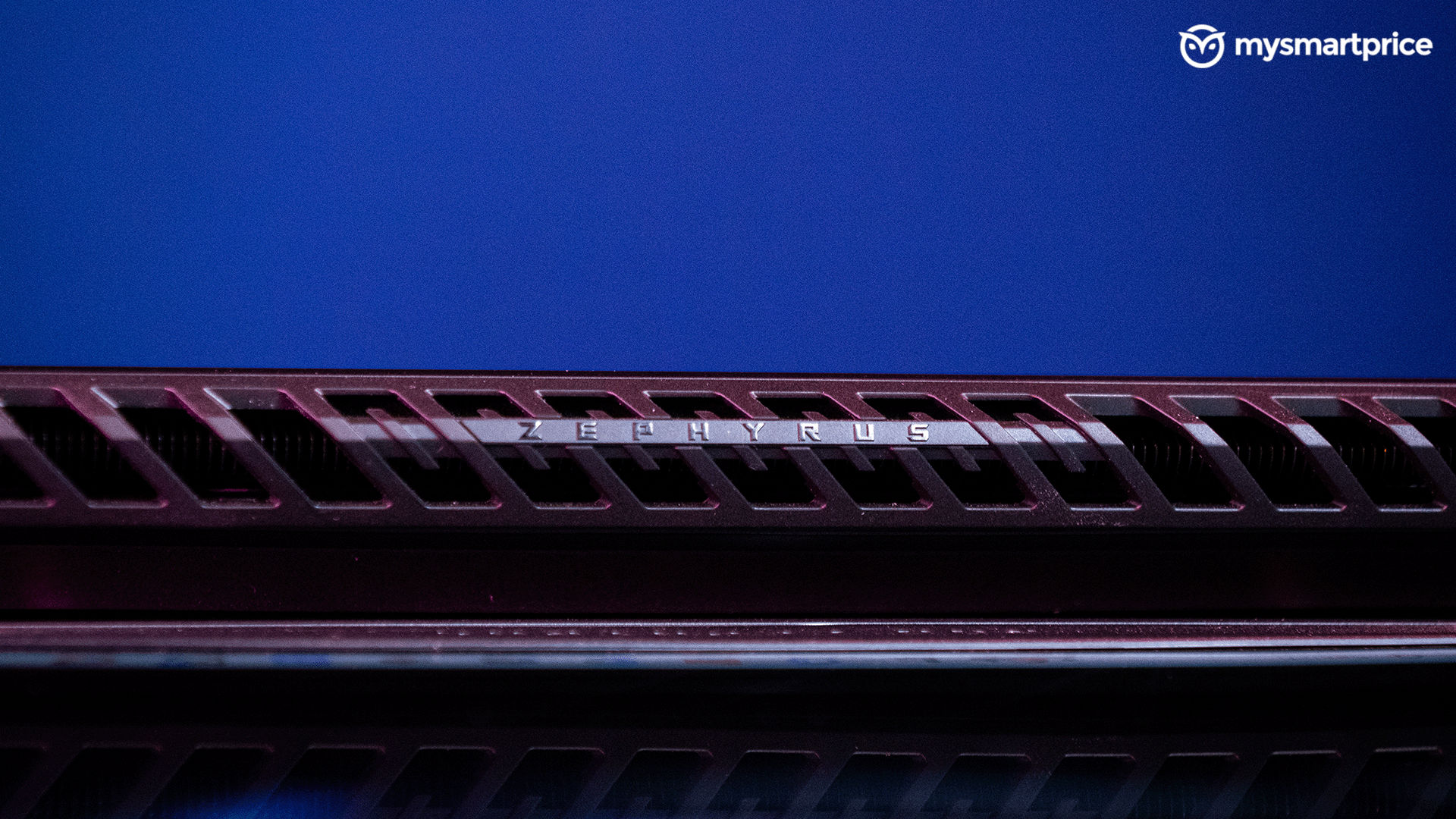 Before moving on, a more interesting and much-required upgrade to the M16 is the ability to switch between MSHybrid and dGPU without actually having to restart the laptop because of Nvidia Advanced Optimus. This can be done via the Nvidia control panel.
Age-old classics like Counter-Strike: Global Offensive on High settings ran smoothly. It averaged at around 290 fps during a death-match round without a single stutter. More intensive games, such as Days Gone with HDR enabled at Very High settings, were able to churn out 130 fps.
Death Stranding at Very High graphics settings averaged at 121 fps with brilliant visuals. Dying Light 2 with RayTracing managed 80 fps without DLSS. We did not notice any lags or stutters during the gameplay.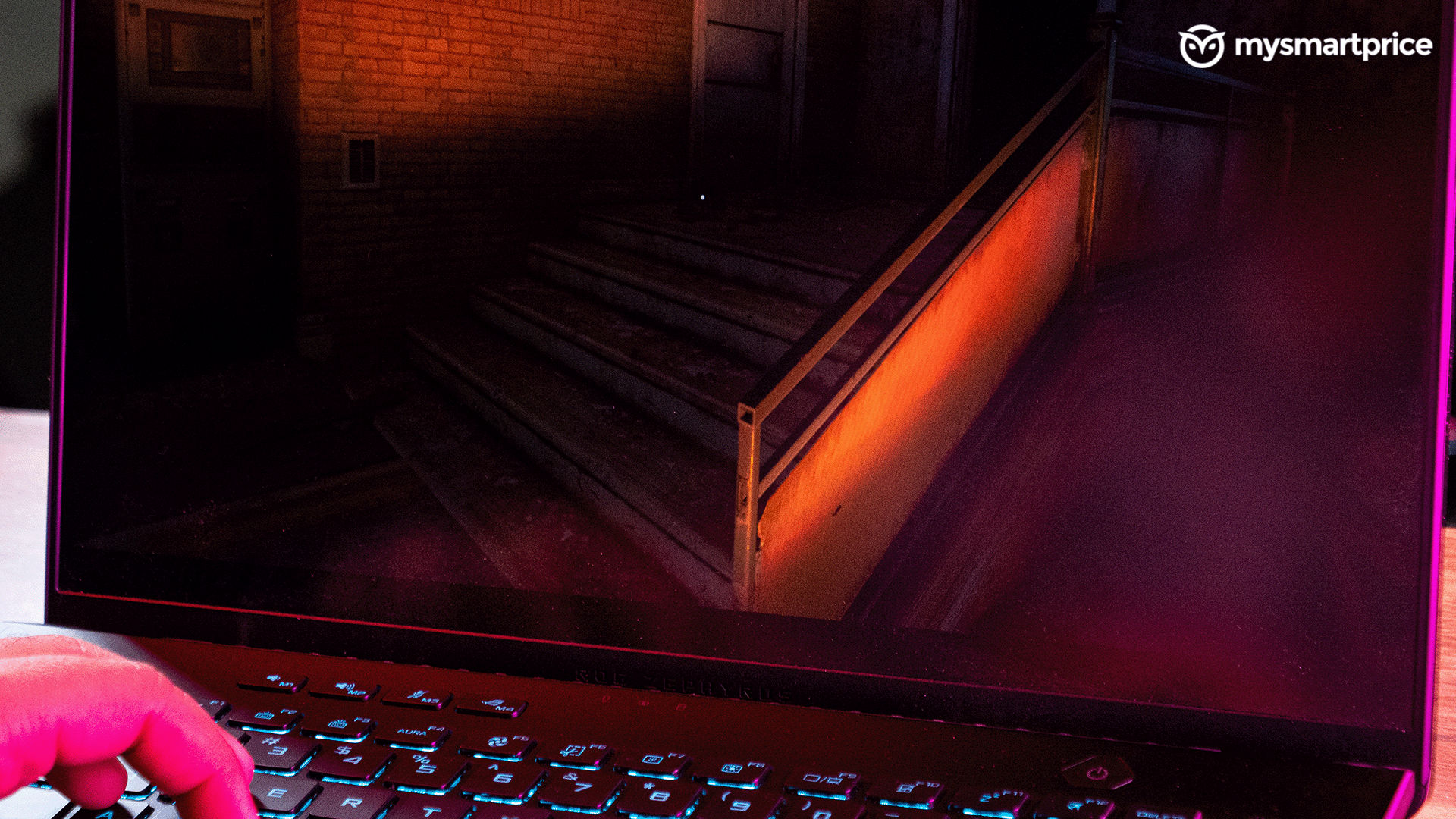 Moving on to eSports titles such as Apex Legends, which managed an average performance of 141 fps at native resolution. Valorant also gave us an average of 280 fps on High settings.
Benchmarks on Shadow of the Tomb Raider and GTA V got an average of 115 fps and 150 fps, respectively. Overall, gaming on the M16 was a delight. The top portion of the keyboard deck gets slightly hot to the touch when playing for longer hours. We've noticed temperatures reaching around 52 degrees, but this is not concerning, nor does it affect the performance.
As always, Armoury Crate comes pre-installed, which allows you to switch between operating modes, set RGB profiles, fiddle with AnimeMatrix, and many other things. This is a great way to provide users with customisation options.
As for synthetic benchmark tests, the M16 easily surpasses Cinebench R23 and Time Spy scores from last year. It managed a max thread score of 7,650 in the CPU Profile test on 3DMark. PCMark 10 returned a total of 8,168 with a Digital Content Creation score of 13,667.
This is higher than what the ROG Strix Scar 17 SE (Review) top variant managed last year. Geekbench 6 gave us a score of 13,386 and 2,542 on multi-core and single-core tests, respectively. CrystalDiskMark scores also brought along upgrades from the last model with sequential read and write speeds of 7,000 MB/s and 5,205 MB/s.
Asus ROG Zephyrus M16 (2023) Review: Battery and charging
The Achilles' heel of any gaming laptop is its battery life, and the M16 is no different. However, considering this is meant to be a desktop replacement, chances are you'll always have it connected to a power supply. Besides, it works best when plugged in and running in Performance or Turbo Mode. The M16 is backed by a 90Whr battery, which gave us a media playback of around two hours and 20 minutes.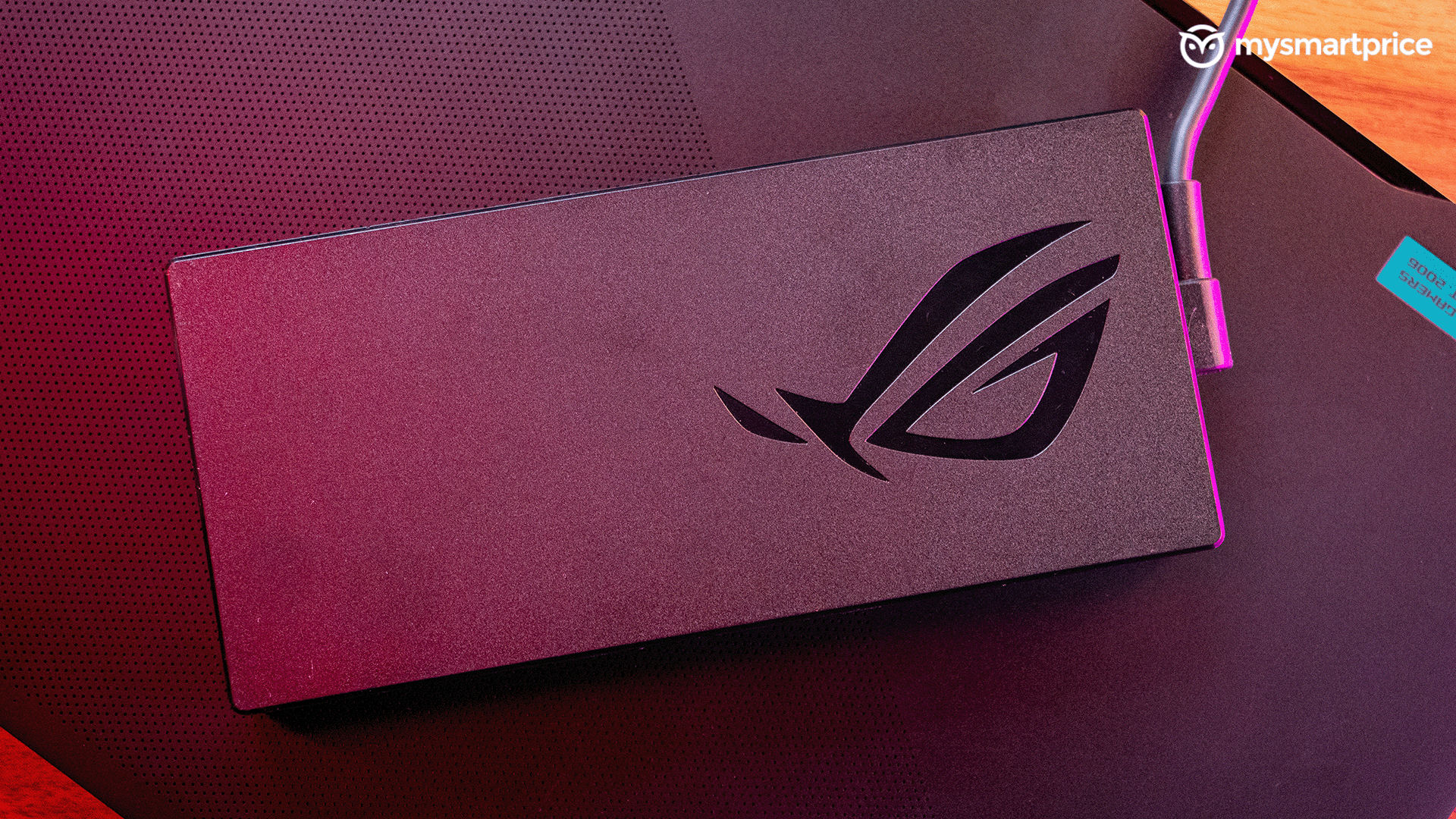 If you want to save more battery when on the run, switching to MSHybrid while running the laptop on Silent or Windows is recommended, as the GPU tends to drink up all the juice.
The bundled 280W adapter hardly takes an hour and 15 minutes to charge from dead to full, which is good. It's not easy to carry around, but you can easily run the laptop off a 100W USB-C PD charger if you don't want to break your back.
Asus ROG Zephyrus M16 (2023) Review: Verdict
The Zephyrus M16 is, without a doubt, a highly impressive package with excellent scores across benchmarks and day-to-day usage. The Mini-LED upgrade is note-worthy, and kudos to Asus for letting users have control over it.
While the same old design may be boring for some, the AnimeMatrix madness does add a bit of flair and uniqueness to it. The only problem with the entire package is battery life, but considering it is a gaming laptop, you'll anyway have it plugged in.
The i9-13900H and RTX 4090 combination offer some good level performance, but to buy the variant we received, you will definitely need to get a mortgage and a half. But, if you want the best out of the best, all in a portable form factor, just go for it.
Asus ROG Zephyrus M16
Rs 2,99,990
KEYBOARD AND TRACKPAD
8.0/10
What Is Good?
Mini-LED panel, a staggering display
Subtle design
Good build quality
Brilliant performance
Excellent audio
What Is Bad?
Expensive
No ethernet jack
Mediocre battery life
Collects smudges