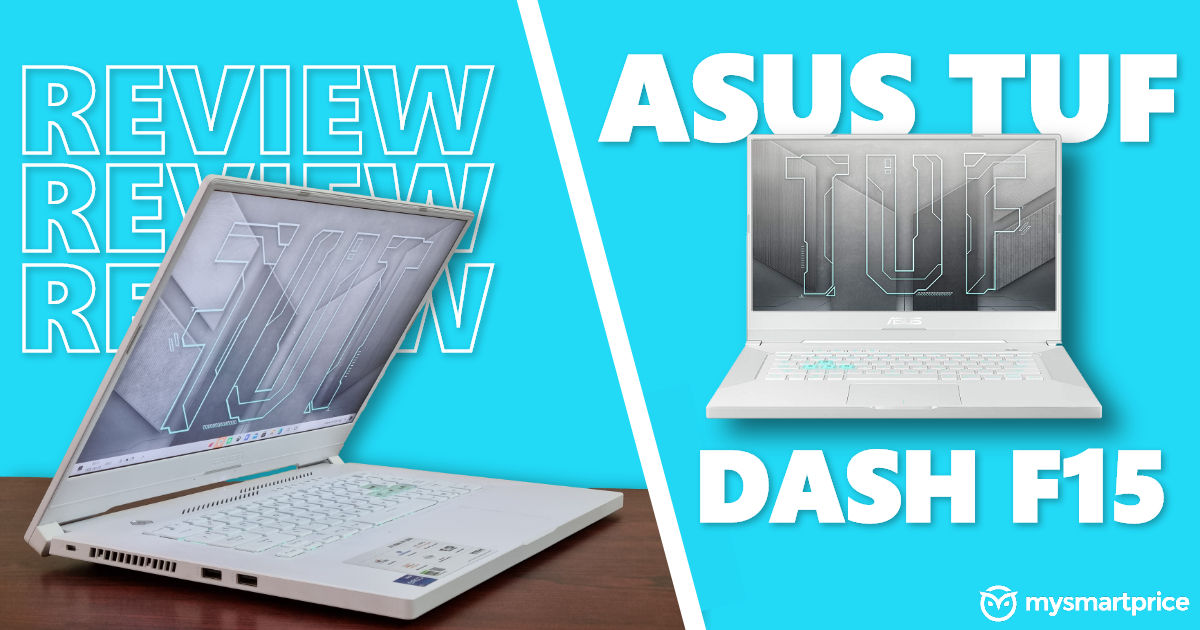 The TUF series from Asus has always had that budget tag attached to it, from the pricing to the finished product, it so far operated as an affordable offering, primarily for gaming. So what happens when Asus wants to shed that tag and move higher up? You get this astoundingly gorgeous TUF Dash F15. It's a new breed of performance notebooks aimed not only at gamers, but also at amateur content creators. The design, features and the hardware is tuned for a mix of both, aimed at anyone who needs to switch between work and play. After using the laptop for about two weeks, here's my review —
Variants and Specifications
The TUF Dash F15 only has an i7 H-series CPU with a NVIDIA RTX 3070 GPU to choose from. There's no word of a Ryzen variant yet, but the CPU is part of the 11th Gen Tiger Lake HS series, made particularly for gaming laptops in thin and light form factor. The CPU draws up to 35W power for the four cores with 8-core HyperThreading hitting a max Turbo Boost of 4.8GHz. Then there's 16GB DDR4 RAM and 1TB M.2 PCIe SSD completing the core hardware. The option on offer, and for the Rs 1,40,990 price tag, the TUF Dash F15 feels like a solid option for portable gaming.
The RTX 3070 on the TUF Dash F15 is one to be concerned about. While it is designed to hit 125W TDP, the one on this can do 80W with 5W boost, so there will be an offset in performance showcased by NVIDIA and performance you get on this one. How much, that's what we're here to answer.
The icing on the cake is the 240Hz 15.6 IPS LCD display with 3ms response times, and that minimalist design, even for a gaming laptop. There's also a large 76Whr battery and multitudes of ports, including a Thunderbolt 4 port.
Specs at a glance
| | |
| --- | --- |
| Processor | Intel Core i7 11370H (35W TDP, 4 Cores 3.3GHz-4.8GHz) |
| Graphics | NVIDIA GeForce RTX 3070 Laptop GPU (8GB GDDR6 With 85W TDP) |
| Display | 15.6-inch FHD 16:9 IPS Display, 240Hz Refresh Rate, 100% sRGB |
| Memory | |
| Storage | 1TB PCIe SSD |
| Cooling | Twin Fans With 5 heatpipes |
| Battery | |
| Weight | 2Kg |
| Ports | 1x 3.5mm Combo Audio Jack |
| | 1x HDMI 2.0b |
| | |
| | |
| | 1x Type C USB 4 support DisplayPort / power delivery / Thunderbolt™ 4 |
| Price | Rs 1,40,990 |
Design and Build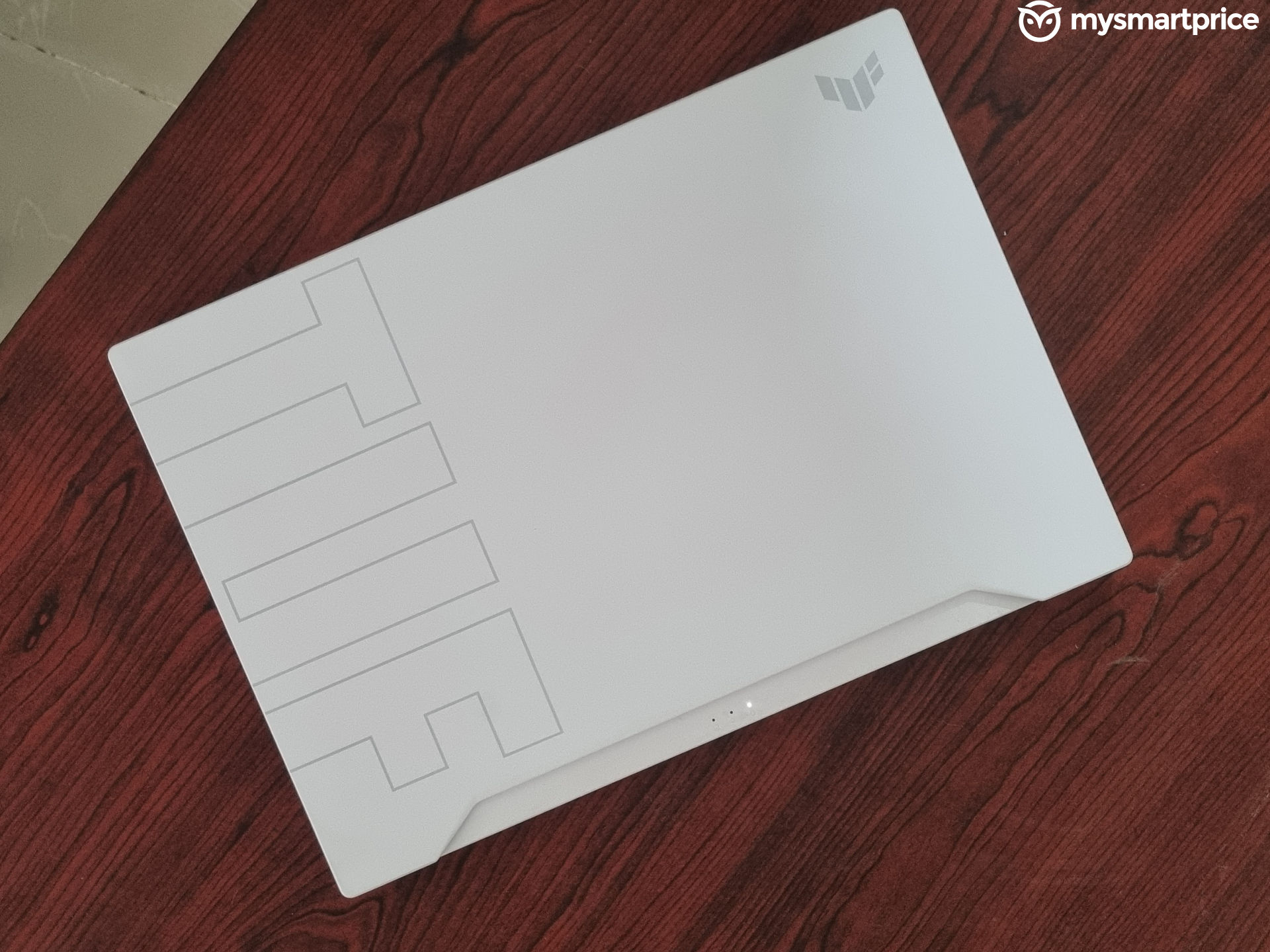 The TUF Dash F15 takes its design inspiration from the popular Zephyrus G14, and is very unlike the plasticky build of previous TUF notebooks. That includes a big TUF typography on the edge of the lid, which in fact feels solid and can be easily lifted with one finger. The laptop has a tight hinge and the LED indicators are visible at all times thanks to a clever cut out near the hinge. The base also feels sturdy and neither the lid nor the keyboard flexes easily. We received the striking Moonlight White variant for review, and this one simply stands out in a room full of gaming laptops that all somehow look the same despite their own histrionics.
At 2kgs, the TUF Dash F15 is only slightly heavier than the Zephyrus G14 which set a benchmark in thin and light gaming, and there's the expected MIL-STD certification as well which TUF is famous for. For what it's worth, you can effortlessly carry the TUF Dash F15 in a backpack, which is not something users of gaming laptops are used to.
There are also ample vents for air circulation to draw heat away from this thin chassis (two on the sides, one north of the keyboard and another behind the screen) and Asus also provides ample wrist space to game for hours. The keyboard has a aqua blue backlight which while not being customisable looks absolutely gorgeous with the white finish.
In all, the TUF Dash F15 is a radical upgrade over the mainstream design of the previous TUF series laptops, and this is a design I feel will appeal to both gamers and mainstream users.
Gaming on the Asus TUF Dash F15
The TUF Dash F15 is one of the firsts to marry the new Tiger Lake H-series processors announced at CES this year with the RTX 3070 and paired with a 240Hz IPS display, it promises a rich gaming experience in a slim offering. Hardly the first to claim that, but the good news is the Dash F15 does hold its fort while running most of the titles I tested, provided your expectations isn't one that offers desktop-grade visuals.
The latest AAA titles like Assassin's Creed: Valhalla ran at a smooth 60FPS at Ultra High graphics, and while there were occasional frame drops, the overall experience was quite smooth. Next we benchmarked GTA V and I was able to get an impressive 92FPS, again with all settings maxed out. You see where I'm going with this? I also tried my hand at Hideo Kojima's Death Stranding and got a smooth 77.6FPS, again with the graphics maxed out. Hitman 3 gave an average 98FPS.
For a casual gamer looking to just explore the world of PC gaming, the TUF Dash F15 will easily impress. There's hardly any game it can't run (no, I'm not counting Cyberpunk 2077 as a finished game, yet) with good stability and best possible graphics, but not the best frame rates. If you want to just enjoy the narratives these new games are pioneering, this one won't disappoint. This might just be as good as it gets in the thin and light form factor this year.
Hardcore gamers, on the other hand will find this inadequate. The games with all settings maxed out, aren't able to take full advantage of the 240Hz display, and ray tracing effects aren't the best on this low-power GPU. However, if you wish to mix work and play and want a notebook that allows for both casual gaming and portability for work, the Dash F15 is actually a sound offering.
Benchmarks and productivity performance
Outside of gaming, the new HS series could not expectedly topple the team red supremacy but did offer a pretty stable experience in day to day usage. My usage involved keeping multiple tabs and windows of Firefox open, spread across 2-3 desktops, along with Slack, OneNote and Spotify, and the CPU usage never spiked to peak levels. The RAM usage was usually at a high 80% at all times, and save for a few Firefox freezes, usage was smooth and never a hassle. In fact, the 240Hz display makes everything feel just butter smooth, and it really is too powerful if all you want to do is browse the web.
This quickly changes when you load it up with multithreaded tasks. Transcoding a 4K file to 1080p on Handbrake took around 12 minutes, and editing photos on Lightroom was quite responsive. The Blender benchmark put the system on overdrive, and took more than an hour to complete the six benchmark renders.
Tiger's Lakes 10nm Willow Cove's single core prowess becomes evident on Geekbench and Cinebench R23. On Cinebench R23 Single-Core test, the TUF Dash F15 scored 1517 points which is quite impressive. Multi-core performance is noticeably behind the competition, however with 6999 points. On Geekbench Single and Multi core CPU tests, the Dash F15 score 1509 and 4669 respectively, which in comparison is not as good as a 5th-gen AMD Ryzen CPU.
Our review came with a 1TB PCIe SSD that while not feeling the fastest out there was comfortably able to copy a 15GB folder in less than 2 minutes. The added bonus for content creators is the Thunderbolt 4 port which can be used to pair a high-end monitor, or faster storage or even an external GPU.
Thermal Performance 
The TUF Dash F15 remains surprisingly cool even after an hour long gaming sesh, albeit a little noisy. With the Turbo performance profile set, the twin fans work successfully in dissipating the heat away from the thin chassis, so much so that the area between the G and H keys or the WASD keys doesn't get toasty at all, which is an achievement in itself for a high performance gaming machine. The low-power hardware, thus, seems like that sweet spot for thin and light notebooks delivering stable 1080p gaming performance.
Display and Audio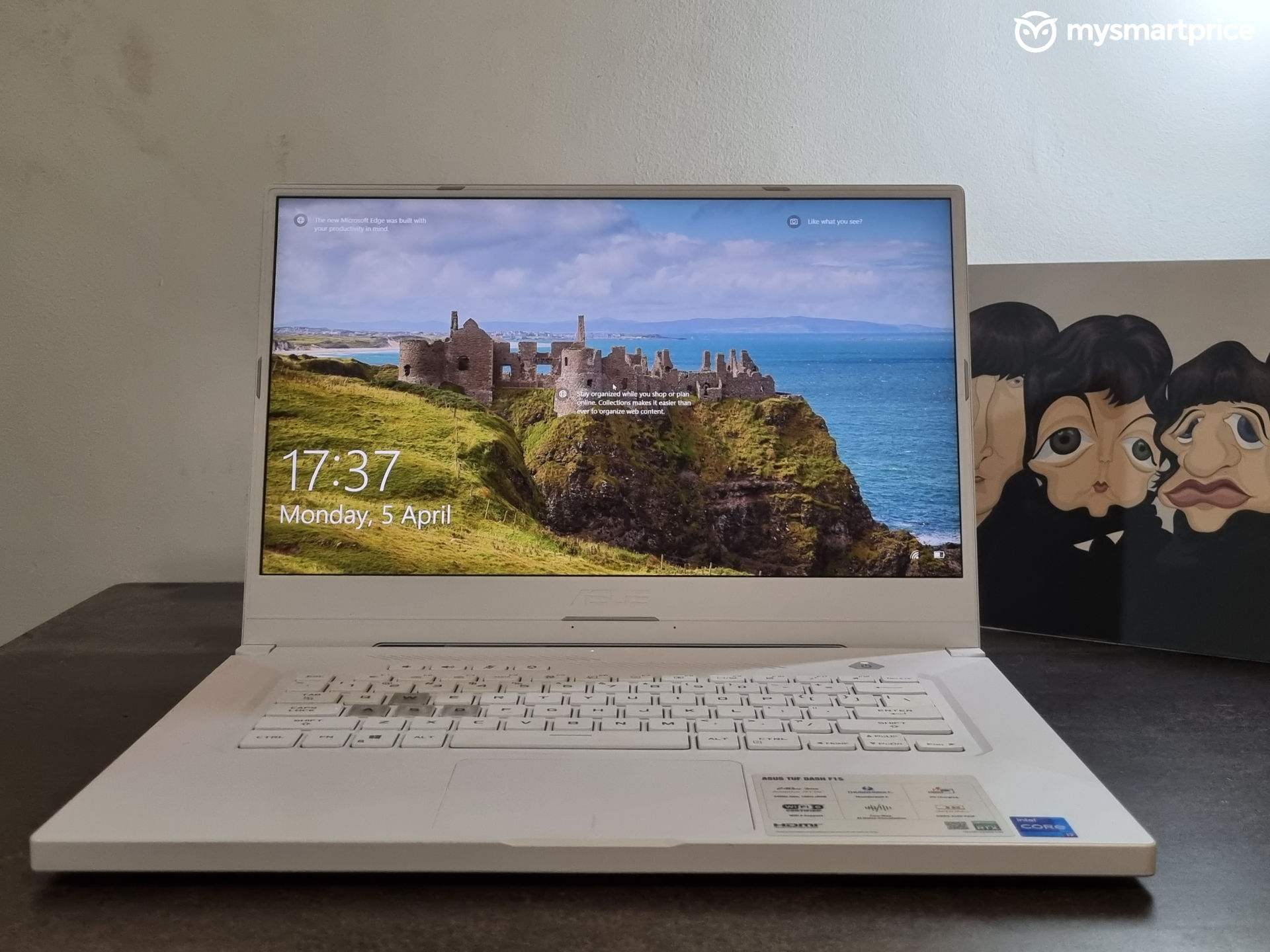 One of the striking features of the Dash F15 is the 15.6-inch IPS display with 240Hz refresh rate and 3ms response times, making it one of the smoothest laptop displays in this range. The thin bezels around the display also means there's no webcam integrated, which is a bummer especially during this work-from-home phase. Asus also claims a 100% sRGB support and pegs this as a laptop for creators. While the colour accuracy bit needs further testing, it's perfectly smooth for everyday usage, if not a slight overkill. But it's also a bit pointless if you are into high-end gaming. AAA titles like Assassin's Creed: Valhalla never went above 65 FPS at Ultra High graphics.
Now while the display is quite impressive for gaming, the in-built dual speakers aren't so much. You need to peel your ears to pick up in-game audio. The volume levels are lower than the typical gaming laptop, and that impacts everything you do – Be it attend a conference call or watch a YouTube video. Poor audio should be a thing of the past, especially in this post-pandemic world.
Keyboard and Trackpad Performance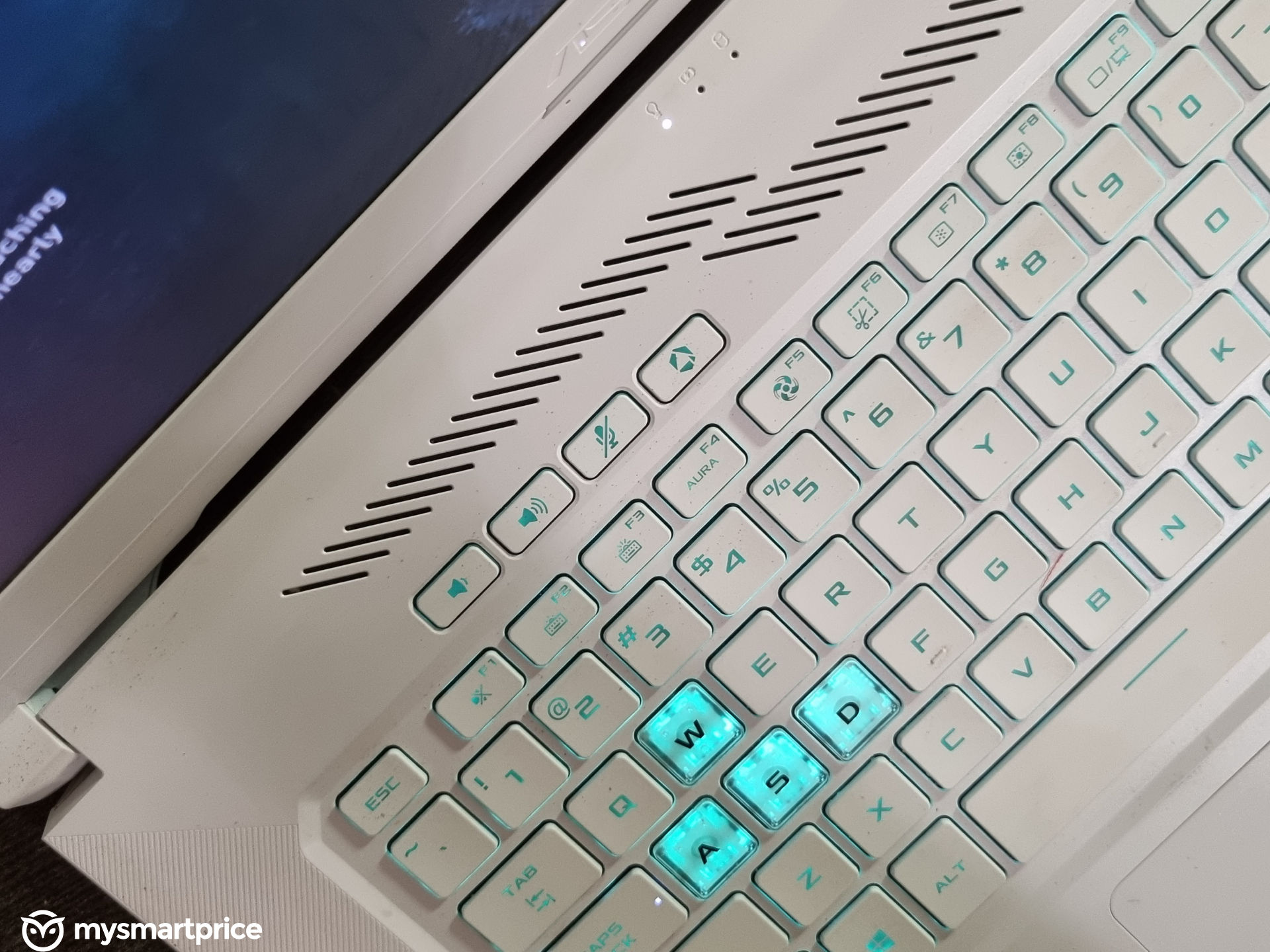 The keyboard was easy to break into. The large chiclet keys are spaced out taking full advantage of the 15-inch form factor. It feels great to type on, and there's ample feedback and travel, but it did get quite squeaky at times for me. The fused up-down arrow keys are a weird choice especially when there's so much space available, and it did took me some time to get used to. The white keys got dirty within days and I had keep cleaning it every morning to feed my OCD. There's also no number pad which while allowing the keys to be spaced out, feels like a big miss on this large form factor. Perhaps it was consciously opted out to allow for a larger wrist rest.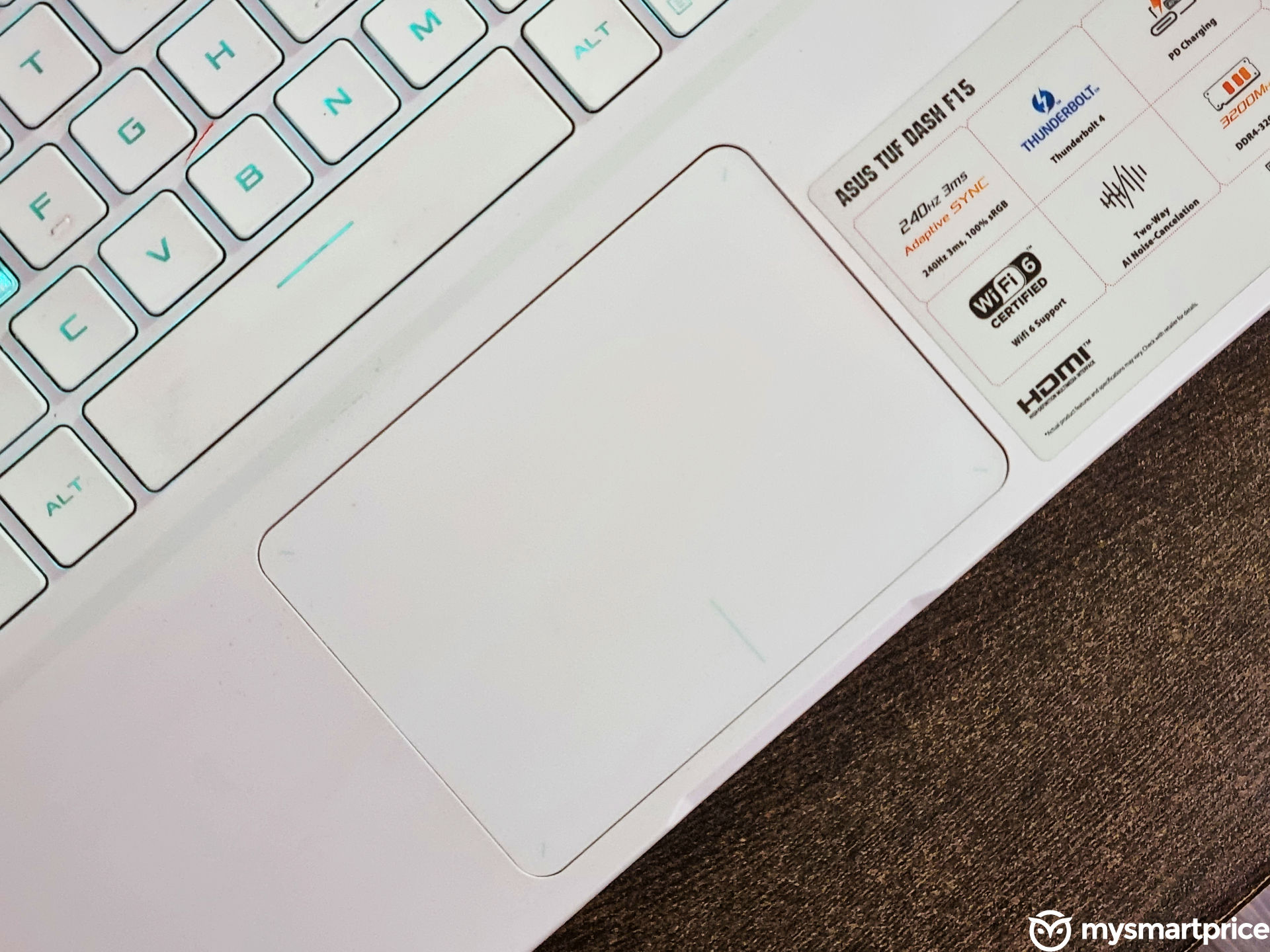 The trackpad is also quite large (although not as large as a Macbook Pro) and the entire surface is clickable. Thankfully, it did not wobble in the two weeks I used it. Of course, I wouldn't recommend using the trackpad for gaming, but for everything else it's a solid substitute for a mouse. It supports Windows Precision Drivers and there's ample space for flicking with three or four fingers.
Battery Life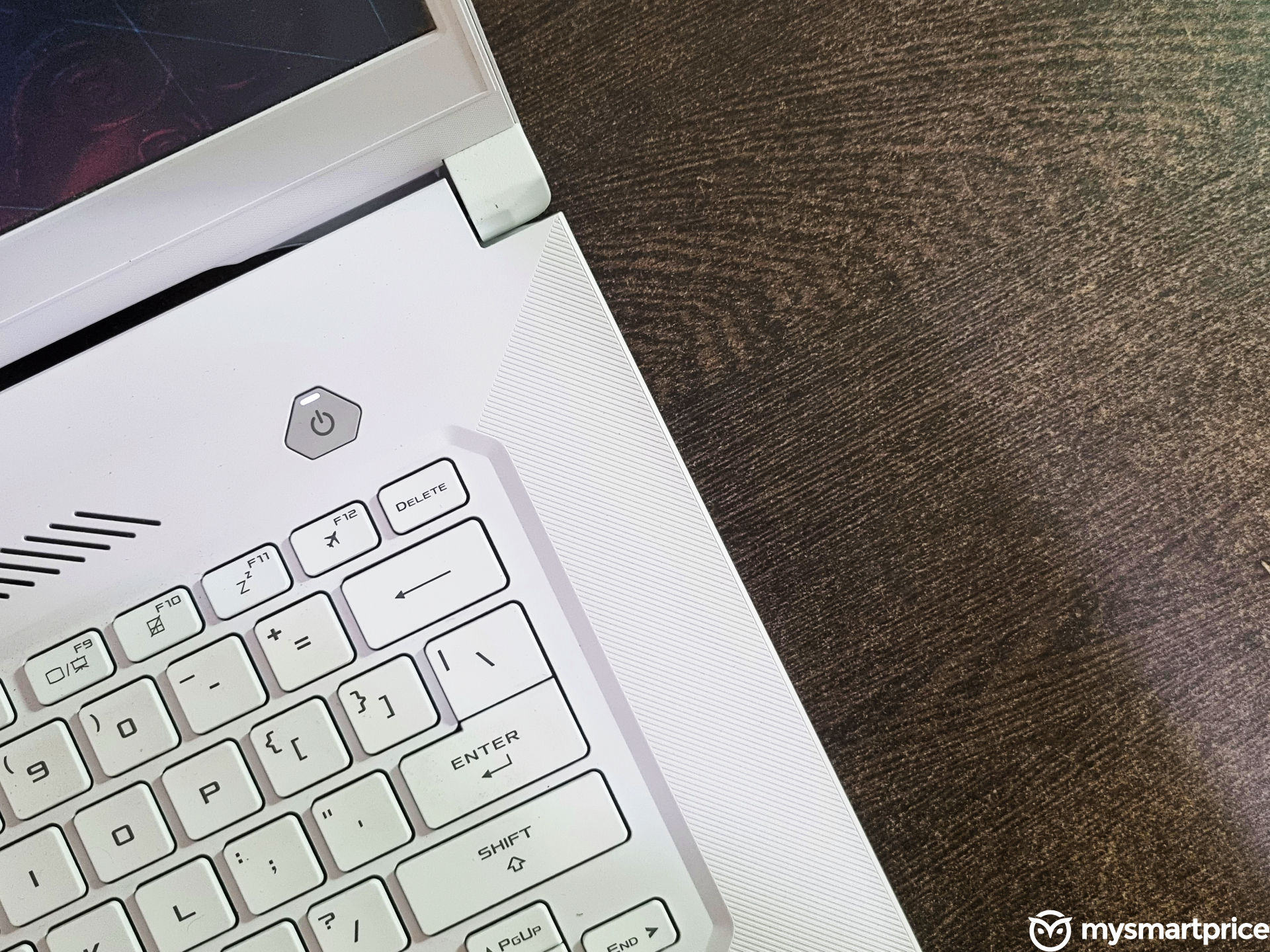 While gaming laptops are hardly a champion of battery life, the 76Whrs battery on the TUF Dash F15 easily lasts a good 8 hours if you are not gaming. You anyway get the best gaming experience with the charger plugged in, as the NVIDIA GPU kicks in by default only when connected to a power source, but for regular usage, the TUF Dash F15 won't die midway through a Zoom call. The charging brick isn't literally a brick as is the case with high-end gaming laptops, and the one you get bundled tops up the laptop with 200W power and you get a fully charged laptop in less than two hours.
Should you buy the Asus TUF Dash F15?
The TUF Dash F15 is an affordable but good looking gaming laptop that not only looks good on paper (and in photos) but also offers reliable and sustained performance, fit for casual gaming and light editing. You can play most of the new AAA titles at peak graphics at a minimum 60 FPS and the notebook remains cool to touch even after long sessions.
For creative professionals, you are better off with the new MacBook Pro M1 that's a little more affordable than this, and even if you wish to play games on the same machine you work on, you will have to spend a little more something like a MSI G66 Stealth or a ROG Zephyrus G15.
But having said that, if you only plan to use this for office or college and light gaming, the TUF Dash F15 will feel more than adequate with the 11th Gen Tiger Lake CPU and the RTX 3070 GPU. There's ample storage with option to expand later, and the display and the design is indeed a cut above the average, and will draw the attention you seek.
ASUS TUF Dash F15
Rs 1,40,990
Keyboard and Trackpad
7.5/10
Gaming Performance
8.0/10
What Is Good?
Robust Build
Doesn't heat up too much
Stable 1080p gaming
What Is Bad?
Poor audio quality
Fused arrow keys
White variant tends to get dirty
Thanks for reading till the end of this article. For more such informative and exclusive tech content, like our Facebook page