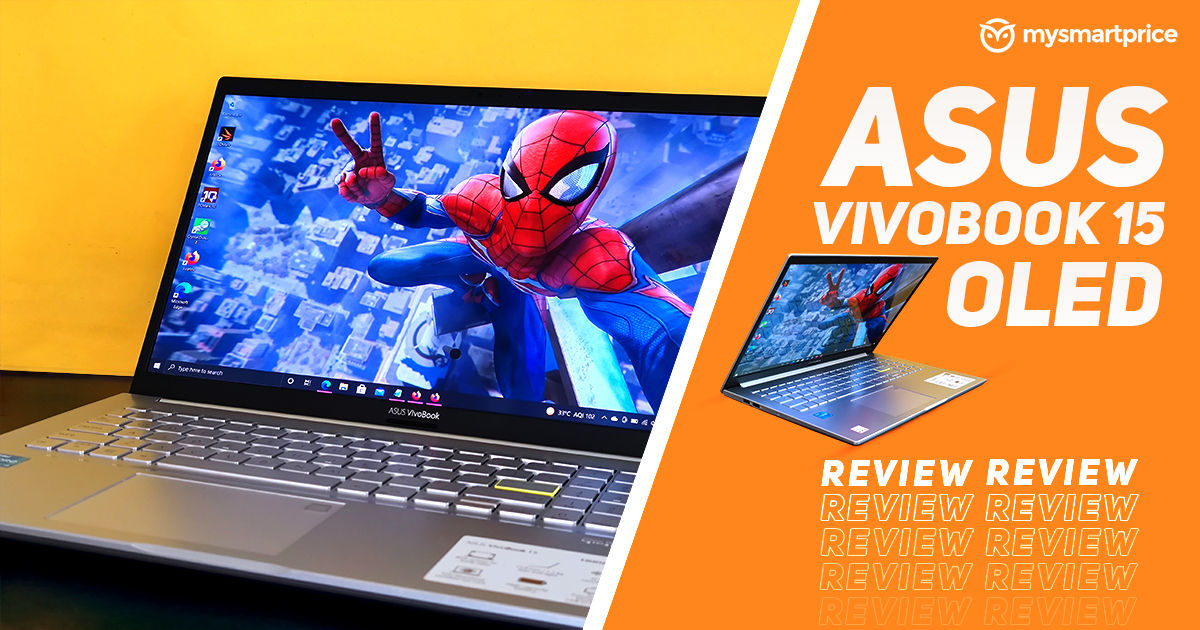 OLED displays might be commonplace in smartphones now, but for PCs and TVs, they used to remain an expensive luxury, reserved for deep pockets. But not anymore. As OLED manufacturing becomes cheaper, laptop makers seem to be the first to bring the superior visuals down to the masses, starting Asus with the Vivobook 15 OLED starting at Rs 45,990.
The price surely feels like a typo when you first look at it. How can Asus fit a 15-inch OLED panel in an under-50k laptop at that price? That too with an Intel Core i3 processor and 256GB NVMe storage and 8GB RAM? I'm still not sure, but there were a few glaring compromises that reveal the secret. Here's our review –
Asus Vivobook 15 OLED: Display and Audio
The display is basically the reason why you're even reading this review, so let's start with that. It's an OLED display. Amidst a dozen of options all sporting LED panels, one even offering a 2K LED panel, the Vivobook 15 vividly stands out. The difference in the visuals become instantly apparent. By design, OLED panels offer higher contrasts, richer colours and it's also much easier to support a wider colour gamut as compared to LED or LCD panels.
The one on the VivoBook 15 offers it all. Pantone validation for its colour accuracy. 100% DCI-P3 coverage. 600 nits brightness. These are all features at least I haven't come across in laptops under 50k. Models with higher configuration also feature VESA certified HDR TrueBlack and TUV Rheinland certification for blue light control. Basically, these new OLED panels are here to render LED displays worthless. Or is it?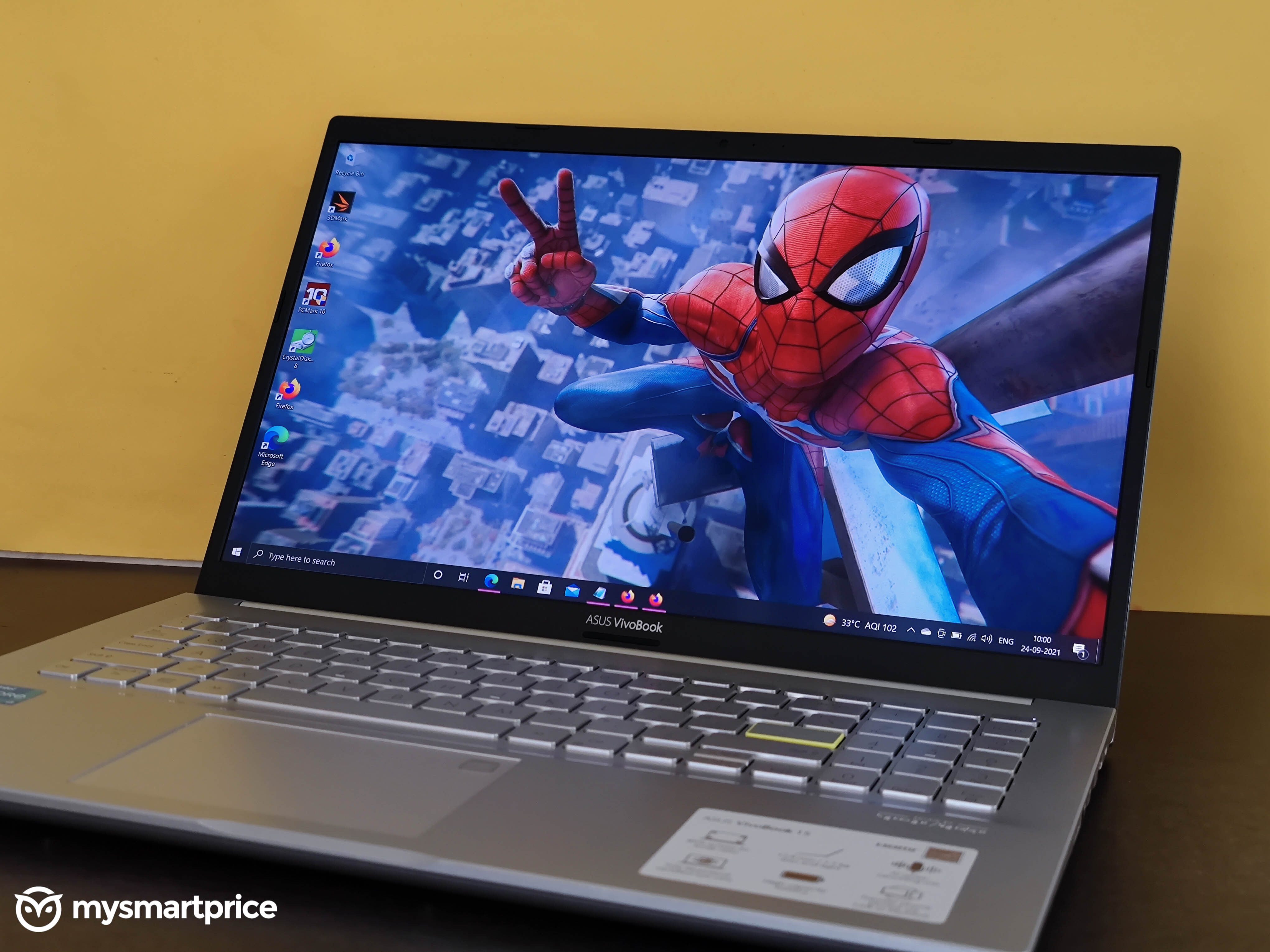 I quite liked the punchy colour profile with deep, saturated colours and true blacks. It's like seeing content in a whole new way on a laptop. But it did leave me a bit unnerved. Colours just look a little too deep if you're switching from an LCD panel. So if you've trained your eyes looking at certain colours in a certain way on a backlit panel, you will find OLED visuals sometimes totally inaccurate. This would become a problem if you're used to creating content on a backlit monitor, and you're bound to make mistakes like I did when I tried to edit a few product shots on this display and ended up with edits that was way too saturated and contrasty when seen on a MacBook Pro. It's also super reflective and glossy and you won't be able to see much in a room full of light.
But on the Core i3 variant, editing is the last thing you'd do. This is a laptop meant for multimedia consumption. And here, it pretty much excels offering an all-round audio-visual experience. There wasn't support for HDR content on Netflix and Amazon Prime at the time of testing the unit, but content in general look much richer and vivid on this display. You're gonna have a good time binging on movies and TV shows. The audio output is also pretty neat. The Vivobook 15 features speakers tuned by Harman Kardon and they pack a nice punch. You can easily watch movies and videos without plugging your headphones, but I'd recommend attending your meetings wearing one.
Asus Vivobook 15 OLED: Design and Build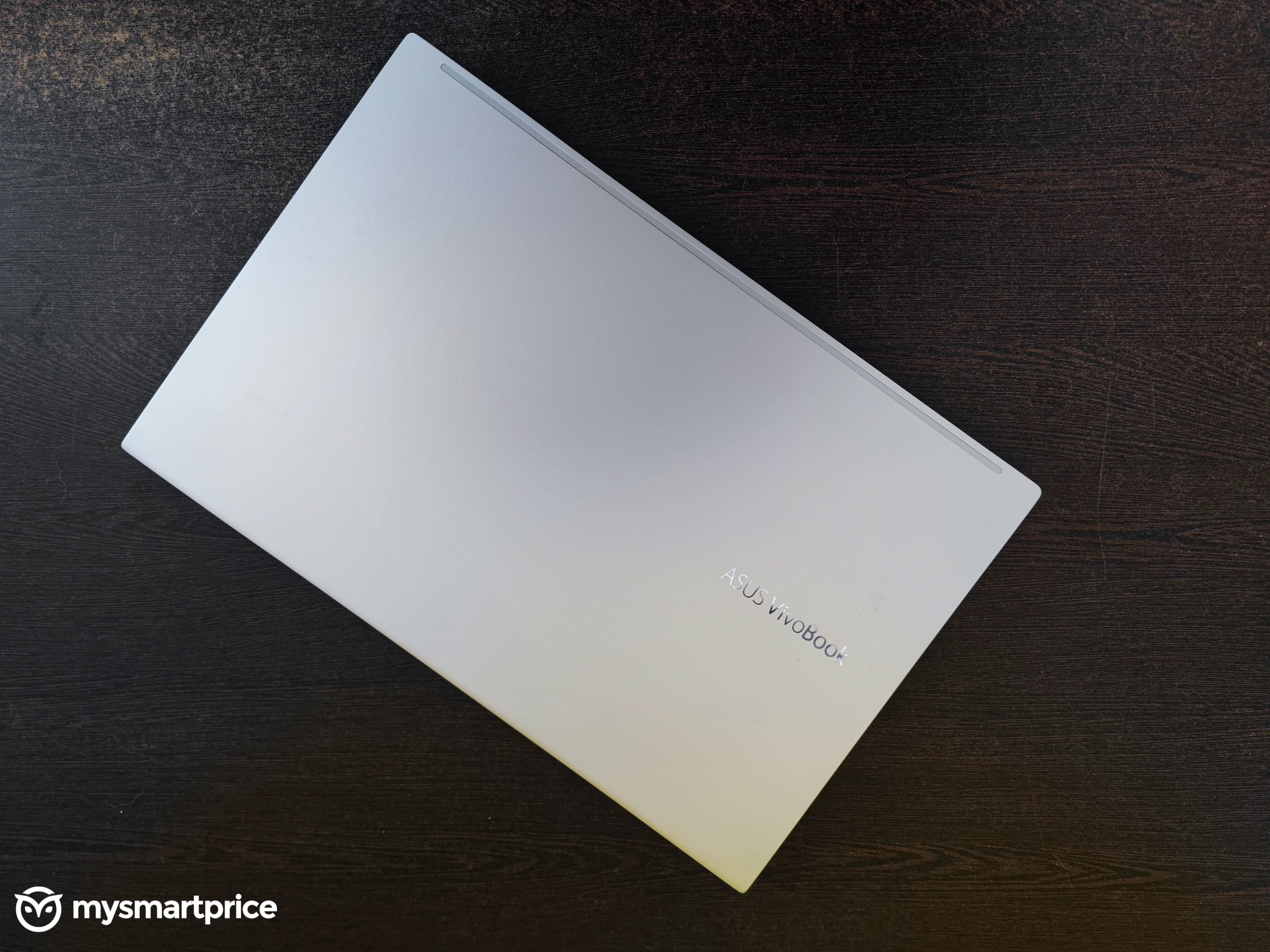 The Vivobook 15 OLED comes in a silvery metal finish, built out of plastic. There's also a black and gold finish available. It's pretty thin and light, weighing in at 1.8Kgs and 16mm at its slimmest, and sports the usual wedge-shaped design on the edges, allowing for a slimmer feel. There's also the signature colour-blocked enter key, but misses out on the funkier keyboard design of the new VivoBook Pro lineup. It's essentially the typical cheap-ish build you'd expect from a budget laptop, the feels a bit flimsy but can take a bump or two throughout its lifetime.
There's significant flex on the keyboard and the lid, and the display wobbles dangerously if you lift the lid up too quickly. It's also not designed for one-finger opening, but that's hardly the key deciding factor for buying laptops. The Vivobook 15 OLED feels like had it not been for the OLED panel, Asus would have had more bandwidth to improve the build quality.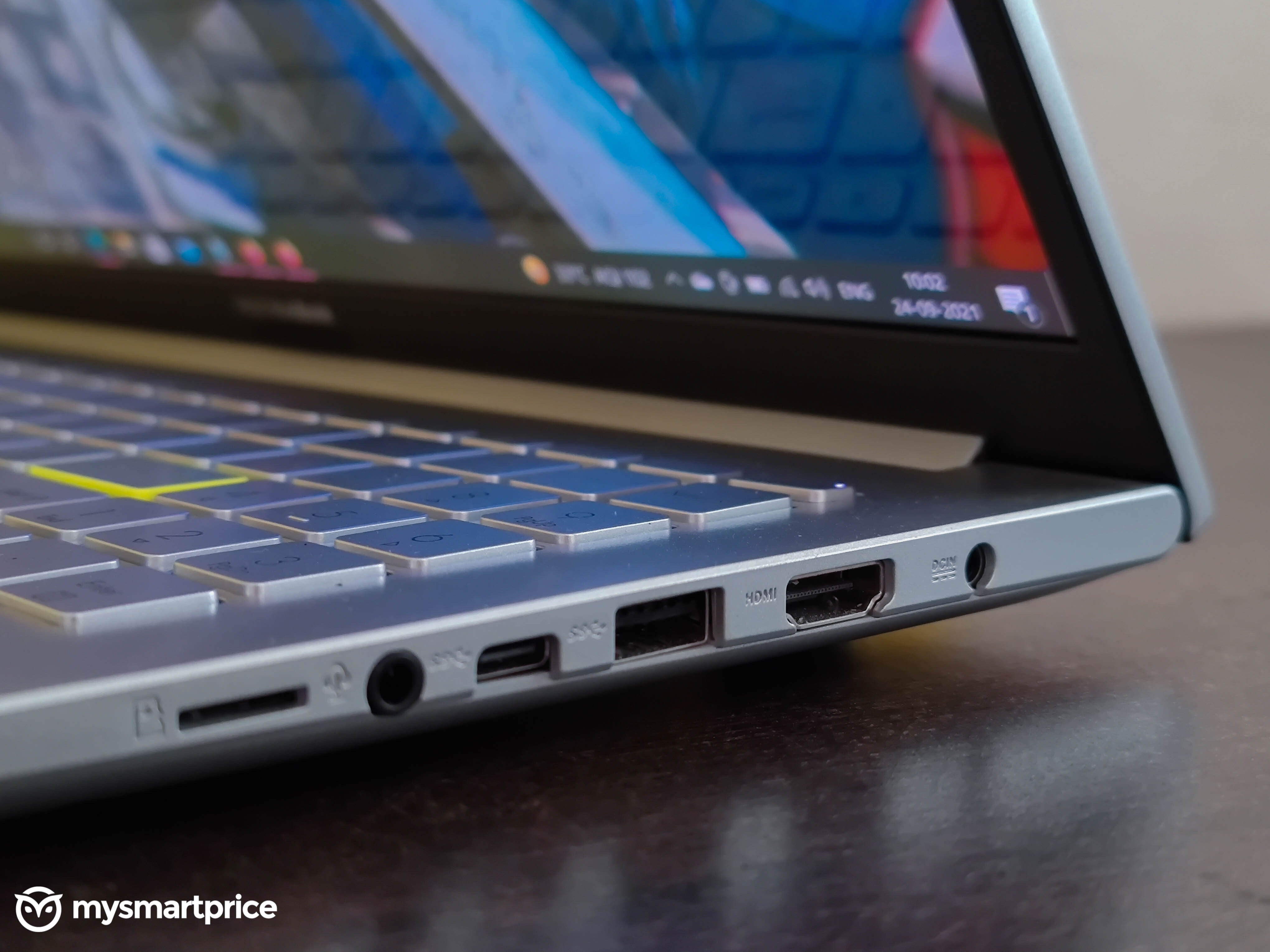 You get 2 USB-A 2.0 ports, 1 USB 3.0 Type-A, 1 USB-C 3.2 port, 1 HDMI and a microSD card reader. That's more ports than you get on the Realme Book Slim, which is certainly good.
Asus Vivobook 15 OLED: Performance and Battery Life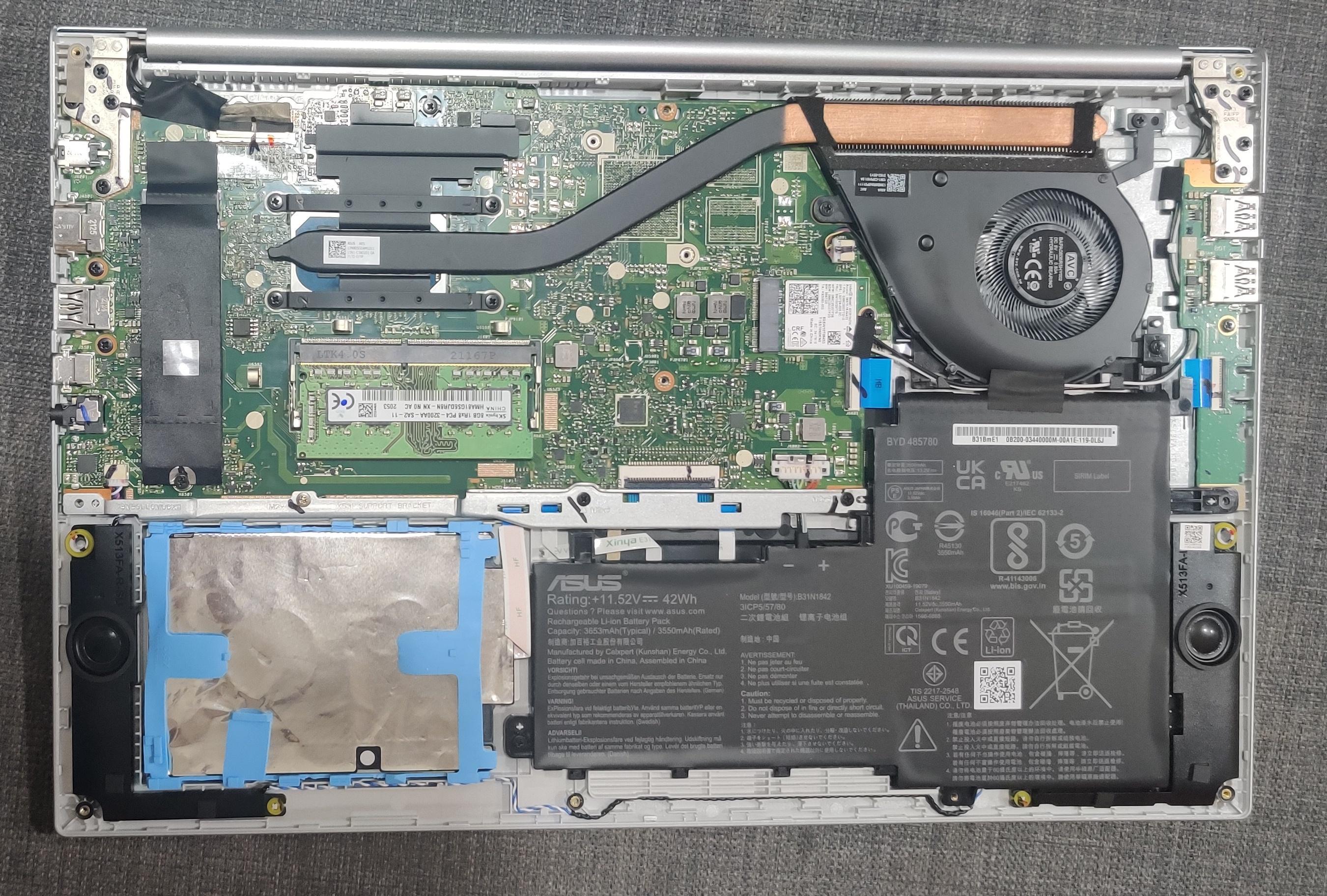 The Vivobook 15 OLED comes in three configurations featuring 11th Gen Intel processors, starting from Core i3 going up to Core i7. These are Intel's U-series processors meant for ultrabooks, and as such, you can't expect these to handle creative loads or fulfill your gaming needs. Our review unit featured 8GB DDR4 memory and 256GB NVMe storage. One of the RAM slots are soldered to the board, but there's one more free for upgrade, and you can add another 8GB stick in dual-channel to improve performance. You can also easily replace and upgrade the SSD and add a HDD to your setup.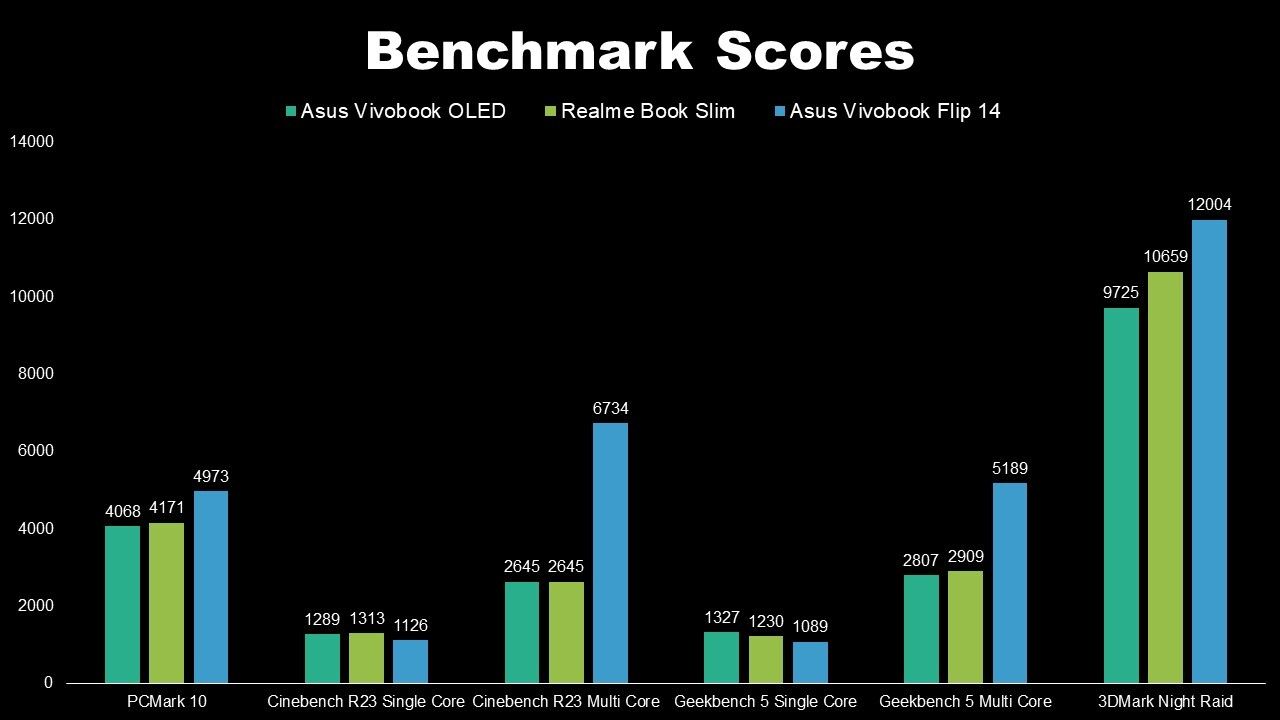 Out of the box, the Intel Core i3 variant performs just as well as the Realme Book Slim, but fails to beat the RedmiBook 15 Pro or the Vivobook Flip 14. The Core i3 1115G4 as we saw on the Realme Book Slim is a capable processor good enough for daily office and student use, and very lightweight content creation like using Adobe Lightroom. You won't be able to stream content or run heavy apps. The integrated Iris Xe graphics can handle a few low-spec titles on Xbox Game Pass, but you're better off increasing your budget and going for a laptop with a discrete GPU to quench your thirst for gaming. The good thing is there's very little drop in performance when you're using the laptop on battery, as compared to when it's plugged in.
There's a single fan at the top right corner with a single heat pipe feeding into it, and that's pretty all you'll need on this configuration. I haven't tested the Core i5 or Core i7 variants to talk about the thermals on those, but the Core i3 variant never really went beyond 40 degrees with my usage, which mostly revolved around browsing the web, working on Office apps, watching a few shows and messaging on Slack.
The Vivobook 15 OLED features a 42Whr battery, across all SKUs. The Core i3 variant I tested managed to deliver a little over 5 hours of SoT, which is more or less which is decent. I honestly expected a little more owing to the superior power efficiency of an OLED panel, because this is also how long the Realme Book lasted when I tested it for my review. It also takes around two hours to fully charge using the 65W barrel pin charger, and lacks fast charging or USB PD charging support.
Asus Vivobook 15 OLED: Keyboard and Trackpad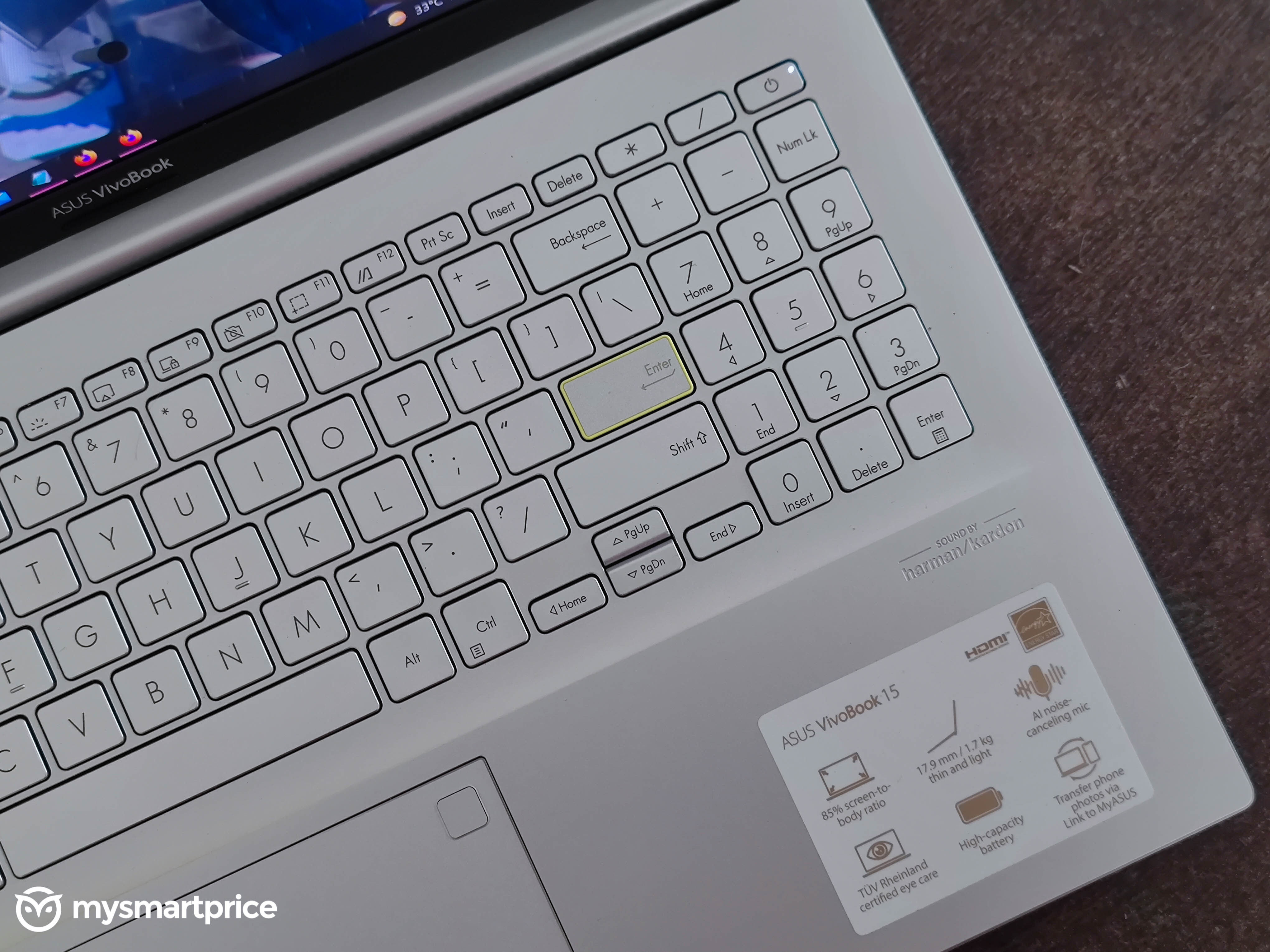 What's the real cost of getting an OLED display under 50k? Looking at the Vivobook 15, it seems to be a comfortable keyboard and trackpad. Asus is no stranger to making highly  responsive keyboards, but you wouldn't know that using the Vivobook 15. The keyboard on this one is glossy, slippery and features convex keycaps that feels mushy and do the very opposite of registering your keystrokes with high accuracy.
The plastic trackpad has a raised perimeter around it tell your palm not to stray around there, and a fingerprint sensor that's quick and accurate. The trackpad supports precision drivers and you can deploy all the Windows gestures on this, but tracking and pointing in itself feels just as what you'd expect from a budget laptop.
Asus Vivobook 15 OLED: Should You Buy?
There are many aspects that define the experience of using a laptop, and display is certainly one of the biggest. And the Asus Vivobook 15 OLED focuses just on the display, and nothing more as a means to set itself apart from the rest. It's certainly good news for display nerds, but having used the laptop for a week, the cost of having an OLED laptop for cheap seemed a bit too high to suggest this to someone looking for a budget laptop. Even the Realme Book Slim, where too the display is the USP, also features a premium design and a good keyboard, alongside the same internals. The Vivobook 15's experience outside of the display isn't able to match up to that. There are also more humble options like the HP 14 and the Lenovo Ideapad Slim 3, those are far more practical to buy than this.
Asus Vivobook 15 OLED
46990
Keyboard and Trackpad
7.6/10
What Is Good?
OLED display
Lightweight
Good for students and office use
What Is Bad?
Cheap build
Mushy keyboard
Takes a long time to charge