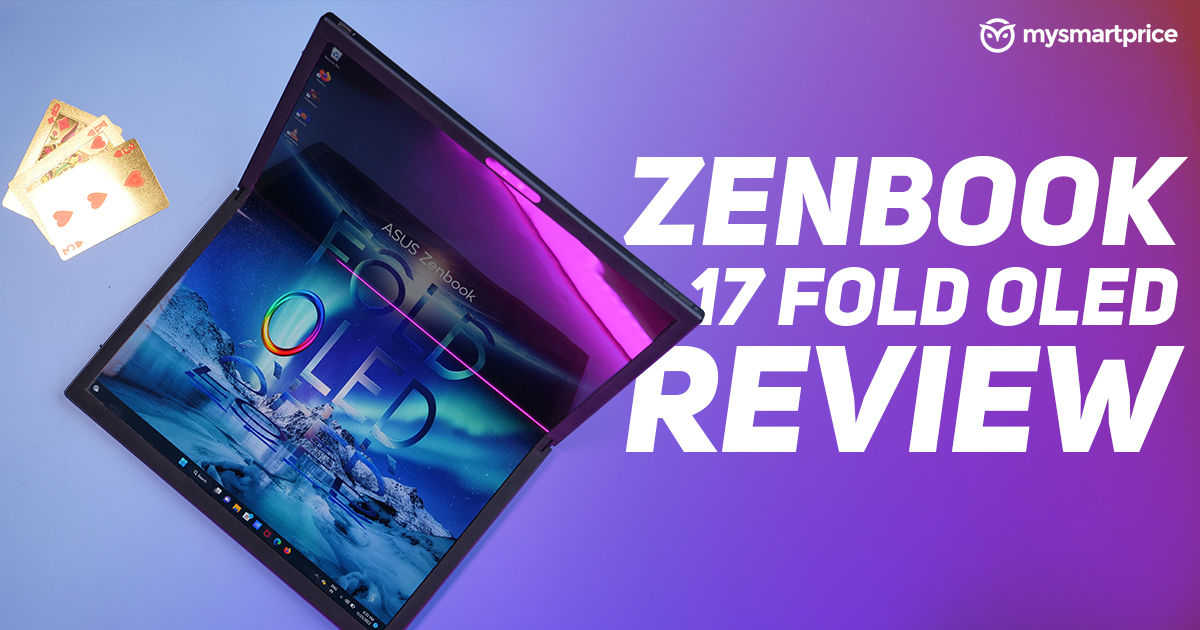 Laptop technology seems to have paled in comparison to their smartphone counterparts. Think about it, phones have transitioned from brick-like handheld devices to glass sandwiches with touchscreen and extraordinary cameras. Lately, the new trend in technology has been foldable smartphones. Samsung, Vivo, and a couple of other OEMs are investing left right and centre in this.
While laptops haven't seen much innovation in the practicality and design department, some companies are trying to bring in a neutral shift of wave. It started with Lenovo launching its ThinkPad X1 Fold a couple of years ago, and it continues with Asus' Zenbook Fold.
Unsurprisingly, it is one of the coolest and most futuristic laptops we've ever laid our hands on. The 17.3-inch OLED display can bend into multiple positions, be it as a laptop, a workstation, or a tablet. Despite that, this piece of advanced tech is able to brew a slew of questions in our minds. One question fairly sticks out. Is it just a fancy asset for showing off or does it have some sort of practicality in our day-to-day lives? We've used the Zenbook 17 Fold OLED (or simply Zenbook Fold) for over two weeks, in as many positions as you can imagine and here's our full review of the same.
Asus Zenbook Fold Review: Unboxing and pricing details
A piece of technology such as the Zenbook Fold deserves an extravagant unboxing experience, and they sure provide that. It comes in a box shaped like an unusual briefcase with the laptop placed in an unfolded form. The box includes a couple of accessories such as a USB Type-C to USB Type-A adapter, a handy little faux leather sleeve, and a Bluetooth keyboard with a trackpad. Sadly, it does not come with a stylus as creators would have benefited from the big screen. The Asus Zenbook Fold is available in a single variant with Intel Core i7-1250U, 16GB RAM, 1TB SSD, and 75WHr battery.
It goes on sale for a mind-boggling price of Rs 3,29,990. For this money, one could easily build a top-of-the-line gaming rig or get a gaming laptop with a mighty spec list.
The thing with new technology such as this is that it comes at a price, an 'early adopter tax', if you will. You are largely paying for the innovative approach and a small portion for the insides. But can it justify this ask by any means? Read on to find out.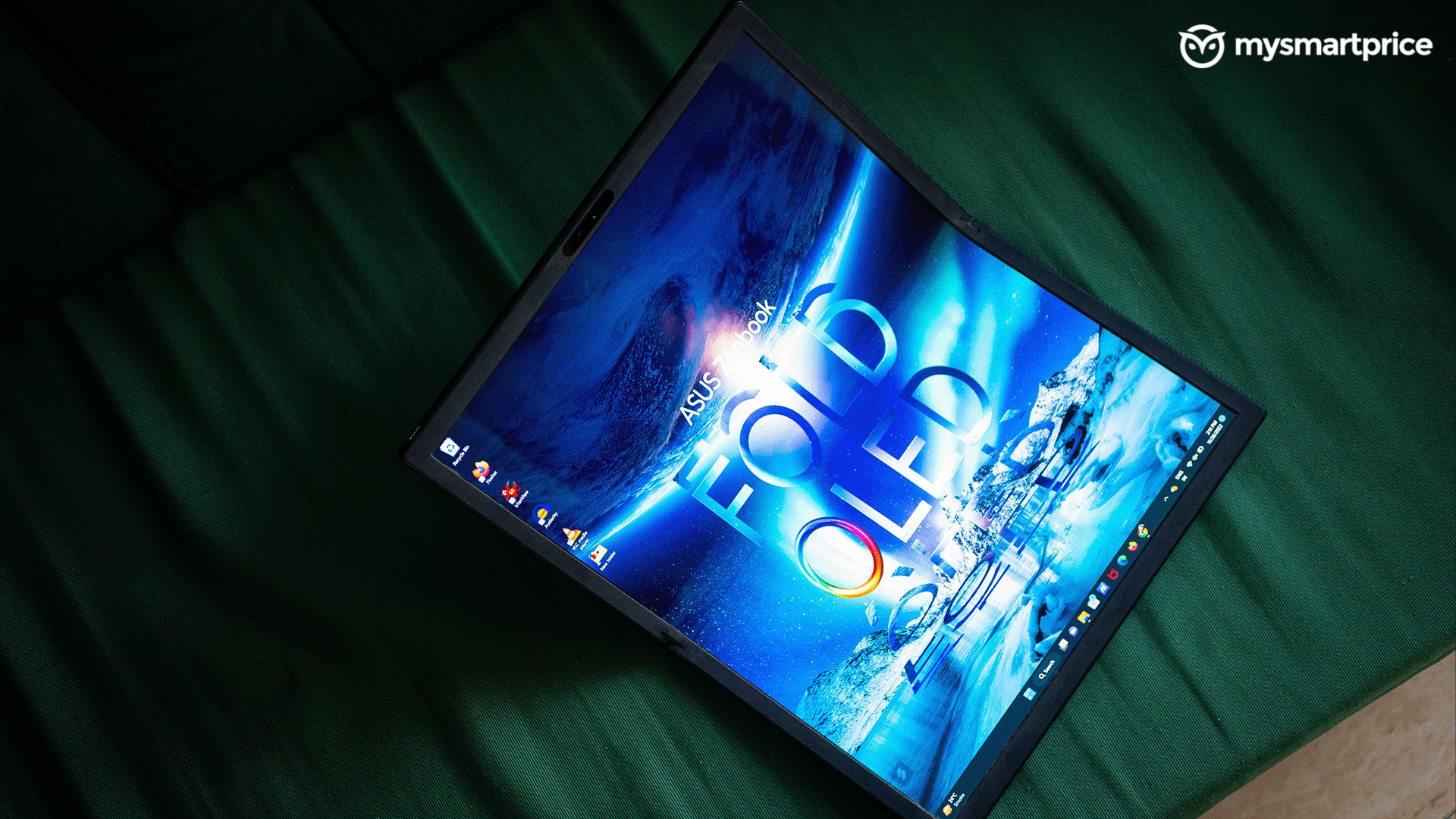 Asus Zenbook 17 Fold OLED Review: Design and display
Asus is one of those companies that does not step back when it comes to experimenting with stuff. Previously, the Taiwanese tech maker experimented with the whacky Asus Zenbook Duo while justifying its use case for content creators.
The Zenbook Fold follows in similar footsteps. It is an elegant device by all means. It has a different flair about itself, partially because of the premium materials used to build it, which include magnesium alloy, faux leather and frosted glass. Yep, when was the last time you saw a laptop with a glass shell? Considering it is Asus' first foray into foldable laptops, they have pretty much nailed the design — in terms of practicality as well as looks.
When unfolded, it measures 14.9 x 11.3 x 0.34 inches and weighs approximately 1.5kg. It's fairly thin in the unfolded state with a thickness of 8.7mm. The laptop feels a bit heavy and the weight seems unbalanced. While It is portable by all means, and the leather carry case aids this issue, holding it in hand for longer periods is not possible. It's also MIL-STD 810H certified for durability. Carrying the laptop in your backpack is also possible and it does not eat up a lot of space in the folded state.
The back is divided into three portions, each built with different materials. The right portion flaunts a matte black finish which the company likes to call 'Tech Black'. The middle part is accommodated by a faux leather cover along with a kickstand which comes in handy while watching movies, we'll get into more details later. The final portion looks quite classy with Asus' new monogram painted on frosted glass with a reflective dark blue finish which happens to gather a lot of smudges.
The faux leather casing at the back has a moving part which reacts to the state of the laptop. When folded, it covers up the hinge mechanism well and smoothly slides over. The whole package pretty much looks like a diary when held in the hand. The back also has rubber padding which helps with elevation when using it in laptop mode. Coming to the front, it has fairly large bezels to harbour the hinge mechanism. When folded, the right side of the laptop houses a 3.5mm headphone jack, a USB-Type C Thunderbolt 4 port, air vents, a LED indicator for the battery, and the power button. The top side holds in place another USB-Type C Thunderbolt 4 port, speaker grille, and volume rockers. The left and bottom sides of the device are home to speaker grilles, making it a quad-speaker setup.
The hinges are covered by a rubber shell which helps with the folding mechanism and to keep dust at bay. Asus claims the hinges are rated for more than 30,000 folding cycles, though considering this is a laptop/workstation, it's unlikely one would open and shut it often. Unfolding it requires more technique than force.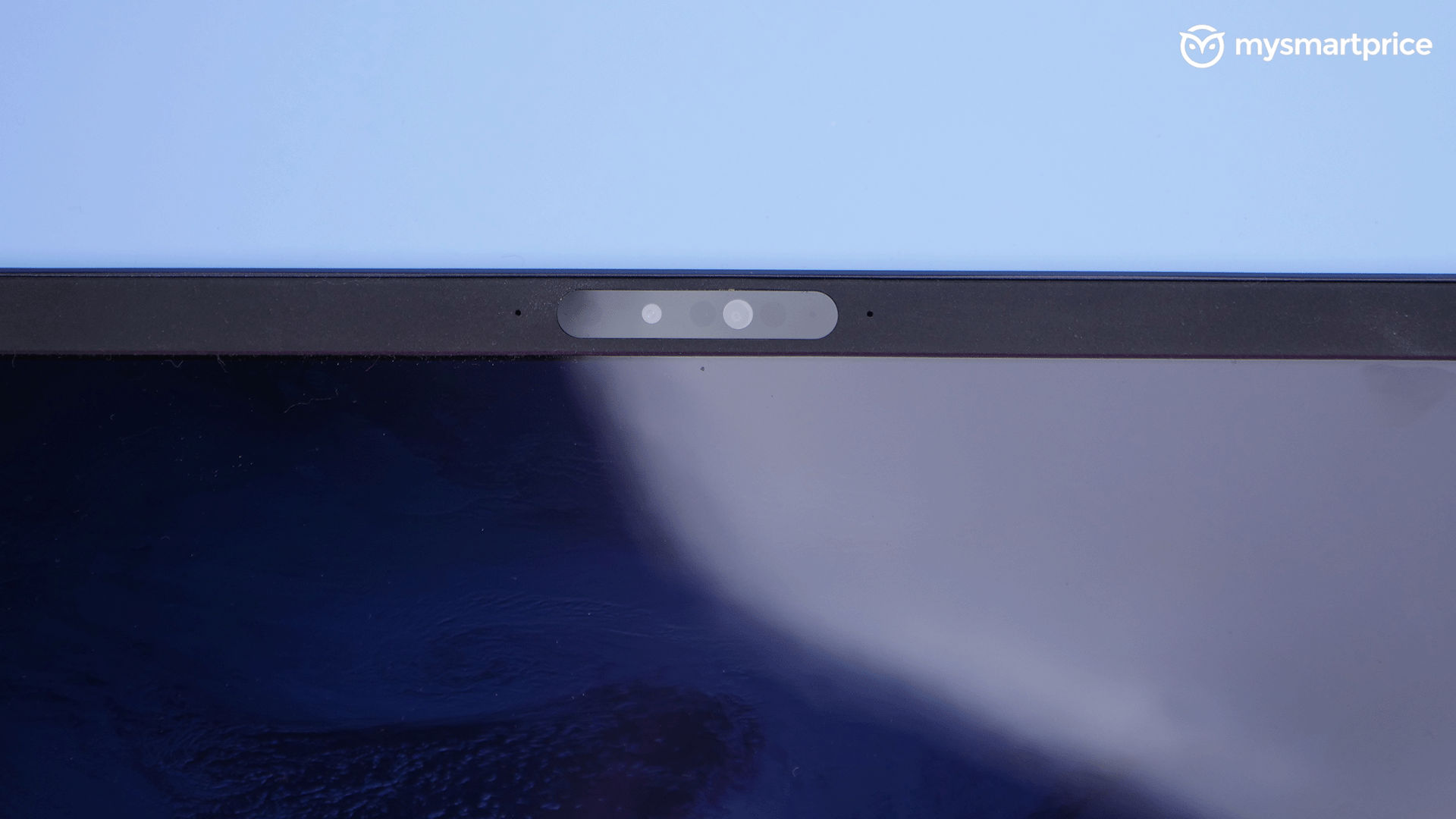 It also houses a 5-megapixel 720p camera at the front. It's aligned well and acts as a webcam in laptop mode, and a selfie camera in tablet mode. The camera quality is fairly underwhelming. It also holds in place a couple of IR sensors for Windows Hello face recognition, while it works most of the time, it's a hit or miss in slightly dull lighting conditions.
Asus says that the Zenbook Fold can be used in six different positions. The common ones include using it in laptop mode or workstation mode. Using it in tablet mode is quite cumbersome as the weight of the laptop eventually gives you sharp pain in your wrists. For the better part of our review period, we used it in the workstation mode with the Bluetooth keyboard set in front of it. This is a great way of utilising the big screen if you have a desk to accommodate it. The massive 17.3-inch 2560×1920 OLED display is stunning for content consumption. It supports the DCI-P3 colour gamut and is Pantone-validated. Despite the chunky bezels, watching movies as well as the ongoing FIFA World Cup 2022 on it was an immersive experience.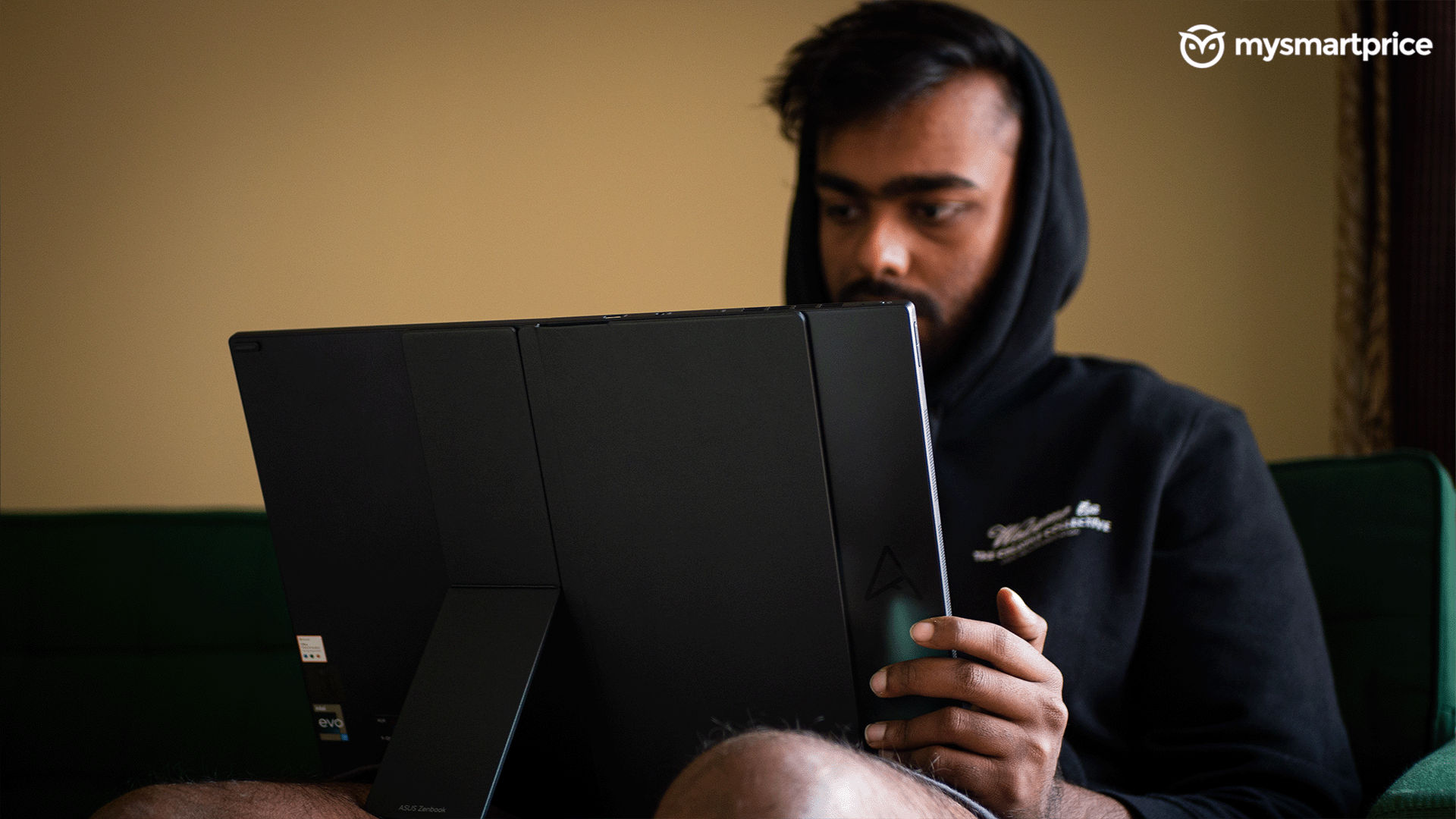 We spent most of our time watching TV shows such as Modern Family, Big Bang Theory, Better Call Saul, and House of the Dragon. The colours look great and the OLED display can produce true-to-life blacks. By default, it has a vibrant colour profile and videos showcase a good amount of contrast and detail. HDR content on YouTube also looked good on this massive display. It has a peak brightness of 500 nits and using the laptop under daylight was not an issue, though the screen is wildly reflective which could hinder the experience slightly. Remembering the fact that this is a foldable laptop when kept in workstation mode is tough as the crease is not at all visible from head-on.
The quad-speaker setup is tuned by Harman Kardon and comes with Dolby Atmos certification. The speakers add to the viewing experience massively. The speakers have a good amount of bass and clarity.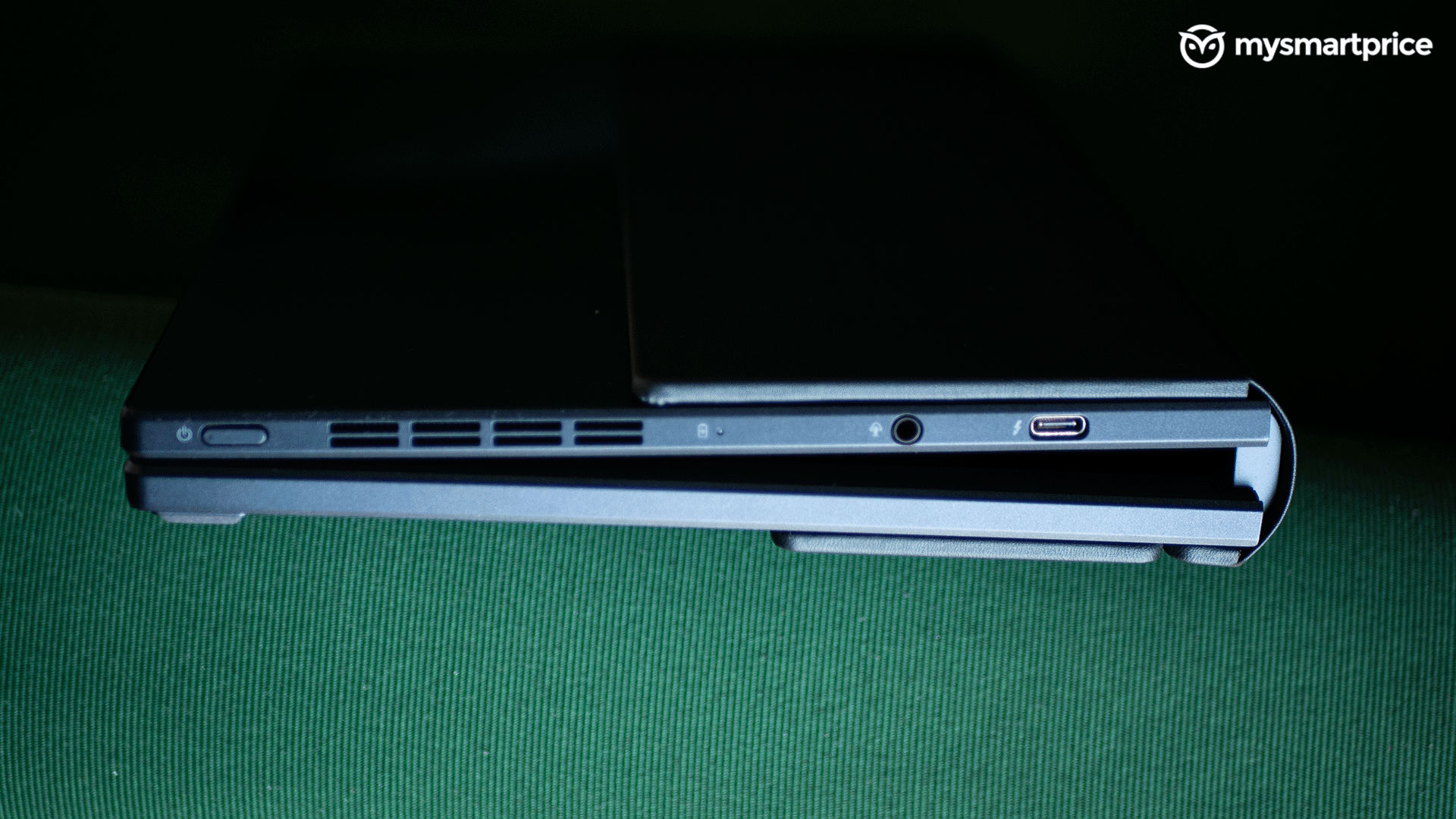 When we reviewed the latest foldables from Samsung earlier this year, we talked about the 'foldable tax', and one of the biggest gripes we had with the two phones was the inconsistency of aspect ratios. It follows here too. In its unfolded state, the Zenbook Fold has an aspect ratio of 4:3, and 3:2 when folded. This means almost all modern-day content has black bars on the top and bottom. The display is touchscreen and it works well most of the time. Though, if you change the orientation of the laptop and start using the touchscreen, it takes a couple of tries before actually registering it. The screen collects a lot of dust and fingerprint smudges, so you might want to keep a cloth handy.
Asus Zenbook 17 Fold OLED Review: Software and performance
The Zenbook Fold has executed the design part quite well. However, the software is arguably one of the most important features. With Asus claiming that the laptop can be used in multiple positions, the software should be able to cope well with that. For this to flow well, the company has integrated a couple of apps which can help enhance the user experience. The bundled Bluetooth keyboard is a great and much-needed addition to the package. It's built well and fairly thin to fit swiftly onto the laptop. Windows 11 responds well for most of the part but also glitches out in certain scenarios. Switching from tablet mode to laptop mode is quite an interesting transition. The included keyboard has magnets situated on the back which can be attached to the bottom portion of the laptop.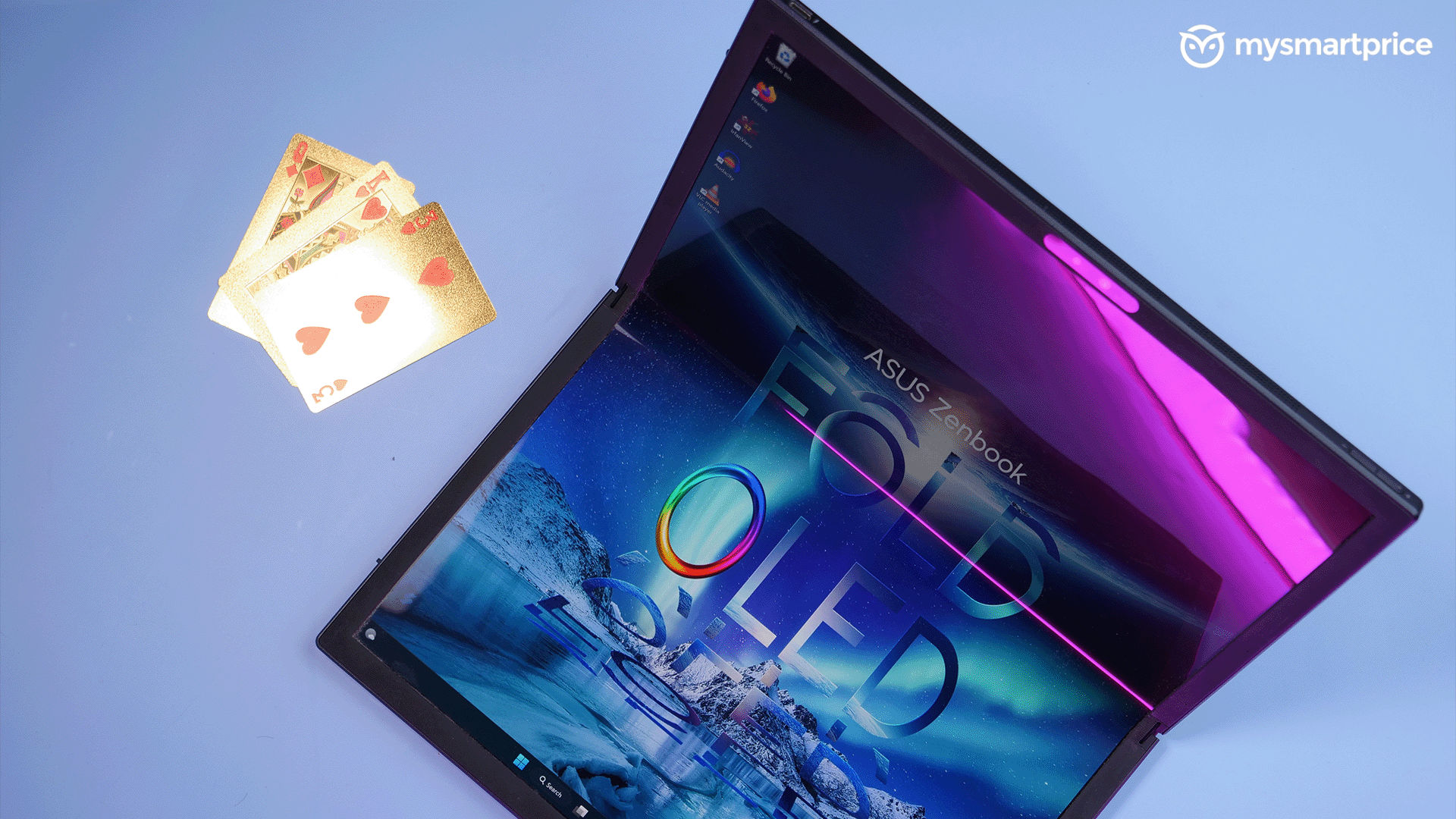 Despite the thin frame of the keyboard, the keys are very clicky and do not feel cheap by any means. Unfortunately, the keys are not backlit which is quite a bummer. The trackpad, on the other hand, feels a bit tacky. It does not respond at times and the click is not satisfactory. Further, the keyboard doesn't auto-magically charge when magnetically connected. That's right, it needs to be charged separately. Fortunately, it can be paired simultaneously with up to two devices and lasts over two weeks on a full charge.
The Windows UI automatically re-adjusts from an elongated tablet interface to your everyday Windows layout. This means the taskbar and everything else settle smoothly into the frame. This idea is top-notch and proves its versatility. Sadly, its execution doesn't go according to plan every time. There were times when the software would fail to recognise the keyboard and the laptop continued staying in tablet mode. There were also times when physically switching to workstation mode from tablet mode didn't change the orientation of the screen. This happened quite a few times and it proved to be wholly irritating. Restarting the laptop fixed this, but that is beyond the point.
Moving on, the Zenbook Fold comes with Asus' ScreenXpert 3 which helps with the layouts of the screen. It has a handy little floating icon on the desktop which can be used for quick access to layouts, screenshots, and a bunch of other things. Besides this, MyAsus is another application that comes pre-installed. This helps with checking the battery health, fan profile, OLED care and more. The laptop also comes with Microsoft Office and McAfee Antivirus pre-loaded.
The Zenbook Fold is powered by the Intel Core i7-1250U. The U-series of chipsets from Intel are particularly designed for thin and lightweight laptops. While it isn't as powerful as other processors from the chip-maker, it can run well in a compact form factor. It has a total of 10 cores, out of which two are performance cores and the rest are efficiency cores. It has a maximum frequency of 4.7GHz and a maximum power consumption of 29W. The laptop comes with Iris Xe graphics, and no discrete graphics card, which is pretty much known because of its form factor. It has 16GB of LPDDR5 RAM running at 5200MHz. It also comes with a 1TB SSD which is upgradeable, though we highly doubt more space will be required for most users.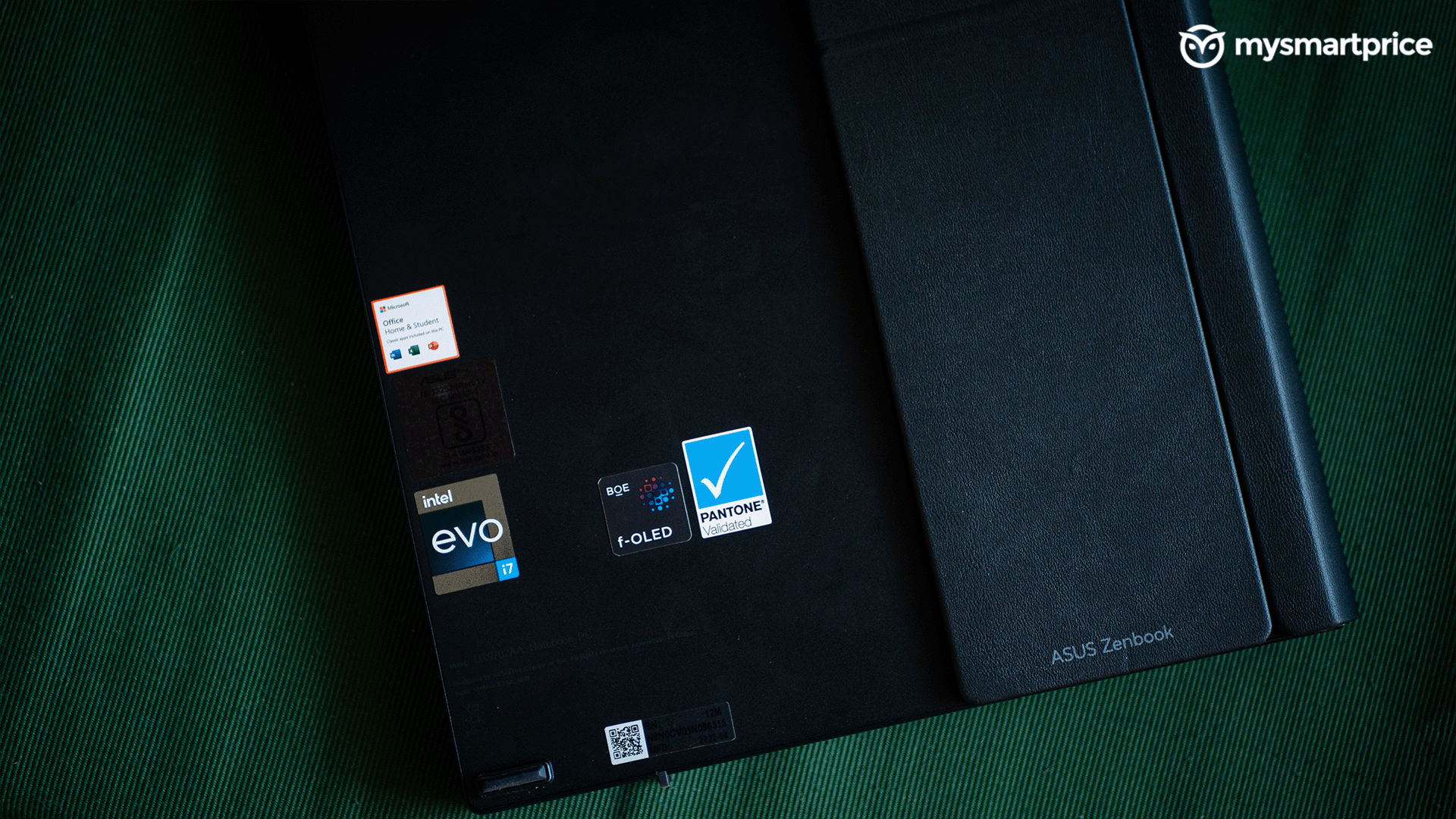 In easier workloads, the Zenbook Fold was commendable, although opening multiple tabs on Google Chrome causes the laptop to run out of breath. We usually used the laptop for work juggling between Chrome, Slack, Basecamp, and a couple of other apps. The Windows experience in this regard was smooth and snappy. It's a great laptop for work, especially when unfolded with the keyboard. Editing photos and multitasking with numerous apps open in tandem was also not that big of an issue for the laptop.
Sadly, video editing is something that the Zenbook Fold doesn't handle well. Editing a 45-second 1080p Instagram Reel stretched the laptop to its limits. There was minimal timeline lag but adding a couple of graphic templates to the sequence caused mayhem. To test the gaming capabilities, we also played a couple of Counter-Strike: Global Offensive deathmatch rounds. The game was hardly able to shell out 30fps with the graphics set at 'High'. The rear of the Zenbook Fold slightly warmed up while gaming, but it's unlikely you'll feel that when playing a game in workstation mode.
It feels the most at home when playing casual games like Rocket League, Among Us, and more at low graphics. This is understandable as this is a productivity laptop and not something that will aid creators or gamers. Putting the Zenbook Fold through synthetic benchmarks recorded some interesting numbers. Cinebench R23 scored 4511 and 1198 in multi-core and single-core tests. PCMark 10 scored a total of 4756 with productivity and digital content creation tests recording a total of 7093 and 4605 respectively. As for Geekbench 5, the Zenbook Fold scored 1305 and 4182 in single-core and multi-core tests respectively. CrystalDiskMark registered 7037 MB/s and 5119 MB/s sequential read and write speeds, respectively. We could barely hear the fan even when performing high-intensive tasks or running benchmarks, which is pretty cool.
Asus Zenbook Fold Review: Battery life and charging
The Zenbook Fold comes with a 75WHr battery which lasts quite well. During our time with the laptop, we spent most of our days consuming content on OTT platforms or watching the World Cup in workstation mode, which utilises the entirety of the screen.
We were content with the battery life of the laptop as it easily lasted us over 8 hours with medium-heavy usage that involved Photoshop and Chrome. The Zenbook Fold comes with a bundled 65W USB-Type C charger. It charges the laptop fairly quickly and takes it an hour and 30 minutes to charge from 4% to 90%.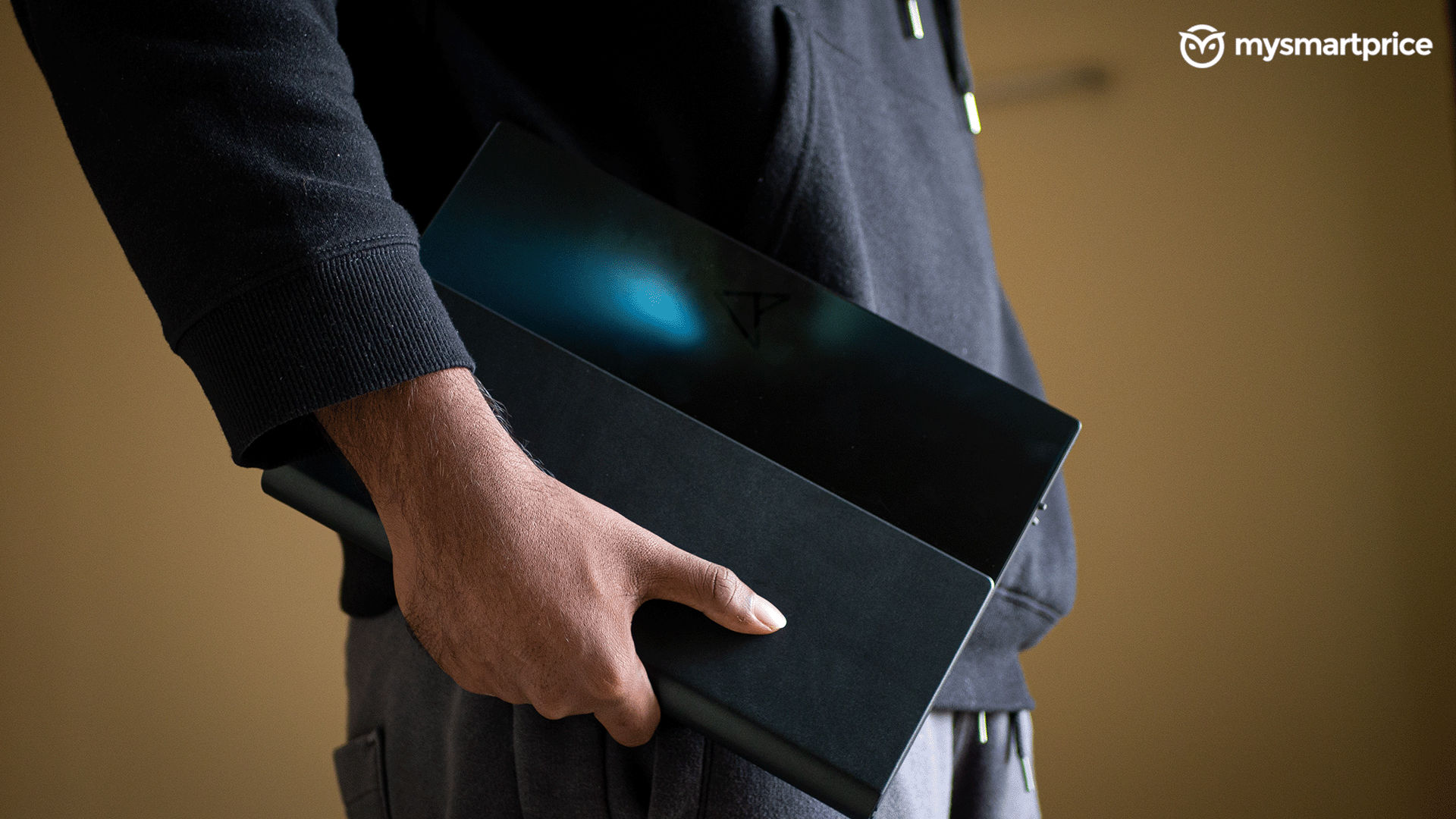 Asus Zenbook Fold Review: Verdict
The Zenbook Fold paves the way for future products of similar stature. Its versatility sets it apart from regular, hinged laptops. The huge display is a paradise for people consuming content daily. The in-built quad-speaker setup enhances your overall experience with clear audio. The hinge mechanism is cleverly hidden with the faux leather casing and the overall look and feel of the laptop screams premium – as it should.
Using it in laptop mode is slightly unconventional as the screen shrinks down to 12.5-inch which initially feels awkward, but it serves the purpose well. The tablet mode is mainly for gym-goers as we couldn't hold it for long. The bundled keyboard is a great and crucial addition, though charging it separately might be a hassle. The port selection is minimal which is fair as the slim form factor had to be kept intact. Luckily, they do include an adapter. The inconsistencies in the software are likely to annoy you, but it's not something that will count as a deal breaker. We are counting on future updates to get things sorted. Battery life and charging times are commendable.
While on the surface the Zenbook Fold seems like a lot of things crammed into a package, the absurd price tag is something that can be a dealbreaker for many. The use cases are plenty, but the performance it churns out for Rs 3,29,990 is not really justifiable. Especially when comparing it with other laptops and ultrabooks that are available at a much cheaper price. As of now, you are paying for the innovation and not for the performance. That is the early adopters' tax.
But, if you are someone who spends their time both at the desk and on the go, the Zenbook Fold might entice you. Usually, massive displays on a laptop are not very portable, but that's different here. We are excited to see what the future holds for foldable laptops and how the next generation unfolds both in terms of practicality and performance.
Asus Zenbook 17 Fold OLED
Rs 3,29,990
Keyboard and trackpad
7.0/10
What Is Good?
Futuristic
Big, striking display
Good battery life
Amazing quad-speaker setup
Premium build quality
Kickstand & keyboard are practical
What Is Bad?
Exorbitantly priced
Software inconsistencies
Average performance
No stylus pen support
Slightly bulky when folded