In the world of smartphones, Apple's new iPhone 15 Plus and iPhone 15 Pro have been making waves for their impressive features. We at MySmartPrice decided to put them to the test, comparing their battery life and charging speeds against the older iPhone 12 and 13 models. In our Epic Battery Test, we go beyond the usual specs, checking how well these phones handle everyday use and demanding tasks like gaming. Join us as we break down the performance of these devices, giving you a real-world look at what they can do.
Our Methodology
To ensure a level playing field, we initiated our testing with all four iPhones charged to 100%. Each device was set to maximum brightness and volume, with the added assurance of being updated to the latest software version. For context, the iPhone 12 boasts a 2,825mAh battery, the iPhone 13 steps up with a 3,240mAh capacity, the iPhone 15 Plus impresses with a substantial 4,383mAh battery, and the iPhone 15 Pro holds its own with a 3,274mAh powerhouse.
Display and Speaker Test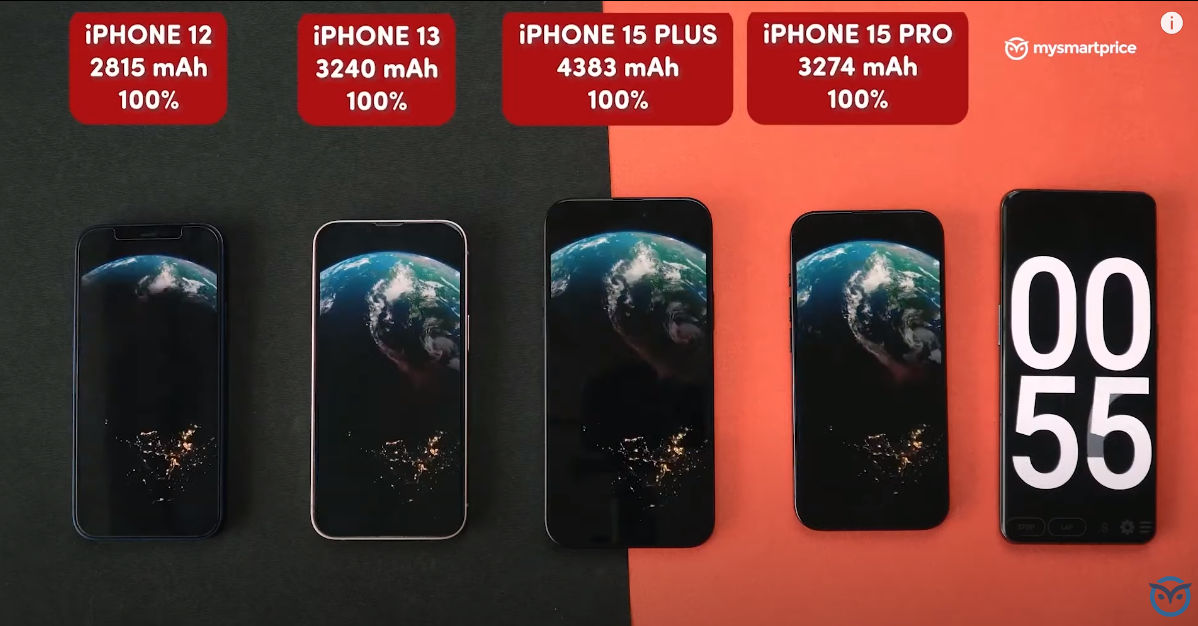 Embarking on our comprehensive testing, we initiated the Display and Speaker Test by immersing all four iPhones in a two-hour YouTube playback session. Despite each iPhone boasting an impressive Super Retina OLED panel, subtle distinctions emerge in their performance. The iPhone 12, iPhone 13, and iPhone 15 Pro showcase vibrant 6.1-inch displays, while the iPhone 15 Plus stands out with its expansive 6.7-inch screen. Notably, the smaller screen sizes of the iPhone 12, iPhone 13, and iPhone 15 Pro contribute slightly sharper colours, enhancing visual clarity. In contrast, the iPhone 15 Plus, with its larger display, elevates the viewing experience by providing more screen real estate.
Moreover, the distinctions extend to the refresh rate, with the iPhone 15 Pro exclusively offering a Pro Motion Display at 120Hz, while the other iPhones adhere to a 60Hz refresh rate. This divergence adds a layer of fluidity to the user experience on the iPhone 15 Pro.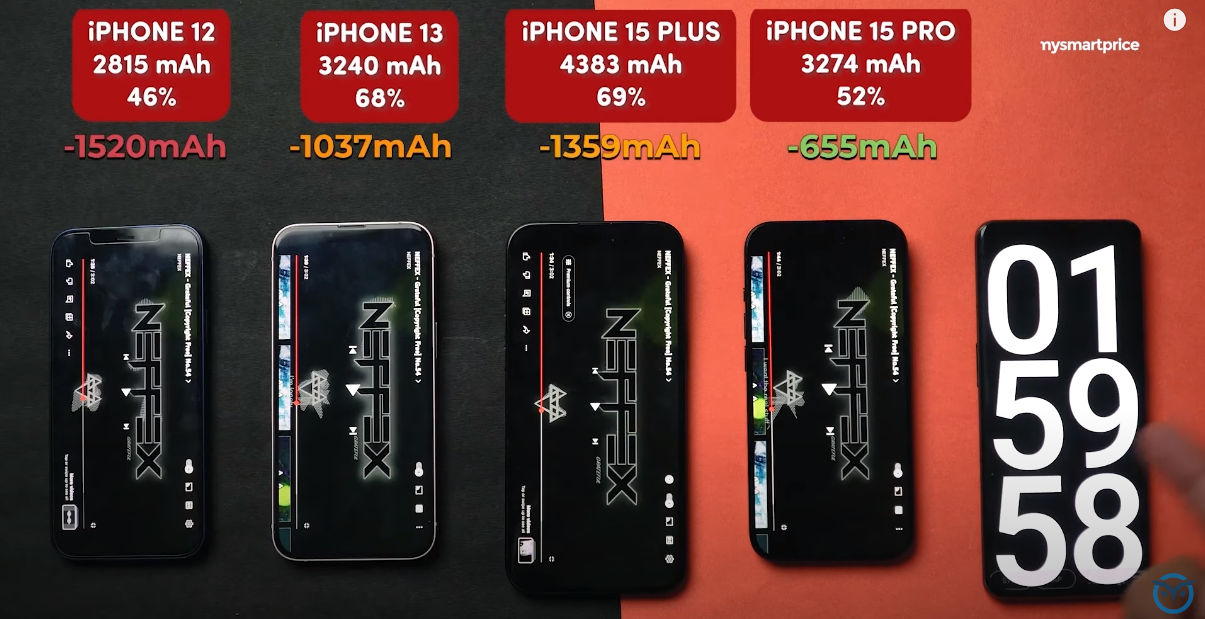 Transitioning to the audio aspect, all iPhones come equipped with stereo speakers. However, the iPhone 12's performance was notably average in this round. Our verdict for this round leans towards the iPhone 15 Plus, as its larger display not only enhances content consumption but also contributes to a more immersive audio experience, adding depth to the overall enjoyment.
Following the rigorous two-hour YouTube session, the battery standings were as follows: the iPhone 12 at 46%, the iPhone 13 impressively held 68%, the iPhone 15 Plus maintained a solid 69%, and the top-tier iPhone 15 Pro was at 52%.
Performance Test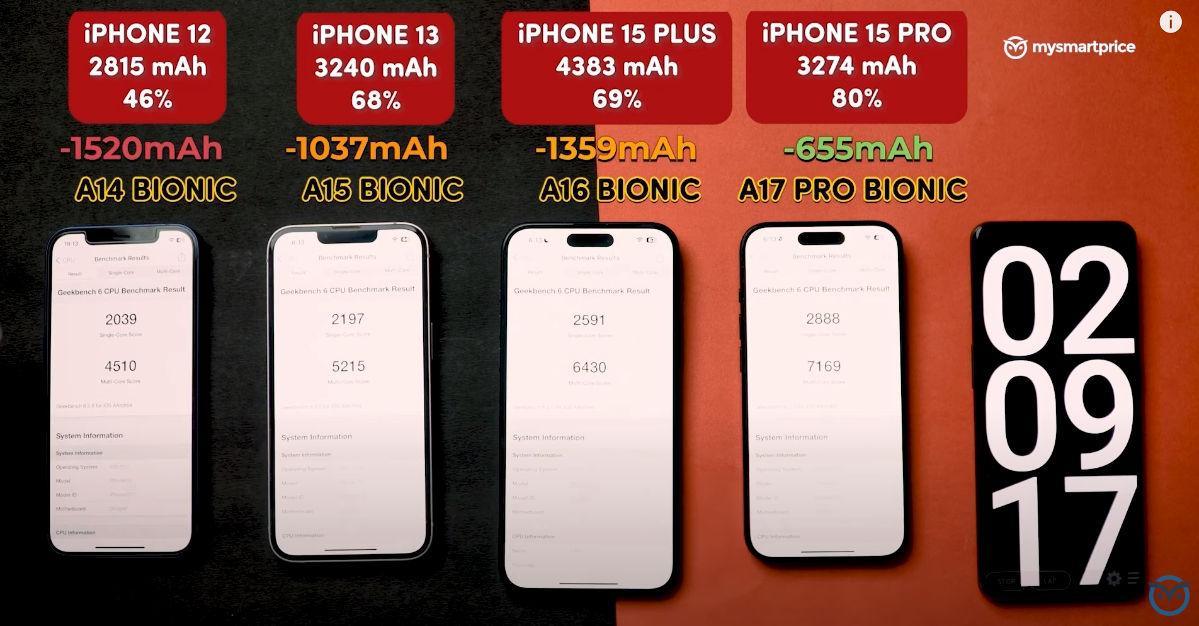 Continuing our thorough examination, we subjected all four iPhones to a rigorous Performance Test. The evaluation commenced with Geekbench testing, where we sought to assess the processing prowess of each device. In the initial round, the iPhone 12 demonstrated a single-core score of 2039 and a multicore score of 4510. The iPhone 13 followed with a single-core score of 2197 and a multicore score of 5215. Surpassing its predecessors, the iPhone 15 Plus showcased impressive capabilities, achieving a single-core score of 2591 and a multicore score of 6430. Topping the charts, the iPhone 15 Pro exhibited stellar performance, recording a single-core score of 2888 and a remarkable multicore score of 7169.
For a deeper understanding, let's break down the Geekbench scores in a table:
| | | | | | | |
| --- | --- | --- | --- | --- | --- | --- |
| iPhone Model | First Round – Single-Core | First Round – Multi-Core | Second Round – Single-Core | Second Round – Multi-Core | Third Round – Single-Core | |
| iPhone 12 | 2039 | 4510 | 2011 | 4515 | 1970 | 4452 |
| iPhone 13 | 2197 | 5215 | 2157 | 5192 | 2107 | 5190 |
| iPhone 15 Plus | 2591 | 6430 | 2571 | 6311 | 2530 | 6215 |
| iPhone 15 Pro | 2888 | 7169 | 2869 | 7011 | 2839 | 6911 |
We conducted a second round of Geekbench testing. Notably, the iPhone 15 series exhibited a commendable consistency in performance, with only marginal drops in scores. The third round further confirmed this trend, revealing that the iPhone 15 series retained its performance remarkably well, outshining the iPhone 12 and iPhone 13 in resilience.
Shifting our focus to the AnTuTu test, the iPhone 12 faced challenges in completing the first round, while the iPhone 13, iPhone 15 Plus, and iPhone 15 Pro scored 926389, 1179441, and 1401784, respectively. Intriguingly, in the second round, the iPhone 12 completed the test and scored 843732, while the iPhone 13, iPhone 15 Plus, and iPhone 15 Pro exhibited an unexpected increase in scores.
| | | |
| --- | --- | --- |
| iPhone Model | First Round | Second Round |
| iPhone 12 | N/A | 843732 |
| iPhone 13 | 926389 | 1031250 |
| iPhone 15 Plus | 1179441 | 1279518 |
| iPhone 15 Pro | 1401784 | 1492978 |
In the performance assessment, the iPhone 15 Pro emerged as the frontrunner, showcasing exceptional capabilities. However, considering the value-for-money perspective, the iPhone 13 proved to be a formidable contender, achieving remarkable scores in our performance rounds.
After three hours of intensive testing, the battery standings were as follows: iPhone 12 at 14%, iPhone 13 at 43%, iPhone 15 Plus at 52%, and the iPhone 15 Pro at 26%.
Gaming Test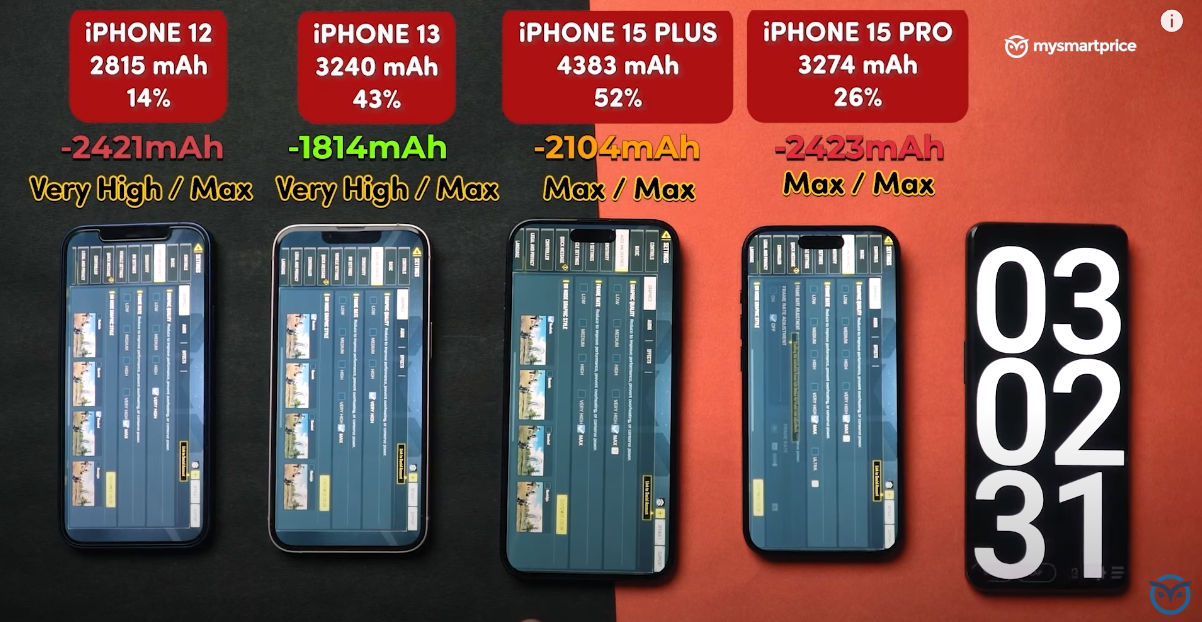 Turning our attention to the Gaming Test, we initiated a high-stakes round of Call of Duty (COD) with maximum settings on all four iPhones. While gaming capabilities were evident across the board, it's worth noting that the iPhone 12 exhibited signs of ageing, feeling somewhat outdated and reaching a temperature of 40 degrees, signalling potential performance limitations. As a precaution, we advise users to consider alternatives for a more optimal gaming experience.
Within the first half-hour of our intensive gaming test, the iPhone 12 succumbed to battery drainage, underscoring its limitations in handling prolonged gaming sessions. Notably, the iPhone 15 Pro faced a shutdown after one hour, indicating potential challenges with sustained gaming performance. In contrast, the iPhone 13 stood resilient at 20%, showcasing commendable endurance, while the iPhone 15 Plus maintained a robust 30% battery level, proving its mettle in handling extended gaming sessions.
Camera Test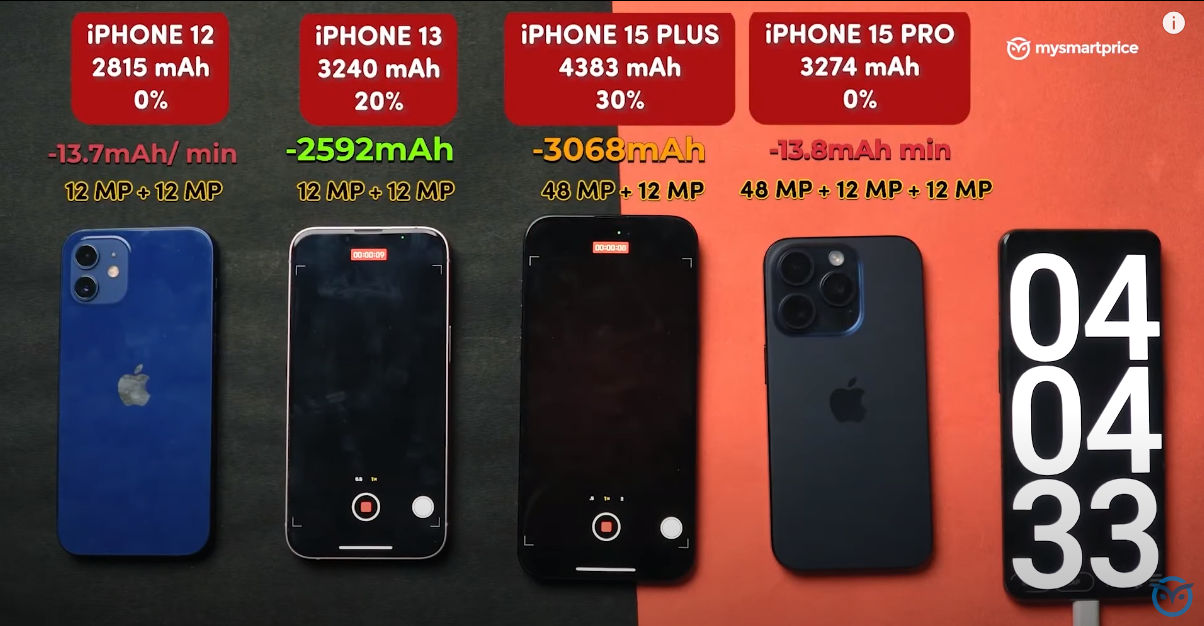 In our camera assessment, we started the test by pushing the limits with video recording at the highest quality setting, 4K 60 fps, on both iPhones. After a rigorous half-hour recording session, the iPhone 13 demonstrated its endurance, maintaining functionality with a resilient 8% battery life. On the other hand, the iPhone 15 Plus outshone its counterpart, retaining 23% of its battery life.
Social Media Test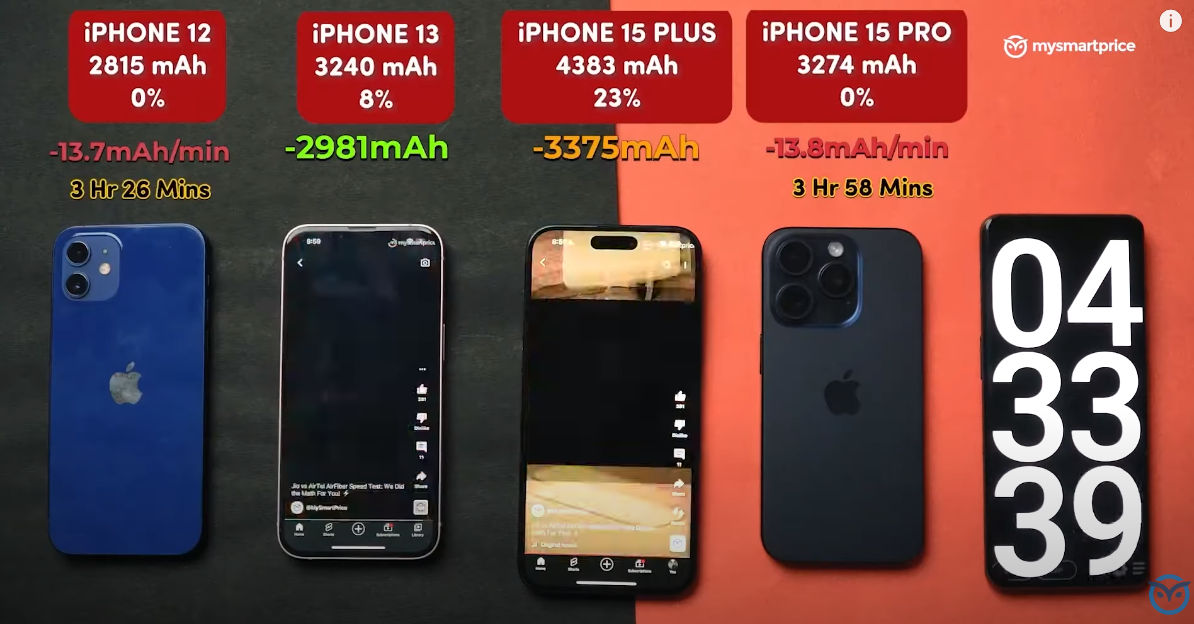 Diving into our Social Media Test, we initiated the evaluation by immersing both the iPhone 13 and iPhone 15 Plus in a session of watching YouTube Shorts. However, the iPhone 13 succumbed to battery drainage after just half an hour. A bit later, the iPhone 15 Plus also got exhausted at the one-and-a-half-hour mark.
Battery Drain: Conclusion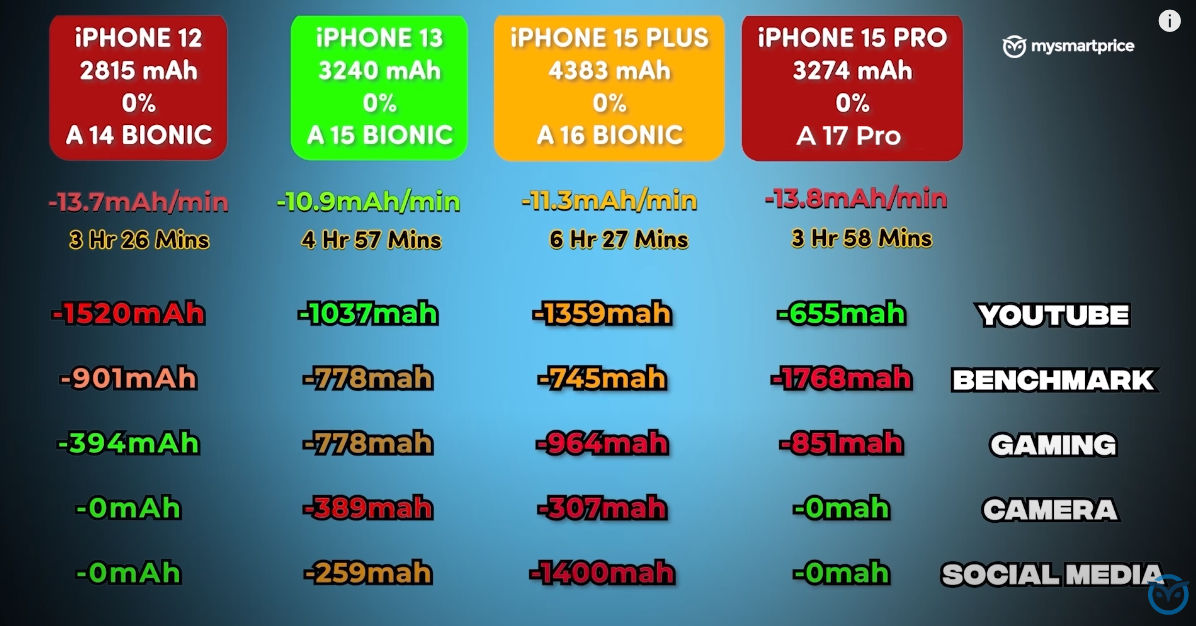 Concluding our battery drain test, the results provide a clear picture of the endurance exhibited by each iPhone under various usage scenarios. The iPhone 12, with a runtime of 3 hours and 26 minutes, showcased a relatively shorter battery life. Moving up the scale, the iPhone 13 impressed with a more enduring performance, lasting a commendable 4 hours and 57 minutes. Stepping into the upper echelon, the iPhone 15 Plus emerged as a battery powerhouse, boasting an impressive 6-hour and 27-minute runtime. Conversely, the iPhone 15 Pro, while delivering a solid performance, clocked in at 3 hours and 58 minutes.
Charging Test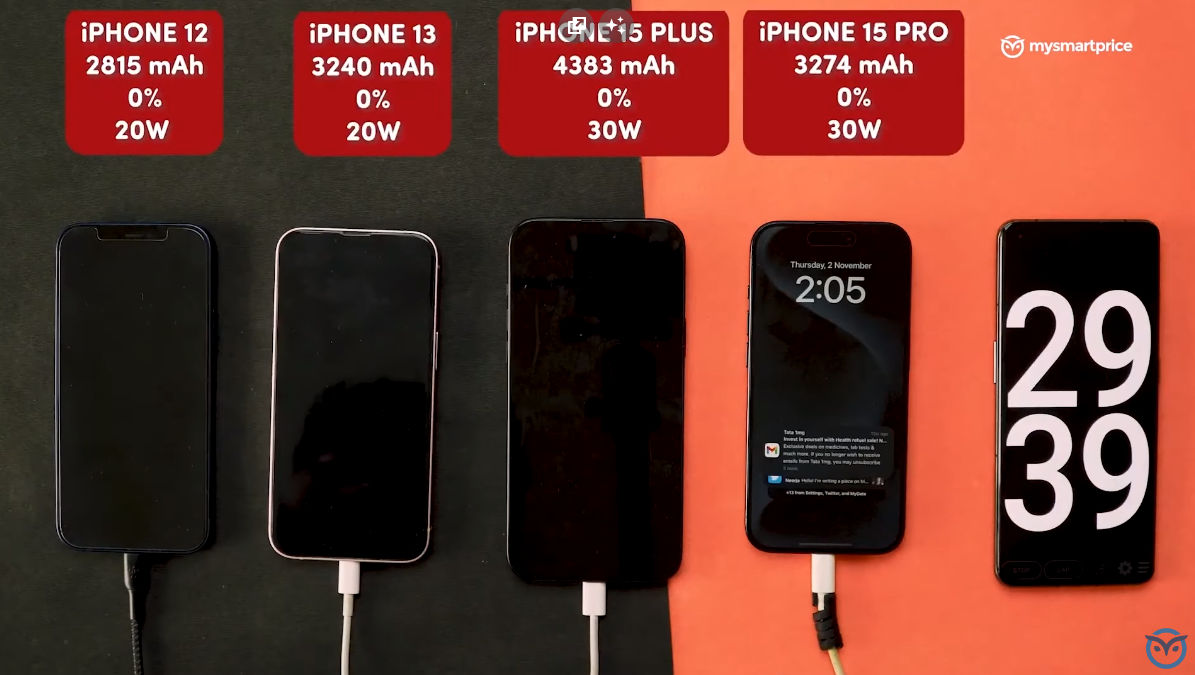 In our charging test, we applied uniform conditions using gallium nitride chargers and MFI-certified cables, adhering to Apple's recommended iPhone charging accessories. After just half an hour of charging, the iPhone 12 reached 54%, the iPhone 13 stood at 52%, the iPhone 15 Plus reached 46%, and the iPhone 15 Pro took the lead at 55%, showcasing their varying charging speeds.
Moving on to the complete charging duration, the iPhone 15 Pro emerged as the quickest contender, reaching 100% battery in a swift 1 hour and 40 minutes. Following closely, the iPhone 13 secured the second spot, completing its charge in 1 hour and 56 minutes. The iPhone 15 Plus claimed the third position, taking a total of 2 hours to reach the 100% mark. The iPhone 12, while trailing behind, completed its charging cycle in 2 hours and 6 minutes.
Verdict: Which iPhone to Buy in 2023?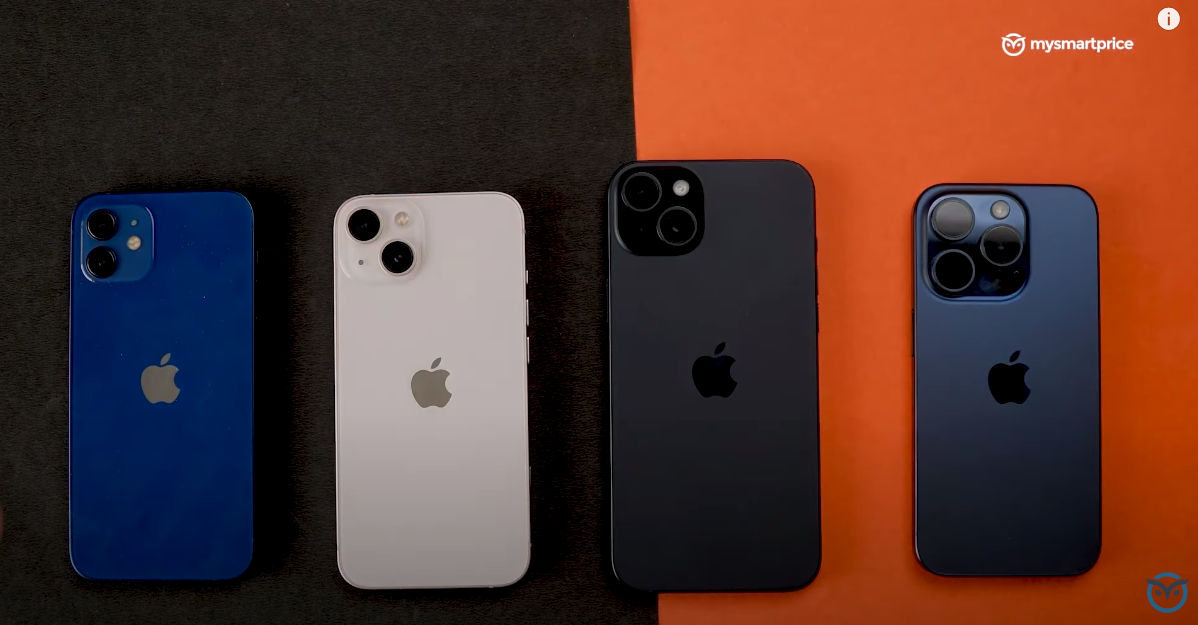 In navigating the landscape of iPhones in 2023, the choice ultimately hinges on your specific needs and budget. For users seeking a device at the pinnacle of performance, especially for tasks like high-resolution video editing and graphic-intensive gaming, the iPhone 15 Pro stands out. Priced at around Rs 1,35,000, it caters to the demands of Pro users with its powerful CPU and a host of advanced features.
For those prioritizing a larger smartphone with exceptional battery life, the iPhone 15 Plus emerges as a top contender. Priced around Rs 90,000, it not only offers an impressive battery but also delivers robust performance and an excellent camera setup, presenting an all-encompassing package for users seeking a comprehensive smartphone experience.
On a more budget-conscious note, the iPhone 13 shines as the most value-for-money option in the market today. With ongoing Diwali sales, it's easily attainable for around Rs 50,000, providing a compelling combination of robust battery life, stellar performance, and overall value.
However, our recommendation is to exercise caution with the iPhone 12. Lagging in various aspects by 2023 standards, it fails to justify its price tag, hovering around Rs 40,000. For those considering an iPhone purchase, exploring the newer models may offer a more future-proof and satisfying investment.
(Testing inputs from Yash Raj Adhana and Amit Mishra from MySmartPrice's video team)