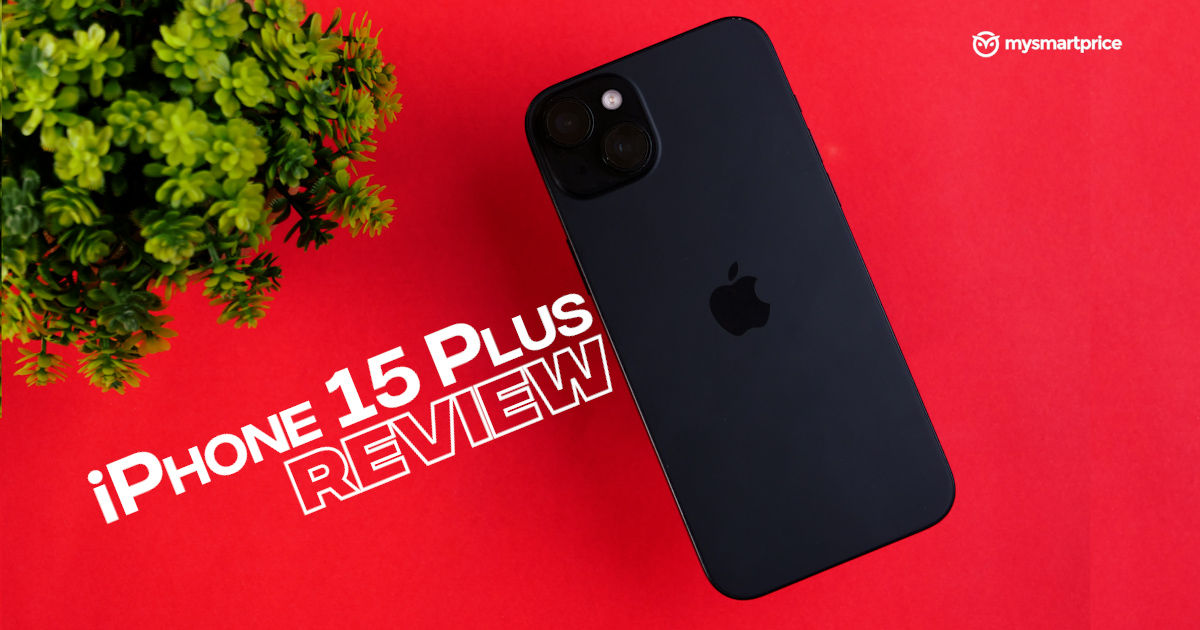 Despite a very few cosmetic upgrades, the iPhone 15 and iPhone 15 Plus offer game changing improvements internally. We have been using the iPhone 15 Plus for a few weeks now, and the highlight reel here includes a Type-C port, Apple's finest mobile silicon of 2022, 48-megapixel primary sensor, their brightest display ever and an unkillable battery. It is almost as if the good old Plus just turned "Pro", but should you consider the phone worth 90 grand that runs just a 60Hz display? Read on to find out.
Apple iPhone 15 Plus
Rs 89,900
What Is Good?
Pro performance
Bright display with great viewing angles
Dynamic Island goodness
Insane battery life
Type-C functionality
Great cameras
Ceramic Shield protection on display
What Is Bad?
60Hz refresh rate limits perception of speed
Heats up while charging
Charges up slow
Too big for an average hand
iPhone 15 Plus Review: Design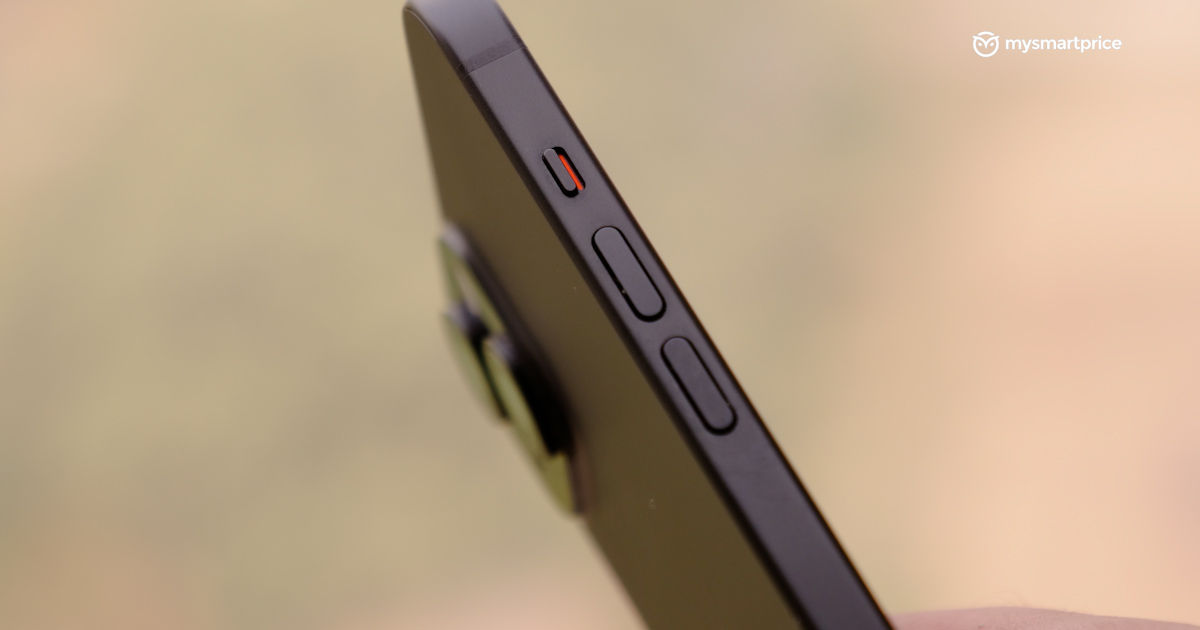 | | |
| --- | --- |
| Design | Specifications |
| Dimensions | Height: 160.9mm x 77.8mm x 7.8mm |
| Weight | 201 grams |
| IP Rating | IP68 |
| Build Material | Stainless steel frames, Ceramic Shield display protection |
| Colour variants | Blue, Pink, Yellow, Green and Black |
The iPhone 15 Plus builds on its predecessor's design with a few tweaks here and there. It now has chamfered edges around its stainless steel frame that make it significantly easier to grip. That's very important, because the iPhone 15 Plus is chonky (no better way to put it) and very, very easy to drop given the slippery nature of its matte edges. And god forbid, if it lands on your foot, you can say goodbye to your metatarsal joint for a month.
Its rear panel also compliments the matte railings, so that it somewhat seems and feels like a unibody design, despite the use of different materials. Contrasting this whole non-shiny vibe is the glossy Apple logo.
Except for the Black variant, the new colourways appear significantly muted because of the new colour etching process Apple has used this time around.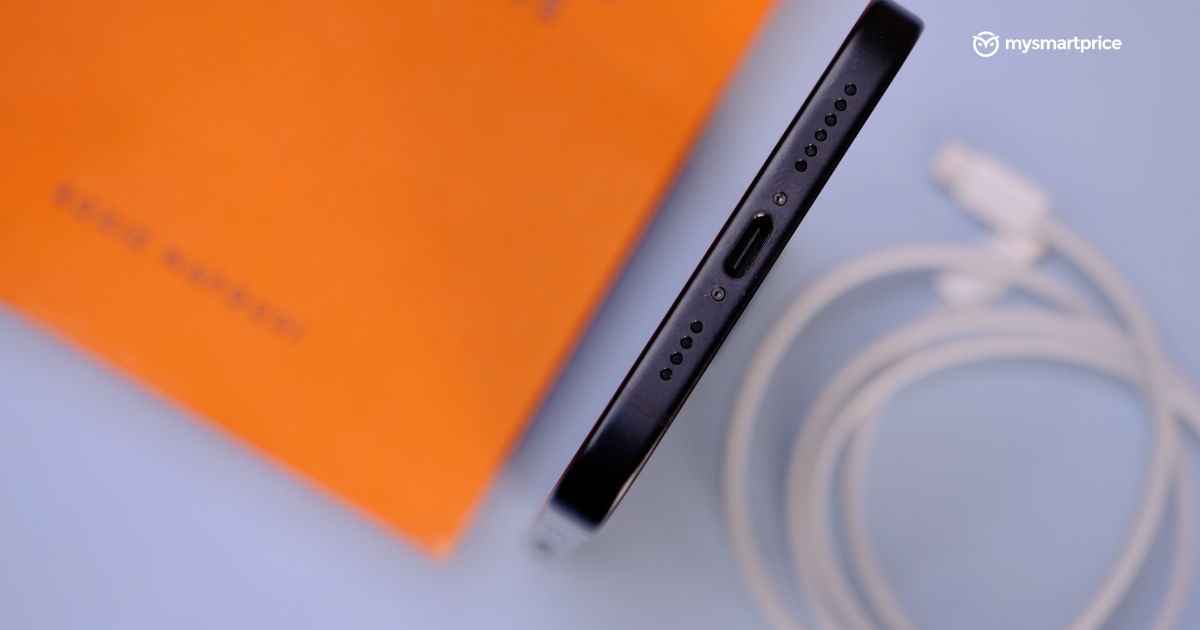 Oh, and yeah, make sure you appreciate that Type-C port on its butt – the sweetest addition from Apple in a long, long time.
iPhone 15 Plus Review: Display
| | |
| --- | --- |
| Display | Specifications |
| Type | Super Retina XDR OLED display |
| Size | 6.7-inch |
| Resolution | 1290 x 2796 pixels |
| Refresh rate | 60Hz |
| Brightness | 2000 nits (peak) |
To make things even more interesting, Apple added another Pro feature of Dynamic Island to the baseline iPhones this year. The brightness of the panel also equals the Pros, with one of the best viewing angles and sunlight legibility we have seen all year long.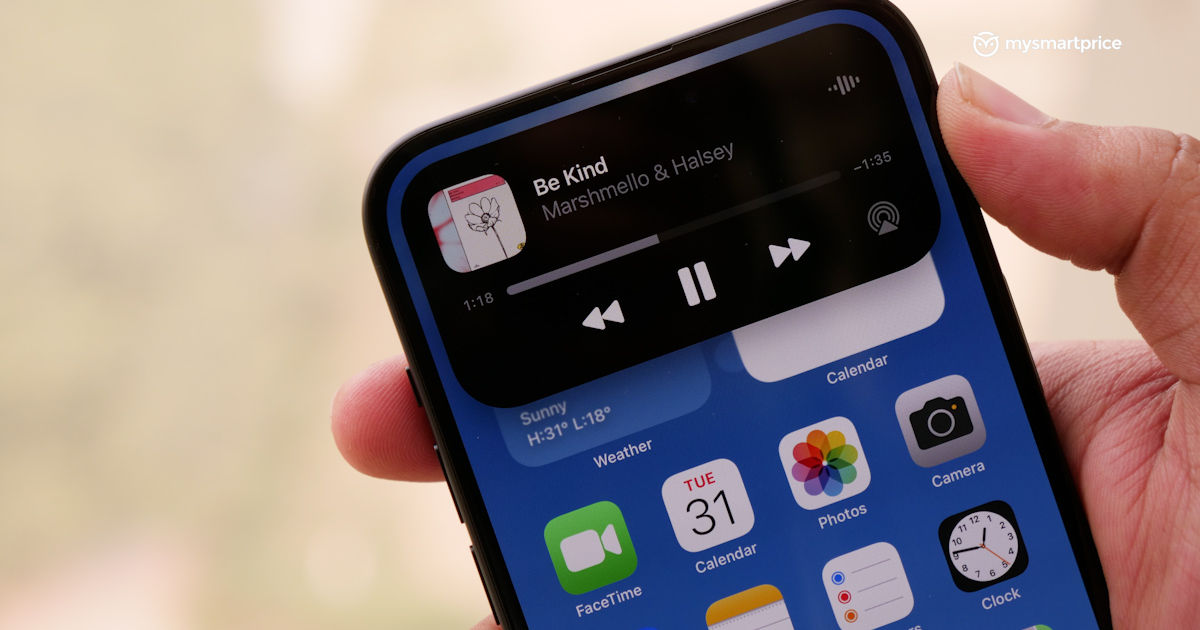 Apple has made the Dynamic Island even more lively this year; in fact, my colleague, who reviewed the iPhone 15 Pro, was so enamoured with the feature that he could not stop gushing over it in his review. So make sure you read about it here.
I am still a bit bummed by the lack of a high-refresh rate panel here – come on, even 90Hz would have made us happy. And the whole argument of 'Apple's software is so smooth, you wouldn't notice the difference' does not really work this time. Even cheap Android phones now offer smooth displays and it all adds up in real-world perception of speed.
What is the point of having the engine of a Ferrari, when you don't have power-steering, right?
We did not observe a major difference between the speaker quality of the iPhone 14 Plus and 15 Plus. They sound really good, as usual, with punchy bass and ample headroom without distortion.
iPhone 15 Plus Review: Performance and software
| | |
| --- | --- |
| Hardware | Specifications |
| Processor | A16 Bionic (4nm) |
| RAM/ROM variants | 6GB RAM, 128GB/256GB/512GB ROM |
| Geekbench 6 Benchmark Scores | 2553- Single-Core, 5080 – Multi-Core |
| AnTuTu v10 Benchmark Scores | 1363706 |
| Software version | iOS 17.1 |
Performance is another place where the Plus became Pro, especially when you consider the 30-grand price difference between the iPhone 14 Pro and 15 Plus, and it gets even better when you see that the baby iPhone this year also runs the same hardware.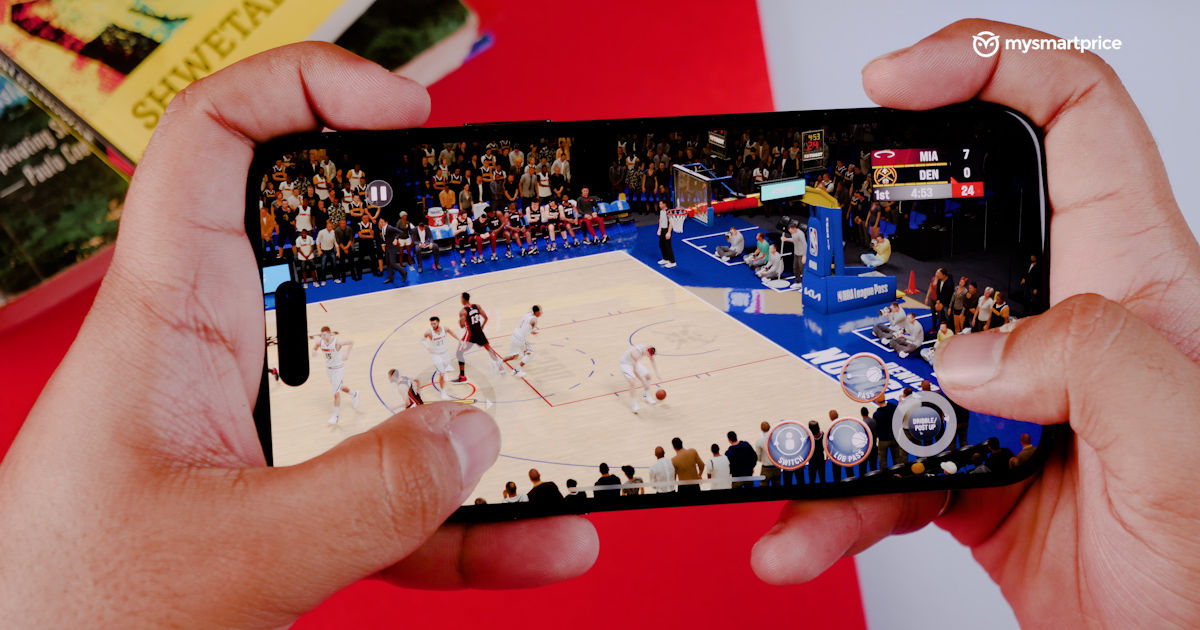 By the end of our review, we received the iOS 17.1 update, but we could not spend too much time with it. It brings the ability for AirDrop transfers to continue over the internet when you step out of AirDrop Range, and a bunch of other bug fixes.
Still, not once did we see the iPhone 15 Plus falter while gaming or under heavy loads. It does heat up a little bit, especially when running the camera, but it never slows down.
But hold on, there are some places where we believe the A16 Bionic seems like a beast stuck in a cage.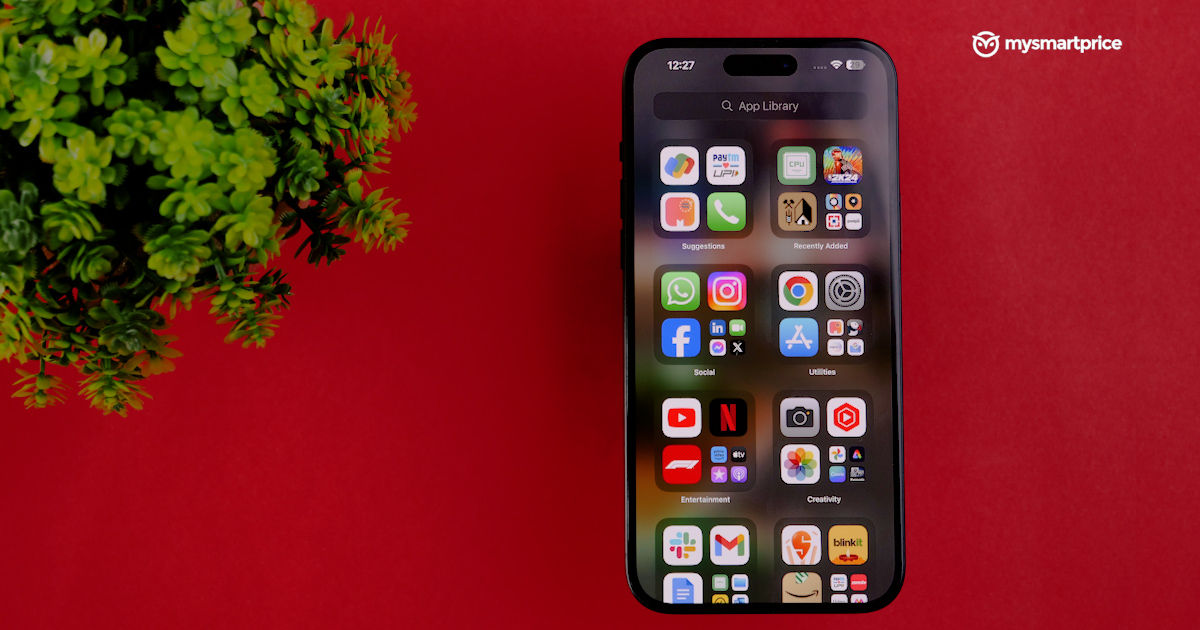 The A16 Bionic was the first Apple chip to have a dedicated Display Engine, which helps with the always-on display (AoD). So, even while it has the prerequisites, the vanilla iPhone 15-series would not let you run the AoD.
Other than this, all the new iOS features are pretty much here. This includes the cool new way of sharing contacts and files by headbutting your iPhone with someone else's (NameDrop) and turning your phone into a mini LED night stand while charging (StandBy).
iPhone 15 Plus Review: Camera
| | |
| --- | --- |
| Cameras | Specifications |
| Primary camera | 48-megapixel, 24 mm, f/1.6 aperture, |
| Ultrawide angle camera | 12-megapixel, 13 mm, f/2.4 aperture and 120° field of view |
| Selfie camera | 12-megapixel camera, f/1.9 aperture |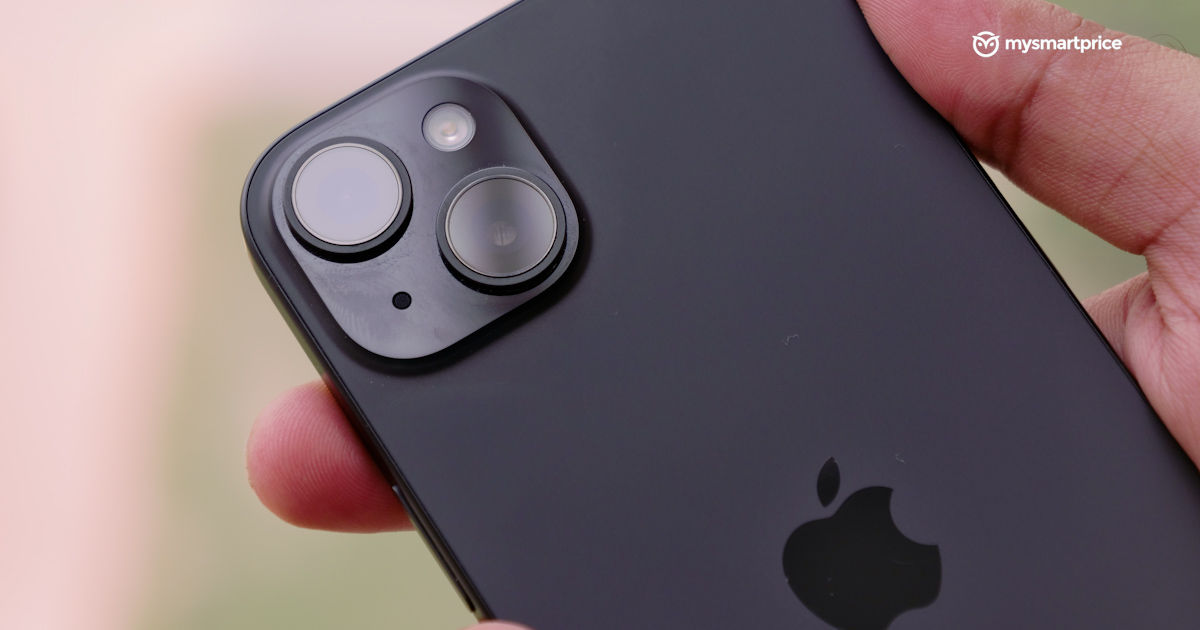 The biggest question surrounding the inclusion of a 48-megapixel primary shooter in the iPhone 15-series is whether or not it can truly click 48-megapixel photos. Short answer – yes, it takes a bit of digging around in the camera settings. But you would not get the ProRAW goodness, which is fine for most people.
Even Android users, who will definitely snob you for 'finally' getting a high-resolution shooter in a basic iPhone, do not fully utilise all of their glorious 200-or-so megapixels.
Here's the logic that the camera follows while clicking photos – all daytime photos clicked in the regular 1x mode are captured as a 24-megapixel shot. Low-light snaps and portraits are all stored in 12-megapixel files.
You would not honestly notice that big of a difference in picture quality coming from a previous iPhone (even 13), except for night-time performance. Daytime shots are crisp with great natural depth of field and dynamic range. Colour reproduction is as real as it gets, even with tricky colours such as purple, except for shots with human subjects. The processing does this thing of making brighter skin tones a bit rosy and darker skin tones a shade warmer.
iPhone 15 Plus Daytime camera samples
Colours are also consistent on all the three cameras, be them on the front or rear.
While there's no telephoto, the primary camera does a decent job of cropping into frames without any obvious blotched pixels.
While the selfie camera doesn't deviate too much from last year, it still clicks classic iPhone selfies with neutral shades, sharpness that's just right and just a little bit of oomph on skin tones. And it doesn't take time to process, even in bad lighting.
iPhone 15 Plus low-light and indoor shots
The real difference reflects in night-time photography. The pixel-binning here provides a larger surface for image capture, especially at night, and this helps in reducing noise. You also get sharper low-light shots. This becomes very apparent when you compare shots taken from its ultra-wide camera in crappy lighting, because of how grainy they appear.
iPhone 15 Plus Review: Battery and charging
| | |
| --- | --- |
| Battery | Specifications |
| Capacity | 4,383mAh (as per CPU-X app) |
| Charging Time | Around 2 hours |
| Charger in the box? | No |
| Other | MagSafe wireless charging up to 15W, Qi wireless charging up to 7.5W, and reverse wired charging. |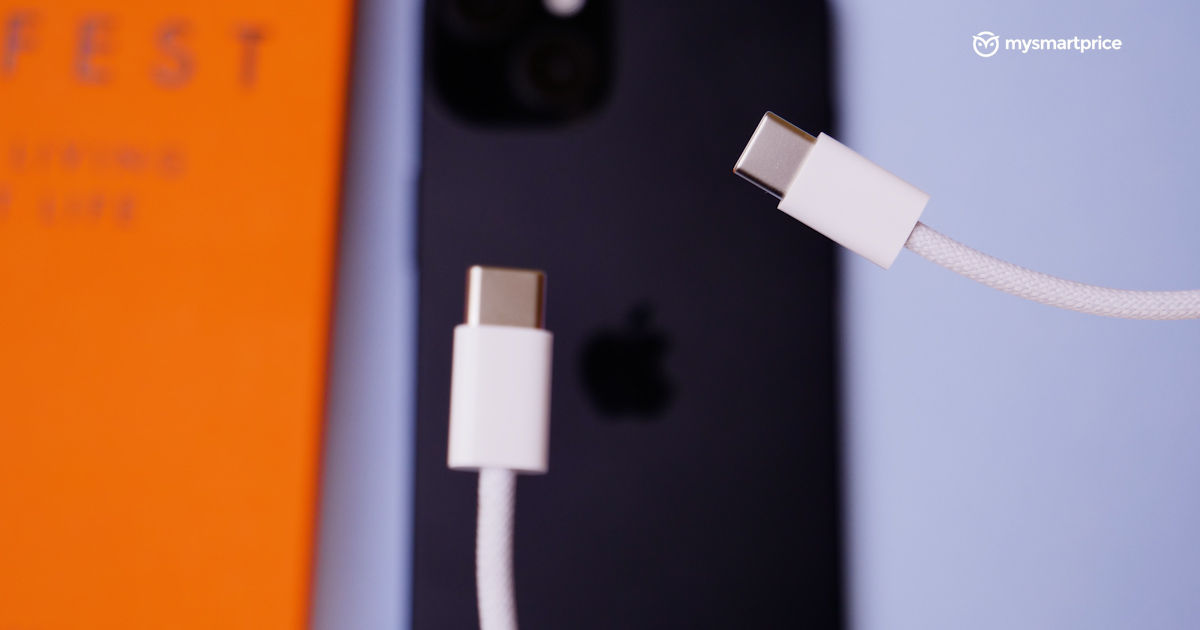 It is near-impossible to kill the iPhone 15 Plus for two days straight on a full charge. What's even more surprising is the fact that even if you charge it only till 40-ish percent, you can go an entire day with battery saver mode enabled. The mode does not take away that much performance (or fun) from you either.
This is an important thing to note, because during the course of this review, I only had the patience to charge it entirely for precisely two days out of fourteen. It heats up enormously to gather a quick burst of charge, taking about half an hour to reach 40 percent, and then it trickle-charges for the next hour and a half. This means you will want to refrain yourself from using the iPhone 15 Plus because of how uncomfortably hot it gets when wired up.
Still, if you're a person who travels a lot, you will absolutely love the battery life on this. The Type-C port works with any cable for charging, which is going to be a life-changing experience for previous iPhone users who will no longer have to meekly ask for a Lightning cable from an Android fanboy.
iPhone 15 Plus Review: Verdict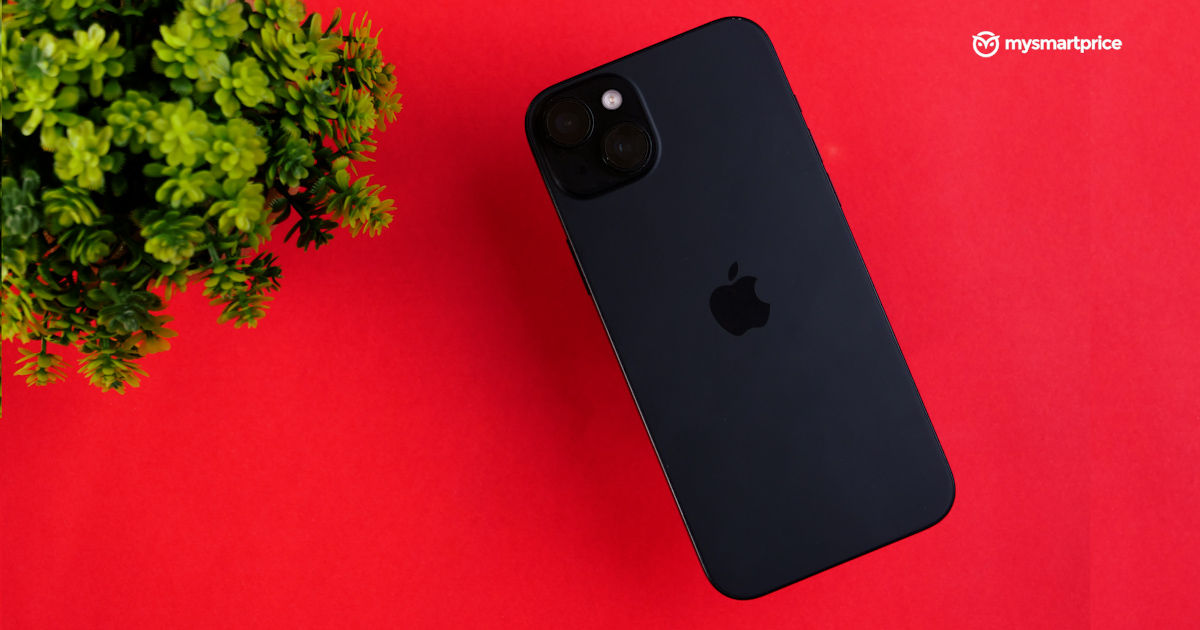 The iPhone 15 Plus is more than enough for most people, be it in size, power or battery. While you should not get too excited about the 48-megapixel camera, however, it just builds on already good optics of the iPhone and tweaks the night time performance. In a lot of ways it's the perfect compromise between a vanilla iPhone 15 and the iPhone 15 Pro – you save up about thirty grand while getting an almost 'Pro'-level performance.
However, Apple has to work out the heating issues during charging by throttling the amount of wattage just a little bit. Many of us like to use our phones when they are charging, and this takes that joy away from us. The slow display may be another turn-off for some people.
Otherwise, I strongly believe the iPhone 15 and iPhone 15 Plus are the best 'base' offerings from Apple since the iPhone 5. They are well-rounded phones, packed to the gills with a ton of features while justifying the price tag.
The inclusion of Type-C port is probably the first deviation from the 'Apple-way' in a long time. It will be pivotal in bringing down the high walls that protect the iPhones from Androids, ultimately helping Apple to acquire an even larger share of Android users.