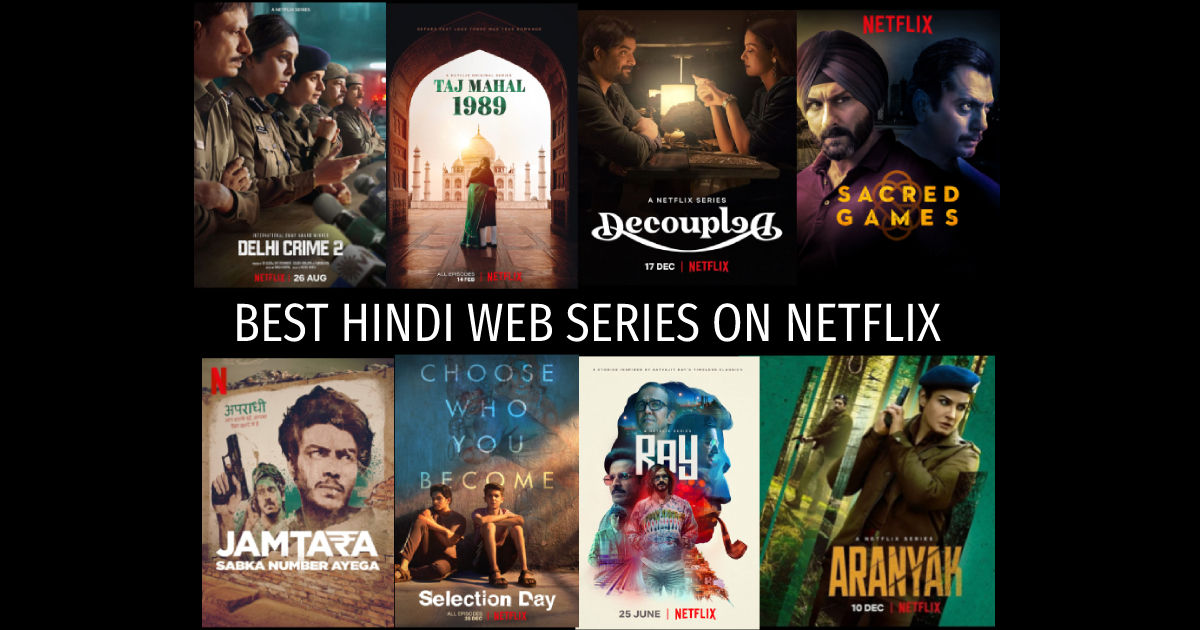 Netflix has a veritable range of Hindi content for you to watch. From action to drama, romance, and mystery, there are shows spanning every genre, from crime to romance and everything in between. Since its launch, Netflix has become India's most popular and watched OTT. Even though it is the most expensive OTT in India, it is widely watched.
Here is a list of the best Hindi web series currently available on Netflix as of June 2023. These gripping and highly acclaimed shows have captivated audiences with their compelling storytelling, brilliant performances, and engaging plots. Scoop, a thrilling crime drama, takes viewers on a journey through the underworld of Mumbai and their connections with the Press. Delhi Crime offers a gripping portrayal of the aftermath of a heinous crime in the capital city. Aranyak, a captivating mystery series, delves into the dark secrets of a small town. These are just a few examples of the exceptional Hindi web series that await you on Netflix. Get ready for some binge-worthy entertainment!
Best Hindi Web Series on Netflix You Shouldn't Miss
| | | |
| --- | --- | --- |
| Web Series | IMDb Rating | Genre |
| Scoop | 7.7 | Crime |
| Sacred games | 8.5 | Thriller |
| Delhi crime | 8.5 | Crime |
| Aranyak | 7.8 | Crime |
| Decoupled | 7.9 | RomCom |
| Ray | 7.1 | Drama |
| Taj Mahal 1989 | 7.4 | Historical |
| Selection day | 7.3 | Drama |
| Jamtara | 7.2 | Crime |
| Ghoul | 7 | Horror |
| Bard of Blood | 6.8 | Crime |
| Masaba Masaba | 6.7 | RomCom |
Scoop
When a journalist is brutally murdered, a crime reporter finds herself at the heart of a complex web involving the police, media, and the notorious Mumbai underworld. As she embarks on a quest for justice, she becomes entangled in a gripping tale of power, corruption, and the relentless pursuit of truth. In a city where the lines between good and evil blur, she must navigate treacherous waters and confront the dark forces that threaten to silence her. Will she succeed in unravelling the truth and bringing the culprits to justice, or will she become another victim in this dangerous game? Prepare for a thrilling and suspenseful ride as this courageous reporter battles against all odds to expose the shocking reality lurking beneath the surface.
Scoop IMDb Rating: 7.7
Cast: Karishma Tanna, Harman Baweja, Mohd. Zeeshan Ayyub
Release Date: 2nd June 2023
Genre: Action, Crime, Drama
Director: Hansal Mehta
Sacred Games
One of the finest web series to come out on Netflix, this show has action, drama, and crime in equal measure. We are introduced to an upstanding Mumbai police officer Sartaj Singh, and a gangster called Ganesh Gaitonde, who thinks himself to be God. Take a journey through mystery, deep legal corruption, drama, and more. Sartaj Singh's honesty and discipline are constant in the face of deception, corruption and killing, in which he somehow finds himself related to the criminal. After receiving some threats from the mafia, this honest cop does whatever it takes to safeguard Mumbai from calamity. This show has an ensemble cast and 2 full seasons on Netflix, so watch it today.
Sacred Games IMDb Rating: 8.5
Cast: Saif Ali Khan, Nawazuddin Siddiqui, Radhika Apte, Neeraj Kabi, Shalini Vatsa, Luke Kenny, Aamir Bashir, Jatin Sarna, Elnaaz Norouzi, Chittaranjan Tripathy, Pankaj Tripathi, Jitendra Joshi, Surveen Chawla, Kubbra Sait, and others.
Release Date: 5 July 2018
Genre: Action, Crime, Drama
Director: Varun Grover
Also Read: Best Hindi Movies on Netflix Right Now
Delhi Crime
This show has 2 seasons. The first one deals with the horrific gangrape of a medical student aboard a moving bus in the capital. The second season deals with a serial killer running amok in the capital. The show may be a little emotionally taxing to watch because of the subject matter it deals in. The gang rape case shook the nation, and several amendments were made to rape laws. The student was brutalized inhumanly, and the fallout of that rape is depicted well in this story. In the second season, we meet a serial killer making Delhi his hunting ground.
Delhi Crime IMDB Rating: 8.5
Cast: Rajesh Tailang, Shefali Shah, Rasika Dugal, Jaya Bhattacharya, Adil Hussain, and others
Release Date: 22 March 2019
Genre: Crime, Drama
Director: Richie Mehta
Aranyak
Premiered in 2021, this drama has elements of crime, mystery, suspense, thriller, investigation, and action. This show marks the OTT debut for Raveena Tandon. Aranyak is a crime-based web series and supernatural thriller directed by Vinay Waukul and produced by Roy Kapur Films and Ramesh Sippy Entertainment. Rohan Sippy is the showrunner. The show tells us about a mythological creature called the 'nar tendua" or "man leopard" that preys on human victims. Actually, it is a legend cultivated by a serial killer who targets victims according to his whims.
Aranyak IMDb Rating: 7.8
Cast: Parambrata Chattopadhyay, Raveena Tandon, Ashutosh Rana, Zakhir Hussain, Meghna Malik, and more.
Release Date: 10 Dec 2021
Genre: Crime, Drama, Mystery
Director: Vinay Waikul
Also Read: New Bollywood Movies on OTT with Release Dates
Decoupled
Get ready to laugh your socks off. This is a romantic and humorous show. This story introduces us to an urban couple trying to mend their deteriorating relationship. The central characters in this web series are a rich but unsuccessful writer in Delhi and an intelligent and successful corporate worker. They are together only for the sake of their 8-year-old child. The drama that ensues shows their complex and amusing world.
Decoupled IMDb Rating: 7.9
Cast: R Madhavan, Surveen Chawla, Dilnaz Irani and more.
Release Date: 17 December 2021
Genre: Comedy, Drama
Director: Manu Joseph
Ray
Satyajit Ray is a bonafide legend. Adapting his works on the small screen would be quite exciting to watch. Ray has Manoj Bajpayee in the titular role and is an anthology with 4 stories revolving around 4 main lead characters. This show is an intense and exciting watch based on stories by the great auteur, Satyajit Ray.
Ray IMDb Rating: 7.1
Cast: Major Bajpayee, Ali Zafar, Harshvardhan Kapoor, and more.
Release Date: 25 June 2021
Genre: Crime, Drama, Thriller
Director: Sayantan Mukherjee
Also Read: Upcoming Bollywood Movies on OTT with Release Dates
Taj Mahal 1989
This is a 7-episode Netflix original show based on people from Lucknow University. It is a sweet depiction of a different interpretation of love as it was interpreted by different characters 3 decades ago. The story revolves around Akhtar, a Philosophy professor, and his wife Sarita, a Physics professor, and their troubled marriage. Parallely, there's a love triangle between three students, Angad, Dharam, and Rashmi, that runs concurrently with the couple's story and happens in the same University area. Each of the four couples in the show tries to create their own version of love, their own Taj Mahal, in a world without digital dating applications. Through the show, the different characters try to define love in various ways ranging from old-school romance to love in poetry books to plain desire.
Taj Mahal 1989 IMDb Rating: 7.4.
Cast: Neeraj Kabi, Geetanjali Kulkarni, Danish Hussain and more.
Release Date: 14 February 2020
Genre: Comedy, Drama, Romance
Director: Pushpendra Nath Misra
Selection Day
This show is based on Aravind Adiga's novel of the same name, and the second season's trailer to has just been released. The cast performs well. The story follows Manju and Radha, two small-town teenagers who want to be international cricketers. Their father, who is also their coach, is a hard taskmaster. He dispatches them to Mumbai to participate in the domestic league because he wants them to succeed as cricketers. The show has a tight plot with some excellent writing and is a must-watch.
Selection Day IMDb Rating: 7.3
Cast: Mohammed Samad, Mahesh Manjrekar, Ratna Pathak Shah, Rajesh Tailang and more.
Release Date: 28 December 2018
Genre: Sport
Director: Karan Boolani
Jamtara
This has to be one of the most underrated shows on TV, and that's only because it doesn't have a star cast. This is an original 10-episode web series based on the real events of a Jharkhand phishing scheme. The story transports you to the dusty locales of Jharkhand, where Rocky and Sunny, two cousins, and their friends cheat thousands of individuals by posing as bank officials, trying to obtain private information about their bank accounts. Rocky harbours political aspirations, while Sunny wants to be the richest man in Jamtara. Politics, capitalism, digital crime, illegal business, and political scams all come together in this show, exposing one of society's harshest realities. Seeing this show, you wonder what the consequences will be if under-educated rebels are given free internet access.
Jamtara IMDb Rating: 7.2
Cast: Amit Sial, Sparsh Srivastav, Monika Panwar and more.
Release Date: 10 January 2020
Genre: Crime
Director: Soumendra Padhi
Also Read: Bollywood Box Office Collection Report 2023
Ghoul
In this horror web series, we are introduced to an army interrogation center where a feared terrorist has been kept prisoner. This prisoner has more secrets than meets the eye. Ghoul has utilized smart themes and a decent amount of mythology to create a plot that blurs the borders between redemption and revenge, from an immediate future time to a reverse character arc. The convicts finally turn the tables on the interrogator, revealing his dirty secrets. When the interrogator finds a ghoul living inside a prisoner, the story takes another turn.
Ghoul IMDb Rating: 7
Cast: Manav Kaul, Radhika Apte, Rohit Pathak, Kailash Kumar, Sunil Soni and more.
Release Date: 24th August 2018.
Genre: Drama, fantasy, horror
Director: Patrick Graham
Bard of Blood
Red Chillies Entertainment has produced this 5-episode series which follows Kabir Anand, a humiliated intelligence operative who returns to the field to save agents kidnapped by the Taliban. This is a fictitious Indian spy thriller based on a book of the same name by Bilal Siddiqi. Ribhu Dasgupta is the director. The drama is set in the volatile Pakistani province of Balochistan and deals with cross-border terrorism, with renegade Indian agents battling with Pakistani intelligence. This story, however perpetuates xenophobic stereotypes and Islamophobic cliches through its portrayal of characters.
Bard of Blood IMDb Rating: 6.8
Cast: Emraan Hashmi, Sobhita Dhulipala, Jaideep Ahlawat, Shishir Sharma and more.
Release Date: 27th September 2019.
Genre: Action, Adventure, Drama
Director: Ribhu Dasgupta.
Masaba Masaba
This is a lighthearted fictitious account of the lives of Masaba Gupta and her mother Neena Gupta. This show is based on Masaba's life and is the directorial venture of Sonam Nair, who has also written the story. This is a refreshing show that looks at their lives from a unique angle.
Masaba Masaba IMDb Rating: 6.7
Cast: Neena Gupta, Masaba Gupta and more.
Masaba Masaba Release Date: 28th August 2020
Genre: Comedy, Drama
Director: Sonam Nair
With this, we wrap our list of the best Hindi Web Series on Netflix! Check them out.