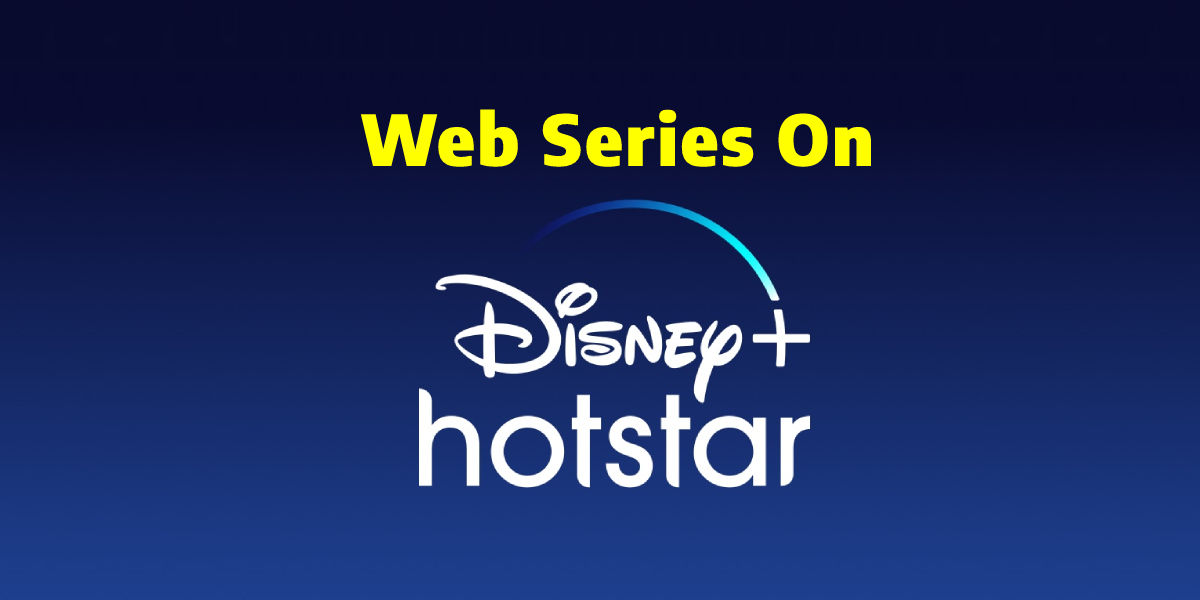 Hotstar, an immensely popular streaming platform in India, offers extensive web series spanning diverse genres. From gritty crime thrillers to heart-wrenching romantic dramas and rib-tickling comedies to grand historical epics, the platform encompasses an array of content that caters to everyone's fancy.
The platform's prowess lies in its ability to appeal to an eclectic mix of preferences and tastes. Be it someone who enjoys global content or regional shows, Hotstar offers something that piques everyone's interest. The platform boasts an assortment of original productions alongside licensed content from some of the most prominent studios and production houses globally. Some of the most sought-after web series on Hotstar include Eclipse, Special Ops, and Aarya, among others. Check out our complete list of the best Web Series on Hotstar based on their IMDb Rating!
List of Best Web Series on Hotstar
| | |
| --- | --- |
| Show Name | IMDb rating |
| Kana Kaanum Kaalangal | 8.8 |
| | 8.3 |
| Special Ops 1.5- The Himmat Story | 8.3 |
| 1232 kms | 8.2 |
| Aarya | 7.8 |
| Dahan: Raakan Ka Rahasya | 7.1 |
| 1962 – The War in the Hills | 6 |
| Fall | 5.4 |
| Anger Tales | 5.3 |
| The Empire | 4.6 |
| Moving in with Malaika | 4.2 |
| Live Telecast | 4 |
| Hansika's Love Shaadi Drama | 2.9 |
| Anupama – Namaste America | 2.7 |
Kana Kaanum Kaalangal (2022)
The story follows a conventional school that reopens after an extended break and encounters various problems within the premises. Now it is up to the students to join hands to save their school. This story is set in a school with 12 students split into two groups. The plot shows us the rivalry between these two groups and the consequences of it. Everyday happenings of student life are shown in this series, like healthy competition, family matters, jealousy, fights, ego, love, and friendship.
Cast: Aashik Gopinath, Sandy Master, Kalaiarasan Harikrishnan, Aravind Seiju, Deepika Venkatachalam, Teja Venkatesh, Bharath Kumar, Raja Vetri Prabhu, Irfan, VJ Sangeetha, Vishwa Mithran, Kpy Tsk, Akshathaa Ajit, Pranika Dhakshu, Parvez Musharaf, Aegan, Deepika Damu, VJ Kalyani
Duration: NA
Genre: Drama
Director: Prabhu Radhakrishnan, Kumar Raja, Tamil Bharathi, G. Anbazhagan, GV Tamil Dasan, Nalan Kumarasamy, Praveen Bennett, S Anand Babu,
Producer: Raghavesh Asthana, R. Rajeshwari, R Venkatesh Babu, Praveen Bennett, Nikila Rao, Sunil Takur
Also Read: New Movie Releases on Disney+ Hotstar
Grahan
– (2021)
This story is set in 1984. We see a tender love story succumb to the anti-Sikh riots. Fast forward to 2016, and we have IPS officer Amrita Singh, who discovers a secret connecting the past to her present. Amrita Singh is fed up with political interference at work and has decided to marry her longtime beau in Canada. That is when she learns that Gursevak Singh, her father, a Sikh, was a prime accused in the 1984 anti-Sikh riots in the quiet industrial town of Bokaro, Jharkhand. She decides to uncover the truth. Through her investigation, a tender tale of love, trust, betrayal, and sacrifice emerges, where we are privy to a beautiful old-world romance of Rishi and Manu, a Hindu boy and Sikh girl, in 1984. As the show goes on, secrets from the past of identities and relationships emerge, while 1984 and 2016 have some chilling and uncanny similarities.
Cast: Zoya Hussain, Anshuman Pushkar, Pawan Malhotra, Wamiqa Gabbi, Teekam Joshi, Namrata Varshney, Satyakam Anand, Sahidur Rahaman, Aaryaa Sharma, Sukhwinder Chahal, Abhinav Pateriya, Neelu Dogra, Kapil Tilhari, Sudhanva Deshpande, Sanjeev Srivastava, Abhishek Tripathi, Saharsh Kumar Shukla
Duration: NA
Genre: Action, Drama, History
Director: Ranjan Chandel
Producer: Ajay G. Rai
Special Ops 1.5: The Himmat Story (2021)
The story begins after the 2001 Parliament attack when a young and idealistic RAW officer has a theory. This is Himmat Singh's story. This Hindi action thriller fiction web series has been created and directed by Neeraj Pandey and is set in the Special Ops Universe, with Kay Kay Menon playing the role of Himmat Singh. In the first episode, Abbas Sheikh gets summoned by auditors to evaluate Himmat Singh's career as his retirement comes closer. After the 2001 Parliament attack, Himmat Singh tracks the main suspect Ikhlaq Khan to Delhi. Despite getting direct orders from his seniors not to involve himself in the case, Abbas disobeys these orders and helps Himmat. However, Ikhlaq escapes. The story moves on from there with ample twists and turns. This is one binge-worthy show.
Cast: Kay Kay Menon, Vinay Pathak, Aftab Shivdasani, Aadil Khan, Gautami Kapoor, Kaliprasad Mukherjee, Parmeet Sethi, Aishwarya Sushmita, Purnendu Bhattacharya, Shivjyoti Rajput, Andrew Grace, Vijay Vikram Singh, Santanu Ghatak, Nikhat Khan, Saurabh Mukhija, Anup Sharma, Basnet Romila.
Duration: NA
Genre: Action, Crime, Drama
Director: Neeraj Pandey, Shivam Nair
Producer: Shital Bhatia
Also Read: New Hindi Web Series List 2023
Aarya (2020)
Aarya's world suddenly turns upside down. Will she become the very thing she hated? To what extent can she go to protect her family? Aarya is a caring mother and a loving wife. However, she is also quite naive and unaware of the illegal business her husband is a part of. Aarya's husband, Tej Sareen, a pharma baron, gets mysteriously killed, and things start going bad for their family. The illegal syndicates and drug mafia want the whole family dead. Aarya joins the gang. The show showcases how she becomes a mafia queen who takes revenge against those who killed her husband while taking care of her three kids.
Cast: Sushmita Sen, Ankur Bhatia, Vikas Kumar, Virti Vaghani, Viren Vazirani, Jayant Kripalani, Sikander Kher, Namit Das, Maya Sarao, Sohaila Kapur, Pratyaksh Panwar, Alexx O'Nell, Priyasha Bhardwaj, Gargi Mangesh Sawant, Jagdeesh Rajpurohit, Vishwajeet Pradhan, Aakash Khurana, Geetanjali Kulkarni.
Duration: 51 min
Genre: Crime, Drama, Thriller
Director: Ram Madhvani, Sandeep Modi, Vinod Rawat, Kapil Sharma
Producer: Ram Madhvani, Amita Madhvani, Endemol Shine India
Dahan: Raakan Ka Rahasya (2022)
A disgraced IAS officer is on a mission to vindicate herself and takes up a strange case in Shilaspura, known for occult practices. This Indian Hindi-language supernatural horror television series is the directorial venture of Vikranth Pawar and boasts an ensemble cast of some of our generation's finest actors.
Cast: Ankur Nayyar, Happy Ranajit, Saurabh Shukla, Rajesh Tailang, Sahidur Rahaman, Pankaj Sharma, Tisca Chopra, Sadanand Patil, Sameer Anthwal, Mukesh Tiwari, Lehar Khan, Rohan Joshi, Rahul Tiwari, Bhumika Dube,
Duration: 49 min
Genre: Thriller
Director: Vikranth Pawar.
Producer: Mahesh Korade, Deepak Dhar, Rishi Negi
1232 kms (2021)
The Covid-19 lockdown affected all of us, but the class of people who suffered the most must be the labourers. There were many instances of people walking thousands of kilometres to reach home. The story of this show is set weeks after the nationwide Covid-19 lockdown, when seven migrant workers, on the brink of starvation, decide to go to their village just like so many others. The challenges they face on the way form the basis of the story. Look at the world through the eyes of a migrant worker.
Cast: Ritesh Kumar Pandit, Ashish Kumar, Ram Babu Pandit, Mukesh Kumar, Krishna, Sonu Kumar, Sandeep Kumar, and Vinod Kapri.
Duration: 1h 26 min
Genre: Documentary
Director: Vinod Kapri
Producer: Vishal Bhardwaj
Anger Tales (2023)
The story follows a bald young man who suffers from low self-esteem and is constantly mocked and written off by people around him. Then there's a vegetarian family, where a female character has been given medical advice to eat non-veg for health purposes. This doesn't sit well with the orthodox male person. Then there's a married couple quarrel because the wife picks up arguments with an annoying woman in the neighbourhood. And in the final track, we have a gruff youngster who leads a gang of movie fans, raising slogans and fighting another gang of bullies.
Cast: Venkatesh Maha, Madonna Sebastian, Ravindra Vijay, Bindhu Madhavi, Tharun Bhascker, Phani Acharya, Suhas, Moin, Sriram Reddy Polasane, Ramesh Konambhotla
Duration: NA
Genre: Family
Director: Prabhala Tilak
Producer: Sharath Chandra
Also Read: Best Web Series to Watch on OTT in 2023
The Empire – (2021)
The Mughal empire was famous, and for a good reason. Many iconic rulers had even more iconic children that surpassed all their achievements and how. This show focuses on the rise and fall of the Mughal Empire through generations, from Babur to Aurangzeb. The story begins when the young prince Babur gets crowned emperor at a tender age after his father's death. His grandmother provides counsel in his rule. He starts off with a campaign for a North Indian conquest through hardships, struggles among his court members, and betrayals. Relive the epic Mughal era through this show.
Cast: Vikky Kumar, Shabana Azmi, Dino Morea, Kunal Kapoor, Aditya Seal, Drashti Dhami, Rahul Dev, Sahher Bambba, Toranj Kayvon, Imaaduddin Shah, Kallirroi Tziafeta, Charu Shankar, Naved Aslam, Anuj Singh Duhan, Akansha Sareen, Akshay Nagori, Rishabh Sawhney, Varun Buddhadev
Duration: NA
Genre: Action, Drama, History
Director: Mitakshara Kumar
Producer: Monisha Advani, Madhu Bhojwani
Hansika's Love Shaadi Drama (2023)
This story follows the life of famous actress Hansika Motwani as she prepares for her marriage to the love of her life Sohael Khaturiya. This show has received generally positive reviews for it lays bare the life of Motwani for interested audiences. Watch this reality show to get a unique perspective of her wedding preparations.
Cast: Hansika Motwani
Duration: NA
Genre: Reality Show.
Director: NA
Producer: NA
Live Telecast- (2021)
The show follows TV show director Jenifer Matthew, who will go to any lengths to win the TRP game. Her golden opportunity might be a supposedly haunted house in a sleepy hill station. In this story, we are introduced to a group of friends, Jenny, Ashwin, Aravind, Kanan, Selma, Saleem, Volga, Kalai, and Shekhar, who run a reality show called "Dark Tales" on Nam TV. The show's format is a parody of the controversial Tamil talk show Solvathellam Unmai, in which people talk about personal problems. However, Dark Tales invites people to share their paranormal experiences.
Cast: Kajal Aggarwal, Yogi Babu, Anandhi, Premgi Amaren, Vaibhav Reddy, Akash Nath,
Duration: 32 min
Genre: Horror
Director: Venkat Prabhu
Producer: V Rajalakshmi
1962 – The War in the Hills- (2021)
This show takes us back to the Sino-Indian war, in which 126 Indians bravely held onto a strategic pass against around 3000 enemy soldiers. This tale was of abundant courage, a fight till the last bullet. This show is a fictional take on one of the fiercest battles ever. The leader of the Indian soldiers, Major Suraj Singh, hailed from the village of Rewari. This is also a take on overcoming personal issues, life beyond army duty, and their times of love, longing, heartbreak, and celebration.
Cast: Bijou Thaangjam, Jay Parab, Abhay Deol, Mahie Gill, Sumeet Vyas, Vineet Sharma, Rochelle Rao, Puja Sawant, Anup Soni, Prem Dharmadhikari, Karim Hajee, Satya Manjrekar, Rohan Gandotra, Diganta Hazarika, Pallavi Kulkarni, Hemal Ingle,
Duration: 45 min
Genre: Action, Adventure, Drama
Director: Mahesh Manjrekar
Producer: Ajay Chacko
Moving in with Malaika – (2022)
Malaika Arora is one of the most desirable celebrities in India. A dancer/fitness enthusiast/actress, she is on most men's minds in the country. Each day, there are dozens of photos of hers floating around on the internet, her leaving the gym, doing yoga, and a bunch of myriad other things. So it was only natural that she got a reality show in her name. Moving in with Malaika is what the title says. You get a sneak peek into the personal and professional life of the impeccable diva and get a front-row seat as she struts her stuff, all culminating in a night of stand-up delivered by – you guessed it, her. Don't miss this chance to be a part of Malaika's life.
Cast: Malaika Arora, Amrita Arora, Nora Fatehi, Karan Johar, Neha Dhupia, Kareena Kapoor, Farah Khan, Bharti Singh, Kalyani Joshi, Terence Lewis.
Duration: NA
Genre: Reality TV
Director: Malaika Arora
Producer: NA
Fall (2022)
This 2022 Indian Tamil-language thriller drama streaming television series is an official remake of Vertige, a Canadian series. Siddharth Ramaswamy has donned the director's hat for this show which has been produced under the banners of Circle Box Entertainment and Banijay Asia. In this show, we are introduced to a young woman who has been in a coma ever since she fell off the roof of her family business 3 months ago. Premiering on 9th December 2022, this show has 7 episodes.
Cast: Anjali, S.P.B. Charan, Sonia Agarwal, Santhosh Prathap, Thalaivasal Vijay, Poornima Jayaram, Sastika Rajendran, Namita Krishnamurthy, Raj Mohan, Ajith Koshy
Duration: NA
Genre: Drama, Mystery, Thriller
Director: Siddharth Ramaswamy
Producer: Deepak Dhar, S. P. Charan
Anupama: Namaste America (2022)
The story follows Anupama, who seventeen years ago, gets the chance of a lifetime to live her dreams. However, now she has to take a tough call – a choice between her career and her family. This Indian Hindi-language drama television series aired first on 25th April 2022 on Disney+Hotstar. Rajan Shahi and Ishika Sahi under the banner of Director Kut Productions.
Cast: Sudhanshu Pandey, Roopali Ganguly, Puja Banerjee, Sarita Joshi, Alpana Buch, Vidvaan Sharma, Gaurav Khanna, Dheer Bhanushali.
Duration:20 mins
Genre: Drama
Director: Romesh Kalra
Producer: Rajan Shahi, Ishika Shahi
That does it for the web series on Hotstar. So which one will you start with?