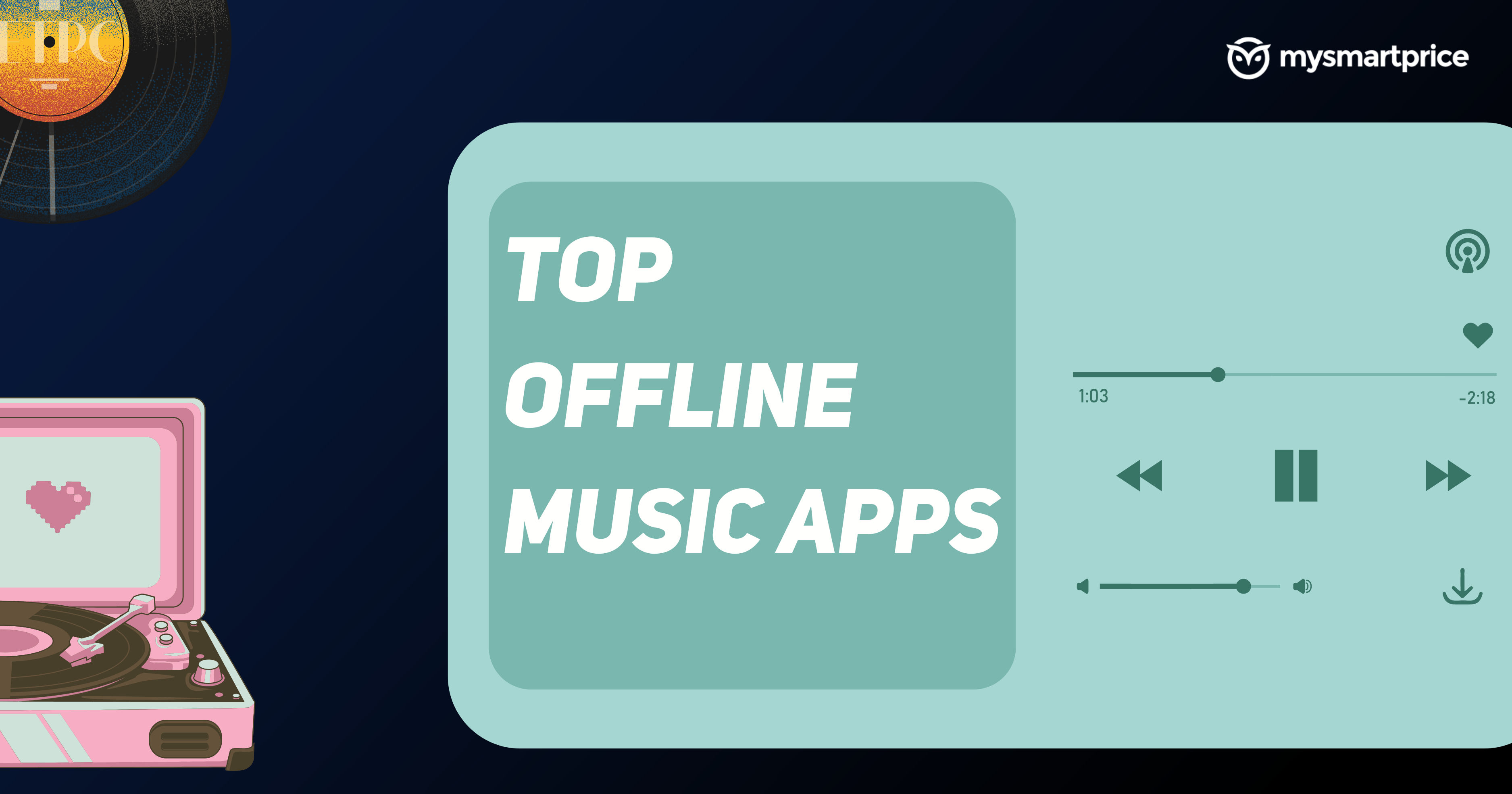 The advent of music streaming in India was largely sparked by the democratisation of availability of data in India. Since the advent of Reliance Jio in 2016, super-low price of data, coupled with nation-wide network availability for the most part, prompted users to stream services online.
However, despite the convenience of accessing pretty much any song, anywhere, apps for offline music listening have always remained in vogue. These apps deliver a wide range of features and experiences, with each having its own strength. On this note, here's looking at the top 10 apps for offline music.
Best Apps for Listening to Music Offline
| | | | |
| --- | --- | --- | --- |
| App Name | Rating | Free/Paid | Availability |
| AIMP | 4.1 (4.5 lakh+ votes) | Free | Android |
| JetAudio | 4.2 (1.8 lakh+ votes) | Free | Android and iOS |
| Vox | 4.2 (3,100+ votes) | Free; Optional premium upgrade | iOS |
| Cloud Music Player | 4.2 (15,200+ votes) | Free | iOS |
| Rocket Player | 4.3 (3 lakh+ votes) | Free; Paid tier to remove ads | Android |
| PowerAmp | 4.3 (14 lakh+ votes) | Free trial; Paid for full version | Android |
| Melodista | 4.5 (14,300+ votes) | Free; Optional Pro upgrade | iOS |
| Apple Music | 3.9 (5.5 lakh+ votes) | Free for local; Paid only for downloaded | Android and iOS |
| Spotify | 4.4 (2.9 crore+ votes) | Paid only for downloaded | Android and iOS |
| YouTube Music | 4.5 (49.3 lakh+ votes) | Paid only for downloaded | Android and iOS |
AIMP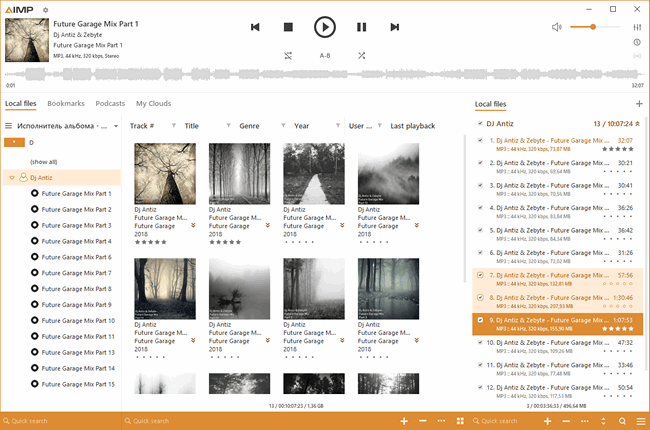 A refreshingly clean app that puts the focus entirely on music, AIMP is one of the very best apps for offline music sync, streaming and downloads. To be sure, AIMP is an old-school, dedicated music player app (remember good old Winamp?), and is not a streaming service at all.
Some of the key highlights of AIMP include its ability to adjust themes and colours, the waveform seeks that lets you 'see' the song you're playing, saving audio tracks to files, adding tags to an offline music file, and multiple different breakdowns of playlists to organise all your offline music. It is also the most reviewed non-Big Tech music app in this list and has over 10 million downloads.
Features
Ability to add metadata to audio files
Customisable themes
Easy to access equaliser configurator
Download: AIMP (Android)
JetAudio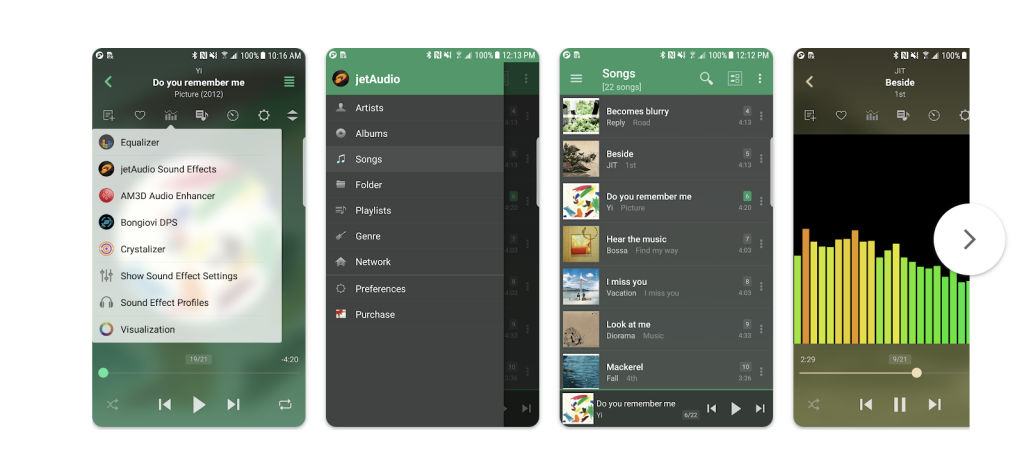 In the pre-internet era in India, Cowon was a popular brand among the niche gadget-loving audience for their portable music players. The brand's expertise in audio continues even today, with occasional launches of niche, high-resolution audio players.
A more accessible way of getting your hands on this expertise through your smartphones is through JetAudio's offline music player app. The latter offers a fantastic equaliser that you can use to fine-tune the audio output, as well as custom sound effects pre-tuned by JetAudio's makers. The free tier of the app offers good-enough usability, making it one of the best apps for offline music listening — especially for audiophiles.
Features
Great set of audio customisability
Free version of app offers enough features
One of the most reliable names in consumer audio
Download: JetAudio (Android | iOS)
Vox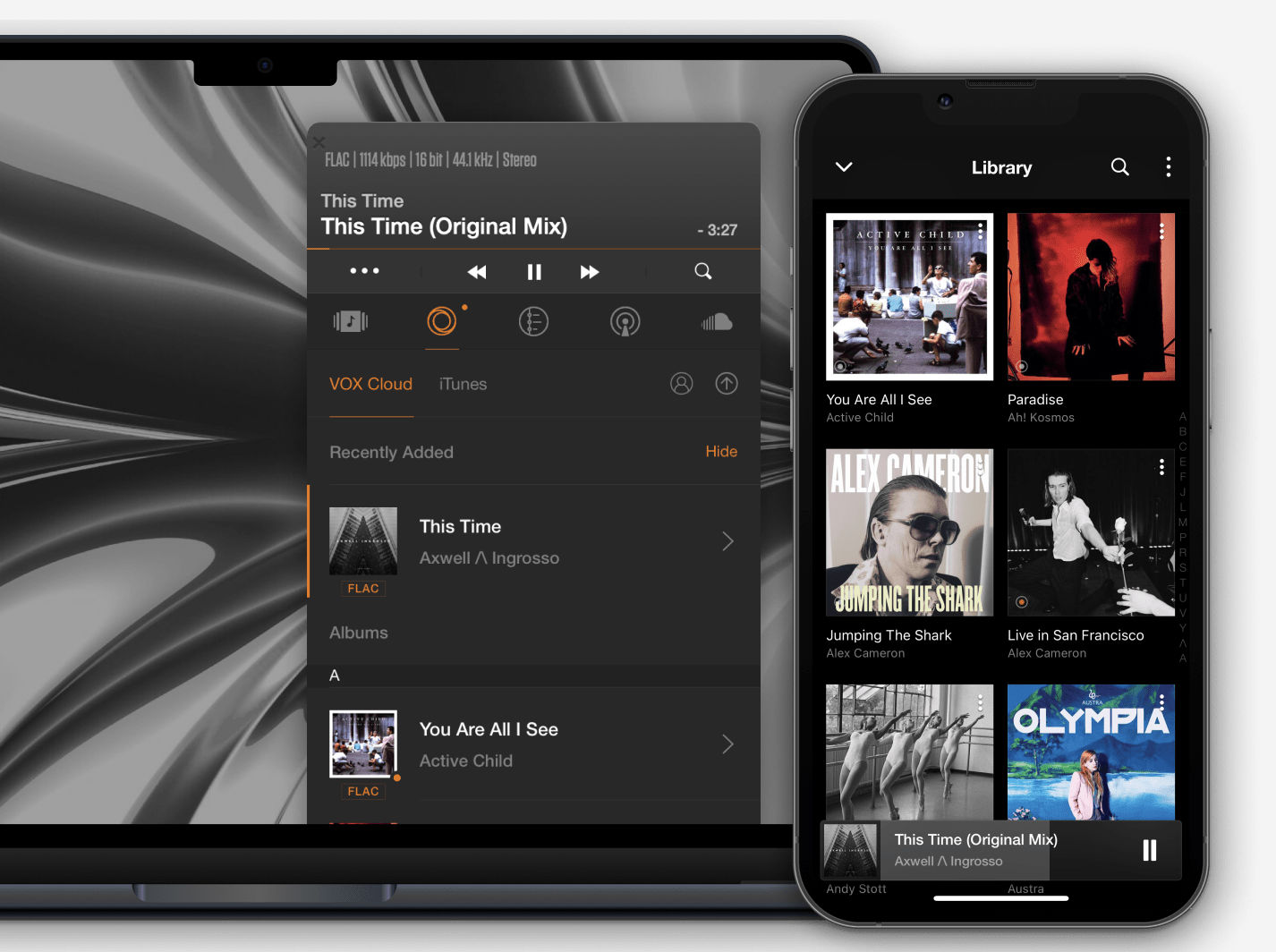 Built specifically for Apple users, Vox advertises itself as a specialist high resolution music player. Straight off the bat, this audiophile-centric offline music player supports myriad high-res formats, which include FLAC, ALAC, DSD and WAV, among others. But, that's not all — Vox has a minimalist interface that will please those with design priorities. It also has the ability to sync with your Soundcloud and Spotify accounts when you're connected to the internet, giving you a one-stop app to listen to your local high-res audio files as well as stream songs when you so desire. Premium users also get access to cloud storage, which also supports lossless offline streaming.
Features
Excellent support for high-res local tracks
Premium users get cloud-based offline lossless playback
Syncs with Soundcloud and Spotify accounts
Download: Vox (iOS)
Cloud Music Player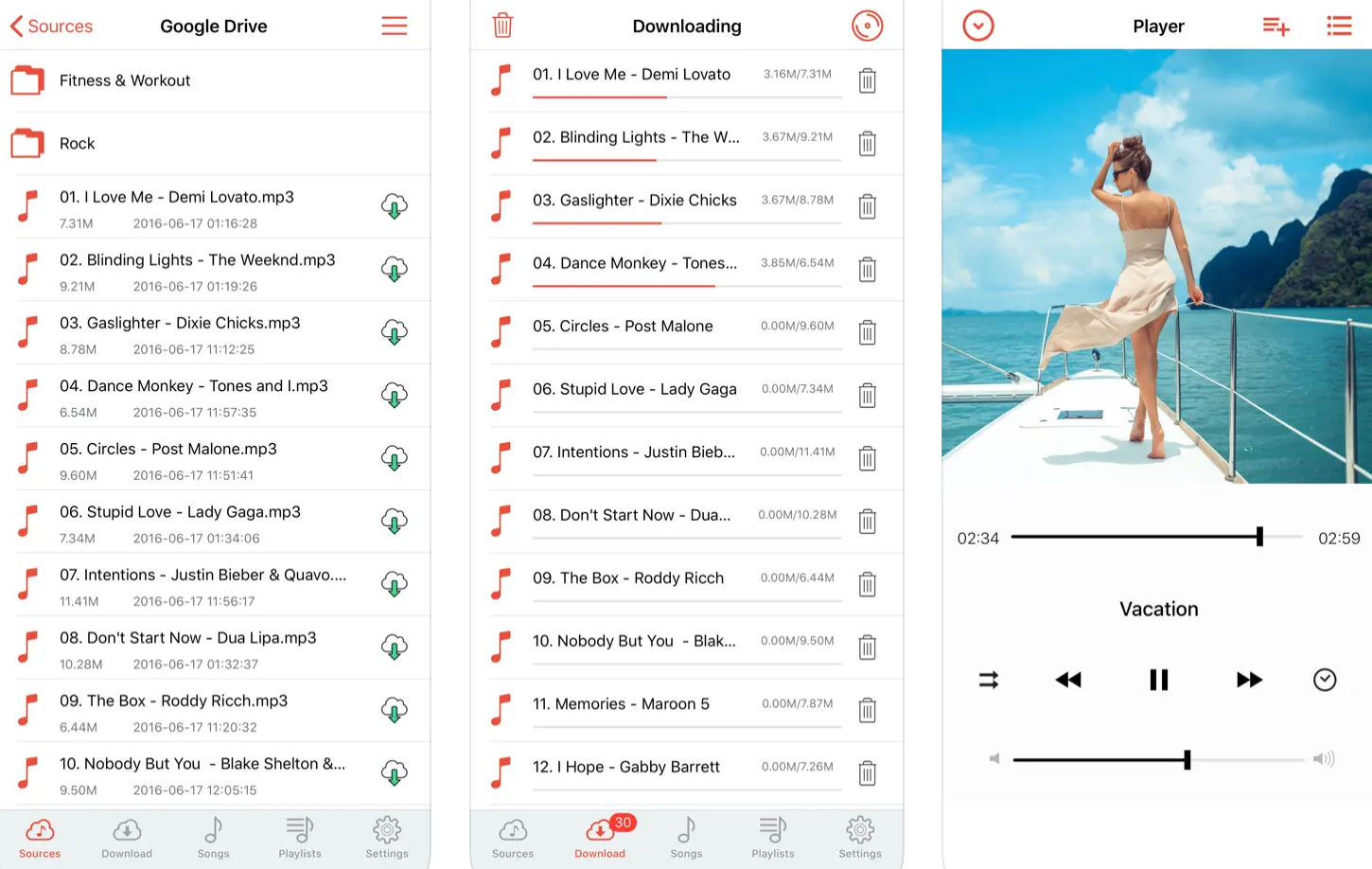 As the name would suggest, Cloud Music Player is designed specifically for those who store their digital audio files on cloud folders and drives.
How it works is that once you download it, the very simple interface will point you to login and sync with your cloud accounts. The three cloud services that are supported by Cloud Music Player include Google Drive, Dropbox and Microsoft's OneDrive, giving you pretty much all mainstream cloud platforms.
Once synced, you can download copies of your audio tracks to your phone for offline streaming. The interface is super simplistic, and what you really get is a no-fuss interface with playlist support for your offline tracks.
Features
Syncs with mainstream cloud platforms
Supports most common file formats
Simple, no-fuss interface
Download: Cloud Music Player (iOS)
Rocket Player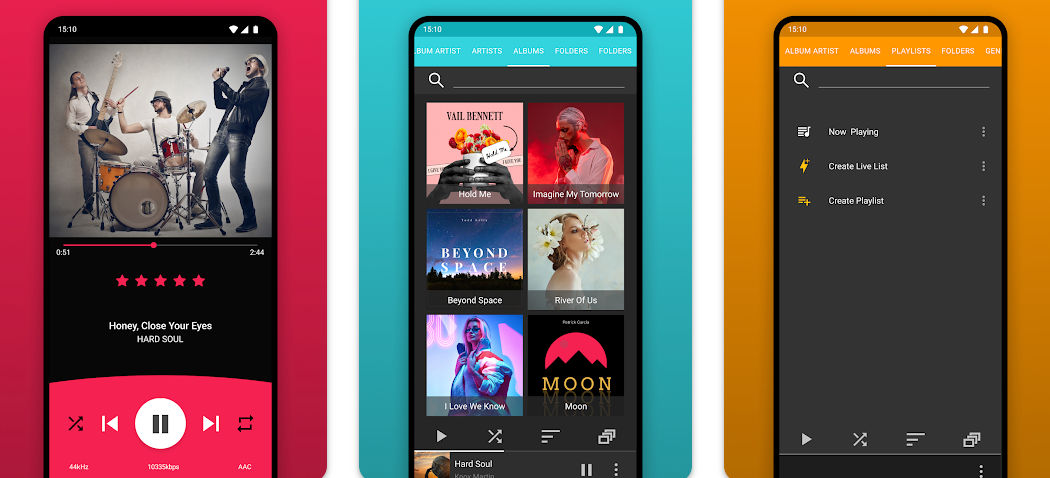 This Android-only player is among one of the best apps for offline music due to its flexibility and lightweight design. Rocket Music Player supports a wide range of offline track formats, and backs this up with the ability to edit the metadata of local audio tracks.
It is also compatible with Android Auto, which means that you can also use this app to play your favourite local tracks when driving.
Two unique features of this app are a sleep timer, which you can use to program your night-time playlists, and a podcast bookmark — which you can use to keep track of how long you have streamed a downloaded podcast.
Features
Wide range of file formats supported
Sleep timer is a nifty feature
No-fuss and minimalist interface
Download: Rocket Player (Android)
PowerAmp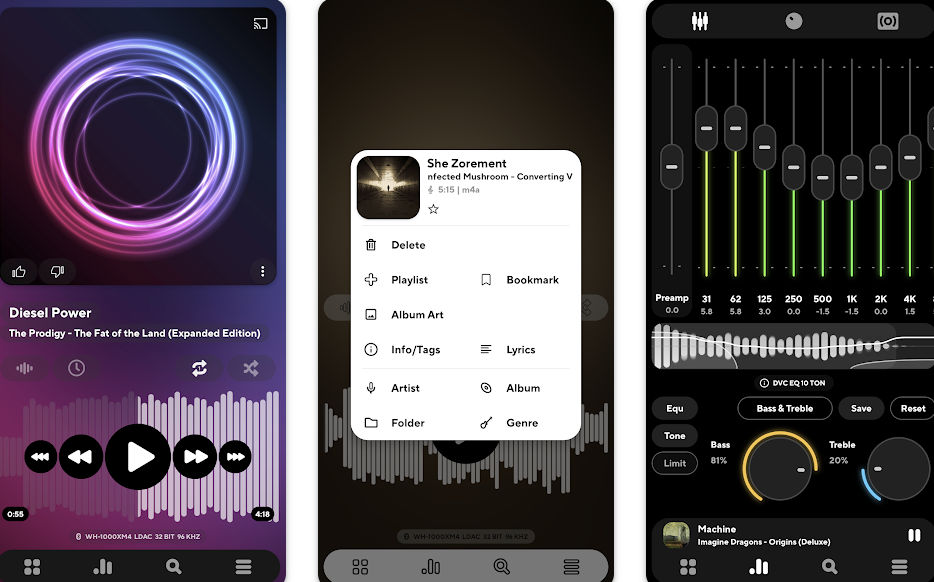 Safely recognisable as one of the top names in this segment, PowerAmp is also one of the absolute best when it comes to ease of use, features for power users, quality and stability, and everything else in between.
You get a richly diverse equaliser to fine-tune the audio signature, going well beyond the simple presets that smartphones offer.
It also recognises one of the widest ranges of file formats, and lets you customise nearly every single feature of your overall music listening experience. It is this that makes it one of the best apps for offline music streaming, although you only get a trial version of the app for free.
Features
Brilliant equaliser settings
Extreme customisability, including 'look and feel', visualisation and more
Only the trial version of the app is free
Download: PowerAMP (Android)
Melodista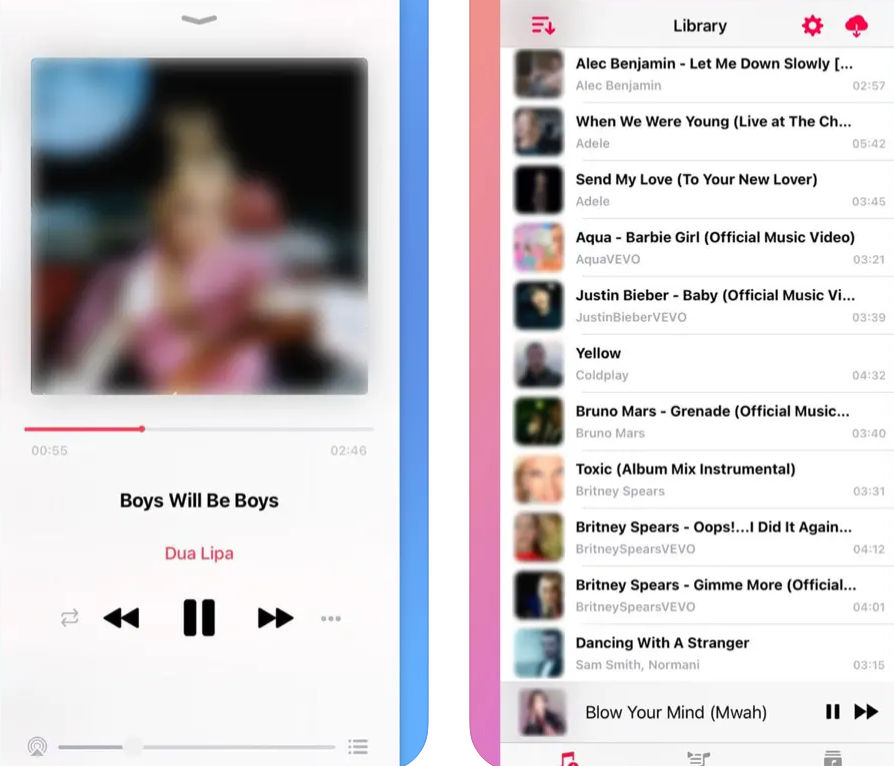 One thing that immediately strikes you about Melodista is how similar it looks to Apple's own integrated music player and streaming app, Apple Music. Melodista mimics its looks to make itself an iOS offline music player worth your attention. Some of its key features include support for cloud platforms, a familiar interface to organise playlists, support for most mainstream file formats, and finally, a uniform experience for both iPhone and iPad users. The app also offers an ad-free usage experience if you pay for the 'Pro' version.
Features
Interface very similar to Apple Music
Easy app for organising and maintaining playlists
Support for most mainstream cloud platforms
Download: Melodista (iOS)
Apple Music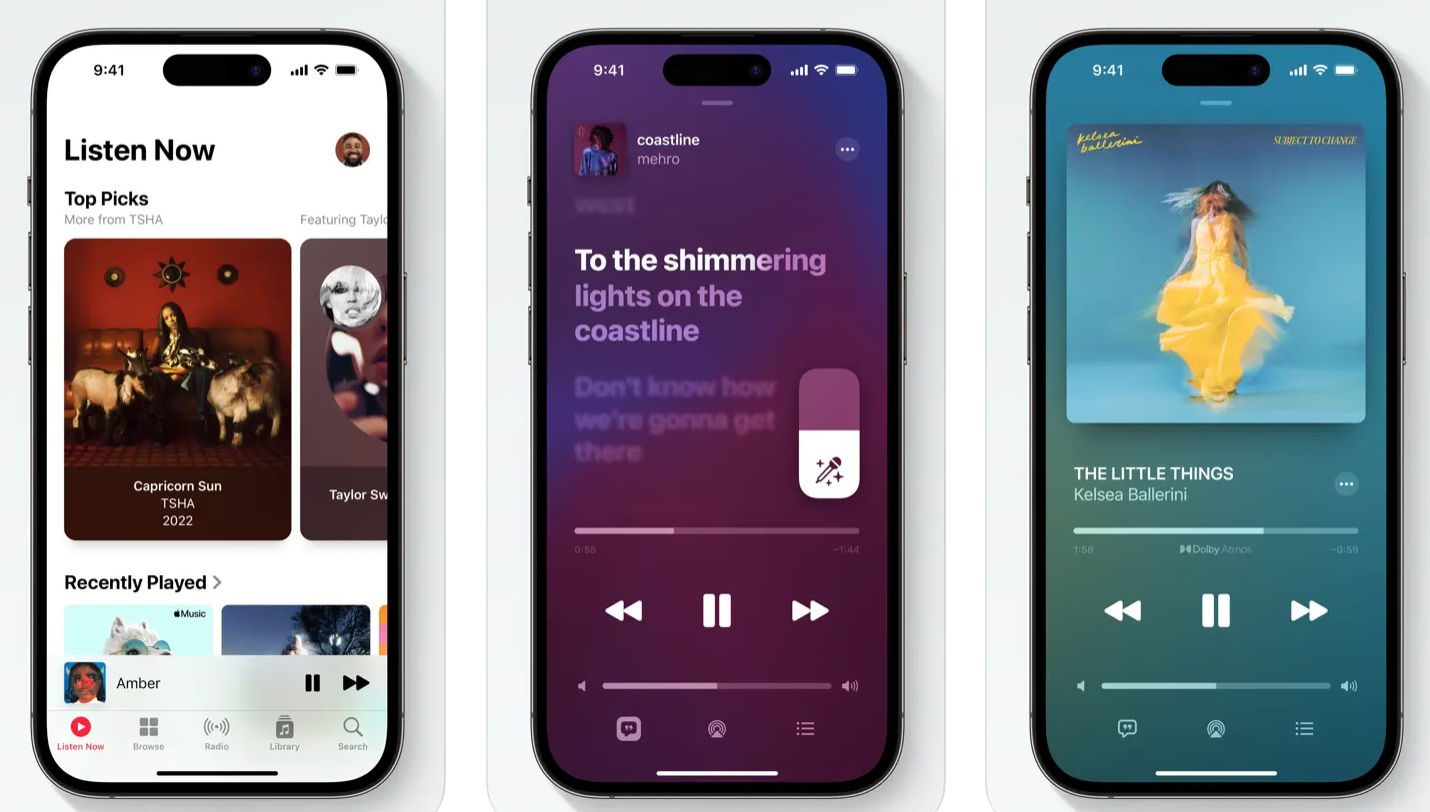 Ranked as one of the most popular music player apps around the world, Apple Music syncs with iCloud as well as local files on iPhones and iPads to offer users an excellent offline music player app. The platform has received criticism every now and then for its overall interface, but it still remains one of the most reliable such apps worldwide. Apple Music can also be easily switched into becoming an online music streaming app if you pay for Apple's subscription plans, but if you don't, it still makes for a very strong offline playback app that can sync all your cloud-stored tracks across all your Apple devices.
Features
Supports cloud platforms and multi-device sync
Familiar and trustworthy interface
Won't need Apple users to download a separate app
Download: Apple Music (Android | iOS)
Spotify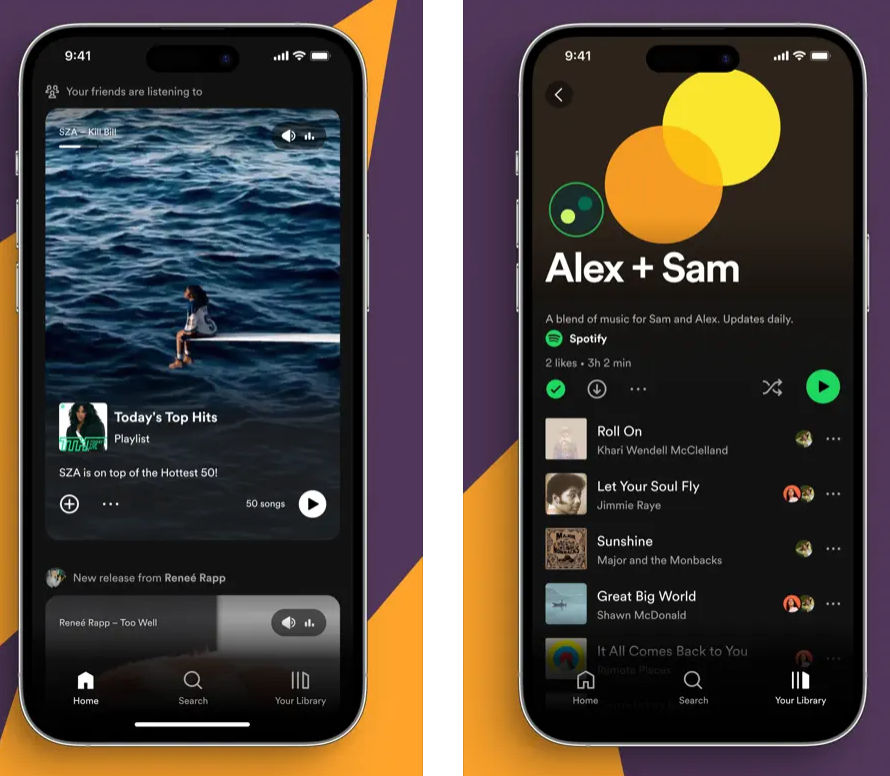 Ubiquitously known as the most popular music app worldwide, Spotify boasts over 180 million subscribers, and a massive base of over 500 million active users of the app globally. While its streaming service, coupled with its recommendation algorithm, is what it is known for, subscribers of the app also get access to an offline mode that gives you the ability to access essentially all of Spotify's music library without internet. All you need is an active internet connection to download tracks, and a paid plan to get the ability to download. You can also listen to podcasts in your offline library.
Features
Available only for paid users
Can access both music and podcasts offline, but no local files
One of the best interfaces worldwide
Download: Spotify (Android | iOS)
YouTube Music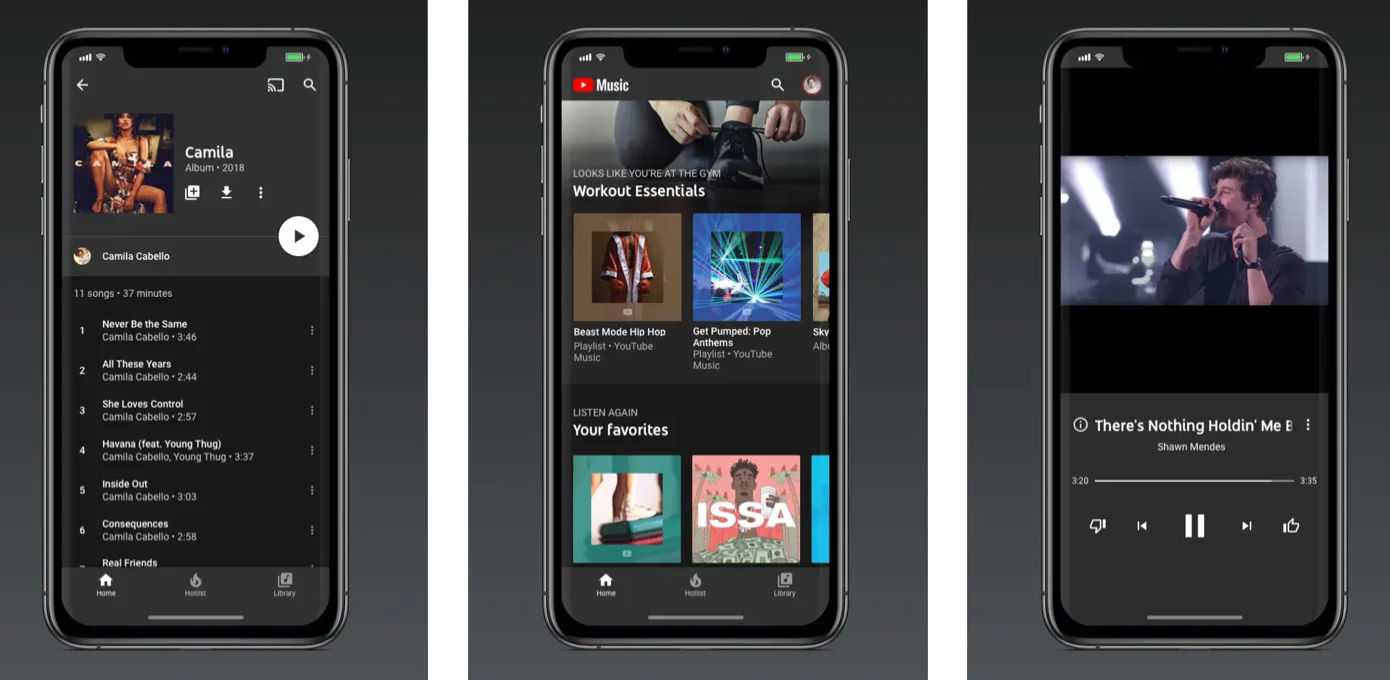 The music equivalent of the biggest global video streaming platform, YouTube Music spun off in an effort by Google to tap into the market being increasingly ruled by Spotify and Apple Music.
Since then, YouTube Music has managed to carve out its own niche — it serves as a way to tune in to music posted on YouTube, without needing to stream the full videos. While that is YouTube Music's biggest strength, it also comes with the ability to download and listen to music offline.
Most importantly, the platform allows you to download music tracks from YouTube to your phone for offline listening, as long as you have a paid subscription to the platform.
Features
Gives offline access to YouTube's content base
Available only for paid users
Cannot be used to access local files
Download: YouTube Music (Android | iOS)
How to Use an Offline Music App
The use of an offline music app works like the way you would have listened to music on your phone — largely before Reliance Jio opened up access to the internet at throwaway prices. However, the following points are the most important to keep in mind:
The use of apps for offline music will only make sense if you have a database of local music files that you regularly access
Be sure that your digital music files do not infringe copyright and piracy regulations, and are legally accessed by you
You will make the most of offline music apps if you can fine-tune the audio balance of your output
Most of these apps also offer a fully ad-free experience
Do ensure that you check app permissions thoroughly for what data your app of choice accesses, before downloading and using
Frequently Asked Questions
Why would I want to use an offline music app?
Offline music apps are crucial for you if you listen mostly to a fixed collection of local audio tracks, instead of streaming a broader base across the internet. Offline music apps are also good to use if you are often in areas without internet access.
Which platforms and devices are compatible with offline music apps?
Every computing platform, including both Android and iOS smartphones, as well as desktops of any kind — Windows, Mac, Chromebook and Linux — are compatible with a wide range of offline music apps, which include the ones mentioned above.
Are there any free offline music apps available?
Yes. Apps such as Vox and JetAudio offer a vast range of features for free, while paid tiers offer enhancements. Check the list above for full details.
Is there any offline music player for Android with no ads?
Yes. Apps such as Rocket Player and PowerAmp offer an ad-free offline music listening experience on Android smartphones.