Highlights
Pokemon is now over 25 years old, and the series has become the most valuable media franchise of all time.
Over the years, the evolution of Pokemon Games has risen significantly. Today, we have some of the finest games with the best graphics offering impeccable gameplay surrounding the pokemon universe.
This article will unveil the 10 best Pokemon Games for Android.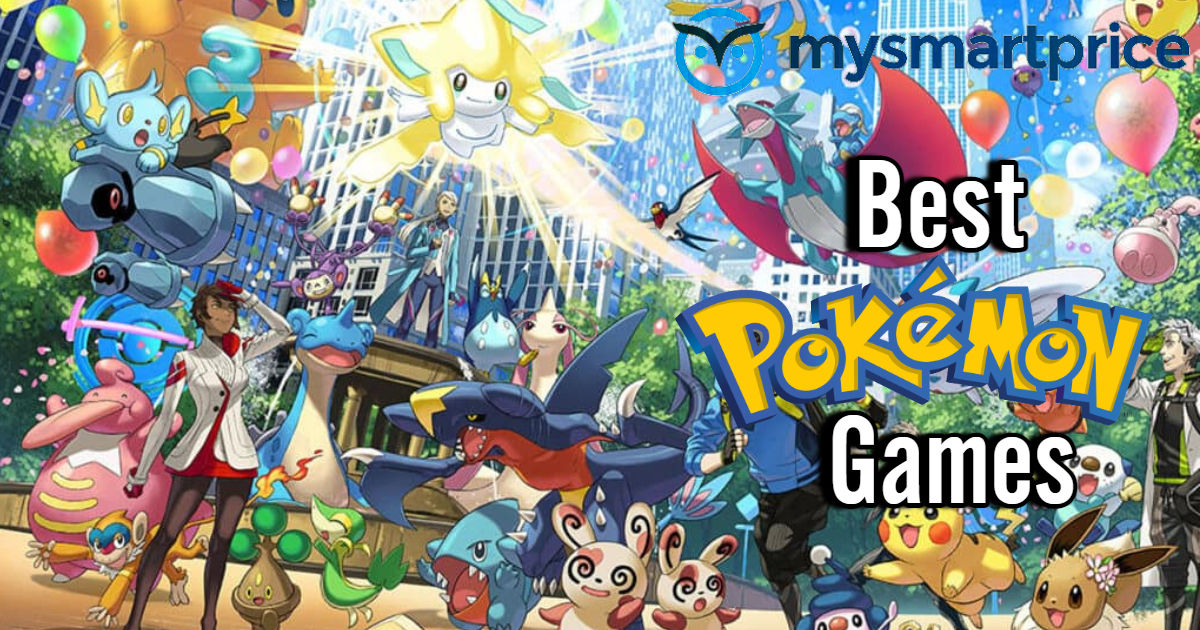 Pokemon is one of the most successful franchises and has a massive fan base. The franchise has been around for nearly 30 days, and dozens of games have been released over the years. Like most game developers, the Pokemon franchise did not take the mobile market seriously.
During the early days, the only thing we could find were apps related to Pokemon, are just informative applications like walkthroughs or details regarding the pocket monsters. As the days passed, we were introduced to more detailed gaming apps with Nintendo and Game Freak have put catching and caring for these adorable animals in our hands. But now, there are multiple titles to keep you busy with your handheld devices. Furthermore, using emulators, you can play almost all of them from the convenience of your own phone. Down below are the best Pokemon games for Android.
Also Read: Pokemon Unite: How to Download on Android and iOS, Download Size, Gameplay Details, and More
Best Pokemon Games for Android
1. Pokemon GO
Considering the popularity of this game, we can say that Pokemon GO is the most popular game available in the mobile market. Released in 2016 by Niantic, the game now has over a million active players, as this AR game offers unique gameplay.
You go around into the actual world catching Pokémon, levelling them up, and using them to combat gyms. The real-world aspect also encourages you to get off the couch and meet new people. Other aspects like in-game events, for example, are one way to make the game more interesting.
System Requirements:
Android Version 7.0 and Above
RAM: 2GB
Preferred resolution 720 x 1280 pixels
Storage Space: At least 1 GB of free space
Genre:
Action
Rating:
4.3
Download Link:
2. Pokemon Unite
If you are a fan of MOBA games like Dota 2 and League of Legends, this game is the right choice for you in the world of Pokemon. Pokemon Unite is a free-to-play MOBA game developed and released by TiMi studios.
This game is different from other pokemon games, and its esports circuit is growing. It's also simple to understand how new gamers may become lost when they first start playing. However, The Pokemon Company (the game's publisher) has done an outstanding job with this game.
Also Read: Pokemon Unite Review for iOS and Android: A Simple But Effective Casual MOBA
System Requirements:
Android 4.4 and up
Processor: Octa-core 1.8 GHz or higher
RAM: 3 GB
Graphics: Adreno 506 or higher
Storage Space: 3GB of free space
Genre:
MOBA
Rating:
4.4
Download Link:
3. Pokemon Masters EX
In Pokemon Master EX, you team up with other trainers to compete in 3 v 3 battles with all your characters simultaneously. The game lets you recruit famous Pokemon trainers from the original anime series and battle other famous trainers and their various Pokemon.
The ability for trainers to use their own tactics and supplies in battle has been included in Pokemon Masters EX, which will undoubtedly help your Pokemon while scrambling to figure it out. There is a whole storyline to go through as well as several special events featuring limited-time characters. It's one mobile Pokemon game that keeps you engaged every time you play.
System Requirements:
Android 5.0 and up
RAM: 2GB
Storage Space: 1GB of free space
Genre:
RPG, Strategy
Rating:
4.4
Download Link:
Also Read: 10 Best Free Games on PC: System Requirements, Metacritic Rating, Genre, Download Links and More
4. Pokemon Home
Pokemon Home is not actually a game, but it acts as a bank for other Pokemon games. The game lets you carry over your own collection. Any character from a core Pokemon game may be moved to the app, where you can keep track of what you have and work toward completing the National Pokedex.
Additionally, you can even trade with other players using Wonder box or GTS, making it much easier than executing transactions through the game itself. In addition, you may receive presents, manage your friends, and accomplish tasks.
System Requirements:
Android 6.0 and up
RAM: 3GB
Storage Space: 1GB of free space
Genre:
Tools
Rating:
4.1
Download Link:
5. Pokemon Cafe ReMix
Pokemon Cafe ReMix, a fun and unique puzzle game developed by Genius Sonority and released by Nintendo, differs significantly from the typical Pokemon gameplay method – Pokemon Cafe ReMix provides very dynamic and interesting gameplay.
Pokemon Cafe ReMix is a single-player game in which the player's main aim is to link the three Pokemon symbols by utilising a circular motion to bridge the gap. Once these icons are linked, the player can provide their customers a range of appetizing drinks and foods adorned with Pokemon insignia.
System Requirements:
Android 6.0 and up
RAM: 2 GB
Storage Space: 2 GB of free space
Genre:
Puzzle
Rating:
4.1
Download Link:
Also Read: Top 10 Games of 2022: Horizon Forbidden West, Sifu, Stray, and More
6. Pokemon Smile
While this seems like an odd one to be added to the list, it's an excellent tool for encouraging good habits in children, and Pokemon Smile may also be utilised by adults.
Pokemon Smile involves brushing and killing plaque in the shape of an opponent Pokemon. In this augmented reality game, you position the phone somewhere visible to the user and brush along as a Pokemon emerges on the screen to destroy germs on their teeth. After brushing, you capture the character and add it to your library.
System Requirements:
Android 6.0 and up
RAM: 1 GB
Storage Space: 1GB of free space
Genre:
Simulation
Rating:
4.4
Download Link:
7. Pokemon Quest
This game appears to be similar to Minecraft, another famous game. It is one of the cross-platform games which can be played on Mobile and Nintendo Switch. As you and your cube-shaped buddies search for treasure, you'll come across wild Pokemon that stand in your way of those valuable goodies.
In this game, you must prepare meals to invite new Pokemon into your camp. You may group your Pokemon into threes and send them off to explore the rest of Tumblecube Island.
System Requirements:
Android 4.4 and up
RAM: 2 GB
Storage Space: 1 GB of free space
Genre:
Casual, RPG
Rating:
4.3
Download Link:
8. Pokemon: Magikarp Jump
Magikarp is the weakest Pokemon ever in the Pokemon Universe. However, it is famous for being pathetically weak, unreliable, and useless. Train your Magikarp to jump as high as possible, but it will retire if it loses a match.
The primary purpose of Magikarp Jump is to make your Magikarp's leaping power greater than your opponents'. Jumping Power may be increased by various methods, including taking berries and exercising. You may also upgrade your training equipment and strategies to boost your Jump Power. You can also compete online against other computer-generated individuals who have trained their Magikarps in ten different core leagues and three expert leagues.
System Requirements:
Android 5.0 and up
RAM: 2 GB
Storage Space: 1 GB of free space
Genre:
Casual, Simulation
Rating:
4.6
Download Link:
9. Pokemon Playhouse
Pokemon Playhouse, published by The Pokemon Company, is a basic and easy-to-play video game in which players hatch and care for over fifty different species of Pokemon while exploring the many parts of the Playhouse. You may participate in eight various attractions, such as grooming, reading stories, and a music tool that allows Pokemon to sing out musical notes.
The game offers straightforward controls, many colours and noise, and other things children may like. It is designed for children aged three to five. As a result, don't anticipate anything complicated from this Pokémon game.
System Requirements:
Android 4.4 and up
RAM: 2 GB
Storage Space: 1 GB of free space
Genre:
Entertainment
Rating:
3.2
Download Link:
10. Pokemon Shuffle Mobile
Pokemon Shuffle is a match-three puzzle game that plays similarly to a previous Pokemon game called Pokemon Battle Trozei or Pokemon Link: Battle! In this one-of-a-kind puzzle game, you move Pokemon across the screen to generate matches and construct combinations to reduce the health of the wild Pokemon you're up against. Once their HP is low enough, you may toss a Pokeball at them and capture them; the more combinations you complete and moves you have left over from the match, the higher your chances of capturing them.
The game also enables you to combat Pokemon trainers, and beating Pokemon trainers gets you Mega Stones, which can aid the Mega Evolution of Pokemon you've acquired if they've been matched a certain amount of times throughout a level. Once the Mega Evolution is complete, matching that specific Pokemon throughout a level grants you extra benefits that can be pretty useful, especially during difficult levels.
System Requirements:
Android 4.1 and up
RAM: 1GB
Storage Space: At least 400MB of free space
Genre:
Puzzle
Rating:
4.3
Download Link:
Also Read: Top 10 Mobile Games of 2022: Diablo Immortal, Pokémon GO, Apex Legends  Mobile, COD Mobile And More