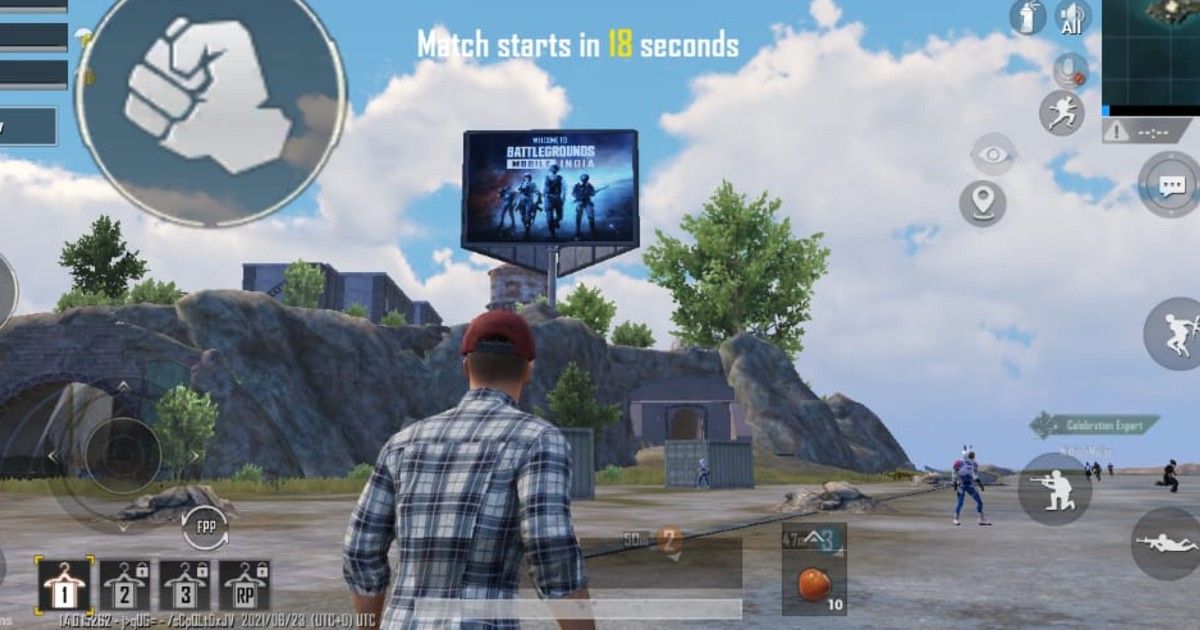 Battlegrounds Mobile India is finally here and available for all players on the Android platform. The battle royale game has gained immense popularity since its launch. BGMI is essentially an India-specific version of the now-banned PUBG Mobile. This also means that like PUBG Mobile, you can also create your own clan or join an existing one.
If you plan to create a clan in BGMI with your friends, you'll probably be on the lookout for some cool, stylish names you can use. In this article, have listed 50+ clan names for BGMI, alongside detailing the way to to change your clan name or create a new clan. So, without further ado, let's get started.
Also Read: BGMI Names (June 2021): 50+ Best Stylish Design Nicknames for Battlegrounds Mobile India
What are Clans in Battlegrounds Mobile India aka PUBG Mobile?
Clans are basically a group of players with whom you can play Battlegrounds Mobile India (BGMI). The game allows you to join a clan or create a new clan. The Clan not only allows players to play with other players who are not on their friends' list, but it also brings some interesting benefits. You can join a clan and finish different missions daily to earn Clan Points. The points can be easily redeemed to shop for different items like clothes, crate coupon scrap, rename card, and more.
50+ Best Clan Names to Use in BGMI (Globally Known as PUBG Mobile)
Here's a list of 50 best Clan names you can use in Battlegrounds Mobile India (BGMI) or PUBG Mobile:
꧁☆☬League of Heroes☬☆꧂
༇乃ᴙᴀⲍⲍɛᴙʂ๛
X《࿗Ƀlackꘘury࿗》X
戀ꭲꭼꭺꮇᪧꭼꮮꭵꭲꭼ戀
¢ʟaռ:够uหหყ🐰
Ⓒⓛⓐⓝ™420™
♥DBZ★♛
Dark Legacy
ᴛ ᴏ x ɪ ᴄ ꜱ ᴜ ɪ ᴄ ɪ ᴅ ᴇ ꜱ X
『ᴬᵏ₄₇』Iʟᴜᴍɪɴᴀᴛɪᴇs
✘ᴄʟᴀɴ✘ 亗ᴍᴀғɪᴀ ᴀssᴀssɪɴs亗
◤ʜᴇᴀᴅᴅᴇꜱᴛʀᴏʏᴇʀ◢
ᎢᎬᎪᎷϟᏣᏒᎪᏃᎩ
☆₩ ŢHĒ¤ÇŘÄÇĶŞ ₩☆
╭TʜᴇBᏫTs╯
༻•€ńfâčîš•༻
【ɢᴛ】OFFICIAL
ᴛᴇᴀᴍ࿐乂ᴇ ꜱ ᴘ ᴇ ᴄ ᴛ ʀ ᴀ ʟ乂
Tʜᴇ→SHIELD 亗
ᎢᎬᎪᎷ᪥ᏞᎬᎶᎬᏁᎠᎪᎡᎩ
☠🅖🅔🅝🅔🅡🅐🅒🅘🅞🅝 🅩☠
亗BAD ✗ G ϟ RLS✿᭄
༪ ᴛ ᴇ ᴀ ᴍ ɢ ᴜ ᴇ ʀ ʀ ᴇ ʀ ᴏ ꜱ ༪
Hakuna Matata
ムтєαмツAѕѕαυℓтєя
Kɩŋʛ Oʆ ĸɩŋʛs
◥࿐〖ℂ𝕣𝕖𝕨 𝔹𝕝𝕠𝕠𝕕𝕪 ⁹⁹ღ
㊝☆BROTHERS☆
NE 么SCHOOL
♔〘Ł€Ꮆ€ŇĐ〙♔
ᴬᴳ戀•ᴀssᴀsɪɴ•戀
✞ঔৣ𝕲𝖆𝖒𝖊°𝕺𝖛𝖊𝖗ঔৣ✞
✞ঔৣ۝ÐâřҟŦﺂℜê۝ঔৣ✞
★彡[ᴜɴᴅᴇᴀᴅ ᴋɪʟʟᴇʀ]彡★
꧁🐼panda༒ᶠᶥʳᵉ꧂
•Bad[×]Boys•
O҉N҉E҉ P҉I҉E҉C҉E҉
᭓ H҉A҉C҉K҉E҉R҉╰‿╯
KNG♛
☬ČŁÄŇ࿇¥Ť☬
尺乇 Mㄖ∨乇尺S
•Bad[×]Boys•
꧁♀️☆☬League of Heroes☬☆♀️꧂
꧁Los Locos꧂
Elite Warriors
Legion Of Death
ℋℰᗩᗪŞ ℋØØƬ༒ᶠᶥʳᵉ꧂
༺FatalFury༻
Nova legends
Uŋstoppʌɓɭɘ
ℜℯx๖ۣۜClαภ
GODS OF OLYMPUS
ExterᴍΐŇatør$
ᴬᵏ₄₇戀•ᴀssᴀsɪɴ•戀
╰‿╯ᵐᵃᶠⁱᵃ• ᵈʳᵃᵍᵒⁿˢ ⃟○ツ
あTHE᛫BEAST♰
╰𝒩𝐸𝒲_𝒮𝒞𝐻𝒪𝒪𝐿╯
R O M P E C R A N E O S
ESCUADR⊕N SUICIDA
✘ᶜᴿᴬᶻᵞ✘
♛✘L• A T I N O S 么
༺«[Lا~Ž€TÅŠ]»༻
ᴿᴱᴬᴸ❖ʟᴇɢᴇɴᴅ➋➋࿐⁰⁰⁷
OFICϟAL SPORTSㅤ亗
✞ঔৣ۝SQUAD CBBA۝ঔৣ✞
█▬█ █ ▀█▀
×°ᖘresti𝕘e G𝓊ŇŇers°×
PB乡 PEAKY BLINDERS
CARTEL |ᴬᵏ₄₇
ᵂᴮ〄ㅤ✿ Ꮇ I N Ꭺ Ꭲ O ✿
RoyalツCÀMPER
CØᴍᴍⱥndØ$
乇χρℓσяєяѕ
є҉Ⲙutant͢͢͢s
Trojaήຮ
𒆜Tΐtสήຮ𒆜
TeamįEagle×
DØØm 𐌁rΐnger͢͢͢s
$torϻᴡi𝔫d
𝕿ђeƑell𐍉wsђiƤ
AsSaSsInS [][¥•Elite•¥][]
MAFIA FAMILY亗
『♰』戀•GHOSTS•戀
Բαʍϟℓ𝚢亗𝙵𝚛𝚒𝚎𝚗𝚍𝚜
⦃ιммσятαℓ¢ℓαη⦄
🌗Ma𝕣ve🅻
⿆ᎢᎬᎪᎷ_ᎰᏞᏌᏢ⁰²⿆
〄IMPOSIBLE☂
ᎢᎻᏋ ᏚᏢᎪᏒᎢᎪᏘᏚ
ꘘƝƬ
Also Read: Battlegrounds Mobile India (BGMI): How to Change ID Name, Appearance, Avatar Picture, Title and More
How to Change Clan Name in BGMI?
Changing clan names is pretty simple. If you are creating a new clan, you can easily enter the name there. However, you need to have a Clan Rename Card if you want to change your Clan name. You can purchase the card by obtaining clan points. Once you have 300 Clan Points, you can go to the 'Shop' and just purchase the Clan Rename Card. Once done, here's how you can change your Clan Name:
Go to Battlegrounds Mobile India (BGMI) app and then head to the lobby.
Look for the Inventory button right next to the Mission at the bottom-right corner.
Click on the box icon and there you will find 'Clan Rename Card'. Tap on it and then add the new name in the dialogue box.
Once done, simply press 'Ok' to confirm and your clan name will be changed instantly.
However, there are a few things to keep in mind. Once you have changed your BGMI Clan name, you cannot revert to the old one. Furthermore, you can only change the clan name again after 60 days.
Also Read: Battlegrounds Mobile India (BGMI) Royale Pass Free Rewards: Full List of Rewards, How to Claim Them
How to Create a Clan in BGMI?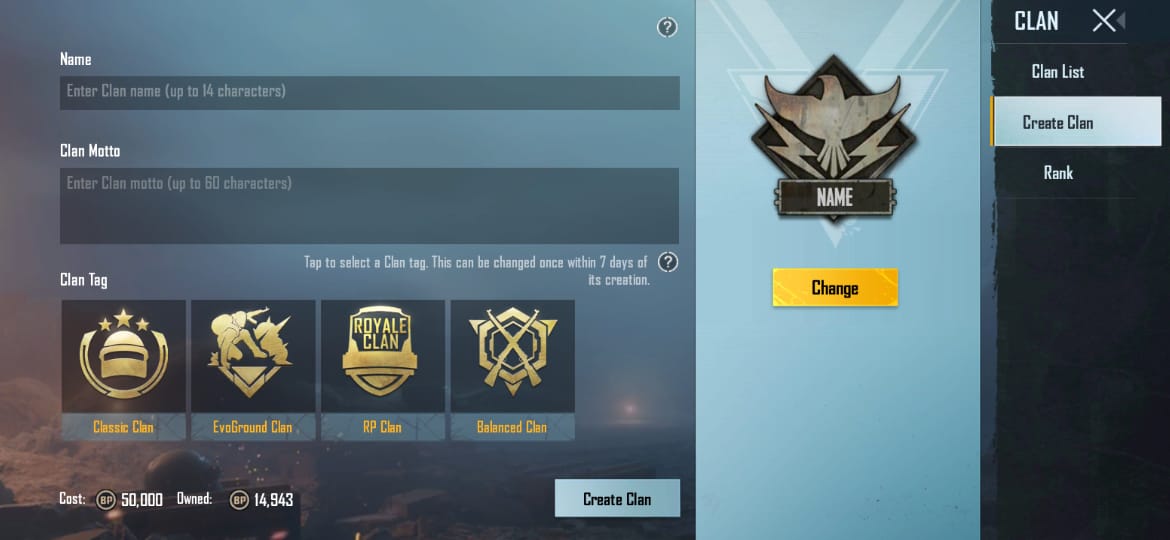 To create a clan in BGMI, there are certain requirements you need to follow. To start with, you need to have 50,000 BP to create a clan. Once you have the required BP, you can follow these steps:
Open the Battlegrounds Mobile India (BGMI) app and go to the lobby.
Click on the Arrow at the button-right corner. You will see different options including Settings, Clans, and more.
Tap on Clan and you will see an option to join an existing clan or Create Clan. Tap on the latter.
You then need to enter the Clan Name along with Clan Motto, which is basically a description of up to 60 characters. Apart from this, you need to select Clan Tag including Classic Clan, EvoGround Clan, RP Clan, and Balanced Clan.
You can also customize the Insignia Name and logo by clicking on the Change button right beneath the Clan logo.
Once done, you can click on Create Clan and the new clan will be created.
Thanks for reading till the end of this article. For more such informative and exclusive tech content, like our Facebook page