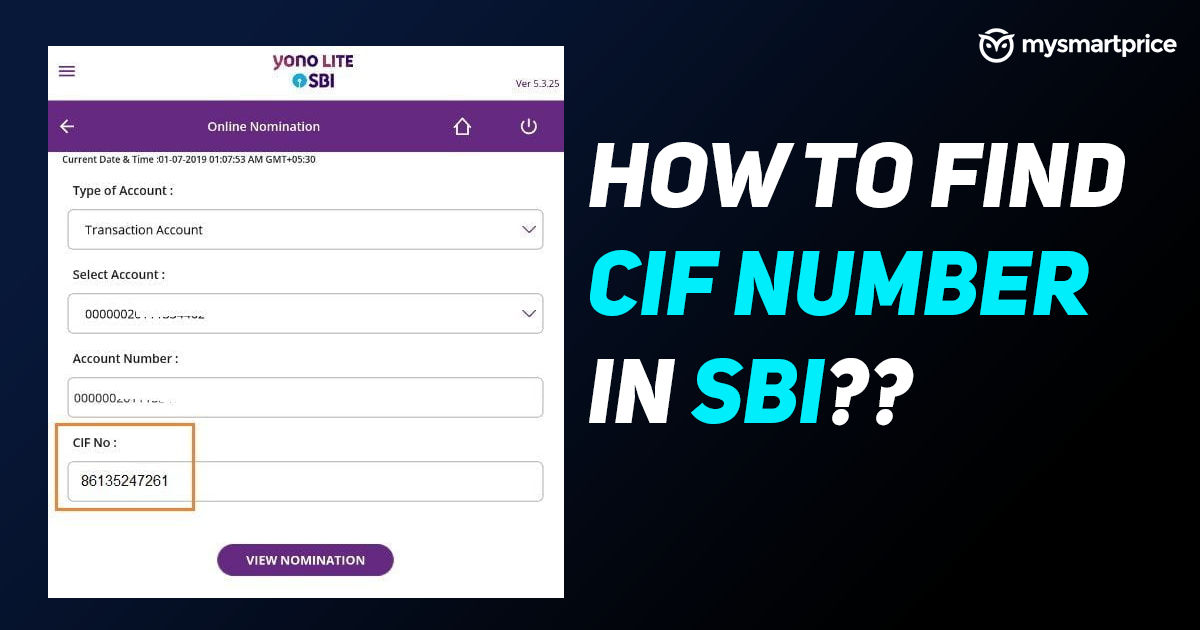 SBI Bank is one of India's largest banks. The bank offers services like balance check, card activation, change mobile number, get a mini statement and much more in multiple ways. Similarly, the State Bank of India also offers multiple ways to check the CIF number of the account. For those who are unaware, the CIF number is unique to all bank customers which stores account details in digital form including details of KYC. It is a file stored in the bank system. 
Even if you hold multiple accounts in the same bank, the CIF number will be the same for all the accounts. The CIF number will help bank staff to view all information related to a particular account in one single place. In this article, we will take a look at what is a CIF number in SBI and different methods to get your CIF number including both online and offline methods. 
What is CIF Number in SBI?
For starters, CIF stands for Customer Information System. Just Account Number, the CIF number is also unique to each account holder. The CIF number will be printed on the first page of the bank passbook along with the Account number and name of the account holder. It is an 11-digit numeric code. The CIF number holds importance as it carries information such as personal details, address proof, transaction history, account types, balances, loans, etc. in the digital format.
The CIF number will be given to customers when the account is opened and there are multiple ways to find the same. The easiest way to find it is by just checking page 1 of the bank passbook. In case your passbook doesn't have it, this guide will help you find the SBI CIF number using the website, Yono app, customer care, and also visiting the nearest bank branch. 
Also Read: SBI ATM PIN Generation: How to Create New PIN for your SBI Debit Card Online, Through ATM, SMS and More
How to Find CIF Number of your SBI Account via Website?
If you have the internet banking option enabled, this is the best way to get your CIF number. All you need is a registered mobile number along with a valid username and password.
Visit the

OnlineSBI Login portal

Enter valid username, password, captcha code and click on Login

Enter OTP in the next screen and click on "Submit"

Select "Account Summary" on the left menu

Click on "View Nomination and PAN Details"

Once you click on it, your CIF number will appear along with your account number 
Also Read: SBI Mini Statement: How to Check SBI Account Mini Statement Using Missed Call Number, Online, SMS, and More
How to Find CIF Number of your SBI Account via App?
The Yono SBI app has changed interface over last year, which has resulted in a slightly different process to get the CIF number. Here is how to get the CIF number of the SBI account using the Yono app. 
Open Yono SBI app

Enter your 6-digit MPIN

Tap on "Accounts"

Tap on the Account

Tap on the Passbook icon (The passbook statement will be downloaded. 

Open File Manager on your phone and go to "Downloads"

Select "Account Statement PDF"

In the PDF, you will find your CIF details along with other account details
Also Read: Lost SBI ATM Card? How to Block or Deactivate State Bank of India Debit Card by Phone Call, SMS, Online
How to Find CIF Number of your SBI Account via Customer Care?
If you are not comfortable doing it via the website or app method, you can directly call customer care to get the CIF number. 
Call any of the following Toll-free numbers

1800 425 3800

 1800 11 2211

080-26599990

Select the language you want to interact with the customer representative

Ask them to provide CIF Number

Answer some questions to verify your identity (keep your passbook for reference)

Once the verification is done, the customer representative will provide the CIF number
Also Read: SBI Balance Check & Enquiry: How to Check SBI Account Balance via Missed Call Number, Online Banking, Mobile App and More
How to Find CIF Number of your SBI Account via Visiting Branch?
If any of the above processes seems hard or you couldn't get the CIF number, you can visit the bank brand to get the CIF number. Make sure you carry your passbook for a smooth process. 
Visit the nearest SBI branch

Ask for your CIF number

The Bank staff will ask your personal details like account number and a few questions to verify your identity

Once your identity is verified, they will provide CIF number
Also Read:
SBI Mobile Number Change: How to Change Registered Mobile Number of SBI Account Through Onlinesbi and ATM
Importance of CIF Number
CIF number is of great importance as it helps the bank access a customer's banking-related information. Here are some advantages of a CIF number:
CIF number helps ensure that there are no mistakes or fraudulent activity
It helps the bank access valuable customer information, which helps verify transactions or sanction loans.
CIF number can also be used to help re-activate a dormant account.
Banks use this number to provide certain goods and services. They base the customer tier and fees for various goods on Total Relationship Value (TRV) and Customer Relationship Value (CRV) (CRV)
Frequently Asked Questions (FAQs)
Can i check the CIF number in SBI via SMS?
As of now, there is no direct way through which you can get the CIF number of your SBI account. However, you can send an SMS from registered mobile number to get an e-statement. One can send an SMS to 09223866666 with the word 'MSTMT' in the subject line to get the e-statement. Once you open it, you will see the CIF number of your SBI account.
Are the CIF Number and Account Number the Same?
No, CIF Number and account number are two different things. The account number is donated for any account that is opened in the bank. This could savings, fixed, PPF, loans, and more. However, the CIF Number is the customer ID that allows bank to retrieve all the information using the 11 digit number.