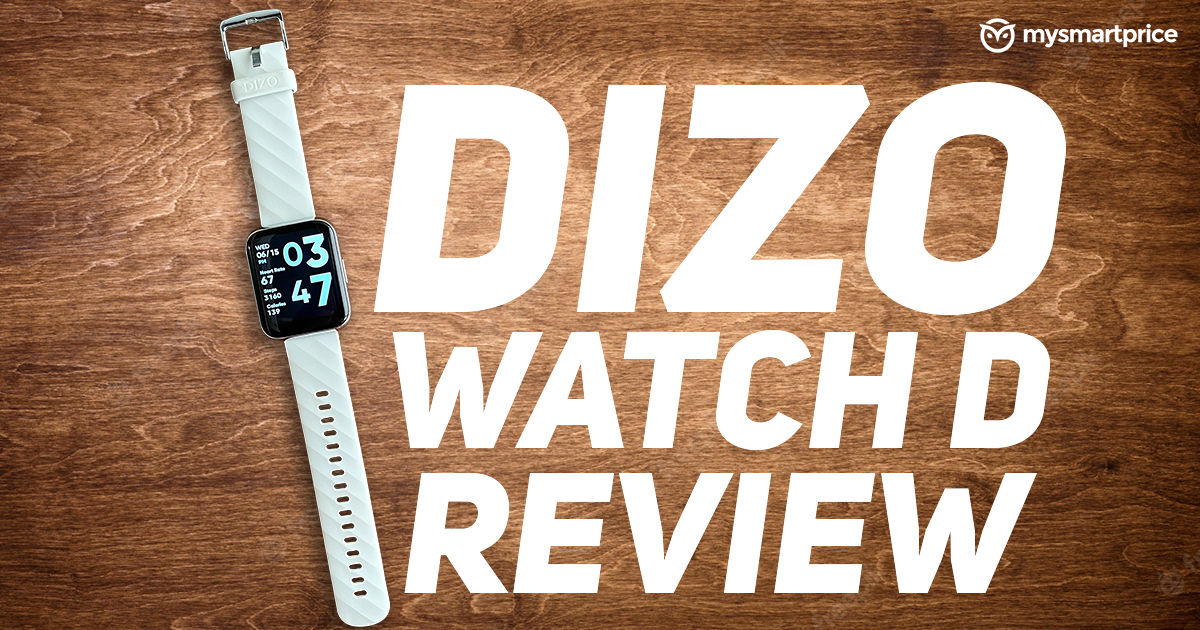 The Dizo Watch D was launched recently with a heavy focus on a premium design and an affordable price tag. Dizo's philosophy of keeping design as paramount may have come from studying the competition. The Boat Xtend (Review) launched last year, for instance, was extremely popular on Amazon. Going by the 80,000 or so reviews on its listing, it seems like it was an instant hit mostly because of its design.
Apart from the premium-looking metal frame, the Watch D also sports a 1.8-inch large display with tempered glass protection and a long-lasting battery. On top of this, the fitness freaks out there also get 150 watch faces, over 110 sports modes, a 5ATM water-resistance rating, and a host of health and fitness-related features.
So, is the holy trinity of big numbers, premium looks and low price enough to convince users to attract them to buy the Dizo Watch D? Read our review to know more.
Dizo Watch D Review: Design, fit and build quality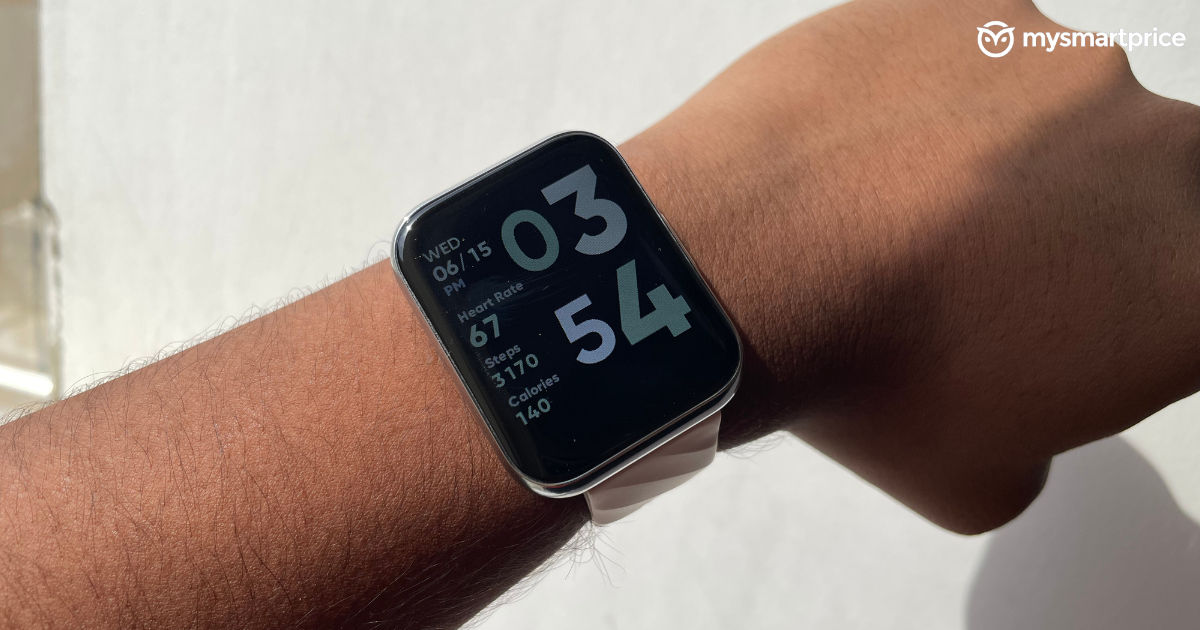 Dizo has given the Watch D a premium look which looks appealing to us. It features a large square frame that has been surrounded by metal. The metal frame is shiny and makes the watch stand out but also puts some weight on the watch. It has curved edges that are attached with two silicone straps which can be replaced with other 22mm straps. The build quality of the silicone straps is good and they look durable. The buckle also has a metal finish.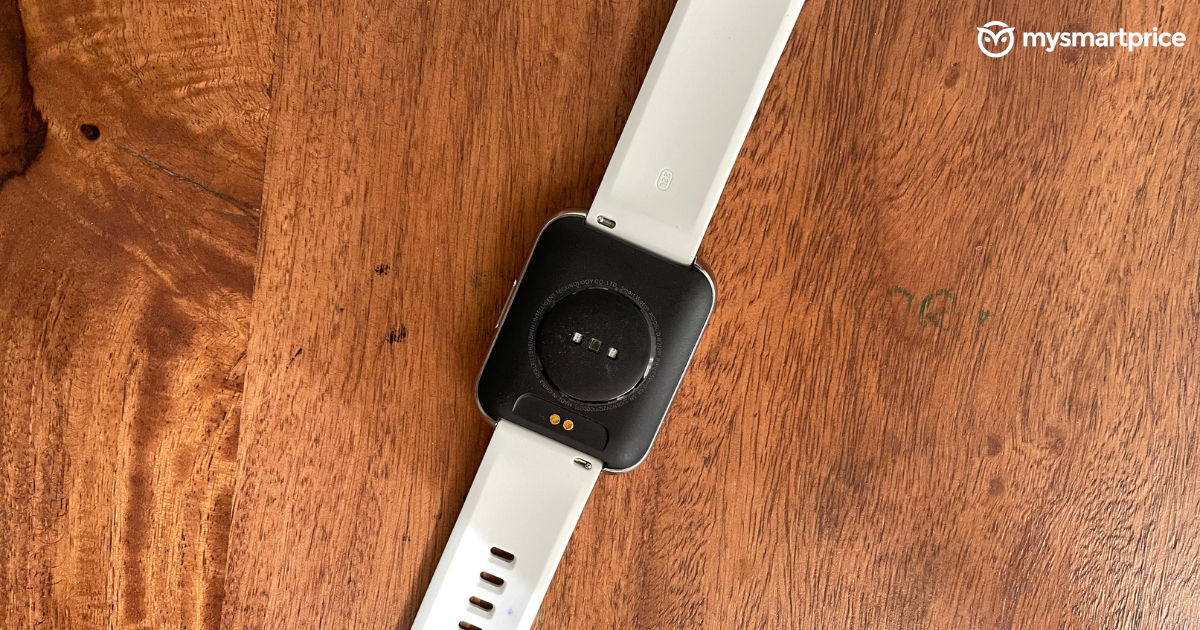 On the back of the case, we get to see a PPG heart rate sensor, blood oxygen level sensors, and magnetic charging pins. The Dizo Watch D has a button on the right side which helps in navigating across the UI.
It weighs 53 grams which feels sturdy on the hand because of the metal frame but it is comfortable to wear all day and night. The build quality of the Dizo Watch D is solid and also doesn't catch any scratches easily.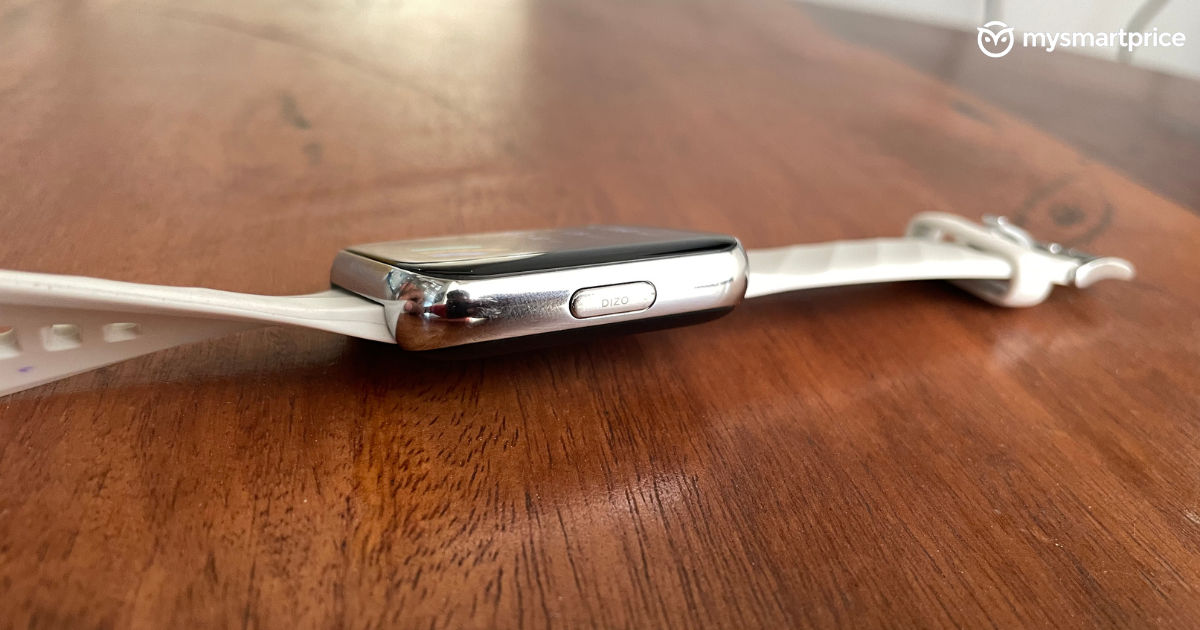 The Dizo Watch D is 5ATM water-resistant which means you can wear it while showering and even take it swimming.
Dizo has played with the colours and given a total of five shades to choose from; Steel White, Bronze Green, Classic Black, Copper Pink and Dark Blue. We have the Steel White variant and it looks beautiful, but we observed the sheen of its metal case started to fade eventually.
Dizo Watch D Review: Display and watch faces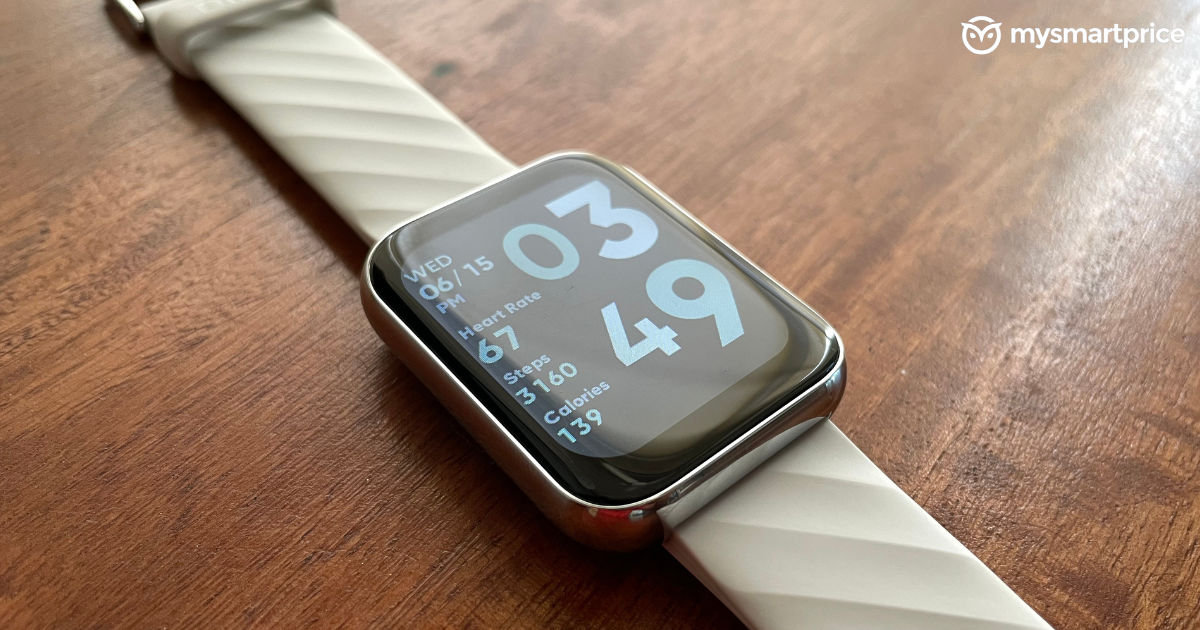 The Dizo Watch D is lit by a 1.8-inch display, which is the largest within the Rs 3,000 price segment. But with a big screen, it also has thick bezels, especially towards the chin.
Because it is an IPS LCD panel, the colours don't appear all that vibrant nor do you get the blackest of blacks. But, the screen is sharp thanks to a resolution of 240 x 286, so you get good clarity on the fonts and icons.
The screen is big enough to not make text and icons appear congested. However, despite the big screen, accidental touches were very common, especially while scrolling the menu. With a peak brightness of 550 nits, the Dizo Watch D shows the screen content perfectly even under direct sunlight. Unfortunately, it doesn't have auto brightness due to the lack of an ambient light sensor.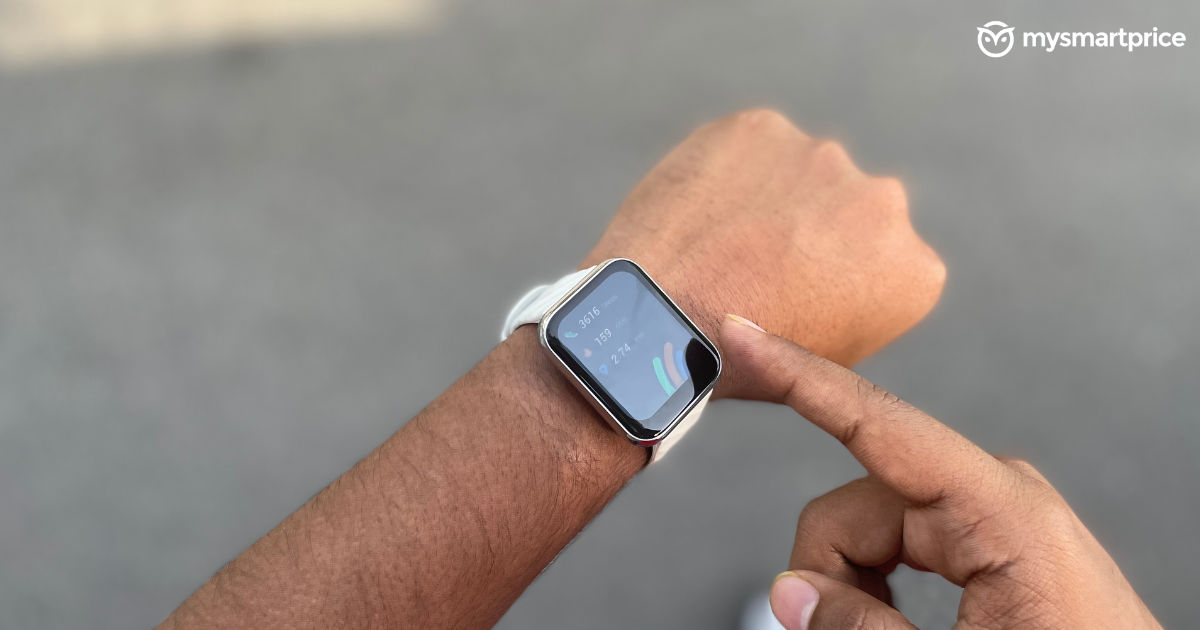 The touch screen is responsive but accidental touches were pretty common during our use. Further, the Raise to Wake feature works swiftly and so does Palm Detection, which puts the display to sleep when you cover it with your palm.
Dizo claims that the Watch D has over 150 watch faces available, but you can only access four of these at a time on the watch. You'll have to dig into the app to check out the rest of the watch faces. Oh, and you can also set your own pictures from your Gallery as a watch face and customise it.
Dizo Watch D Review: Battery and charging
The Dizo Watch D packs a 350mAh battery inside which the company claims to last 14 days on general usage and 60 days in standby mode. It dropped from 97% to 65% in a week. Given the drain, we are speculating that the watch will last up to 10-11 days on regular usage which is fine but not what the company claims.
In our testing conditions, we set the brightness to 80%, the heart rate sensor to auto mode for every 10 minutes, and also enabled notifications. Reducing the brightness and turning off the automatic heart rate tracking might have given us a day or two extra battery life.
The Watch D takes approximately two hours to juice up its battery via a magnetic pin charger that is available inside the box.
Dizo Watch D Review: UI and app support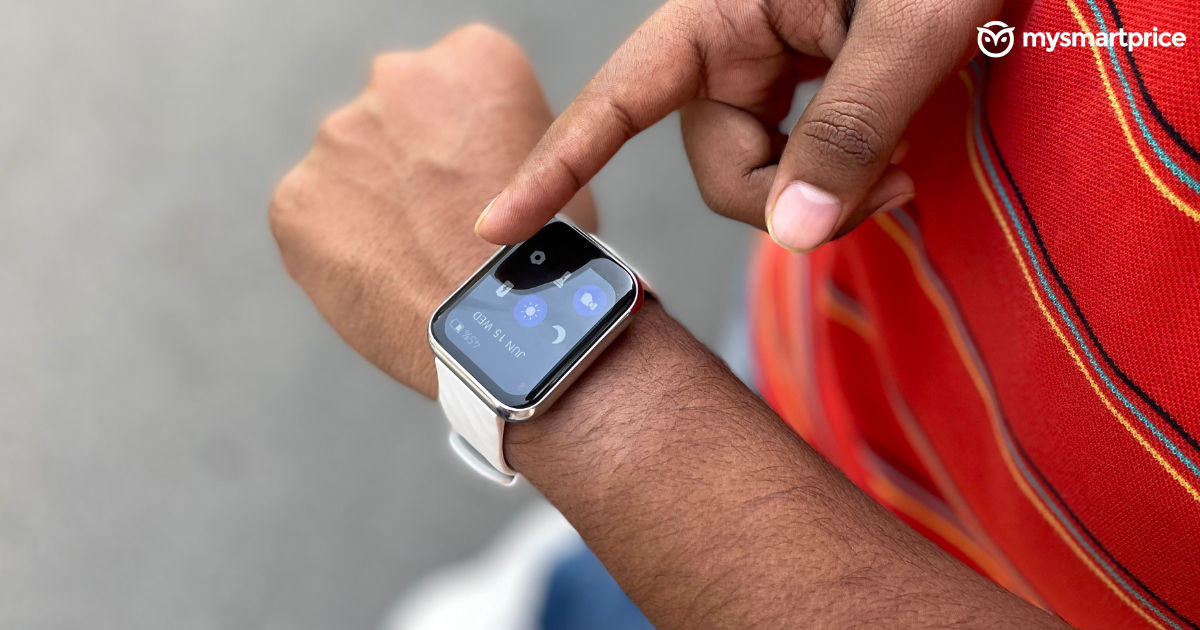 The Dizo Watch D stutters when you scroll across the UI. A swipe downwards will take you to the notifications center while a swipe upwards will show you options like activity data, heart rate, SpO2, sleep, workout, workout records, alarm, stopwatch, camera, find my phone, female health, and settings.
A left swipe will take you to the control center of the watch from where you can adjust a few settings. A right swipe takes you through all the app shortcuts but to return to the home screen you will have to press the button on the right side or else swipe left again to return home. The UI of the Dizo Watch D is similar to the other Realme and Dizo watches.
While receiving a call, it allows you to hang up a call or silence it but an option to reject a call with an SMS could have made the experience better. For notifications, it has preloaded icons for most apps including Gmail, Instagram, Facebook, etc. It shows you a preview of a message in the notification center, to view long messages you will have to go back to your phone.
The Dizo Watch D connects with the phone via Dizo App which is available for both Google Play and Apple App Store. As we have mentioned in our previous reviews of Dizo watch, the app is minimally designed and looks good. It connects swiftly with the watch and works smoothly without any connectivity issues.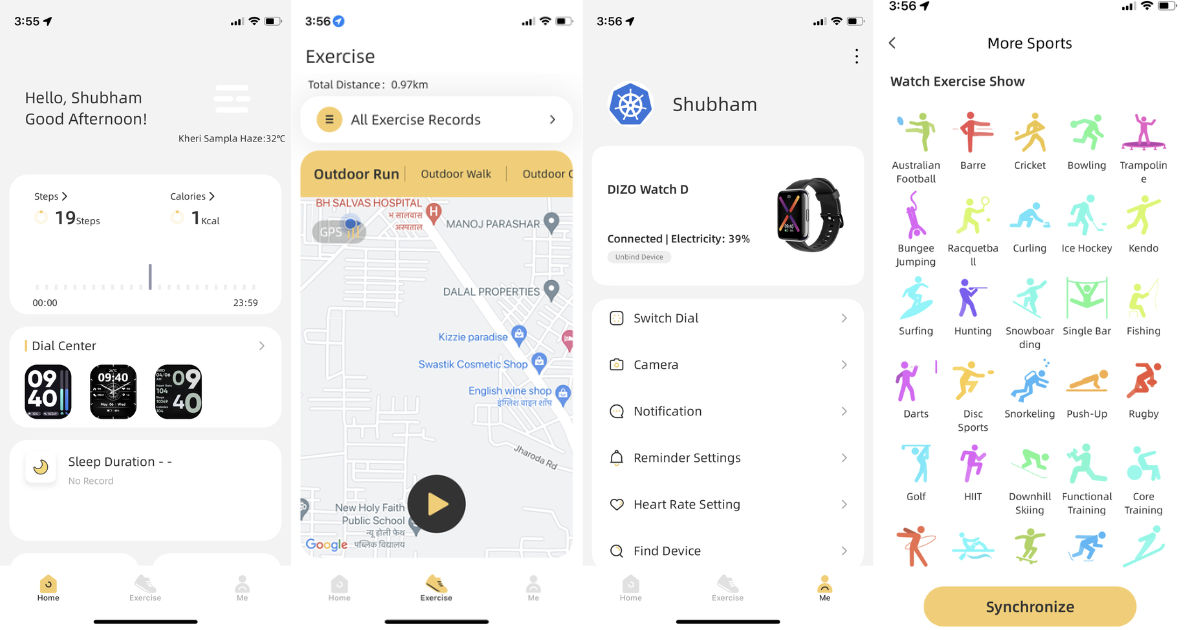 On the homepage, we get to see shortcuts like steps and calories counters, watch face, sleep data, heart rate monitor and SpO2 checker. There is another section called 'Record' that lets you check your past workouts. This option also lets you start a work mode directly from your phone. Then there is the 'Me' option from where you can customise your watch. Dizo has also added drinking water and sedentary reminders.
Dizo Watch D Review: Health-based features and workout modes
The Dizo Watch D is packed with a bunch of health based features which include heart rate tracking, SpO2, sleep tracking, breath training, and female menstrual cycle tracking. We compared the heart rate with the Redmi Smart Band Pro (Review) and Dizo Watch S (Review) results and they were very close (but not accurate). Similarly, we compared the SpO2 results with the mentioned smartwatches and after 15 seconds the readings were similar on the two watches. But, we advise you not to rely on fitness trackers for medical purposes.
The Dizo Watch D completely messes up the sleep tracking and records ghost sleep. In our experience, for the first two days, it showed us 3 hours and 6 hours of sleep respectively which was not true. And after that, it automatically started showing sleep data on its own.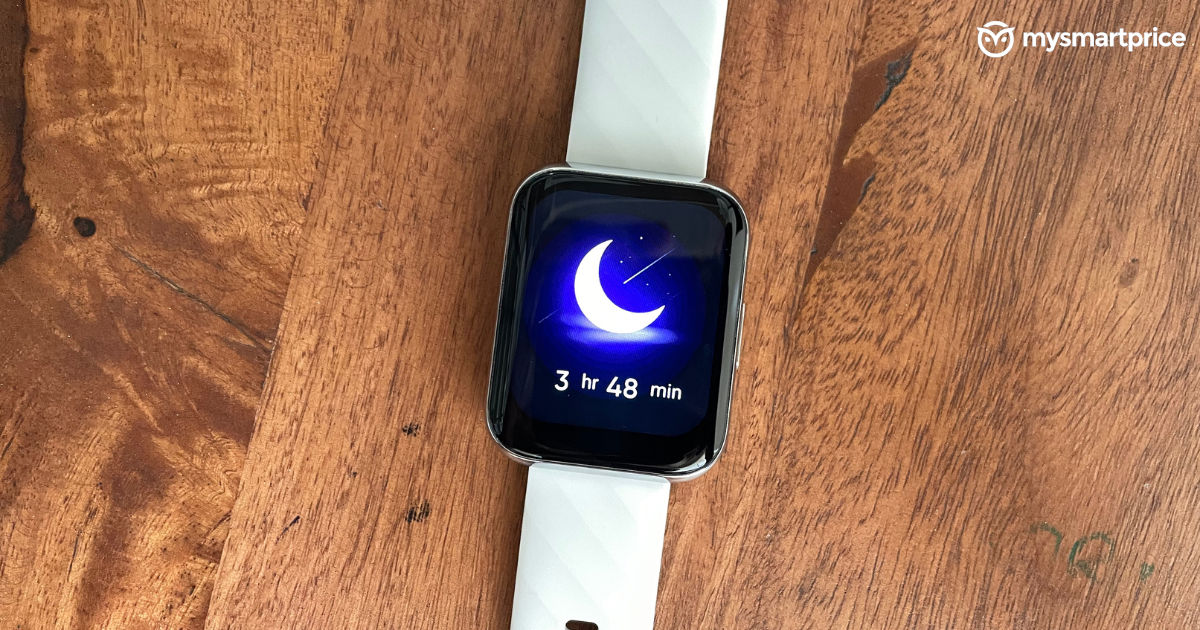 The breath tracking mode helps you in recording your breath for a specific period and shows the heart rate after the mode ends.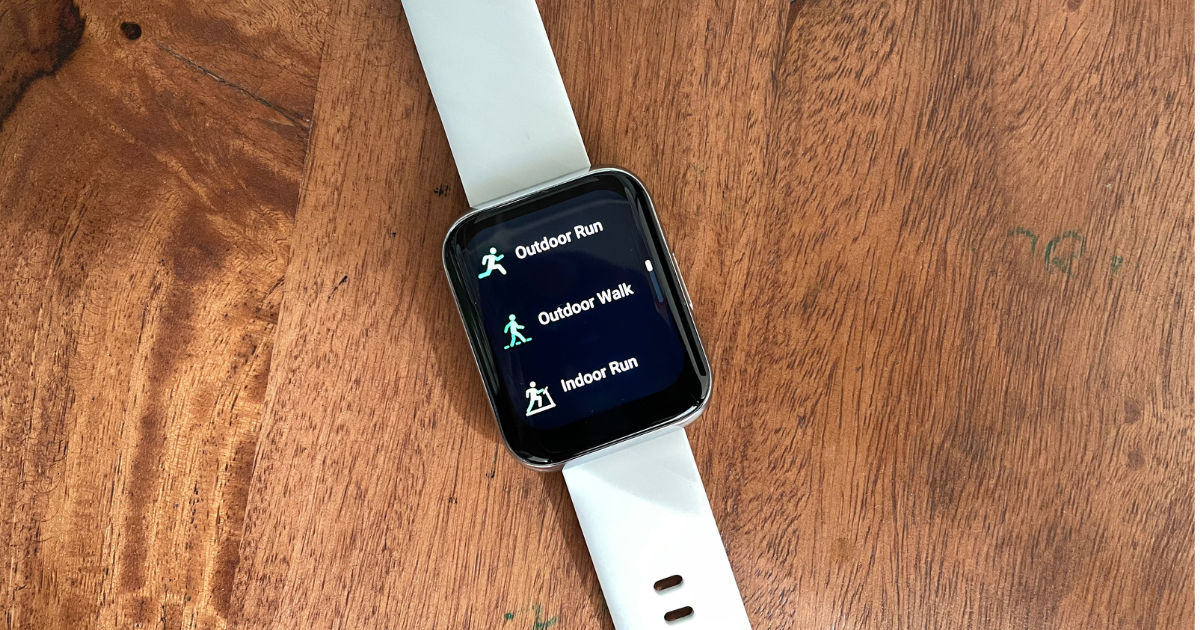 Dizo states that the Watch D has over 110 sports modes available, but we got to see only 15 modes in the workout mode in the watch by default. The rest of the sports modes need to be synced from the app from the More Sports section in the settings. Dizo told us that this has been done to keep a clean workout experience. Which is fine, you don't want to keep scrolling with over 110 sports options just to select the one you need.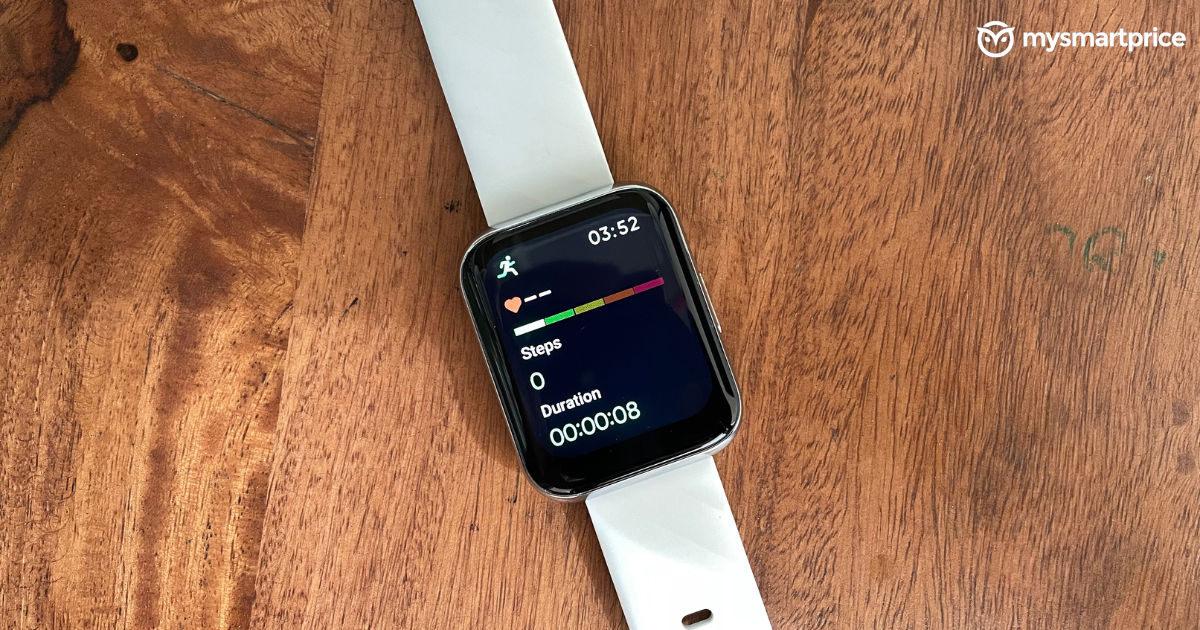 The workout modes available by default in the watch are walk, run, cycle, mountaineering, swimming, football, rowing machine, and much more. We tried the outdoor walk mode which used the phone GPS as the watch doesn't have navigation capabilities. You can start the sports mode by watch or app directly. Once the mode is ended, it will show the map route, a detailed report on your health that includes heart rate, pace, step frequency, and calories burnt in the Dizo app. The steps counter were close when we counted and matched them with our numbers.
Dizo Watch D Review: Final Verdict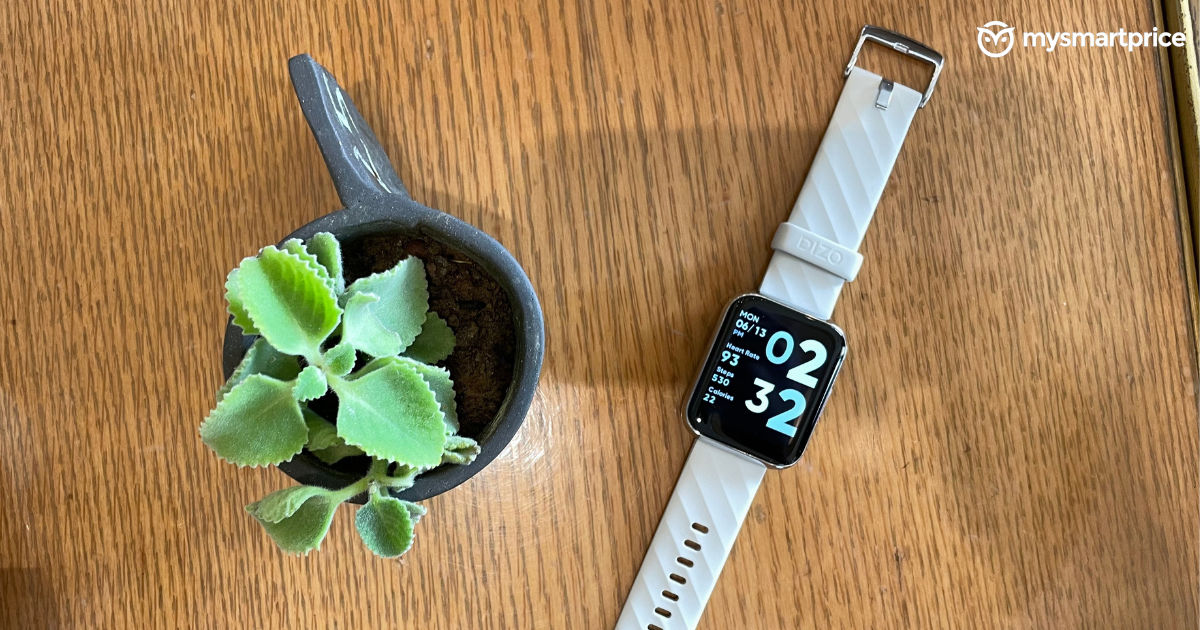 The Dizo Watch D seems to be smashing the competition with a premium design, a fine display, good app support, long battery life, and a lot of health tracking features. The inaccurate sleep tracking and stutter UI are the two major cons that we have noticed.
Dizo has launched the Dizo Watch D for Rs 2,999 in India, but, as the introductory offer, you can get it for Rs 1,999 for a limited time which is a sweet deal. We recommend you buy it for under Rs 2,000. But when it comes to original pricing which is Rs 2,999, it starts getting surrounded by the competition. The Boat Xtend smartwatch is another good-looking smartwatch that you can consider. We think that going with the Dizo Watch D will be a good decision.
What Is Good?
Premium looks
Large display
Good app support
Reliable health tracking
What Is Bad?
Inaccurate sleep tracking
Display prone to accidental touches