Highlights
EA Sports has launched FC Mobile, the first title in the franchise without the FIFA tag.
The game has been made available for both iOS and Android users as an update for existing users.
EA Sports FC Mobile will join with EA Sports FC 24, which launches on September 29.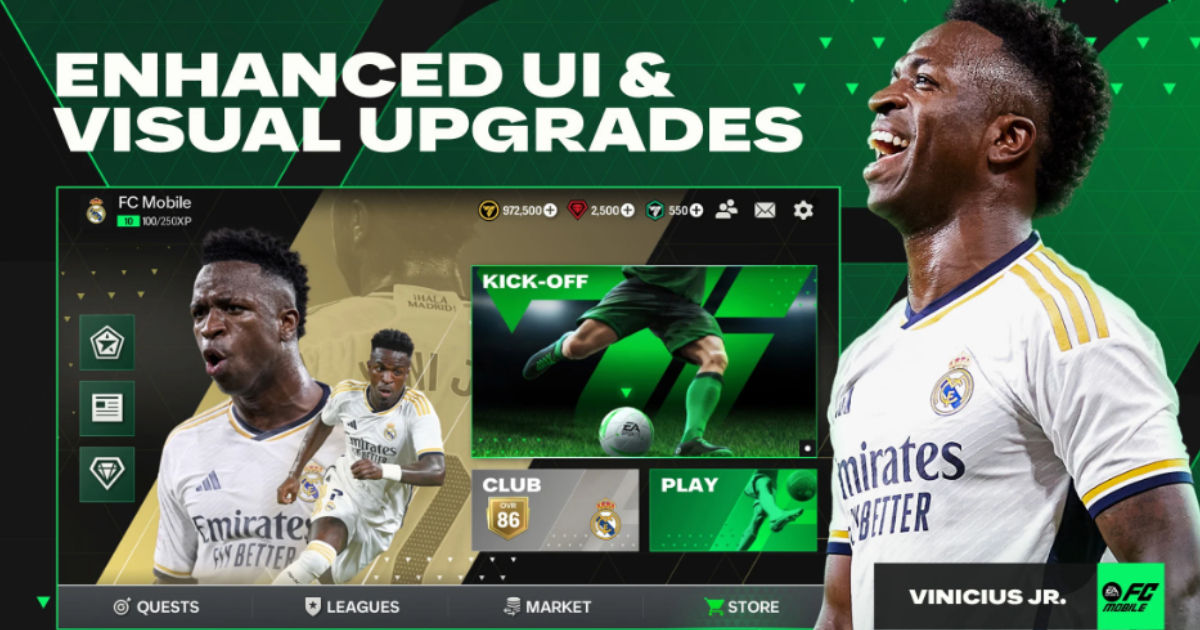 After months of anticipation, EA Sports launched FC Mobile for both Android and iOS on September 26, 2023. FC Mobile is the successor to FIFA Mobile and is believed as a new era in EA Sports' long-running soccer franchise because the title is being released without a FIFA tag.
Following the conclusion of EA's 30-year partnership with FIFA, EA has gone solo with EA Sports FC, their new football game series to replace the iconic FIFA franchise. EA FC 24 is presently available for early access on PS5, PS4, Xbox Series X |S, Xbox One, and PC, but EA has published the mobile version – EA FC Mobile – ahead of the console and PC versions' official release on Friday, September 29.
EA Sports FC Mobile Launched for Android and iOS
EA FC Mobile is currently available for download on the iOS App Store and the Android Google Play Store, and the new game will be offered as a free upgrade to the existing mobile community of 100 million or more active users. EA has announced significant updates to FIFA Mobile, including new gameplay elements, a new-look UI, and an official UEFA Champions League mode, while gamers may also claim some free items.
EA SPORTS FC™ Mobile marks a new era for The World's Game. 👏

Play #FCMobile now.

Android: https://t.co/3wTGFDCYSL
iOS: https://t.co/ofCoxMmqHf pic.twitter.com/pU5FMBB8n2

— EA SPORTS FC MOBILE (@EASFCMOBILE) September 26, 2023
FC Mobile offers an unparalleled true football experience on mobile devices, with over 15,000 fully licensed players spread over 650 teams and 30 leagues. Below, we have listed the new features, controls and content featured in FC Mobile.
EA will give all players a free Founders Pack in EA FC Mobile, and each player who logs in between September 26 and November 30 will receive one ambassador player item for free. Here are the players you may obtain simply by logging in to the new game.
Real Madrid's Vinicius Junior

Manchester City's Erling Haaland

Liverpool's Virgil van Dijk

Tottenham Hotspur's Heung-Min Son

Real Madrid's Jude Bellingham

Liverpool 's Diogo Jota

Manchester City's Jack Grealish

Juventus' Federico Chiesa

Chelsea's Enzo Fernandez

Borussia Dortmund's Youssoufa Moukoko
With new Impact Controls focusing on three areas, EA Sports FC Mobile delivers a new level of immersion to dominate the pitch:
Power Shot

:

Being the game's quickest shot type, it comes with a risk vs. reward system.

A Power Shot's animation time is substantially longer than that of a typical shot, putting the player at risk of being tackled during the shot wind-up. Successfully unleashing a Power Shot not only looks great but is immensely satisfying to score.

Hard Tackle:

Hard Tackles are strong and far-reaching stand tackles that allows players to crush opponents or prevent shots at the last second. With Hard Tackle, defenders may make faster and more powerful tackles.

Knock On:

Break away from opponents or create room to step into a shot by running at full speed. Knock On and the newly introduced Hard Stop have been added to FC Mobile as Team Skill Moves, allowing for the swiping direction control to be customized as needed.
When it comes to playing on mobile, how a game looks and feels is always crucial, and EA has made a number of enhancements in EA FC Mobile with new visual and sound updates, featuring a new broadcast experience with match intro sequences and a wide camera that matches the stadium atmosphere.
The whole user interface has been modified in accordance with the EA Sports FC brand, in order to complement the new EA FC Mobile branding. Like in EA FC 24, new menus will cover the screen with background graphics, animations, icons, and layout. iOS users can click here and Android users click here to download the game.
Also Read: Sony Announces PlayStation 5 EA Sports FC 24 Bundle in India: Check Price and Availability Details