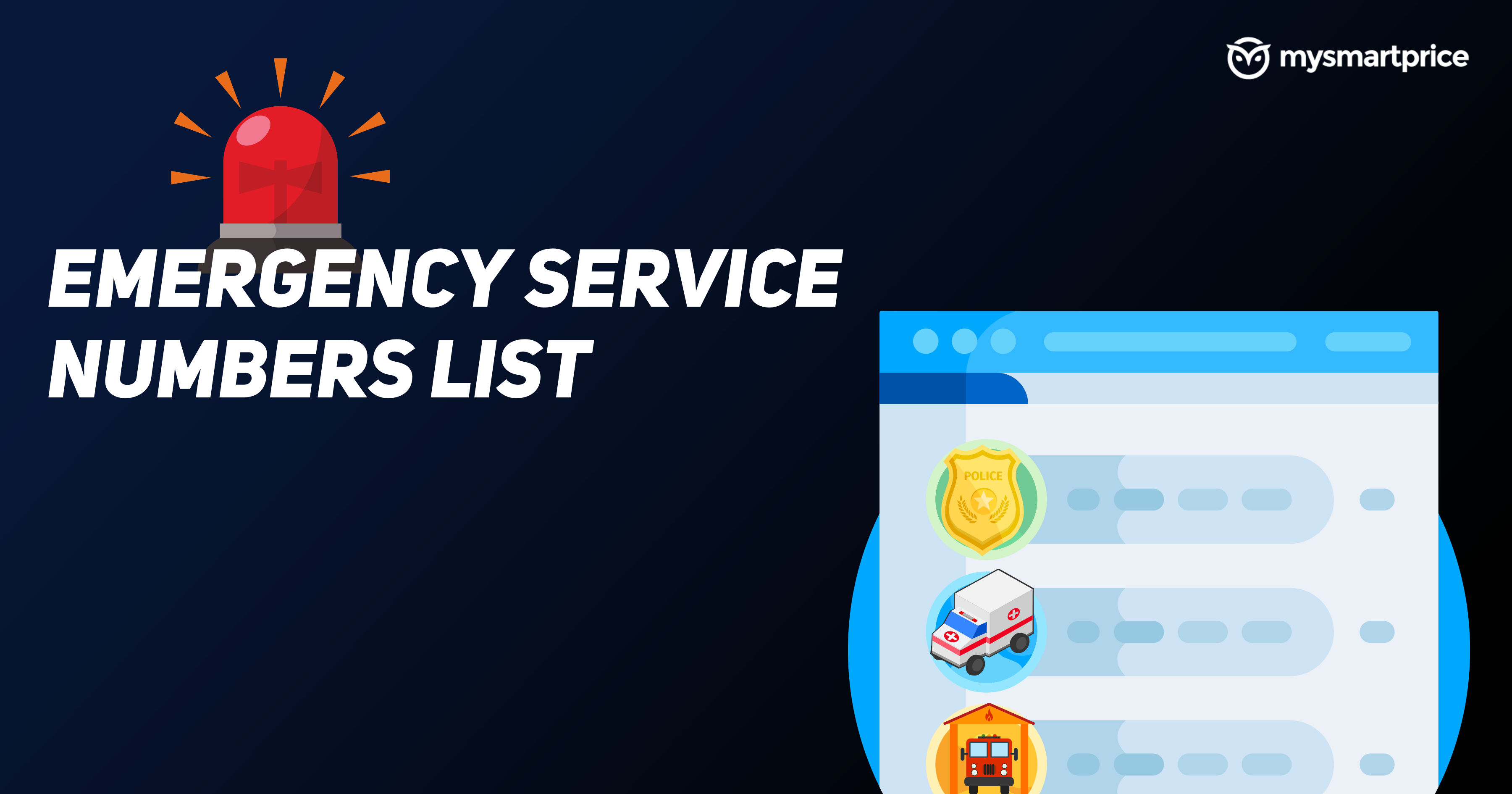 Emergencies are uncalled and could happen anytime and anywhere. In such cases, each person should have a directory of helpline numbers that can be dialled whenever required. We have curated a list of all the emergency helpline numbers that can be used in such situations. These toll-free numbers work across the country and some of them are specifically for states as well. If anything unexpected happens in front of you, then don't panic and dial the relevant emergency number first. Without any delay, here's a list of emergency service numbers.
Also Read: Find Phone Numbers: 10 Free Apps and Websites to Find Out Who Called You
National Emergency Helpline in India: List of numbers to contact during emergency
Here's a list of helpline numbers in India that you can contact in any emergency situation. Check out the table below.
National Emergency Service

Helpline Number

Police

100

Fire

101

Ambulance

102

National emergency number

112

AIDS helpline

1097

Disaster Management (N.D.M.A)

1078

Railway

139

Kisan Call Center

1551

LPG Leak helpline

1906

Cyber Crime helpline

15620

Tourist helpline

1363 or 1800111363

Kiran Mental health helpline

1800599019

Children emergency helpline

1098

Relief Commissioner for Natural Calamities

1070

ORBO Center, AIIMS, Delhi

1060

Railway Accident Emergency service

1072

Road Accident Emergency service

1073

Senior Citizen helpline

14567

Deputy Commissioner of Police – Missing Child and Women

1094

Road Accident Emergency service on National Highway for private operators

1033

Earthquake/ Flood/ Disaster (N.D.R.F. headquarters;)

011-24363260

9711077372

Medical helpline ( Goa, Andhra Pradesh, Gujarat, Uttrakhand, Tamil Nadu, Assam, Meghalaya, Karnataka, M.P, and U.P)

108

Poisons information center (Vellore)

18004251213

National Poisons Information Center (AIIMS)

1800116117
State Emergency Helpline: List of numbers to contact during emergency
Indian states have dedicated helpline numbers that connect locally and provide assistance at the earliest. We have curated the emergency numbers of a few Indian states in our article. To know a specific helpline number of your state, we recommend checking out their website and finding the number. Let's see the list of the helpline numbers available in the state.
Delhi Emergency Service Numbers
| | |
| --- | --- |
| Department Name | Helpline Numbers |
| Water helpline | 1916 |
| PWD helpline | 1800110093 |
| Covid helpline | 1031 |
| Covid-positive patients helpline | 1800111747 |
| Women helpline | 1091 |
| Disaster Management | 1077 |
| Missing Person | 1094 |
| Traffic police | 1095 |
| Delhi Metro helpline | 155370 |
| Doorstep Delivery | 1076 |
Haryana
| | |
| --- | --- |
| Department Name | Helpline Numbers |
| Fire and Rescue | 101 |
| Ambulance helpline | 108 |
| Covid helpline | 08558893911 |
| Child helpline | 1098 |
| Women helpline | 1091 |
| Helpdesk | 18001802128 |
Punjab
| | |
| --- | --- |
| Department Name | Helpline Numbers |
| Fire and Rescue | 101 |
| Police | 100 |
| Covid helpline | 8872090029 |
| Women helpline | 1091 |
| Traffic police | 1073 |
| Anti-corruption helpline | 9501200200 |
| Unified State helpline | 1100 |
| All in one Emergency number | 112 |
Maharashtra
| | |
| --- | --- |
| Department Name | Helpline Numbers |
| Fire and Rescue | 101 |
| Police | 100 |
| Covid helpline | 022-22027990 |
| Women helpline | 022-22633333 |
| Tourist police | 022-22621855 |
| Disaster helpline | 022-22694725 |
| Infoline | 1090 |
| Blood bank | 104 |
Goa
| | |
| --- | --- |
| Department Name | Helpline Numbers |
| Fire and Rescue | 101/2225500 |
| Police | 100/ 2225360 |
| Covid helpline | 104 |
| Women helpline | 022-22633333 |
| Tourism Development | 0832-2424001 |
| Stress/ Suicide helpline | 0832-2252525 |
| Hotine | 1098 |
| Helpline | 24121215 |
Bihar
| | |
| --- | --- |
| Department Name | Helpline Numbers |
| Fire and Rescue | 101/0612-2222223 |
| Police | 100/0612-2201977-78 |
| Covid helpline | 0612-2219090 |
| Women helpline | 0612-2320047 |
| Rural Development | 0612-2210000 |
| Bihar Public Grievance helpline | 0832-2252525 |
| Bihar Krishak Aayog | 0612-6452289 |
| Helpline | 0612-2233333 |
Gujarat
| | |
| --- | --- |
| Department Name | Helpline Numbers |
| Fire and Rescue | 101 |
| Police | 100 |
| Covid helpline | 079-23259818 |
| Women helpline | 181 |
| Traffic Control | 103 |
| Child helpline | 1098 |
| Bloodbank | 1910 |
| Ambulance | 108 |
Arunachal Pradesh
| | |
| --- | --- |
| Department Name | Helpline Numbers |
| Fire and Rescue | 101 |
| Police | 100 |
| Nirbhaya helpline | 1800-425-1400 |
| Women helpline | 1091 |
| Telehealth | 1056 |
| Child helpline | 1098 |
| Tourism helpline | 0360-2214745 |
| Ambulance | 102 |
Andhra Pradesh
| | |
| --- | --- |
| Department Name | Helpline Numbers |
| Fire and Rescue | 101 |
| Police | 100 |
| Covid helpline | 0866-2410978 |
| Corruption helpline | 14400 |
| Disha helpline | 181 |
| Spandana helpline | 1902 |
| Railways Enquiry | 139 |
| Ambulance | 102 |
Andaman and Nicobar Islands
| | |
| --- | --- |
| Department Name | Helpline Numbers |
| Fire and Rescue | 101 |
| Police | 100 |
| Covid helpline | 03192-232102 |
| Tourist helpline | 03192-232694 |
| A.I.D.S helpline | 1097 |
| Disaster helpline | 022-22027990 |
| Airport Enquiry | 03192-232414 |
| Ambulance | 102 |
Assam
| | |
| --- | --- |
| Department Name | Helpline Numbers |
| Fire and Rescue | 101 |
| Police | 100 |
| Child helpline | 1098 |
| Women helpline | 181 |
| A.I.D.S helpline | 1097 |
| State Emergency helpline | 1079 |
| ASTC bus service | 8133918051 |
| Ambulance | 102 |
Chhattisgarh
| | |
| --- | --- |
| Department Name | Helpline Numbers |
| Fire and Rescue | 101 |
| Police | 100 |
| Child helpline | 1098 |
| Women helpline | 1091 |
| Street light helpline | 1100 |
| Electricity Complain | 1912 |
| Citizen Call center | 155300 |
| Ambulance | 102 |
Himachal Pradesh
| | |
| --- | --- |
| Department Name | Helpline Numbers |
| Fire and Rescue | 101 |
| Police | 100 |
| Child helpline | 1098 |
| Women helpline | 1091 |
| Disaster Management | 1077 |
| Traffic Police | 2652217 |
| Gudiya helpline | 1515 |
| Ambulance | 102 |
Jharkhand
| | |
| --- | --- |
| Department Name | Helpline Numbers |
| Fire and Rescue | 101 |
| Police | 100 |
| Covid helpline | 0651-282201 |
| Women helpline | 1091 |
| Disaster Management | 1077 |
| State Tourism | 2314826 |
| Cybercrime | 9771432133 |
| Ambulance | 102 |
West Bengal
| | |
| --- | --- |
| Department Name | Helpline Numbers |
| Fire and Rescue | 101 |
| Police | 100 |
| Blood Bank | 1910 |
| Hospital helpline | 033-22892530 |
| Electricity helpline | 1912 |
| City Municipality helpline | 0332286-1000 |
| Railway service | 1512 |
| Ambulance | 108 |
Jammu Kashmir
| | |
| --- | --- |
| Department Name | Helpline Numbers |
| Fire and Rescue | 101 |
| Police | 100 |
| Police helpline Jammu | 0191-2455113 |
| Police helpline Srinagar | 0194-2443022-23 |
| Disaster Management | 1077 |
| State Tourism | 2548172 |
| Post Office | 2543606 |
| Ambulance | 102 |
Karnataka
| | |
| --- | --- |
| Department Name | Helpline Numbers |
| Fire and Rescue | 101 |
| Police | 100 |
| Covid helpline | 080-46848600 |
| Water supply helpline | 22275170 |
| Railway helpline | 22870068 |
| State Tourism | 22212901 |
| Electricity helpline | 9483191212 |
| Ambulance | 102 |
Madhya Pradesh
| | |
| --- | --- |
| Department Name | Helpline Numbers |
| Fire and Rescue | 101 |
| Police | 100 |
| Covid helpline | 0755-2704201 |
| Women helpline | 1091 |
| C.M helpline | 181 |
| Child helpline | 1098 |
| Indore helpline | 0731-2522111 |
| Ambulance | 108 |
Odisha
| | |
| --- | --- |
| Department Name | Helpline Numbers |
| Fire and Rescue | 101 |
| Police | 100 |
| Covid helpline | 9439994859 |
| Women helpline | 9437581575 |
| Cyclone helpline | 18003456797 |
| Coast guard helpline | 1554 |
| Tourist helpline | 6370972100 |
| Ambulance | 108 |
Rajasthan
| | |
| --- | --- |
| Department Name | Helpline Numbers |
| Fire and Rescue | 101 |
| Police | 100 |
| Covid helpline | 0141-2225624 |
| Women helpline | 1091 |
| SC/ST helpline | 18001806025 |
| Child helpline | 1098 |
| Tourist helpline | 0141-5110598 |
| Ambulance | 108 |
Sikkim
| | |
| --- | --- |
| Department Name | Helpline Numbers |
| Fire and Rescue | 101 |
| Police | 100 |
| Natural Calamities | 03592-202371 |
| Border Road Organisation | 03592-203241 |
| Civil Defense | 03592-202922 |
| Army helpline | 03592-2022228 |
| Helicopter service | 03592-206234 |
| Ambulance | 108 |
Uttarakhand
| | |
| --- | --- |
| Department Name | Helpline Numbers |
| Fire and Rescue | 101 |
| Police | 100 |
| Covid helpline | 0135-2710334 |
| Disaster/medical helpline | 108 |
| Disaster Management | 1070 |
| Tourism helpline | 0135-2624147 |
| Airport helpline | 0135-2412052 |
| Child helpline | 1098 |
Uttar Pradesh
| | |
| --- | --- |
| Department Name | Helpline Numbers |
| Fire and Rescue | 101 |
| Police | 100 |
| Covid helpline | 18001805145 |
| Women helpline | 1090 |
| Disaster Management | 9711077372 |
| C.M helpline | 0522-2239296 |
| State helpline | 0522-2838128 |
| Child helpline | 1098 |
Tripura
| | |
| --- | --- |
| Department Name | Helpline Numbers |
| Fire and Rescue | 101 |
| Police | 112 |
| Senior Citizen helpline | 0381-2325784 |
| Women helpline | 1091 |
| Disaster Management | 022-22027990 |
| C.M helpline | 1905 |
| Electricity helpline | 0381-2356470 |
| Child helpline | 1098 |
Telangana
| | |
| --- | --- |
| Department Name | Helpline Numbers |
| Fire and Rescue | 101 |
| Police | 112 |
| Covid helpline | 8790005197 |
| Women helpline | 181 |
| Disaster helpline | 1077 |
| Cyber Crime helpline | 040-27852412 |
| Electricity helpline | 0381-2356470 |
| Child helpline | 1098 |
Tamil Nadu
| | |
| --- | --- |
| Department Name | Helpline Numbers |
| Fire and Rescue | 101 |
| Police | 112 |
| Covid helpline | 044-29510500 |
| Women helpline | 1091 |
| Disaster helpline | 1070 |
| Student helpline | 14417 |
| NDRF helpline | 9711077372 |
| Coastal Security helpline | 1093 |
Kerala
| | |
| --- | --- |
| Department Name | Helpline Numbers |
| Fire and Rescue | 101 |
| Police | 112 |
| Covid helpline | 044-29510500 |
| Women helpline | 1091 |
| Disaster helpline | 1070 |
| Crime helpline | 1090 |
| NDRF helpline | 9711077372 |
| Citizen helpline | 0471-55300 |
Manipur
| | |
| --- | --- |
| Department Name | Helpline Numbers |
| Fire and Rescue | 101 |
| Police | 112 |
| Medical helpline | 18001032015 |
| Women helpline | 181 |
| Disaster helpline | 1070 |
| Airport helpline | 0385-2455069 |
| Railway station helpline | 0832-2715851 |
| Child helpline | 1098 |
Meghalaya
| | |
| --- | --- |
| Department Name | Helpline Numbers |
| Fire and Rescue | 101 |
| Police | 112 |
| Disaster Management helpline | 0364-502098 |
| Women helpline | 181 |
| Tourism helpline | 1800111363 |
| Airport helpline | 0385-2455069 |
| Police station helpline | 0364-2222855 |
| NDRF helpline | 9711077372 |
Mizoram
| | |
| --- | --- |
| Department Name | Helpline Numbers |
| Fire and Rescue | 101 |
| Police | 112 |
| Disaster Management helpline | 0389-2342520 |
| Women helpline | 181 |
| AIDS helpline | 1097 |
| Airport helpline | 0389-2573355 |
| Electricity helpline | 0389-2322174 |
| Traffic helpline | 2322307 |
Nagaland
| | |
| --- | --- |
| Department Name | Helpline Numbers |
| Fire and Rescue | 101 |
| Police | 112 |
| Disaster Management helpline | 0389-2342520 |
| Women helpline | 181 |
| AIDS helpline | 1097 |
| Airport helpline | 0386-2243133 |
| Electricity helpline | 0370-2222431 |
| NDMA helpline | 022-22027990 |
Also Read: How to Block or Blacklist a Phone Number from Calling You on Android and iOS Mobile