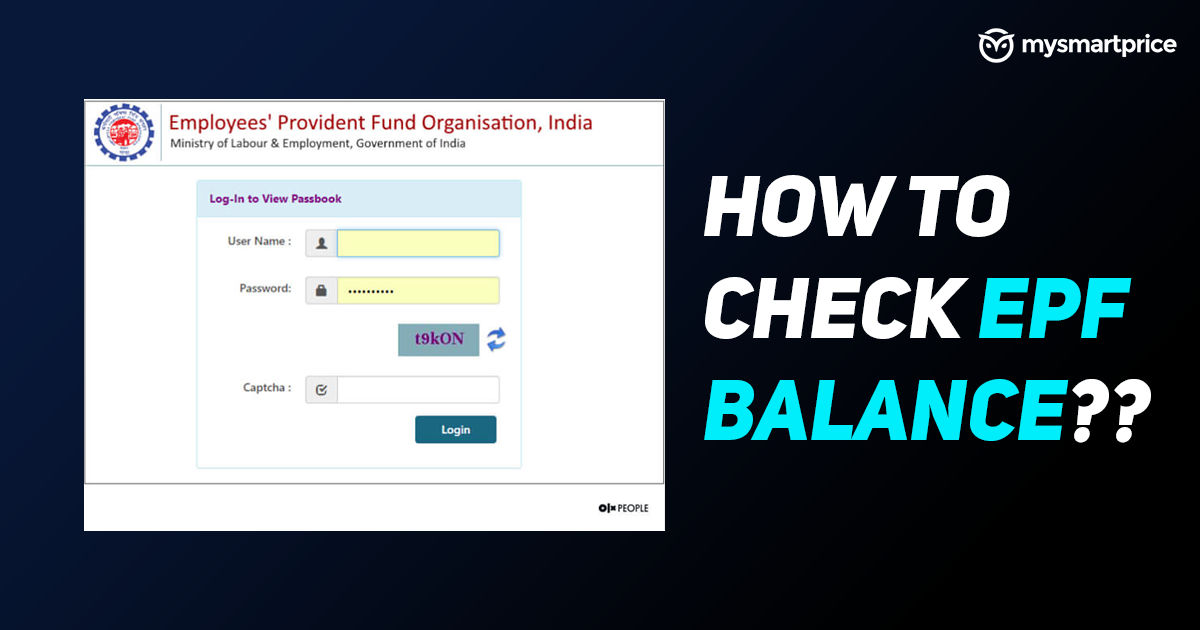 Employee Provident Fund or Provident Fund is also popularly known as EPF or PF in India. The EPF is a savings tool for all employees in the county. The purpose of this is to offer employees lump-sum payments at the time of exit from their place of employment. The Employees' Provident Fund Organization (EPFO) is the body under the Government of India, which is responsible for the regulation and management of provident funds in India. 
As an employee in an organization, you would have opened an EPF account (employer usually does) and every month, some fixed amount of money would be added to your account. In case you can't keep track of this every month, you can check the balance in your PF account occasionally. There are many ways to check the EPF Balance. You can check the EPF balance using the website, app, by sending an SMS, and also by missed call service. 
In this guide, we will take a look at how to check EPF balance in multiple ways. Before we proceed, it is worth mentioning that to check balance using apps and websites, you must have UAN and password and to check via missed call service and SMS, you must have registered your mobile number. In case you don't have either of these, you can check with your employer for more details. 
Also Read: SBI Balance Check & Enquiry: How to Check SBI Account Balance via Missed Call Number, Online Banking, Mobile App and More
How to Check PF Balance using Website
To check EPF balance using the website, you will need to have a Universal Account Number or UAN and password. A valid credential is a must before we proceed to check the balance here. If you have UAN and password, you can go ahead and follow the below-mentioned steps to check the EPF balance. 
Visit Employees' Provident Fund Organisation

Member Login page

Enter UAN and password

Enter captcha code

Click on Login

Select Member ID from the drop-down list (If you have worked in multiple companies, you will have multiple Member IDs, select the one which you'd prefer here)

Click on "View Passbook [New: Yearly]

Once this screen loads, you will be able to view your PF balance
Note: As per the recent update, to view EPFO balance, e-nomination has been made mandatory. To complete this process, you can follow the below-mentioned steps.
Visit EPFO website

Select "Online Claims Member Account Transfer"

Enter UAN, Password, Captcha code and login

Under Manage, select E-Nomination and complete the process
To complete the E-Nomination process, your profile needs to have a profile picture. You can add a profile picture by heading to View > Profile. Once this is done, you will be able to add E-Nomination and check the EPFO balance. 
Also Read: How to Change Name in PAN Card 2022: Online and Offline Process, Fees, Required Documents
How to Check PF Balance using App
Alternatively, users can also use the Umang app to check the balance in their EPFO account. Here are the steps you need to follow in order to check your EPF balance using the app. The Umang app was launched by the Government of India to offer information on all government services like EPFO, Aadhar Card, Digi Locker, and much more. The app also allows you to 
Download Umang app from

Google Play Store

for Android or from the

App

Store for iOS devices

Login/Register on the app using mobile number

Once you have logged in, click on "All Services" tab at the bottom of the screen

Search for "EPFO" and click on the result

Select "Login"

Enter UAN number 

Your registered mobile number will get an OTP, enter the OTP

Click on "Submit"

Click on "View Passbook"

A list of companies you've worked for will appear, click on the one which you want to see

Your EPF balance will appear on the screen
In case you want to dig in more, you can download the passbook by clicking on the "Download" button. 
Also Read: How to Check the List of Mobile Numbers (SIM Cards) Registered with Your Aadhaar ID on DoT's TAFCOP Website
How to Check PF Balance using Missed Call Service
Dial 011-22901406 from your registered mobile number

End the call after two rings 

After placing a missed call, you will get an SMS with PF details
Also Read: Driving License Update: How To Change Address in Driving License
How to Check PF Balance using SMS
Send an SMS to 7738299899

Type EPFOHO UAN ENG

Once you send this message, you will get back PF balance update instantly
Note: The last three letters in the message is for the preferred language. The service is available in 9 other languages — Hindi, Punjabi, Gujarati, Marathi, Kannada, Telugu, Tamil, Malayalam, and Bengali. To get updates in Hindi, you can type HIN instead of ENG and so on. 
Also Read: Union Bank Balance Enquiry: How to Check Union Bank Account Balance via Internet Banking, Missed Call Service, Mobile App, and More