Highlights
Fire-Boltt is now the world's number two smartwatch brand after Apple.
The brand surpassed Samsung to achieve this feat after reporting 57% growth.
Fire-Boltt's smartwatch shipment was three times as compared to the corresponding period of last year.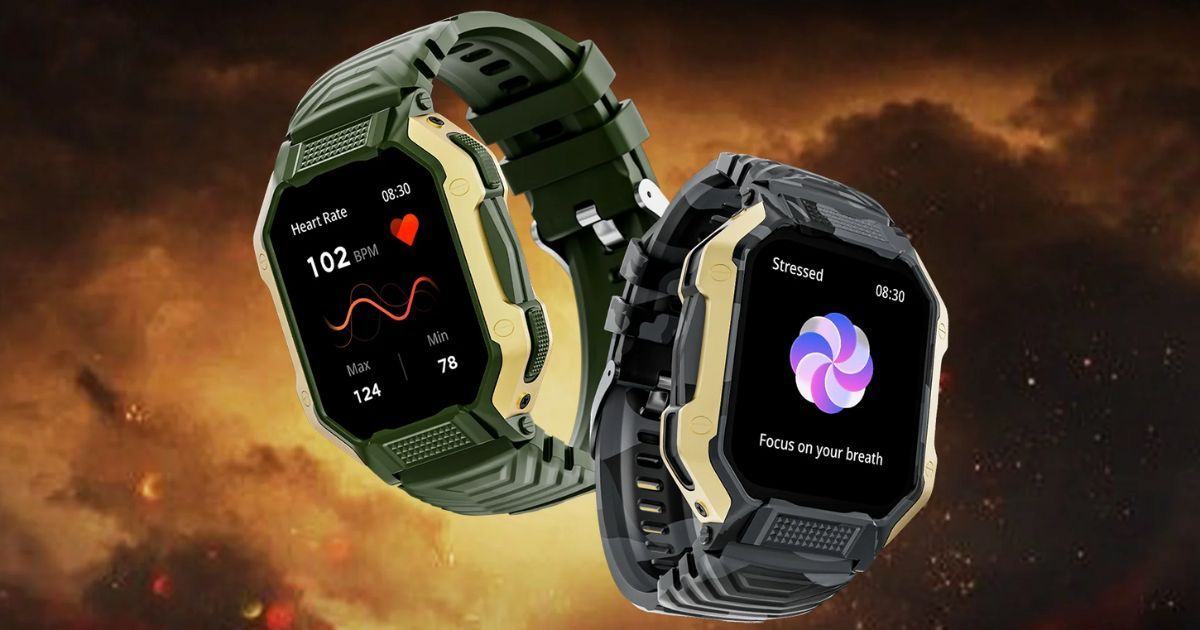 Counterpoint Research has posted its Q1 2023 report on the smartwatch industry. According to the report, the indigenous brand Fire-Boltt has surpassed Samsung for the first time to clinch the second spot worldwide. The company recorded 57% growth in its shipments worldwide in Q1 2023 compared to the previous quarter. The report also mentions that the 121% YoY growth of the Indian smartwatch market has restricted the global shipment decline to just 1.5% in Q1 2023. Read on ahead to know all details shared in the latest Counterpoint Research report.
Apple Tops List Followed by Fire-Boltt as the Second Most Popular Smartwatch Brand Globally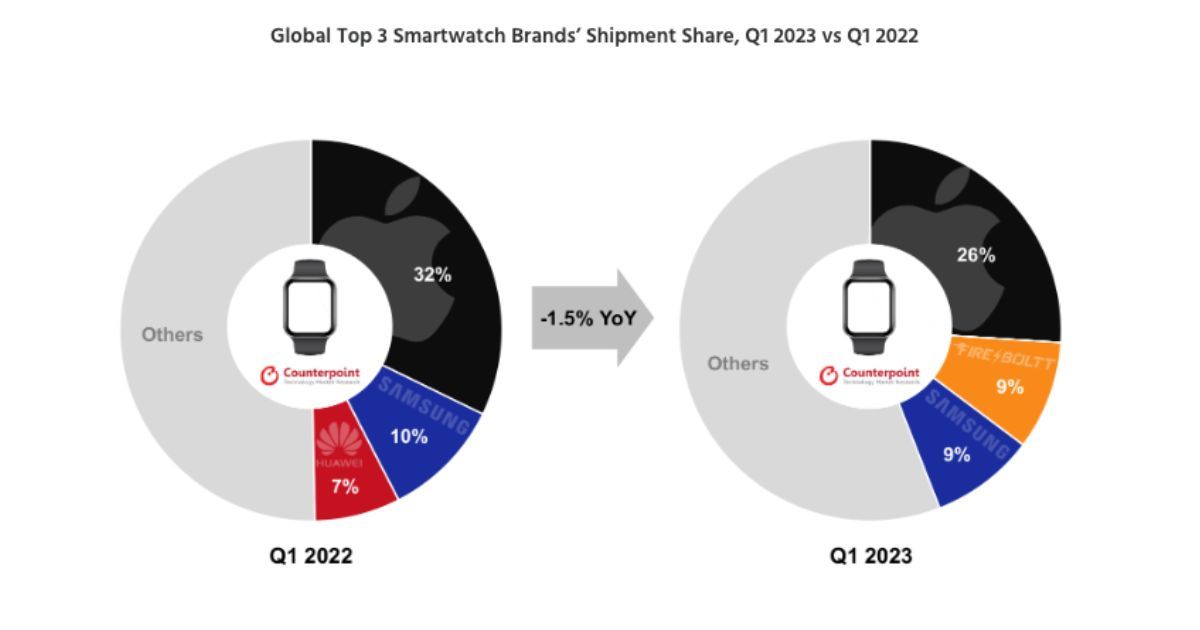 Fire-Boltt has been on a roll in India with launches like Shark, Rock, Legacy, and more. It seems that the strategy of offering premium smartwatches with features like Bluetooth calling and impressive batteries has worked for the brand. The company recorded a 57% growth in Q1 2023 compared to the previous quarter. Additionally, the company's shipment also grew around three times as compared to the volume in 2023. According to Counterpoint Research, Fire-Boltt raced past Samsung with a 9% market share worldwide.
As expected, the top spot has been retained by the Cupertino-based tech giant Apple. The Tim Cook-led company witnessed the first-ever drop in shipment in three years in Q1 2023. According to the report, Apple's volume in Q1 2023 fell 20% YoY to 26% compared to 32% in Q1 2022. The brand remains unfazed by the drop and continues to be the market leader in the smartwatch industry.
Coming to Samsung, the chaebol lost its position to the Indian brand despite recording a 15% YoY growth in its primary market – North America. However, the South Korean brand experience a significant drop in shipments in other major markets. This has resulted in a 15% drop compared to last year and a 21% decline compared to last quarter. Huawei also saw a steep decline of 14% on its home ground in China but managed to restrict global decline at 9% due to increased shipments in major markets like India, Latin America, and others.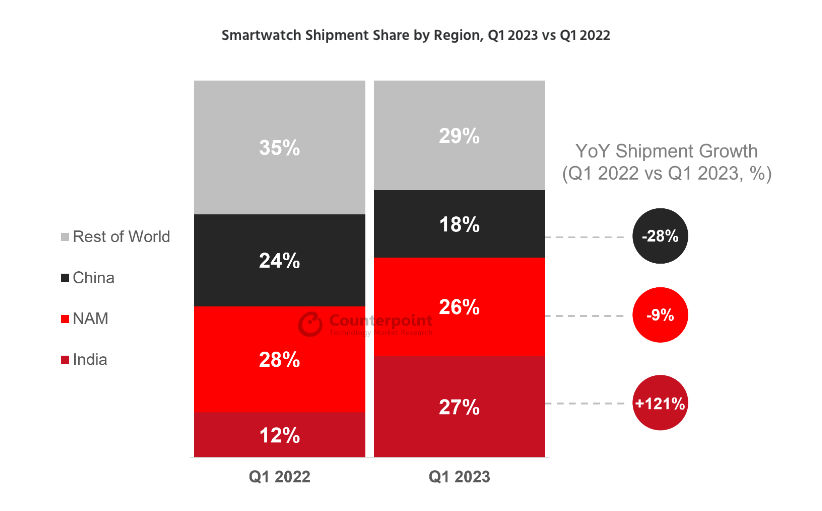 Speaking of the Indian smartwatch market, it played a significant role in restricting the global decline in smartwatch shipments. According to Counterpoint Research, the Indian smartwatch market recorded a whopping 121% in Q1 2023 compared to Q1 2022. The Indian smartwatch industry is the number 1 worldwide in terms of shipments, with a 27% market share. It surpassed North America and China with -9% and 18% growth, respectively.