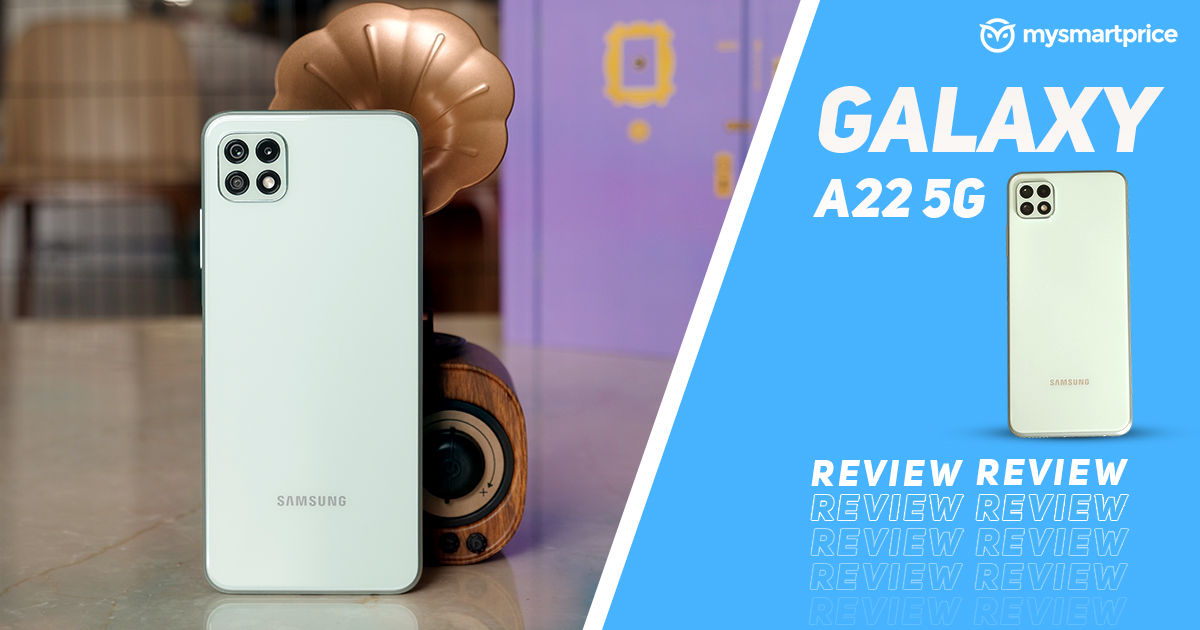 On 1st January 2021, there were exactly 0 5G devices you could buy under 20K in India. On 1st August 2021, there were at least 12. The latest entrant to this list is the Galaxy A22 5G, Samsung's first 5G phone under 20K. Although it is an "offline-centric" phone, it's also competing against the Galaxy M42 5G which is the only other 5G Samsung phone around 20K. I got to spend about a week with the A22 5G and also compared it to the Galaxy M42 5G during my usage. Here's what you need to know before buying either of these options.
Galaxy A22 5G Build Quality & Design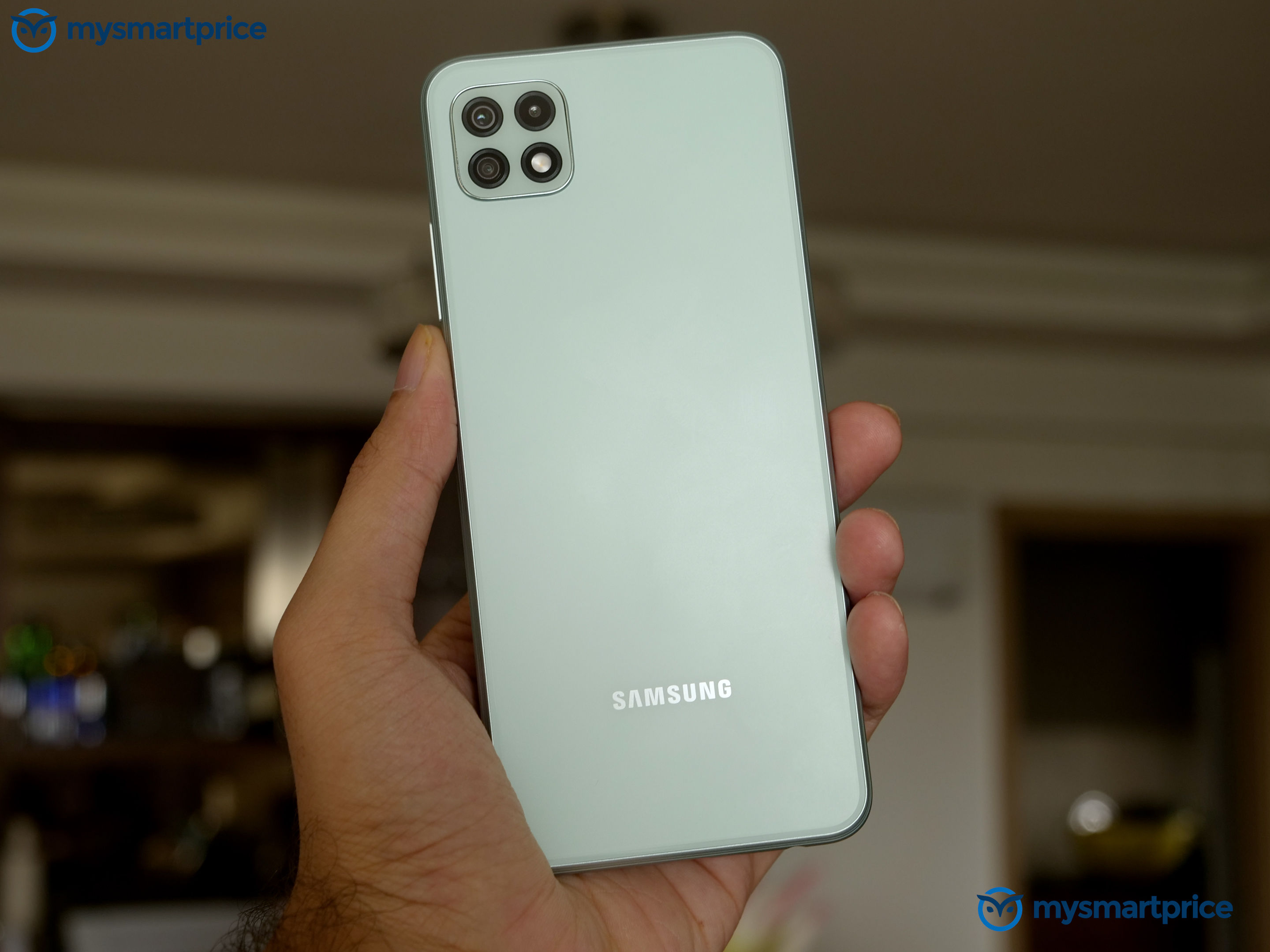 Galaxy A22 5G brings the 2021 A-series aesthetic to town, with a classy looking matte plastic back that is immune to scratches and smudges alike. The choice of fresh, pastel colors is an added bonus. Even the frame is matte finished, making this phone probably the Samsung mid-ranger with the best in-hand feel in a long time. It's only slightly on the heavier side with 203grams of weight, and the absolutely flat back makes the phone feel thicker than it actually is.
The squarish camera module feels a bit too bland and I would have loved to see a camera island like the Galaxy A52's here. On the plus side, it doesn't protrude out of the phone's back too much. Talking about protrusions from the phone body, the side-mounted fingerprint scanner and volume rocker reside on the right edge of the frame. 
At the bottom we get the usual suspects – a 3.5mm jack, primary microphone, a USB 2.0 Type-C port and the speaker grille. The phone comes with a dedicated microSD card slot along with 2 nano-SIMs and also has a secondary microphone on the top edge.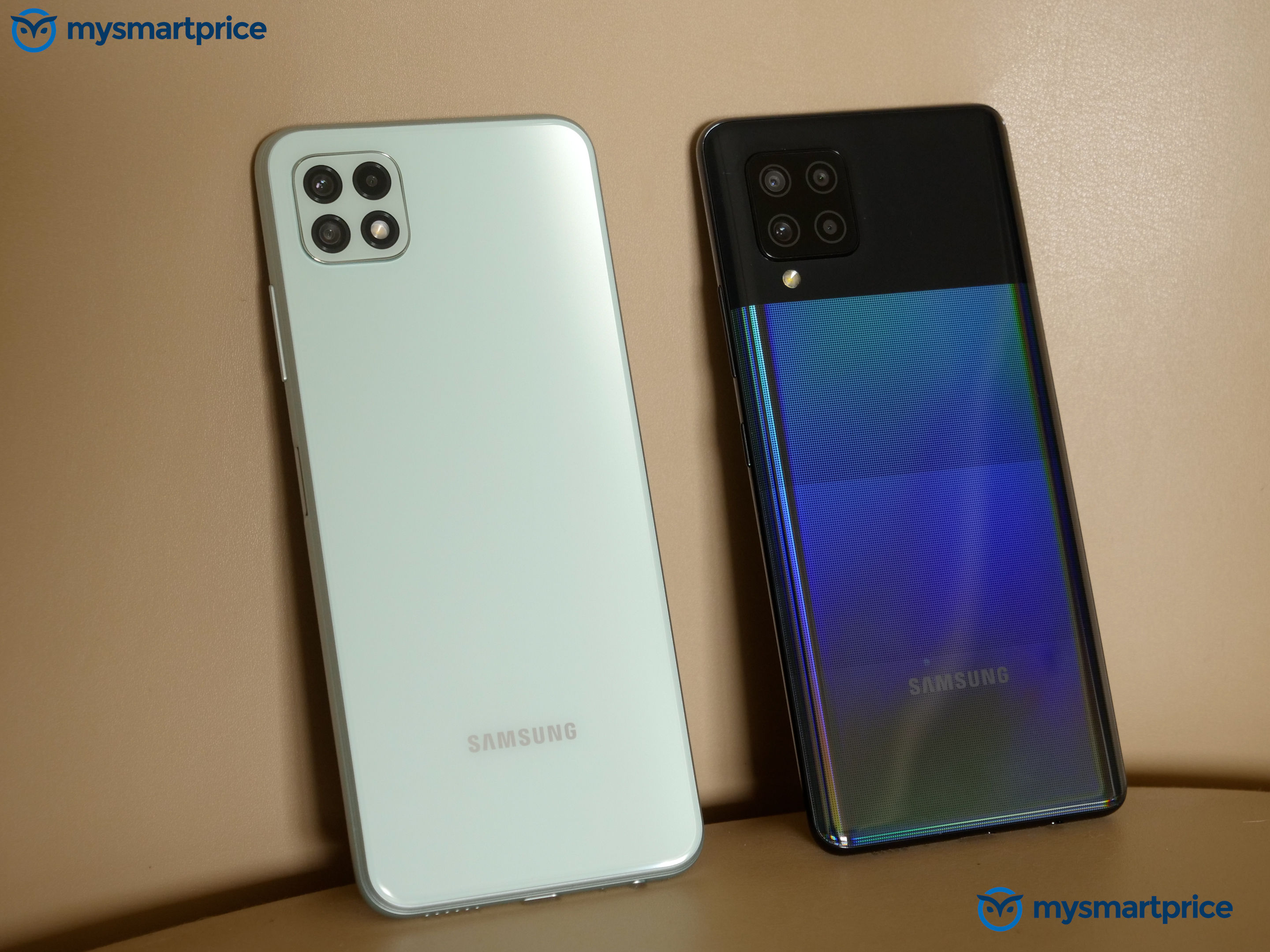 Comparing it to the Galaxy M42, the latter is much slimmer and at 190 grams, it's slightly lighter and more ergonomic to hold too. The back design is much flashier with a rainbow-colored reflective pattern, but the glossy finish means the M42 is a certified fingerprint magnet. The only difference other than this is that the M42 comes with a hybrid SIM card tray so you'll have to choose between a second SIM and a microSD card slot.
Galaxy A22 5G Display & Multimedia
Samsung's last few launches have one thing in common. All of them have a bug "BUT" associated with their screen specs. The Galaxy A22 (4G) has a 90Hz AMOLED! BUT, it's just 720p. The Galaxy M42 has an AMOLED display too, BUT it's 720p, AND it's just 60Hz refresh rate.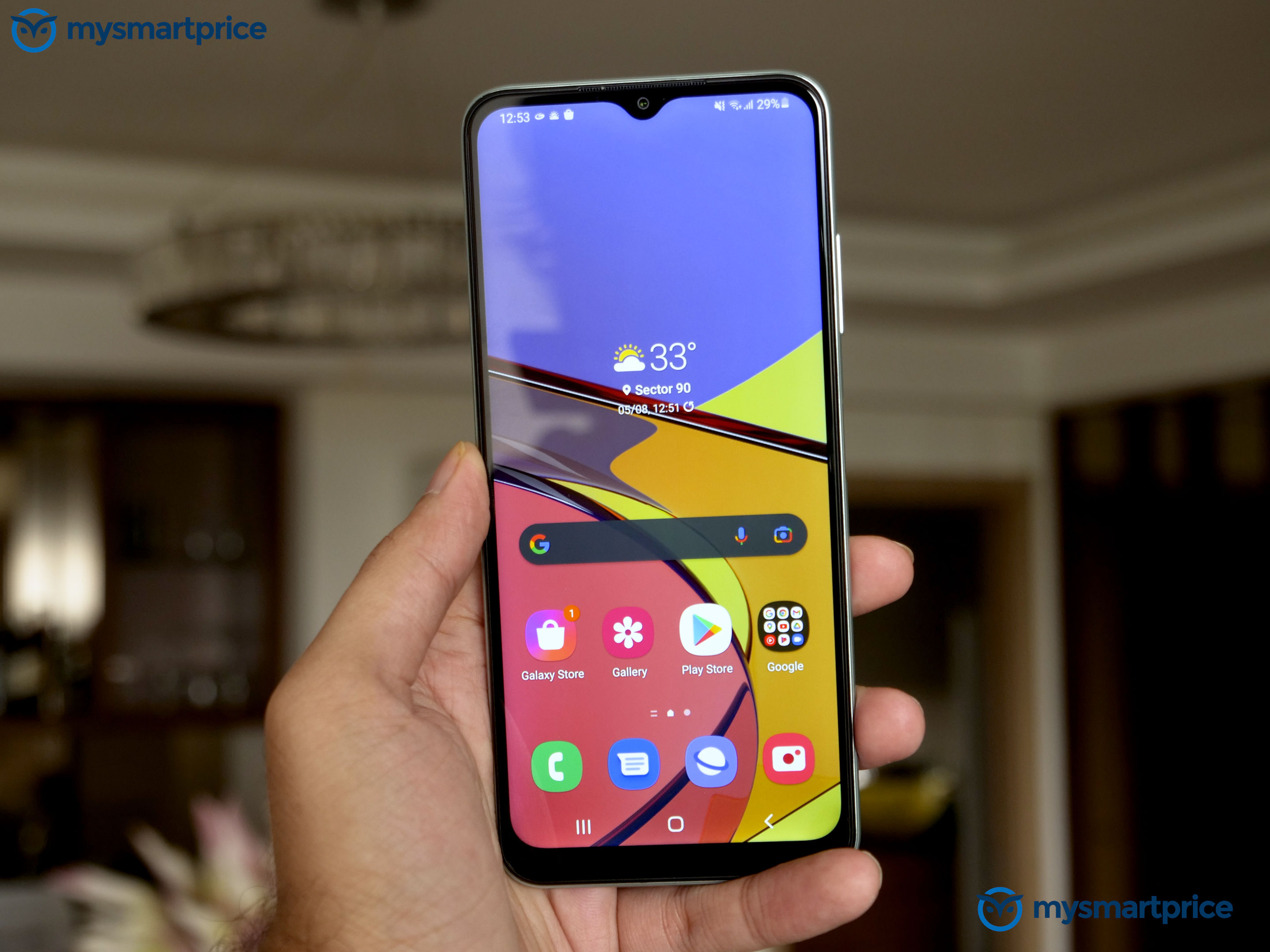 The display on the A22 5G is  6.6 inches, 1080p resolution and 90Hz refresh rate. So what's the but? Well, it's a TFT LCD. TFT meaning, it's an older technology compared to the IPS LCDs we are used to. As a result, the colors here feel slightly washed out, and the viewing angles are pretty narrow. Even more so, if you compare it to the vibrant and punchy AMOLED of the Galaxy M42 or all the other options available in this price range.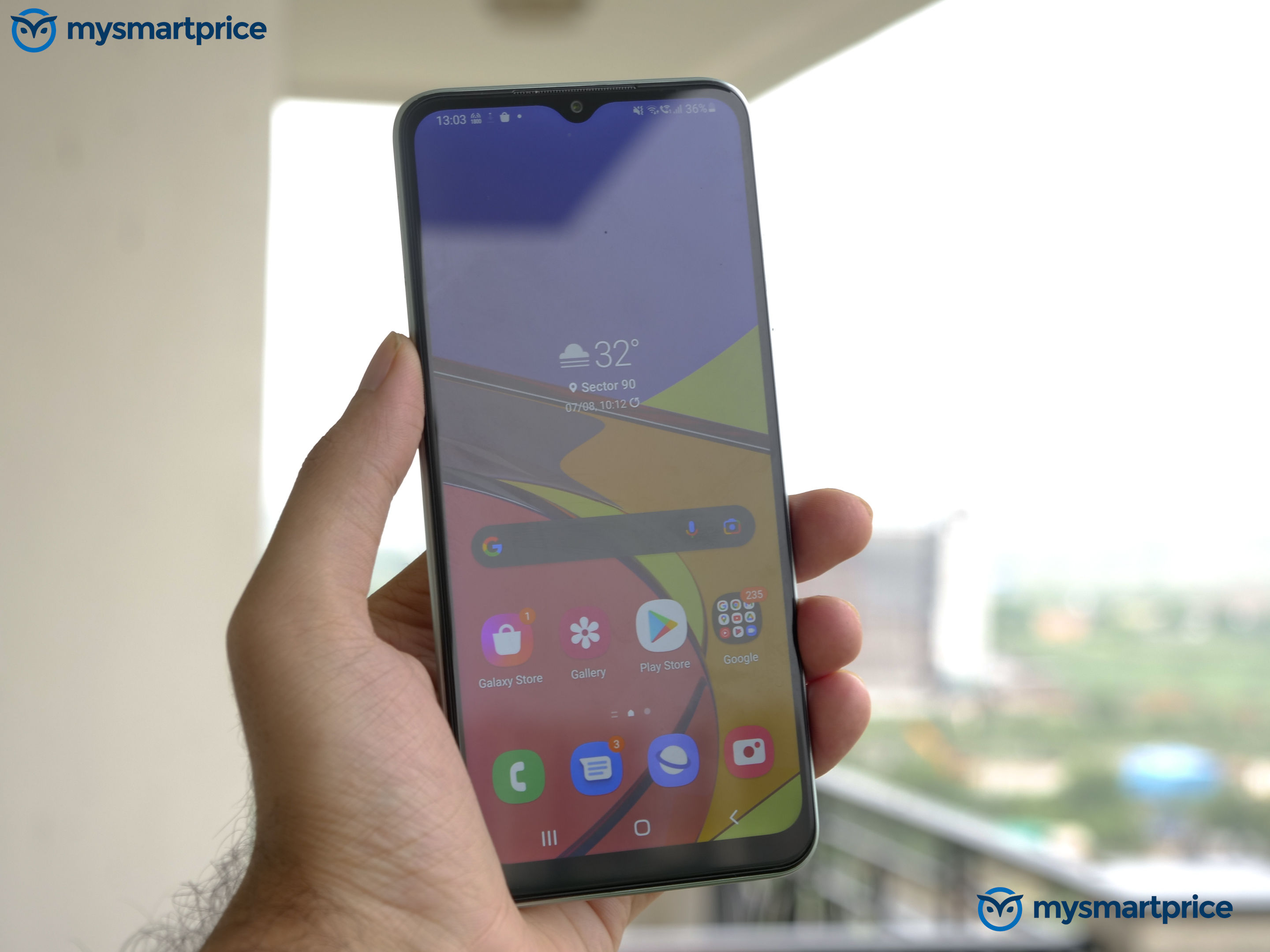 The screen gets just bright enough to be used outdoors, but don't count on it especially during sunny summer days. For indoor use, it's still a decent screen, with support for Widevine L1 certification as well. The good thing about this screen is the 90Hz refresh rate, which makes scrolling and general usage on this phone feel much smoother.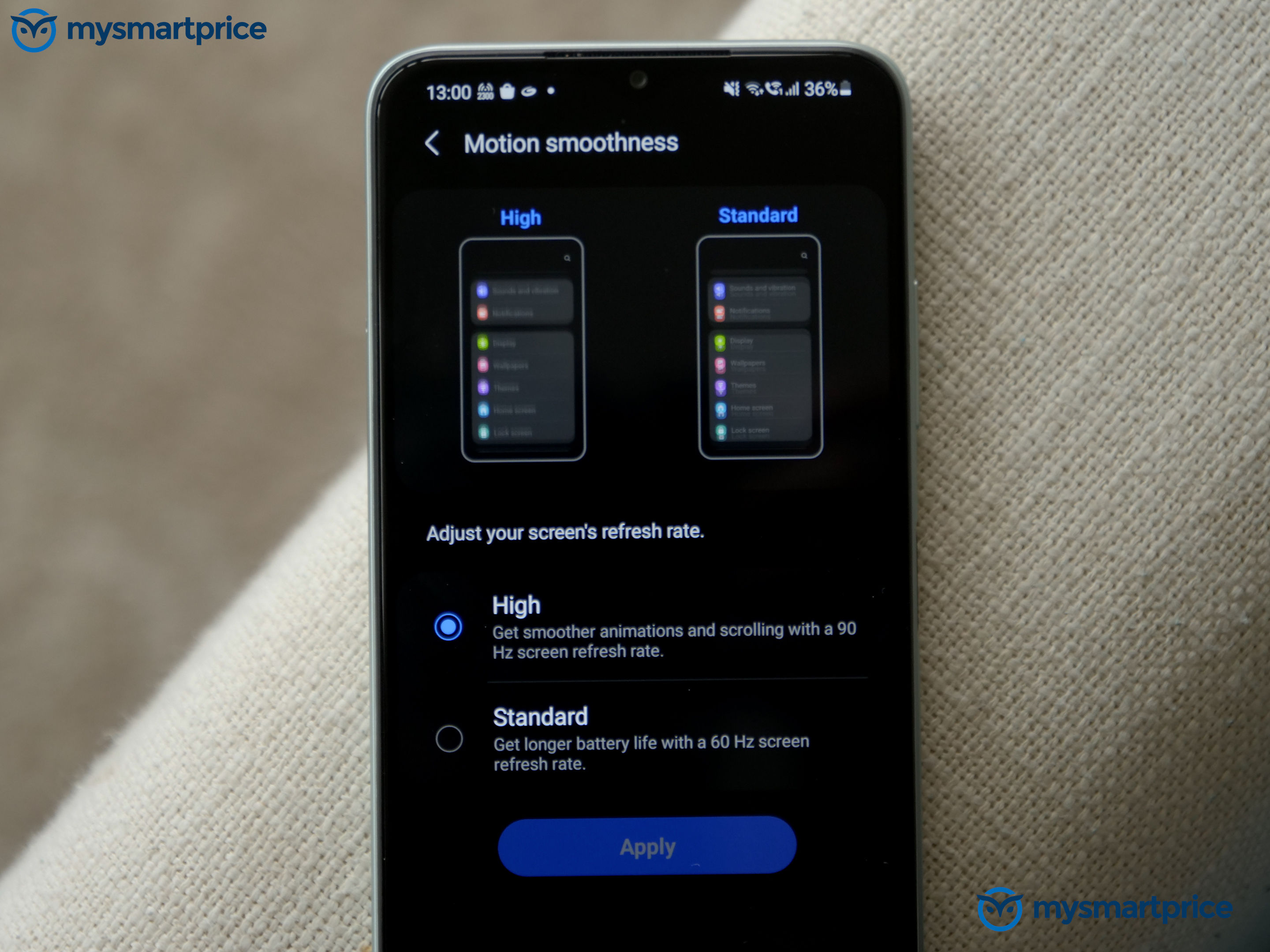 Sound via the single bottom firing speaker is just about average too. Almost every phone around 20K now comes with Stereo speakers, a trend that Samsung refuses to keep its buyers away from. The sound quality via the 3.5mm jack is still good though. That being said, multimedia usage isn't one of the strong points of this phone, and even with similar sounding speaker and its 720p screen, the M42 5G is an easy pick here, just for the punchy AMOLED colors.
Galaxy A22 5G Performance & Battery
The Galaxy A22 5G comes with either 6GB or 8GB of RAM and 128GB of internal storage. The storage type here is eMMC 5.1, which isn't very usual to find at this price point. The storage read/write speeds are considerably slower than UFS 2.1 storage on the M42 5G and that might result in slower software updates, slightly longer app load/download times in general. 
The processor here is Mediatek's Dimensity 700, which is famous because 4 different phones with the exact same specs have been launched with this processor so far. Anyway, it's a decent chipset from Mediatek, very comparable to the Snapdragon 750G on the Galaxy M42. Day-to-day tasks happen mostly smoothly, although I have a feeling this phone would have felt much faster if it was running on a faster storage.
Gaming on the D700 is a good experience too. BGMI can run HD graphics at 30fps or Smooth/Balanced graphics at 40fps. This is the same setting that the 750G can run this game on, however SD750G feels slightly more consistent when it comes to sustained performance over an hour or two of gaming. Although, if you were that serious about gaming, you wouldn't be looking at this phone now, would you?
The Battery life here is pretty much what you would expect from a 5000mAh cell. It easily lasted me entire days of usage with about 7-7.5 hours of SoT. This was at 90Hz refresh rate and pretty standard usage over Wifi majorly. Your mileage may vary. Charging duties are handled by a 15W charger provided in-box, and it takes about 2.5-3 hours to charge this phone from 0-100%. Again, not very impressive from 2021 standards but you get pretty much the same experience on the M42 too.
Galaxy A22 5G Software & Network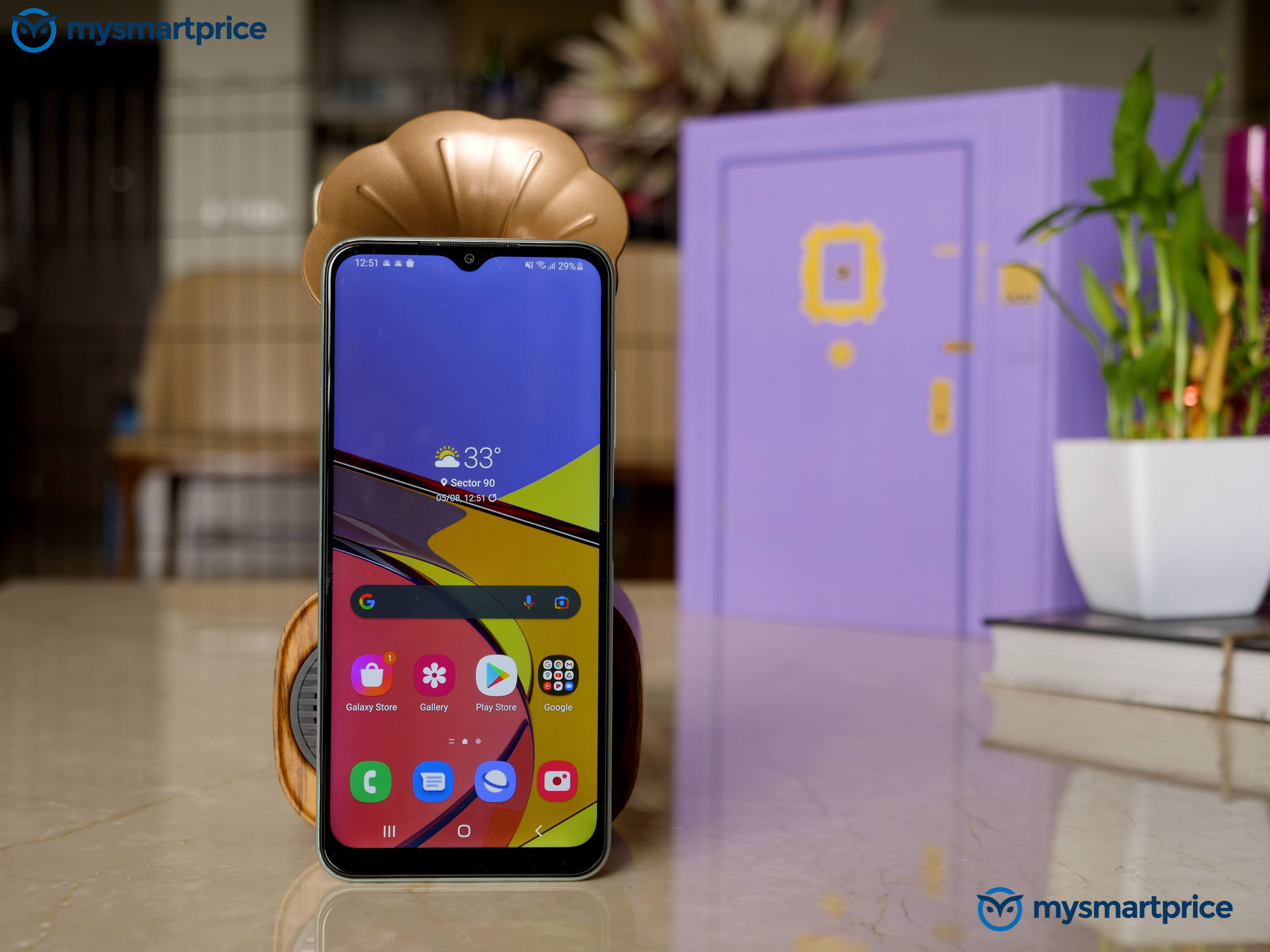 Galaxy A22 5G comes with Android 11 layered with OneUI 3.1 core on top. OneUI core is basically a slightly stripped-down version of OneUI. For example: On the galaxy M42 you get features like Knox Security, Secure Folder, Link to Windows, NFC etc. All of these are missing from the A22 5G. Regardless, it's still a feature packed software experience, with dark mode, customization options and more.
Talking about bloatware, there's a lot of it here. And not just Samsung's own apps, but a ton of third party apps like Moj, Josh, Dailyhunt etc., that might pester you with cringey notifications every day. Samsung is one of the few OEMs that still haven't shifted to Google Dialer as default, so you can record voice calls without notifying the other party. For unlocking, we get the side mounted FP scanner, which works slightly slower than I expected it to, plus there's also a face unlock option.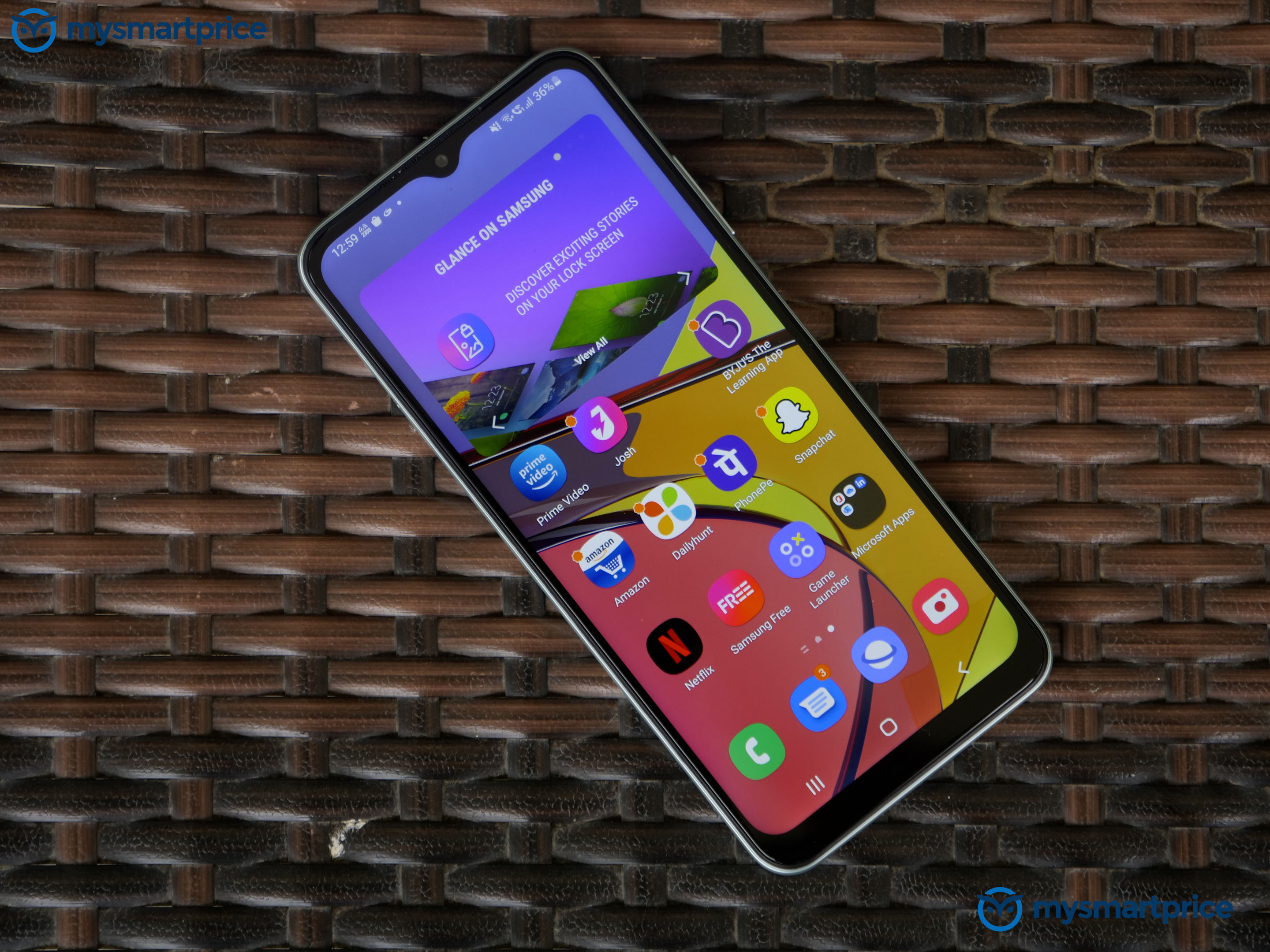 Let's talk about network performance now. This is a 5G phone, and the 11 5G bands support on this phone has become the talk of the town this month. In comparison, the M42 5G makes do with 4 5G Bands. Now having such a wide band coverage does give this phone a potential advantage over other phones with limited band supports. But will that really be helpful in the future, will Indian 5G networks even use all these bands, and will 5G even reach us in another 2 years? These are all unanswered questions so dwelling on 5G bands is good only if you see yourself using this phone for at least 3-4 years minimum. 
4G Network performance was quite solid though, but I couldn't see this phone doing 4G Carrier Aggregation on my Airtel SIM. There's support for VoLTE and VoWiFi calling as well, and my calling experience was satisfactory.
Galaxy A22 5G Cameras
On the back here we get a triple camera setup, with a 48MP Primary camera, a 5MP ultrawide and a 2MP depth sensor. This is slightly behind the camera setups you get on phones like the Galaxy A22 (4G) and Galaxy M42. The real compromise comes in the form of the 8MP selfie camera, which is blasphemously bad for a 20K phone. The selfies are almost always washed out, with very poor dynamic range and no details at all. If you like taking selfies even one bit, this phone is going to disappoint you. Even the 1080p video recording from the selfie camera is shoddy at best.
The main camera still manages to hold up better, clicking good looking pictures as long as there's ample lighting. The colors are slightly oversaturated, but Samsung's image processing makes sure you get social media ready pictures straight out of your camera. The shutter speed however, is slightly slower than you'd expect, sometimes resulting in blurry pics of moving objects. Low-light performance isn't the best though with most pics coming out really dark. Night mode does brighten these pics up but the colors get washed out to a great extent.
Galaxy A22 5G Main Camera
The 5MP Ultrawide isn't worth talking about either. It struggles to capture any details at all, and should be used strictly under the best lighting conditions only. Even the 1080p video recording via the ultrawide camera is supremely poor.
The main camera can record upto 2K video at 30fps. It does manage to capture a wide dynamic range with ample details. However the focusing speeds aren't the best, and I caught the phone focus hunting a lot of times.
Overall, the A22 5G is clearly not meant for serious camera users but will get the job done for occasional clicks. The M42 while providing very similar main camera experience, easily beats the A22 5G in selfies and ultrawide cameras. Plus it can shoot 4K videos, with much better dynamic range and focusing speeds.
Galaxy A22 5G Pricing & Verdict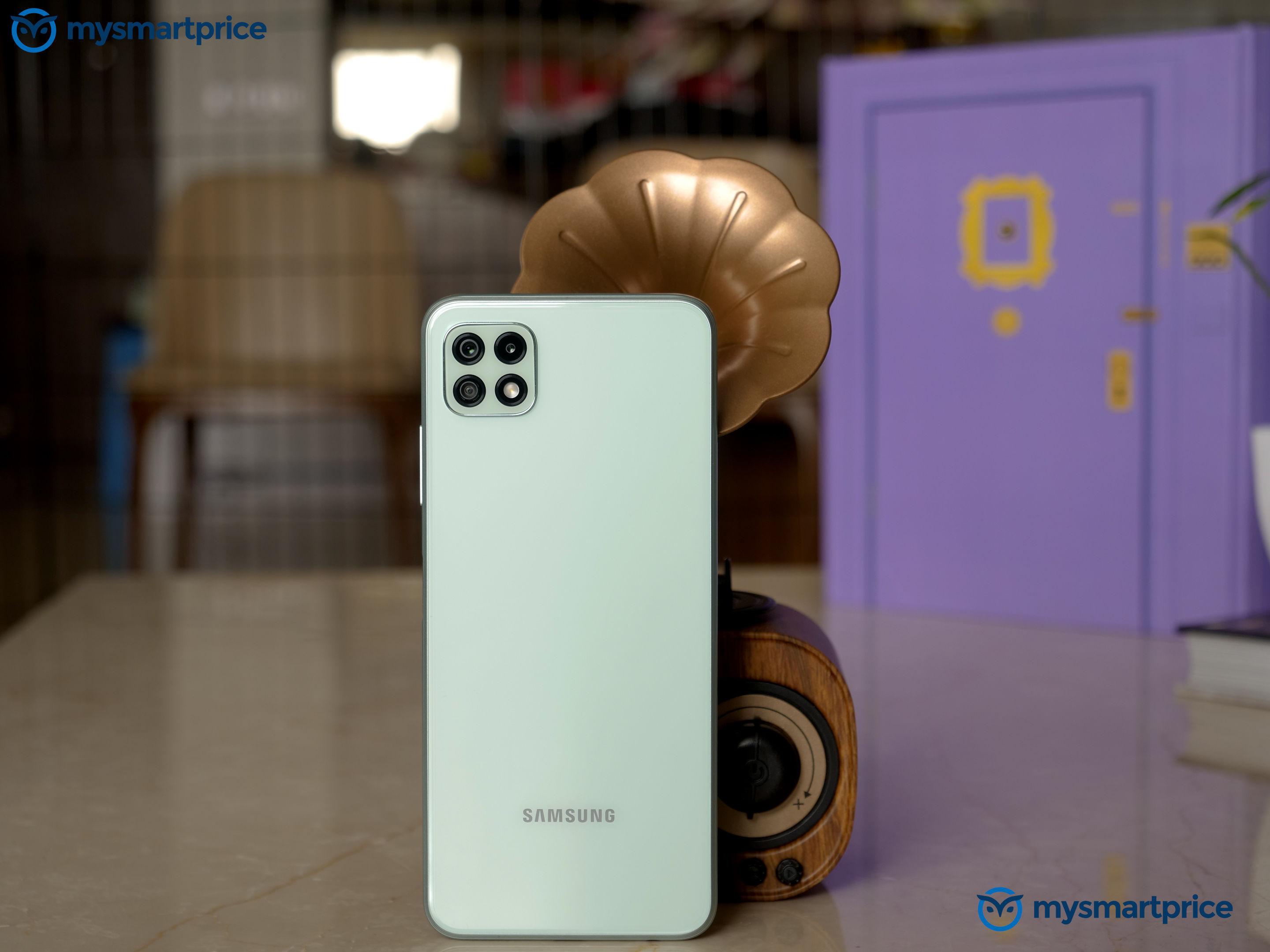 Galaxy A22 5G starts at Rs 19,999 for the 6/128GB variant, which makes it slightly more expensive than the A22 4G (Rs 18,499 for 6/128GB) and a bit cheaper than the Galaxy M42 5G (Rs 21,999 for 6/128GB). After using it for a week, I'm fairly certain that this phone is solely aimed at people who are looking to buy a phone to be used for the next 3-4 years or even longer. It's a decent day-to-day performer, with reliable battery life and manageable cameras. That being said, when compared to similarly priced competition, there are some serious shortcomings too. The selfie camera is too weak, the ultrawide camera is basically useless and the display experience could have been better too. The only real advantage this phone has over the competitors is support for 11 5G bands. But how big of a benefit that will be in real life is still something that we can only guess.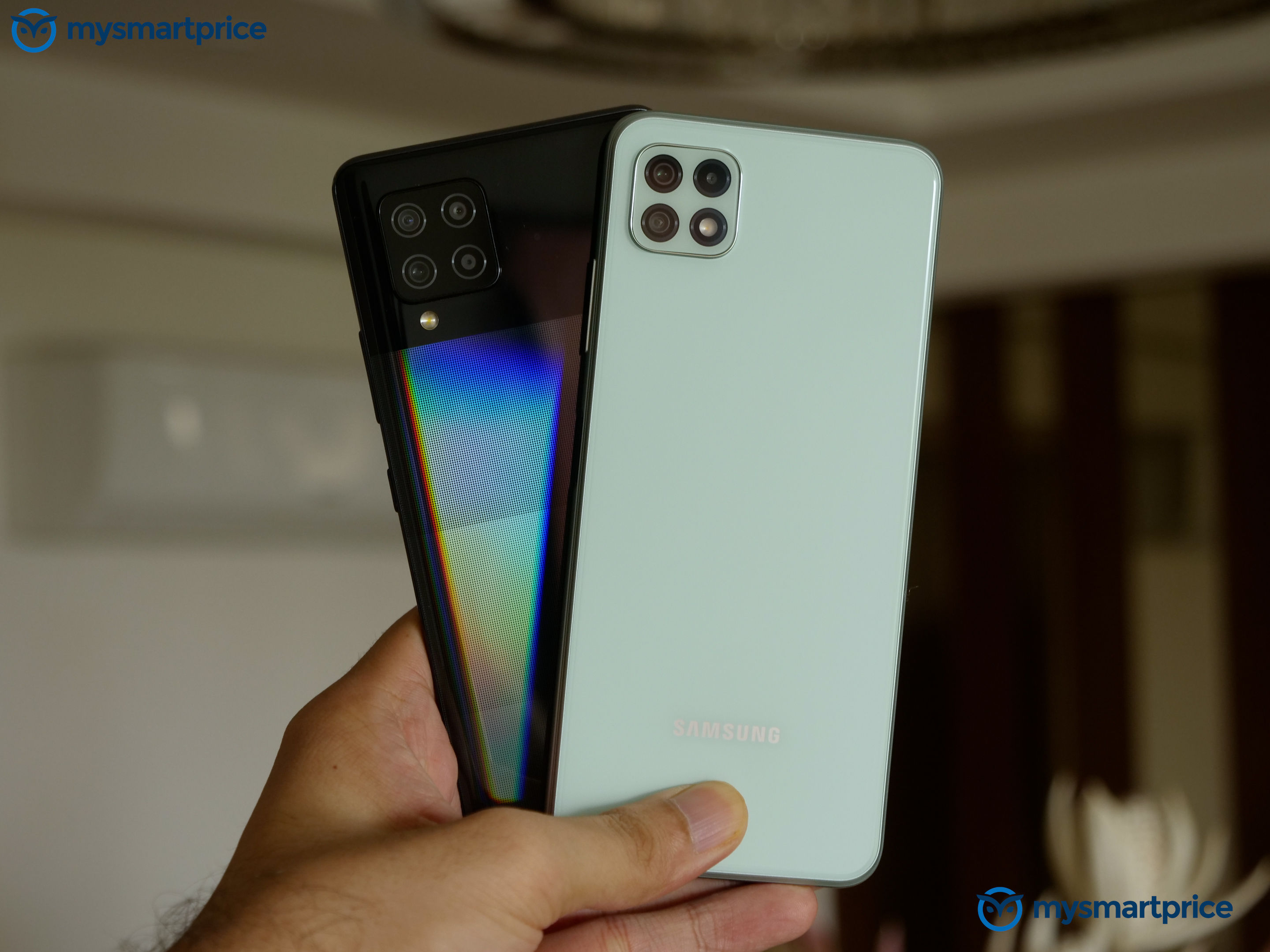 If you are certain about buying a 5G Samsung phone, the M42 will give you slightly better multimedia experience and much better cameras, albeit at the expense of a dedicated card slot and 90Hz smoothness. If you're the kind of user who generally starts looking at new phones after 1.5-2 years time, you can very well buy a much better spec'd 4G phone right now and upgrade to a good 5G phone when it actually reaches us. But if 5G is a priority for you, then the A22 5G is definitely worth a shot.
Samsung Galaxy A22 5G
Rs 19,999
Battery Performance
5.4/10
Network Performance
6.8/10
What Is Good?
Matte Finish Back
90Hz Smoothness
Good Main Camera
5G Bands Support
What Is Bad?
Slow eMMC Storage
Weak Ultrawide
Poor Selfies
Sub-par Display