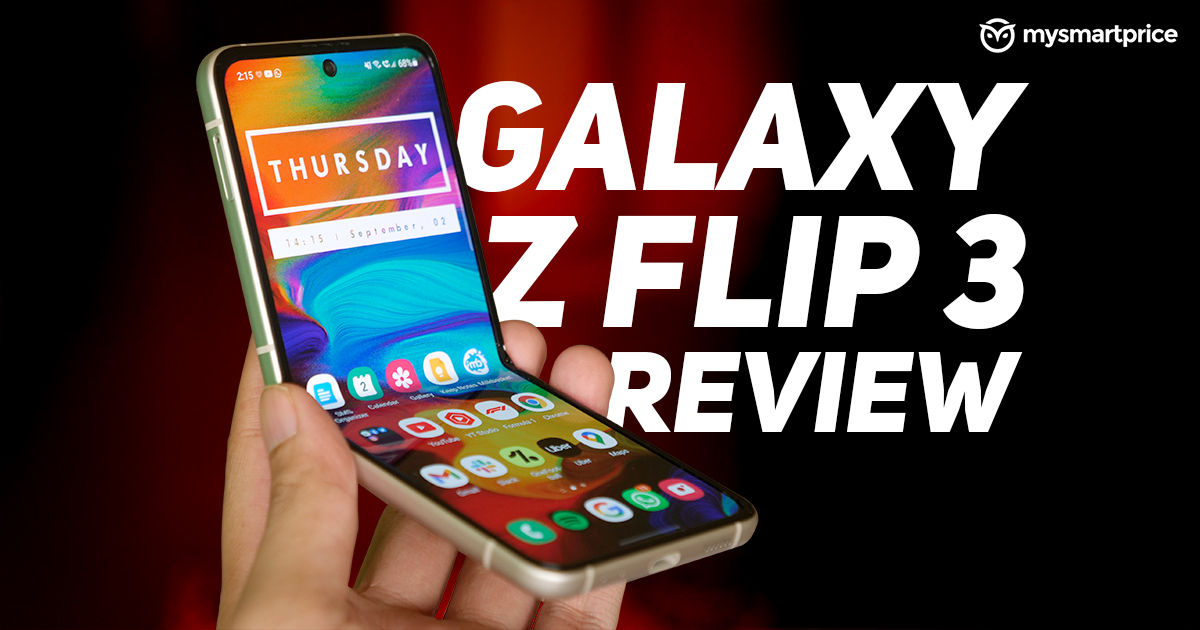 Galaxy Z Flip 3, unlike what its name suggests, is Samsung's 2nd flip phone in India. It's got a ton of upgrades from the OG (original) Flip – a brighter, smoother inner display, a bigger outer display, faster chip, waterproof rating and wireless charging. The cherry on top is that it costs almost 20 percent less than its predecessor, making it quite possibly the most impressive generational upgrade we've seen on a smartphone in a while. At Rs 84,999, it's almost selling for the same price as an iPhone 12, or its own sibling the Galaxy S21+.
It's the best shot that a foldable has had till date to become a mainstream product instead of a premium niche. That being said, I don't think I'll be recommending it to a lot of people. And yet, I'm sure it's going to sell like hot cakes and could also possibly become the most recognizable premium flagship of 2021. Confused? Well, I've been using the Z Flip 3 for about a week and you really need to read this till the end if you are thinking about purchasing this beauty.
Galaxy Z Flip 3 Battery & Charging
Let's straight away talk about the shortcomings of this phone first. Starting with the battery life…well, it's bad. The 3300mAh cell present here is miniscule compared to the 5000mAh+ packs we've started seeing on most phones, and the presence of a power-hungry 120Hz screen with the ever-thirsty Snapdragon 888 only makes matters worse. With very light usage including mostly social media scrolling, I was barely able to squeeze out 4 hours of Screen-on-Time (SoT) from the Z Flip 3. It's even worse if you're on mobile data and/or doing some heavy lifting like using Google Maps navigation, playing BGMI, etc.
Plus Snapdragon 888 has consistently shown standby battery drain issues on other phones this year and the Z Flip 3 is no different. In fact, the more you use this phone, the better SoT you'll be able to extract out of it. I had days where the phone dropped to 20% with just 2.5 hours of SoT spread over an entire day.
Now for a phone that will need to be charged more than once every day, having a superfast charging becomes doubly important. Well, the Z Flip 3 disappoints there as well. It supports only 15 watt fast charging which takes almost 2 hours to charge the phone from 0 to 100%. Just touching 50% takes about an hour, which is abysmally slow for any flagship phone in 2021.
The silver lining is that the Z Flip 3 becomes the first foldable phone to support wireless charging. Although that itself isn't too fast either, the best course of action for prospective buyers would be to always keep this phone on a wireless charging pad whenever possible.
Galaxy Z Flip 3 Outer Display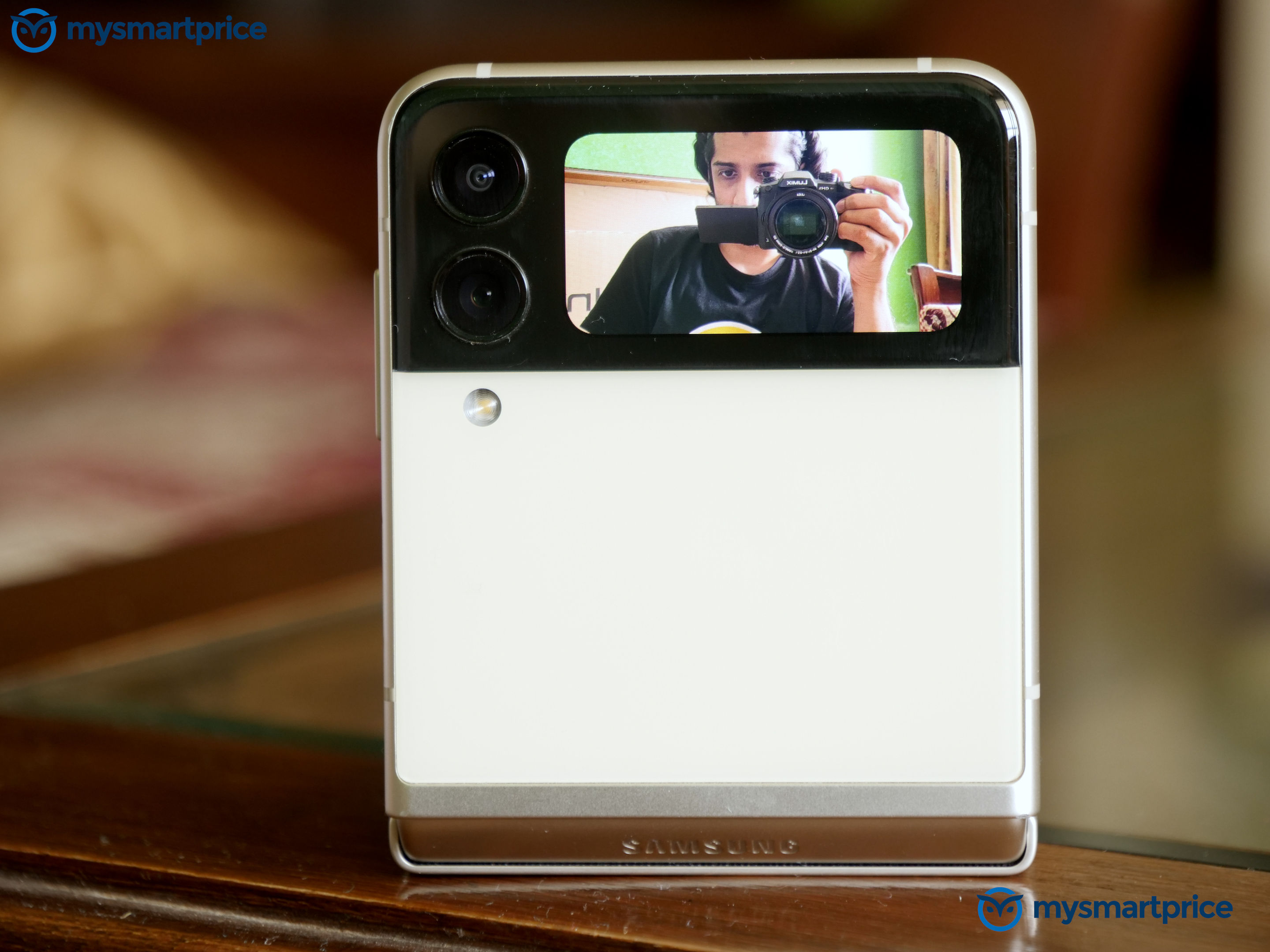 When the original Galaxy Z Flip launched, it was unequivocally better than the only other flip phone in the market, the Moto Razr. There was just one thing that the Moto did better, it was the outer display. I'm sad to report this but the equation stays pretty much the same this time around too. The Z Flip 3 gets a much bigger outer display than the OG Flip, but it still doesn't solve the problem it was supposed to. First off, it's a 1.9 inches Super AMOLED display with 260 x 512 pixels resolution. The extra screen real estate means it's easier to use the outer display as a viewfinder for selfies, albeit the aspect ratio is still a bit awkward to frame your pictures.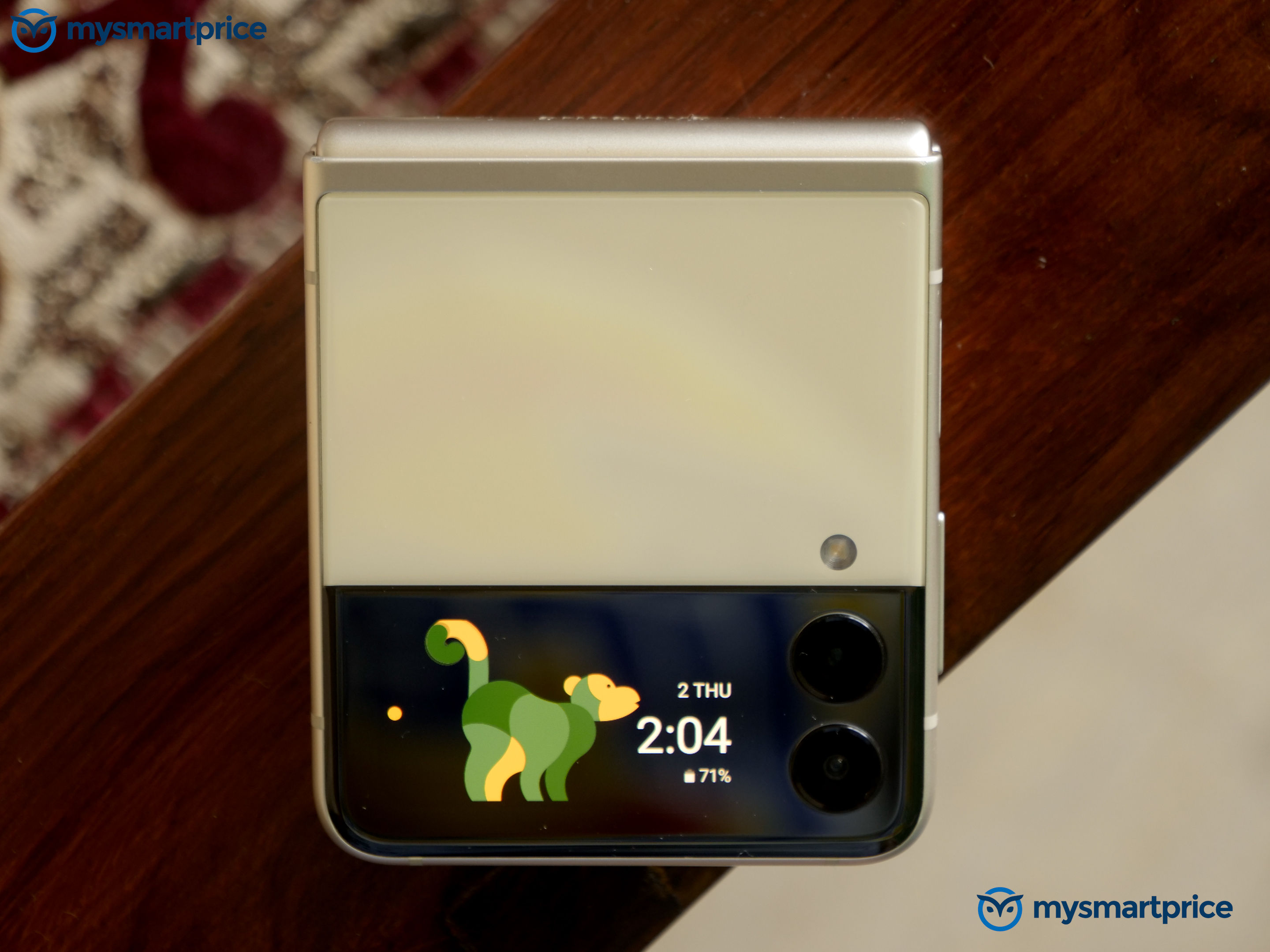 The added functionality you get this time around is widgets. Double-tapping on the screen wakes it up, you can slide to the right and access your calendar, weather, alarm and timer widgets. You can also use the Music widget to control media playback from any app, and you even get a voice recorder widget right from the outer display. While these are helpful to some extent, I can't help but think most of these things are anyway available via a normal Always-on Display on any smartphone.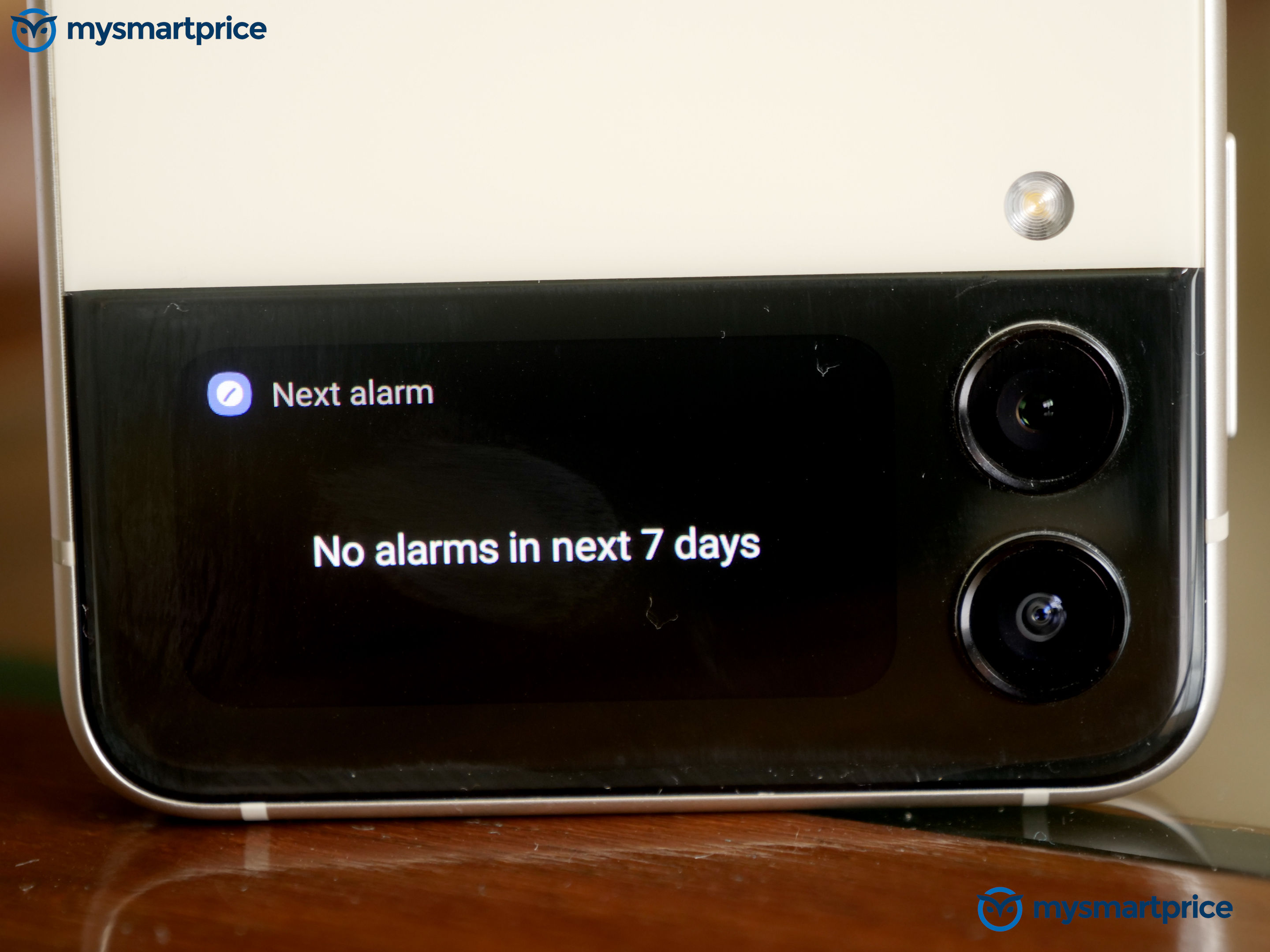 Notifications are now supported properly, so you can read incoming messages and expand notifications. But, you can't take any actions on these notifications. You can't type a reply, you can't use voice dictation, you don't even get to choose some preset quick replies or anything. So, even sending a simple "OK" on WhatsApp now requires you to unfold your phone, unlock it, reply to it, and then fold it back. Imagine doing this 250 times a day.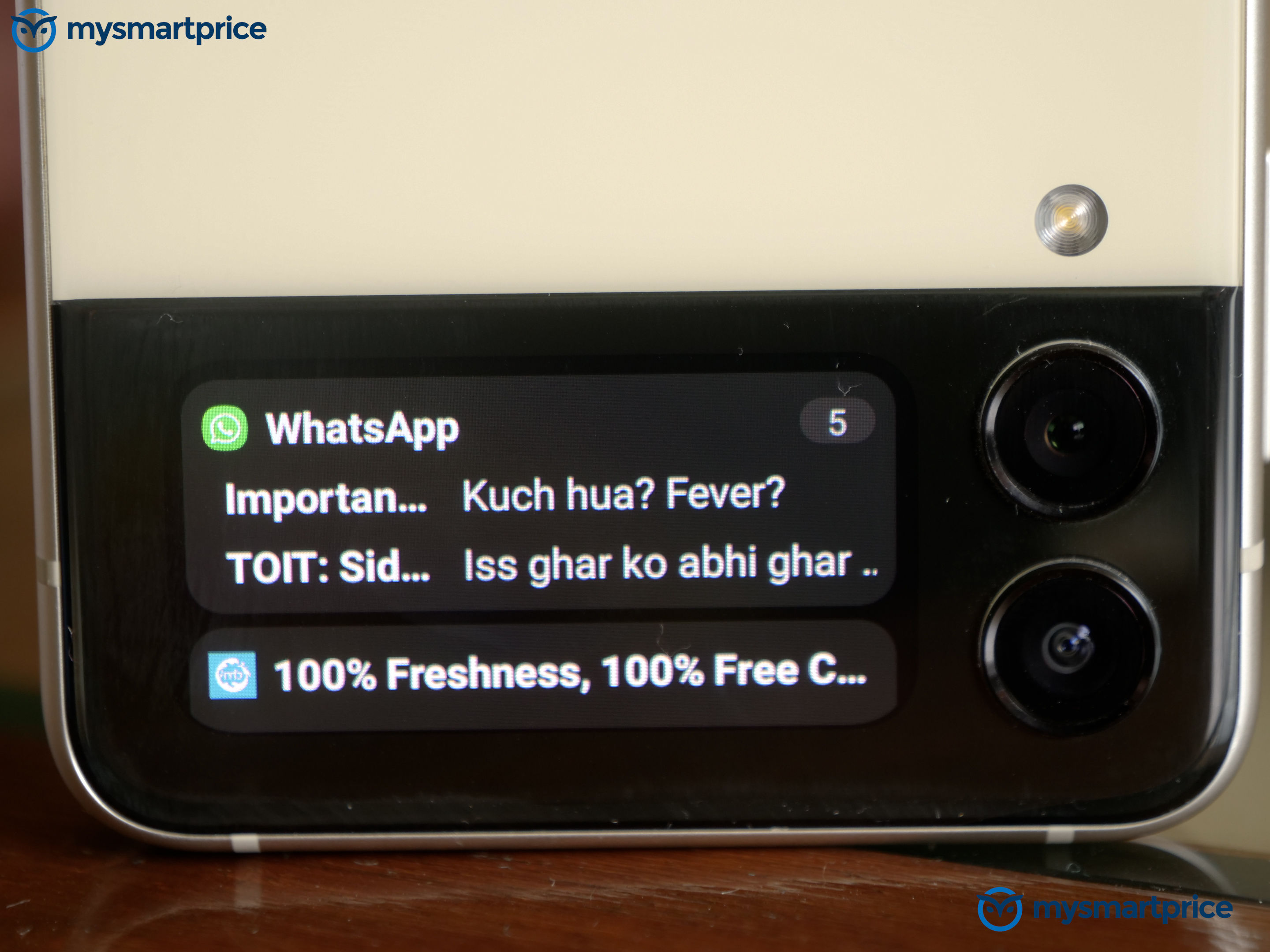 Compare this to the Moto Razr's outer display, where you can't just reply to texts using a proper keyboard, you can legitimately run proper Android apps on the outer display itself! I could browse through my Spotify playlist, open Google Maps, check my email, make a phone call, and watch a YouTube video; all this without having to unfold my phone even once.
Now, that is how you make someone truly appreciate this flip form factor, making the overall experience feel so much more intuitive and seamless. With the Z Flip 3, once the novelty of a folding screen wore off, I was constantly annoyed by how I had to do one extra step of unfolding the phone for even the smallest things.
These two things alone would make using this phone a sub-par experience, especially for people like me who actually use their phone a lot. In case you're a light user of your phone and/or you think the things we've talked about so far don't matter to you as much, you're gonna love what's coming next.
Galaxy Z Flip 3 Build & Design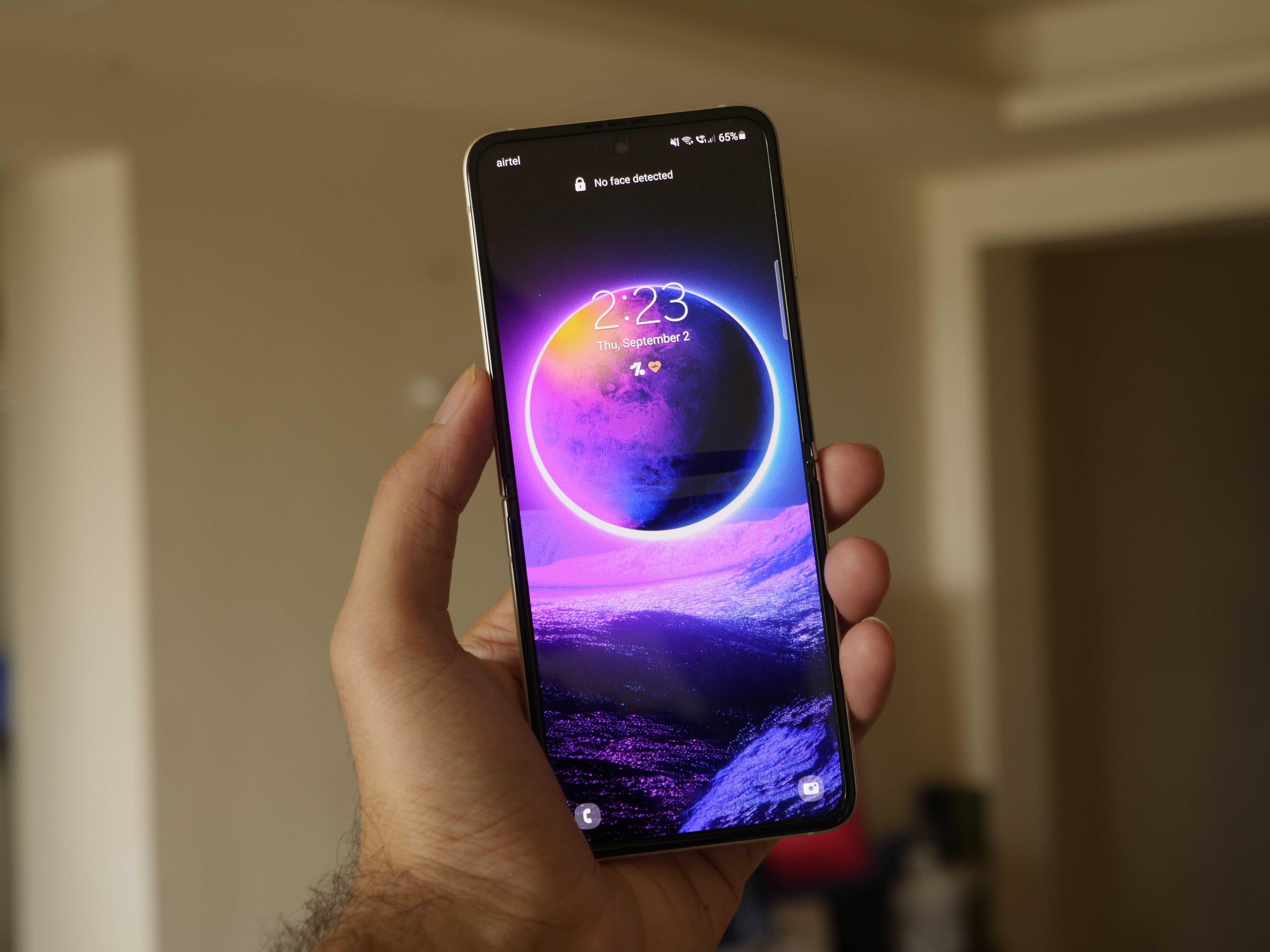 The Z Flip 3 doesn't deviate too much from the design language of its predecessor while still bringing in a lot of meaningful changes. We still get an extra tall candybar style phone that folds into half over itself, along a Samsung branded hinge. The back is made out of Gorilla Glass Victus, with an aluminium frame on the sides. For the record, I've dropped the Z Flip 3 thrice now, both in open and closed conditions from about 3 feet heights, and it has survived everything without a single scratch.
I was using the Z Flip 3 without any cover or case throughout the week. The folding display does have a sort of screen protector pre-applied to it, which I would recommend you let put. I tried running my nail through the screen and it didn't get scratched or gouged at all, so that's another worry off the checklist. The guard rails around the display have been made slightly narrower and shallower too, so they still provide some protection to the inner display while not affecting the aesthetics that much.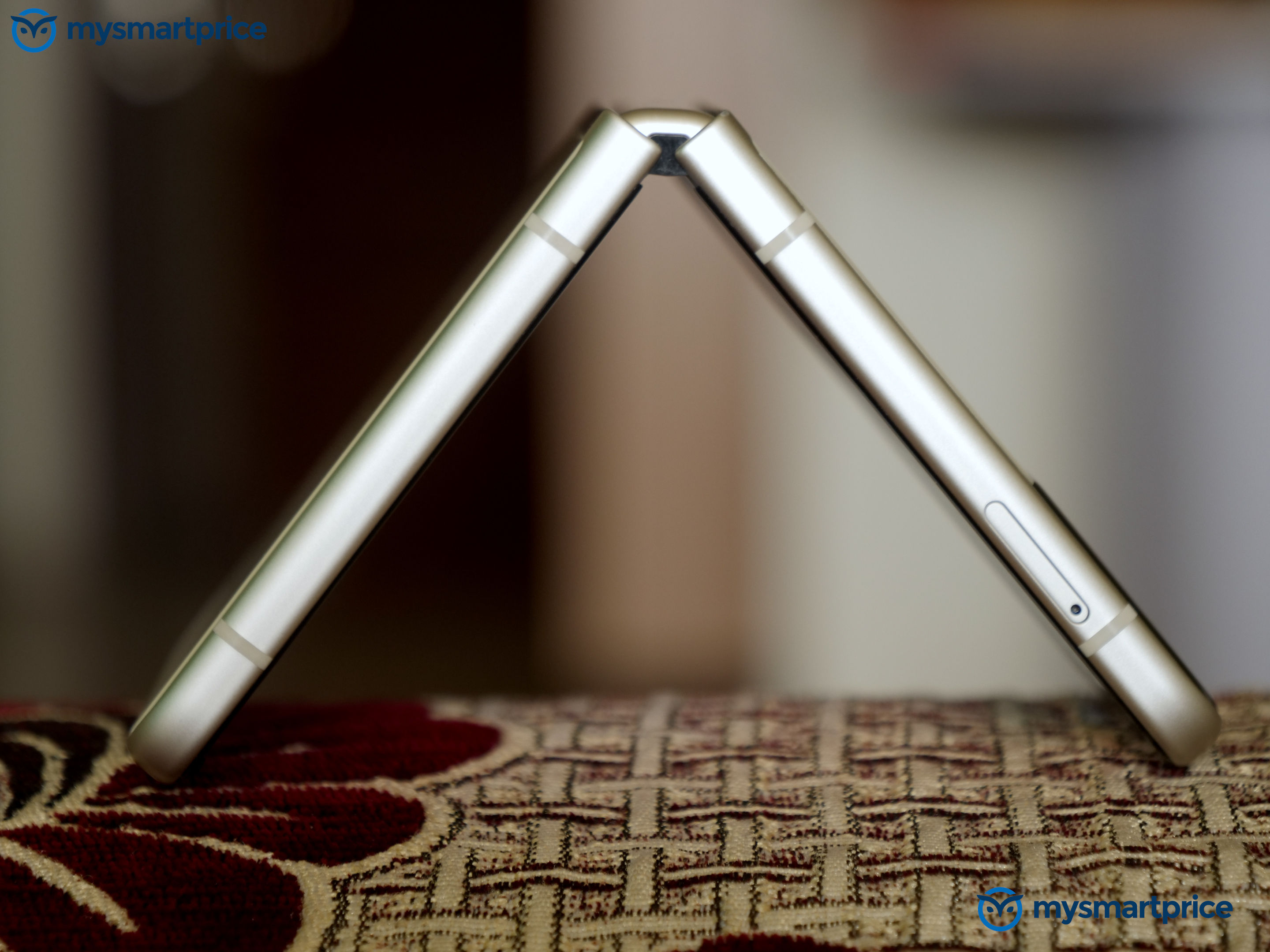 The hinge itself feels super sturdy and can hold itself in position at a variety of angles from about 30 degrees all the way up to 150 degrees. I'll talk more about its usefulness in the Software section. There is absolutely no creaking noise while operating the hinge, and the folding/unfolding of the screen doesn't feel like you're doing something really horrible to it, which is great. This is the thing I really liked about the Z Flip 3. It doesn't feel like a fragile piece of art that you need to baby all the time. It feels much like any other smartphone that can handle some tough love every now and then.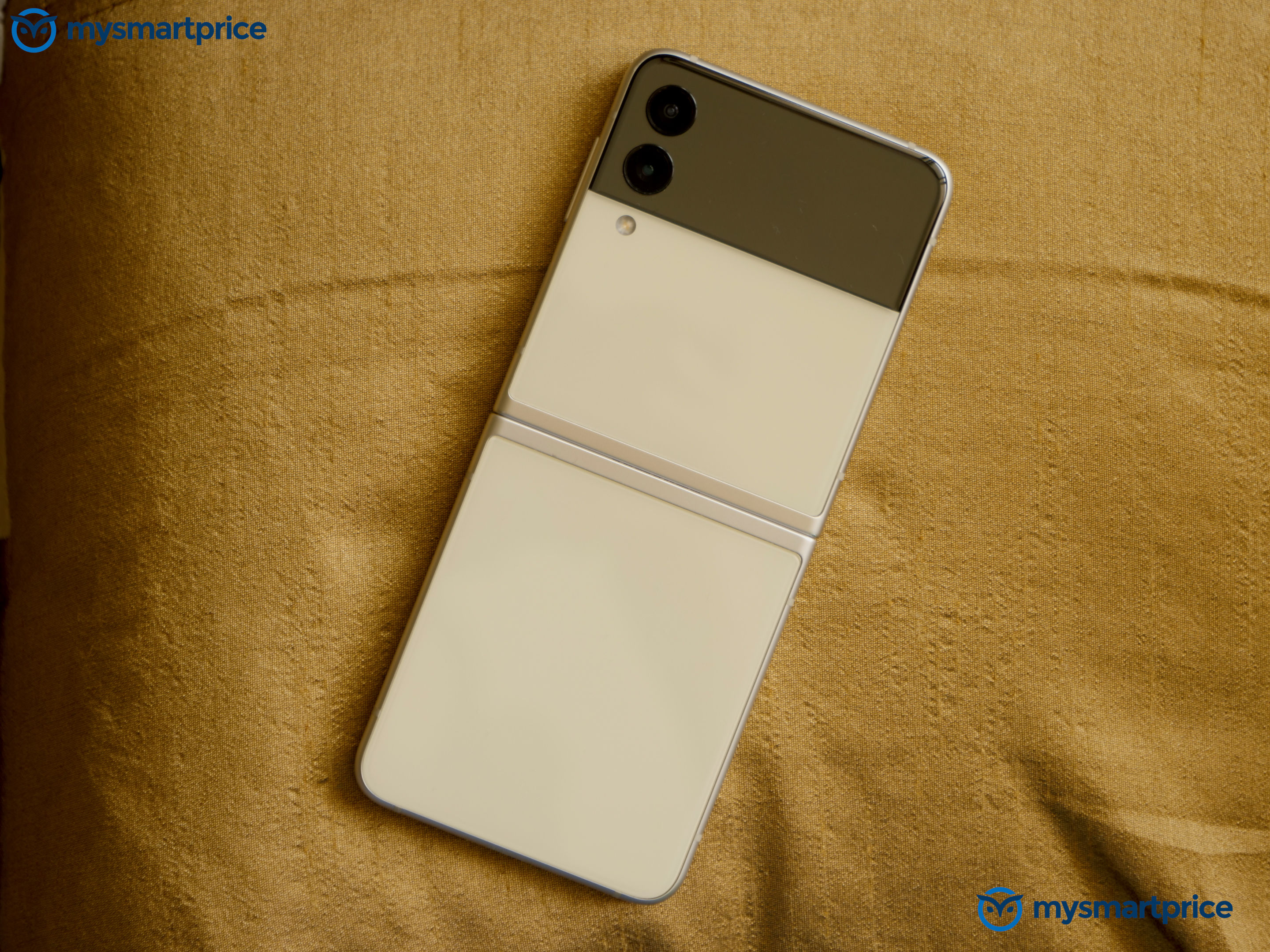 The physical dimensions of the phone are just a smidge smaller than the OG Flip, and the 183grams of weight means the phone never feels too heavy to hold or use even one-handed. I have the Cream color variant with me, which looks drop-dead gorgeous, contrasting the black bar at the top. When folded, the Z Flip 3 is like this really dense cuboid that fits easily in your pocket and looks fantastic in your hand. The two halves still don't fold perfectly flat, but the tiny gap in between is hardly bothersome.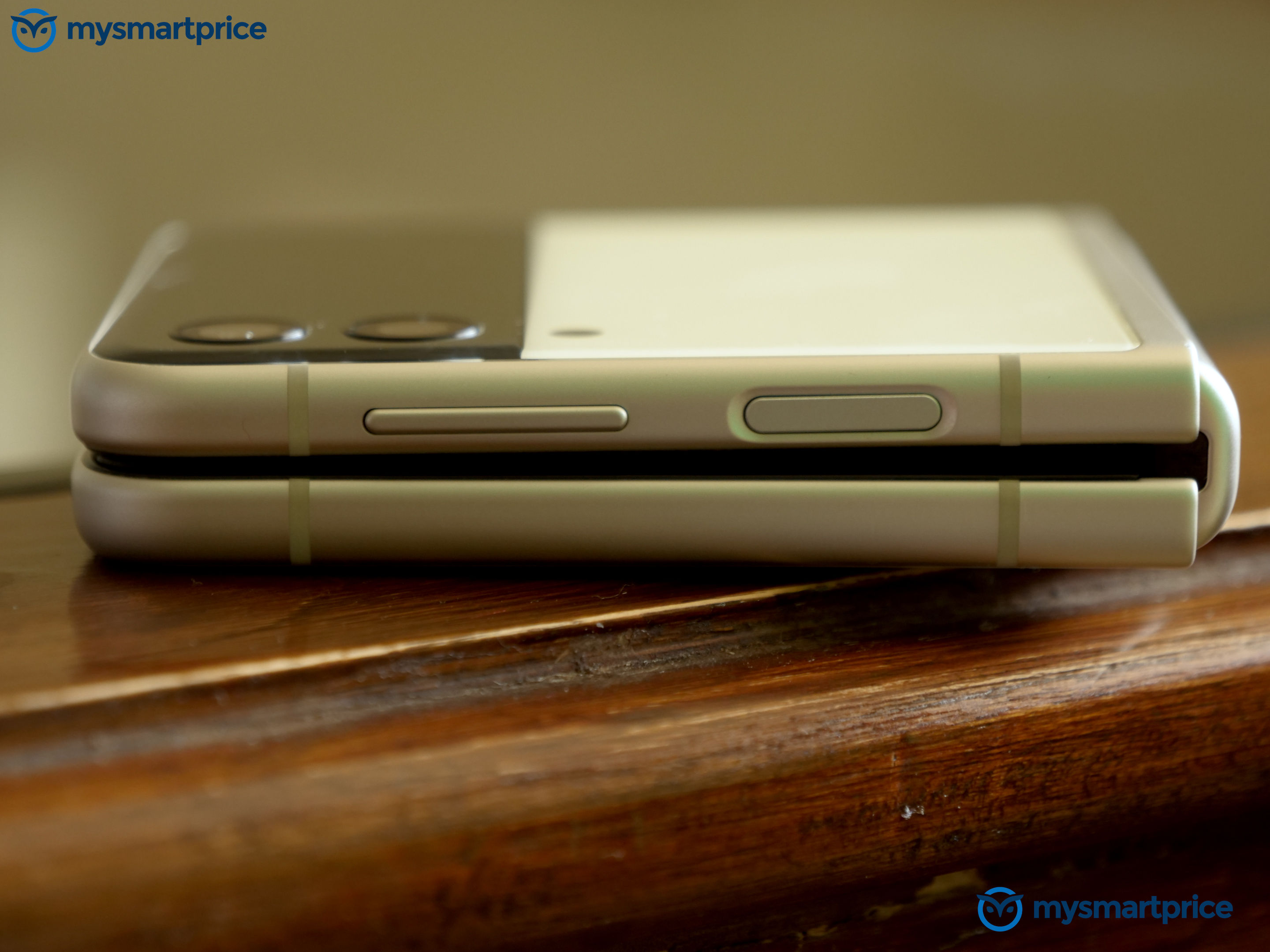 The dual cameras are now stacked vertically and there's hardly any camera bump so the phone can rest almost flat on a table. The most welcome improvement for me is that the back, while still having a glossy finish, now comes with an anti-fingerprint coating which doesn't smudge at all. Not to mention the fact that the Flip 3 is now IPX8 rated, meaning you can very well carry it into a swimming pool with you.
Coming to the ports and buttons, there's a single SIM card slot on the left edge, while the power button and volume rocker both sit on the right edge. The power button is aptly placed but I would have liked the volume rocker to be slightly lower or on the left edge instead. Right now it's perched too high up for single-handed usage. On the bottom edge we get a Type-C port, a speaker grille and microphones. There's no 3.5 headphone jack present here, also you can't use a microSD card with this phone.
Galaxy Z Flip 3 Display & Multimedia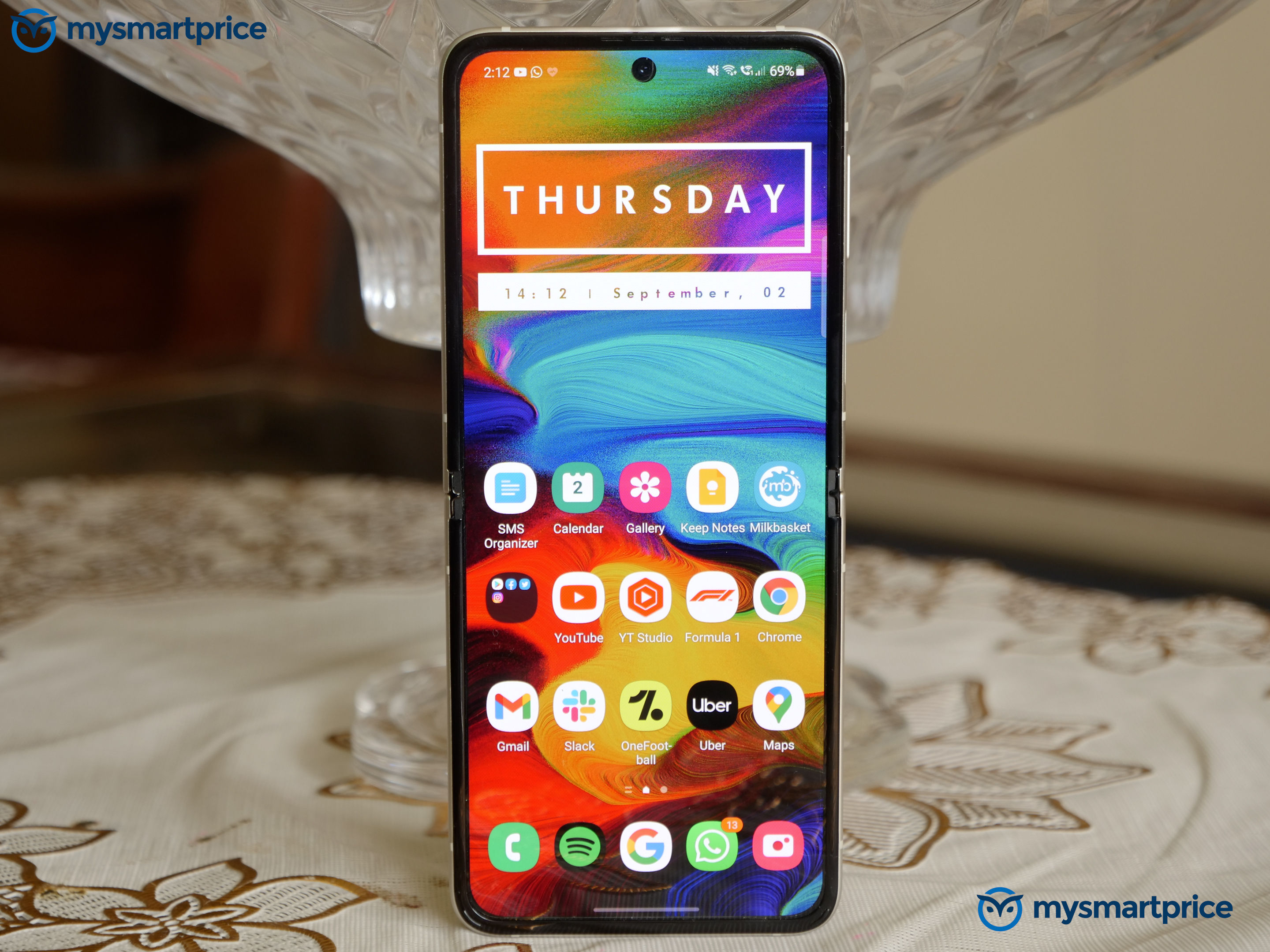 The main display on the Z Flip 3 is still a 6.7 inch foldable Dynamic AMOLED display with 1080 x 2640 pixels, but this time it comes with 120Hz adaptive refresh rate and a peak brightness of upto 1200 nits. The regular mode brightness has also been bumped, with our lux meter measuring about 600 nits of maximum brightness indoors. It's fairly visible even in direct sunlight, albeit the reflectiveness of the plastic layer over the display is slightly troublesome occasionally. The screen is also HDR10+ certified, meaning you can stream HDR content from Netflix, Prime Video etc, and the HDR performance is commendable.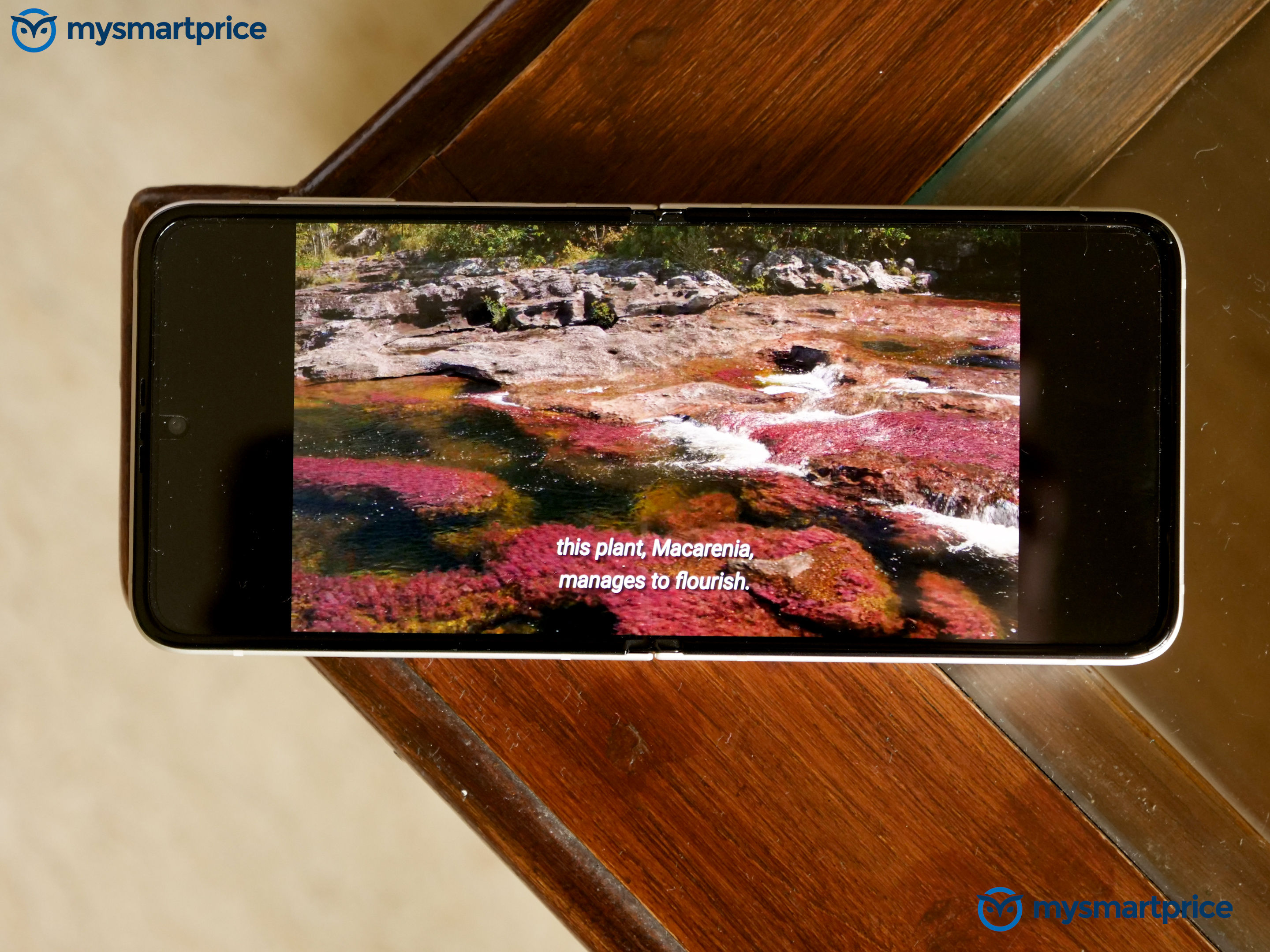 But don't count on this phone to be a multimedia delight though. I'm not sure if it's just me but the folding plasticky AMOLED displays feel slightly less sharp or immersive than the normal smartphone AMOLEDs. Watching short YouTube videos is perfectly fine though. Another thing that might bother you during multimedia consumption is the extra tall 25:9 aspect ratio, meaning you'll either have to contend with thick black bars on both sides of video content, or you can fill the entire screen by sacrificing a significant chunk of the video's top and bottom portions.
This extra tall aspect ratio is great for vertical tasks though, because you get a lot of extra room while scrolling through social media feeds or reading articles on your phone. Furthermore, the 120Hz refresh rate makes everything feel that much more smoother, and I thoroughly enjoyed using this phone for casual tasks.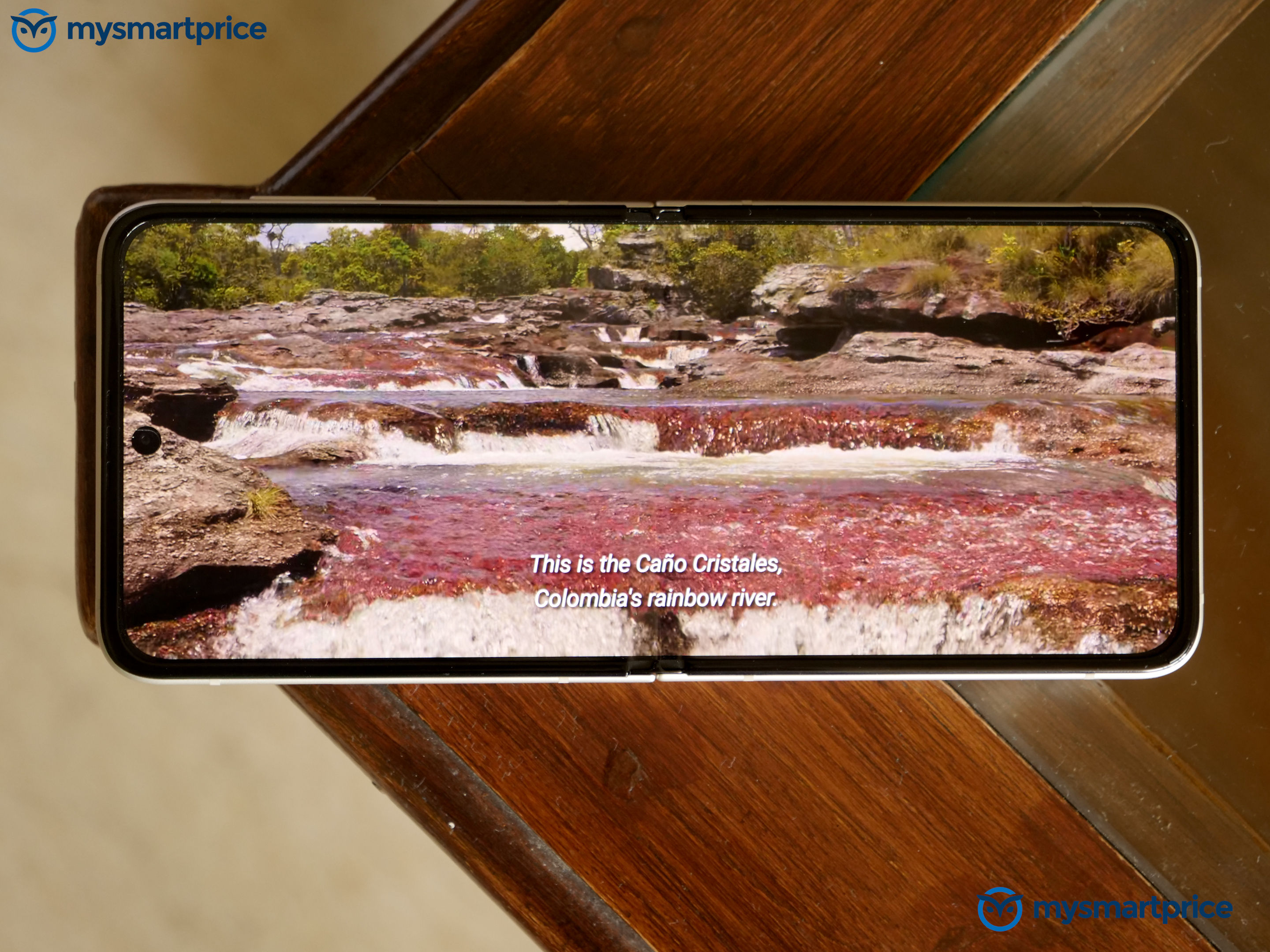 What about the crease, you ask? Well, it's still there, and yeah it still feels weird when you glide your finger over it. Which will happen quite a lot, if you're used to scrolling your feeds at the centre of your screen. But honestly, after a couple of hours I couldn't care less about the crease. It's hardly visible when you're looking at the phone dead-on, which is how you'll be using the phone mostly. With some slight adjustments to your scrolling finger position, you can even make sure you never are reminded of the crease at all.
Sound output here is done via a stereo setup with the earpiece doubling up as the second speaker. The speakers here are quite loud and sound quality is definitely good from smartphone standards. Audio via Type-C earphones sounds crisp and loud too, and Samsung offers support for Dolby Atmos tuning, to further enhance the audio experience.
Galaxy Z Flip 3 Performance & Gaming
The Z Flip 3 is available in 2 storage variants with either 128 or 256gigs of storage with 8GB of RAM. The processor inside is the Snapdragon 888, which is the absolute top-of-line one on the Android side of things. Needless to say, the performance here is top-notch, with no real stutters or lags at all. However, there are certain caveats to this. The Z Flip 3 isn't meant for power users, and that shows in the tuning Samsung has done on the 888 here.
Under sustained loads like benchmarks and throttling tests, the phone drops performance really fast, and also tends to dip its screen brightness by some margin. Now that doesn't mean that the phone slows down or anything as a throttled 888 still has enough power to run the show. But I'm just wondering if Samsung could have saved a lot of hassle by just going for the Snapdragon 870 instead. The 870 has also proven to be much more power efficient this year, so it might have helped boost the battery life by a bit too.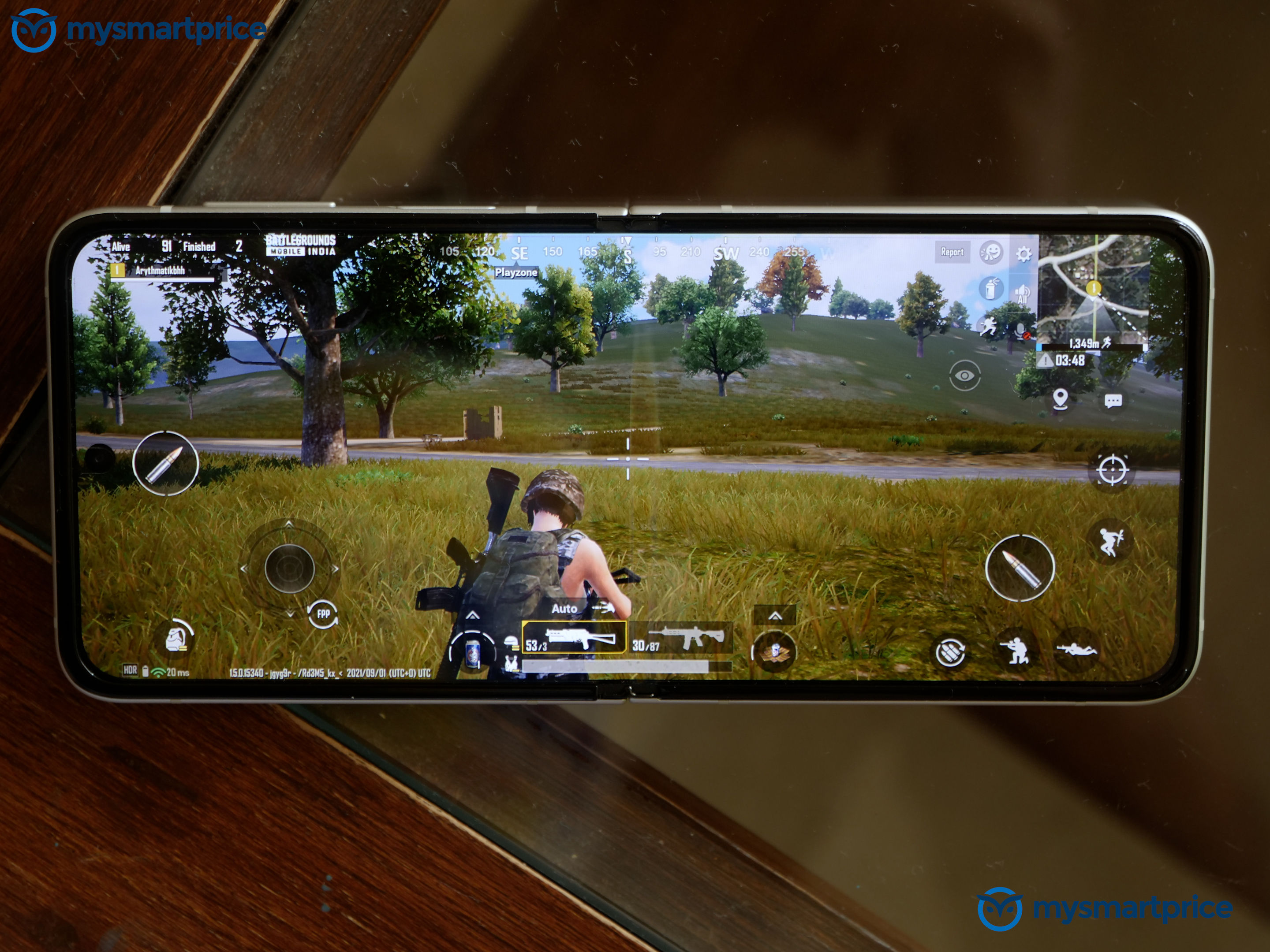 Gaming here is a mixed bag too. SD888 enables you to play the most demanding games at their highest possible settings here, and the extra tall screen comes in really handy in games like BGMI, where the on-screen controls are stretched wide apart, leaving you with a lot of room in the centre of the screen for pure gameplay visuals. However, the performance throttling makes its presence felt after about 30 minutes of continuous gaming, and I could notice an evident drop in the frame rates and screen brightness during sessions of Asphalt 9. Case in point, the Z Flip 3 isn't meant to be a gaming powerhouse and you will be wrong to expect otherwise.
Galaxy Z Flip 3 Software & Foldable Features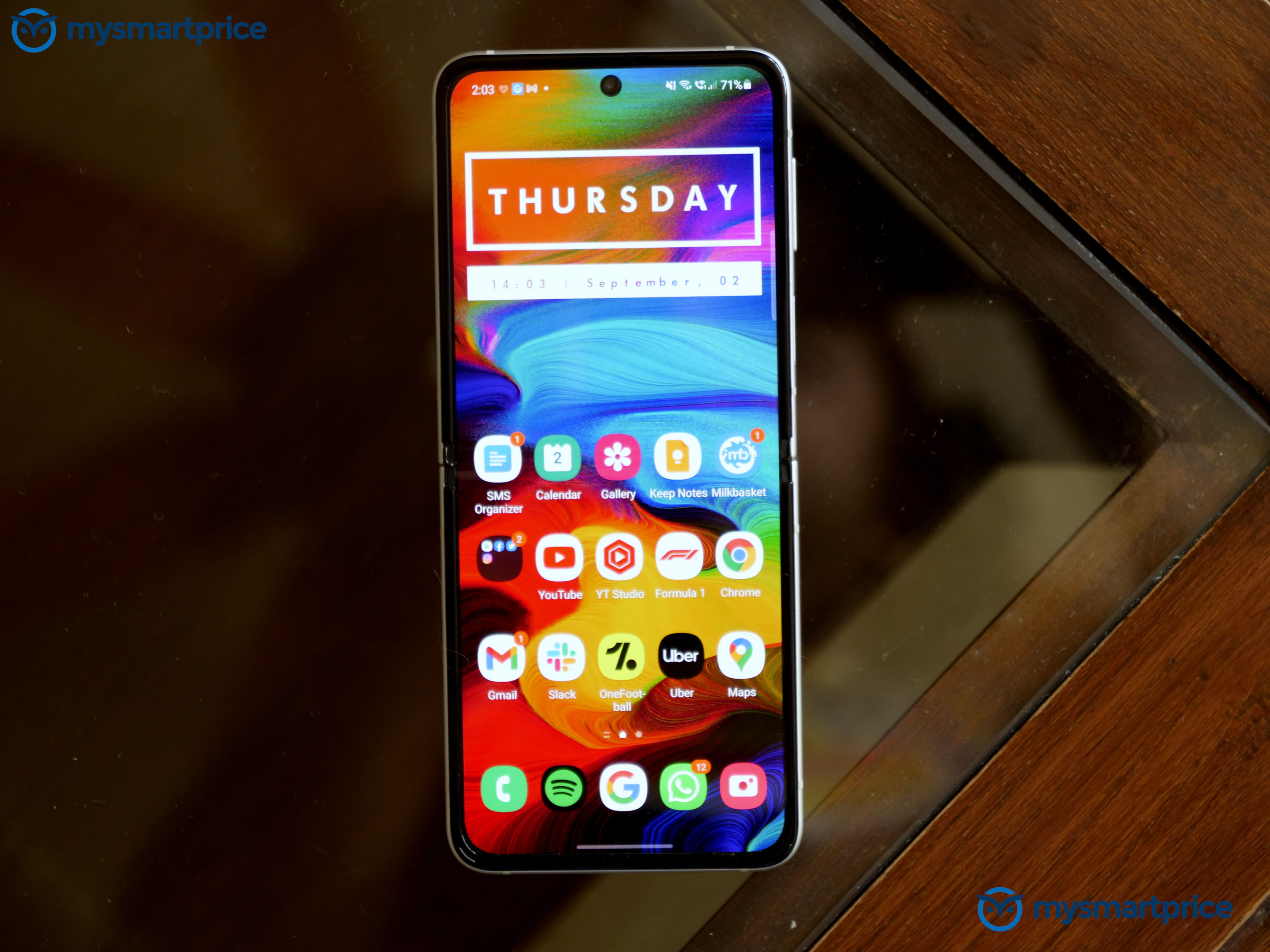 The Z Flip 3 is running on Android 11 with OneUI 3.1 on top. It's the same feature packed software experience from Samsung that we've come to love, with features like split-screen multitasking, floating windows, smart sidebar all working like a charm. Then there's the host of Samsung exclusive features like Knox security, Secure Folder and Samsung Pay.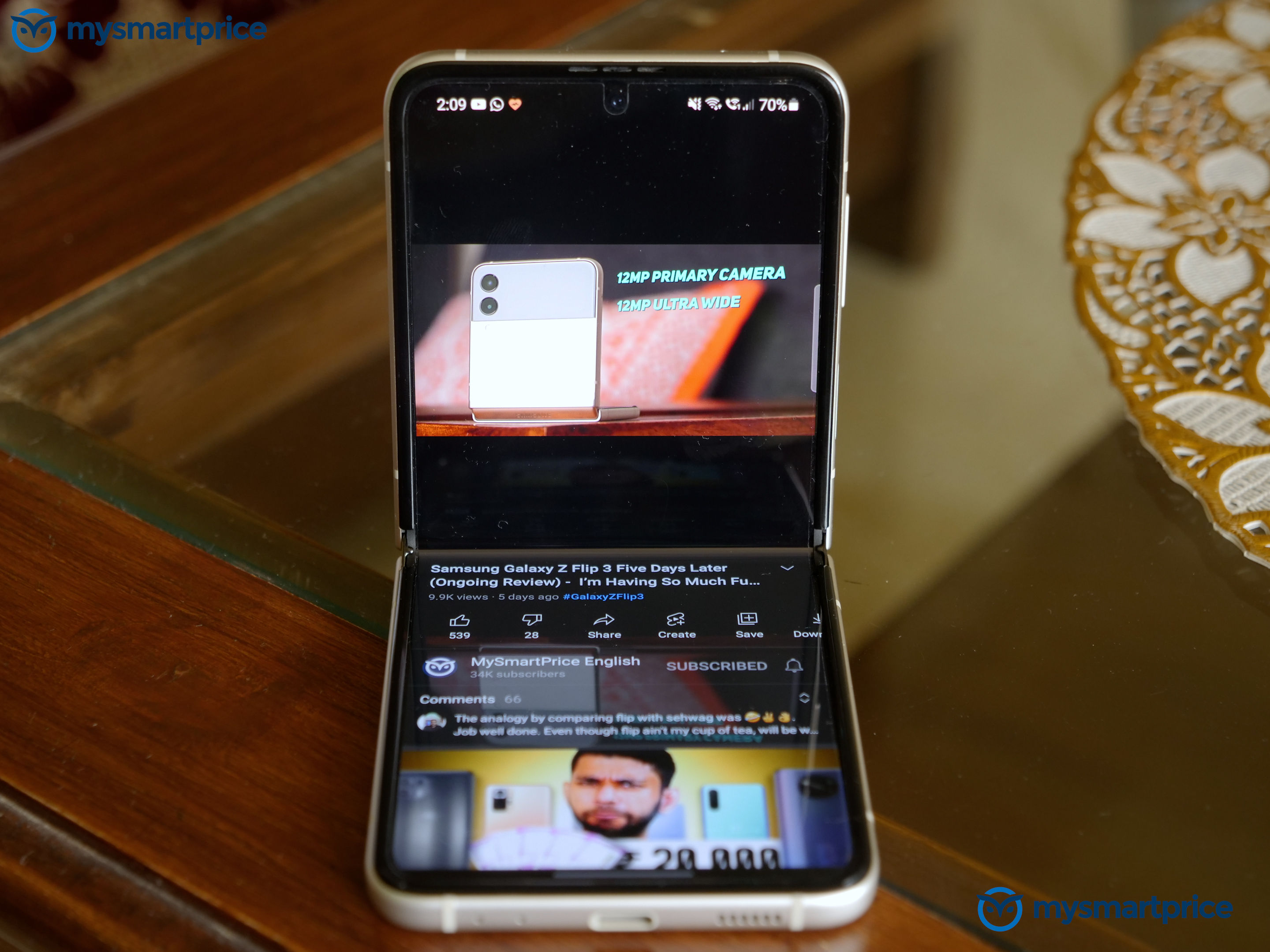 Now, let's talk about what benefits this phone gets by being foldable. Well, the first and probably most useful feature here is the 'Flex Mode'. What it means is the ability to take this phone out in public and make everyone go WHOA as soon as you fold it in half. Okay, I'm kidding. Although I'll admit that's one of the best things about using this phone. Samsung's Flex Mode means how this phone can stay open in a variety of angles. This enables a lot of nifty use cases which the regular smartphones just can't do.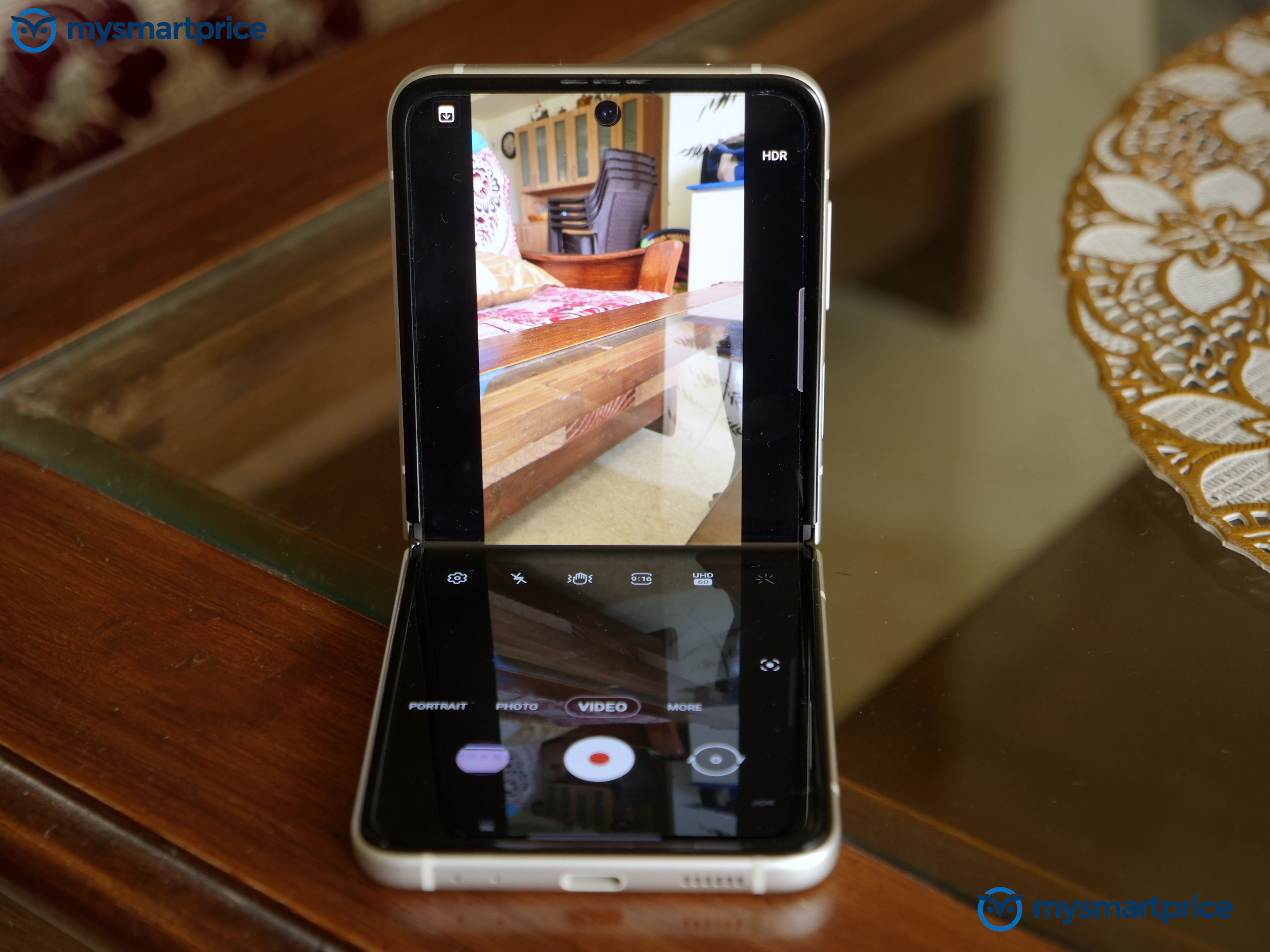 For example: I can prop up the Z Flip 3 in an L-shape and use it to record a sunset timelapse without needing a tripod or anything. Similarly, I could put the phone down on a table and set a timer to click a group photo without needing an extra person or a selfie stick. Some of the apps like YouTube and Samsung's Gallery app can also take advantage of the flex mode and split into a more convenient UI. Video calls are a breeze too, as you don't need to hold your phone or prop it upright against something. Super convenient.
Now in my Moto Razr 2020 video, I talked about how using a flip phone could be the perfect way to cure your smartphone addiction. Having to unfold your phone to use it meant all those mindless social media scrolling sessions could be nipped in the bud by just choosing not to unfold your phone. With the Z Flip 3, I missed that feeling, and that was majorly due to the outer display not being functional enough. Since I anyway had to unfold the phone for the most basic tasks, I would still end up opening Twitter or Instagram once that task was done.
Galaxy Z Flip 3 Cameras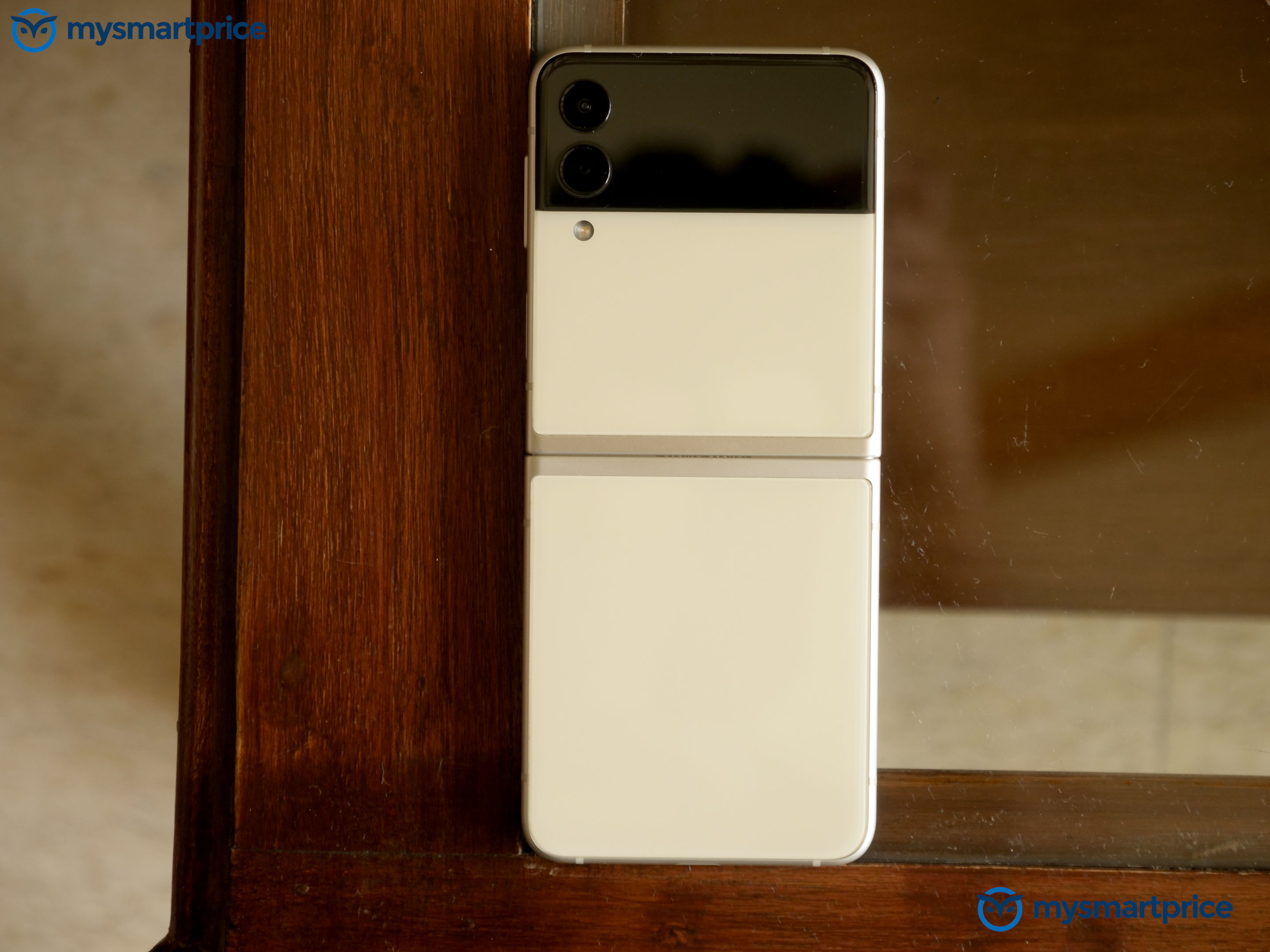 Cameras on the Z Flip 3 are practically unchanged from the previous generation. We still get a 12MP main camera with OIS, coupled with a 12MP Ultrawide camera. The Selfie shooter here is a 10MP camera. Now the lack of a telephoto and a newer/higher resolution main camera means that the Z Flip 3 can't really go head on with other 2021 flagships like the iPhones or Mi 11 Ultra etc.. But for what it's worth, the cameras on the Z Flip 3 are more than sufficient for point and shoot usage. Samsung's image processing algorithms do a great job of capturing a wide dynamic range and adding a little punch to the overall colors. Night mode performance is impressive too. Selfies aren't the sharpest but again, they will suffice for social media uploads and more.
Video recording is this phone's forte as it can shoot 4K 60fps videos from both the front and rear cameras. The ultrawide camera can also shoot 4K but at 30fps only. Like I mentioned earlier, you can use the flex mode to take some really creative shots. Plus the outer display can be used as a viewfinder to take selfies using the rear camera setup, meaning you get high quality selfies, and can also take ultrawide selfies.
Galaxy Z Flip 3 Conclusion & Verdict
Alright then. The Z Flip 3 is priced at Rs 84,999 for the 8/128GB variant and Rs 89,999 for the 8/256GB variant. Although it's in the same price bracket as some of the other top flagships, it's actually not trying to compete with any of them. The Z Flip 3 is not trying to be the best camera flagship, the best performance phone or the best value for money. It's actually a start of something new, something that Dieter Bohn from The Verge explained beautifully in his video. The Z Flip 3 is all about what a Levi's Jeans is to a Cotton County one, what a Starbucks coffee is over a CCD coffee. It's about the feeling of being special, being able to stand out from the crowd.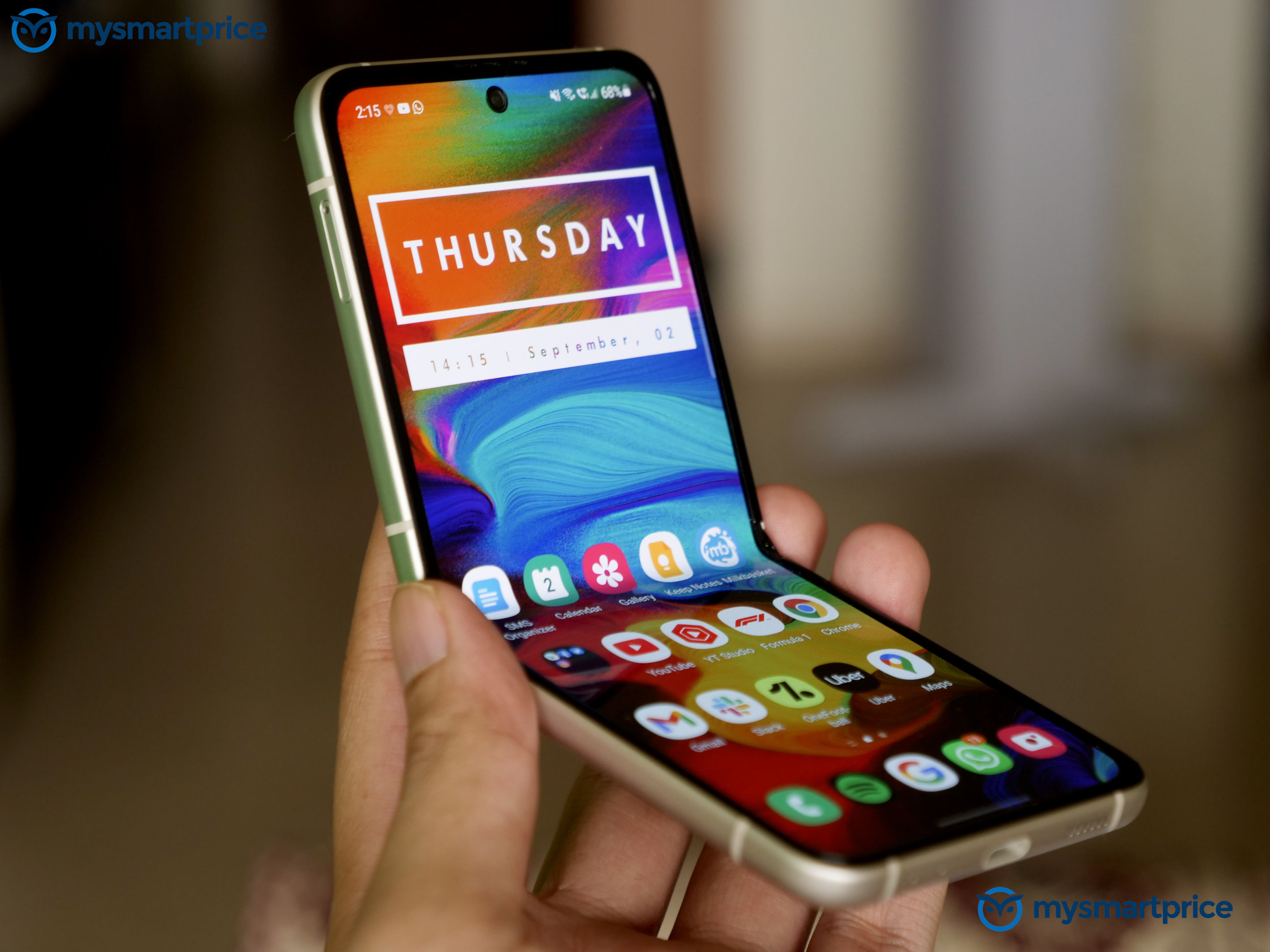 At its core, it is still just a regular smartphone when you need it that folds in half when you don't. There's no real added bonus like having the option to unfold it into a tablet screen or anything, like the Z Fold 3. That being said, With the last gen models, the 'basics' of a flagship phone felt compromised. The devices felt fragile, there was no IP rating, wireless charging etc etc.. All of that has been taken care of this time. My only request to Samsung would be to make the outer display fully functional by the next launch. And maybe add a bigger battery, even if that makes the phone slightly thicker or heavier.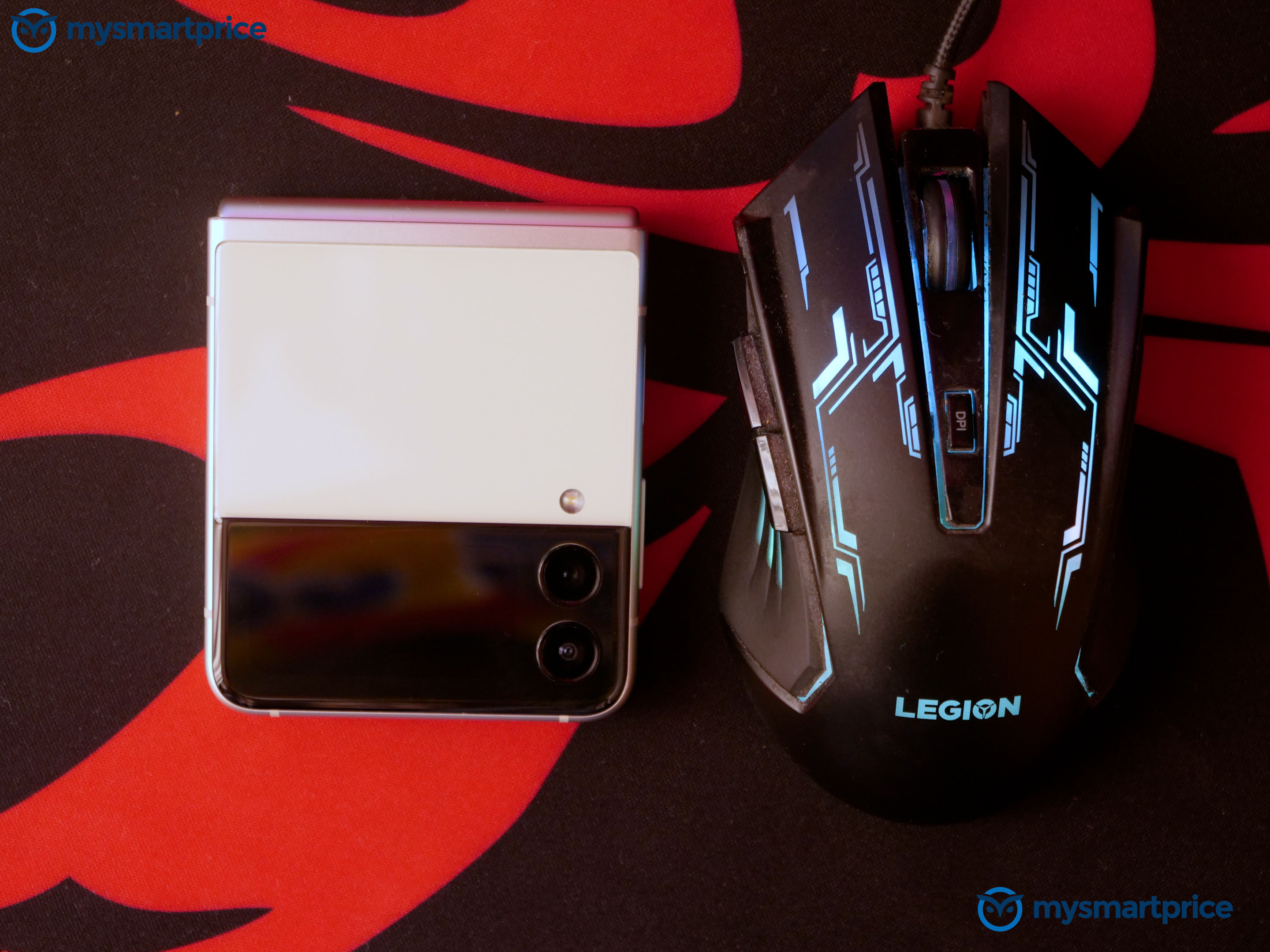 All said and done, I can write paragraphs about how the battery life here isn't great and how it doesn't have the most powerful cameras or how a 50K phone can basically do everything that this one can. But the truth is that I'm happily living with all these compromises over the last week, just because the feeling of holding this phone is something else. I've been around people carrying the most expensive iPhones and yet, the moment I took this bad boy out of my pocket, everybody's jaw dropped to the floor in pure astonishment. That's a reaction I have not seen happen for any other phone in the last 4-5 years at least. That's where the real beauty of this phone lies.
The Z Flip 3 is not meant for people looking for the best bang for their buck, nor is it meant for people who use their smartphone as their primary device all day. It's meant to be a fashion statement, a device that makes you feel good about yourself. And it does that perfectly.
Galaxy Z Flip 3
Rs 84,999
Battery Performance
5.8/10
Network Performance
10.0/10
What Is Good?
Looks Gorgeous
Lightweight Design
120Hz Smoothness
Flex Mode Features
What Is Bad?
Poor Battery Life
Outer Display Lacks Functionality
No Improvement to Cameras