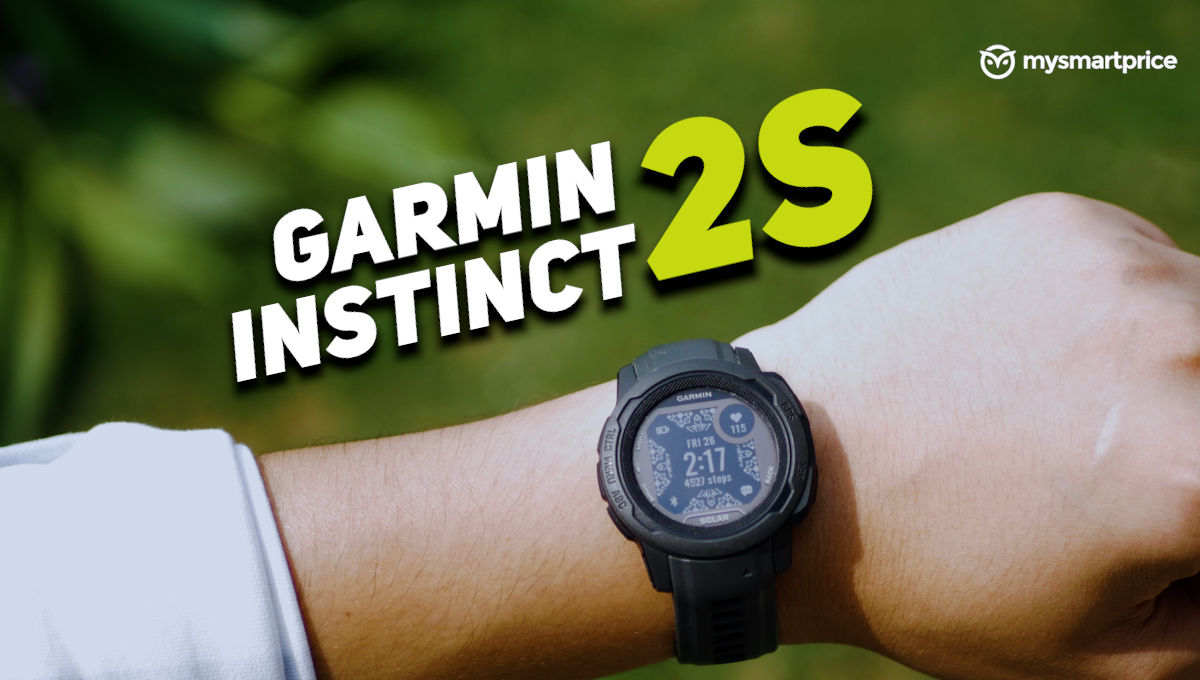 A few months ago, we reviewed the Garmin Instinct 2 Solar Tactical Edition – a smartwatch in 2022 without a colourful display. Instead, it features an old-fashioned monochrome LCD and boasts insane health tracking capabilities, military-grade durability and solar charging. So naturally, we couldn't help but recommend it to a die-hard adventurer, but it turns out there's another version of the watch for people with smaller wrist sizes.
Garmin Instinct 2S Solar
₹50,490
What Is Good?
Military-grade durability
OCD-level health and fitness tracking
Solar charging
Two-week battery life
What Is Bad?
Expensive
Complicated controls
Only for small wrist sizes
Called the Garmin Instinct 2S Solar, the watch currently retails at Rs 50,490 and has roughly the same features as the watch we reviewed before, except for shorter battery life, lack of a stealth mode and some other extreme features, different watch faces and more importantly, a smaller footprint. So, how big of a difference is it? Find out in our long-term review.
Garmin Instinct 2S Solar Review: Design and build
Despite the smaller size, the Instinct 2S Solar is still extremely durable. You can take it underwater at a depth of 100 metres, and it even features the military-grade durability of MIL-STD-810.
Its case is made out of a fibre-reinforced, chemically strengthened polymer, whereas the front of the watch is protected by Power Glass. On both sides of the case, you'll find 20mm proprietary QuickFit straps. These are more suited to smaller wrist sizes, so it was a bit tight for us. The case and strap are both susceptible to showing hard water residue, so it can start looking old within just a few days of use if you expose it to hard water.
To show you the time, tracking information and your notifications, the Instinct 2S Solar features a 0.79-inch monochrome display with a resolution of 156×156. It has a white backlight which automatically comes into action depending on the ambient light around you. The legibility is good, even in the harshest of lighting conditions.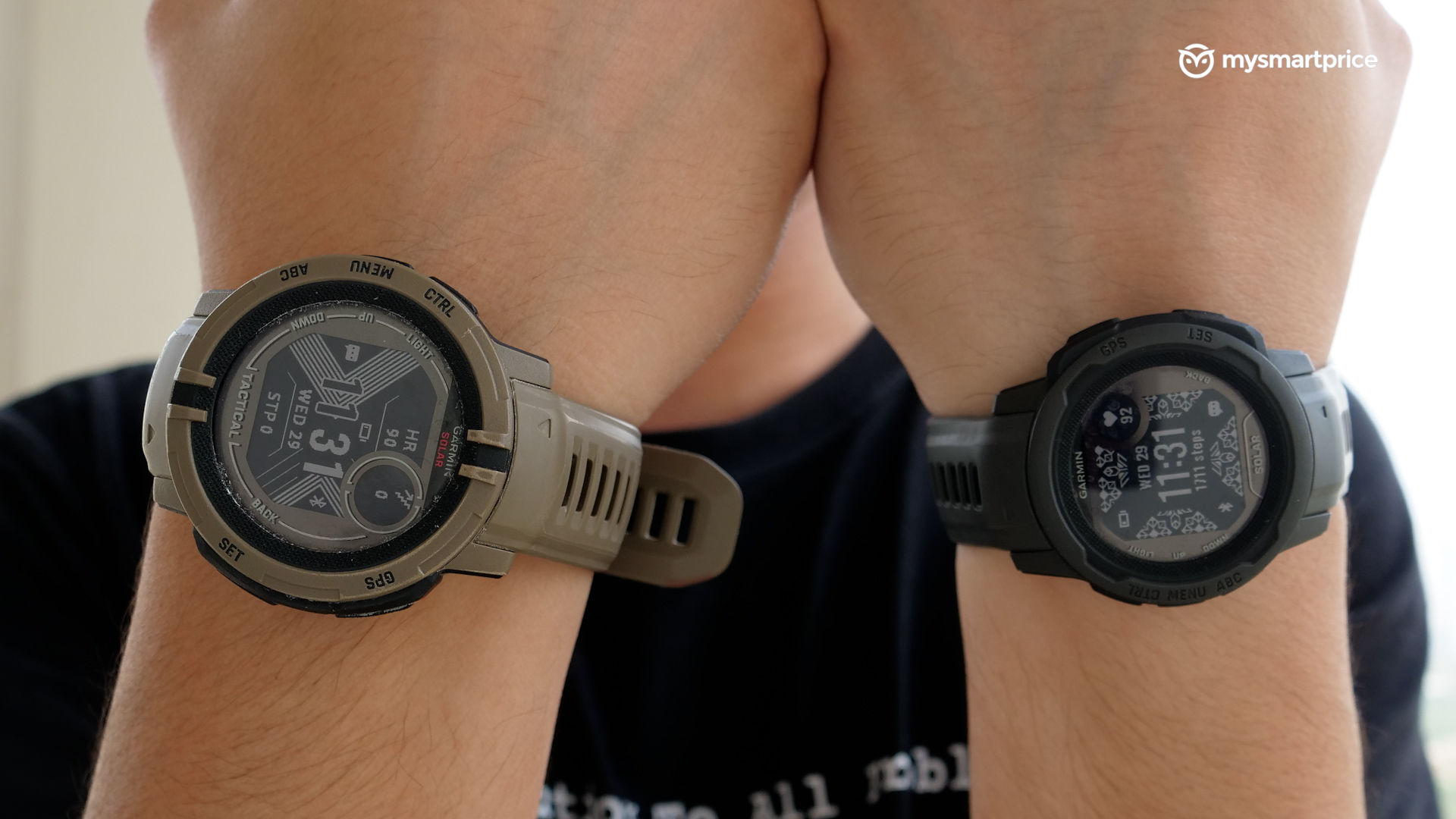 Just like the Instinct 2 Solar Tactical Edition, the Instinct 2S Solar has a total of five push buttons – CTRL, MENU, ABC, GPS and SET. It takes time to get used to the controls of the watch, as the buttons have multiple mappings, so be sure to pull out your user manual or else be prepared for a freakout.
The watch isn't that heavy to wear every day, but make sure you try it out at a store before buying because the strap can be tight for larger wrists.
Because of its rugged looks, it can't be matched with many attires, so you may want to keep a mechanical or another slick-looking smartwatch on the side.
Garmin Instinct 2S Solar Review: Features
The core fitness tracking capabilities are shared between the Instinct 2S Solar and its bigger sibling, including heart rate, VO2 max, step counting and SpO2 tracking. You also get sensors and antennae for GPS, GLONASS, Galileo, Barometric altimeter, Compass and Thermometer.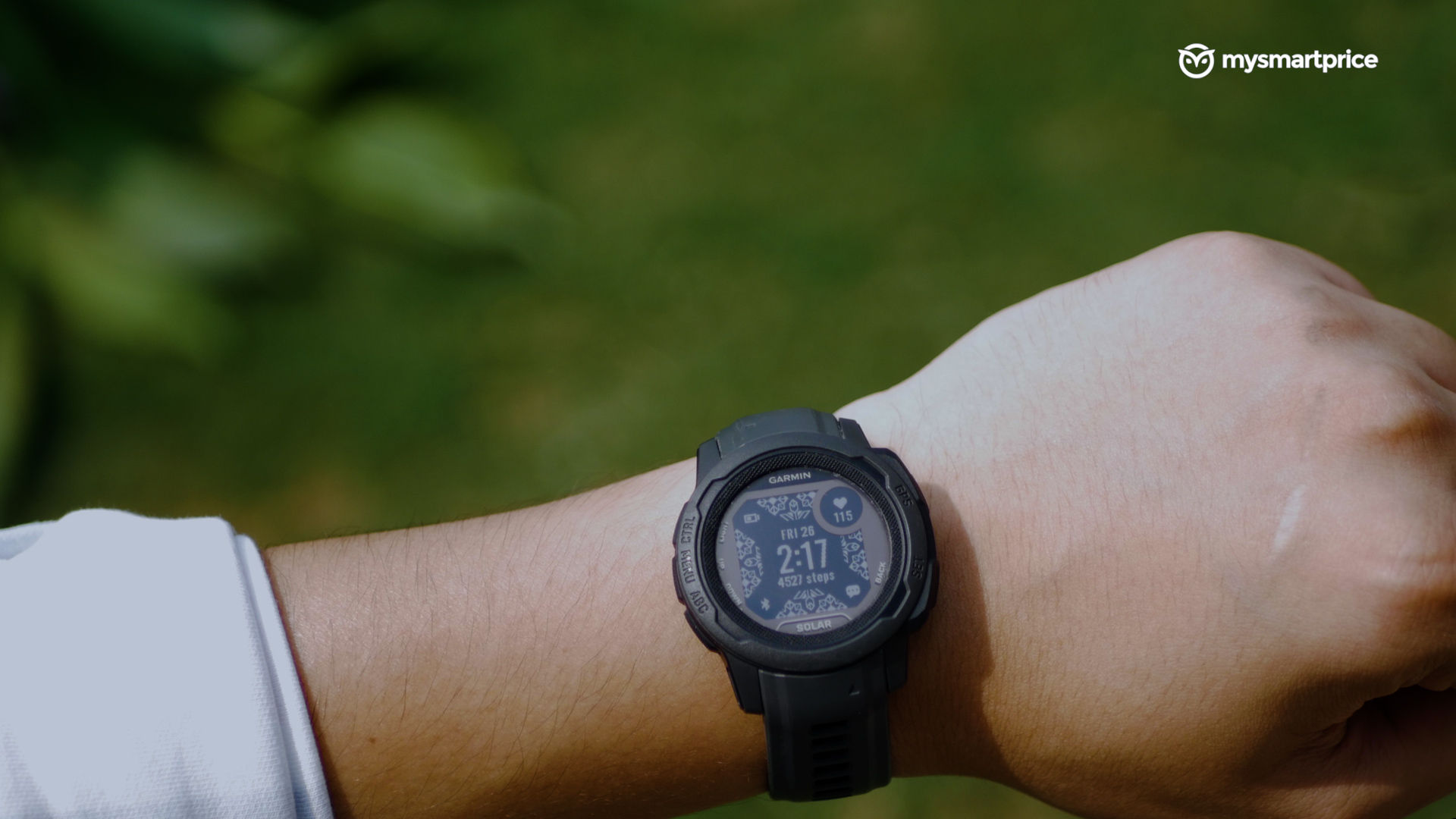 Further, you also get the same training, running, golfing, cycling and swimming features. But, we couldn't find tactical features such as Stealth mode that allows you to turn off wireless communications of the watch. You also don't get the Jumpmaster mode here that helps you track skydiving data.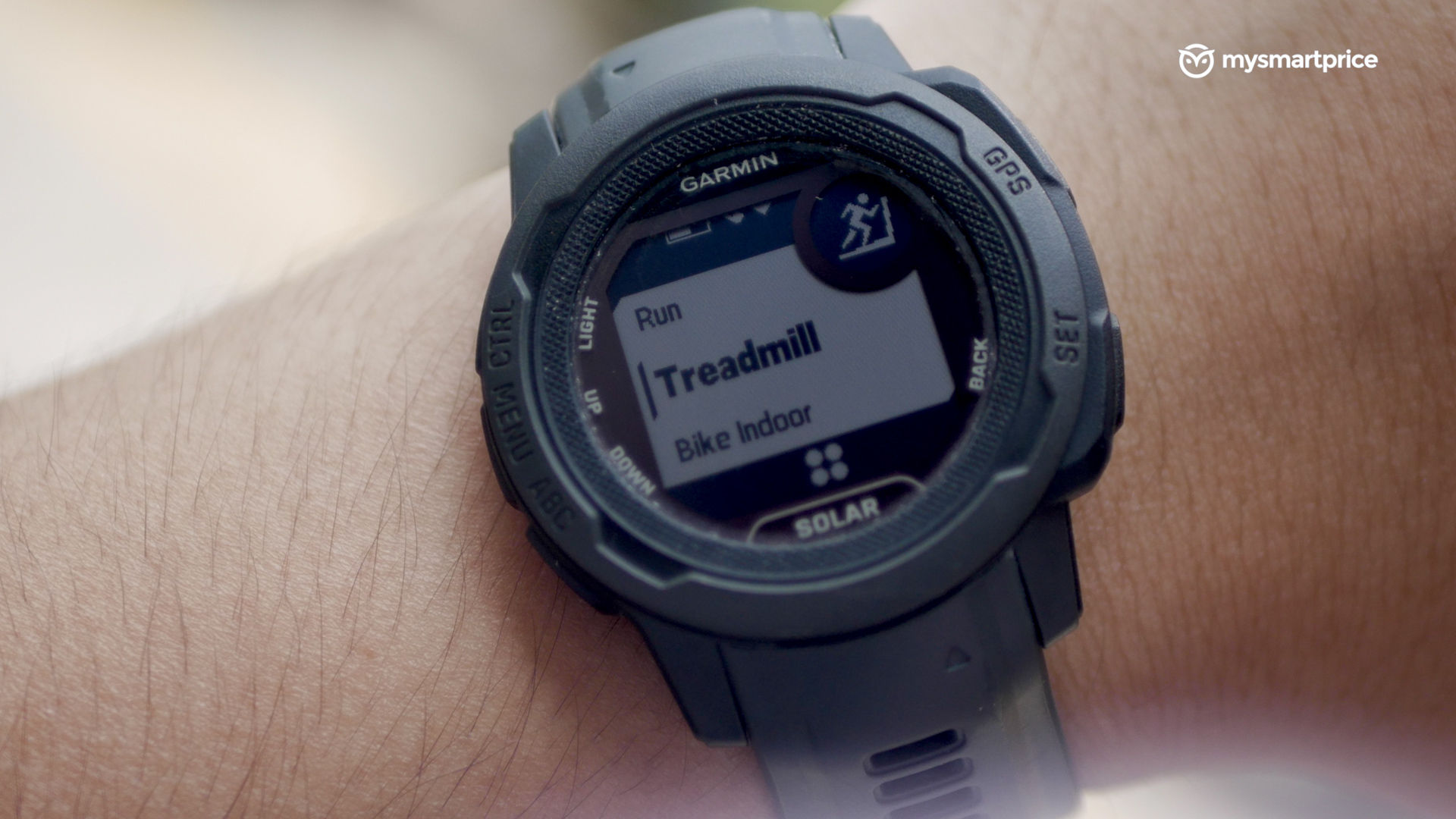 The accuracy of regular activity tracking is still spot on and identical to that of the Garmin Instinct 2 Solar TE, and you get the same OCD-level representation of your workout and adventuring data down to the molecular level. SpO2 readings are also in sync with that of a standalone pulse oximeter, although it took about 20 seconds to take a stable reading.
Other staple activities, such as step counting and floor counting, are pretty accurate, too, albeit a little slow. For example, we counted 100 steps manually, and the watch gave nearly identical results three times, but there was a slight delay of 10-15 seconds for the data to update on the watch.
We couldn't try altitude tracking this time, as we lived in a relatively flat topography and didn't travel much with the watch.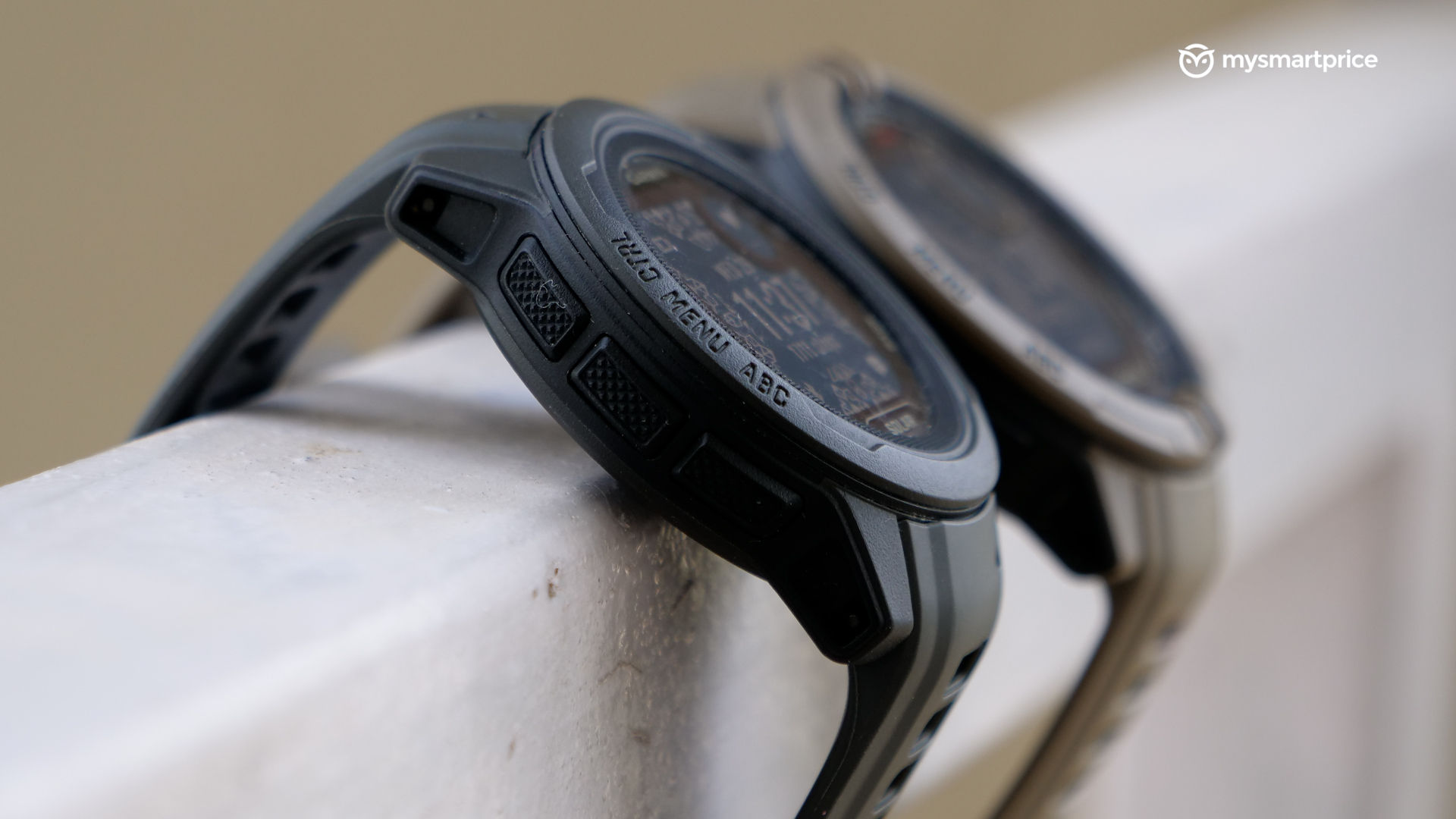 There's also a body battery feature that combines sleep and activity tracking to give you a rough estimate of how fatigued you are. This is to be taken with a pinch of salt; if you want, you can show this to your boss to take some time off work, but we can't predict their reaction.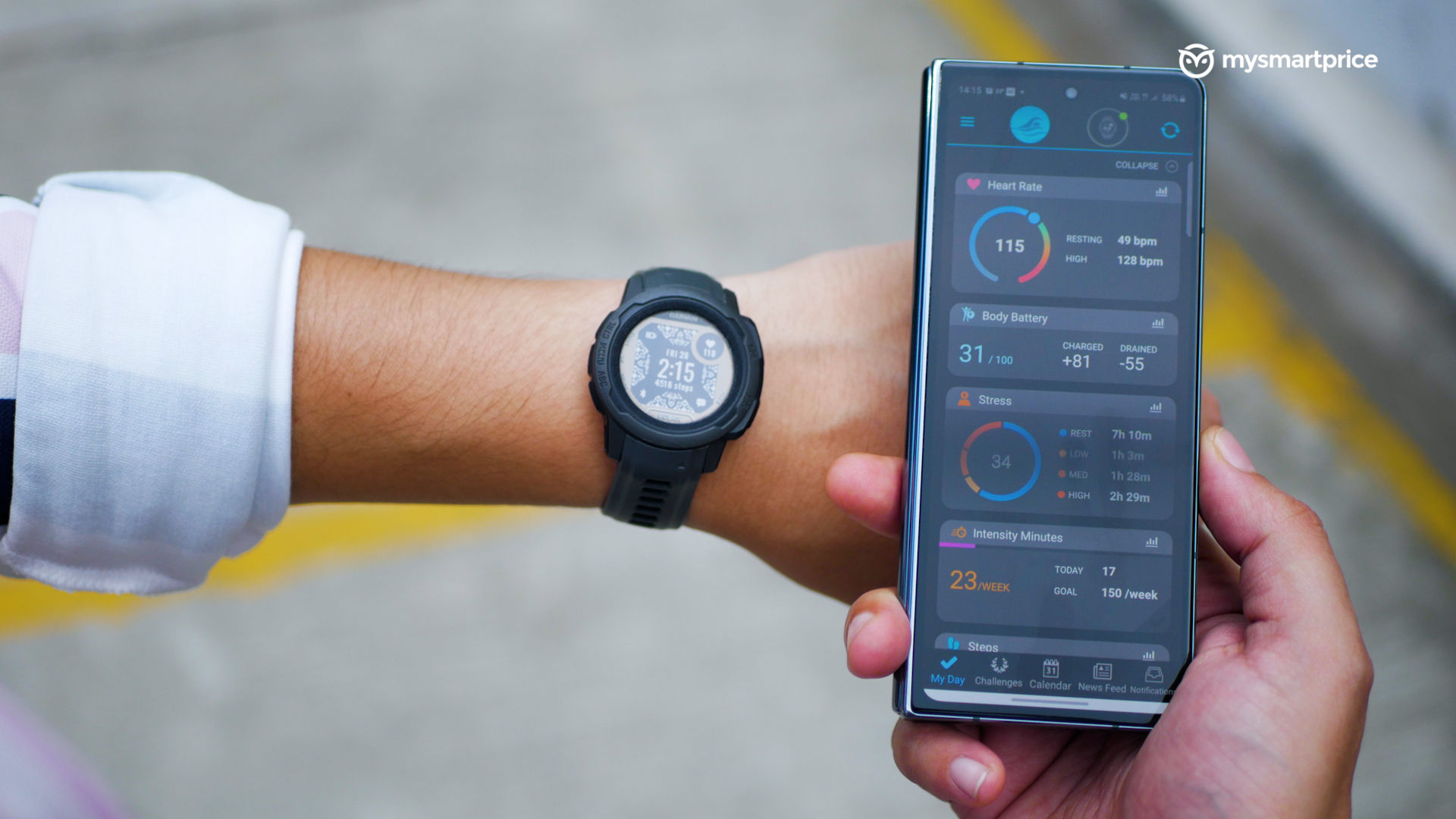 This watch can also show you full-fledged notifications, but you can't respond to text messages with predefined responses. The watch tries to replicate colourful emojis and app icons into matrix smileys and logos, but you get to view all the contents of a message, something that even watches with AMOLED displays struggle to do. For some reason, the notifications were delayed; in the Garmin Instinct 2 Solar TE, they were nearly instantaneous and often would appear on the watch before they landed on our smartphone.
There's also navigation here. It's not turn-by-turn driving navigation through Google Maps but directly via satellites. This is mostly for trekking and hiking. So, you can log in to your start and end coordinates, and it will guide you back to your origin. It's not very accurate, but it's only to be used as guidance, not reliance. Wireless payments with Garmin Pay still cannot be used here in India, and there's no voice calling.
Garmin Instinct 2S Solar Review: Battery life
Although Garmin hasn't said anything about differences in the battery capacity between the Instinct 2S Solar and 2 Solar TE, we did notice a shorter battery life here. The Instinct 2S can last for about 14 days 'organically' or without solar charging. Solar charging is still a tricky affair, and it doesn't technically give you a lifetime's worth of juice. You'll have to be in a sunny place (Delhi is ideal), and you'll have to deliberately keep it in the sun for the charging to make it work. We were able to gain about 2-3 percent of juice after spending nearly half an hour in the Sun, which is good for a day's worth of use, but solar charging will not be able to get it to start if the battery is dead.
Garmin Instinct 2S Solar Review: Verdict
The Garmin Instinct 2S Solar is clearly a smaller, less crazy smartwatch than the Instinct 2 Solar Tactical Edition. It can do all the important things its bigger sibling does and is packed to its gills with the most bleeding edge health and fitness tracking features from Garmin, but we aren't convinced about the price tag, which is roughly the same as a vanilla Instinct 2 Solar.
At Rs 50,490, it is in no way affordable, so if you are absolutely sure about getting an adventurer's watch and if you have a flair for Casio's G-Shock-style watches, go for it. But if you have the slightest doubt about not being able to live without a colourful display, look elsewhere. It seems out of place with most formal and casual outfits, so there are very few things you can pair it up with.
For the same price, you can also buy the recently launched Samsung Galaxy Watch 5 Pro with a Titanium case and a beautiful AMOLED display with Sapphire Glass. Of course, it doesn't have as many adventure-focused features and such a long battery life with solar charging, but it does have GPX and Google Maps navigation via eSIM and the ability to take voice calls.