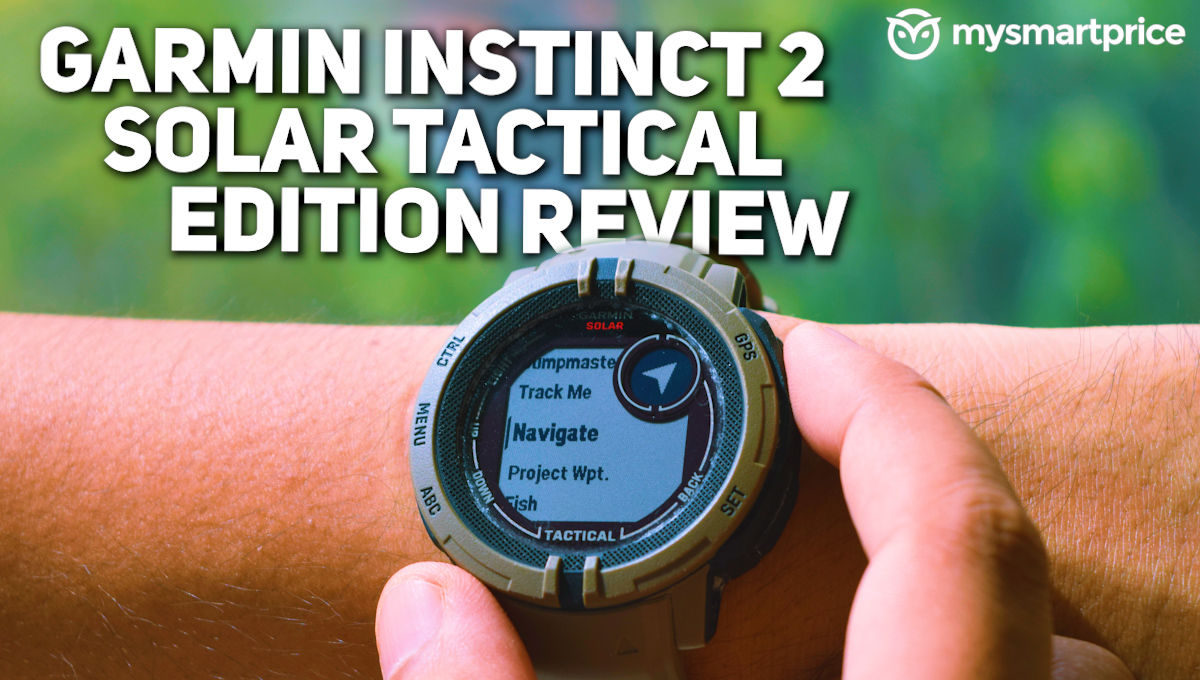 Modern smartwatches with sprawling AMOLED displays and touch interfaces have spoiled us by offering a really intuitive user experience. It takes at most three easy taps on the screen to get to a function such as a workout tracking. It's so easy that we take these for granted.
The Garmin Instinct 2 Solar – Tactical Edition may have a name with the most random words strung together, but it is also a hark back to the good old days when watches had physical buttons. While it appears old school, it is packed with some of the most advanced sensors one could ever ask for and comes with an eye-watering price tag of Rs. 51,990. So what could possibly justify this disparity? It turns out it's not a regular smartwatch. Find out in our full review.
Garmin Instinct 2 Solar Tactical Edition Review: Mighty tough build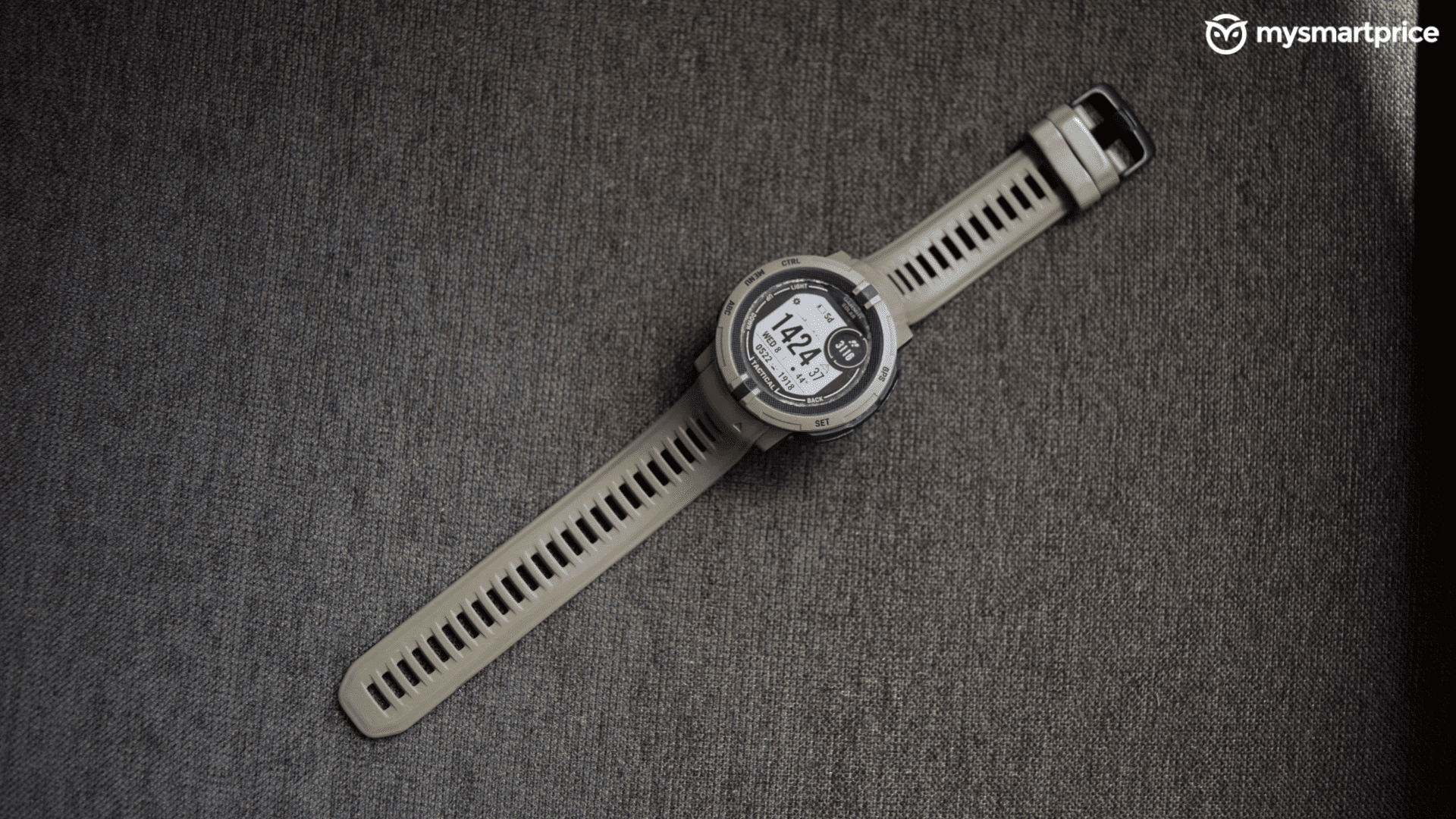 The Instinct 2 Solar TE is one of the most rugged tech products we have ever seen. It can withstand a really heavy hit on the wall, a trip under a car tyre, a mild fire burn and even a dive underwater at a depth of 100 metres. All this craziness yields its military-grade durability, MIL-STD-810, to be specific.
The case is made out of a fibre-reinforced polymer and is chemically strengthened, whereas Corning Gorilla Glass protects the front of the watch. Underneath the glass sits a 0.9-inch monochrome display with a resolution of 176×176. We quite like the display, despite the old school look, because it is legible under harsh lighting conditions – be it too bright or too dark, a preferable trait if you're an adventurer. It is also backlit, with motion-sensing capabilities. So if you raise your arm at night to check out the watch face, it will light up.
The strap is replaceable but easy to stain for some reason. We received the Coyote Tan version, which was a very pale olive colour, but the strap started to become discoloured after a month of use. Look wise, it appears like a tech-ed up Casio G-Shock to the untrained eye, and it was polarising to many of the people we showed it to. The case is also susceptible to storing hard water residue, so it can start looking old within just a few days of use if you live in such an area.
The sides of the watch house five push buttons in total – three on the left (CTRL, MENU, ABC) and two on the right (GPS, SET). It takes a little bit of time to get used to how to use them because all the five buttons are mapped to multiple functions, and initially, it felt like we needed a rocket engineering degree to use it.
Seriously, it's been long since the last time we took out the owner's manual to figure out how to use a product. It took us about 3-4 days to get used to the functions, but once we got the hang of things, we were ready to taste the potential of the watch.
Garmin Instinct 2 Solar Tactical Edition Review: So many features
Before we get started with the features, we would like to clarify that it wasn't possible for us to try out all the features this watch has to offer, and boy, there are a lot of them! For instance, we couldn't try the skydiving feature called Jumpmaster, which helps you navigate using the onboard barometer and electronic compass. Other modes that we couldn't try out include (but aren't restricted to) Ski, snowboarding, Fish, Cyclocross, Bouldering and Hunting. We also didn't connect any ANT+ enabled devices like a golf club to track our shots.
We tried the HIIT, Running, Treadmill, Pulse OX, Hydration, Hiking, Pool Swimming and Sleep tracking modes.
Each of these modes is meticulously logged in the Garmin Connect app in a neat, graphically represented format.
You have to activate each one of these modes physically, so, for instance, there's no automatic run tracking like many other smartwatches.
But it does a lot more things better than full-fledged smartwatches, like informing you about the time it'll take for you to recover from an intense workout and giving you tailor-made recommendations of which workouts to perform in a day by observing your patterns. Further, for high-functioning athletes, there's also VO2 tracking that helps them manage their aerobic fitness level using your heart rate data.
While we are at it, we found the heart rate tracking to be spot on. We compared the reading from the watch to that of a standalone pulse oximeter, and the two were identical. However, the SPO2 tracking was off by about 2-5% and was slow to register.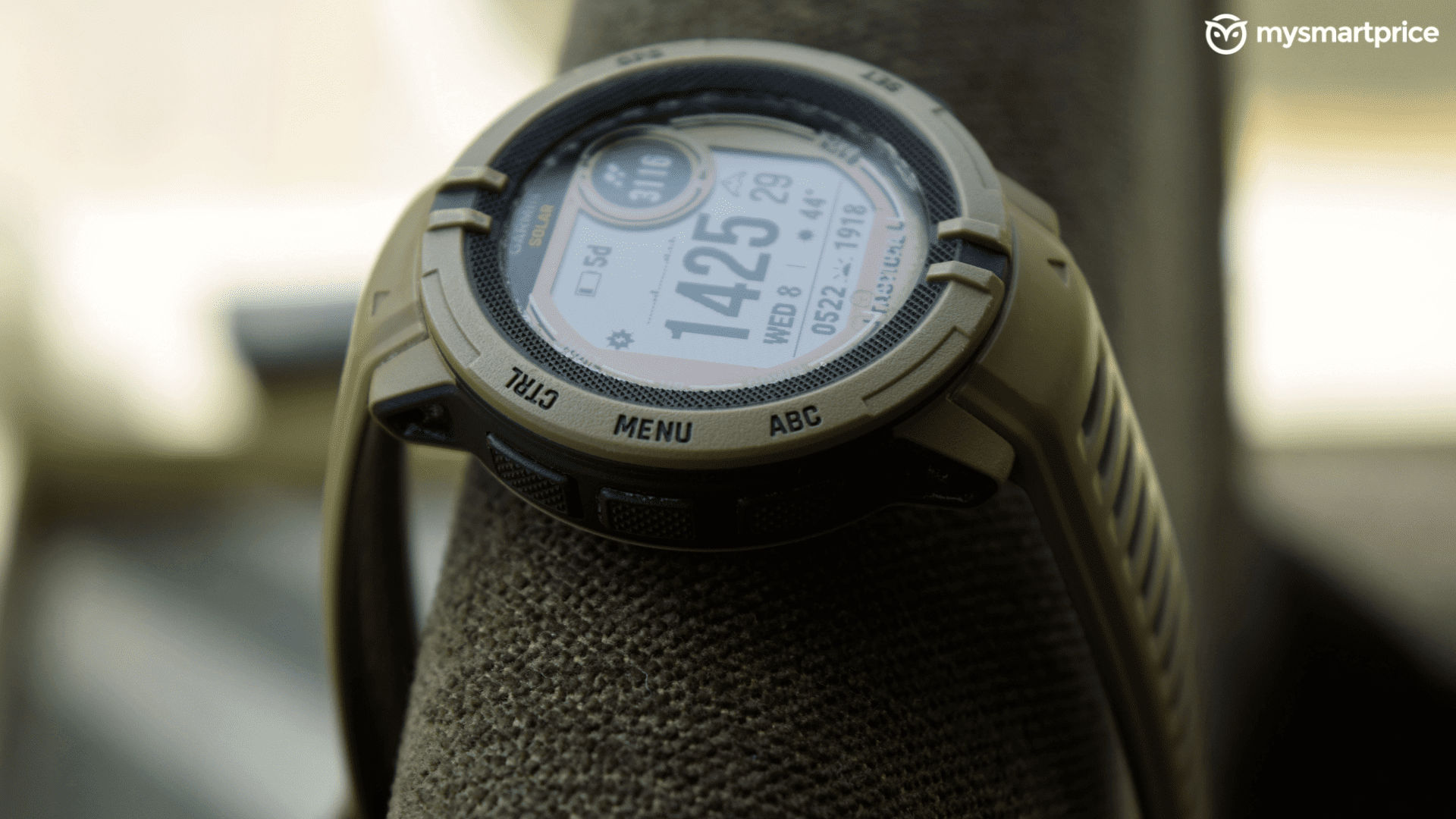 The step tracking was also accurate. Compared to the physical reading we took while logging in 100 steps back and forth, the step counter on the watch was pretty much spot on. It can also track how many floors you climbed in a day, but it is not that accurate and took a few false readings when we were on a bumpy road in a cycle rickshaw or auto-rickshaw, which we found to be hilarious.
Altitude tracking was inaccurate, however. We gave the watch to one of our close friends who went on a mountain excursion in the Himalayas, and he noted a disparity of about 20 feet from the actual sea level.
Another feature that's right there in the name is solar charging. The front panel doubles up as a light-absorbing surface that can charge the watch. This is to supplement the wired charging capabilities of the watch, not replace it, and nor does it guarantee endless battery backup. You will have to deliberately keep the watch facing up towards the Sun for best results, preferably in an open space. This means you'll have to take it off your hand or else expect to see a nice medium rare tan on your arm. Oh, and you get a nice graph in the watch and app that shows you the solar intensity your watch has been through.
Another feature that we liked is the Body Battery. Simply put, it combines sleep and activity tracking and gives you a score that shows how well you'd be able to perform during the rest of the day. This seems like a gimmick, and even though we want to believe it is, it did seem like it was true.
I wasn't compensating for my rather hectic schedule with enough sleep for almost two months, and it was reflected in the Body Battery. The sleep tracking seemed accurate, although we can't say the same about the breakdown of the different parts of sleep.
This watch can also show you notifications. They often appear on the watch before they hit the phone, and you get to see full-text previews and even calendar events on this LCD matrix screen. This is shameful for several AMOLED watches that still show you truncated versions of your notifications. You can't, however, respond to messages. But you can play and skip tracks.
Another surprising thing that this LCD matrix display can let you do is to navigate. No, it's not via Google Maps but directly through GPS satellites. The idea is pretty simple yet effective, especially if you're hiking – note the start point of your expedition, and then once you've reached the end of your hike, start the navigation back to the origin. It considers elevation changes along with the typical distance. And if you think you're in a place where your data might be compromised, you have the ability to wipe all location data using the Stealth mode, yielding it the 'Tactical' moniker.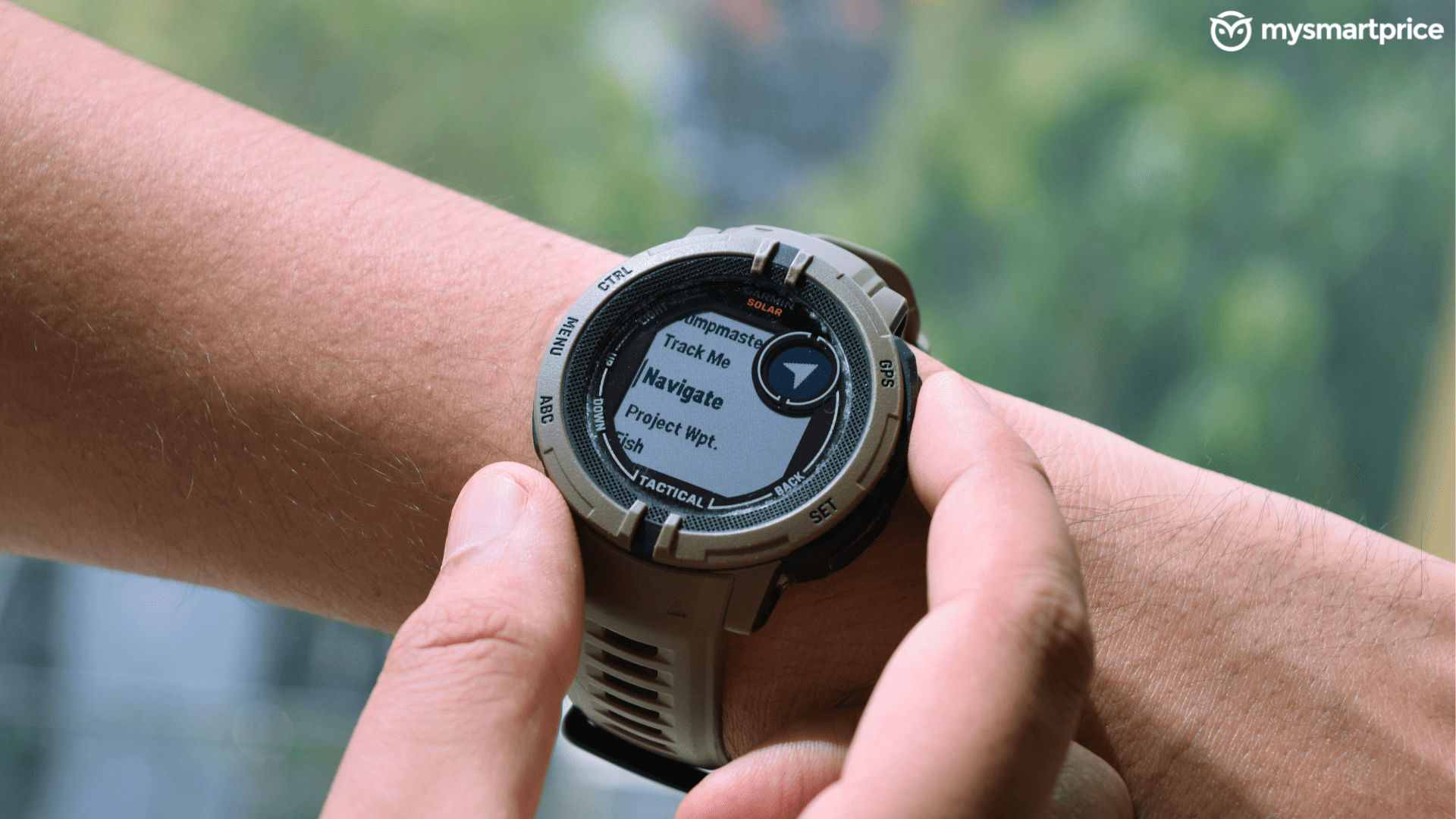 A feature that's not available in India is the ability to make payments through Garmin Pay. It enables payments through Rabbit LINE Pay, which is available in Thailand.
Garmin Instinct 2 Solar Tactical Edition Review: Battery life
The battery metre on display maxes out at 21 days on a full charge, but given my usage, I was able to make it work for about 18 days, which is still a lot given I never really took off the watch from my hands. It takes about an hour and a half to charge entirely. The battery life does take a significant hit the moment you add SpO2 tracking and GPS in the mix – it could barely last two days with all sensors working. Consider the unlimited battery life claim only and only if you are a serial expeditioner who spends a significant amount of time out in sunlight beyond 50,000 lux. Also, there's no wireless charging here, so you're stuck with the pogo pin connector.
Garmin Instinct 2 Solar Tactical Edition Review: Verdict
The Garmin Instinct 2 Solar Tactical Edition packs almost every cutting edge tech that Garmin has to offer. Many buyers may not even use all of the stuff it has, but at least you won't go to sleep bothered that something's missing. The price tag of Rs. 51,990 will bring a tear to your eye, but if you're an adventurer by nature (or profession), the solar charging and stealth mode will be of use to you. The vanilla Instinct 2 is more than enough for us mortals and all of our crazy needs.
Garmin Instinct 2 Solar Tactical Edition
₹51,990