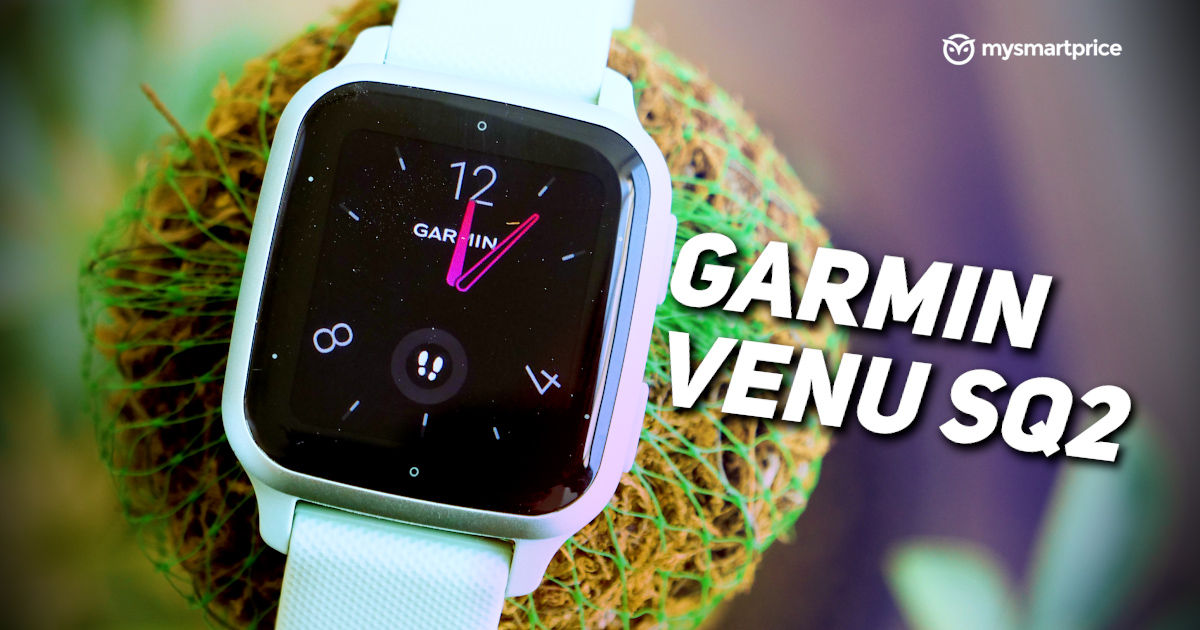 Garmin's a trusted name among fitness freaks. 'Engineered on the inside for life on the outside' is the company's motto, and it reflects in every single product in the company's portfolio. The Garmin Venu SQ2 is one of the most affordable 'proper' smartwatches the brand has to offer.
Its price of Rs. 27,990 puts it among the league of full-fledged smartwatches with shiny displays but can it stand out from the rest with Garmin's coveted fitness tracking prowess? Find out in our review.
Garmin Venu SQ2: Design & display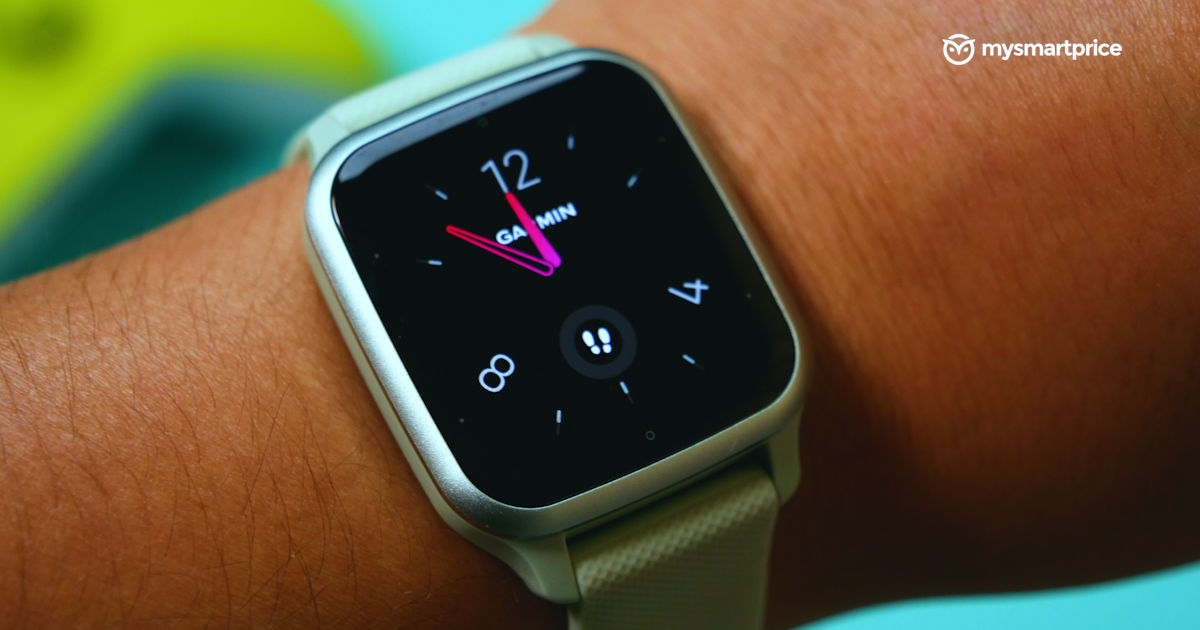 The 'SQ' in the watch's name denotes its square design. It appears like an Apple Watch from a distance, but on closer inspection, it's very different from one. It has two giant physical buttons on the right side that the Apple Watch doesn't.
Garmin has provided quite a few colour options here to choose from. Some are classy, some are funky, but in our opinion, black looks the best. We received the Metallic Mint variant, which was a bit toyish for our taste. We couldn't pair it up with formal or semi-casual attire, but we are sure other colourways would be far more versatile.
The build is almost entirely plastic. The bezel around the display is aluminium, which gives it a premium feel. However, the tactility of the buttons is a bit strange. They have long travel, and the clickiness isn't as satisfying. To put it in the best way, the feel is a bit mushy.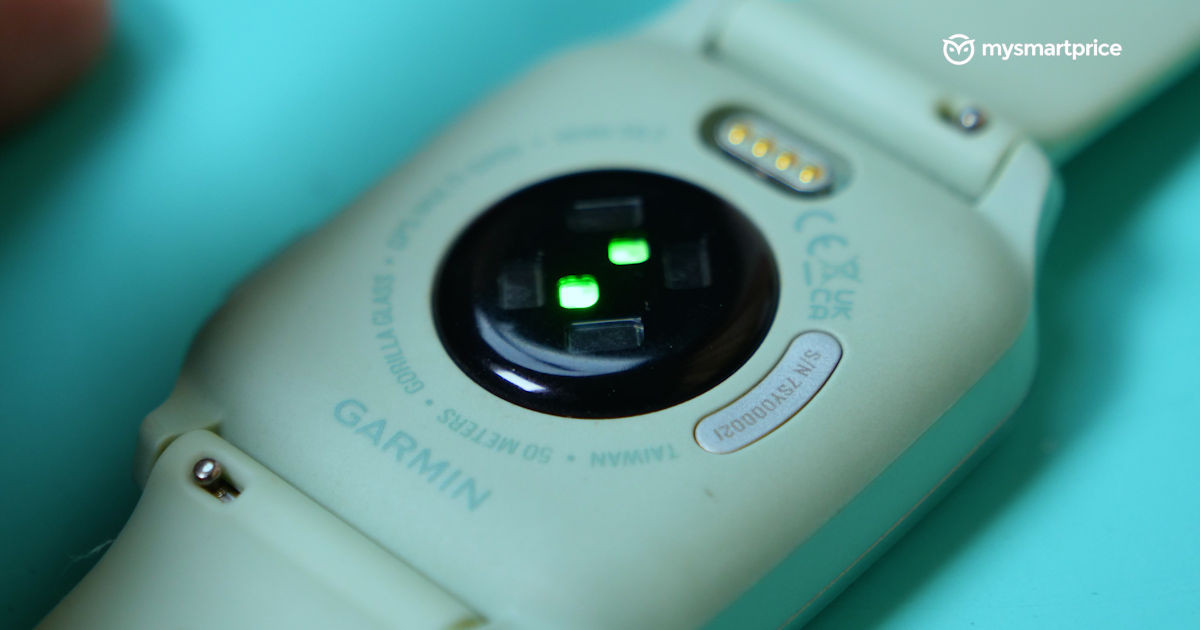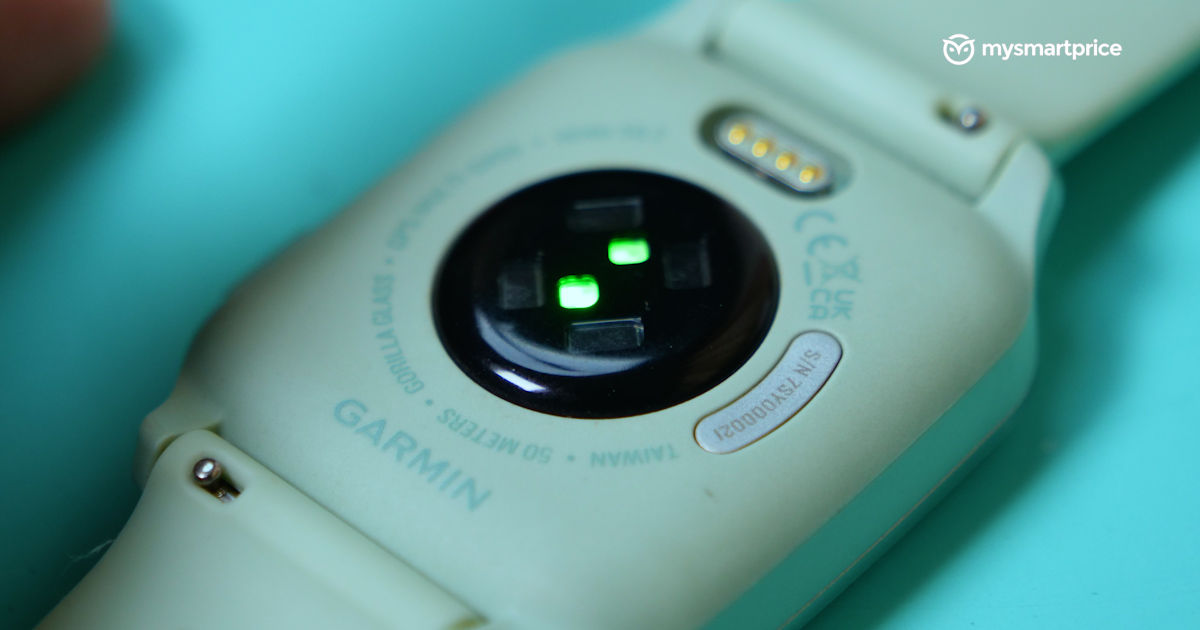 An optical heart rate sensor and pulse oximeter are underneath the watch arranged in a little cross. There are no sharp sticky-uppy bits that irritate your skin here and the bulge for the sensor housing is also minimal.
The straps are best suited for small wrists because it was a tad too tight for us. Still, the overall dimensions of the SQ2's case look just fine, even for average-sized wrists. The straps have quick-release functionality, and you can pop in a 20mm strap of your choice whenever the need arises. To secure the strap on your wrist, you get a classic pin-style buckle.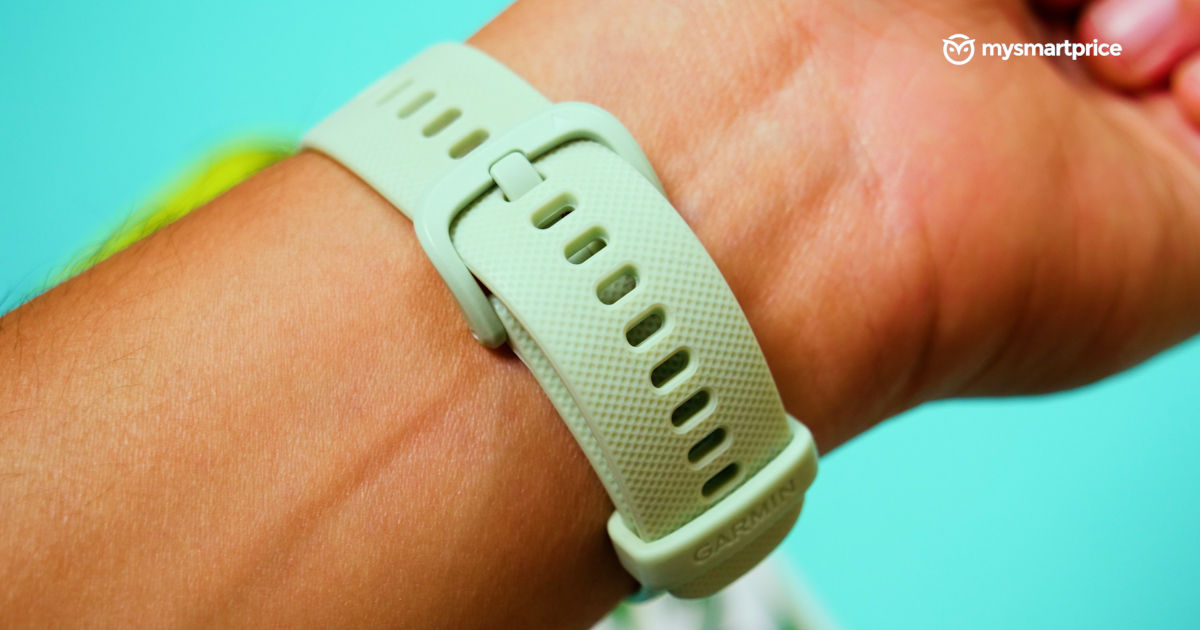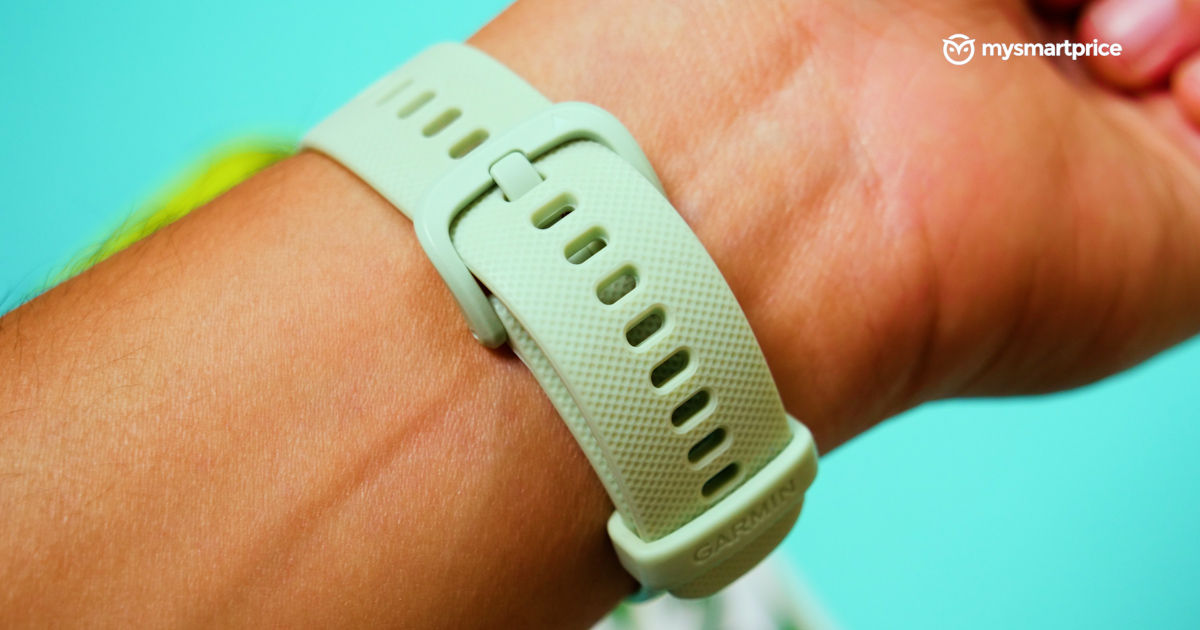 The watch is light, at just 38 grams, so it doesn't feel like you're lugging along a giant rock on your wrist.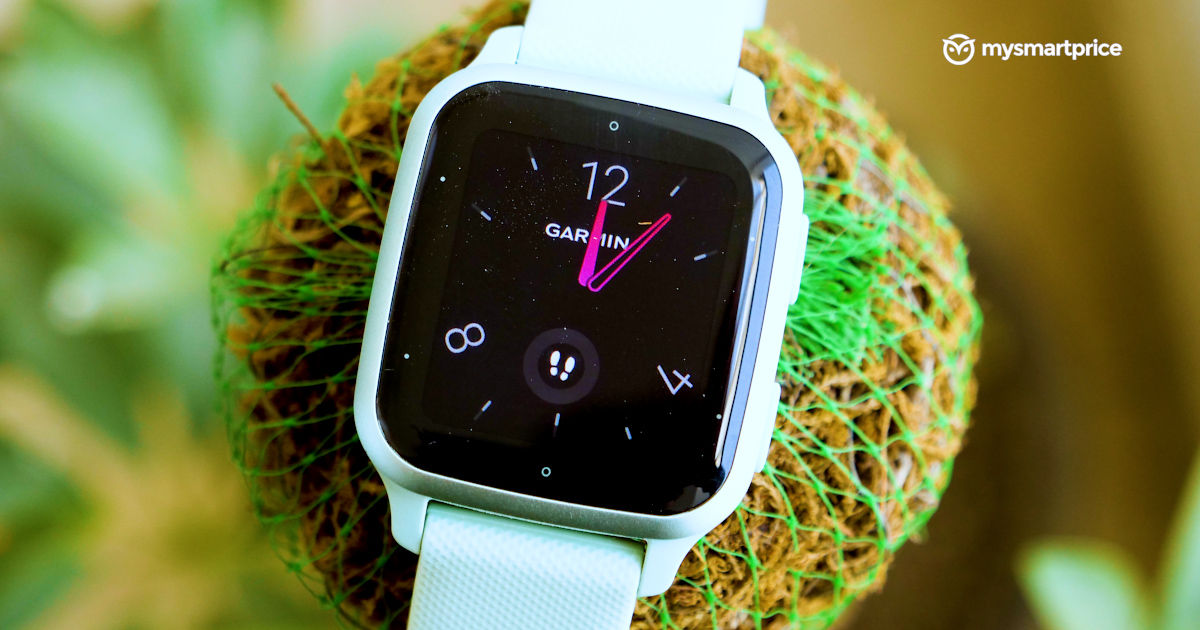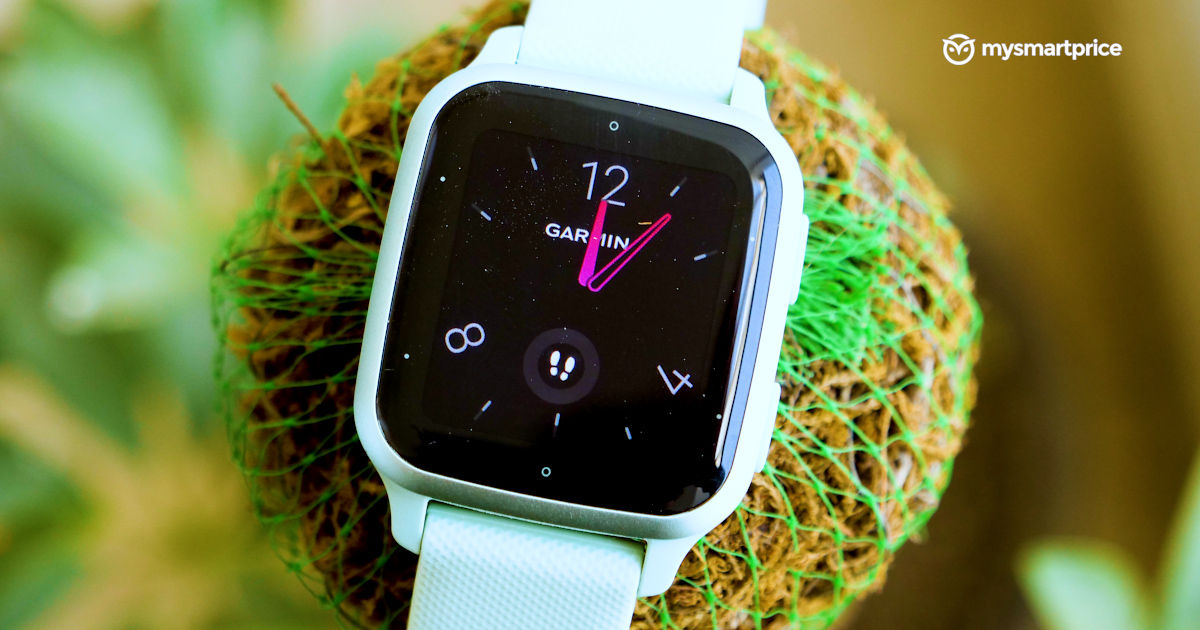 At the front of it is a 1.41-inch AMOLED display with a resolution of 360 x 320. The margins around the display are considerably big, but the curved display forms this illusion of the display going further along the edges. The display isn't as responsive, though, and the crunchy resolution makes the individual pixels obvious to the naked eye, even from a distance. On the plus side, it's very bright and taking it out in the sun is no issue. It almost seems like Garmin didn't really want to focus much on these areas in order to make the rest of the package shine, so let's check out what Garmin's known for the best.
Garmin Venu SQ2 Review: Controls, features and fitness tracking
Unlike its nerdy Instinct 2-series siblings, the Garmin Venu SQ2 doesn't require you to have a degree in rocket engineering because it's a relatively easy-to-use watch. Most navigation takes place via intuitive swipe gestures, swiping up or down gives you a glance at your steps, calories and heart rate widgets, with an option to add more. Swiping right shows you the notifications from your phone. Tapping once on the first button on the right gets you into different activity modes, and holding it down reveals the quick settings menu. The second button is essentially the back button, but holding it down on the home screen gives you access to the device settings.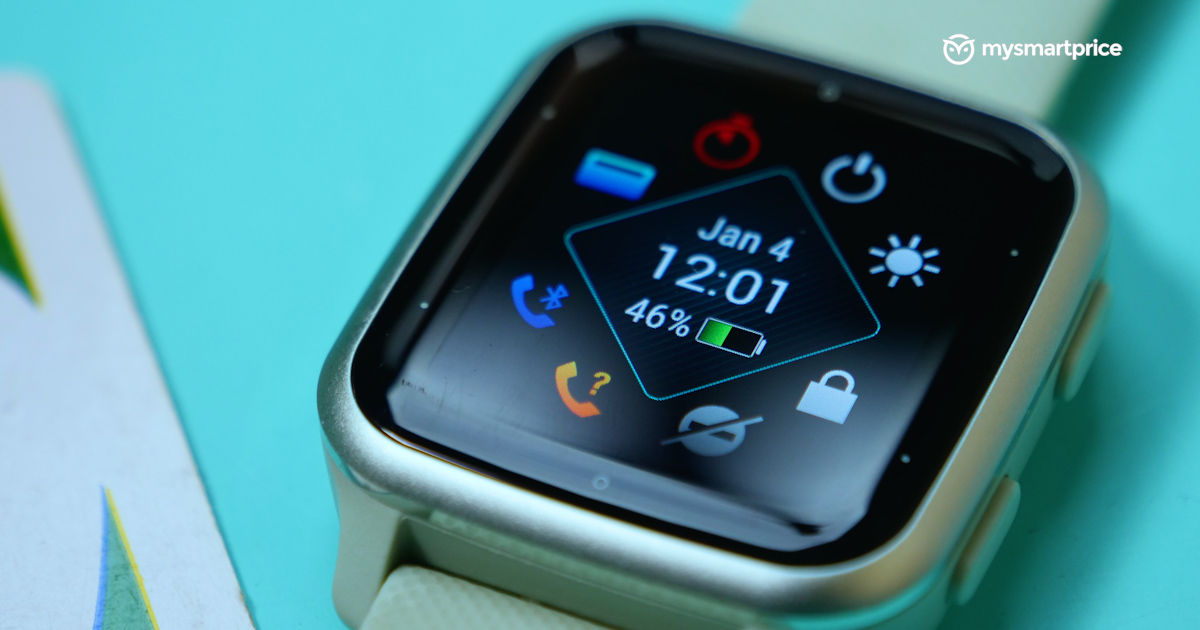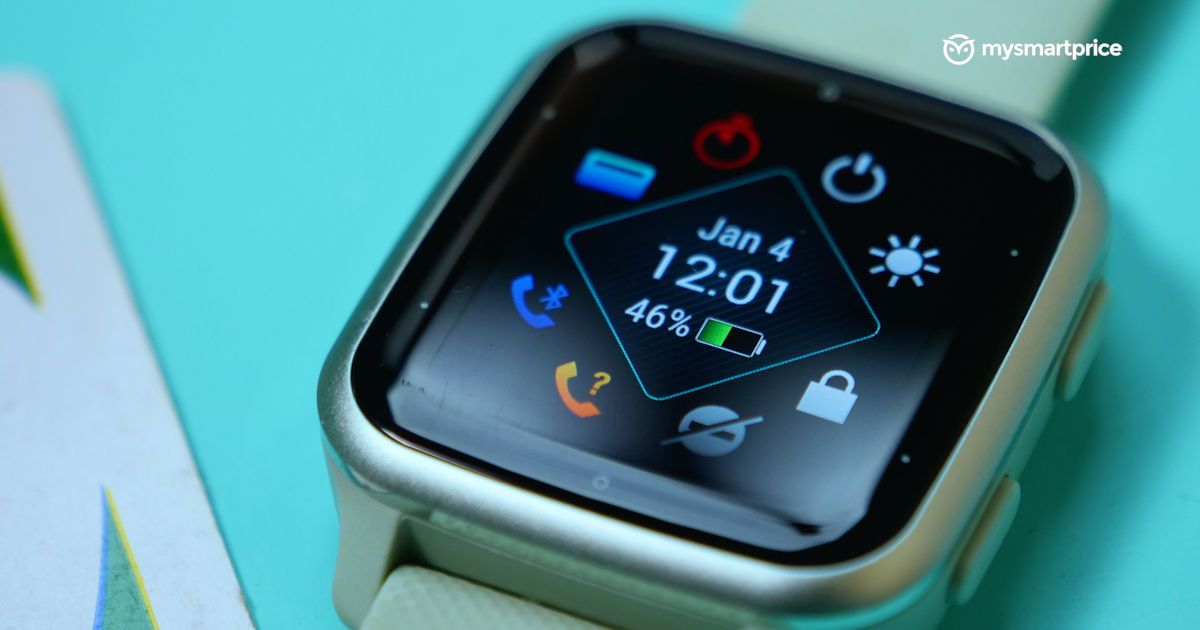 A few things come off as unintuitive, like holding down the watch face will not cause it to trigger the customisation menu. Instead, you have to work your way around the countless taps and swipes in the settings menu to do such a simple thing. Finding notifications is also going to take time to develop muscle memory for, as they don't appear after swiping down. The watch can show notifications, but they get truncated if they are too wordy. Also, you can't reply to them by typing, you can only use one of the few quick responses presented to you. Although this kind of interface is nothing new, it's very similar to the Venu 2 and SQ, and it still needs a little bit of work.
The Venu SQ2 is a typical Garmin – it gives you a dive into your fitness data like nothing else on the planet. If you're a runner, you're going to love the amount of data presented at your fingertips via the Garmin Connect app.
Here's what you get to see in a snapshot of a single run: average pace, best pace, speed, maximum speed, total duration of the run, moving time, average heart rate, maximum heart rate, total ascent and descent, minimum and maximum elevation, resting calories and active calories. Not just that, you also get to see all of this in the most visually appealing graphics too.
And to add the cherry on top of that calorie-conscious cake, the watch has support for GPS, GLONASS and Galileo, so you can ditch your phone for a run and know where you ran. This isn't as useful when running around in circles in your housing complex, but more so when you're a runner who tends to travel a lot. It's accurate in open areas, but in case you live in a concrete jungle, you're going to have a few janky lines on your map. Just so you know, the maps are provided by Google, but your route is jotted down by Garmin.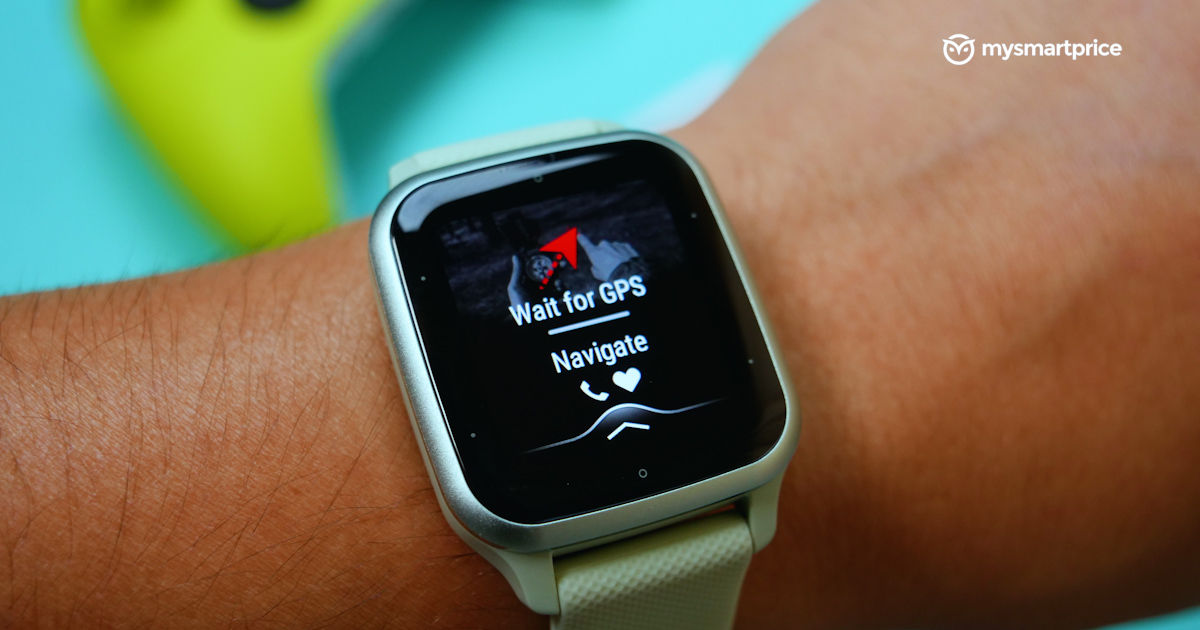 All this data can be either TMI if you're lazy or extremely motivating if you really want to keep yourself fit and push yourself every day. If you belong to the latter group of people, you might also want to check out one of the many running courses the watch provides, complete with a virtual coach who will show confidence or disappointment in you, given how active and punctual you are.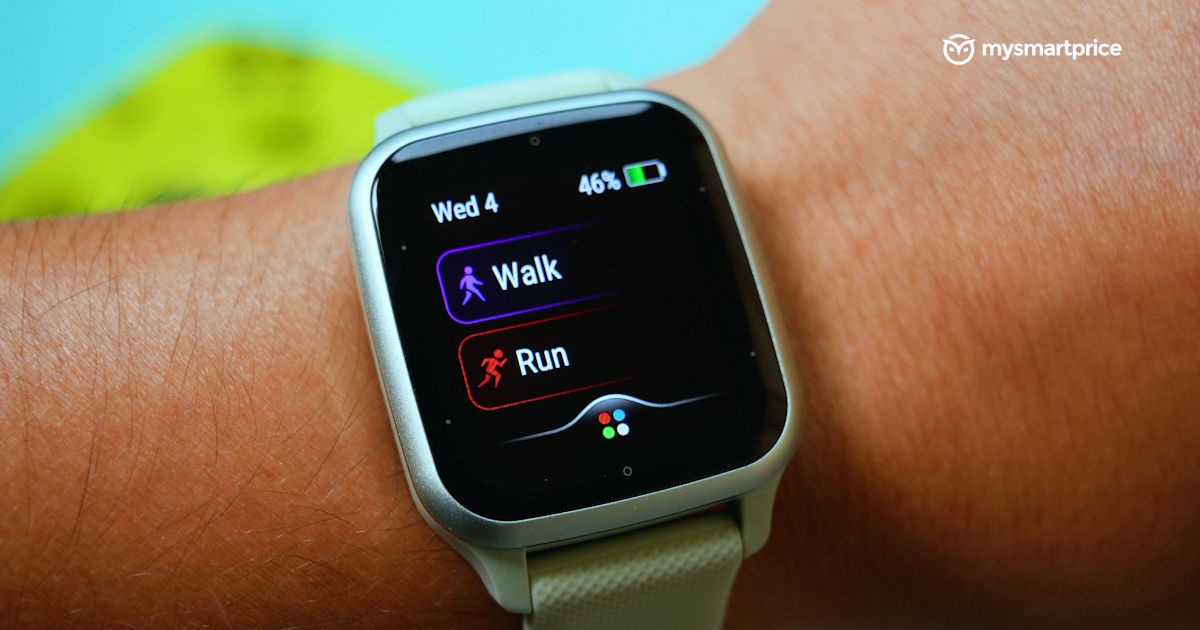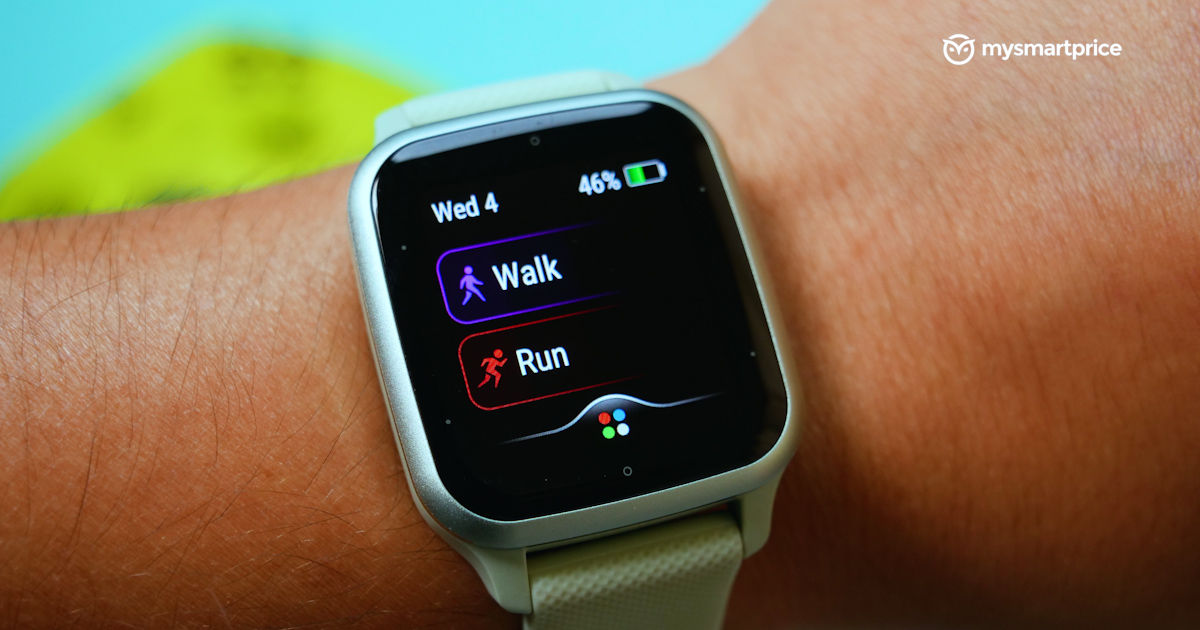 Within the watch, you also get access to as many as 25 activity modes like swimming, snowboarding, cycling and, to our surprise, tennis and cricket. There's also a HIIT mode if you're trying to lose weight rapidly.
It can also track women's menstrual cycles and even provide practical tips and guidance on the different stages of pregnancy.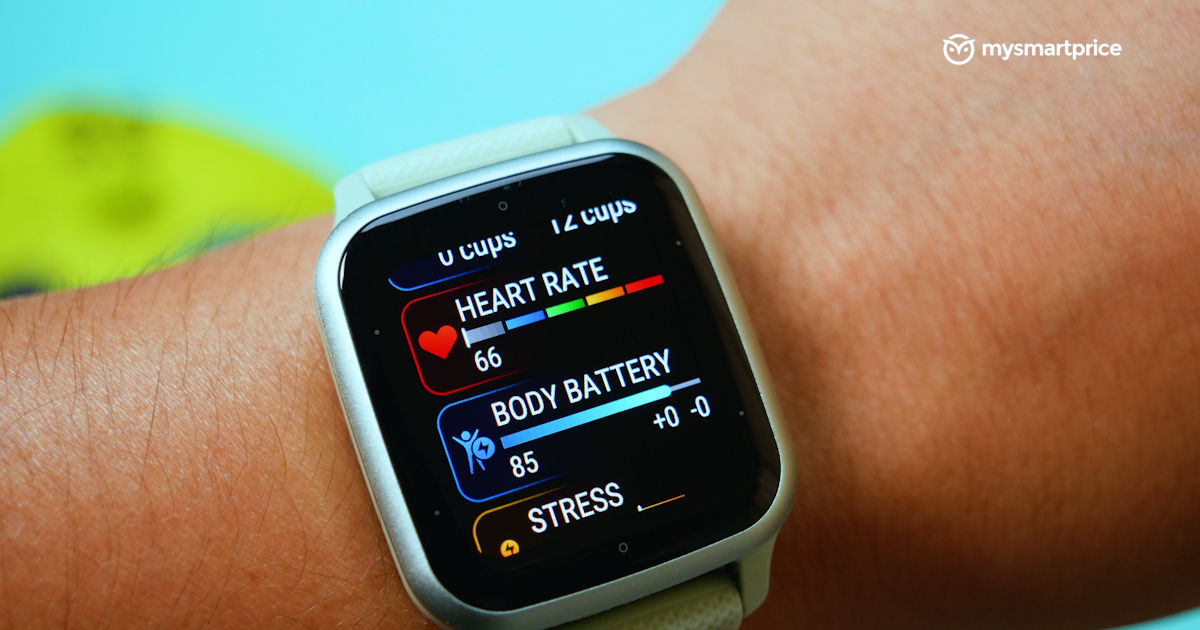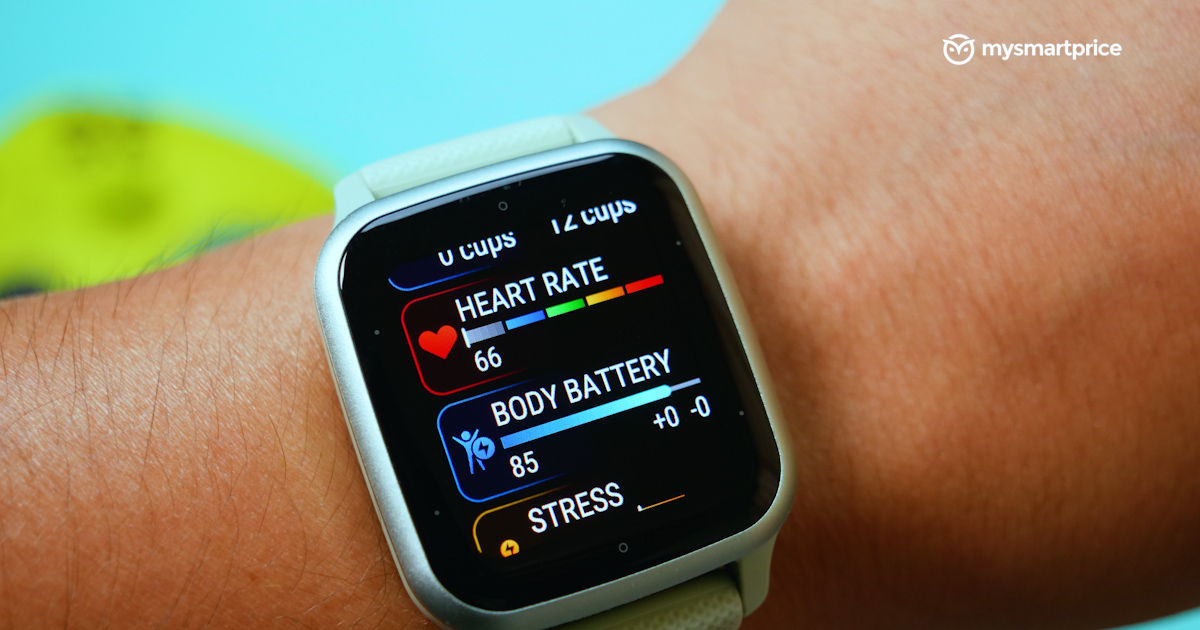 The Body Battery feature is here too, which gives you an idea of how charged up you're and how far you can go along the day without burning yourself out physically. In our Garmin Instinct 2-series reviews, we told you about how unsure we were about its legibility, but it is a good way, nevertheless, to convince your bosses to give you a leave for how burnt out you are.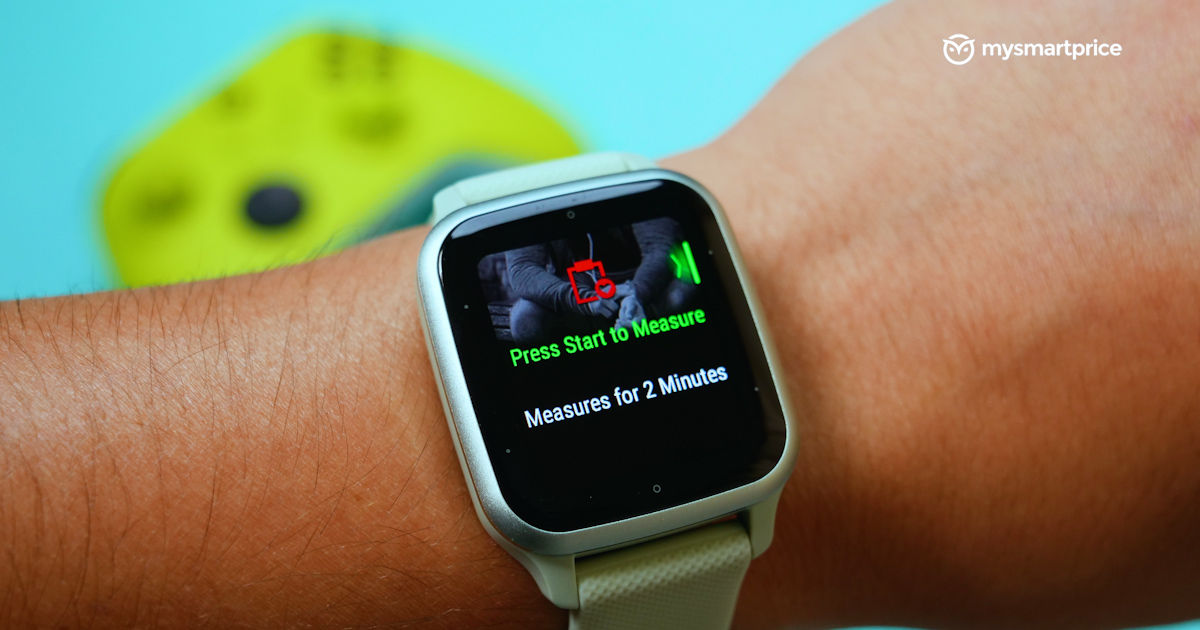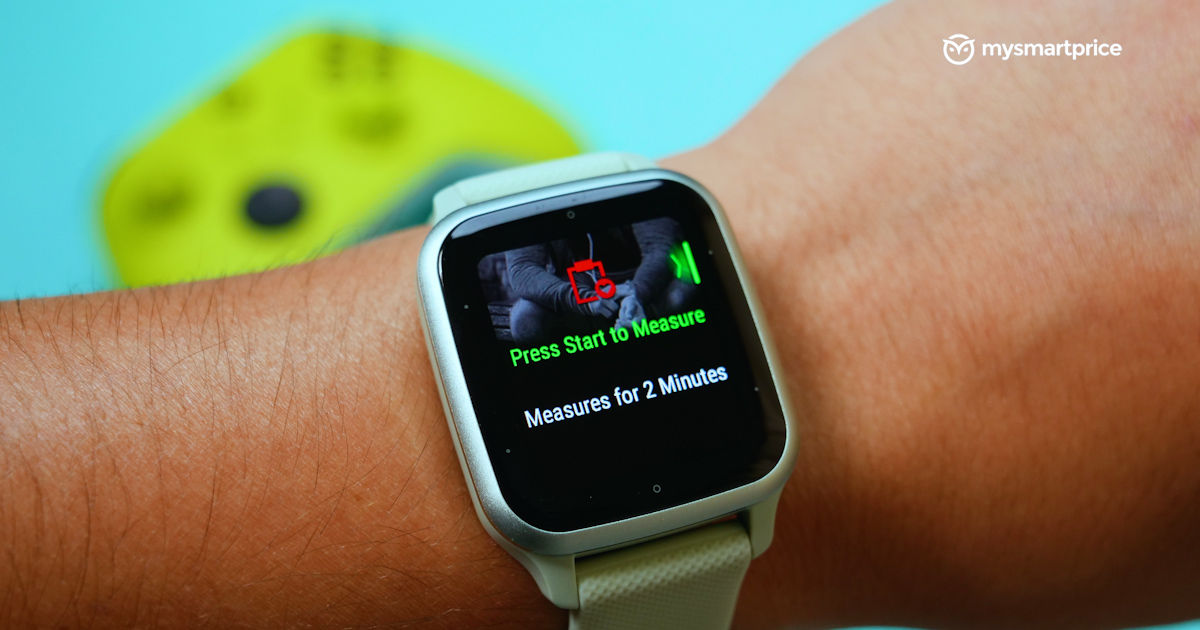 Another nifty feature is the Health Snapshot, which gives you a quick look at your vitals in a two-minute session. So you get a report of stress, heart rate and respiration on your display. We have used this many, many times in the rather hectic month of December to know how we were doing, and it's an excellent way to know when to take a chill pill.
Regarding the accuracy of sensors, the heart rate sensor was nearly always on point compared to an industry-standard pulse oximeter.
Apart from the heart rate and SpO2 tracking we talked about earlier, there's also step counting as well as sleep and VO2 Max monitoring. The sleep and step counting data is accurate to the dot. In our 100-step test, the SQ2 gave us accurate readings. The sleep score is also a helpful insight into understanding whether you've been breathing well or not.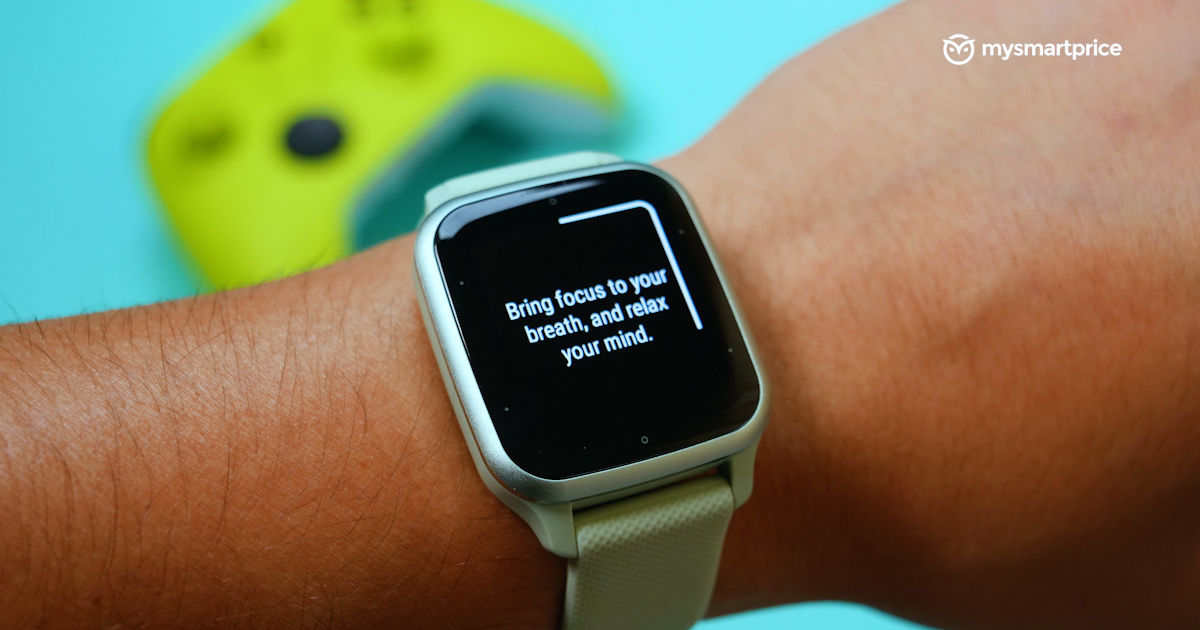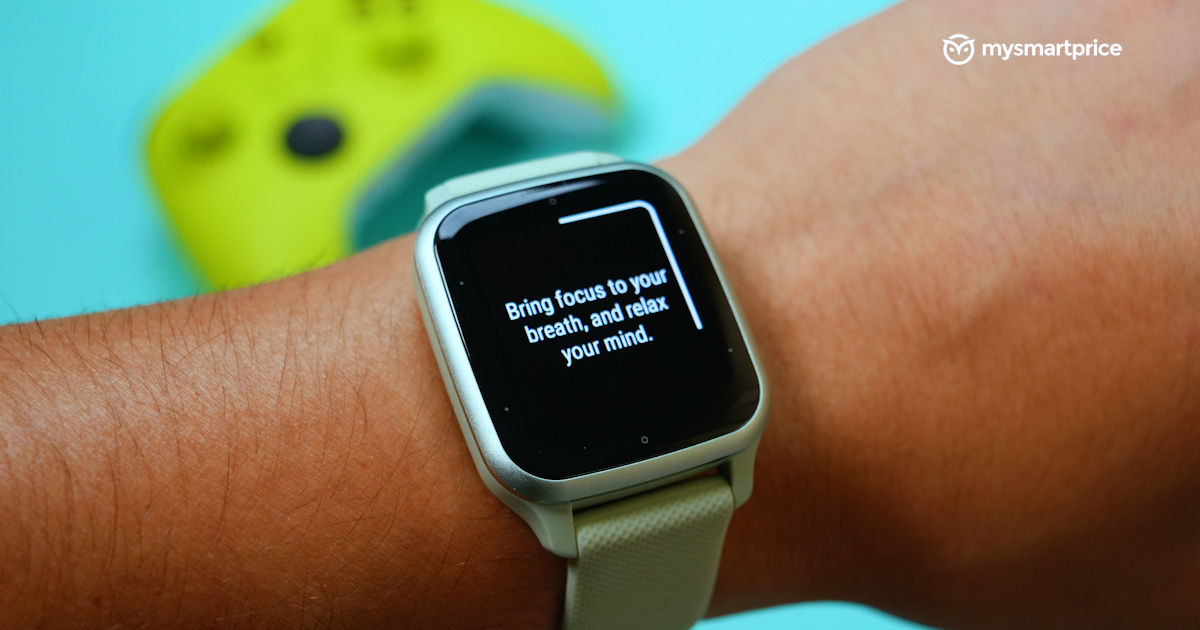 There are also a bunch of interesting things the Venu SQ2 can do, like remind you to take a break from work, take a walk or drink water. These can be helpful if you are too engrossed in work and forget about staying hydrated.
Now there are a bunch of things that are missing here, though, like a barometric altimeter and a mic, so you can't take calls or talk to the voice assistant. The latter stings, given the price tag, but hey, this is the cheapest Garmin touchscreen watch with all that crazy fitness stuff. Also, to get onboard music and Wi-Fi, there's a separate Venu SQ2 Music Edition, which costs about Rs 4,500 more. So yeah, we don't get it either.
Garmin Venu SQ2 Review: Battery life
The Venu SQ2 keeps up with Garmin's heritage by having a really good battery life. It's an easy two-week watch if you keep things tame and don't take readings all that often. But, if you push it by working out for a couple of hours every day, you may tire it out by 10-12 days, which is still very good. To charge the watch, you will have to connect the proprietary Garmin charging cable to a brick, and it takes about two hours for a full charge from zero per cent battery. That's kind of long, but we'd prefer charging once in two weeks, any day over once in a couple of days.
Garmin Venu SQ2 Review: Verdict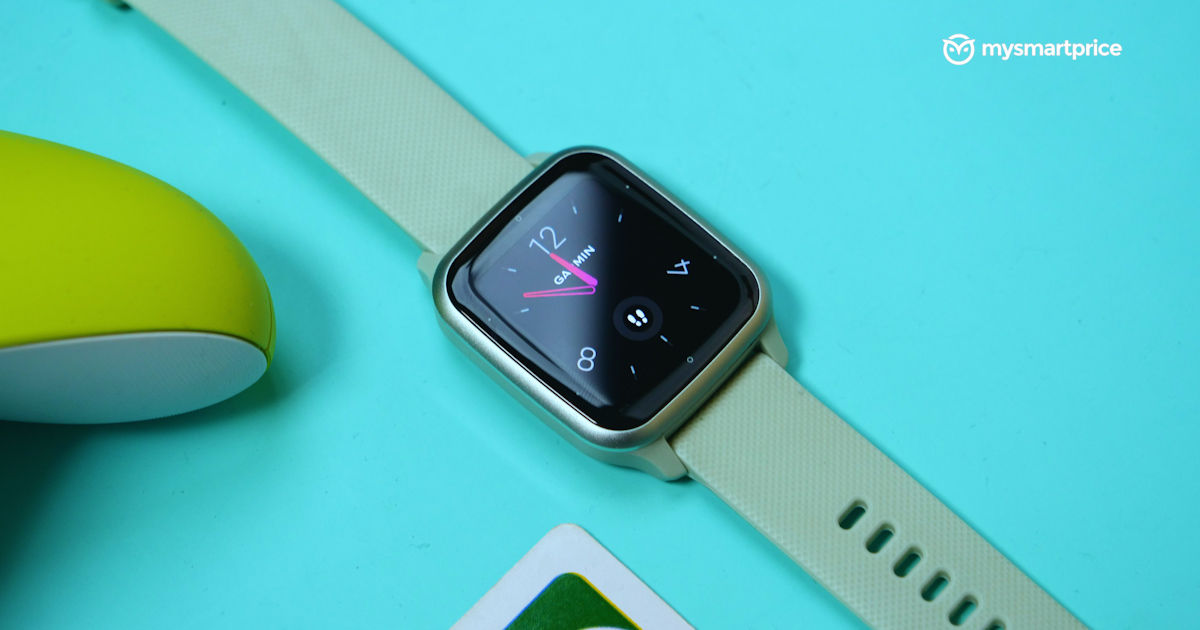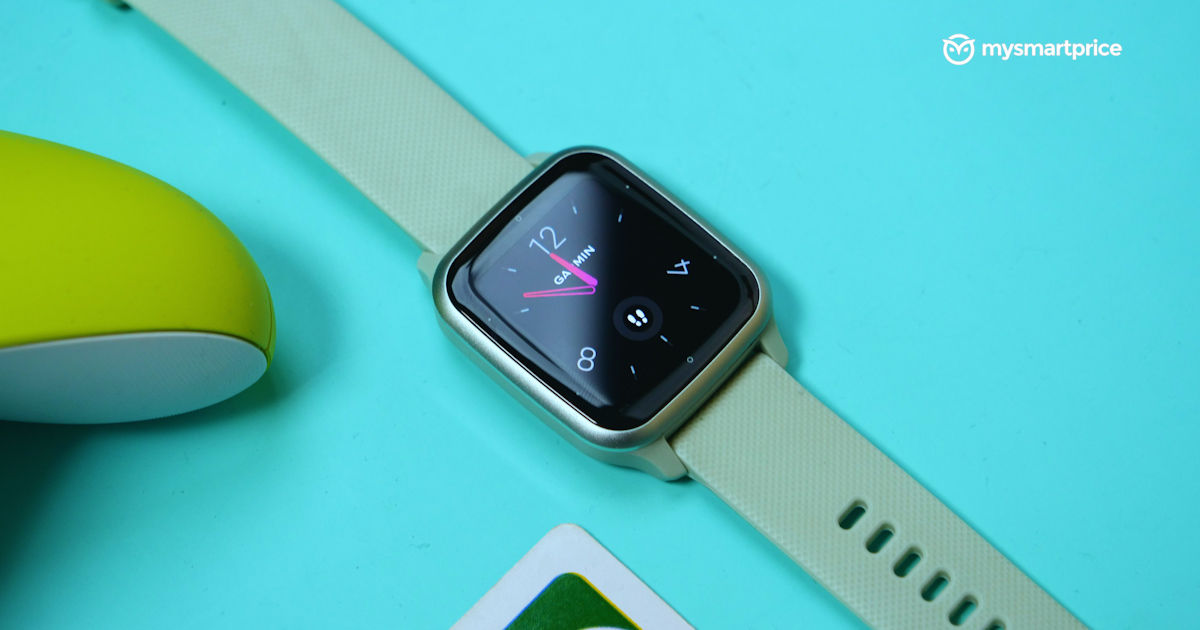 While other smartwatch makers are offering products at a lower price, with better displays and designs while compromising on in-depth fitness data capturing, the Venu SQ2 stands out by ditching the former and focusing on what Garmin's known for. And it lasts a long while doing all the heavy lifting.
The Venu SQ2 is also a considerable upgrade over the original SQ – it's got a much better display, longer battery life and a few more activity modes.
But then, the question arises 'is it worth the money'? Rs. 27,990 isn't a small amount to be spending on a smartwatch, and the visible pixels on the low-res display and the slightly unintuitive UI may make you question the package and look elsewhere.
The Amazfit GTS 4 is a recently-launched option that we tried out late last year. It has similar OCD-level fitness tracking but at a far more affordable price.
The equation totally changes when you compare the yesteryear's watches from Samsung and Apple with the Venu SQ2 because they have received massive price drops. Sure, you'll have to charge them more often, but everybody will see those shiny displays and know exactly which watch you're wearing. For example, the Galaxy Watch4 Classic is going for as low as Rs. 13,989, whereas the Apple Watch SE (2nd Generation) offers a far better UI experience and even offers crash detection.
What Is Good?
Unbeatable fitness tracking
Great battery life
Bright display
Lightweight
GPS support
What Is Bad?
Display has low resolution and isn't as responsive
No calling functionality
No voice assistant
UI takes time to get used to