Highlights
Gladiators Esports, the sub-org of GodsReign had become the champions of BGMI Masters Series Season 2 (BGMS 2023)
The team claimed victory by a single-point lead in the overall standings after the final match on the final day which cost Orangutan the championship.
The team walked away with a massive Rs 1 Crore prize pool and the championship trophy.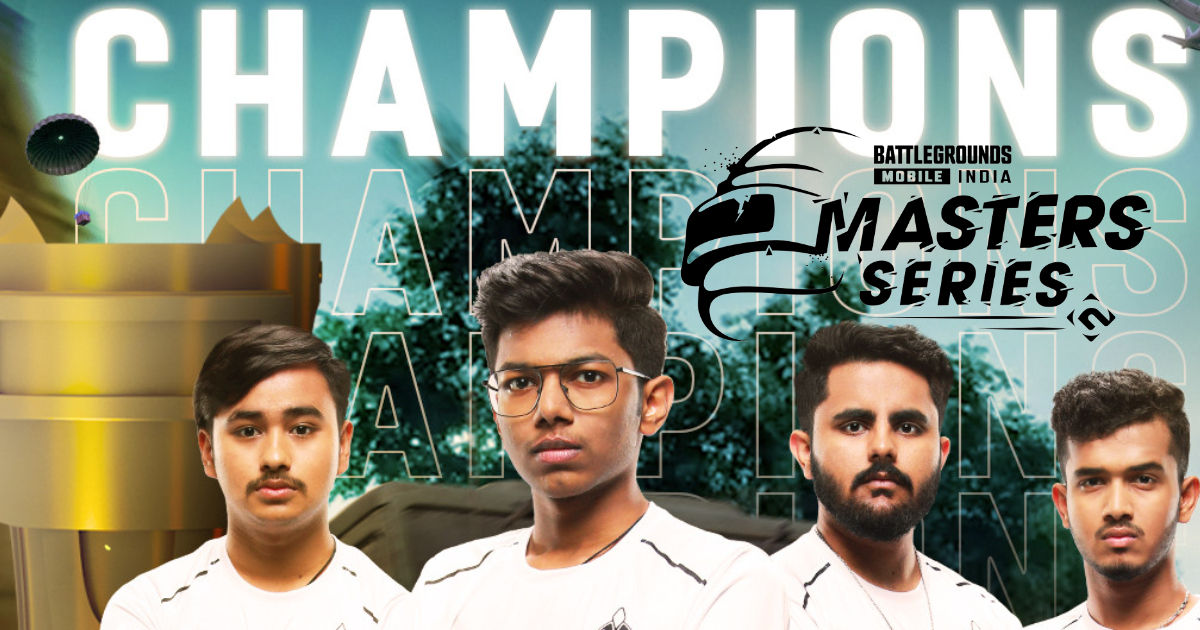 The ultimate BGMI tournament of the year, BGMI Masters Series Season 2 (BGMS 2023) has marked its end on August 27. In a dramatic turn of events, Gladiators Esports has become the reigning champions of BGMS Season 2. The team made an unremarkable victory with a one-point lead and turned out to be the best team in India. The team took home a humongous Rs 1 Crore prize pool along with the championship trophy.
The acclaimed team has shown a thrilling performance with utter determination till the very end. Across three matchdays from August 25-27, the team accumulated a total of 150 points and two chicken dinners in 12 matches along with 73 finishes. Justin from Gladiators Esports received the MVP award of the tournament for his 85 finishes.
Orangutan Gaming lost the championship by a single point and they had become the runner-up with 149 points and 68 finishes. The team appeared highly dominating on the first two days, but fell short of the trophy by a single point and was awarded Rs 35 lakh as runners-up. After demonstrating their skill in the Finale, Velocity Gaming took third place.
Also Read: PlayStation Portal With PS Remote Play for PS5 Announced: Price, Launch Date, Specifications
Gladiators Esports Wins BGMI Masters Series Season 2 (BGMS 2023)
After 22 days of intense competition, the BGMS 2023 was completed. Only 16 teams left in the battle reached the finish line, out of the 24 that began the event. Below is an overview of the final day of BGMI Masters Series Season 2.
Match 9: The first match of the third day of the Grand Finals was won by Team 8 Bit with an impressive 29-point chicken dinner. Team XSpark also competed with confidence and scored 19 points. Team Insane received 13 points, while Orangutan and Team Insane each received 12 points. Blund Esports earned eight points after defeating Enigma Gaming in the first round.
Match 10: Velocity Gaming took a decisive 22-point victory in the second match – Sanhok. Gladiators also performed admirably, scoring 25 points and leading the BGMS Finals rankings. Gods Reign, on the other hand, decided to play aggressively and earned 31 points. Oneblade and Lucknow Giants both scored 13 and 11 points.
Match 11: After winning the third match of the BGMS Grand Finals Day 3, Orangutan reclaimed the top place on the overall scoreboard. The squad captained by Ash won a 25-point Chicken Dinner. Gladiators Esports, who took 16 points, had a fantastic battle as well. Medal and Team Velocity each received 19 and 16 points.
They have done it 🌟🌟 Your #BGMI Masters Series 2023 Champions – Gladiators Esports🏆
– destro_jodd
– justin_bgmi
– delta__pg
– gdr_shogun

1st PRIZE 💰 – ₹10,000,000

Thanks for Watching!#BGMS2023 #ChangetheGame #nodwingaming #starsports #BGMI #BGMIesports #BGMIindia pic.twitter.com/Ghg3b9Y93S

— NODWIN Gaming (@NodwinGaming) August 27, 2023
Match 12: Gladiators Esports and Orangutan Gaming entered the grand finals' last match with 142 and 149 points, respectively. Orangutan Gaming seemed to have the upper hand with a 7-point advantage. Their expectations were dashed, however, when Velocity Gaming cleaned them out in the third zone with zero finishes. Gladiators Esports, moved forward while making calculated moves and earned eight much-needed points which became their pathway to secure the championship.
Gods Reign won the final game of the BGMI event with 21 points. Velocity Gaming won with 20 points, while Global and Blind won with 15 and 14, respectively.
BGMS Season 2 Prize Pool Distribution and Individual Awards
The entire prize money of Rs 2.1 Crores has been shared among all 24 competing teams and is distributed as follows based on their overall tournament ranking.
Gladiators Esports – Rs 1 Crore

Orangutan Gaming – Rs 35 Lakhs

Velocity Gaming – Rs 12.5 Lakhs

Global Esports – Rs 7.5 Lakhs

TEAM iNSANE – Rs 4.5 Lakhs

Medal Esports – Rs 4.5 Lakhs

Team XSpark – Rs 4 Lakhs

Gods Reign – Rs 4 Lakhs

Blind Esports – Rs 3.5 Lakhs

Team 8Bit – Rs 3.5 Lakhs

WSB Gaming – Rs 3 Lakhs

Marcos Gaming – Rs 3 Lakhs

OR Esports – Rs 2.5 Lakhs

Lucknow Giants – Rs 2.5 Lakhs

Enigma Gaming – Rs 2 Lakhs

Team OneBlade – Rs 2 Lakhs

Team Soul – Rs 1.5 Lakhs

Numen Gaming – Rs 1.5 Lakhs

Entity Gaming – Rs 1.5 Lakhs

Chemin Esports – Rs 1.5 Lakhs

Revenant Esports – Rs 1 Lakhs

Godlike Esports – Rs 1 Lakhs

Spy Esports – Rs 1 Lakhs

True Rippers – Rs 1 Lakhs
Special Awards
Gladiator Esports' Justin "Justin" Nadar earned the title of Most Valuable Player (MVP). This renowned award came with a cash incentive of Rs 1.2 Lakhs recognizing not just his talent but also his involvement in Gladiators Esports' success. In addition, Justin was named the TVS Most Wicked Player. Notably, Akshat "AkshaT" Goel of Team SouL was chosen as the Audience's Favorite Raider and received a TVS Raider Bike.
---
The hype for BGMS was unmatchable and it was streamed LIVE on Star Sports Network alongside Rooter. The final day has received 290K plus live watching which just explains the kind of prominence that BGMI has in India. The final day hit 331K plus watching (Star Sports + Rooter) and this was achieved without the presence of India's most-loved teams like Soul and Godlike in the Finals and the count would have gone higher if these teams were there in the competition.
Also Read: Valorant Store Gets UPI Option Back as a Payment Method for Indian Players
MSP Gaming is the gaming arm of MySmartPrice. We are a one-stop destination for everything gaming. Join our community for regular tournaments and stay updated about the gaming ecosystem – https://bit.ly/msp_gaming_community