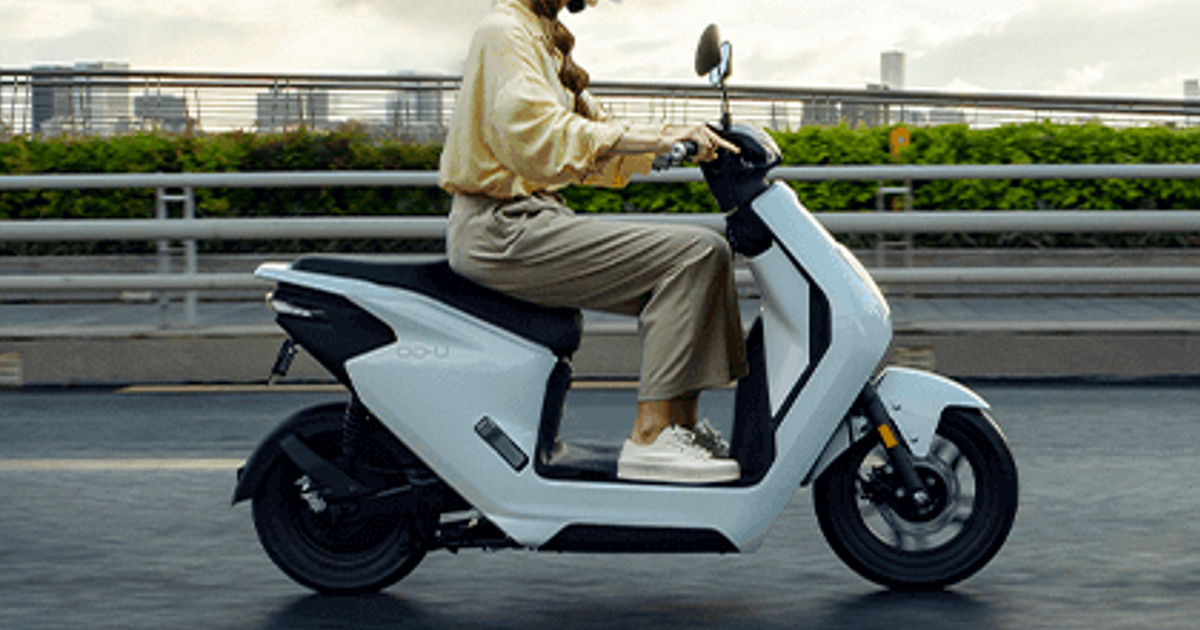 Honda has been in the news lately for its possible electric scooter launch in India soon. Honda U-Go is now the frontrunner in this race, an electric scooter that the company first introduced in China last year. With a 130 km range and a price that matches most of the options in this category, the e-scooter may now be on its way to India if a recent update is to be believed.
Honda has reportedly filed a design patent of its U-Go electric scooter in India. The patent was filed with the relevant authorities back in August but has surfaced online only now. It does not reveal any specifications of the electric scooter as yet. Though the design makes it clear that the internationally sold U-Go will carry the same visual appeal to India upon its launch.
By this, I mean a lightweight and simple design usually representative of a an entry-level electric scooter. For context, know that the U-Go marked its debut in China in August last year at a price of RMB 7,499, or roughly about Rs 86,000. There is a step-up version with a bigger battery and motor, and a price of RMB 7,999, or around Rs 92,000. So if the e-scooter makes its way to India, we can expect it to be priced anywhere between Rs 90,000 to Rs 1 lakh for the base option.
Alongside the price and the minimal appearance, Honda U-Go has some striking features to flaunt. It features an LED headlamp with triple beams and LED turn indicators at the front along with DRLs. With sharp body panels throughout the frame, the e-scooter has round rear view mirrors at the front and a floating-type LED tail light at the back, making for a rather distinguished look overall. There is, of course, an LCD panel that displays information on battery, speed, range and more.
One look at the Honda U-Go and you can figure out the purpose it has been built for. If not, know that Honda classifies the U-Go as an electric moped in China. Hence, the e-scooter is meant to serve everyday urban commuters in a way that does not add to the existing traffic load or harm the environment. Still, it comes with an ability to go distances larger than many other electric scooters. In numbers, the company claims a range of 133 km on a single charge.
Note that this range is possible with a couple of 48V 30Ah lithium-ion battery packs. By default, the electric scooter may come with a single battery pack that is enough for about 65 km. These batteries are also removable so users can simply unplug them from the scooter and charge them at home.
Performance numbers include a top speed of 53 kmph through a 1200W hub-mounted motor. On the lower variant, this drops to a 800W motor with the top speed restricted to 43 kmph. There is a 12-inch alloy wheel with a telescopic fork and disc brake at the front, while the rear gets twin shock absorbers and a 10-inch wheel with drum brake. The kerb weight of the U-Go stands at 83 kg.
For now, it looks like the U-Go will be Honda's first official entry into the electric two-wheeler industry in India. Though this is not guaranteed, as the company has previously registered design patents for electric scooters in the country but is yet to launch any of them. The conviction this time, comes from Honda's recent commitment to focus on electric vehicles across forms. Whether U-Go is a part of this plan in India remains to be seen.