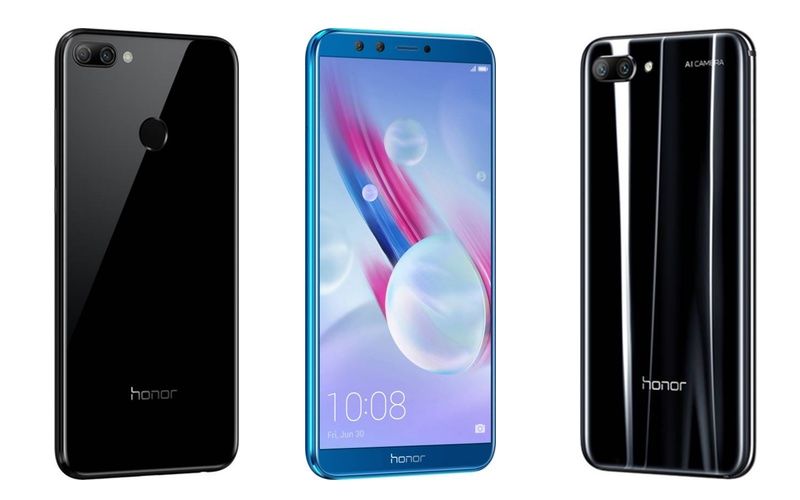 Huawei's e-brand Honor has announced that a bunch of its smartphones will sell at discounted prices during the five-day Flipkart Big Diwali Sale. The announcement was made via a press release, which gave details the temporary price drops on the handsets.
The Honor phones benefiting from the price drop include the flagship device Honor 10, and several other Honor phones such as Honor 9N, Honor 9 Lite and Honor 7A. The Flipkart Big Diwali Sale has begun today, and will last till November 5. Read on for the details of the price drops and the key features of these phones.
Honor 10: Deal Price — INR 24,999
MRP: INR — 32,999
https://goo.gl/dfYRAf
The biggest saving, obviously, is on the best device. Buying the flagship Honor 10 will save you INR 8,000 flat. The device is a Flipkart exclusive, comes in only one memory configuration, and two colors. You can buy a complete mobile protection plan for just INR 999 during this offer.
You can avail up to INR 14,900 off on exchange, and this amount includes a special INR 3,000 above the standard exchange rates, but the extra INR 3,000 applies only for OnePlus devices. There is a 10 percent discount offer on making your payment via SBI credit card, Axis Bank Buzz credit card, or the PhonePe app. However, only SBI gives you a decent maximum discount of INR 4,000, whereas, Axis Bank caps the discount amount at INR 400, and PhonePe at INR 100 itself. On the Honor 10, you can save INR 2,499 if you make the payment via SBI credit cards.
The Honor 10 packs a solid 6GB RAM and 128GB of internal storage. It ships with a 5.84-inch Full HD+ display, and is powered by the Huawei Kirin 970 chipset, which was the brand's flagship chipset until recently. Camera gear includes a 24MP selfie shooter and a 24MP+16MP dual rear camera. It has a 3400mAh battery that comes with Honor Fast Charge.
Honor 9N (4GB+64GB): Deal Price — INR 11,999
MRP: INR — 13,999
https://goo.gl/44G71r
The Honor 9N comes in two RAM and three internal storage variants. The most favorite is the 4GB RAM plus 64GB variant, which costs INR 13,999 but will sell for INR 11,999, thanks to the temporary price drop for the Flipkart sale.
The 3GB RAM variant comes with 32GB storage and 11,999, but will sell for 9,999 in this sale. The 128GB storage variant has a 4GB RAM and is priced INR 19,999, but will sell for INR 17,999 in the sale.
All the three offers mentioned above, by SBI, Axis Bank and PhonePe, are applicable here. The maximum exchange amount offered for the 64GB storage variant is INR 11,000, and for the 32GB storage variant is INR 9,450.
The Honor 9N sports a 5.84-inch notched Full HD+ display and is powered by Kirin 659 octa-core processor. It sports a 16MP front camera and a 13MP+2MP dual rear camera. The phone comes packed with features, such as Smart Face Unlock, Game Suite, Party Mode, Ride Mode, and so on.
Honor 9 Lite (4GB+64GB): Deal Price — INR 14,999
MRP: INR — 17,999
https://goo.gl/w2Dx38
The Honor 9 Lite brings with it a superb saving of INR 3,000, but that is if you buy the 64GB storage variant. On the 32GB storage model of the handset, you get to save INR 1,000, with the deal price being INR 9,999.
All aforementioned discount offers are applicable to the device, and a maximum discount of INR 14,000 is offered on exchange. You can buy a mobile protection plan for INR 399. The same applies to the 32GB variant of the device, but that model gets no exchange offer.
The Honor 9 Lite has a 5.65-inch Full HD+ display with full bezels, a Kirin 659 octa-core processor, and two dual cameras. Both the front and rear cameras of the device have a 13MP+2MP setup, making it a rare buy in the budget segment.
Honor 7S: Deal Price — INR 5,999
MRP: INR — 6,999
https://goo.gl/LReJiJ
The Honor 7S comes in only one storage configuration: 2GB RAM plus 16GB storage. In the sale, it gets a price drop of INR 1,000. Additionally, you can avail up to INR 5,650 off on exchange. The mobile protection plan for this device, under the sale offer, is for INR 199 only.
The other discount offers of 10 percent each (not clubbed) also apply. In addition, there is a partner offer by Jio, where you can avail INR 2,200 in Jio recharge cashback, and 50GB of additional data.
The Honor 7S sports a 5.45-inch display with full bezels and 18:9 aspect ratio, a 5MP front camera, and a 13MP single rear camera. The processor is a Mediatek quad-core unit, and the battery is 3020mAh.
Honor 7A: Deal Price — INR 7,999
MRP: INR — 8,999
https://goo.gl/Rpv3JC
The Honor 7A has 3GB of RAM and 32GB of internal storage. The handset gets INR 1,000 off on its Maximum Retail Price (MRP) for the sale, and up INR 7,350 off on exchange. Other discount offers are applicable, and the mobile protection plan costs INR 199.
The Honor 7A has a 5.7-inch HD+ display, and is powered by a Qualcomm Snapdragon octa-core processor. The front camera is 8MP and the rear camera is 13MP+2MP. This handset also gets a dedicated microSD card slot for adding another 256GB of storage. The battery is a decent 3000mAh unit. There are many additional features, such as Face Unlock, Ride, Mode, Virtual Bass and SMART PA Amplifier.
Meanwhile, check out this review video of the Honor Play here.