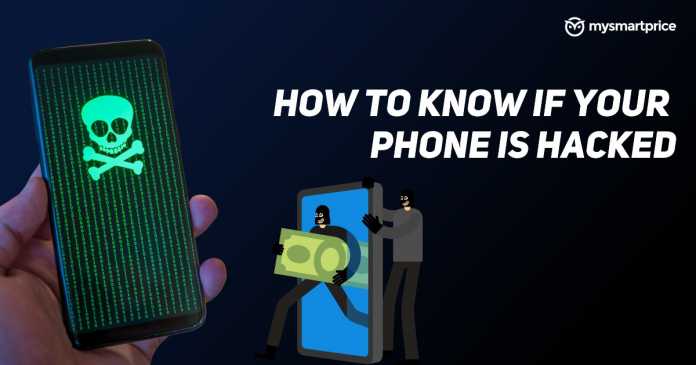 Smartphones have become one of the most important and must-have gadgets for every adult all over the globe. From being a fancy piece of gadget a decade ago, smartphones have become an essential piece of hardware for everyone quickly. There are over 2 billion Android smartphone users globally and millions of iPhone users. 
Phones these days are used to communicate, exchange mail, media, and more. We also use the phone to store private data such as personal IDs, government IDs or even work-related confidentiality files. This also means keeping your phone from viruses and hackers is a must. In this guide, we will take a look at how to know if your phone has been hacked. 
In addition to that, we will also mention multiple methods to keep your phone safe from hackers and also what to do if unfortunately your phone is hacked. Let's get started. 
Also Read: How to Check Battery Health in Android Devices
How To Know If Phone is Hacked
Let's take a look at some of the ways wherein you can identify if your phone is hacked. 
1. Inappropriate Pop-ups
If you are getting too many pop-up ads and too many inappropriate apps from third-party services, it is more likely that you have installed a malware/spyware app which is pushing these kinds of popups. In such cases, make sure you are not clicking on this content as it is extremely harmful. 
2. Calls and Messages To People That You Have Not Initiated
When you check your call logs or SMS, you might see phones to people whom you might not have initiated and SMS to senders you might not know or not initiated. If this is the case, there is a good chance that your phone has been hacked. 
3. Extremely Slow Performance
If your phone has been hacked, the system performance might be affected and due to this, the phone might act sluggish and performance will be slowed by a huge margin. And, also some apps might open automatically without you initiating it. 
4. Higher Than Regular Data Usage
If your phone is hacked, some spyware uses a high amount of mobile data or Wi-Fi, which you will be able to take inside the phone's settings easily. Make sure to check on the high-usage apps and investigate or uninstall them if needed. 
5. Faster Battery Drain
While modern-day smartphones can last a day easily most of the time, it can vary based on usage. But, if you are experiencing rapid battery drain, make sure to check which app is consuming most of the battey and investigate the same. 
6. System Setting Keeps Changing
If your phone is hacked, it is possible that the hacker keeps messing with your phone settings. It might be as simple as brightness settings or data settings. If you sense that any system is behaving abnormally, your phone might be accessed remotely. 
7. Unrecognized Apps Installed on Phone
Smartphones are almost useless without exciting apps. Most of us download 100s of apps, but sometimes, we might also install apps unlocked from unknown sites. It is good to regularly keep a check on the number of apps on the phone and keep removing the unused app. 
8. Suspicious Activity on Social Media Apps
If a hacker gets access to your phone, they might use your social media accounts to take advantage. If there are unrecognized activities on your social media or mail account connected to your phone, it could mean that the hackers have got access and you can immediately change the password or deactivate it temporarily. 
9. No Calls or Messages
If you have not received any phone calls or messages for a while, there is a good chance that the hacker has cloned your SIM card and used your SIM
What to Do If Phone Is Hacked?
If you think that your smartphone has been hacked, you can follow the below-mentioned steps or methods to be on the safer side. Not all methods are appropriate for everyone, which means it is better to perform all of these methods one after the other to eliminate the threat. 
1. Delete Suspicious Apps
You can go through the list of apps installed on your phone manually and check if there are any suspicious apps, you can uninstall them immediately. Sometimes apps installed won't be available in the apps list, you will have to check them manually inside the settings. 
Go to Settings > Storage > Apps and check all the installed apps on your phone and uninstall the suspicious or unrecognized apps. 
2. Factory Reset
Probably the best method to eliminate the hacker from the phone is to factory reset the phone, which will erase all data including images, videos, files, etc. There is a good chance that the phone will be free from threats after a factory reset as it removes all the third-party apps and services from the phone. 
Check out: How to Format or Reset an Android Phone to Factory Settings
How to Reset Your Apple iPhone to Factory Settings
3. Change Password
If you have shared your phone's lock screen or any other website/app with your friends or family in the past, it is better to get it changed as more people will have access to your phone. It is also a good practice to keep updating the password once in a while. 
4. Run Anti-Malware Applications
While there is a built-in security feature like Google Plat Protect, sometimes some spyware apps can bypass it, so it is better to scan the full phone of threats using any anti-malware (anti-virus) apps.
5. Request Contacts to Ignore Messages or Social Media Activities
If your phone was hacked and the hacker has posted inappropriate messages on the social media platform or via SMS, it is better to let them know that your phone was hacked and you did not have control of your phone for a while and wherever they have received it was from the hacker and not your. It is better to post a message on your timeline if it's social media. 
Also Read: Pop-up Blocker in Chrome: How to Block (or Allow) Pop-ups, Notification in Google Chrome Internet Browser
How to Avoid Phone From Getting Hacked
Here are some of the tips to stay safe from hackers.
1. Always Download Apps From Official Store
Be it iPhone or Android, it is always recommended to download apps and games using the official store. If you download any app from an unknown site, it can be harmful and sometimes, it is difficult to uninstall these kinds of apps as well. For Android, you can use the Google Play Store and for iOS, there is an App store. Google Play Store comes with built-in security which scans millions of apps and games on the platform regularly. Although there are other sites to install APKs on Android, it is still recommended you stick with the Play Store. 
2. Change Password Frequently
Make sure you change the password of the phone and apps and services you use regularly. It is better to change or update the apps used at least once in a year if not more frequently. 
3. Do Not Tell Your Password to Anyone
It goes without saying, you should not share your passwords with anyone. Sharing passwords with others can be harmful as they'd have access to everything that's sitting behind your password. 
4. Don't Root Your Phone
Once you root your Android or jailbreak your iPhone, it causes serious security issues and due to that, many banking apps will not work on the phone. Not only that, but this kind of phone can also be a threat as it can be hacked. 
5. Enable Find My Device
In case your phone is hacked and stolen, there is one way to track it. On Android, make sure you have enabled the Find My Device and turned on the GPS and the same thing goes for iPhones as well. 
6. Enable 2FA
It's 2022 and everyone should start taking advantage of the 2FA, which adds an additional layer of security to apps and services. If you enable 2FA on apps and services, it'd ask for an additional security code, which you'd get on your phone or mail ID after entering the password. Even the person with your password can't access the account with your password as he/she wouldn't have the security code. 2FA or Two Factor Authentication is available on popular apps like Facebook, Instagram, WhatsApp, Twitter and more. 
7. Avoid Sensitive Information on The Phone
Make sure you are not storing your passwords on your phone in a note-taking app or anything similar. If someone can take a look at the notes, all your passwords will be exposed. Instead, you can use a good password manager app. 
8. Install The Latest Updates
Smartphone makers usually push critical security updates and software updates regularly, so make sure you're on the latest version of the software on your phone. 
9. Lock Sensitive Apps
You can use a good third-party app or built-in app lock on your phone to protect your confidential files and sensitive information. 
10. Avoid using public Wi-Fi Networks Without a VPN
Hackers can also enter your phone and get sensitive data using a public or open WiFi network. In case you are using public WiFi, make sure you are using it with a good VPN, which will protect you from being attacked.
Frequently Asked Questions (FAQs)
How do phones get hacked?
There are many ways that your phone could be hacked, hackers might gain access from an apk file or public Wi-Fi and many more methods. 
Does Airplane mode block hackers?
While this is not the best method, yes, Airplane mode does protect from hacking in most cases as it cuts access to Wi-Fi and mobile data on the phone. 
Can hackers see you through your phone camera?
In short, the answer is Yes. There are a bunch of spyware that could compromise your device and anyone with the right software and expertise could use your phone's camera to spy on you.
Can hackers hack your phone by calling you?
No, it is not possible to hack via just a call, unless you give the info and details they are asking for. 
Is there an app to see if your phone has been hacked?
Not all apps can identify all sorts of hacks and spyware, so make sure you follow the aforementioned methods to check if your phone has been hacked or not.
Also Read: Add Me to Search: How to Create a People Card and Add Yourself to Google Search
Thanks for reading till the end of this article. For more such informative and exclusive tech content, like our Facebook page