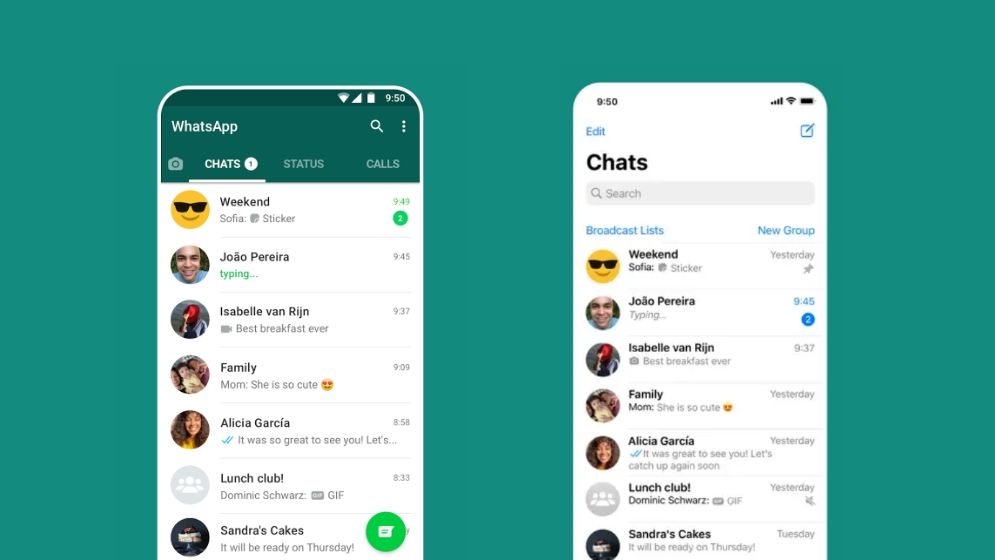 The most awaited feature of WhatsApp is FINALLY here! The same WhatsApp account can be used on two different phones officially. Over time, WhatsApp has been lagging behind Telegram in terms of features; one of the significant features of Telegram was that the same account could be used on many different devices. WhatsApp has finally bridged the gap between Telegram on this front officially.
Many people nowadays have two devices, and one of the issues everyone faces is the availability of WhatsApp on only a single phone. I use two phones at the same time, and I do miss a lot of messages while using my secondary phone. I always wished for a WhatsApp Web-like feature for phones so that I could use WhatsApp on two different phones at the same time. WhatsApp has finally fulfilled the wishes of users like me, who have been craving this feature.
Let us look at how we can use WhatsApp on two different smartphones with a step-by-step guide, what its limitations are that I found in my usage and more.
Also Read: WhatsApp Font Styles: How to Bold, Italic, Strikethrough, or Monospace Text Messages on WhatsApp App and Web?
What are Linked Devices on WhatsApp?
The Linked devices feature on WhatsApp lets you use the same WhatsApp account on different devices.
It started as WhatsApp Web when WhatsApp only supported the web version of WhatsApp. It later expanded to the WhatsApp desktop app.
Now, WhatsApp is expanding the linked device functionality to more devices: phones and tablets. WhatsApp has started testing the feature for Android tablets and phones on its latest Beta update.
With Linked devices, you can use your WhatsApp account on four devices besides your smartphone.
Also Read: WhatsApp Call Recording: How to Record WhatsApp Voice and Video Calls with Audio on Android and iOS Mobile
Requirements for Setting up WhatsApp on Two Phones
There is only one requirement: the latest WhatsApp beta installed on your secondary device. If you're on the WhatsApp Beta program in Play Store, you might already have it. If not, you have to sideload the latest beta APK. I'm using version 2.22.25.12 beta; you can download it from APK Mirror.
How to Use the Same WhatsApp Account on Two Phones
Let us discuss the step-by-step guide on using the same WhatsApp account on two phones. Let's start with two Android phones first:
How to Use the Same WhatsApp Account on Two Android Phones
Before we start, ensure you are on the latest Beta version of WhatsApp, as mentioned above.
Open WhatsApp on your secondary phone.
Select the language of your choice and click next. Tap Agree and Continue to the next page.
On this page, you'll be prompted to enter your phone number. Don't enter your phone number; click the three-dot menu on the top right instead.
Select the Link a device option from the menu.

NOTE: You will only see the Link a device option if you're on the latest Beta; if you don't see the option, uninstall the current version and reinstall with the latest WhatsApp Beta or sideload it.

You'll see a QR code on the Link with your phone page. You need to scan it with your primary phone.
On your primary phone, tap on the three-dot menu in the top right corner.
Select the Linked devices option.
On the next page, select the Link a device option.
A QR scanner will appear and scan the QR on your secondary phone.
You're now logged in to your WhatsApp account on two phones. It might take some time to load all the chats; after it is loaded, the WhatsApp on your secondary phone should look identical to the one on the first device.

Also Read: WhatsApp Restore: How to Recover Deleted WhatsApp Chat Messages on Android and iPhone from Cloud Backup
How to Use the Same WhatsApp Account on Two iPhones
As of now, this feature is yet to arrive in iPhones. It is available as a Beta feature for Android phones. It will soon be available on iPhones; we will update this guide when it is here.
Limitations of Using Whatsapp on two phones
There are some limitations to WhatsApp on your secondary device. It works like WhatsApp on your primary phone but does not get all the options and features you get on the primary device. Here are the features you'll miss on WhatsApp on a secondary phone.
You will not see the Linked device list on the secondary phone. You also won't be able to link to a different phone with the secondary phone.
The communities features aren't currently enabled in the secondary WhatsApp. The communities tab is non-existent on the secondary device.
Payments are not enabled on the secondary device. It is a device linked and requires UPI; hence it is available only on the primary device.
You cannot send broadcasts from the secondary device. The new broadcast option is unavailable on the secondary WhatsApp device.
You cannot share live locations using the secondary device on WhatsApp.
Many Settings options are also absent in the secondary device. Such as:

Two-step verification
Change number
Default message timer
Archived chats settings
Chat backup
Use less data for calls
App language
All these settings are required on the primary device and do not take away from the function that a secondary device is intended to do. The secondary device will always be secondary, and it is to be used in the absence of the primary device.
One another limitation with WhatsApp on secondary phones is that it doesn't support some messages; it would be shown as "You received a message on your phone, but this version of WhatsApp doesn't support it".
Frequently Asked Questions (FAQs)
1) Is my secondary WhatsApp safe from hacking?
Yes, it is. This feature is from WhatsApp officially, and it comes with all the security features of the official WhatsApp app. But you still need to be aware of someone using this feature to spy on you.
2) Can I use WhatsApp on more than two phones simultaneously?
The Linked Devices feature lets you use WhatsApp on four different linked devices. If you haven't used up the slots in Linked Devices for PC or Laptop, you can link up to four phones.
3) Do I need a SIM card to use WhatsApp on the secondary phone?
No, you don't need to have a SIM card on your second phone to use WhatsApp on that phone. You just need to be logged in to your WhatsApp account on your primary phone.
4) Can I still use WhatsApp Web along with the secondary phone?
Yes, you can use WhatsApp Web the way you used it previously. You can use up to four different devices with Linked devices.